Learn how to caramelize onions perfectly every time. This basic cooking skill is easy, and caramelized onions add so much flavor to so many recipes. Get the step by step recipe and lots of tips below!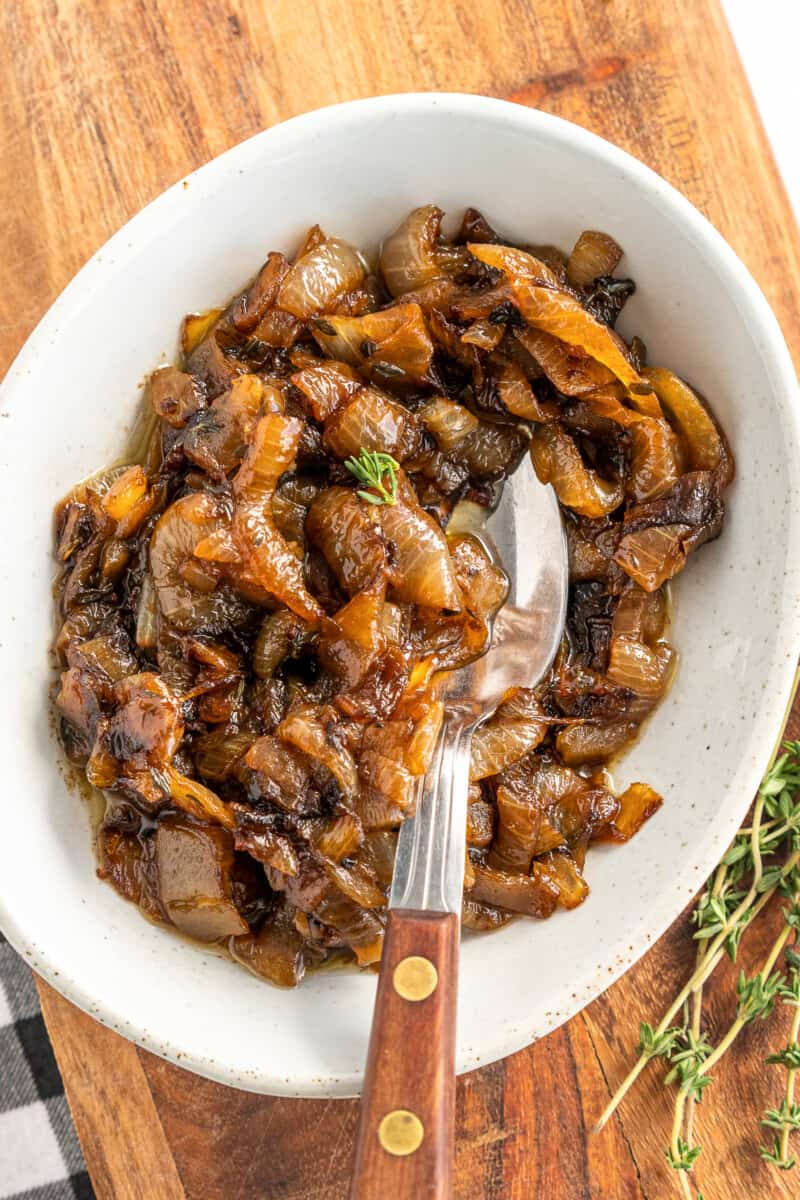 Easy Caramelized Onions Recipe
Caramelized onions are the secret ingredient you're probably not using enough. Onions can add great flavor to so many dishes, especially after they've been cooked to bring out their true sweetness.
With this recipe, I'm showing you step by step how to caramelize onions so you can perfect this simple cooking skill. Once you know how to make them, you'll be adding them to all your dinners.
I'm also going to share lots of tips and delicious recipes so you know how to use them up. Serve them in, or alongside, burgers and sandwiches, pastas, soups, and more.
Why you'll love this Caramelized Onion recipe:
EASY COOKING SKILL: This is one of those basic skills you need to add to your cooking know-how. Luckily it's pretty simple.
SUPER FLAVORFUL: Caramelizing brings out so much flavor in these onions. They become sweet and delicious!
EXTRA INGREDIENT: This takes onions up a notch, and becomes something you can add to all kinds of recipes.
What does "caramelized" mean?
Before I show you HOW to caramelize onions, let's talk about what it means to caramelize something.
It's the same process that's used to make caramel, but you can "caramelize" lots of things that contain natural sugars, including onions!
What you're doing is bringing out the natural sugars within the onion while cooking so that you can really TASTE the sweetness.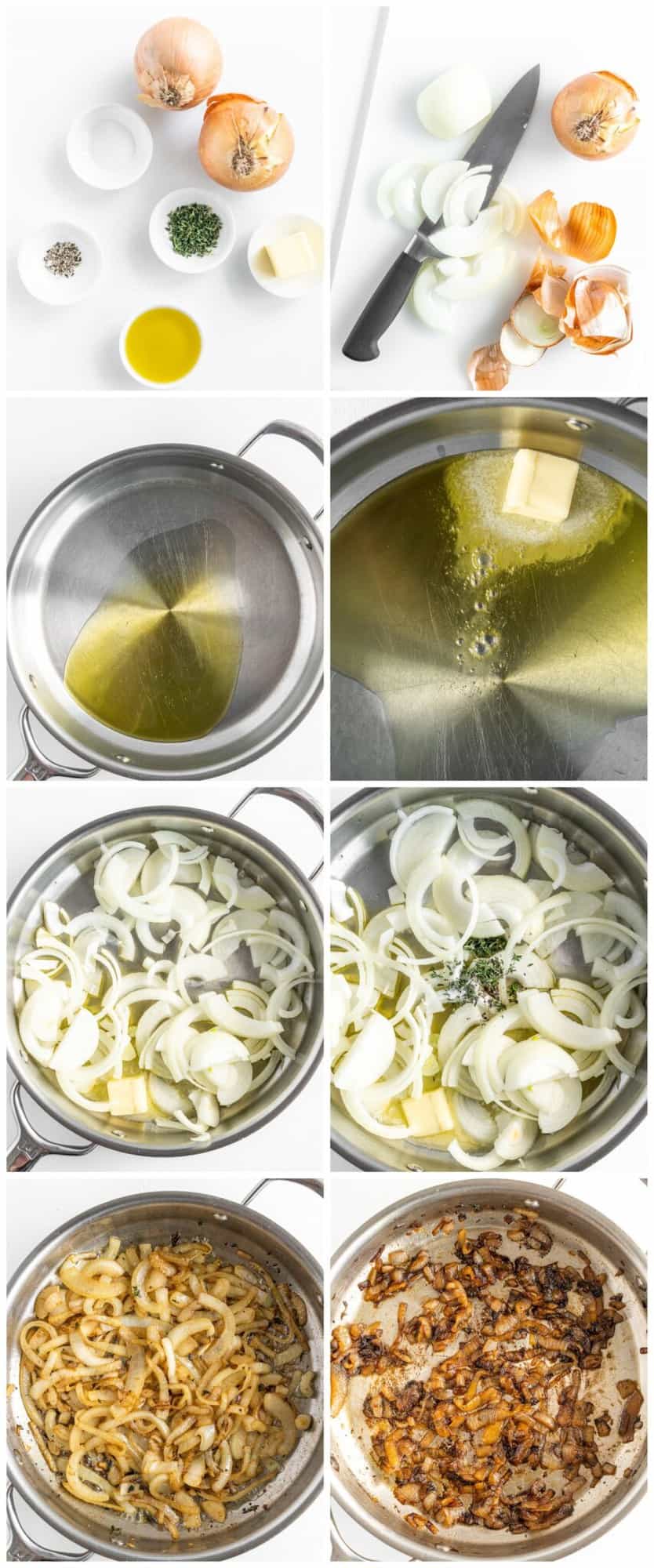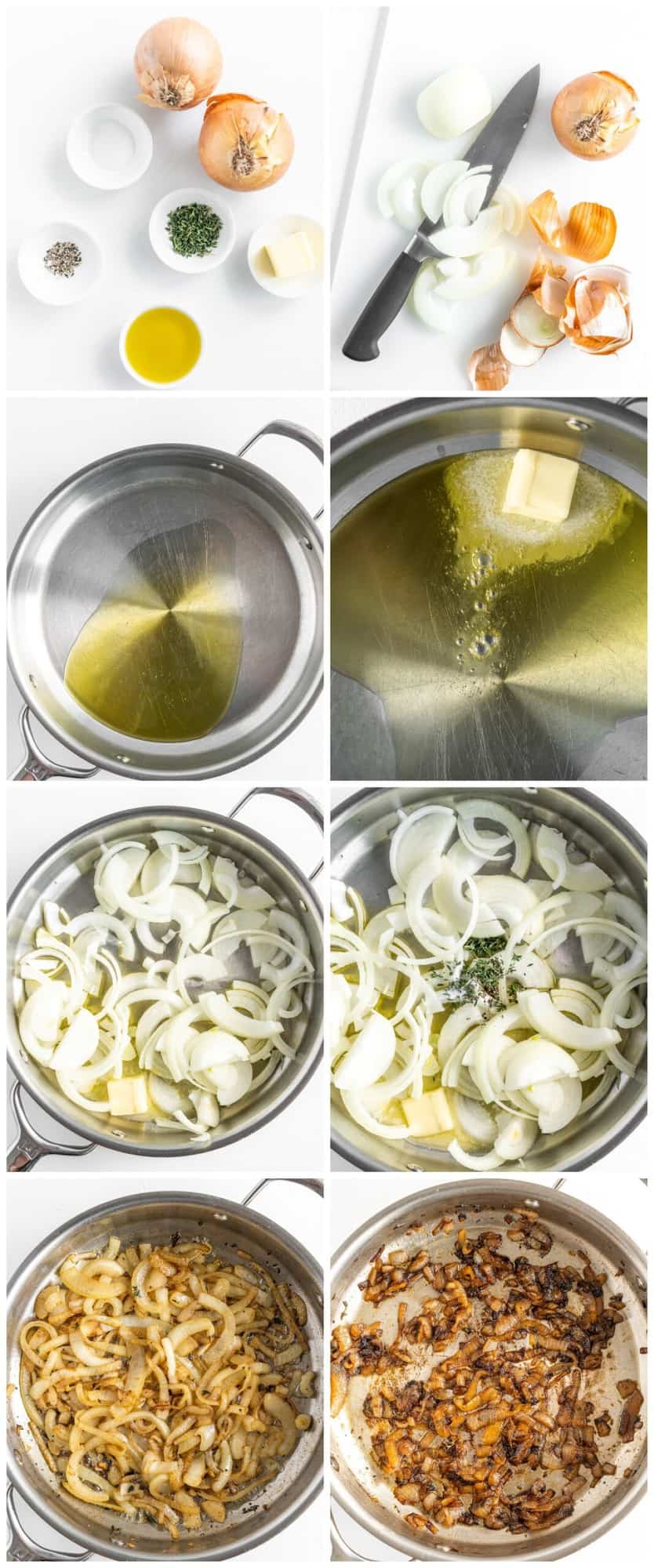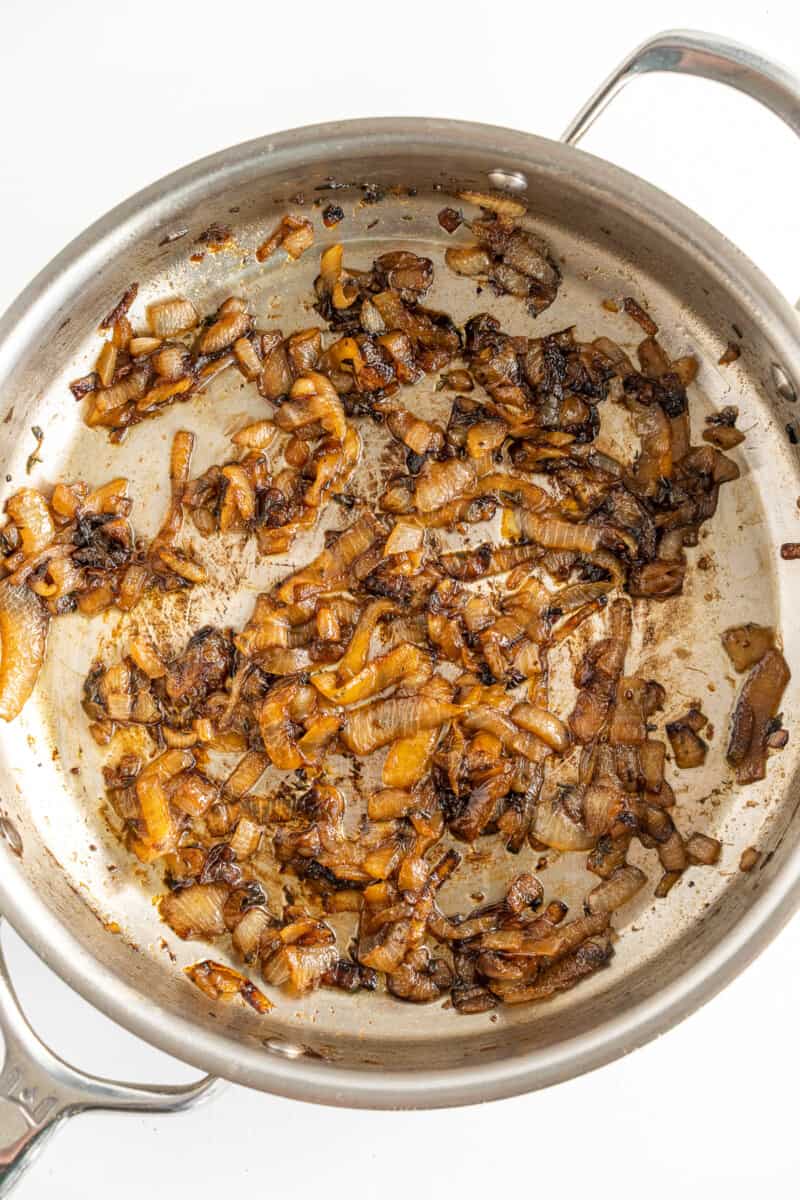 What You'll Need
You won't need much to make caramelized onions, just a few kitchen tools you probably already have, as well as a few simple ingredients.
Tools:
Pan: Use a large skillet to cook the onions. Stainless steel or cast iron work great!
Chef's Knife: I recommend using a Chef's knife to cut the onion for best results.
Cutting Board: You'll need this while cutting (of course). Any board you typically use will do.
Wooden Spatula: You'll need some kind of utensil to stir the onions around while cooking.
Ingredients:
Onions: Use yellow onions or sweeter varieties when caramelizing.
Butter & Olive Oil: Using butter (in addition to oil) adds a beautiful richness to the flavor.
Seasoning: You don't necessarily need seasoning but I like to add salt & pepper plus fresh thyme leaves to enhance the savoriness.
How to make Caramelized Onions
You can jump to the recipe card for full ingredients & instructions!
Start by peeling and slicing the onions (see below for how to).
Add oil and butter to the skillet and set over medium-high heat.
When butter melts, add the onion and seasoning.
Cook about 5 minutes, until you start to see some browning.
Turn heat down to low, cover, and continue cooking until they caramelize, stirring regularly.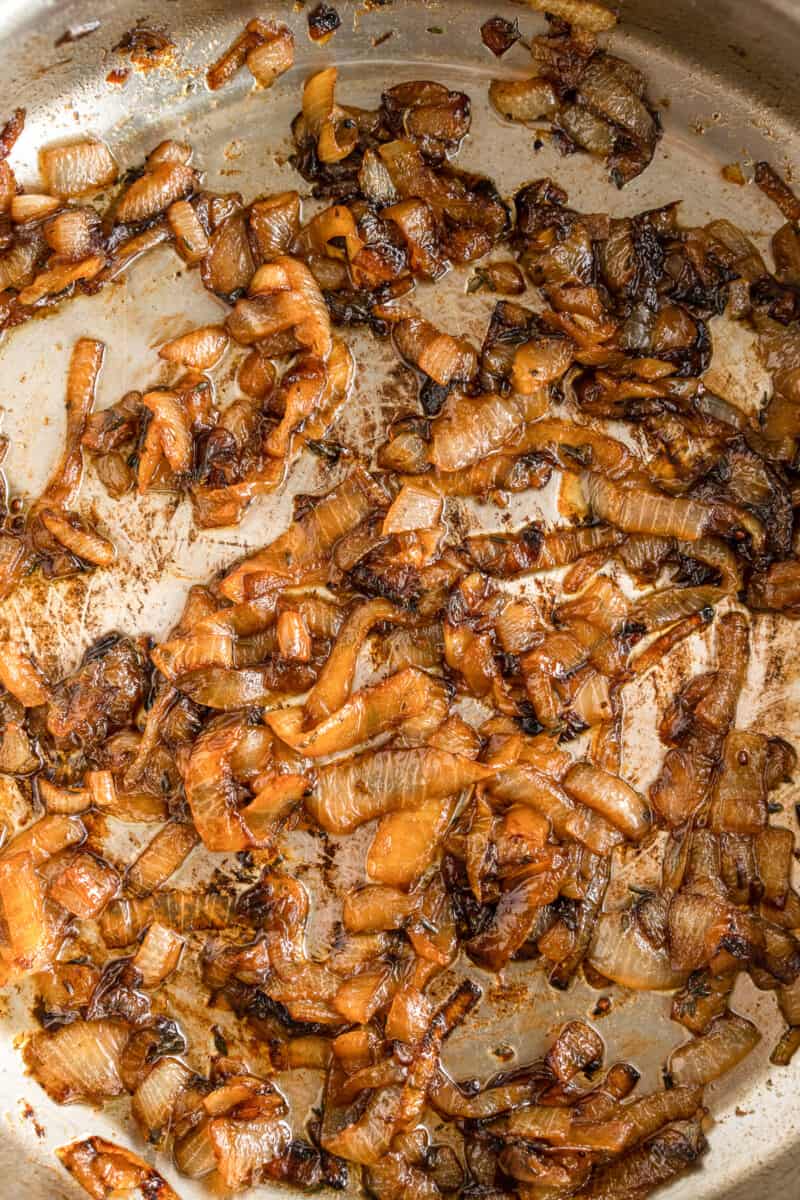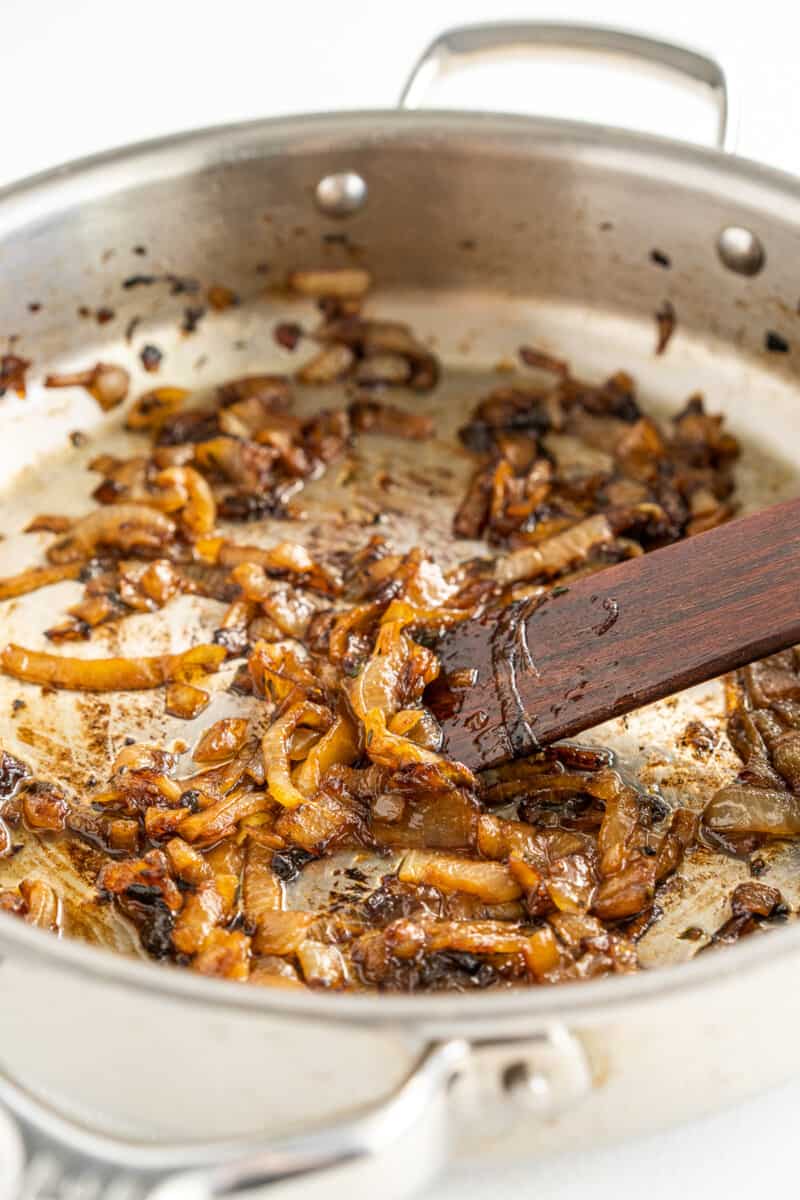 Caramelizing vs Sauteing Onions
While the general process at first seems to be the same, caramelizing and sauteing are two different cooking methods.
Sauteing uses high heat, encourages quick browning, and overall takes a shorter amount of cooking time. It's also going to create a crispier texture and a different kind of flavor.
Caramelizing, on the other hand, does start off by essentially sauteing the onions, but then it goes far beyond that. Most of the cooking time will be done on low heat, and will cook much longer. With this method, you'll get a soft texture and sweet flavor.
How to Cut Onions to Caramelize
You don't need to cut them in a certain way for this cooking method. You can cut them different ways depending on how you want to serve them. However, typically they're cut into thin slices or diced.
Here's a full step by step on how to cut onions if you need some tips.
How to Cut in Thin Slices:
Trim about 1/2 inch off the root and tip of the onion.
Peel away the papery skin.
Cut the onion in half, then cut each half into thin slices (about 1/8 to 1/4 inch).
Repeat with each onion.
How long does it take to caramelize onions?
Here's the most important thing to remember for this recipe: making caramelized onions takes time! You're cooking on low heat, and the caramelization process is generally slow. Don't rush it.
You can get great results in about 20-25 minute of cooking, but you can also continue on longer for even sweeter, softer, darker onions. Some people will cook up to an hour, but you don't have to go that long if you don't want to.
What kind of onions are best for caramelizing?
You can use any kind of onion, but I prefer yellow onions because they have the best flavor balance. Sweeter onion varieties generally caramelize best because they have a higher sugar content, but again, any onion will work (including red onions).
Can I make them ahead of time?
Yes! In fact I highly recommend making caramelized onions in big batches ahead of time, and storing them in the refrigerator (up to a week). This process can take some time, so having them ready in the fridge will speed up all your weeknight recipes. This is something you could do during your weekly meal prep!
Do you need to add sugar when caramelizing?
No! Onions already contain natural sugars, which is why they're so perfect for caramelizing. This process brings out those sugars to make them more prominent. Adding more sugar would make them too sweet and mess with the flavor.
Why won't my onions caramelize?
First of all, remember that this takes time. So 10-15 minutes in, you might just need to wait and let them keep cooking. It's also possible that your pan is too crowded; with all the water being released from the onions, it could be slowing down the process. This is why you need a LARGE pan or skillet.
Can you freeze them?
Yes, you can actually freeze them, which is a great option. This means you'll always have some when a recipe calls for them. Freeze them flat in resealable bags, or use ice trays to freeze them in smaller portions.
How do you caramelize onions without burning them?
You should be cooking them on low heat, so that's the best way to prevent them from burning. Keep an eye on them and adjust the heat if necessary. Also, stirring regularly will keep them from sticking to the pan (which will cause them to burn). Lastly, add a splash of water as needed to prevent sticking and burning.
What color should the onions be while cooking?
The onions will brown as they caramelize, but how dark depends on your preference. After just 20 minutes, they should be in the dark yellow to light brown range. Within 40 minutes, you'll have a much deeper, caramelized brown color.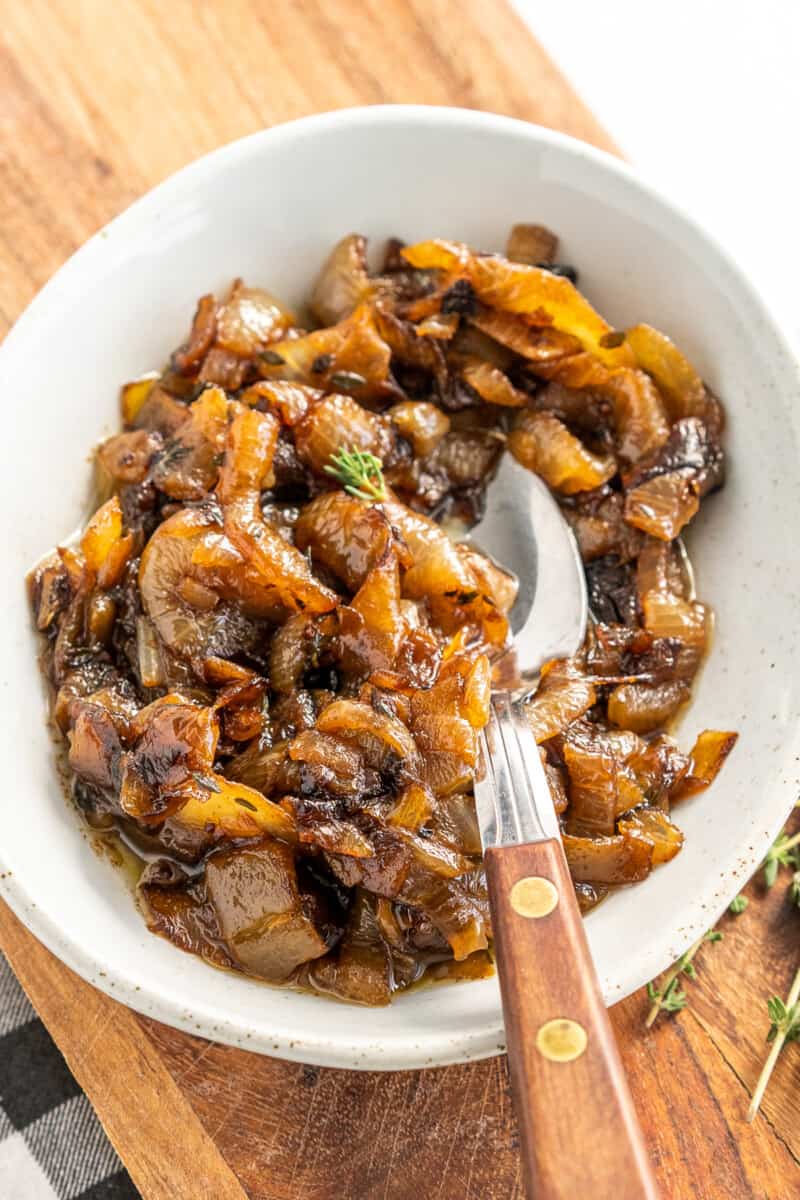 When to Use Them (Recipe Ideas)
Caramelized onions are my secret weapon! They add a complex, sweet yet savory flavor to any dish.
They're a staple for French Onion Soup, patty melts and all kinds of recipes. Add them to burgers, pastas, soups, pizza, and more. Or serve them on the side alongside a juicy steak.
Try these recipes:
Tips!
Onions will cook down significantly, so what looks like a lot in the beginning will yield much less in the end.
Make sure you're using a large pan/skillet to avoid overcrowding the onions.
Keep the temperature LOW to avoid burning.
Add a splash of water to the pan as needed if the onions start to stick or burn.
Let the butter melt fully, coating the pan as it melts, before you add in the onions.
Be sure to use UNsalted butter for this recipe.
Stir the onions regularly to make sure they cook evenly, and to prevent sticking.
If you want to change up the flavor, you can add various spices and herbs while cooking. You can also cook along with garlic, or add a little bit of broth while they caramelize.
Perfect caramelized onions take some time and attention, so have patience. The flavor will be worth it!
Store them in an airtight container up to 1 week in the fridge. Freeze up to 3 months.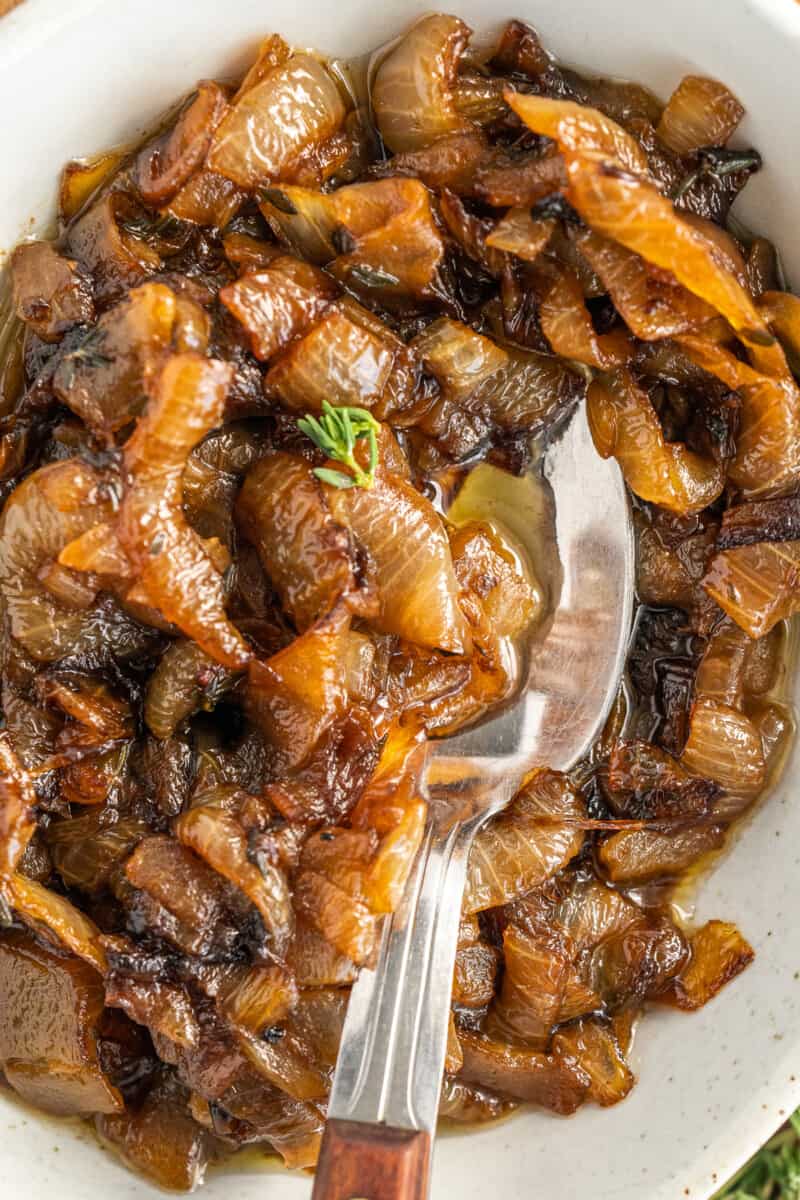 Now that you know how to caramelize onions, you'll be adding them to absolutely everything. Enjoy that sweet delicious flavor!
If you make this recipe be sure to upload a photo in the comment section below or leave a rating. Enjoy! You can also jump to recipe.