This delicious French Onion Soup recipe serves up sweet onions in a rich broth, topped with melty cheese and crispy croutons. It's a classic soup with flavors that are out of this world!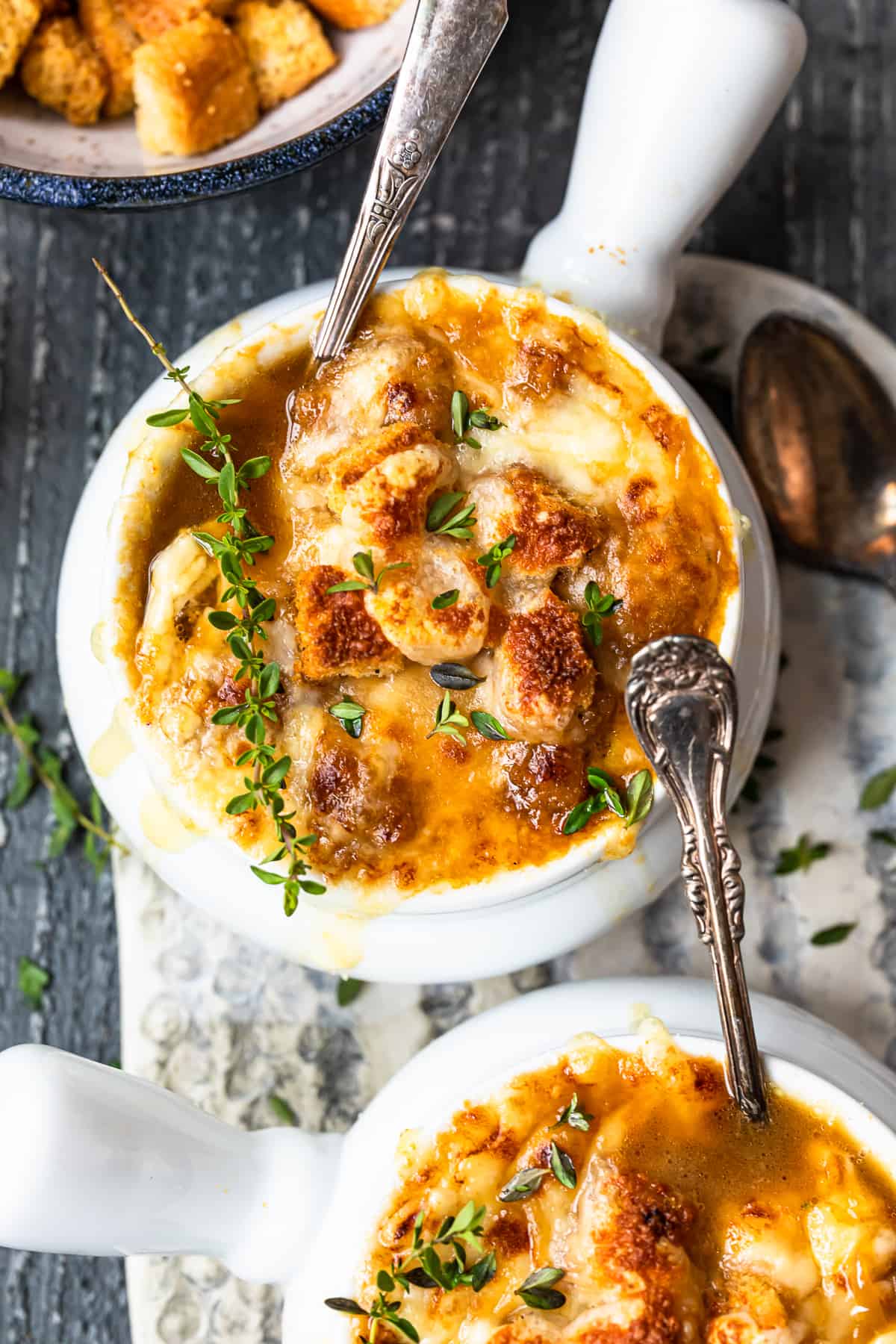 Homemade French Onion Soup
Whether you want a hearty appetizer or a satisfying main, this homemade French onion soup will deliver!
Caramelized onions in a flavorful chicken broth, crowned with melty gruyere or Swiss cheese and loaded with crunchy croutons. It's all rustled up in one pot, which means minimal clean-up!
Looking for more soup recipes? Why not also try my Stuffed Pepper Soup and my Broccoli Cheese Soup!
Why You'll Love this Recipe for French Onion Soup:
CHEESY: Topped with a mix of cheeses, ooey-gooey delicious!
RICH: The chicken broth is loaded with goodies, such as sherry, wine, and herbs – so good!
SWEET AND SAVORY: Sweet Caramelized onions mix with the divinely savory broth, for that slightly sweet and savory hit!
This is the queen of comfort food soups! Hearty, cozy, and oh so yummy. Plus it seems so fancy, so it will be an impressive soup to serve dinner guests, or on holidays.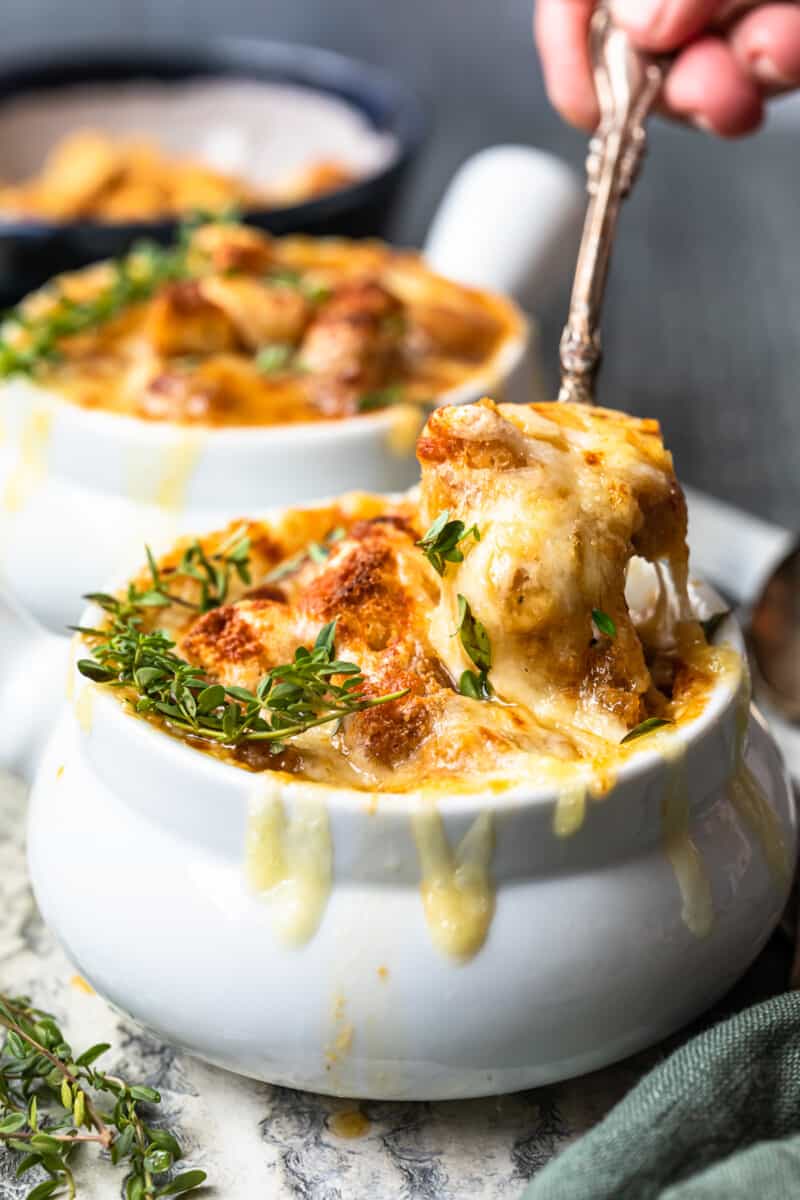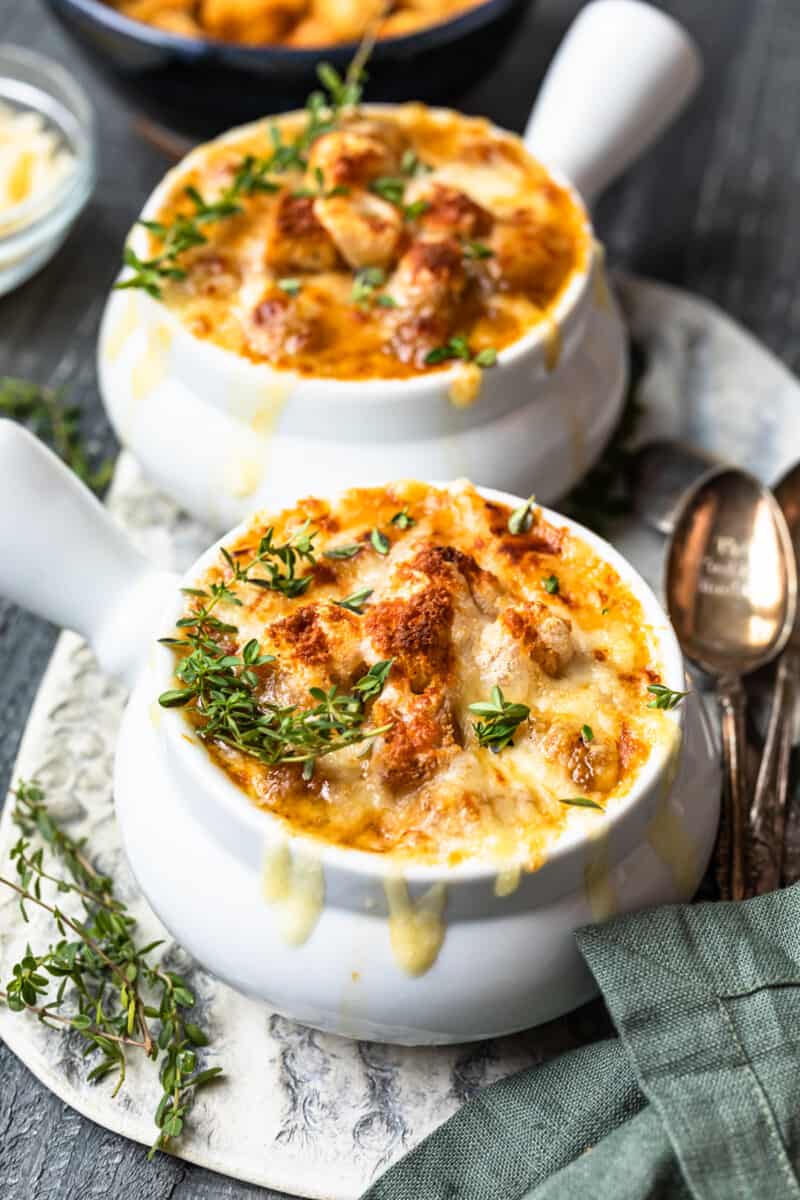 How to Make French Onion Soup
You can jump to the recipe card for full ingredients & instructions!
Cook your onions in a Dutch oven until softened
Add in the chicken broth and continue to cook until the onions are dark in color.
Add in the wine, sherry, and seasoning and simmer for 30 mins.
In a medium bowl, coat the cubed bread in butter, oil, and seasoning, and bake them for 15 mins.
Divide the soup into bowls, top with cheese and croutons, then broil for 5 mins.
Garnish, serve and enjoy!
Recipe Notes
Best Pot for French Onion Soup

In my opinion, the best pot for cooking French onion soup is a Dutch oven with a light-colored interior. A Dutch oven evenly distributes heat for a more even cook, while the light interior allows you to clearly observe the caramelization process of the onions.
I don't recommend a nonstick pan, as the dark surface makes it hard to monitor browning.
You can use a stainless steel pot, but I recommend cooking the onions over much lower heat to prevent them from browning too quickly and/or burning.

Best Cheese for French Onion Soup

The best cheeses for French onion soup are nutty, rich melting cheeses such as Gruyere or Swiss cheese. These cheeses are creamy and provide the signature cheese pull.

Best Onions for French Onion Soup

Yellow onions really provide the best balance of flavors. Here, I use 3 parts yellow onions to 1 part sweet yellow onions. This gives the soup a sweeter note without making it too sweet.
I don't recommend using a higher proportion of sweet onions, as it can make the soup too sweet.
You can use white onions, but your soup may end up sharper and more pungent.
I don't recommend using red onions for French onion soup, as they can be too pungent.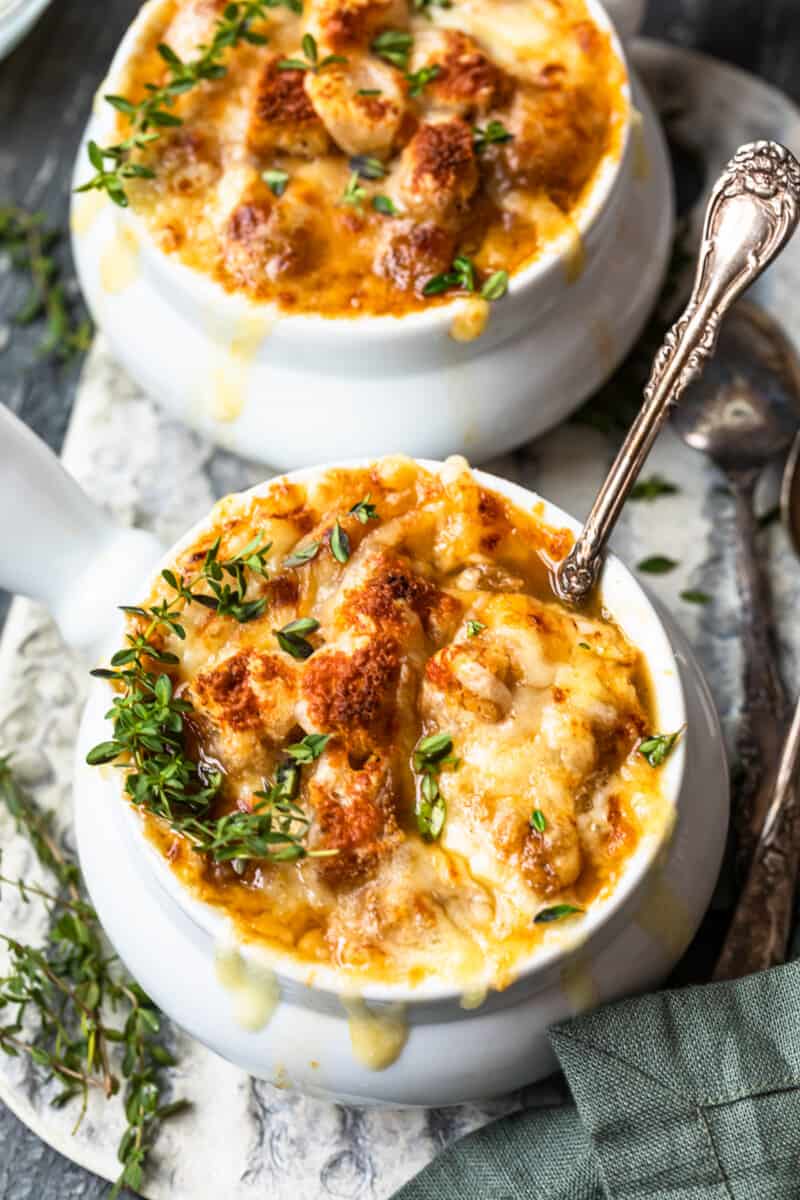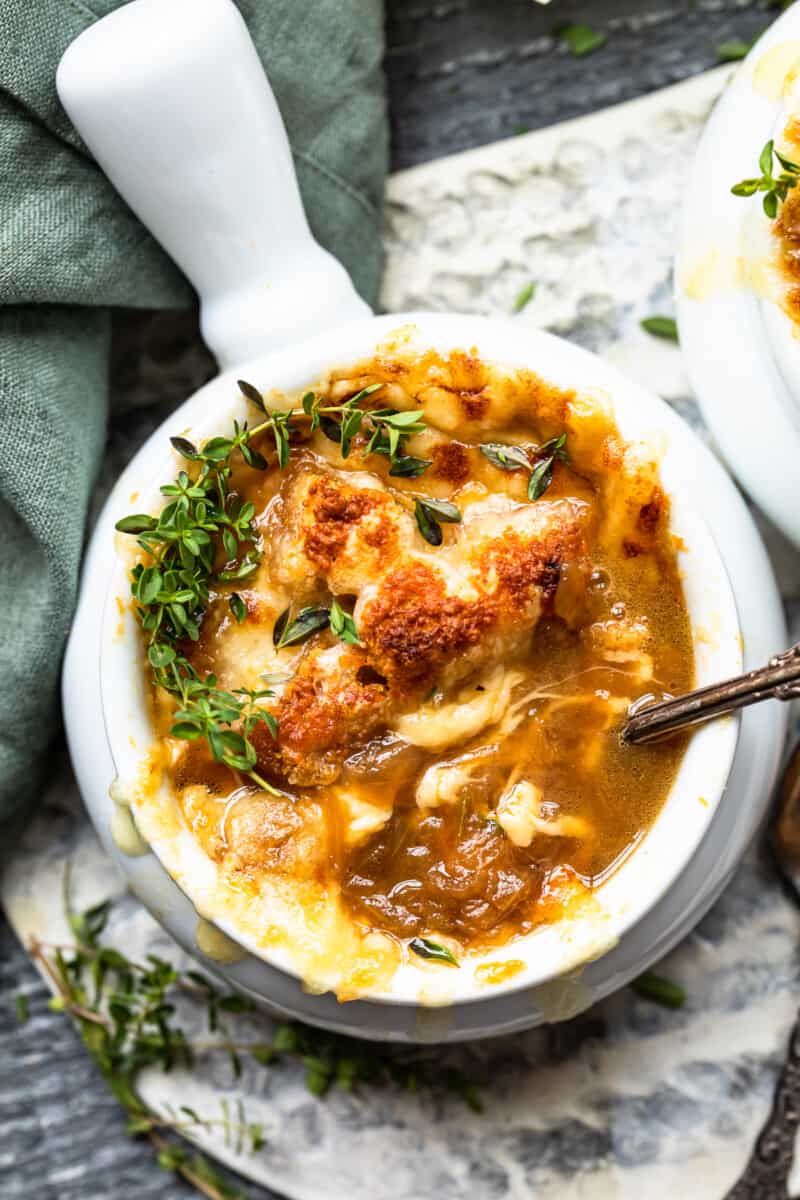 What is French onion soup?
French onion soup is a soup made primarily of meat stock and onions, often served with melted cheese and croutons or bread on top.
Is French onion soup healthy?
Although it may not seem like it, French onion soup does actually have a number of health benefits. Onions are a great source of vitamin C, vitamin B6, iron, folate, and potassium. The part of this soup that makes it less healthy is the croutons and cheese on top, which you can certainly skip if you'd like.
How do I caramelize onions?
Caramelizing onions is a low and slow process that isn't difficult, but it is time-consuming. You want to cook your onions until they begin to brown, and then let them do their thing for a few hours, stirring frequently, until they are a deep chocolatey color. This recipe uses a more hands-off approach, but you can also caramelize onions on the stovetop. Follow this in-depth guide if you need a little extra help!
What is a "dry" white wine?
A dry white wine is any white wine that is not sweet. I like Sauvignon Blanc, Chardonnay, Riesling, or Pinot Grigio. You can also use white cooking wine, which can be found in the oil and vinegar aisle of the grocery store.
Why is my French onion soup bitter?
If your French onion soup tastes bitter, you most likely have burned the onions. The key to a great French onion soup is properly caramelized onions, which need to be cooked low and slow. Trust me, it's worth the extra effort!
Serving Suggestions
This hearty soup is great on its own but you can, of course, amp things up with other dishes. Here are some faves:
One of the most satisfying moments is when your spoon delves in through that melty cheese into the rich broth and you pull out a spoonful of cheese, croutons and onion soup – delicious!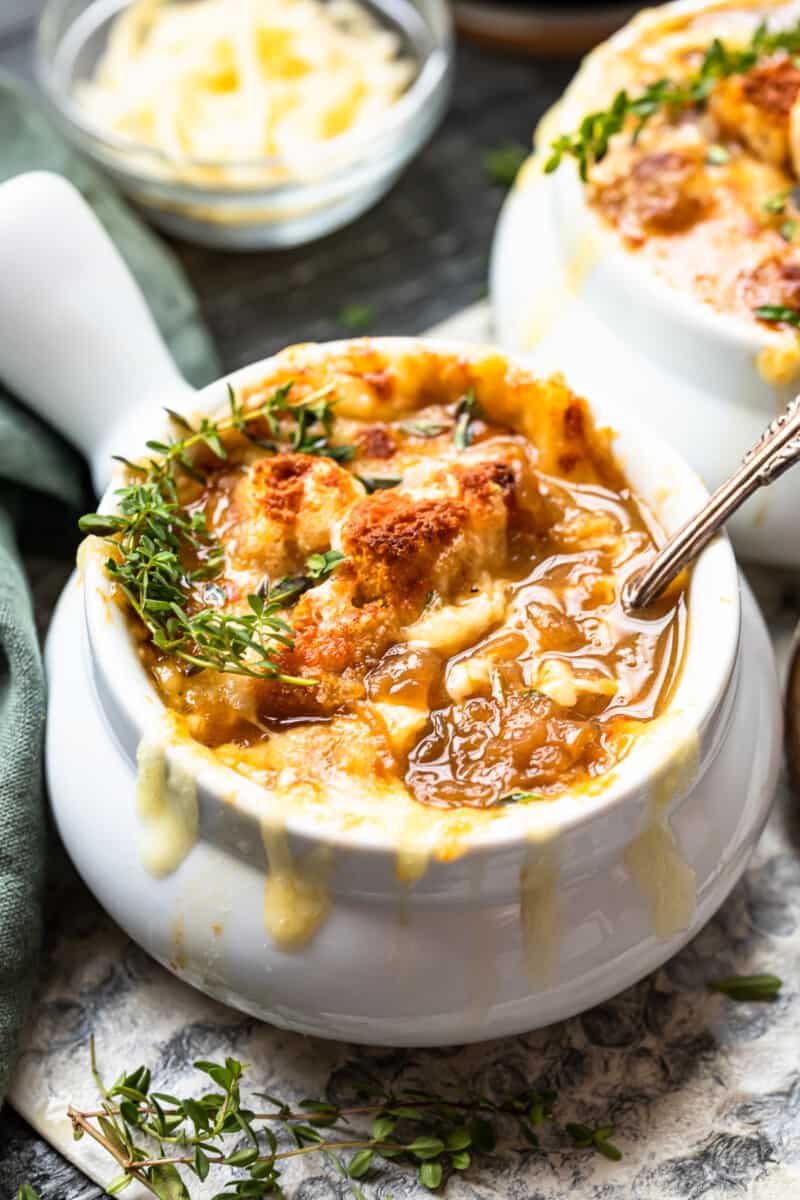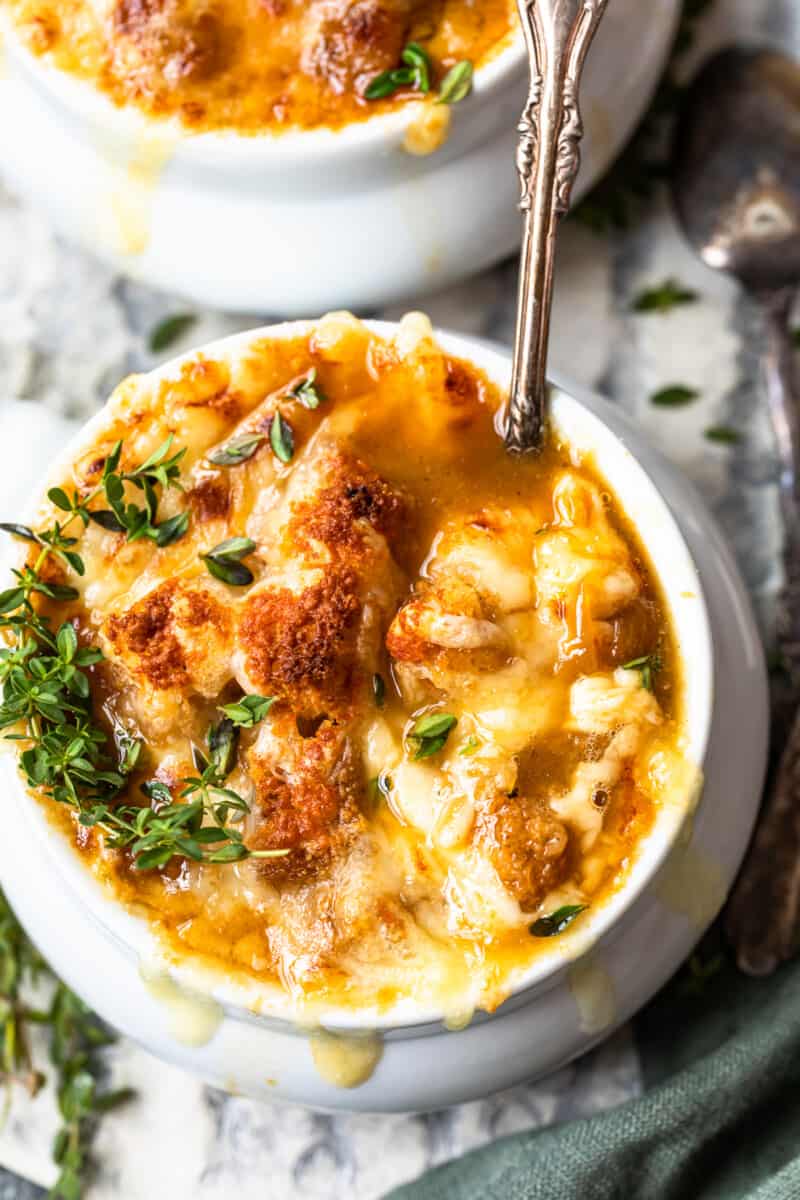 If this soup is one of your faves, you'll love these recipes too: French Onion Casserole, French Onion Dip, and French Onion Chicken Skillet.
Storage Instructions
Store leftover French onion soup in an airtight container in the refrigerator for up to 3 days. I recommend leaving the croutons and cheese off until you're ready to reheat and serve.
To reheat French onion soup, gently simmer in a saucepan set over medium heat until heated through, about 4-5 minutes. Alternatively, you can also place the soup in oven-safe containers and bake at 350°F for 10-20 minutes, stirring occasionally. Add a bit of water if the soup seems too thick.
Freezing Instructions
To freeze French onion soup, let it cool to room temperature, then portion and transfer to airtight containers or Ziplock bags. Freeze for up to 3 months. Allow the soup to thaw in the refrigerator before reheating and topping with croutons and cheese.
Substitutions
To make this soup vegetarian, use vegetable broth instead of chicken broth.
You can also use beef broth in place of the chicken broth for a darker, richer flavor.
To make this soup gluten free, use gluten free croutons.
Instead of cutting it into croutons, slice the baguette into 1-inch slices and place a slice on top of each bowl of soup. Add cheese and broil.
If you're not a fan of wine or don't have any on hand, you can use an equal amount of broth in place of both the white wine and the sherry.
No broiler? No problem!
If you don't have broiler-safe bowls, I recommend slicing the baguette into 1-inch slices and broiling those with cheese on top on a baking sheet. Alternatively, you can toast the bread and cheese in the toaster oven if you don't have a broiler.
If you don't have a broiler AND you don't have a toaster oven, I recommend sprinkling a light layer of shredded cheese over top and letting the heat of the soup gently melt some of it.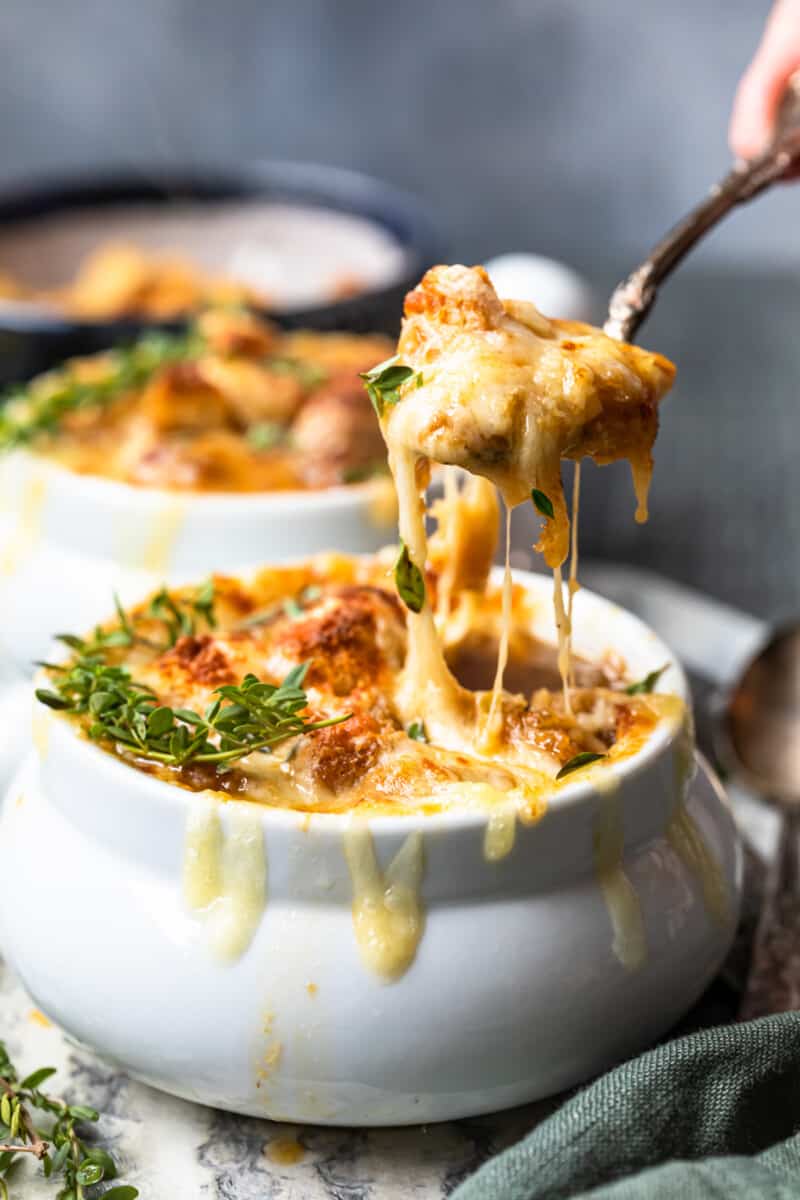 Rustic comfort food at its best! This flavor-packed French onion soup delivers on all fronts, it's cheesy, savory, and slightly sweet with a crunch from the croutons. Have it as an appetizer or a main, and whip it all up in one pot – win-win!
If you make this recipe be sure to upload a photo in the comment section below or leave a rating. Enjoy! You can also jump to recipe.