Sponsored by Mars SEEDS OF CHANGE® and Target
SKILLET BLT CHICKEN AND RICE is the perfect one pan meal to feed the family! Loaded with garlic, chicken, bacon, tomatoes, spinach, and brown rice & quinoa! Totally delicious and SO EASY!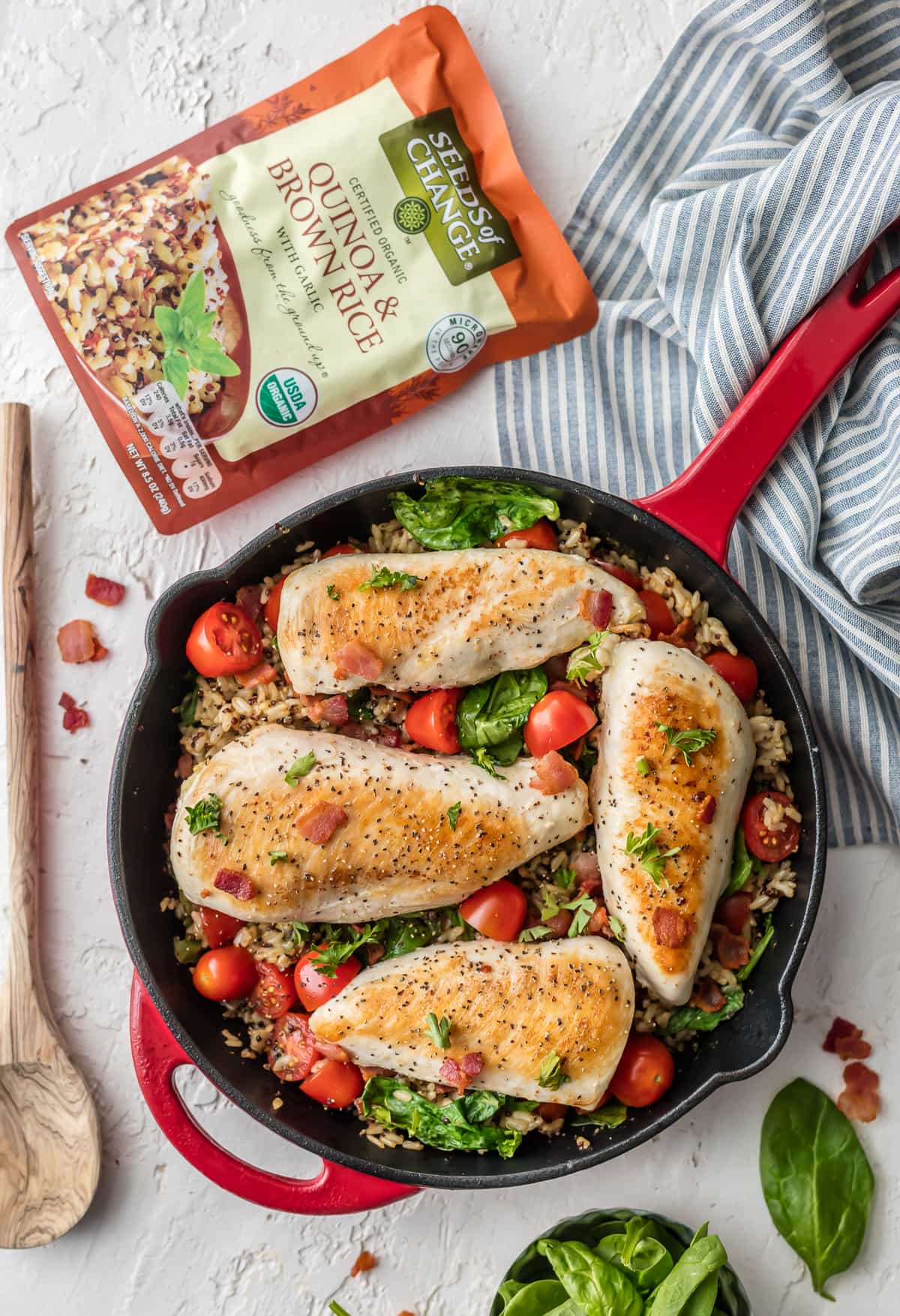 I have been totally and completely obsessed with skillet meals as of late! There's just something so satisfying about a delicious meal coming together in JUST ONE PAN, satisfying the entire family, and then having minimal dishes to clean up. MY KIND OF MEAL! There's really no limit to what you can cook in a skillet, and I cannot get enough! My new favorite is this Skillet BLT Chicken and Rice. You just won't believe how simple it is, and its cooked start to finish in under 30 minutes. What could be better?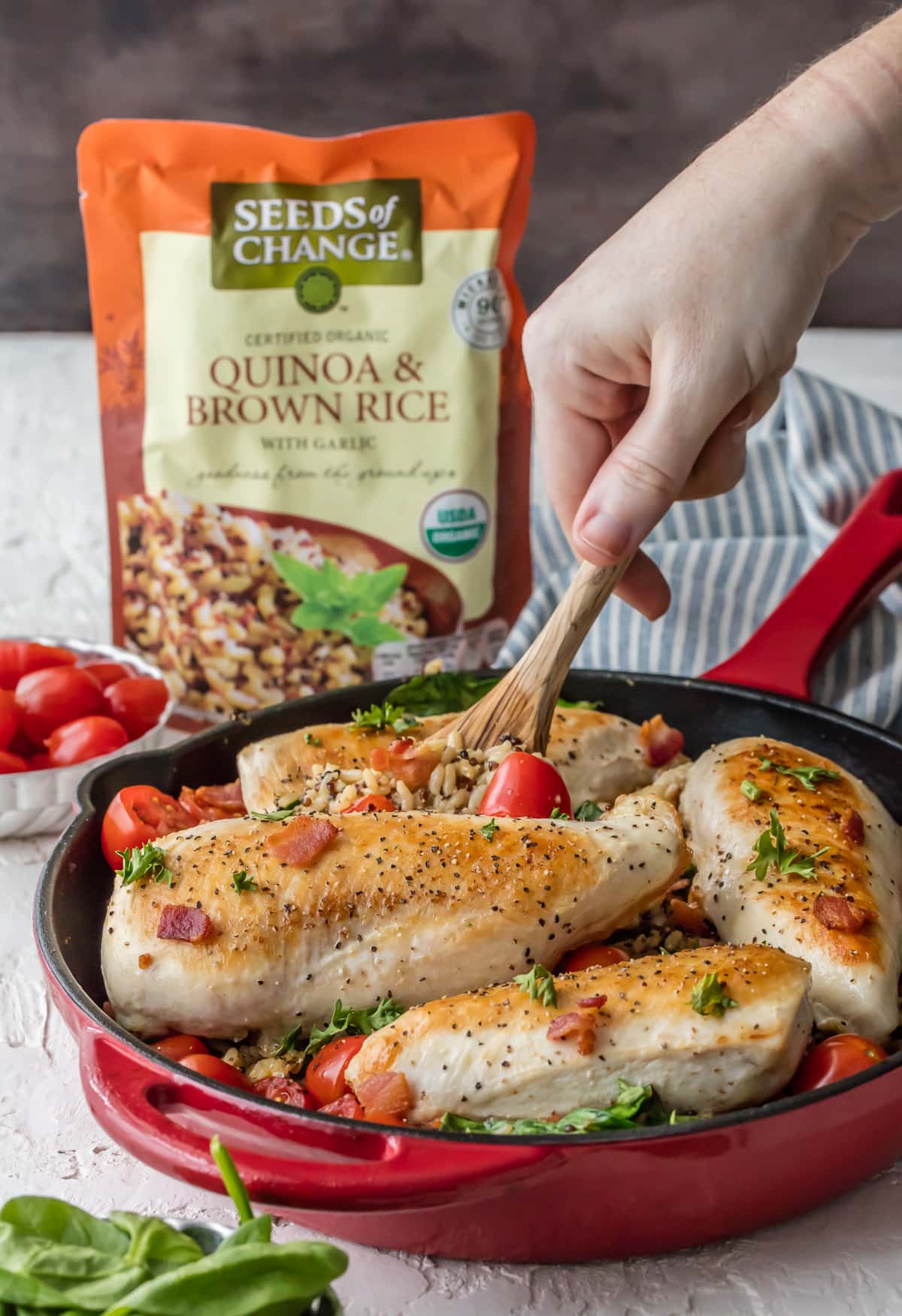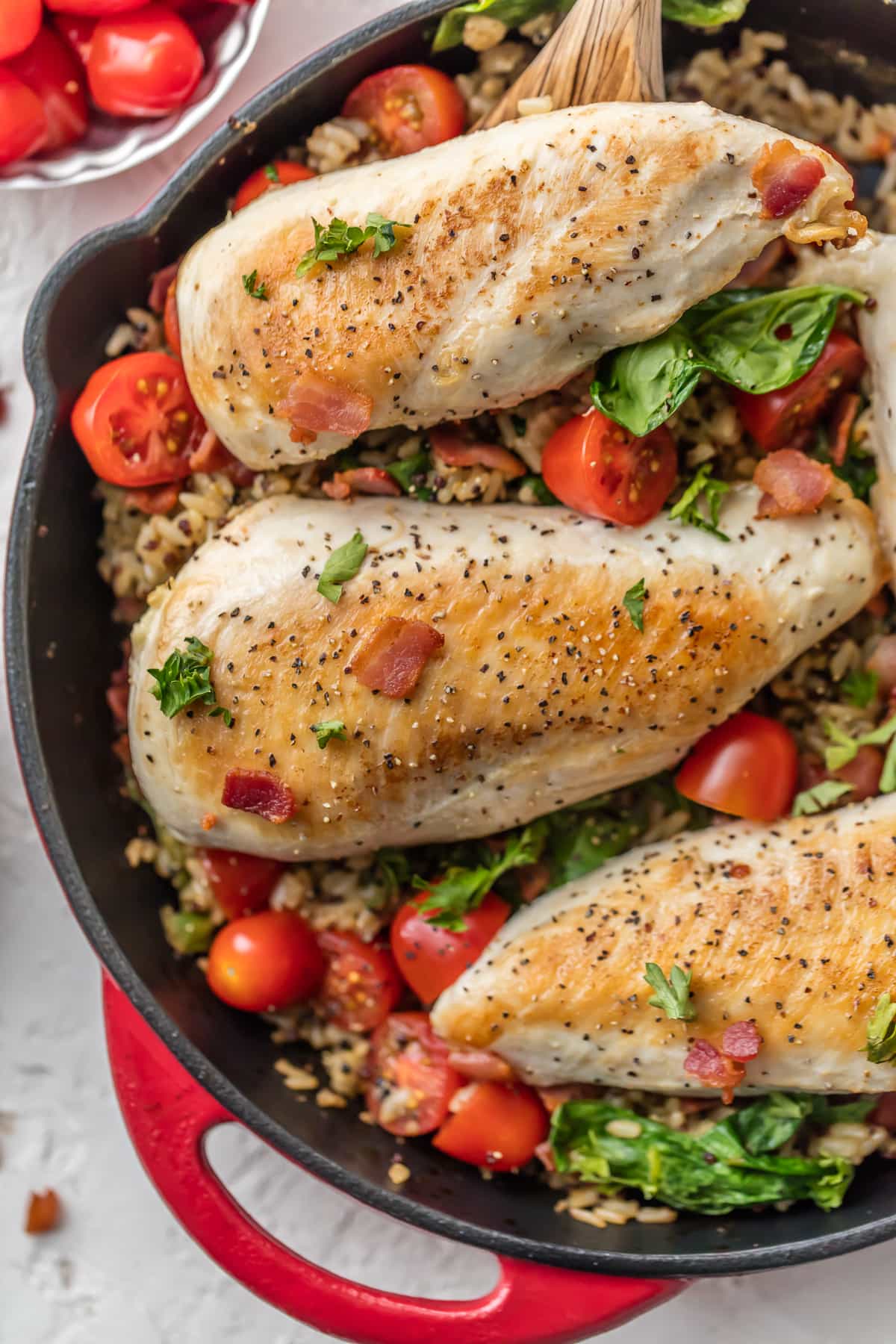 This meal is as simple as cooking the bacon, browning the chicken, and stirring everything together. Typically a rice dinner would take tons of time, but not with SEEDS OF CHANGE® Certified Organic food products! SEEDS OF CHANGE® Quinoa & Brown Rice heats in just 90 SECONDS in the microwave, or just a couple stirs in a skillet. It's AMAZING and so delicious. It was the absolute perfect base to this simple skillet meal, making it even quicker and easier than you would expect. Right now you can save 10% with Target Cartwheel on any SEEDS OF CHANGE® Certified Organic food products, um SIGN ME UP! A great deal on a great product.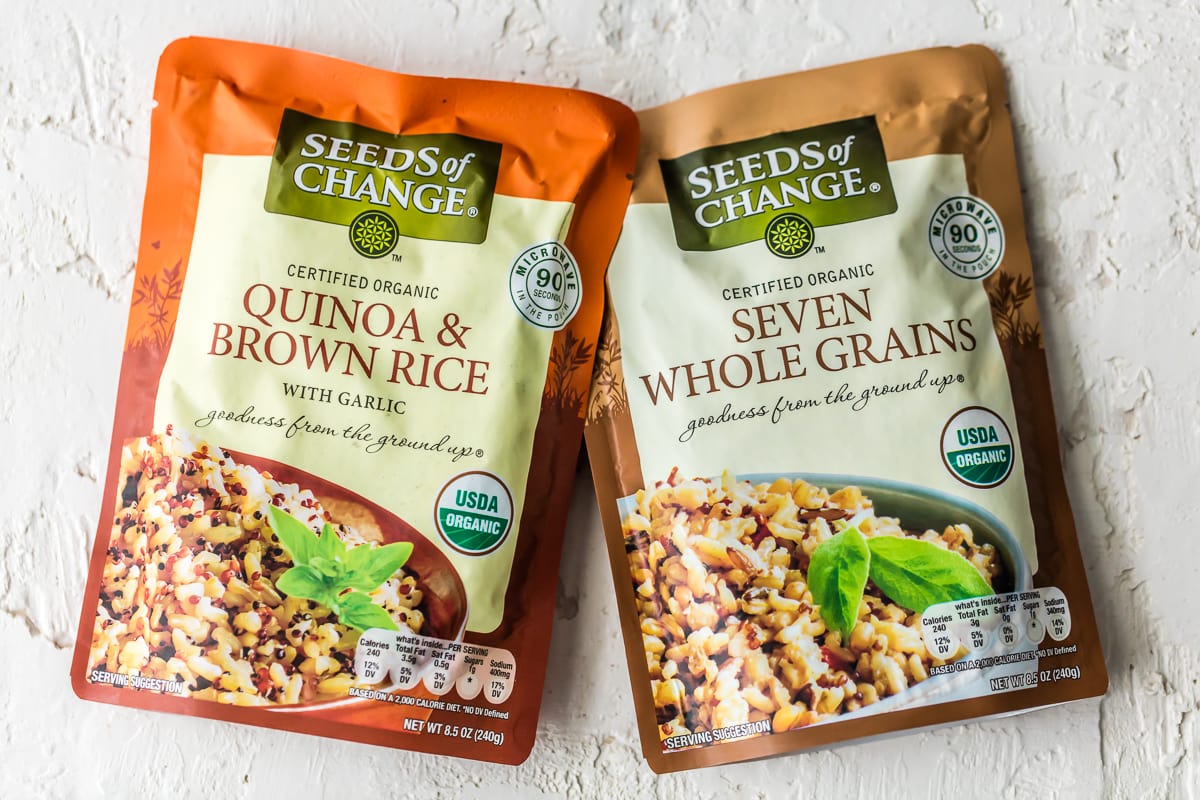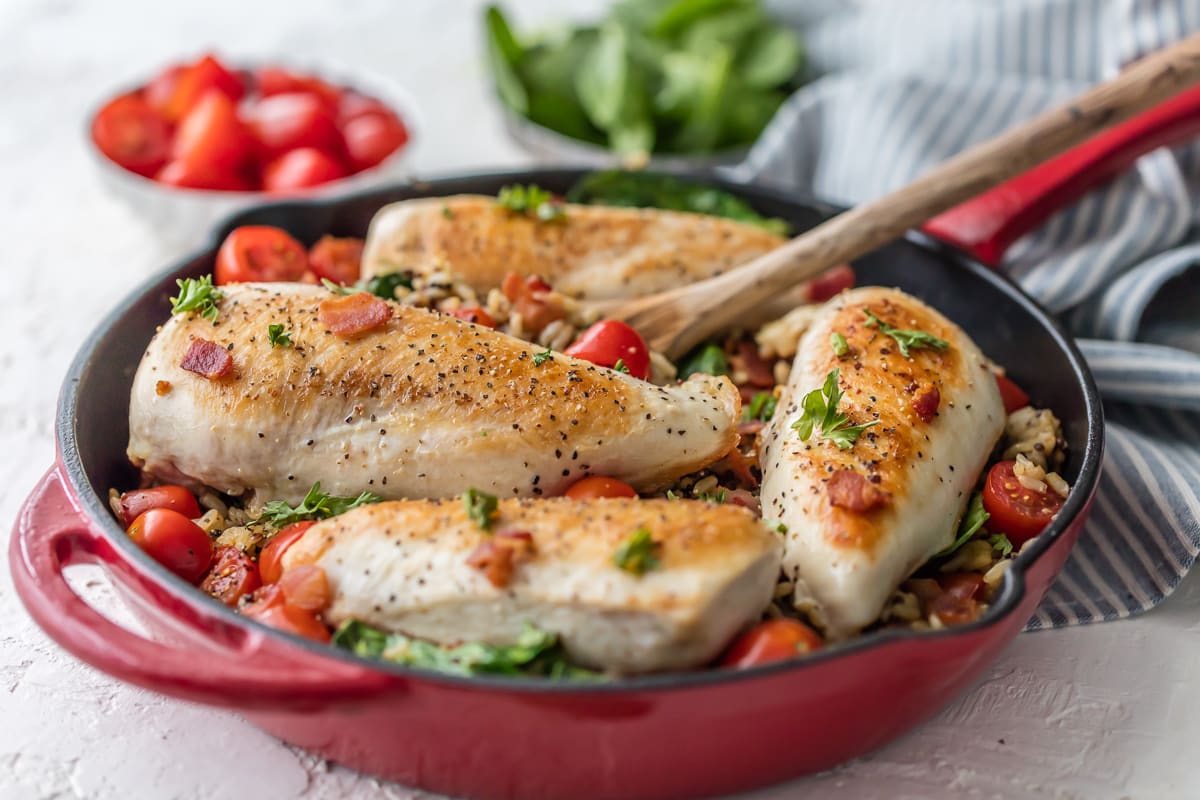 The flavors of this Skillet BLT Chicken and Rice are so simple yet so comforting. It makes me excited for Winter and these cooler temps coming our way soon. I want to snuggle up on the couch with the dog and cat (husband can take the other couch) :), have a great skillet meal, and watch some quality (I use that term loosely) reality tv. My kind of night!!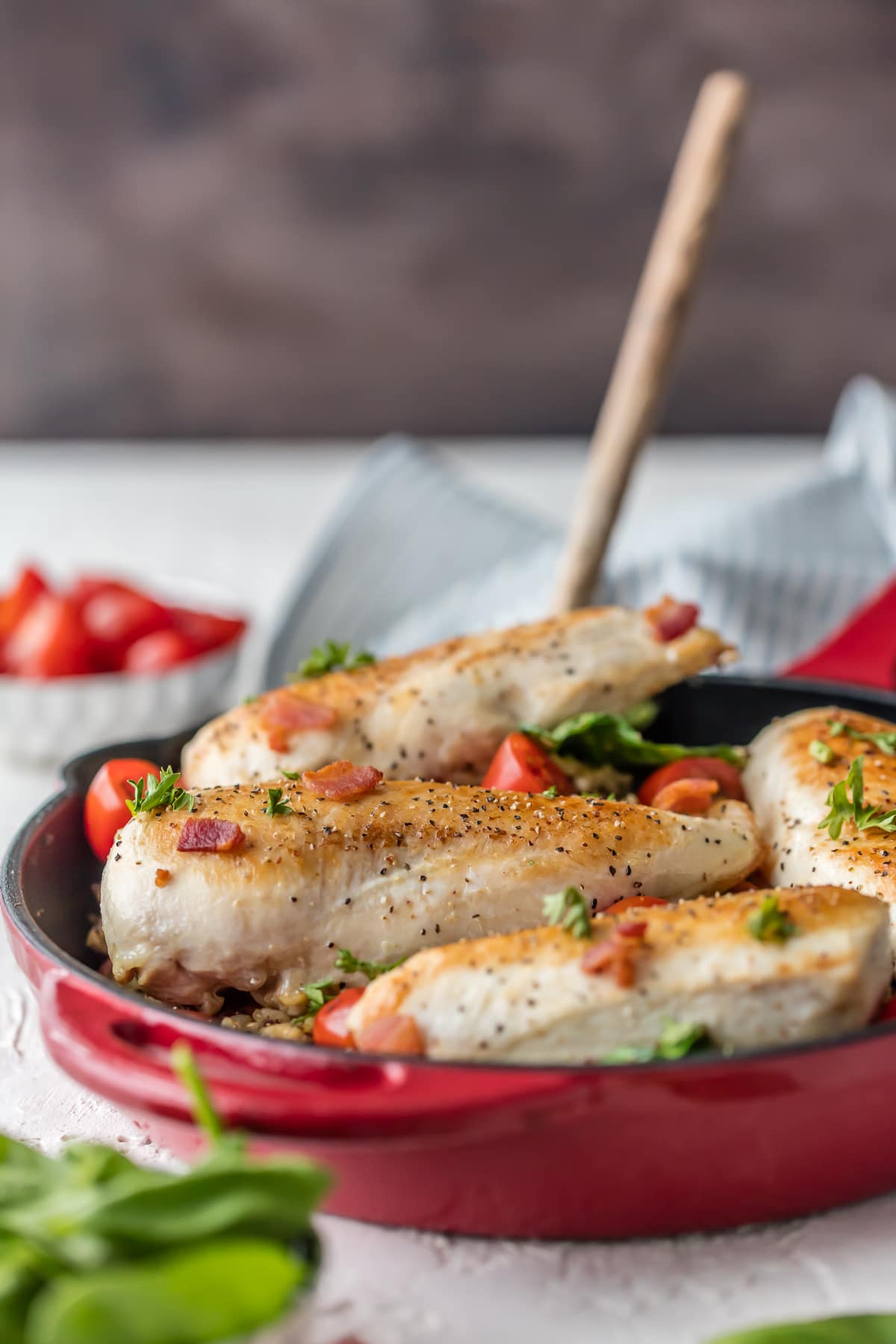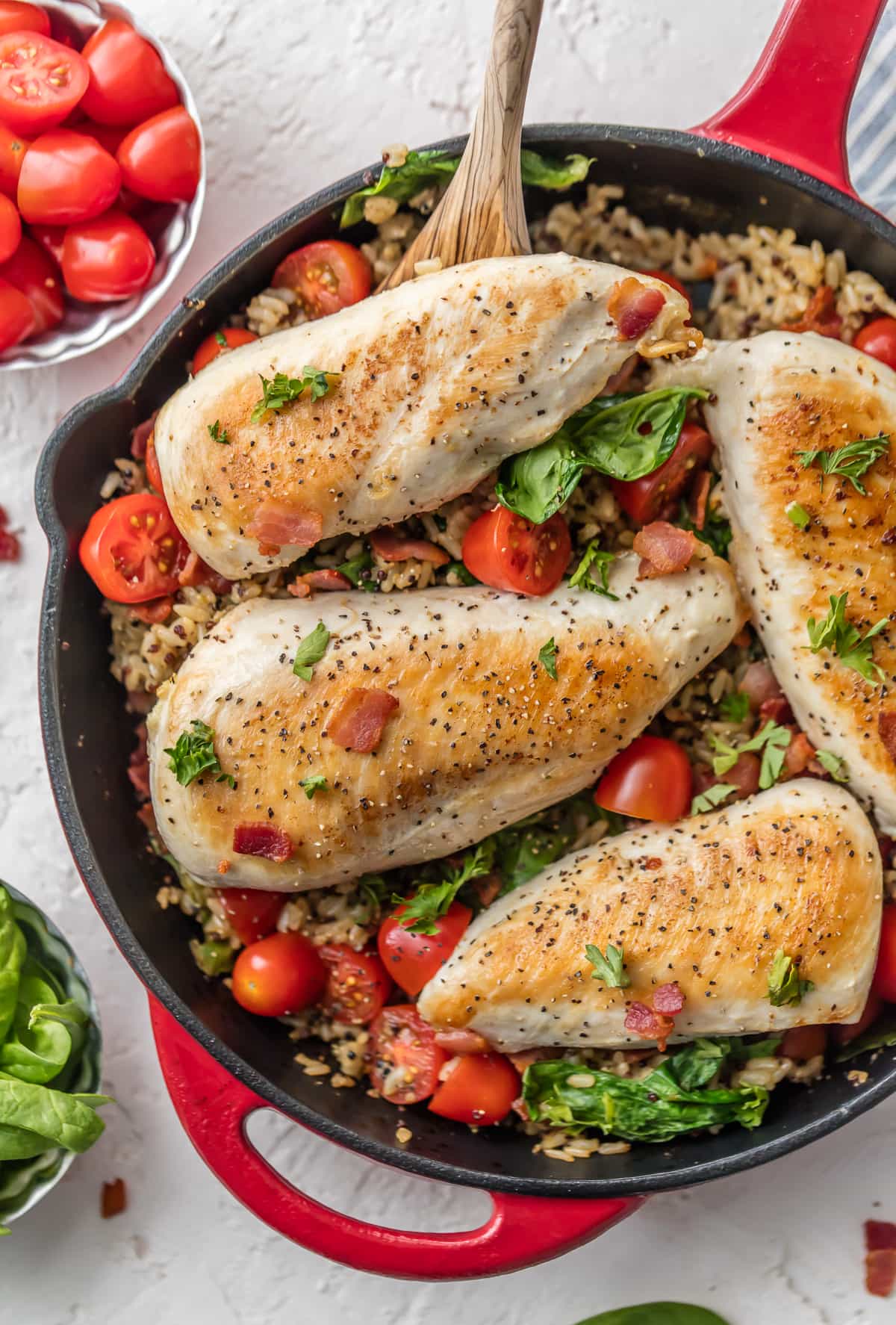 So let's recap: A super simple ONE POT meal, Skillet BLT Chicken and Rice, perfect for a dinner in or entertaining guests, should be made and on your table in less than 30 minutes TONIGHT. Sound good? Then you better get cooking!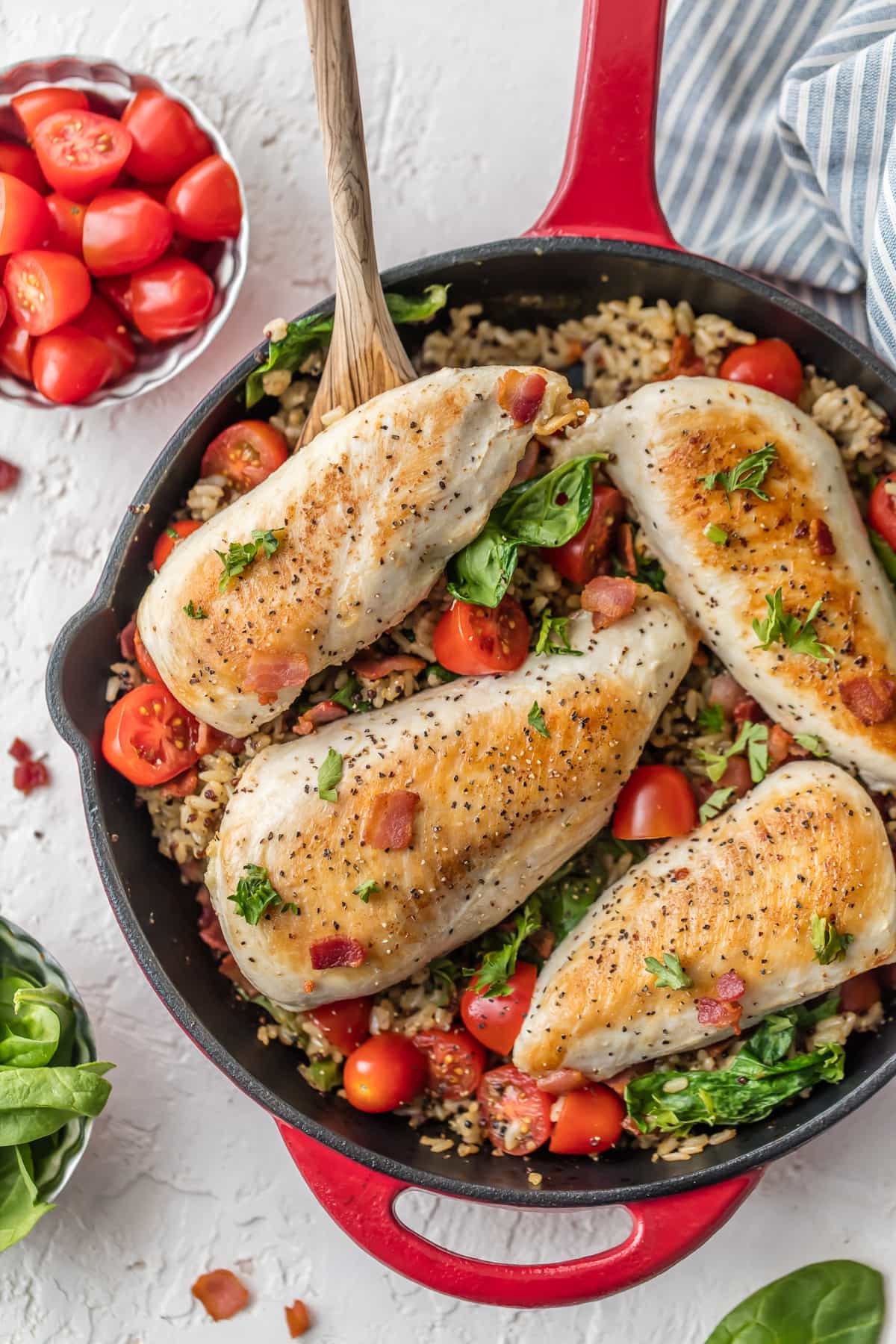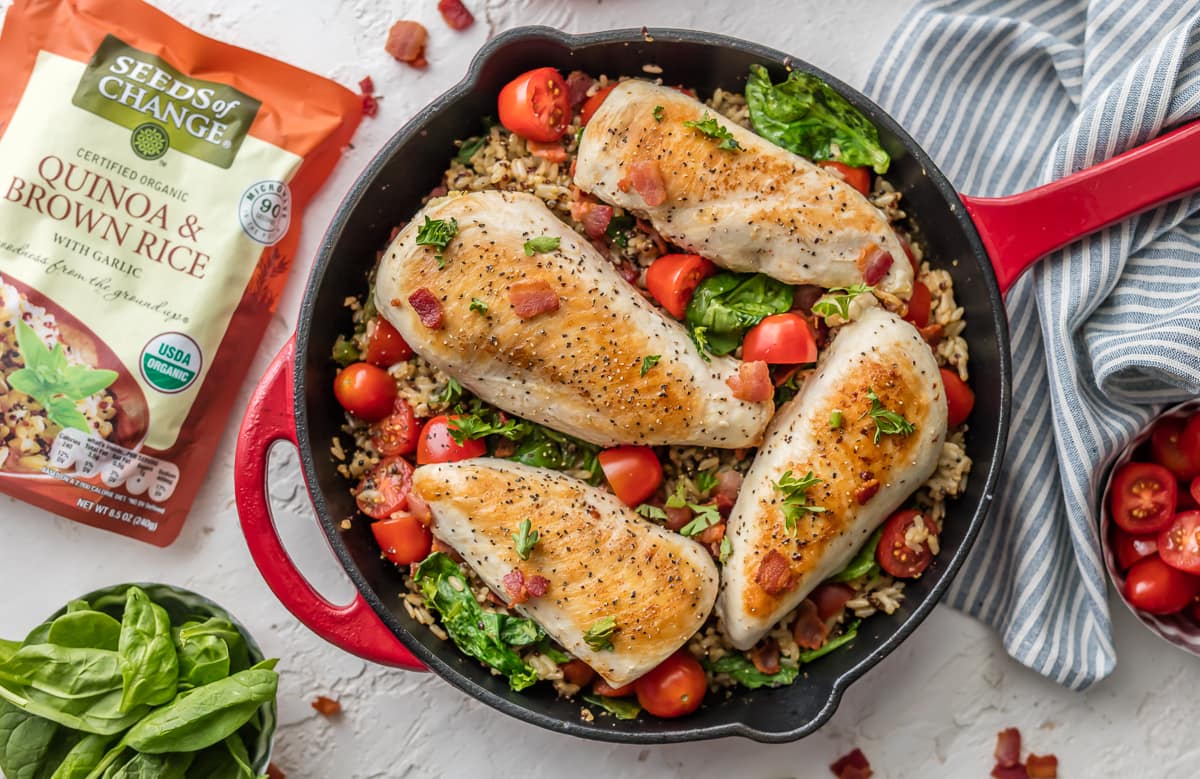 Be sure to download the Cartwheel App to save 10% with Target Cartwheel on any SEEDS OF CHANGE® Certified Organic food products. You won't regret it!
Enjoy!!
Ingredients
1/2 tablespoon olive oil
4 slices bacon, cut into small pieces
4 boneless skinless chicken breasts
2 tablespoons milk
1/2 tablespoon minced garlic
1 tablespoon lemon juice
2 bags Seeds of Change Quinoa & Brown Rice (or your favorite flavor)
salt and pepper to taste
2 cups fresh baby spinach
2 cups cherry tomatoes, sliced in half
fresh parsley for garnish
Instructions
Heat olive oil in a 10" nonstick skillet (or seasoned cast iron) over medium high heat.
Add in the bacon and stir to cook in the oil. Cook for approximately 5 minutes or until the bacon is crisp and cooked to your liking. Remove and place on a paper towel to drain. Set aside.
Drain all the oil, except for 1 tablespoon. Add chicken into the skillet and cook 4-5 minutes per side or until cooked through. Season with salt and pepper to taste on each side of the chicken. Transfer chicken to a plate and cover with foil to keep warm.
Add the milk, garlic, and lemon juice to the skillet and stir to combine.
Gently add in the brown rice and quinoa to the skillet, using a wooden spoon to break up the rice. Stir the rice into the milk mixture and allow to heat through, about 2 minutes. The rice will become creamier as it heats. After two minutes, add in the spinach, tomatoes, and bacon to the rice. Stir to combine, wilting the spinach as it cooks. Once the spinach is wilted and the rice is fully cooked through, return the chicken to the skillet and nestle in the rice.
Serve hot garnished with fresh parsley.
Enjoy!
7.6.4
2309
https://www.thecookierookie.com/skillet-blt-chicken-rice/
This post was written in partnership with Mars SEEDS OF CHANGE® and Target. As always, all opinions are 100% my own. Thank you so much for supporting the brands that help support The Cookie Rookie! ®/TM Trademarks ©SEEDS OF CHANGE, INC. 2016

JOIN OUR MAILING LIST
TO GET COOKING!
Subscibe to recieve all the latest, greatest, and EASIEST recipes sent straight to your email inbox. If we post something yummy, you'll be the first to know.