Loaded with colorful veggies and tender chicken, this delicious Chicken Fried Rice is an easy one-pan meal that's packed with flavor, the whole family will love it!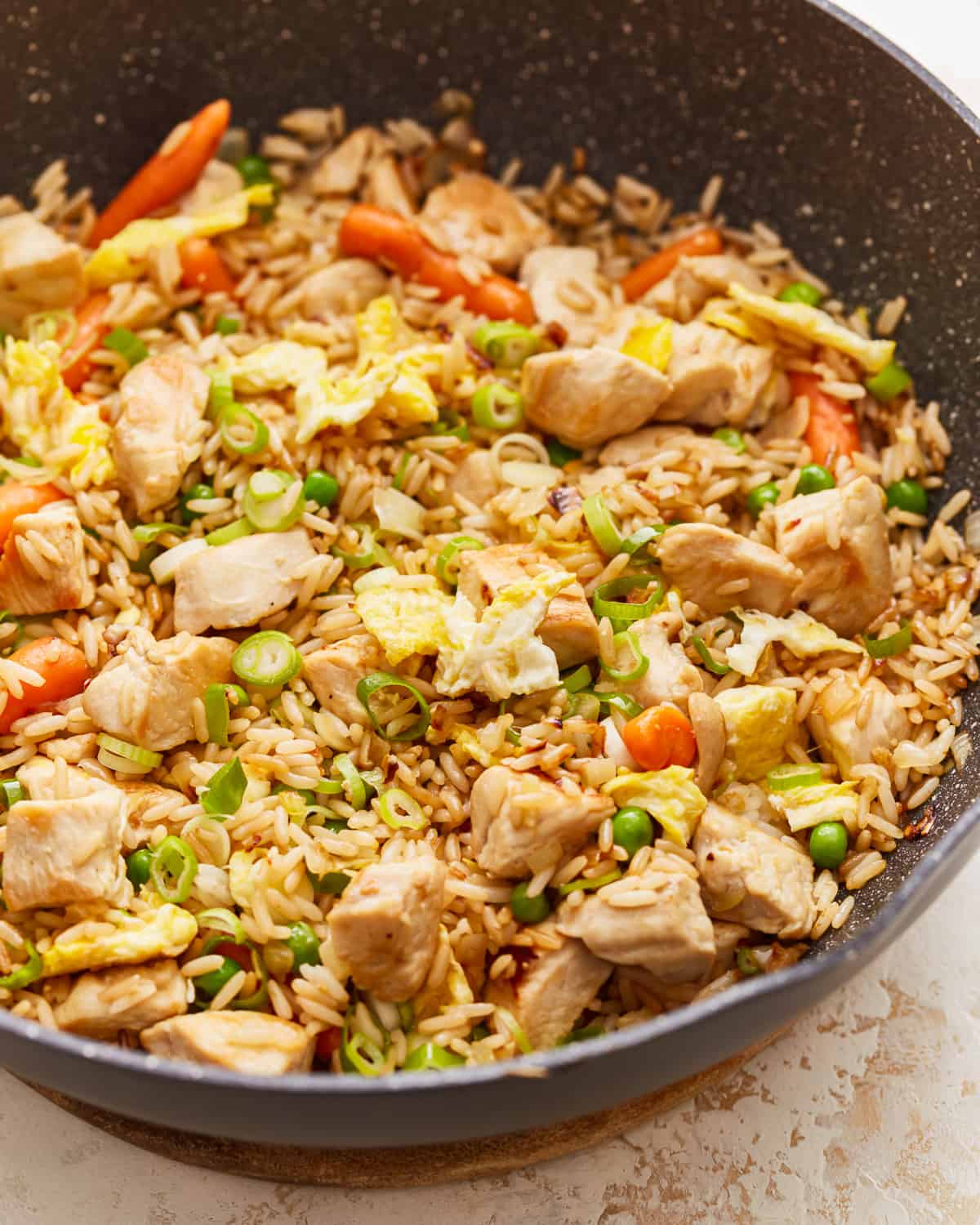 What's in this Chicken Fried Rice Recipe?
A homemade version of the classic takeout makes for the best weeknight dinner! It's super satisfying without feeling heavy. Savory and delicious, with a wonderful depth of flavor from the toasted sesame oil, this is a simple dish that packs a tasty punch!
Vegetable Oil: The perfect high smoke point neutral oil for pan-frying.
Eggs: Add a fluffy component to the dish.
Chicken: I used boneless, skinless chicken breasts, but you could also use thighs.
Onion: Adds an earthy sweet flavor.
Garlic: Adds an earthy flavor and a pungent aroma.
Kosher Salt: Enhances the natural flavor of the chicken.
Cooked White Rice: You'll need to cook and cool your rice ahead of time to prepare for this recipe.
Frozen Peas + Carrots: Add sweetness and nutrition.
Soy Sauce: Adds that classic salty, umami flavor to the rice.
Green Onions: Add a pop of color, crunch, and flavor.
Toasted Sesame Oil: Adds a nutty flavor to the rice.
Pro Tip: To make this recipe gluten-free, use tamari or coconut aminos in place of the soy sauce.
Variations on Easy Chicken Fried Rice
Choose a mix of your family's favorite fresh or frozen veggies, such as corn, green beans, broccoli, or edamame, totaling ½ cup. Note that some vegetables take longer to cook than others, so adjust the cook time accordingly. For a healthier swap, use an equal amount of brown rice or riced cauliflower.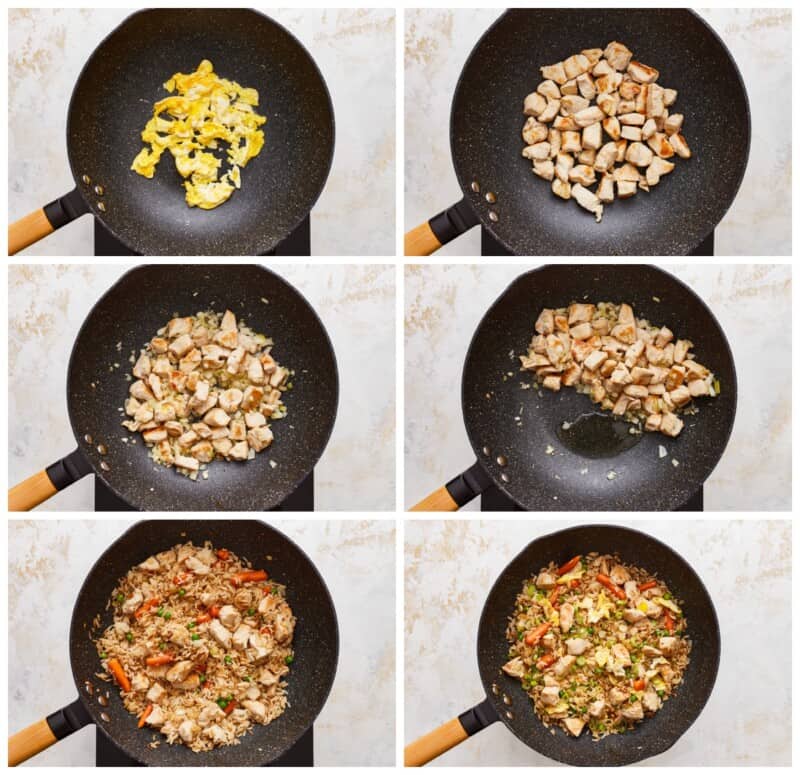 What is the best oil for fried rice?
The best oil is a neutral-flavored oil with a high smoke point, such as vegetable, canola, or avocado oil.
What is the best rice for Chinese fried rice?
Long-grain white rice works best for this recipe.
How much dry rice do I need to make 3 cups of cooked rice?
1 cup of dry rice yields 3 cups of cooked rice.
What gives Chinese fried rice its flavor?
The classic flavor of fried rice comes from the soy sauce, onions, garlic, and sesame oil.
Is chicken fried rice healthy?
This dish is not particularly healthy, so enjoy it in moderation as part of a balanced diet.
What is the secret to authentic fried rice?
The secret to authentic fried rice is to cook and chill the rice ahead of time. If you use warm, freshly cooked rice, your fried rice will turn out mushy.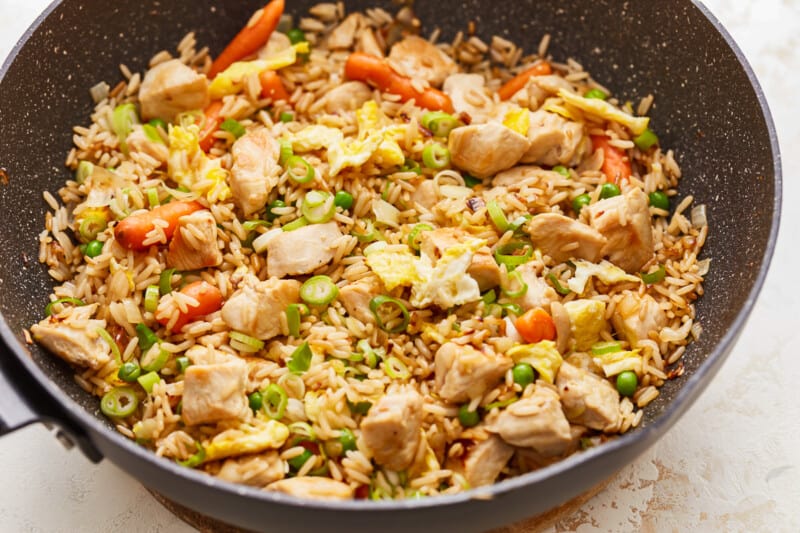 How to Store and Reheat
Store leftover chicken fried rice in an airtight container in the refrigerator for up to 3 days. Reheat in the microwave with a splash of water to rehydrate the rice in 30-second increments until warmed through.
How to Freeze
Let the chicken fried rice cool completely, transfer to an airtight container, and freeze for up to 2 months. Thaw in the refrigerator overnight before reheating.
Serving Suggestions
This easy chicken fried rice recipe is a filling dinner on its own, but you can certainly amp things up with a side or two. I love Asian cucumber salad, egg drop soup, shrimp summer rolls, egg rolls, lettuce wraps, crab rangoon, everything bagel edamame, or blistered sweet peppers.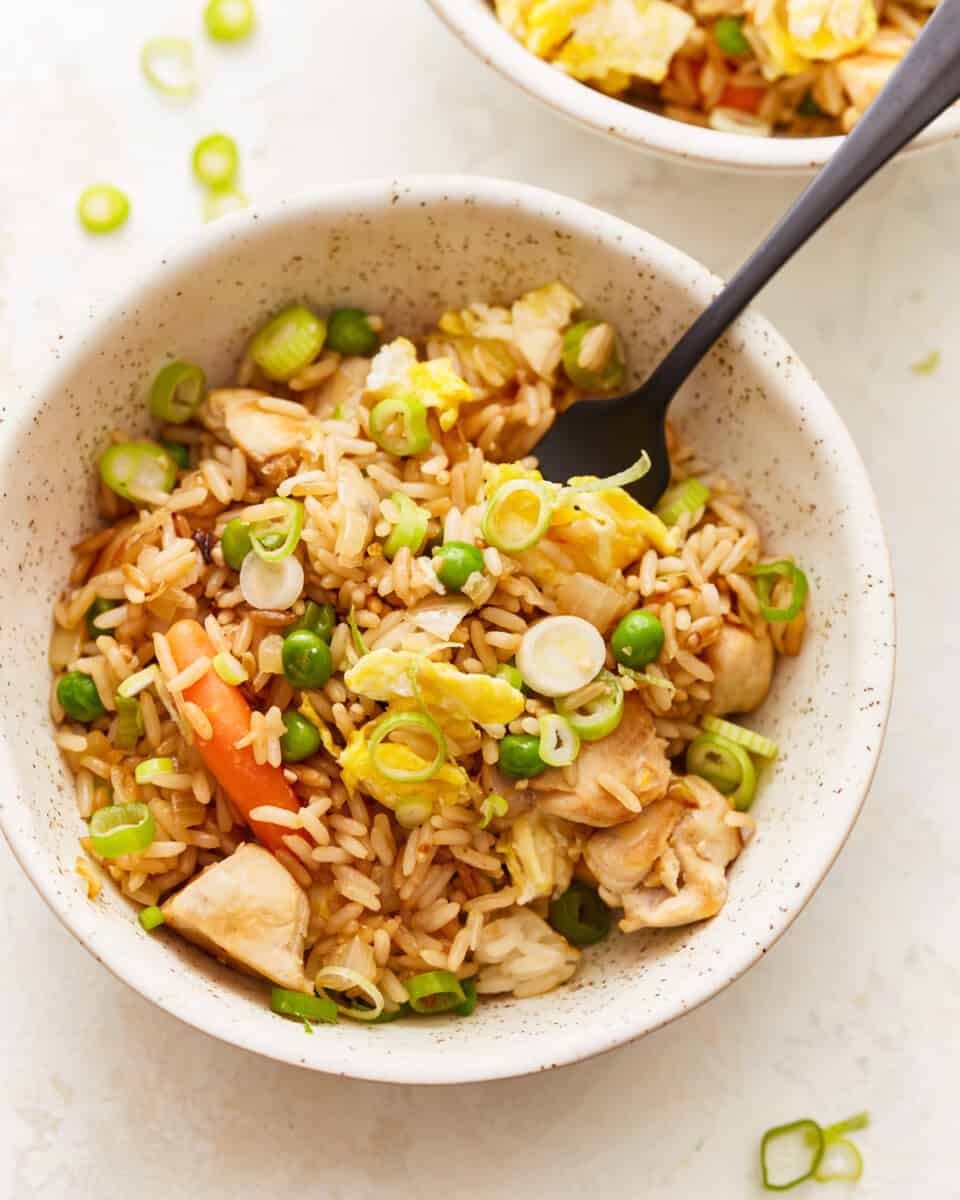 More Fried Rice Recipes We Love