These shrimp summer rolls are the perfect appetizer for any season! Rice paper is packed full of zesty shrimp, bright vegetables, and a spicy sauce. Healthy, flavorful, and easy to make, Vietnamese shrimp rolls are a must make!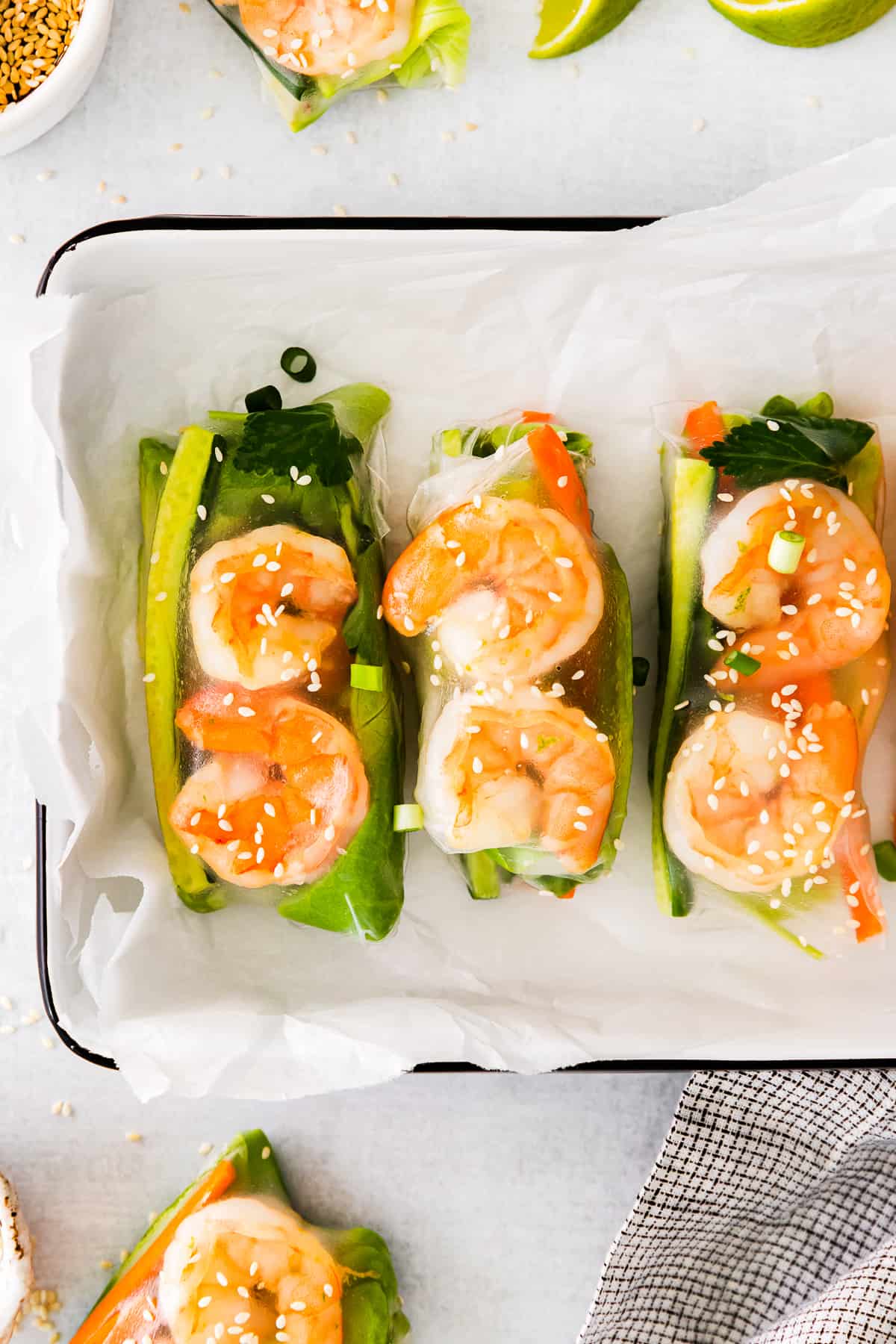 Vietnamese Shrimp Rolls
These shrimp summer rolls (or what you might think of as Spring rolls) are about to be your go-to appetizer for dinner parties, summer days, and happy hour alike. They're so simple to make, but they are so flavorful and look just beautiful!
Zesty lime-infused shrimp is cooked up in a skillet, then wrapped up with crisp, fresh veggies (like cucumbers, carrots, greens, and more), and paired with a flavorful sauce. The dipping sauce adds a touch of heat and acidity that takes these appetizers to the next level.
Why You'll Love this Shrimp Summer Roll Recipe:
REFRESHINGLY HEALTHY: This healthy shrimp recipe is light, crisp, and full of healthy ingredients like cucumber, butter lettuce, and parsley.
ANY TIME RECIPE: These summer rolls make a great light meal or appetizer. If you're looking for something more substantial, you could serve them with a side of rice or noodles.
EASY: This recipe is pretty straightforward and easy to follow. Just cook the shrimp briefly, and the rest is easy peasy.
Don't delay on making this Vietnamese shrimp spring roll recipe. No need to go out when you can make these right at home.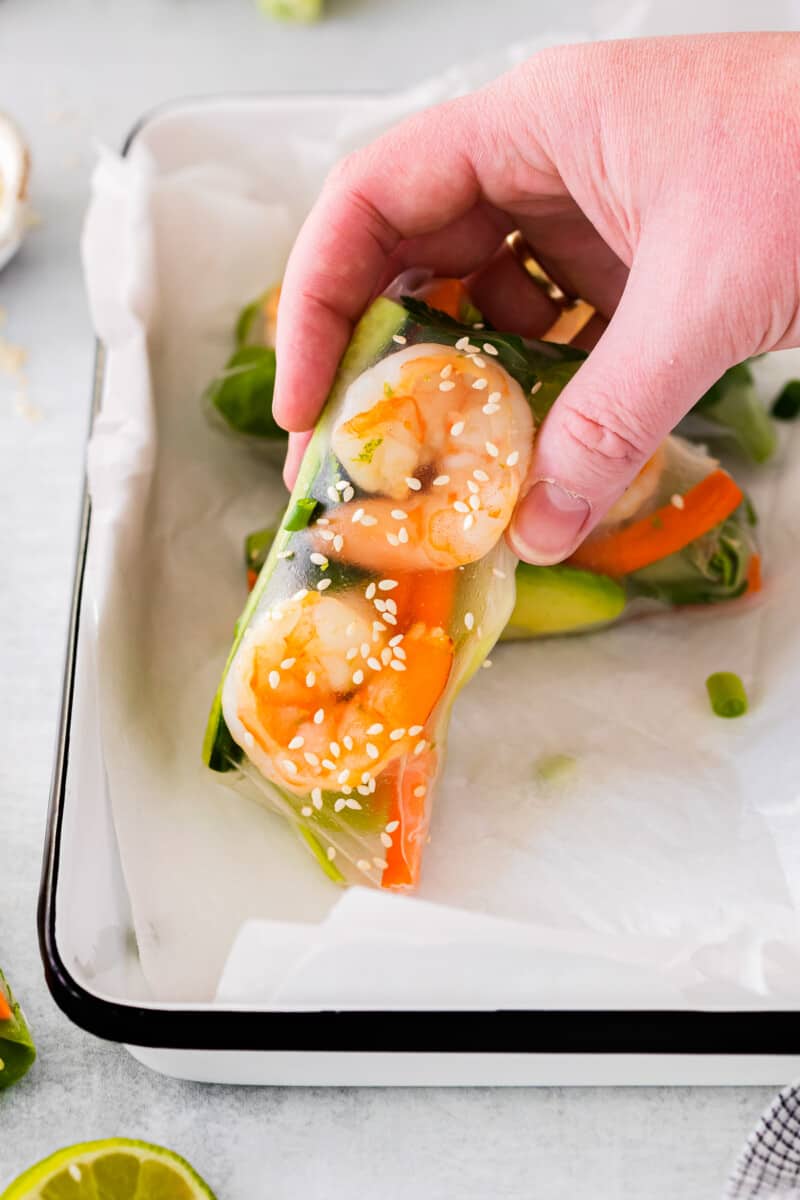 How to Make Shrimp Summer Rolls
You can jump to the recipe card for full ingredients & instructions!
Marinade: Whip up the lime marinade, and marinate shrimp in the fridge. Prep veggies.
Shrimp: Cook just a few minutes in a skillet, then let them cool.
Assemble: Dip rice paper in hot water, add shrimp & veggies, then roll up like a burrito.
Dipping Sauce: Simply combine ingredients in a bowl, and serve alongside the rolls.
Shrimp Summer Roll Recipe Notes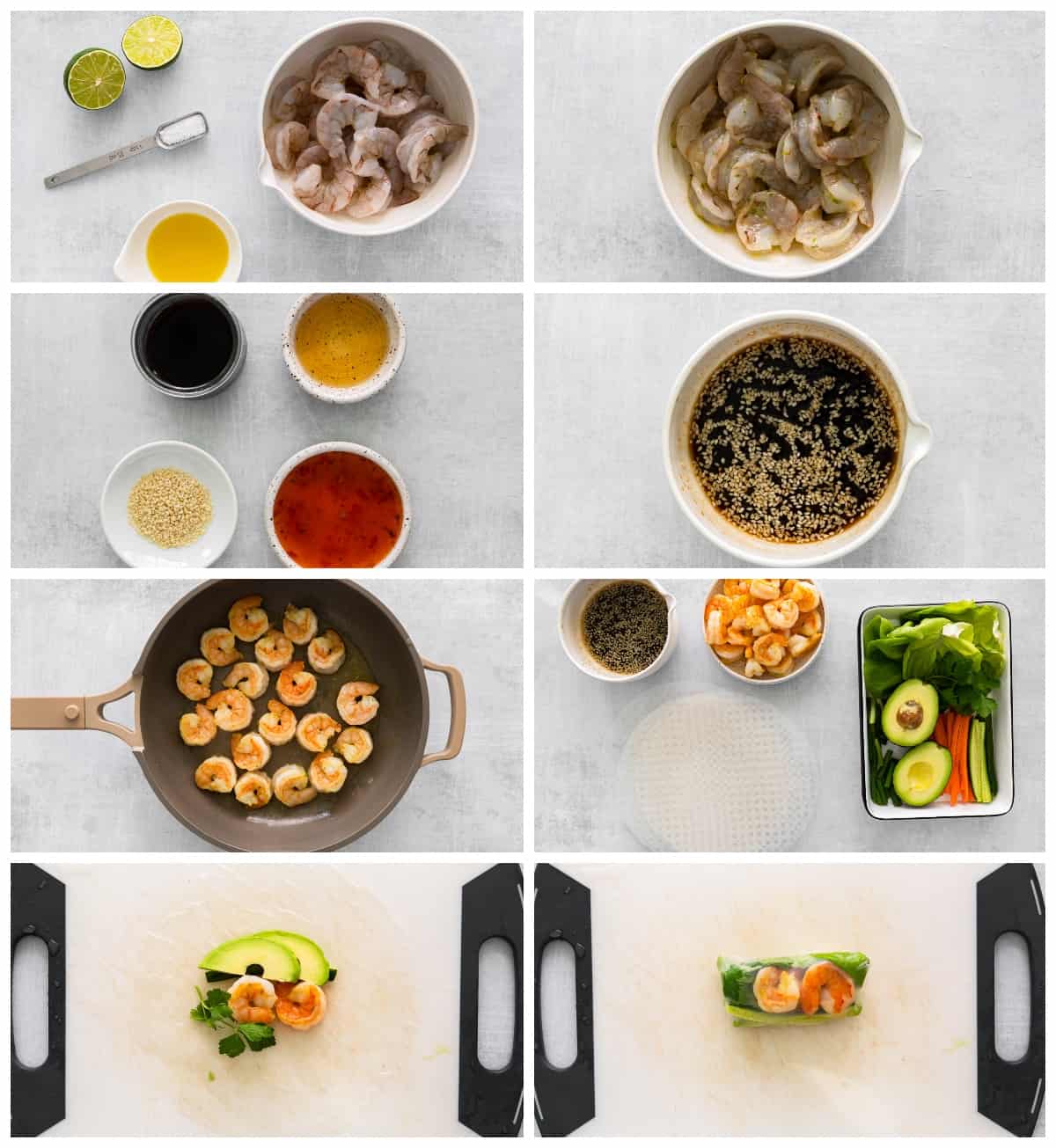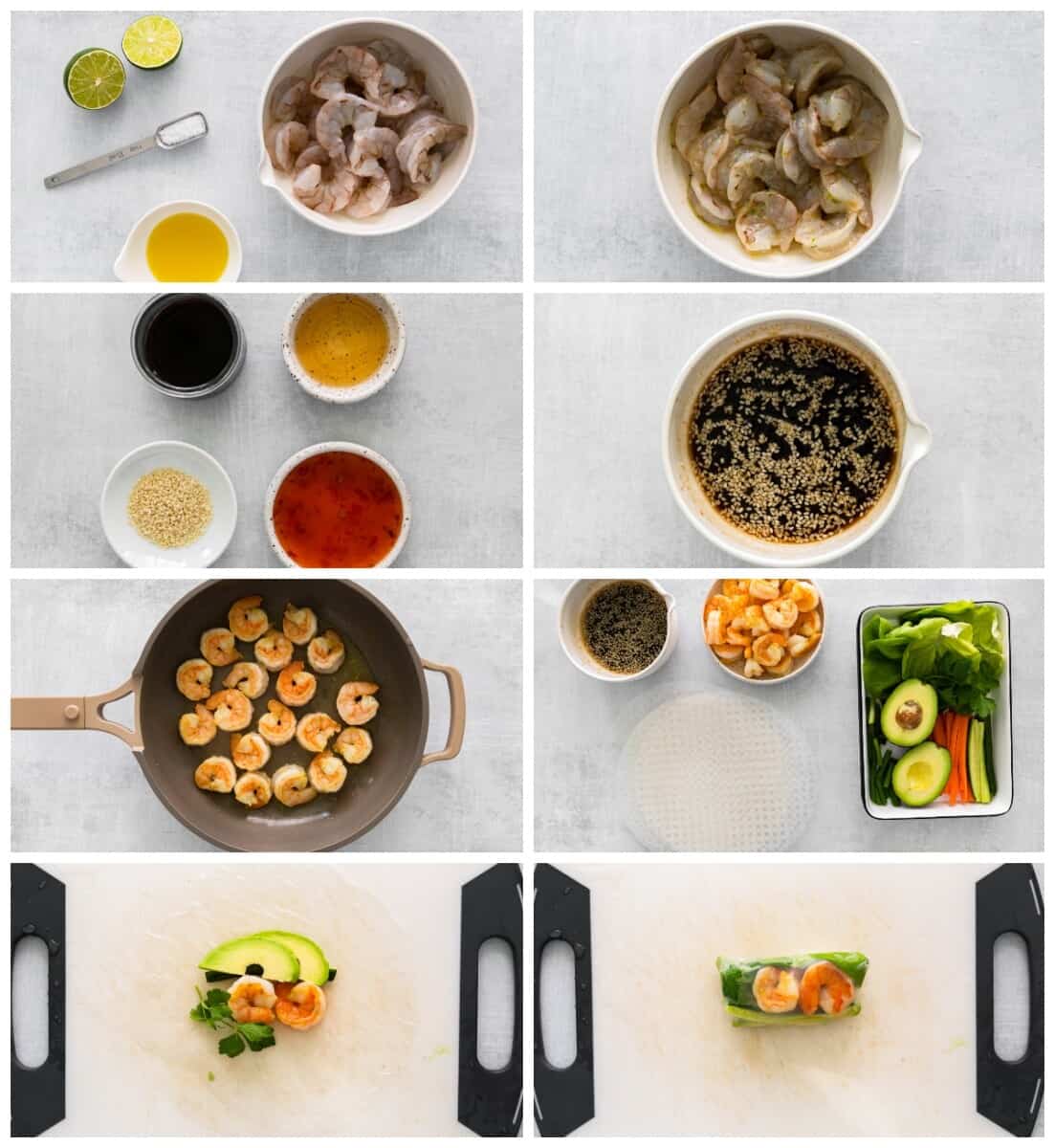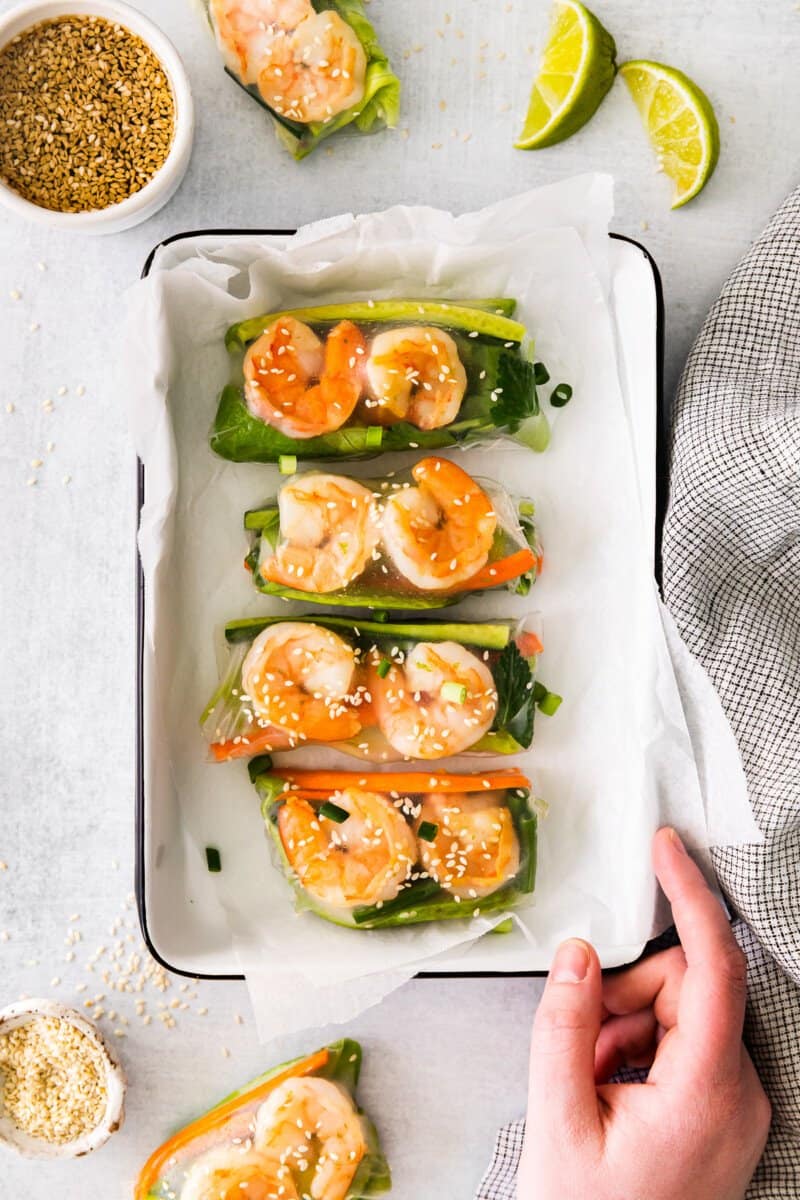 What's the difference between a summer roll and a spring roll?
A summer roll is a combination of cooked meat and raw vegetables in a translucent rice paper wrapper. They are usually not cooked in any way and are served cold. Spring rolls, by contrast, consist of a combination of meat and veggies wrapped in a flour-based dough, deep-fried, and served hot. (Although the term spring rolls is often used interchangeably.)
Can I make summer shrimp rolls ahead of time?
I do not recommend making these in advance because the rice paper can quickly dry out and the rolls can also stick together. However, you can cook the shrimp and cut the veggies ahead of time, so they're ready to assemble.
Are Vietnamese shrimp rolls gluten-free?
The rolls themselves are naturally gluten-free, but the dipping sauce is not. Ponzu sauce contains soy sauce, which is not gluten-free. To make these rolls gluten-free, swap the ponzu sauce for gluten-free ponzu sauce, coconut aminos, or tamari.
Can I fry summer shrimp rolls?
No, do not fry these summer shrimp rolls. These are meant to be enjoyed cold, and the rice wrappers are not suitable for frying.
Serving Suggestions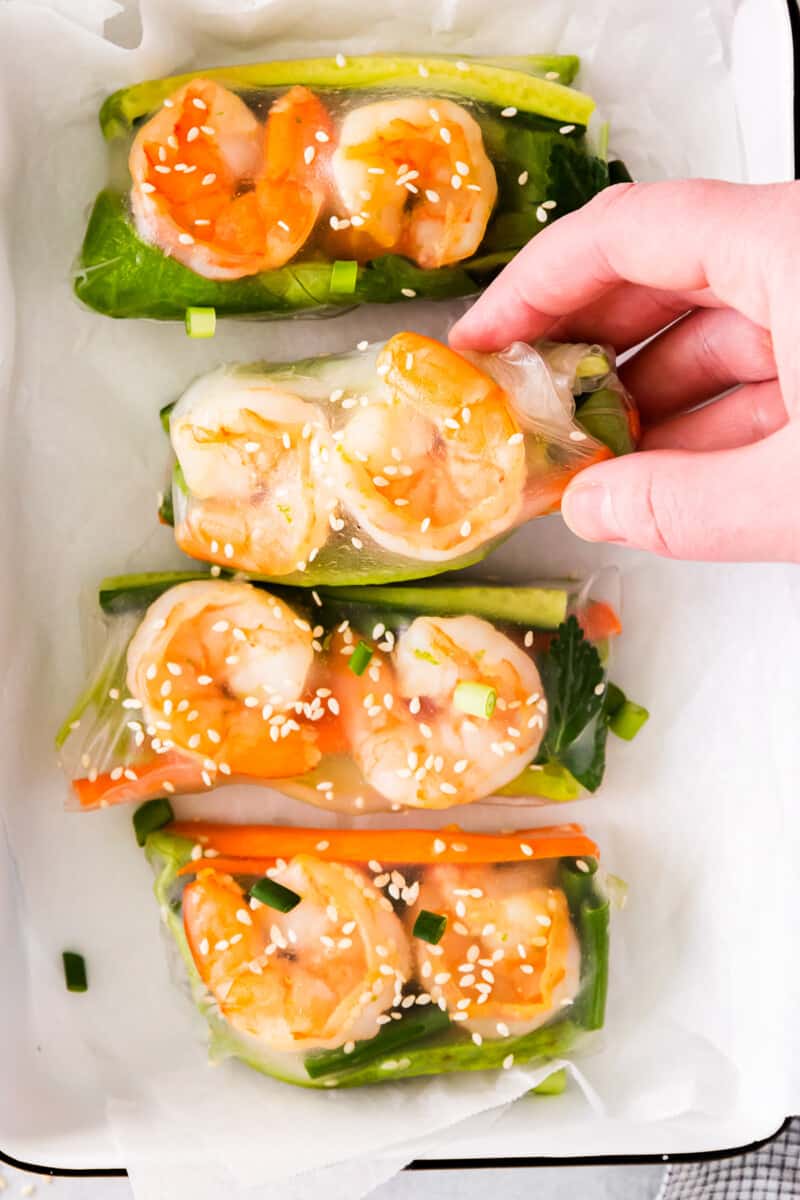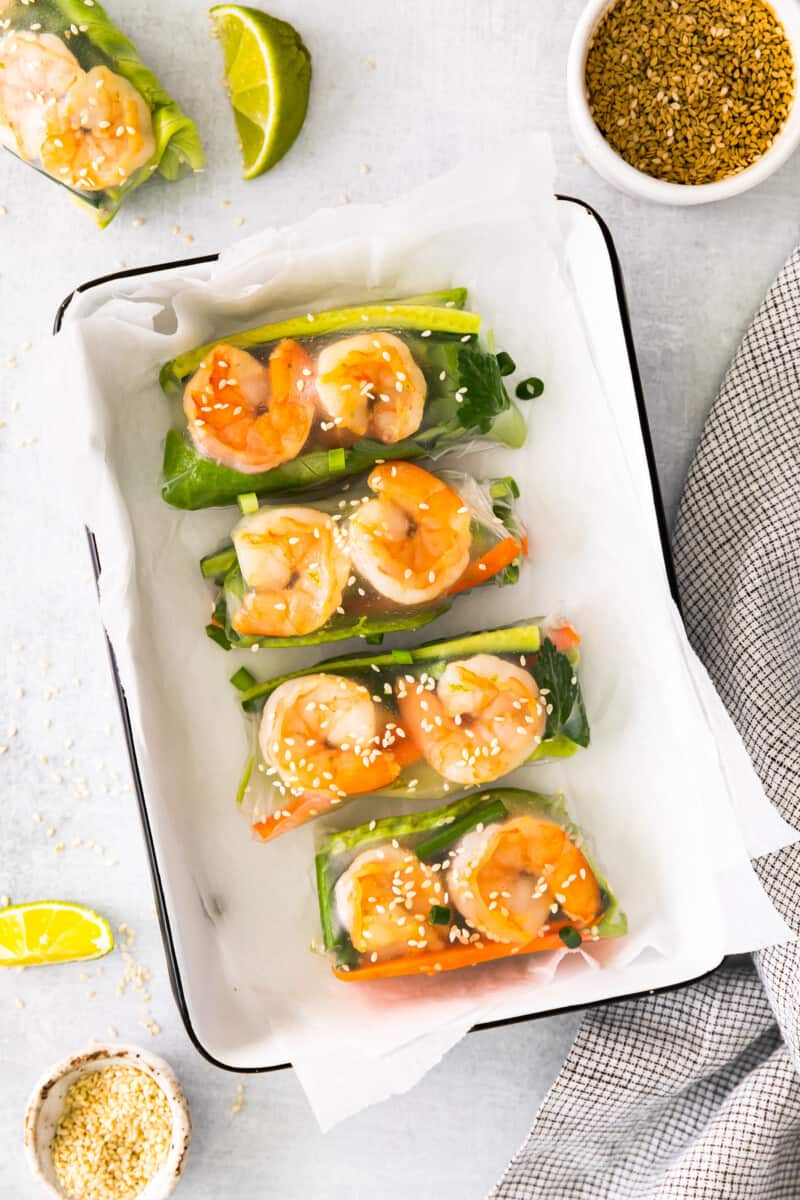 Make Ahead Instructions
Although I do not recommend making the fully-assembled rolls ahead of time, you can make the components ahead of time and do the assembly just before serving. To make these summer rolls ahead of time, marinate and cook the shrimp, then refrigerate until ready to use. Chop the vegetables ahead of time and store in an airtight container in the refrigerator until you're ready to assemble.
Storage Instructions
For best results, individually wrap each summer roll in plastic wrap, then refrigerate for up to 2 days. I do not recommend freezing summer rolls.
Summer Roll Variations
Thai Summer Rolls: Switch up the sauce for spicy Thai peanut sauce
Crab Rolls: Swap the shrimp for crab and add thinly sliced avocado
Spicy Salmon Rolls: Substitute salmon for the shrimp and add a dash of sriracha to the filling
Veggie Rolls: Swap the shrimp for more veggies, like bell peppers and mushrooms
BLT Rolls: Fill the rice wrappers with romaine lettuce, slices of cooked bacon, and diced fresh tomato. Serve with homemade ranch
Strawberry Balsamic: Add sliced strawberries, baby spinach, feta cheese, and chopped pecans to the rice wrappers. Serve with balsamic dressing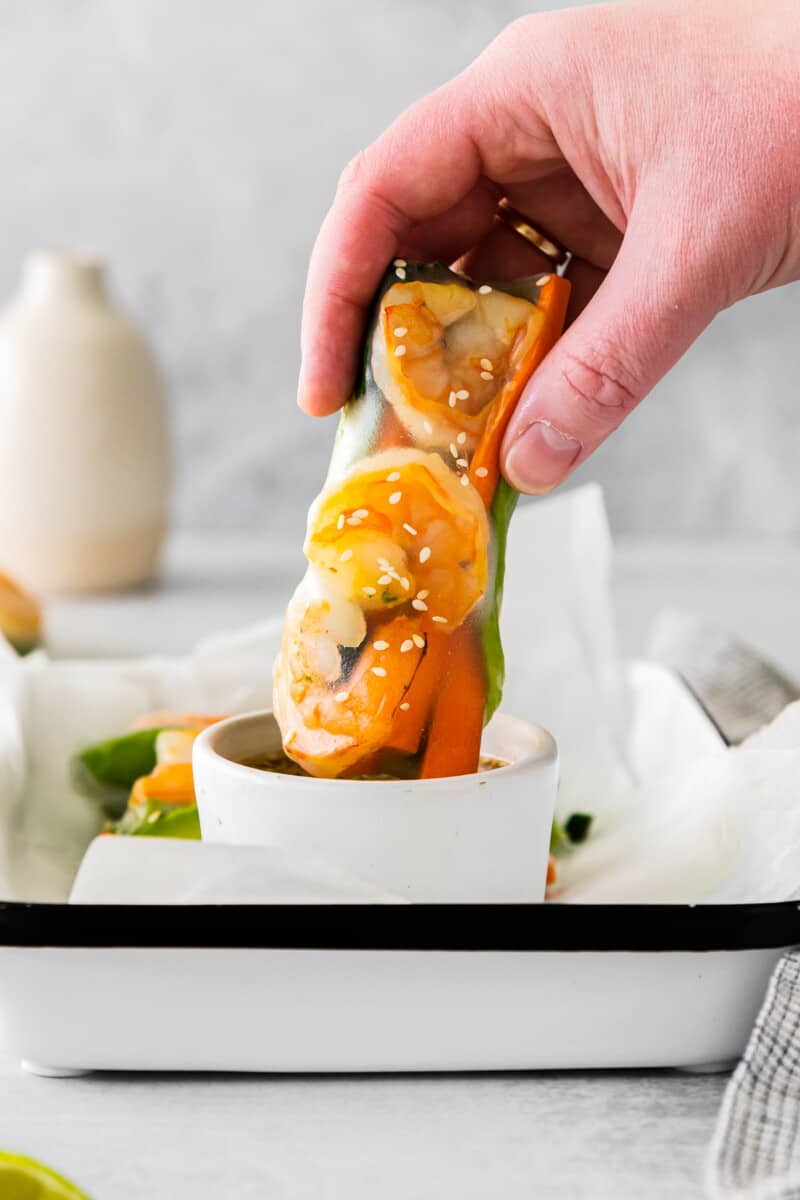 Shrimp Summer Rolls are a delicious and healthy appetizer that can be enjoyed by everyone. Nothing beats flavorful shrimp combined with crisp veggies. And despite the name, they're not just for summer, so make them any time you want!
If you make this recipe be sure to upload a photo in the comment section below or leave a rating. Enjoy! You can also jump to recipe.