Nacho Casserole. Does that sound like a dream or what? This Chicken Nacho Casserole is our favorite Mexican weeknight meal! Throw it together, bake, and enjoy this cheesy, spicy, delicious, EASY Tex Mex casserole in just minutes!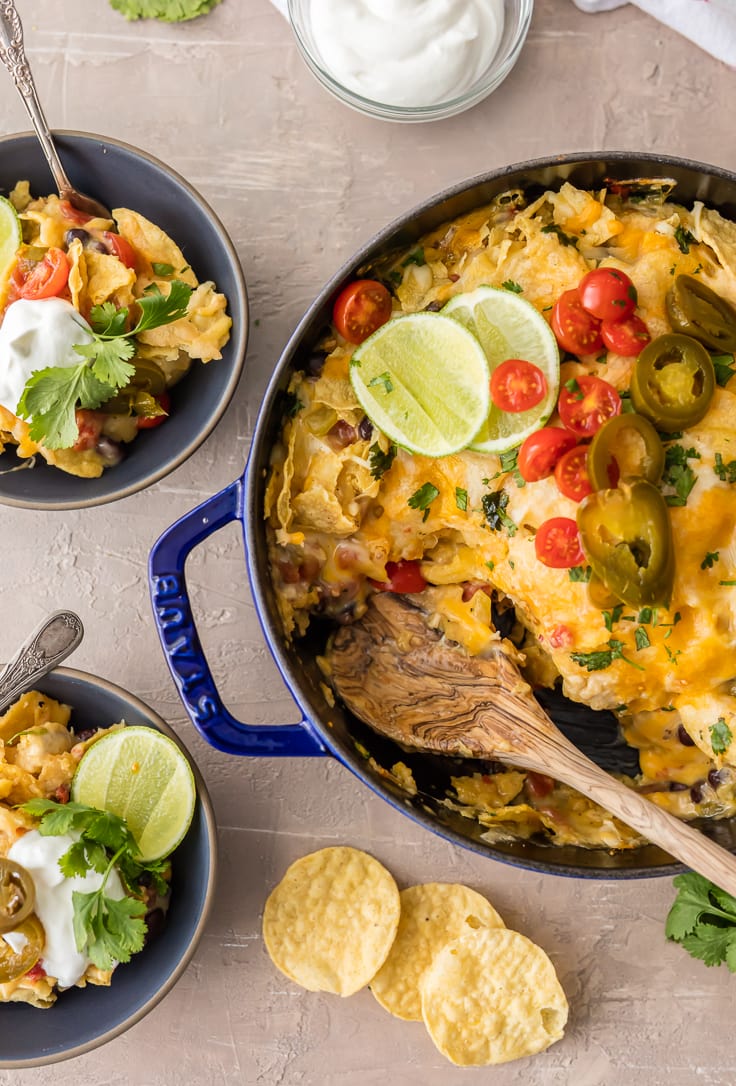 Nacho Casserole
This Chicken Nacho Casserole is a combination of two of the best types of foods. If you like nachos, you'll LOVE them in casserole form!
Happy Friday! Coming at you with a new favorite favorite recipe, SUPER EASY CHICKEN NACHO CASSEROLE!
I've always had a soft spot for casseroles, because they're simple, quick, and usually loaded with cheese. Obviously casseroles with chicken are my food spirit animal.
This fun Tex Mex Casserole recipe in particular is just SO good and SO easy. Layers of crunch from the tortilla chips with spiced chicken, cheese, chiles, and more in between. What's not to love!?
Since I made this for the first time last week, Pat's already requested it again. So I know it's a winner. I know you'll love it too!
Make this amazing Tex Mex Chicken Nacho Casserole recipe for an easy weeknight meal!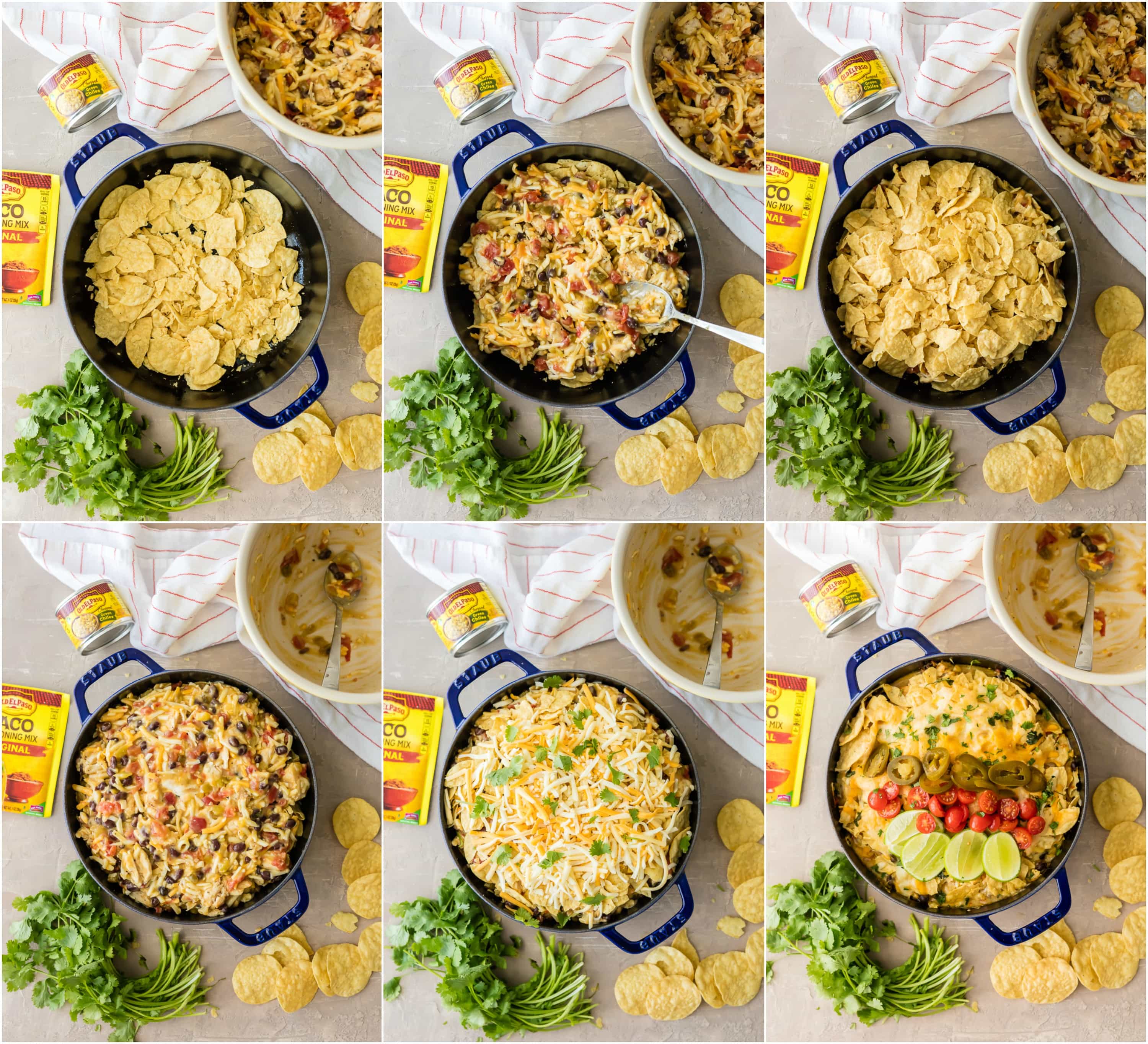 Tex Mex Casserole
This nacho casserole has all of my FAVORITE Tex Mex ingredients. What's not to love about nachos baked into one big cheesy casserole? It's basically a dream!
I've got three layers of chips in there because I WANT ALL THE CRUNCH! This recipe takes chicken nachos and kicks them up an easy and cheesy notch, trust me!
The cheesy chicken layer is made EXTRA tasty because of Old El Paso. OF COURSE! Their Taco Seasoning is my jam in so many recipes, and their green chiles are my favorite way to add some subtle spice to any recipe. Not too spicy, but a little flavor goes a long way. Perfection.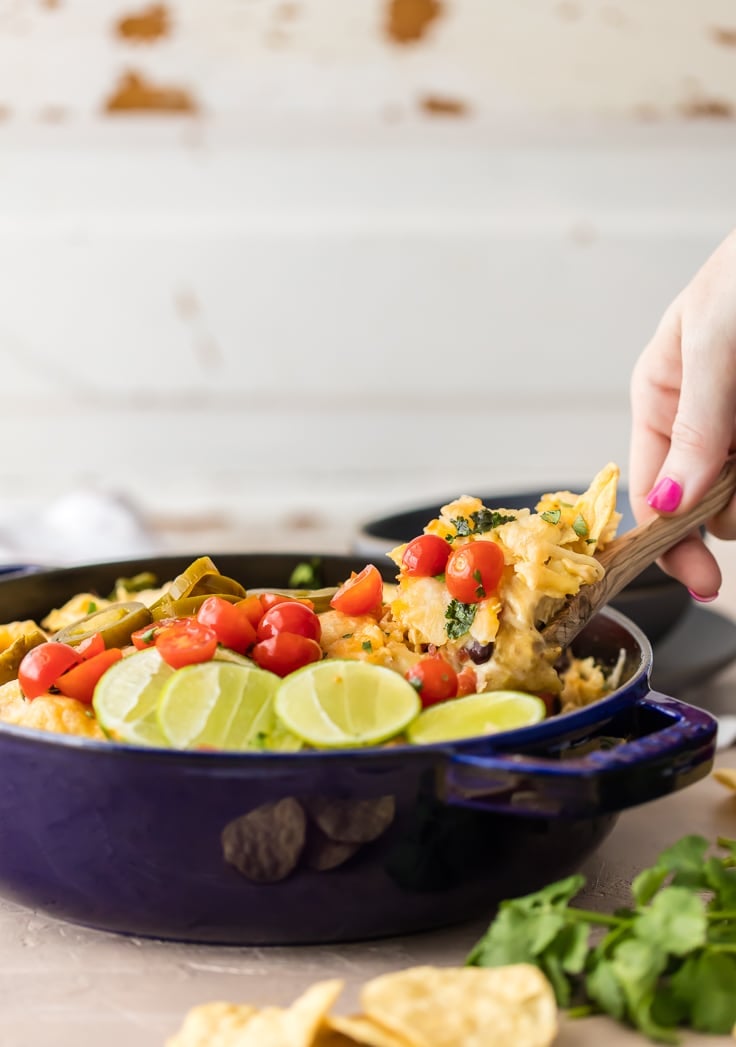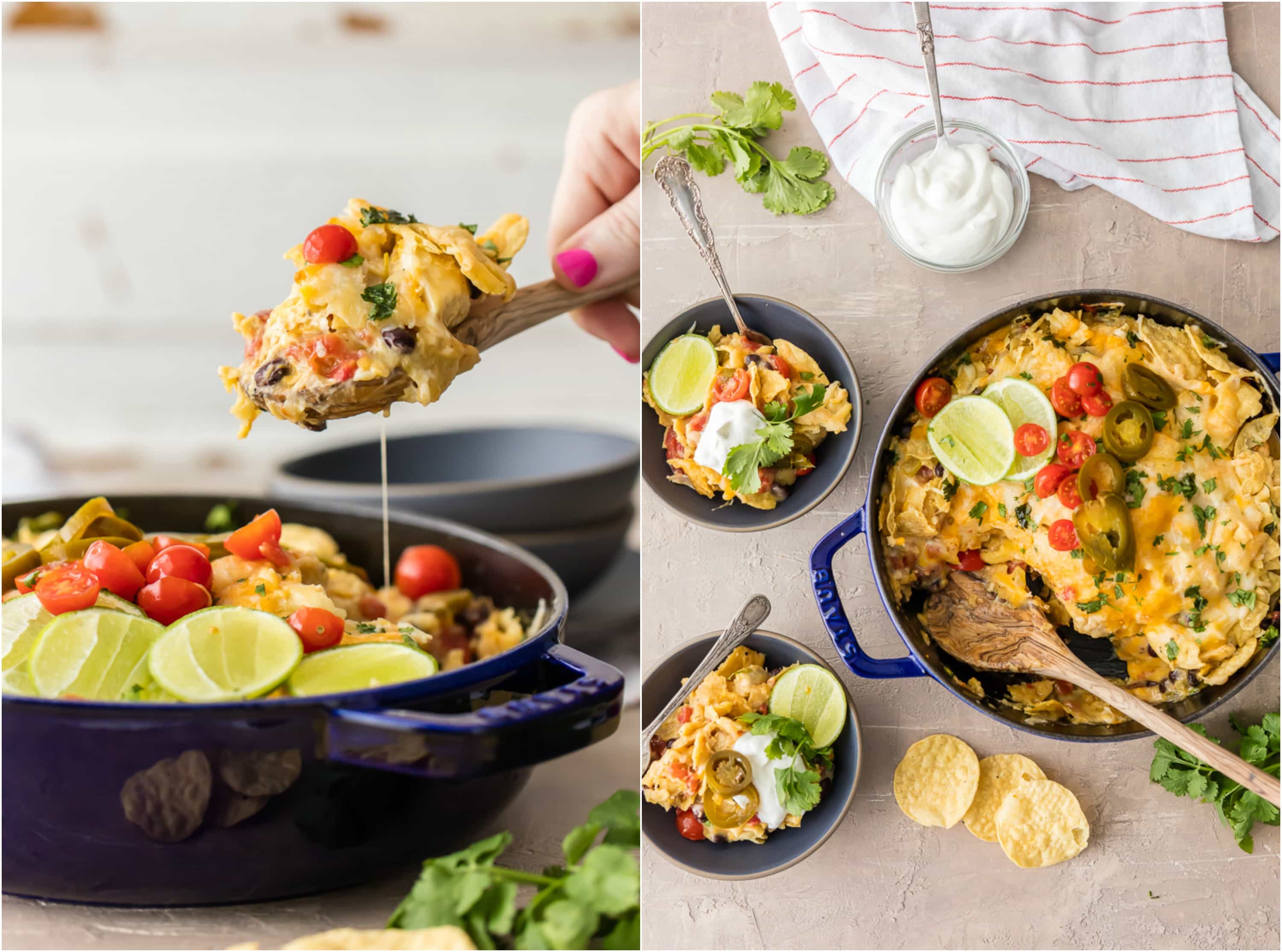 How to Make Chicken Nacho Casserole
This recipe is called SUPER EASY for a reason. This cheesy Tex Mex Casserole is filled with lots of amazing ingredients (chicken, green chiles, Rotel, cheese, black beans, etc), but it only requires a few steps to make.
Preheat oven to 350°F and heat a skillet on the stove.
Toss the chicken in olive oil, taco seasoning, and salt & pepper.
Now add the seasoned chicken into the skillet and cook 7-10 minutes (be sure to flip it as it cooks). Set it aside when it's done cooking.
In a large bowl, combine the soups, tomatoes, chiles, beans, cilantro, and cheese. Then stir in the cooked chicken.
To assemble the casserole: place 1/3 of the crushed chips into the dish, layer in 1/2 of the chicken mixture, then another layer of 1/3 of the chips, add the rest of the chicken mixture, and then top it off with the rest of the chips and cheese.
Bake uncovered for 20-25 minutes.
This chicken nacho casserole comes out hot, bubbly, cheesy, and delicious. It's just like nachos, but you get to eat it with a fork and it's a bit easier to get every ingredient in each bite!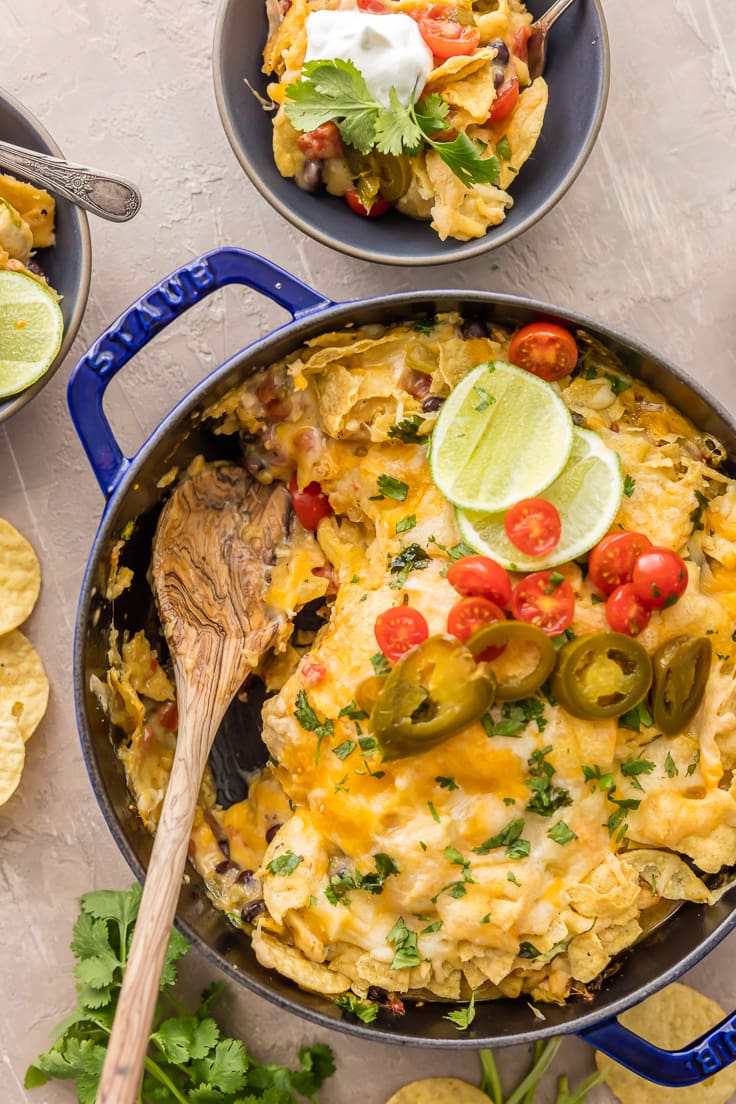 Don't you just want to dive in head first?! No, just me? Well don't judge me. It's just too tasty! Once you try it, you'll understand. LOVE LOVE LOVE!
See the recipe card for details on how to make Chicken Nacho Casserole. Enjoy!
You'll love these other Tex Mex recipes: