Frito Pie Casserole is an easy recipe with all the best Tex Mex flavors! Layer up the corn chips, seasoned beef, cheese, and more in a delicious dish that's perfect for weeknight dinners. Everyone will LOVE this Frito Pie recipe!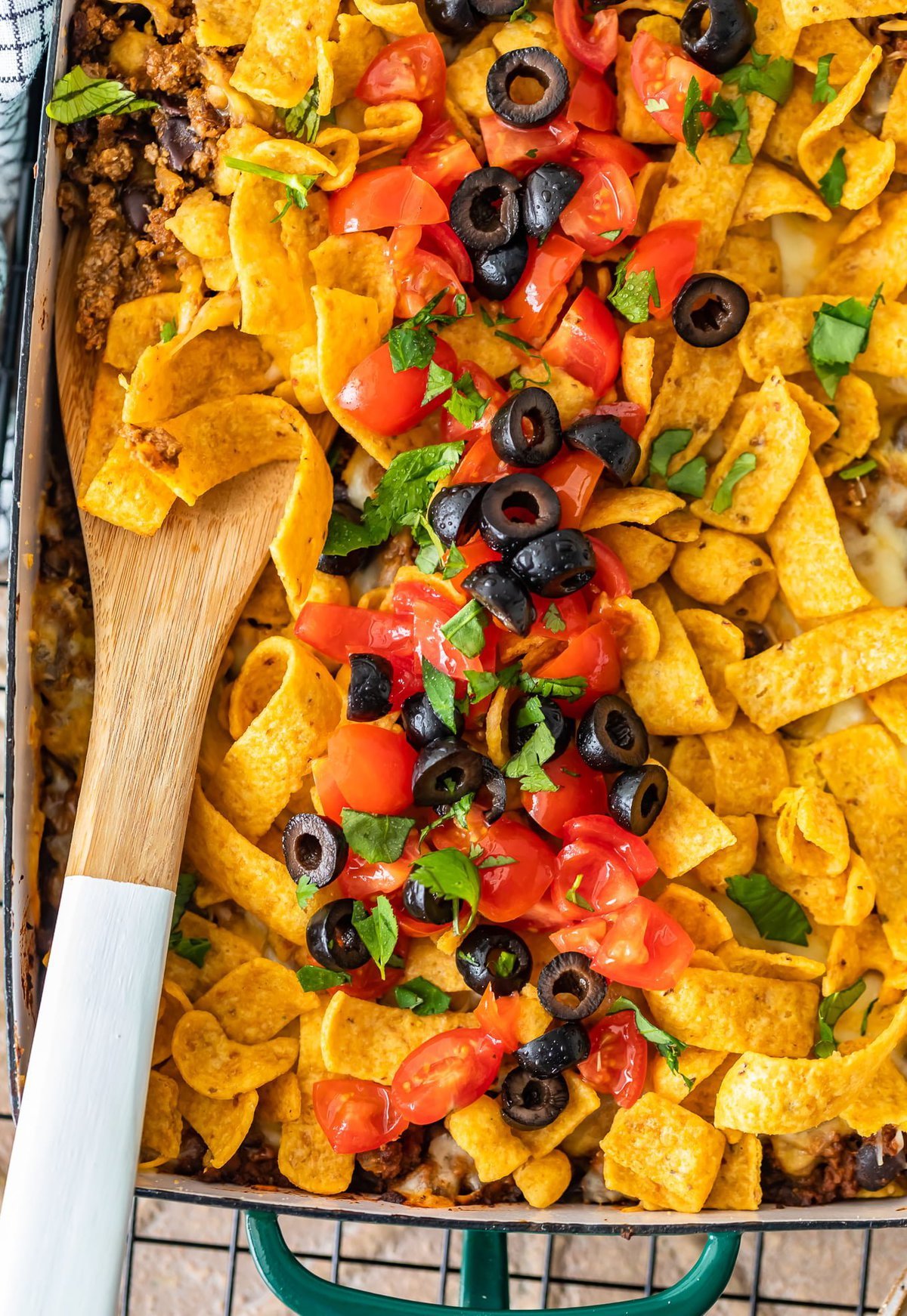 Frito Pie Recipe
Frito Pie Casserole is the perfect mix of all the best Tex-Mex flavors, in the form of an easy to eat casserole. Crunchy Frito's chips, ground beef, black beans, cheese, tomatoes, and so much more!
This Frito Pie recipe is a classic if you're a fan of easy Tex-Mex food. It's perfect for Cinco de Mayo, Taco Tuesday, or any weeknight dinner. It's easy to make and absolutely delicious! Plus you can make it your own by adding your favorite ingredients as extra toppings (guac, sour cream, olives, etc.).
Basically, this dish is just tacos that you can eat with a fork, and what's not to love about that?! I'll take tacos in any form, and this casserole is definitely a favorite!
This Frito Pie Casserole recipe is so easy to put together for parties or weeknight dinners!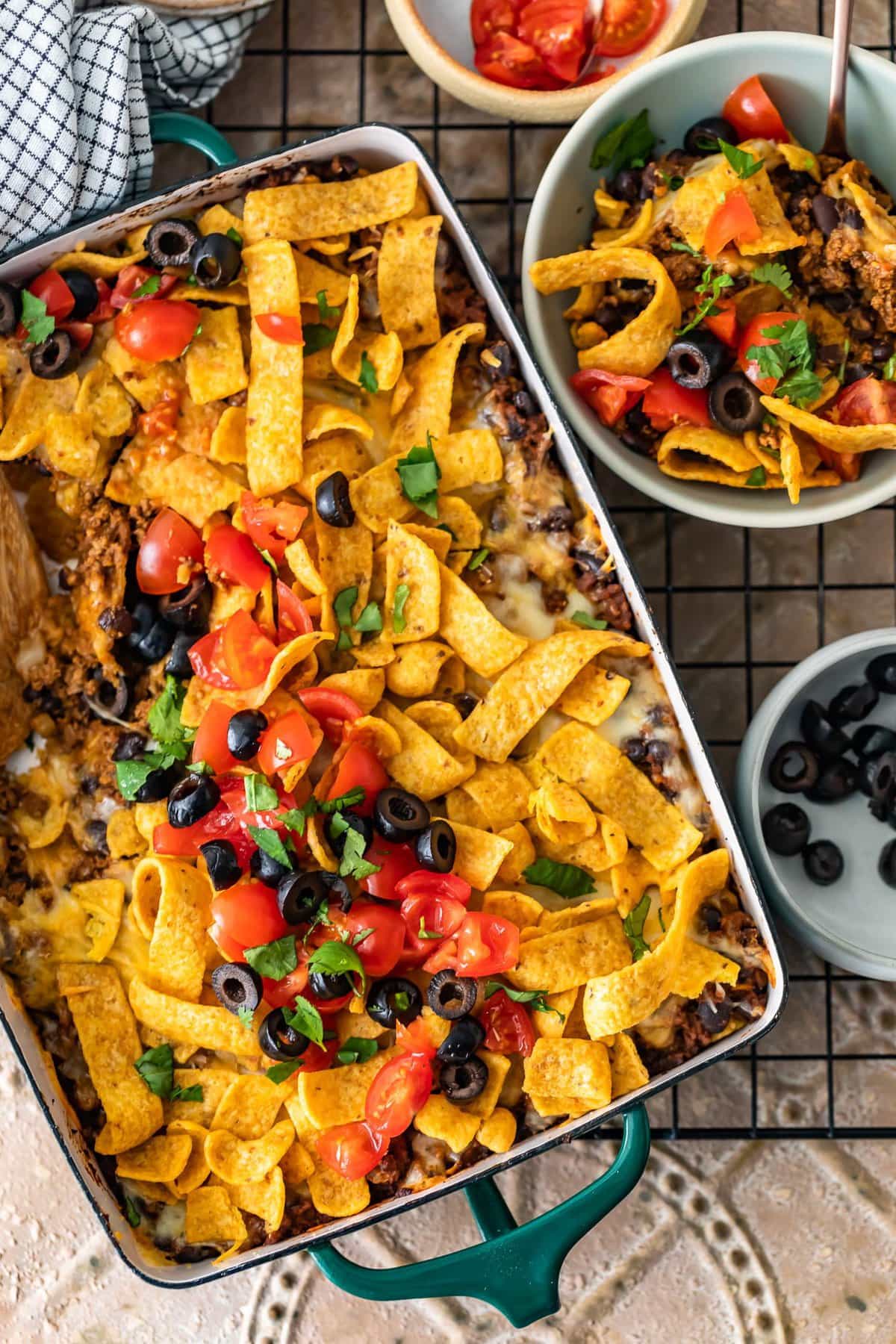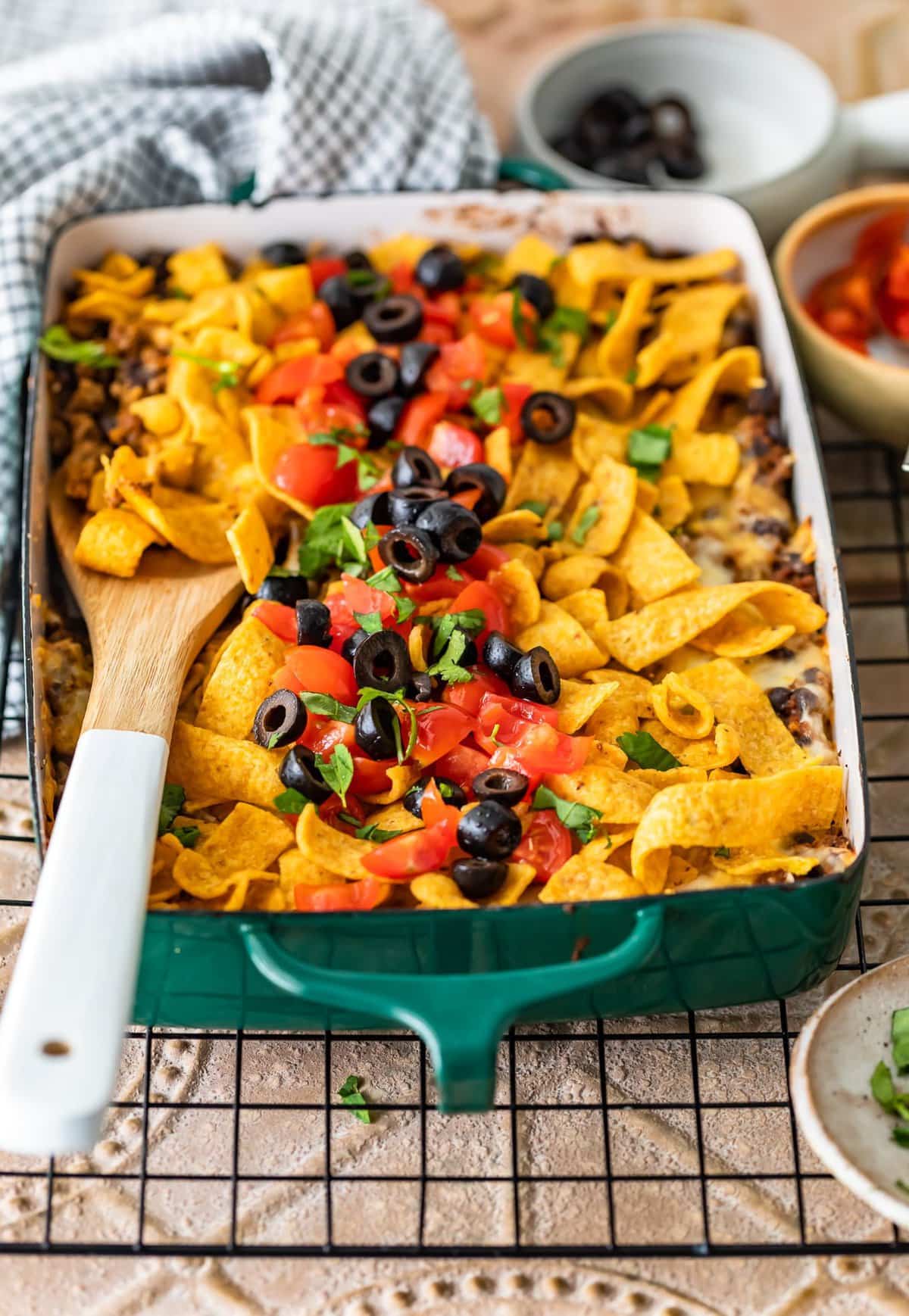 Frito Pie Casserole
One of the great things about this easy Frito Pie Casserole recipe is that you can add in your favorite ingredients, and leave out the ones you just don't love. I have a list of what I included, but you don't have to stick to that.
The base of this recipe is all the stuff that really makes it a Frito Pie (Frito's, beef, cheese, etc). But you can do what you want with all the extras. Add guacamole if you love it, leave out the olives if you're not a fan. Make this dish exactly how you want it!
What's in Frito Pie?
Frito's Corn Chips (of course)
Black Beans
Tomatoes
Garlic
Yellow Onions
Ground Chuck
Mexican-blend Cheese
Apple Cider Vinegar
Worcestershire Sauce
Salt & Pepper
Tomato Sauce
Butter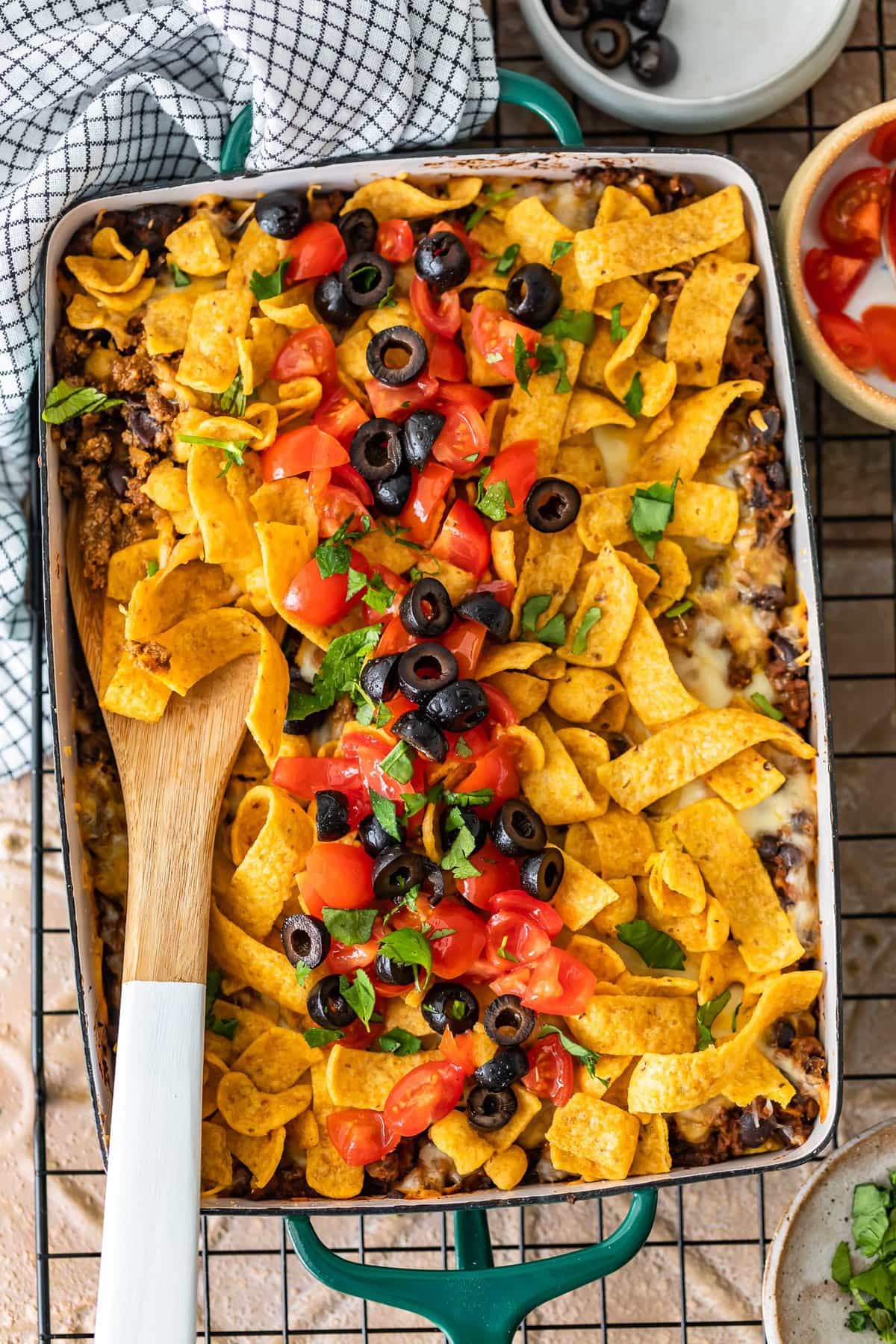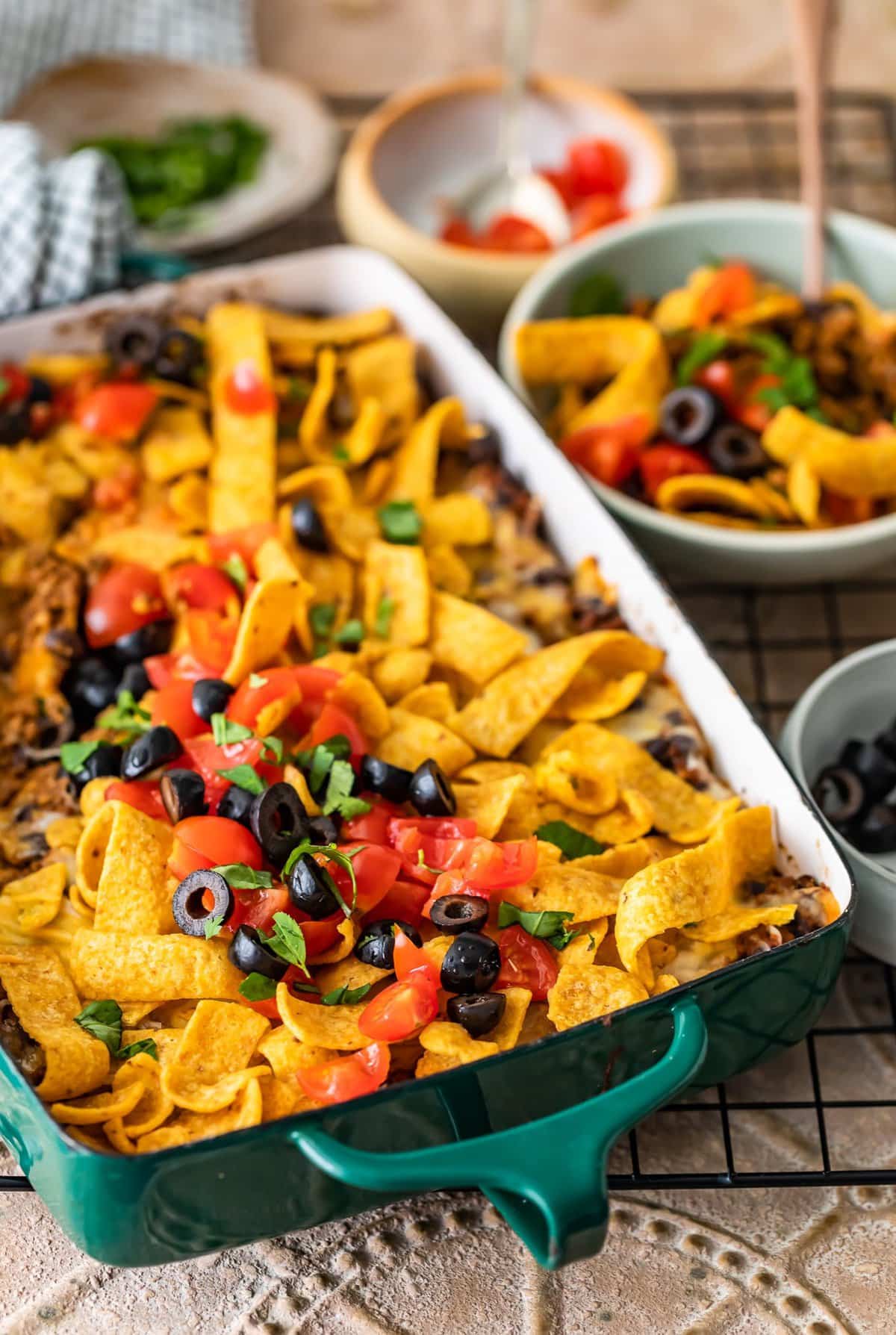 How to Make Frito Pie
This Frito Pie recipe is super simple, and doesn't take long to make. You can have it ready in no time at all for the perfect easy dinner!
Heat olive oil and butter in a large skillet, then add in the chopped onion and cook for about 3-4 minutes. Then add in the garlic and cook about 30 seconds. Transfer the onion & garlic to a plate.
In the same skillet, cook the ground chuck until browned. Drain fat from the beef, return it to the skillet, and then add the onion/garlic mixture back in.
Also add in the salt & pepper, Worcestershire sauce, apple cider vinegar, tomato sauce, and diced tomatoes. Mix everything together and bring it to a boil.
Reduce heat to low, then mix in the black beans. Let everything simmer for about 15-20 minutes until the mixture has thickened (stir often).
To assemble the casserole, place an even layer of Frito's on the bottom of the casserole dish, top with shredded cheese, then taco meat, more cheese, and then more Frito's.
Bake 15-20 minutes until everything is heated through.
Once it's done cooking, you can add on your preferred toppings. Lettuce, olives, tomatoes, cilantro, etc. Whatever you want!
Be sure to read the recipe card for full detailed instructions.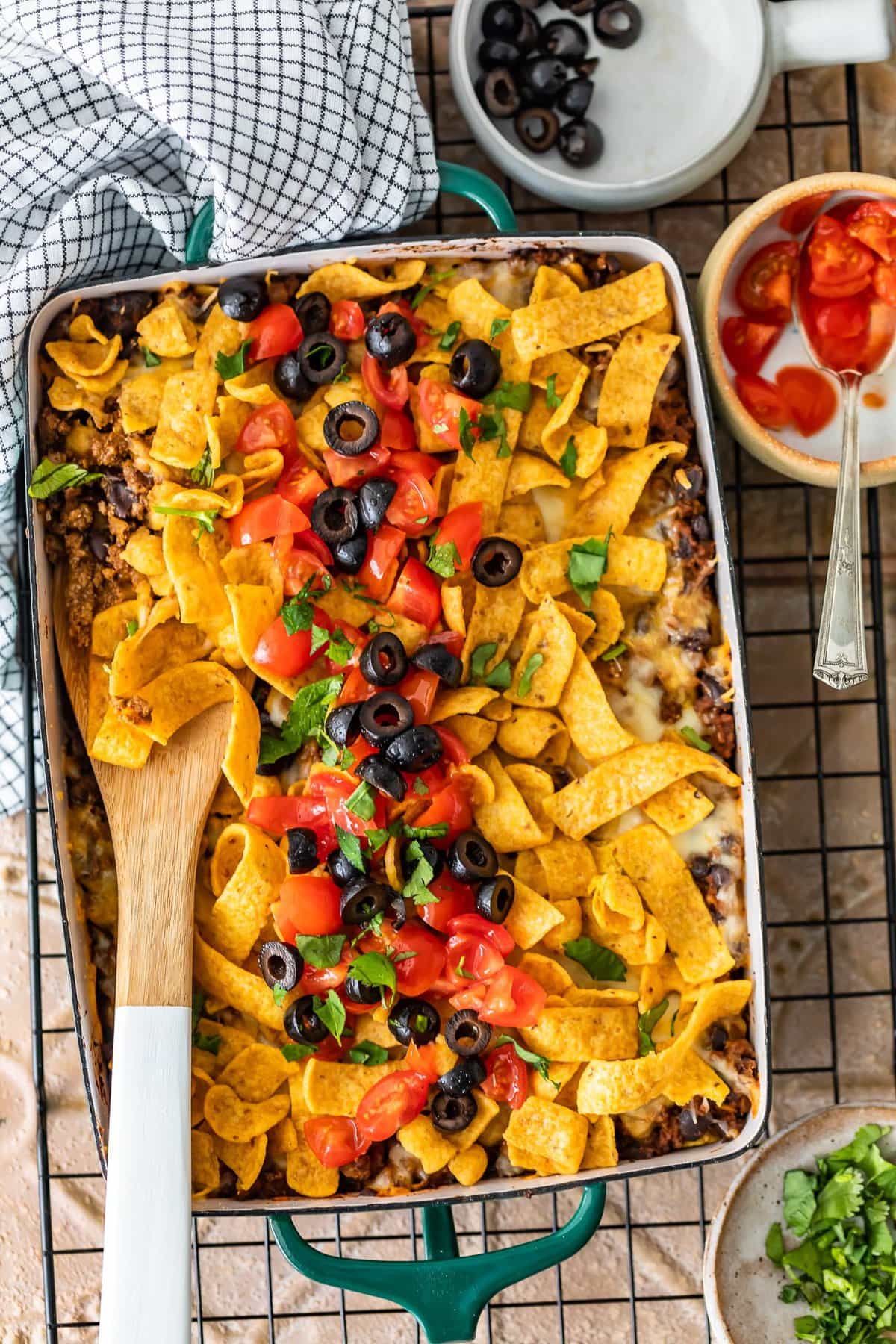 What can you serve with Frito Pie?
This dish is a whole meal in itself. That's what I love about casseroles: you just throw everything into one dish, bake, and then it's ready to serve!
Of course you can also serve some other favorites along with it, which is especially helpful when you're feeding a lot of people. No Mexican dish is complete without a side of chips and guac, salsa, or queso. And this Cheesy Mexican Rice makes a great side dish too!
Add even more delicious ingredients to your frito pie casserole:
Chopped Lettuce
Scallions or Diced Red Onion
Cherry Tomatoes
Sour Cream
Black Olives
Cilantro
Hot Sauce
Looking for more casseroles? Check these out!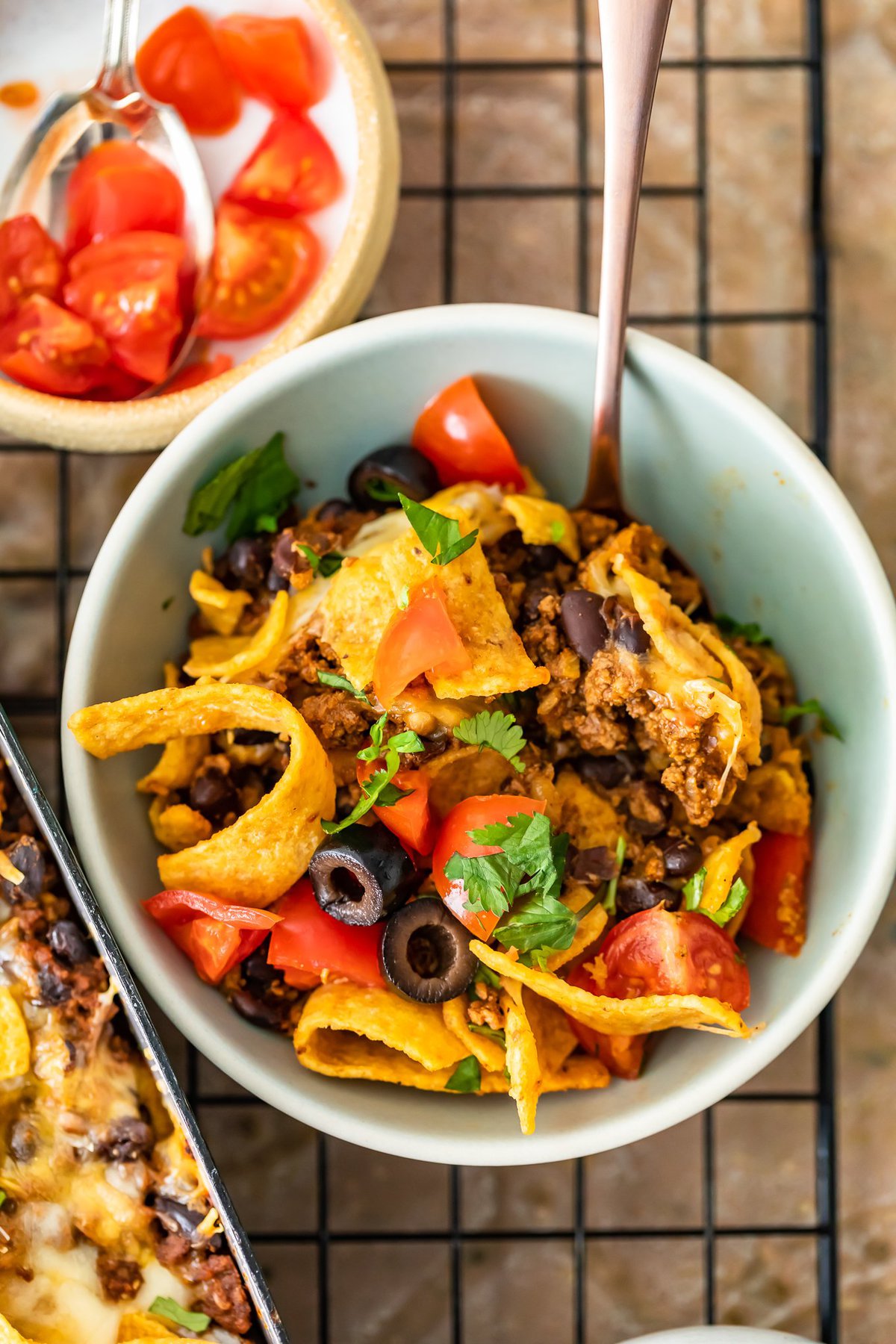 Whether you whip this up for weeknight dinners, Cinco de Mayo, or a casual party, everyone is sure to love this recipe!
See the recipe card for details on how to make Frito Pie Casserole. Enjoy!
Try these other delicious Tex-Mex recipes for Cinco de Mayo, Taco Night, and more:
Favorite Mexican Recipes
These Favorite Mexican Recipes are easy, so delish, and sure to please!