Chicken Soup is a classic. This creamy chicken soup recipe is one of my Mom's that I'll never get tired of. It's truly one of the best soup recipes ever, and I'm so proud it's in our family. I love having a batch of this in my freezer at all times for when I need comfort food, or when I'm feeling a little under the weather. By far the best chicken soup recipe you'll ever taste!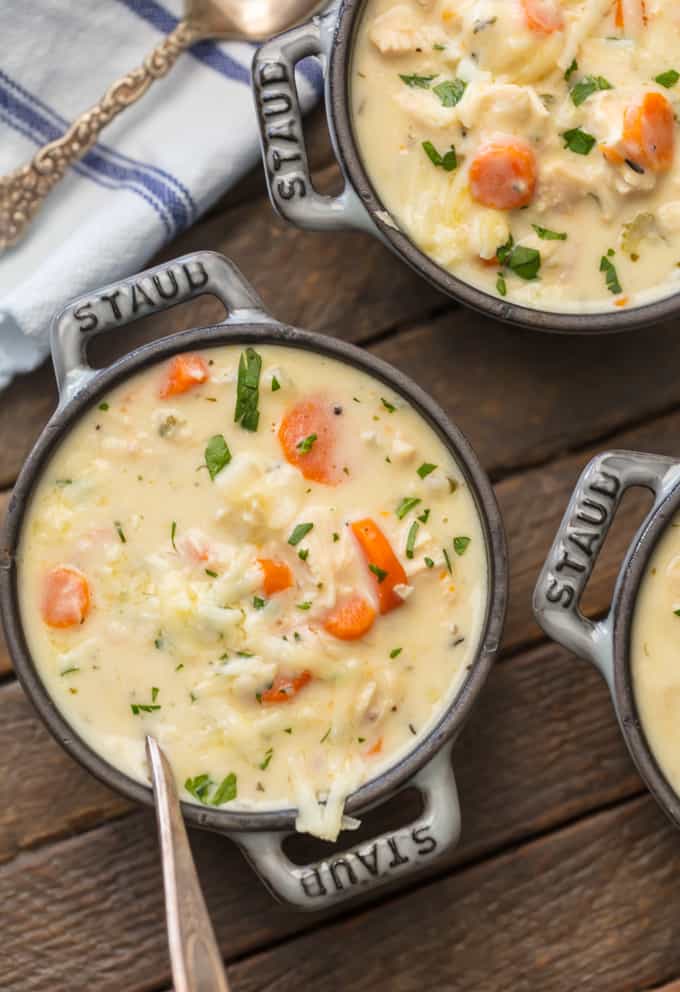 Chicken Soup Recipe
This super Creamy Chicken Soup is the best chicken soup recipe you will ever taste!
My mom's chicken soup is one of my absolute favorite things to eat. I know we all think our moms have the best soup recipes ever, but this one really is unbelievably good. I can't get over how creamy this chicken soup recipe is, which is one of the reasons it stands out from all the rest.
I'm so excited to share this amazing soup recipe with you guys, but since it's my mom's recipe, I'll let her tell you all about it. Take it away Mom!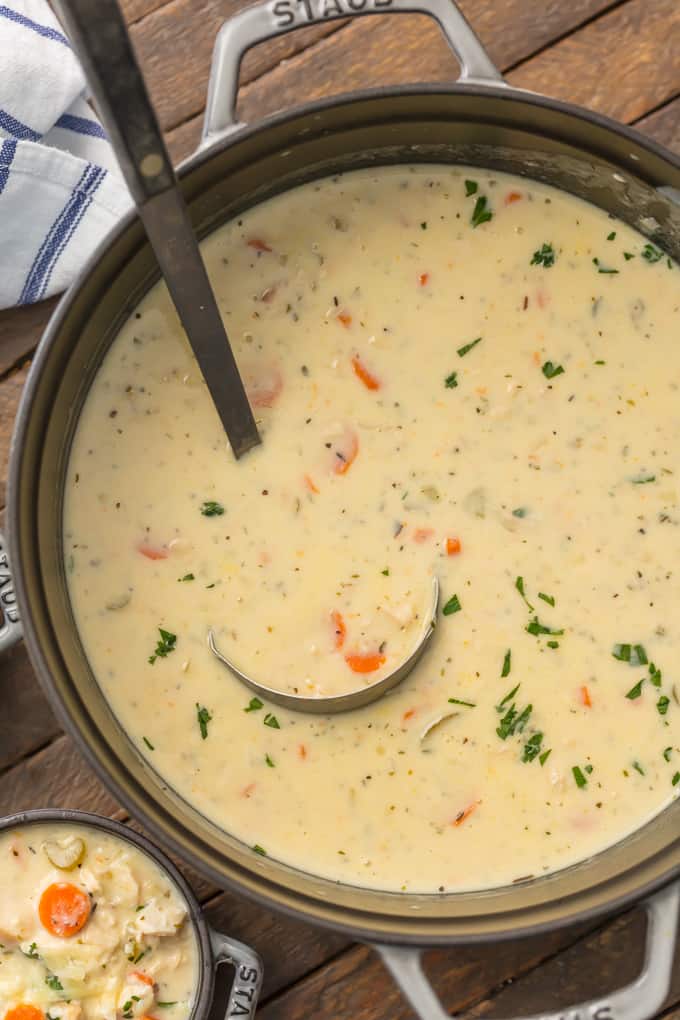 Best Soup Recipe Ever
I am always on the hunt. The hunt for the absolute best recipe for every food I love. I get fanatical in my research. I will search, study and test several recipes until I get the perfect outcome (at least in my mind) and then I get busy.
When formulating the recipe for the Best Chicken Soup, I added-a-pinch, took-out-a-pinch and tweaked until I was content. And better than content, I needed perfection. Sometimes this process takes years!
Creamy Chicken Soup isn't the only recipe that I've perfected this way. Two foods for which my search is ongoing are the perfect white cake and perfect meatloaf. A couple of my recipes I am very proud are my Swedish Meatballs and my Oatmeal Chocolate Cookies. But this…this soup is my all-time favorite. It's not only one of my favorite recipes, I happen to think it's one of the best soup recipes on the internet.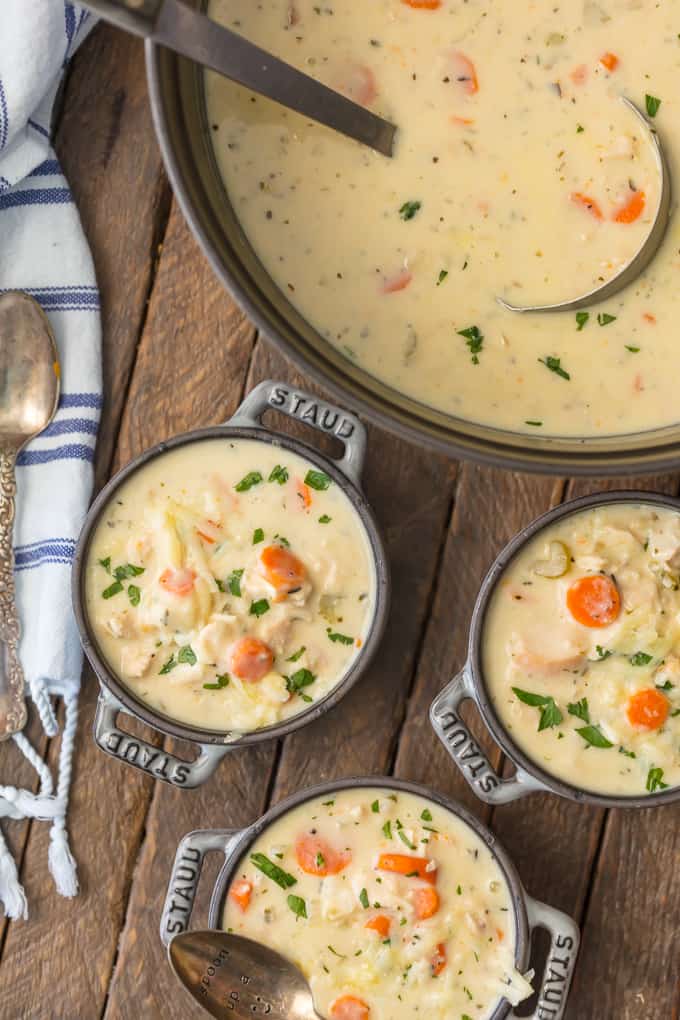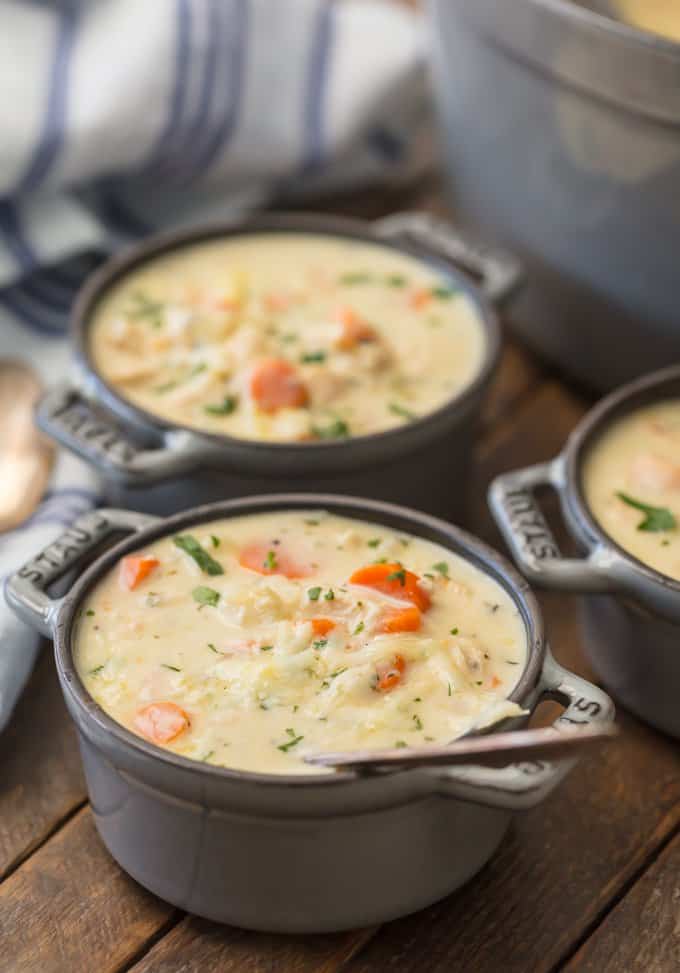 How to Make this Soup
This chicken soup recipe really is so simple. We like to use Rotisserie Chicken that we can buy pre-made at the store. We simply shred the chicken and use that in the soup. It makes things quick and simple.
We also love to use fresh herbs. This might be a smidge more time consuming but the payoff is worth it. Such a flavor infusion, making this the best chicken soup recipe in the world (in our opinion).
Creamy Chicken Soup
So, come on in from the cold. I'll hand you a steamy bowl of this creamy chicken soup, a slice of crusty bread and a glass of white wine. Doesn't that sound like Heaven?
We will sit by the fire; share our stories, laugh ourselves silly and try not to embarrass ourselves by licking the bowls clean. I hope you love this chicken soup recipe as much as our family does. It warms our bodies and our hearts.
We also love to pour this chicken soup over a baked potato for a different way to serve. Optional, but makes it even more hearty! Watch the video to see how it's done!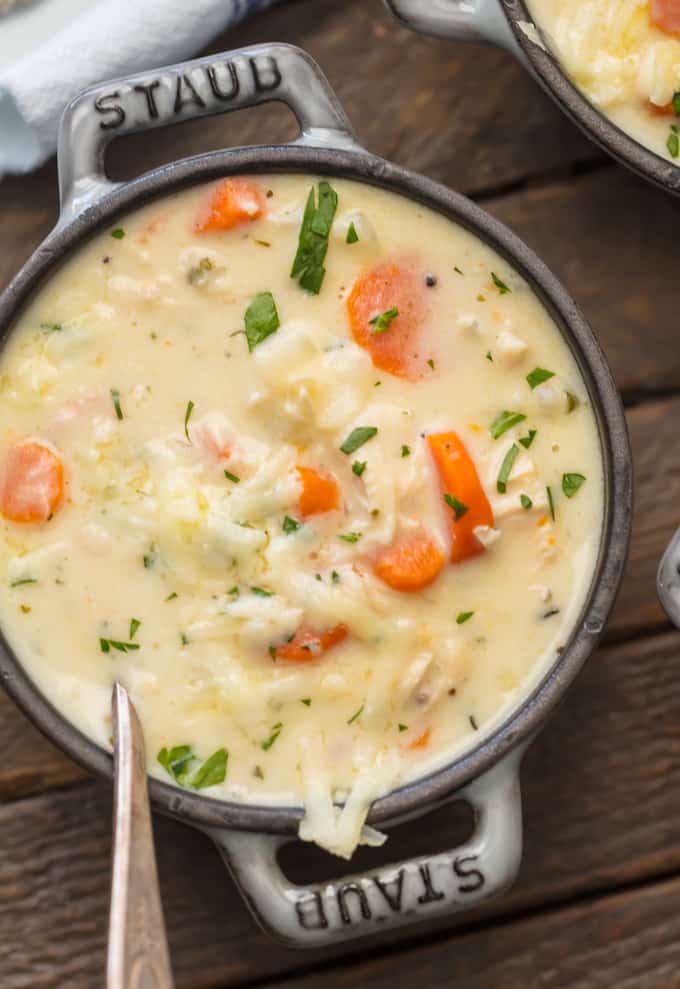 Best Soup Recipes
If you're looking for more of our best soup recipes be sure to check these out!