Chocolate Pecan Pie is the perfect mix of pecan and chocolate pies. Chocolate filling made with chocolate chips and bourbon, topped with toasted pecans. This Chocolate Bourbon Pecan Pie recipe needs to be added to your holiday dessert table as soon as possible. Make it for Thanksgiving, Christmas, or any time you wan this delicious pie!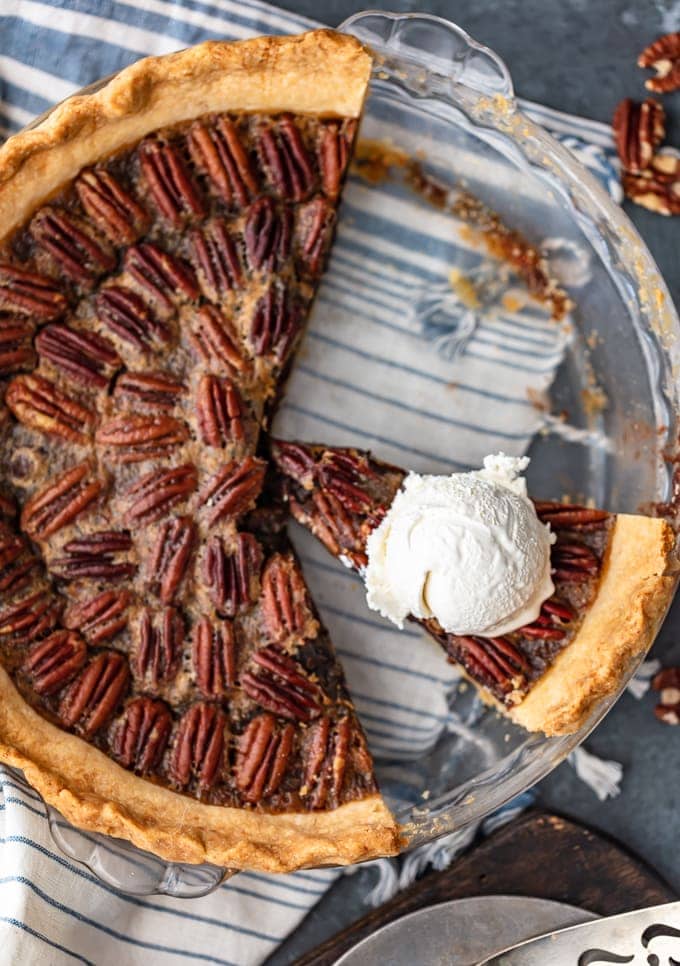 Chocolate Pecan Pie
Chocolate Pecan Pie is a beautiful blend of classic pecan pie and rich chocolate chips, with just a bit of Bourbon to make it absolutely perfect!
Pecan Pie is a Thanksgiving classic, but sometimes you just need some chocolate! So why not add chocolate INTO the pecan pie? Pretty genius, right? I am sharing this Chocolate Pecan Pie recipe with you guys because it would be a shame to keep it all to myself!
There's always room for another pie during the holidays. I think you can make a classic Pecan Pie, a Pumpkin Pie, an Apple Pie, a Cherry Pie, AND this Chocolate Bourbon Pecan Pie. Trust me, every pie will get eaten! I love how the mix of pecans, chocolate chips, and Bourbon balance each other out so perfectly. You get that amazing pecan flavor, along with rich chocolate, and just enough Bourbon to cut the sweetness.
This easy Chocolate Chip Pecan Pie is just what you need to add to the holiday dessert table. Try it out and you'll have yet another pie that becomes a part of your tradition.
Chocolate Bourbon Pecan Pie is sweet, rich, and flavorful, exactly what you need on Thanksgiving!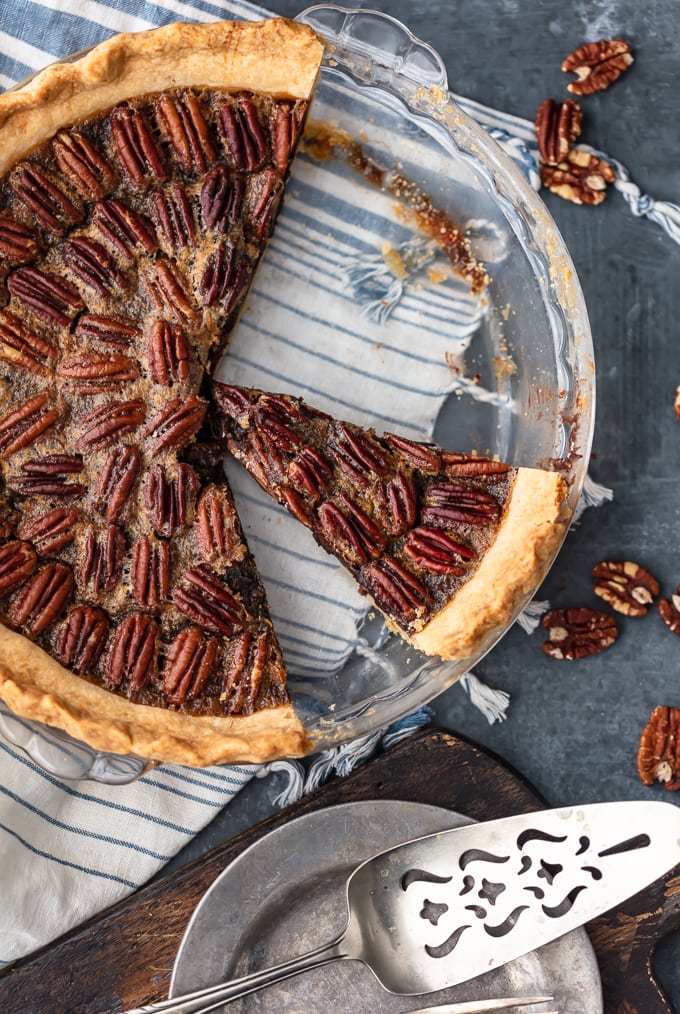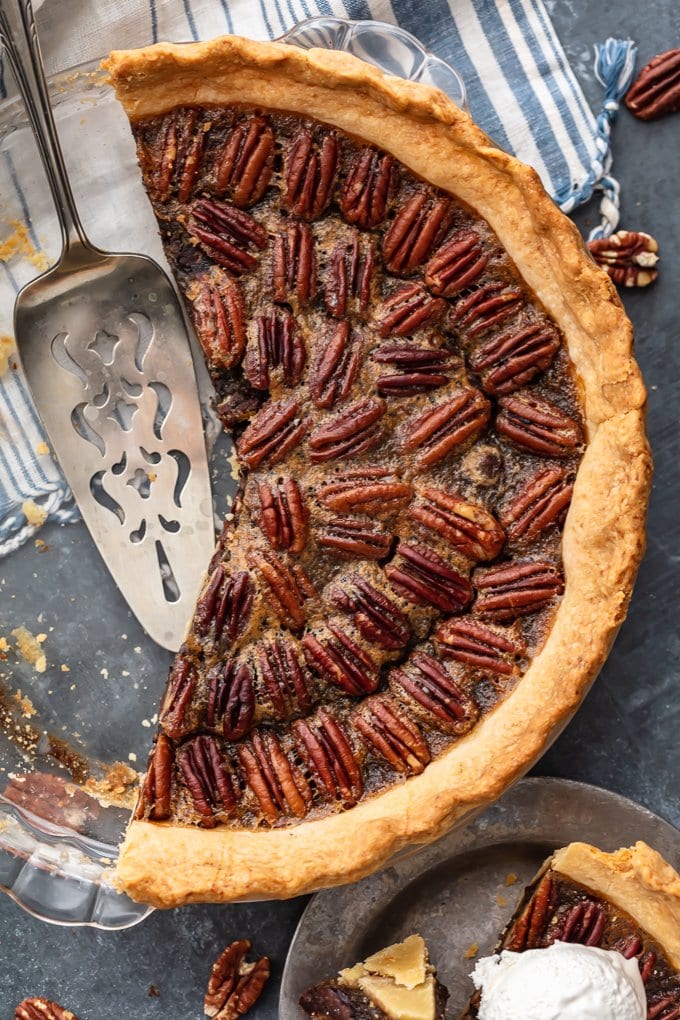 Chocolate Bourbon Pecan Pie Recipe
This chocolate pecan pie recipe is a dream! The pecans, the chocolate chips (bittersweet AND semi-sweet), and the bourbon balance each other out so well. I love the crunch that the pecan topping adds, while still getting that rich, smooth texture in the chocolate filling.
The little bit of bourbon (it's only 2 tablespoons and the alcohol cooks out) cuts the sweetness of the chocolate chips to make the flavor as smooth as possible. Yum! This chocolate bourbon pecan pie is the perfect Christmas or Thanksgiving pie!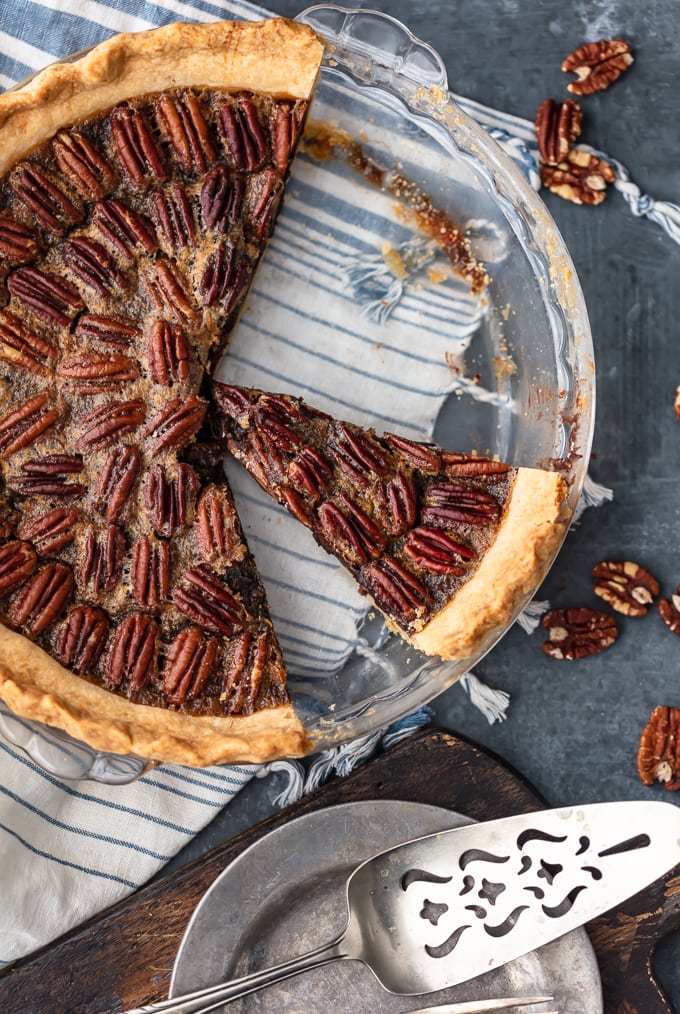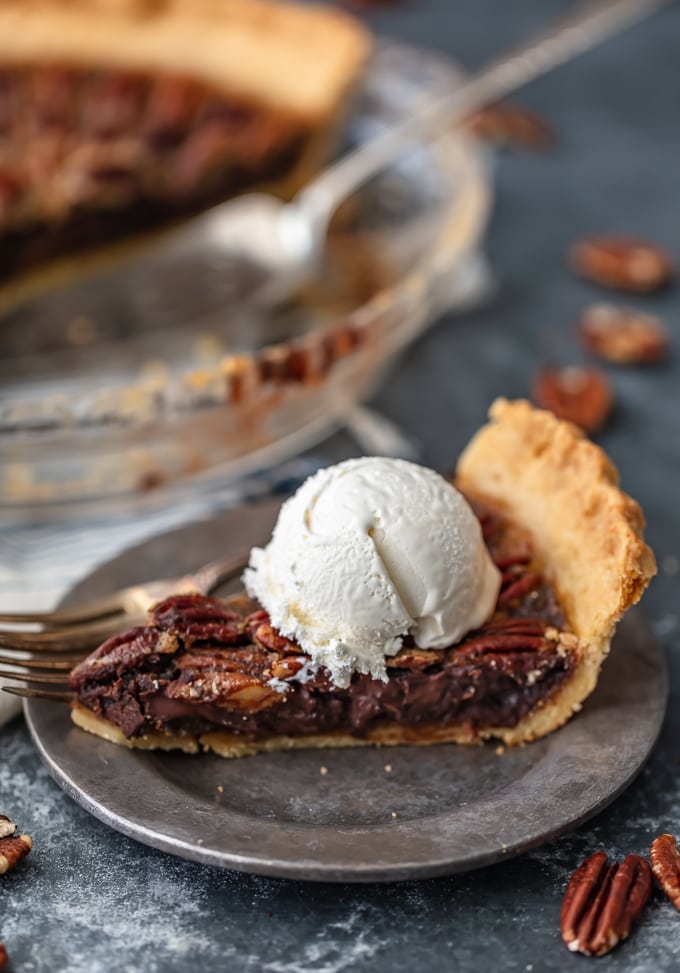 How to Make Chocolate Pecan Pie
I am all about easy pie recipes, and this Chocolate Pecan Pie recipe is exactly that. We start with a pre-made pie crust (if you prefer to make your own, try our homemade pie crust recipe) to keep things super simple. Can you believe this recipe takes less than 1 hour from start to finish? Such an easy things to make on Thanksgiving! Toast the pecans, mix the filling, bake it, and done!
How to make Bourbon Chocolate Pecan Pie:
Prepare pie crust, place in pie plate, & refrigerate until ready to use.
Toast the pecans in the oven for 7-9 minutes (set at 375°F).
Whisk together eggs, brown sugar, corn syrup, vanilla extract, salt, melted butter, and bourbon.
Mix in chocolate chips then pour filling into the pie crust.
Arrange toasted pecan halves on top of the pie.
Bake 30-35 minutes at 375°F.
Let the chocolate pecan pie cool before slicing, then serve by itself or with ice cream! This pie will get eaten right up during on Thanksgiving. It's perfect for the fall season, holiday or not!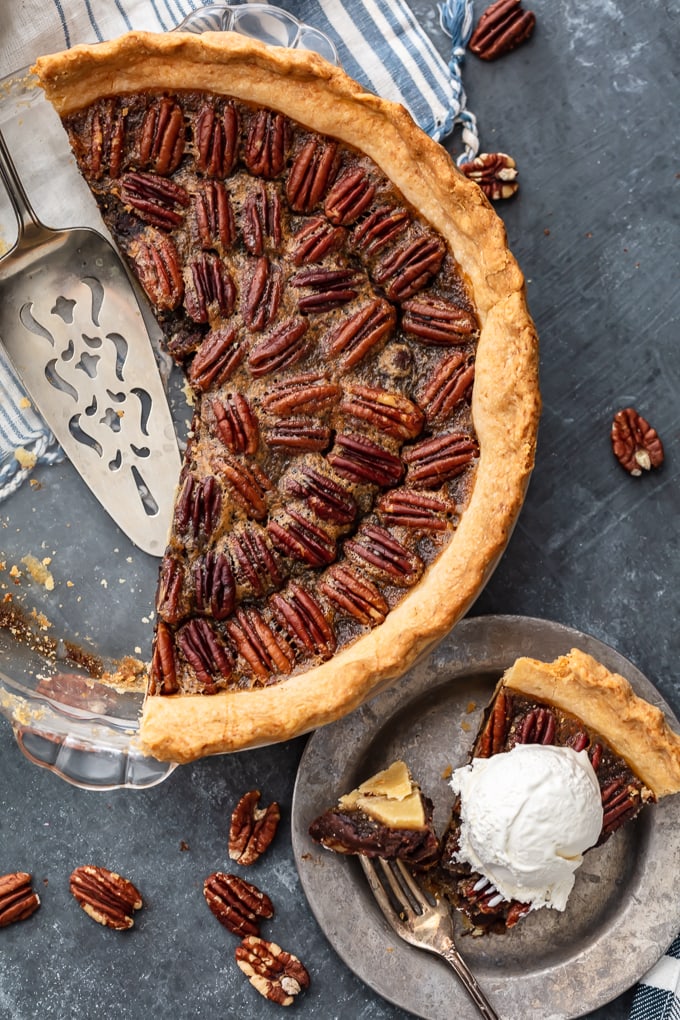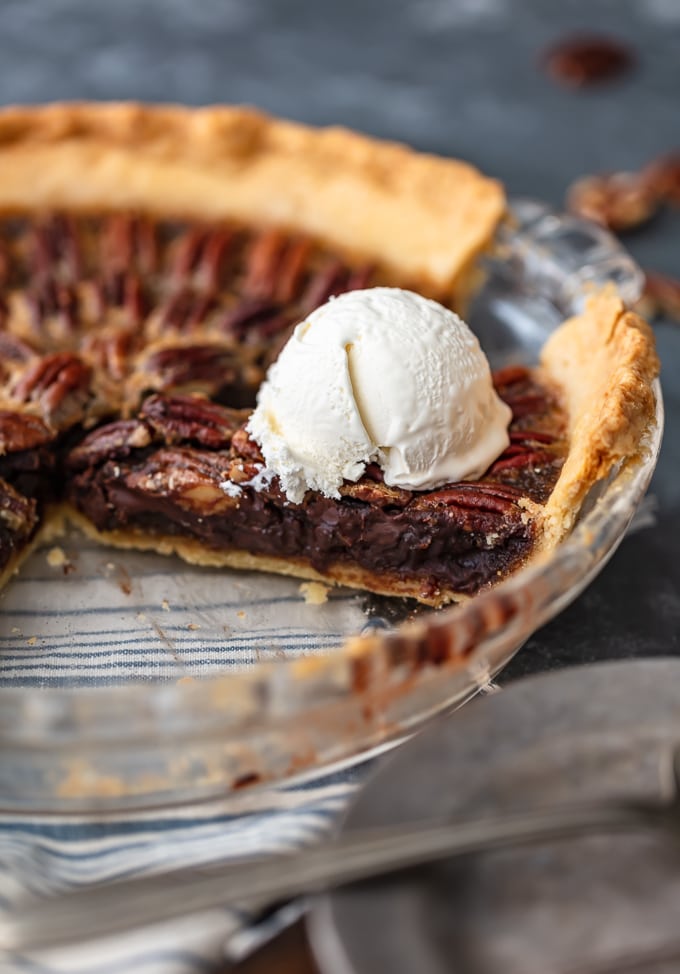 Does chocolate pecan pie need to be refrigerated?
Yes, you will want to keep your chocolate pecan pie stored in the refrigerator if you have leftovers, or if you make it ahead of time. It will keep for 3-4 days.
Can you freeze chocolate pecan pie?
You can freeze chocolate pecan pie the same way you would freeze pecan pie. Wrap the pie in plastic wrap (a few layers) and store it in the freezer to eat another time.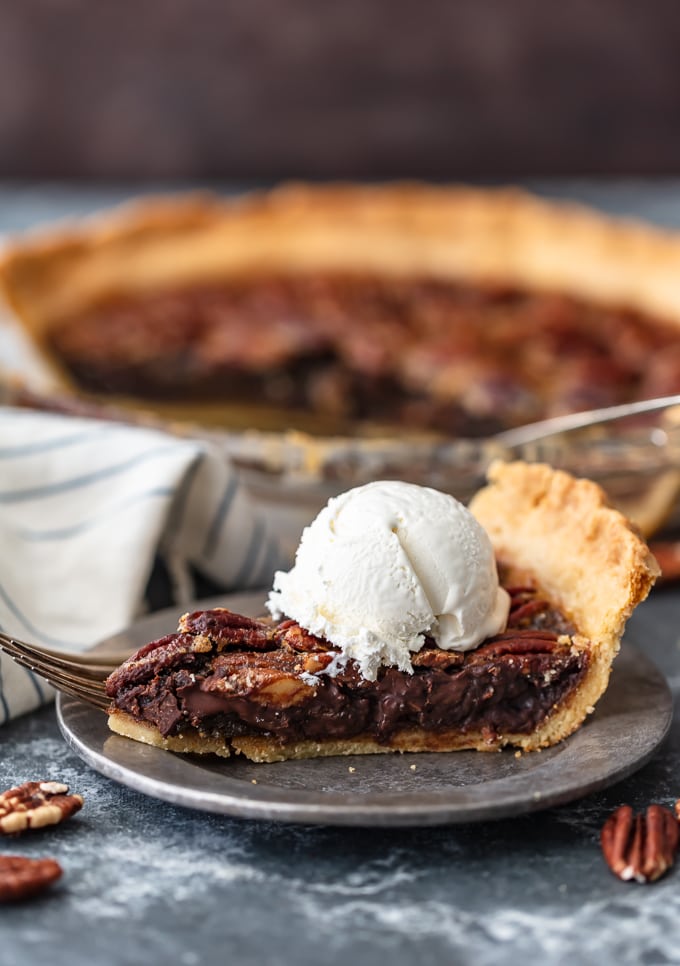 This Chocolate Pecan Pie recipe is just so rich and flavorful! I love the blend of creamy filling and crunchy pecan topping to make the perfect pie. Chocolate Bourbon Pecan Pie is a welcome addition to every holiday meal, just you wait and see!
See the recipe card below for details on how to make chocolate pecan pie. Enjoy!
If you like this pie recipe, try these other delicious holiday dessert recipes: