Thanksgiving Pies are the secret to a successful holiday. As long as you have the best Thanksgiving pie recipes to serve after dinner, everyone will be more than happy. Get your pumpkin pie, apple pie, pecan pie, and sweet potato pies ready with these recipes!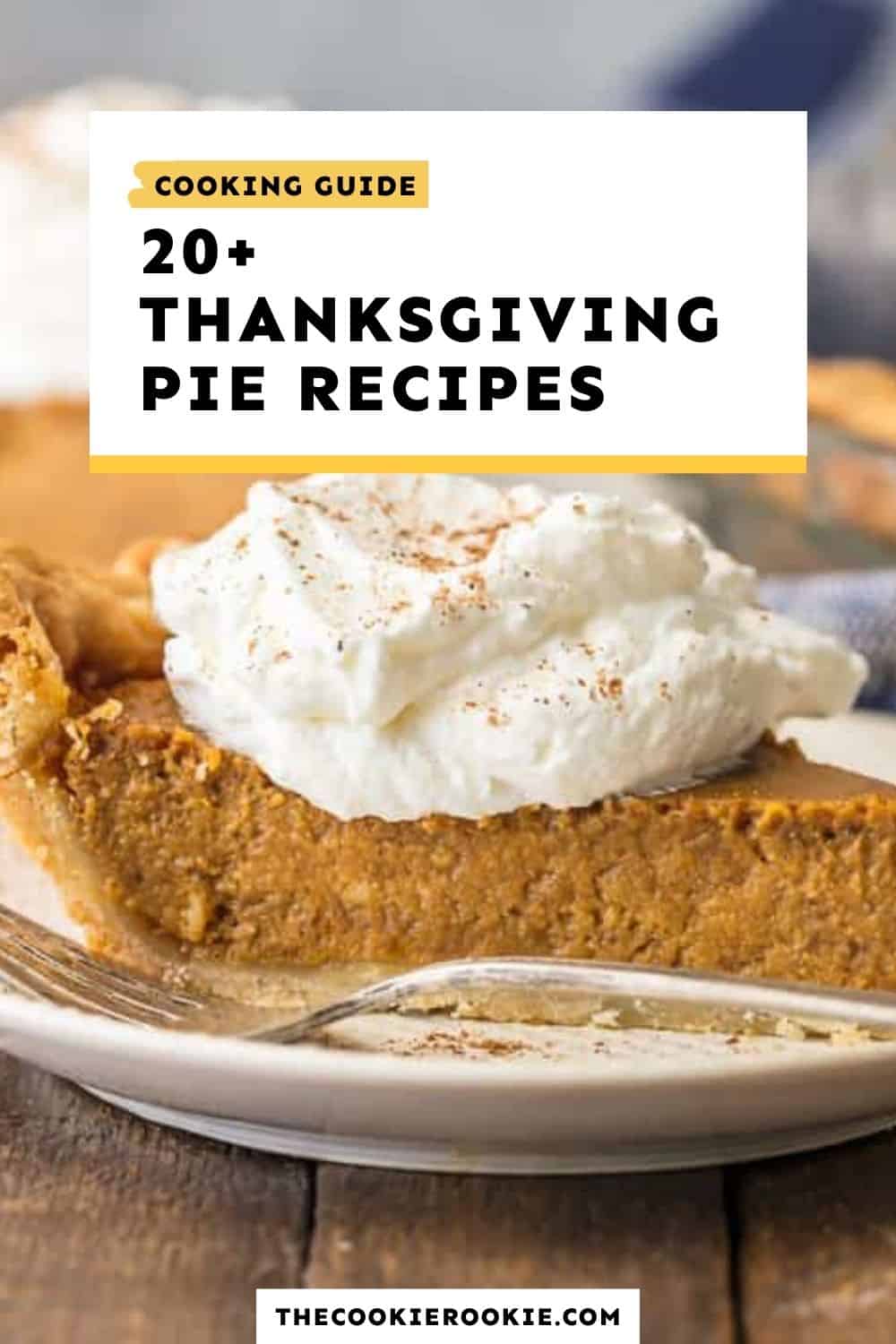 Thanksgiving Pies
When Thanksgiving comes around, it's time to think about the turkey, the sides, and allllll of the food the holiday requires. But what I'm really excited about? Thanksgiving pies (the very best Thanksgiving dessert)!
I always look forward to the pies and desserts on holidays. It's my favorite way to indulge! I want the pumpkin pies, the apple pies, the sweet potato pies, the pecan pies, the chocolate pies…absolutely every kind of pie. Prepare all the pies for your guests, or just bring one with you to wherever you're going for Thanksgiving.
Pies are a lot easier to make than you think. You can start with a pre-made pie crust to make everything as simple as possible, but even the crust can be easy. You can even make a pie in a crock pot!
I've got recipes for ALL of the best Thanksgiving pies, so you can pick your favorite(s) and have them ready for the big holiday.
Thanksgiving is almost here, so don't forget the pies! These are our favorite Thanksgiving pies to bake (and eat) during the holidays.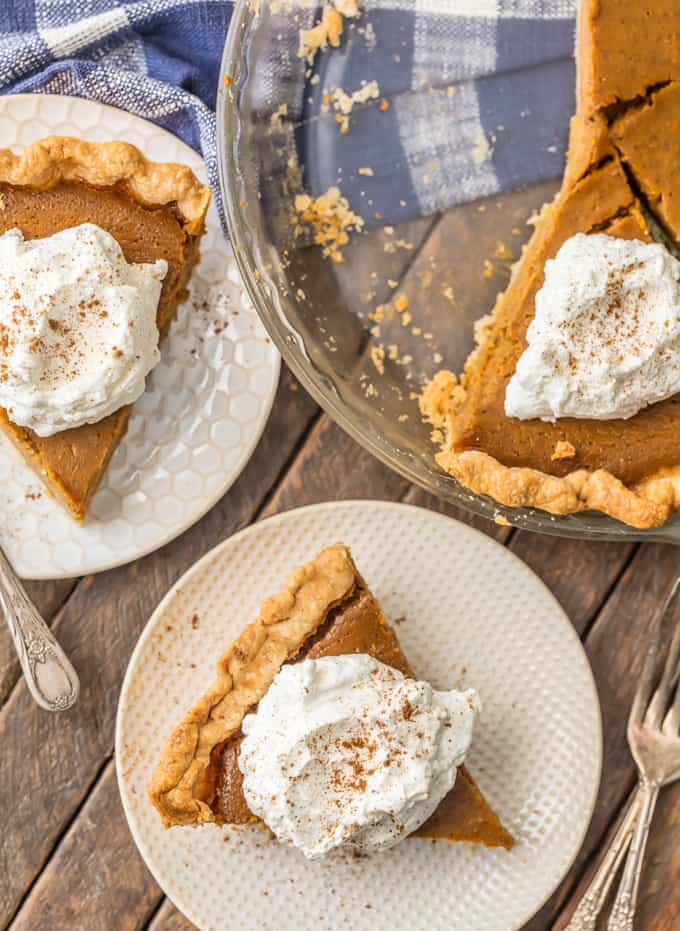 Essential Kitchen Tools
Essential Ingredients List
Flour
Apples
Sugar
Pecans
Sweet Potato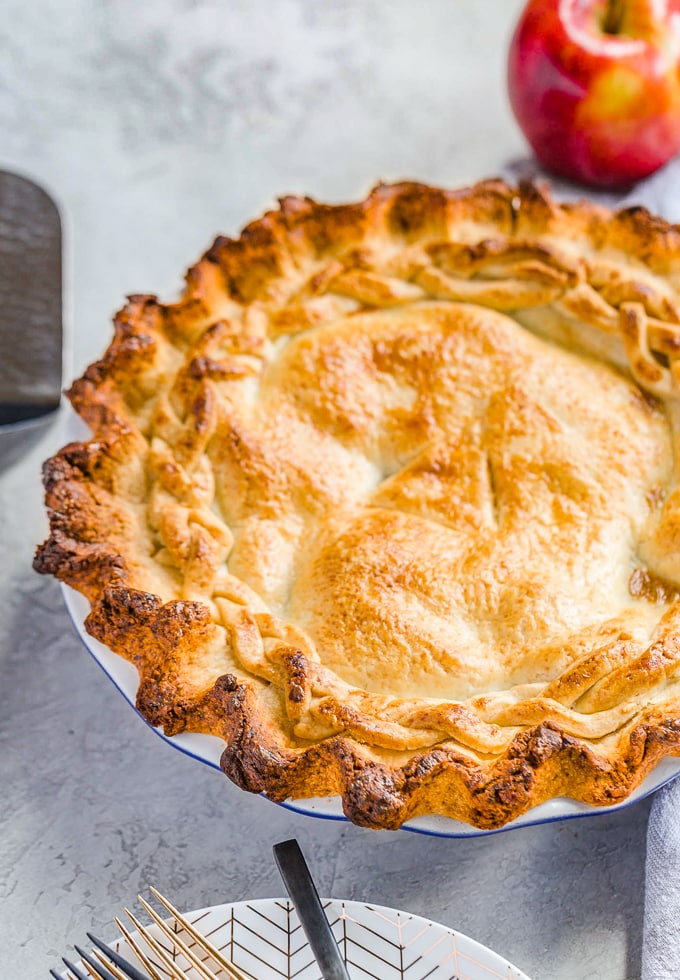 How many pies do you need for Thanksgiving?
The short answer: you need ALL the pies. As many as you can manage. You can never have enough Thanksgiving pies!
How many really depends on how many guests you have. It's nice to have at least two different pie flavors to choose from, to make sure everyone has a pie they like. And of course you want to make sure you have leftover pie for the days following the feast. So 3 pies is a good base number for smaller groups (up to 10), and add another one for every 4 guests.
What are the most popular Thanksgiving pies?
The most traditional pies that we all expect to see on Thanksgiving are: Pumpkin Pie, Apple Pie, Sweet Potato Pie, French Silk or Chocolate Cream Pie, and Pecan Pie.
Can you make pies ahead of time for Thanksgiving?
Pies are the perfect dessert because you can easily make them ahead of time. Prepare them, bake them, and then store them until you're ready to serve dessert. It's a great thing to make the day before Thanksgiving, so they're still fresh, but you don't have to make them the day of.
Some Thanksgiving pies can also be prepared far in advance, frozen (unbaked), and then thawed and baked the day of serving. This works best with fruit-based pies (like apple or berry pies).
Should you refrigerate pies after baking?
Any pies made with eggs (custard and cream pies, pumpkin pie) need to be refrigerated after baking. So make sure you store them in the refrigerator.
Fruit pies are fine to keep at room temperature for 2 days, and should be refrigerated if you need to keep them a bit longer.
The Kitchn has a great article with all the details for storing pies, making them ahead of time, freezing them, etc.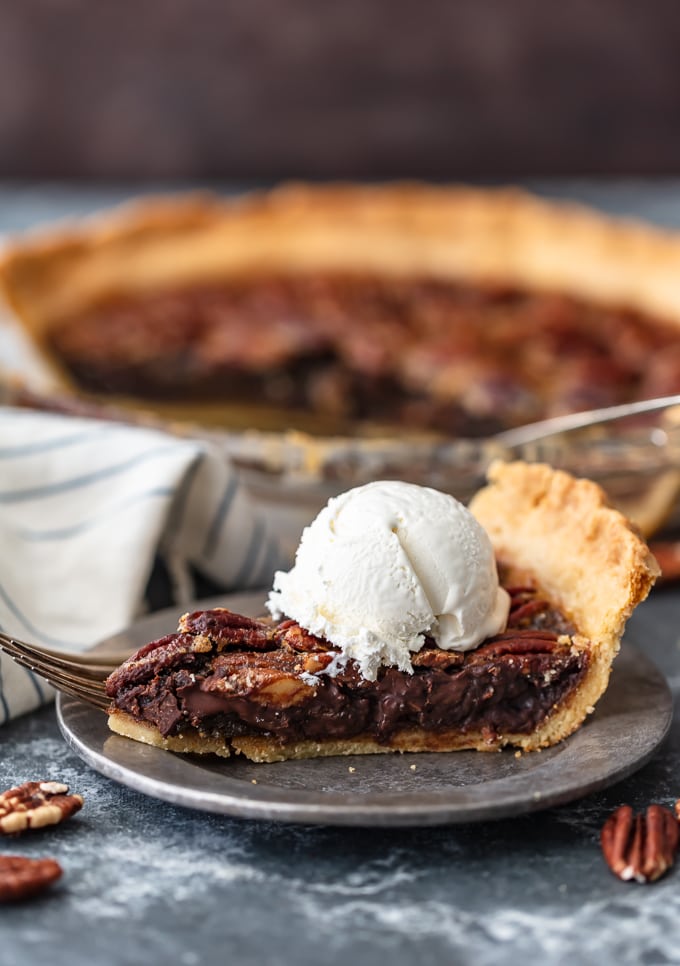 How do you keep pies fresh?
The best way to keep pies fresh for Thanksgiving is to make sure you store them correctly. Pies being stored at room temperature should be wrapped in plastic wrap or foil. Egg and dairy based pies should be refrigerated immediately (after cooling).
How do you make your own pie crust?
A lot of homemade pies start with a pre-made pie crust, because let's be honest, that crust can be the most nerve-wracking part. However, making your own pie crust is the best way to get that truly homemade taste, and it's not quite as difficult as it seems.
Here is our Homemade Pie Crust recipe. You can use this recipe to make a single or double crust.
Can you leave pies out overnight?
Again, egg and dairy based pies should be stored in the refrigerator as soon as possible. If one accidentally gets left out overnight, you'll need to toss it.
But apple pies and other fruit pies are fine to leave out for a couple of days!
How do you reheat Thanksgiving pies?
The best way to reheat already baked pies is to place them on a baking sheet and reheat them in the oven. This helps keep the crust nice and crisp, while evenly reheating the filling.
The details will depend on your pie (type and size), but typically your oven should be set between 200°F and 350°F for warming.
Of course, if you just want to quickly heat up a single slice of pie for yourself the day after Thanksgiving, 10-20 seconds in the microwave should do the trick!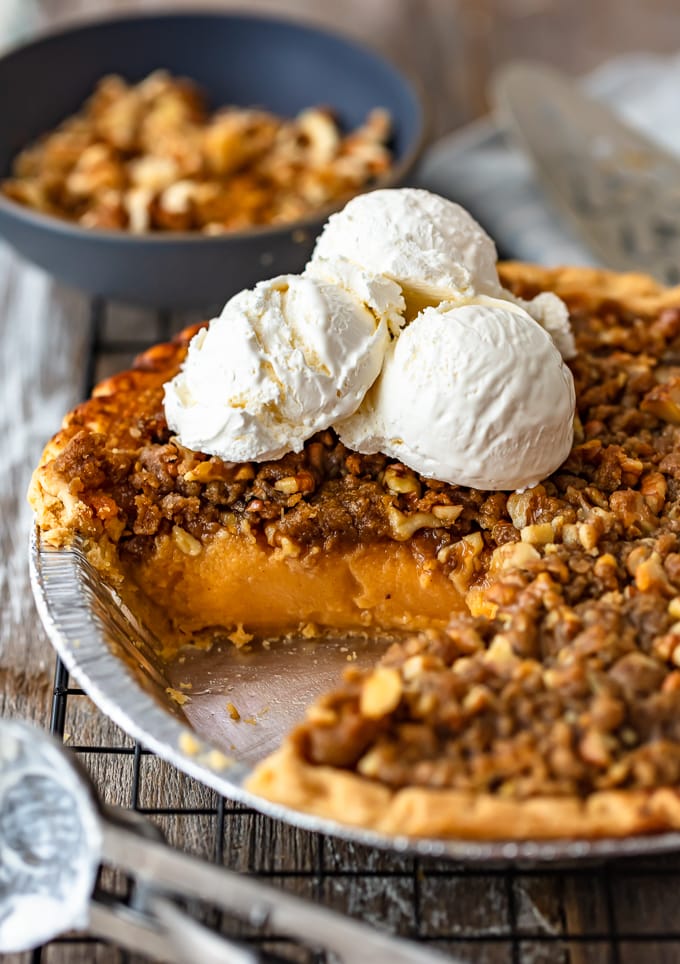 More Thanksgiving Ideas
After you've decided on your Thanksgiving pies, check out our other Thanksgiving guides for more food and recipe ideas!