This SLOW COOKER PECAN PIE will knock your socks off and make for a delicious and easy Thanksgiving, Christmas, or Easter! We LOVE Pecan Pie and it's just as delicious made in a crockpot!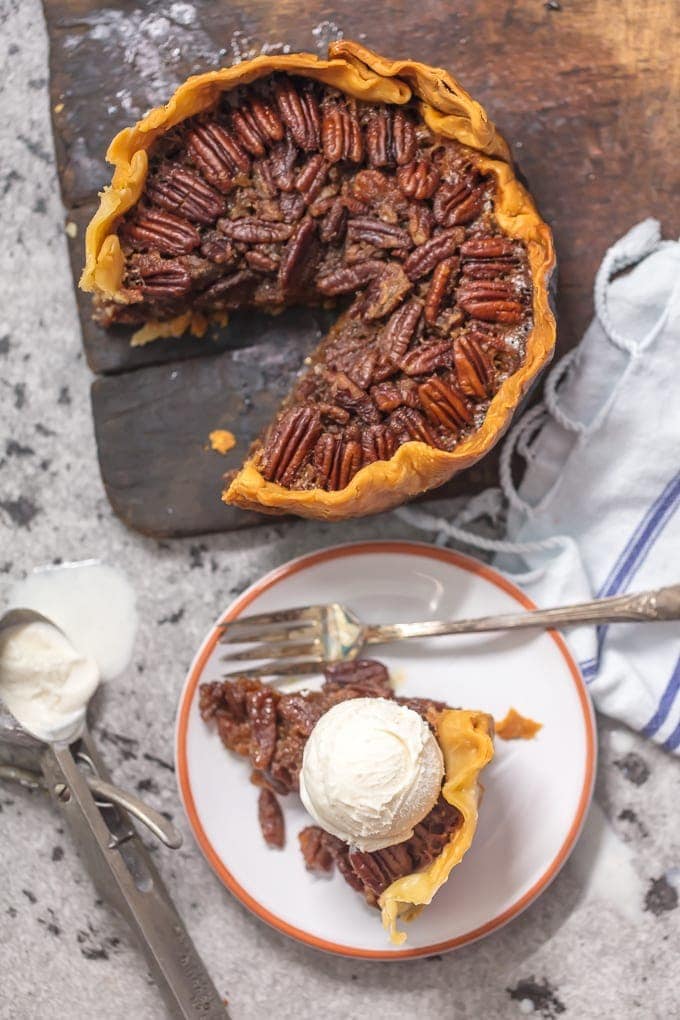 I'm pretty blown away with myself. I made my first ever Pecan Pie AND I made it in a crockpot.
It turned out awesome and I'm so very excited to share the recipe with you! Pies have always intimidated me, but one by one we have conquered them this year and I've realized I don't need to be scared.
Baking pies is not only doable, it's so much simpler than I believed. And when you can make one in a slow cooker and it's just as good but that much easier, DO IT! You won't regret it. This Deep Dish Slow Cooker Pecan Pie is just begging to be the star of your holiday table. So fun and delicious!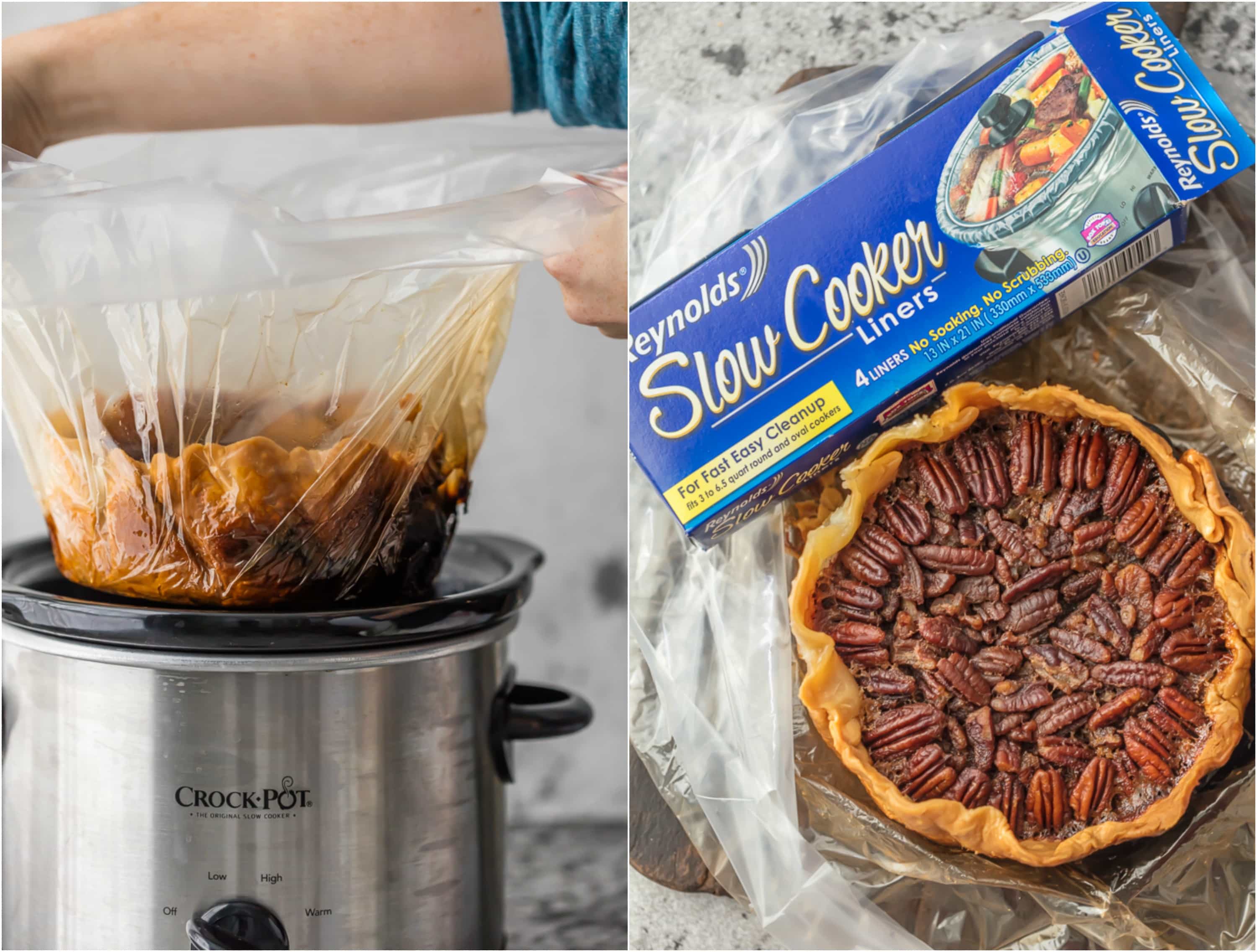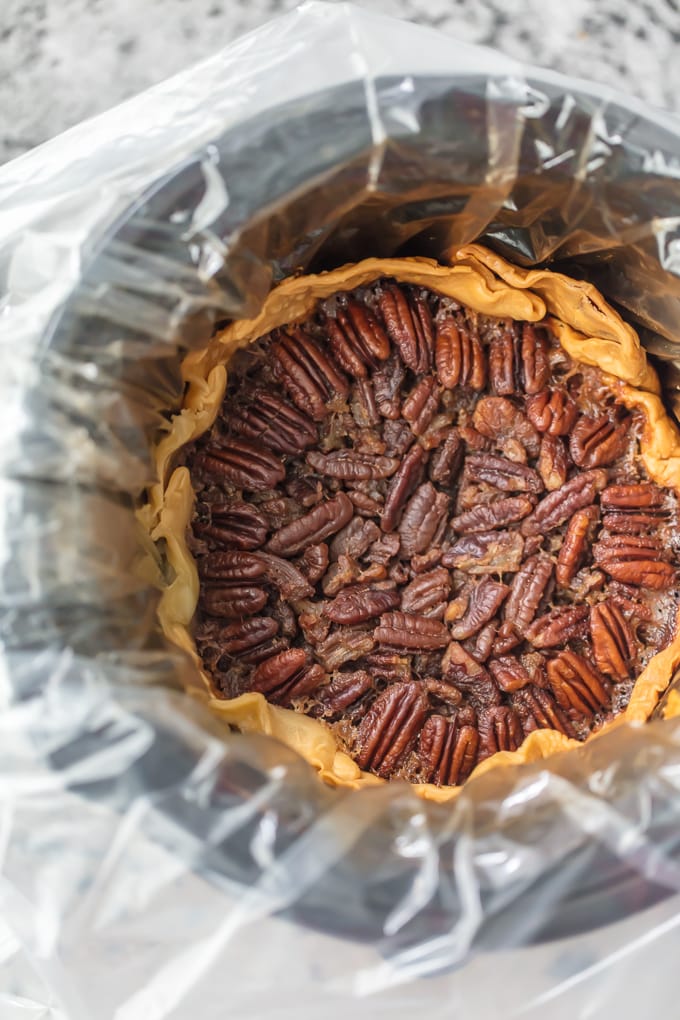 If you're a long time reader of this site, you know I LOVE Reynolds Kitchens. This is my second year being a brand ambassador and I'm so so proud to represent their products with recipes. I have used their foil in some of my favorite recipes like Cheesy Garlic Butter Sandwich Skewers and Grilled Caesar Salmon Foil Packets, and I'm OBSESSED with their Parchment Paper for our Applesauce Chocolate Chip Cookies and Loaded Soft Batch Salted Caramel Cookies.
Their products are second to none, especially these super useful Slow Cooker Liners. They make cooking in a crockpot even easier than you thought and cleanup a breeze. They're absolutely essential for this Slow Cooker Pecan Pie. How else would you get that sucker out of there?! With the Reynolds Slow Cooker Liner in place you can just lift it right out. No mess. ALL the flavor.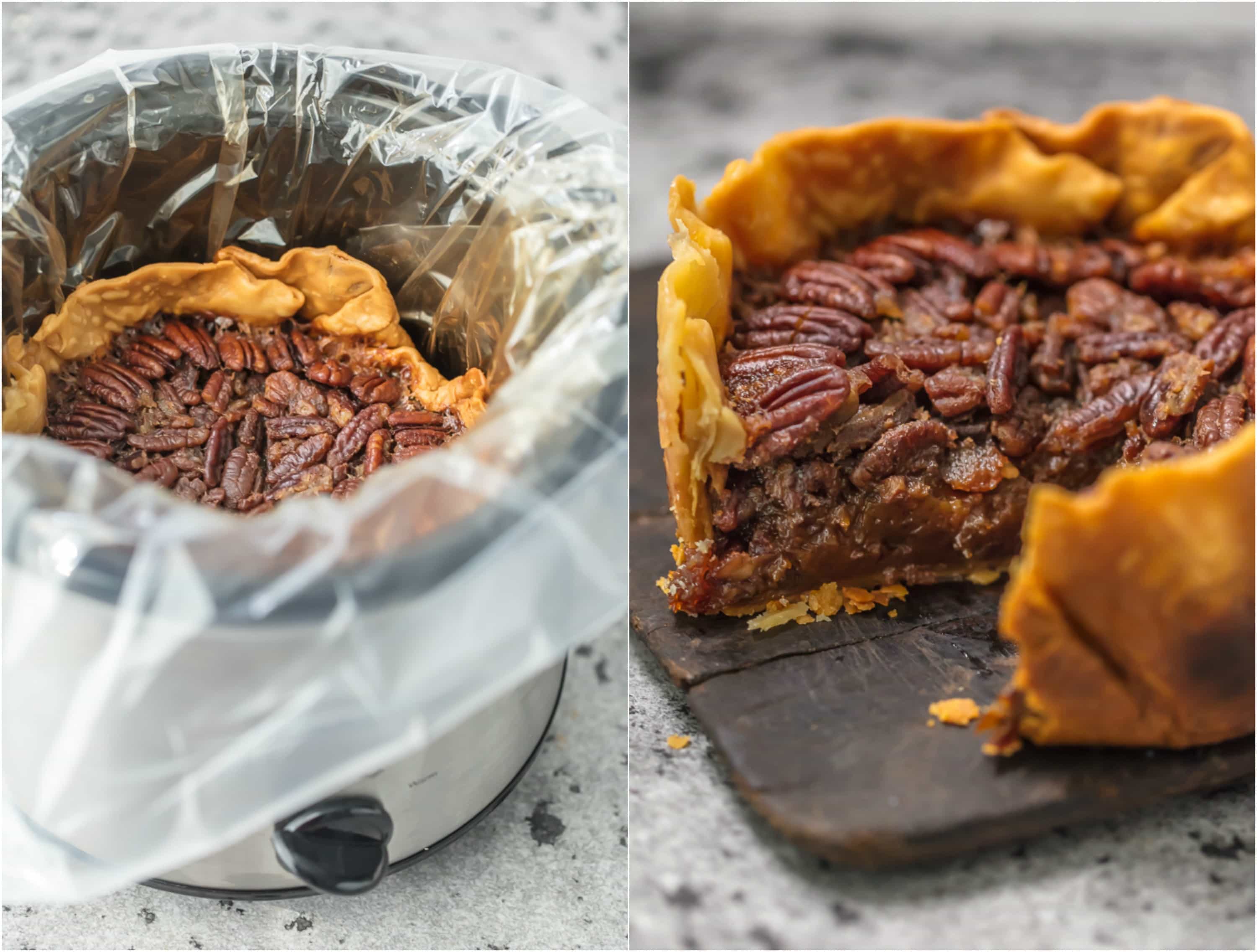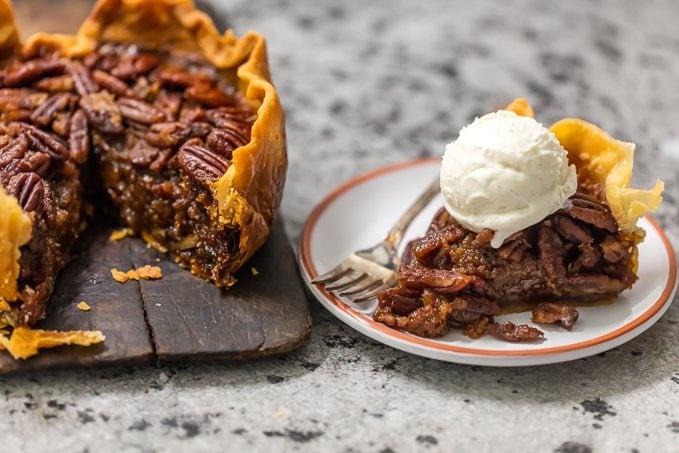 Before today, I never even knew what was in a Pecan Pie. I researched some recipes and came up with what I think is a true winner. Sweet, nutty, oh so delicious. Perfect for the holidays!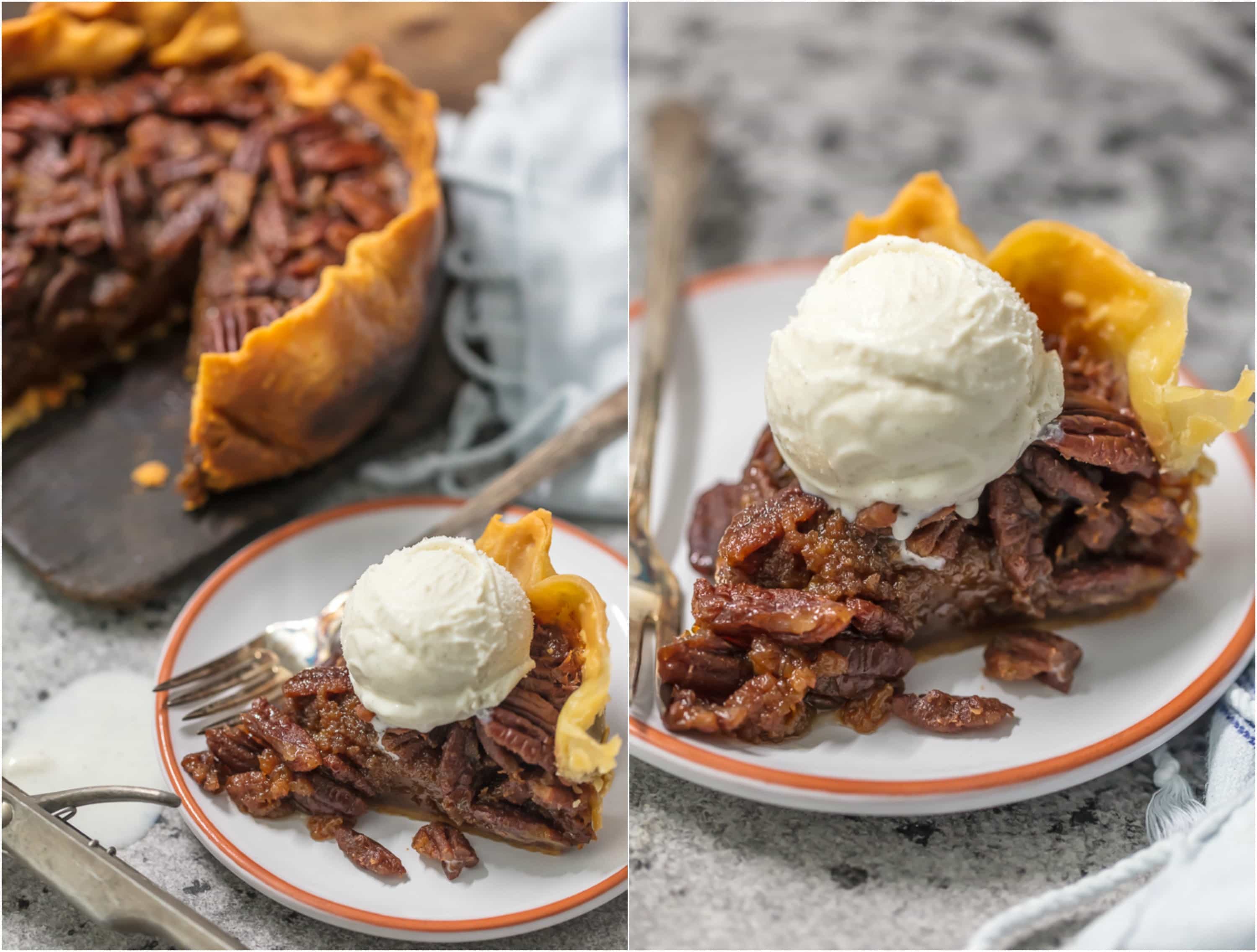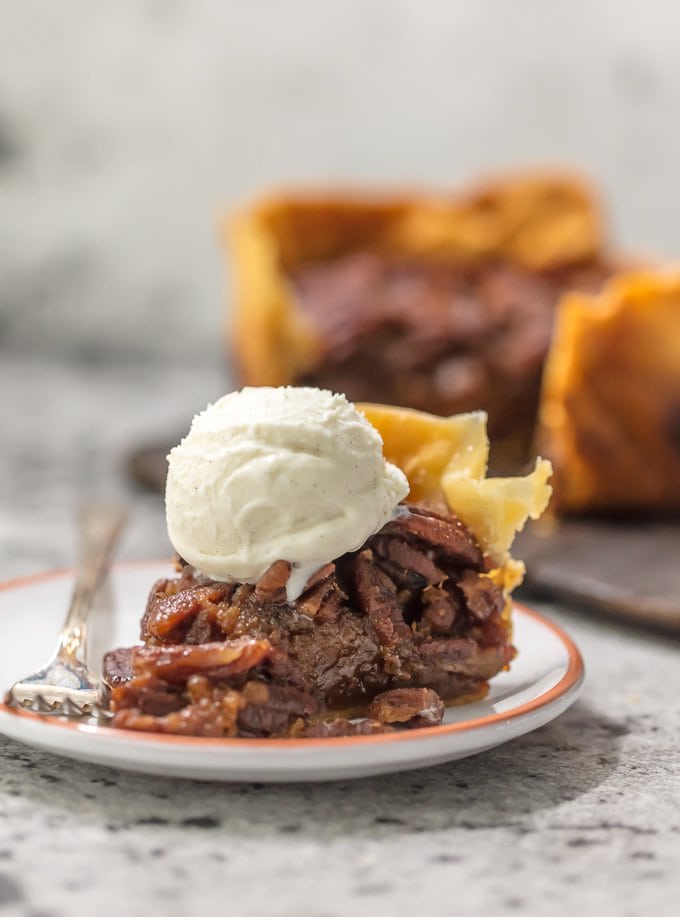 I'm so darn excited for you guys to try this Slow Cooker Pecan Pie!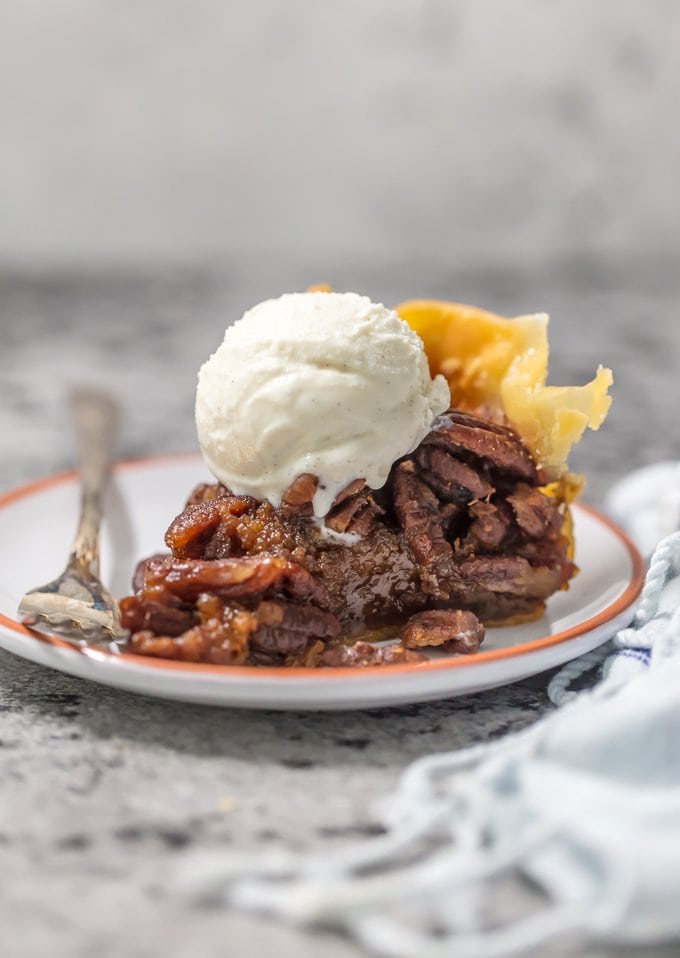 Happy Thanksgiving!
Slow Cooker Pecan Pie
This SLOW COOKER PECAN PIE will knock your socks off and make for a delicious and easy Thanksgiving, Christmas, or Easter! We LOVE Pecan Pie and it's just as delicious made in a crockpot!
5 minPrep Time
3 hrCook Time
3 hr, 5 Total Time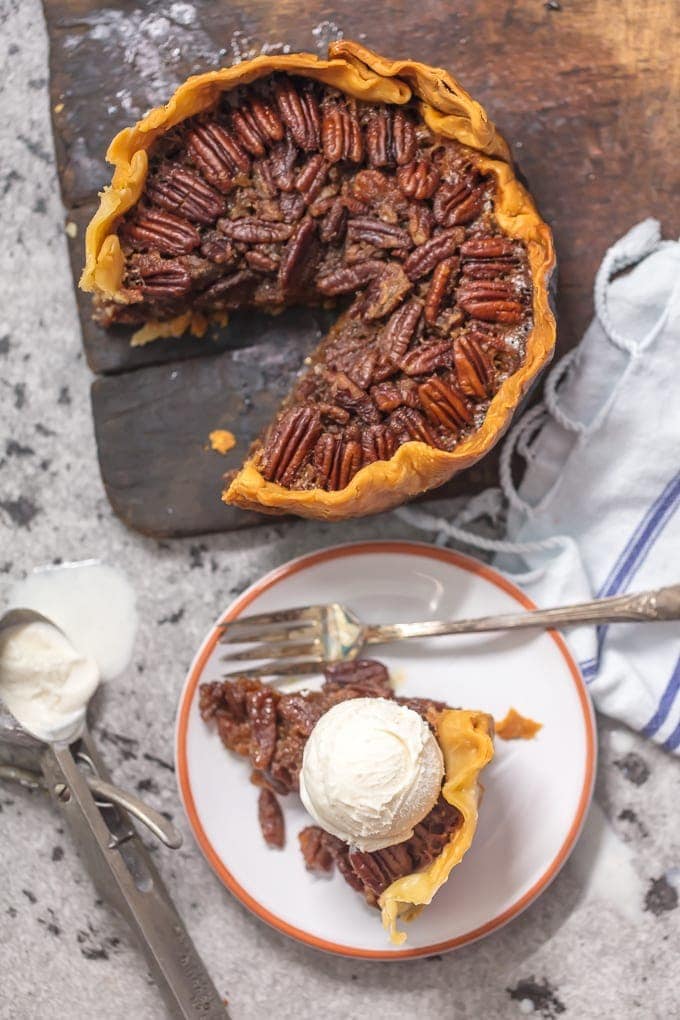 Ingredients
1 1/2 cups chopped pecans (plus some pecan halves for decoration)
1 Reynolds Slow Cooker Liner
1 refrigerated pie crust
4 eggs, lightly beaten
1 cup corn syrup
1 cup sugar
1/3 cup salted butter, melted
1 1/2 teaspoons pure vanilla extract
Instructions
Preheat oven to 350F. Place pecans on a baking sheet and toast for 5 minutes or until browned. Set aside.
Place the slow cooker liner in your slow cooker (you can use a small round slow cooker for a deep dish pie or a 6 qt oval for a thinner pie) and place pie crust in the bottom. Press down the bottom and each side to fit the bottom of the cooker. Use your fingers to press the very top of the crust into the slow cooker liner to make sure it adheres (so it won't slump down into the pie later)
In a medium bowl, stir together the beaten eggs, corn syrup, sugar, butter, and vanilla. Whisk until smooth. Stir in the pecans, reserving the halves for top.
Pour the pie filling into the slow cooker/pie crust. Top with some pecan halves as you wish to decorate. (I just lined the very outside circle with halves as shown)
Cook on high for 3 hours (halfway through, give the liner a turn to rotate, taking care because the pie will not be set yet. This is optional but will help when removing later)
Turn off the cooker and allow the pie to cool completely before removing/cutting. *note
Serve with vanilla bean ice cream if desired!
Enjoy!
*note: if you don't allow the pie to cool completely it could fall apart when removing from the slow cooker or cutting. If you like to eat your pecan pie hot, you can microwave individual pieces to avoid the entire thing not keeping form.
7.6.7
2482
https://www.thecookierookie.com/slow-cooker-pecan-pie/