This EASY Pecan Pie Recipe is so amazing, you won't believe your taste buds! This Crock Pot Pecan Pie will knock your socks off and make for a delicious and easy Thanksgiving, Christmas, or Easter! This is the BEST Pecan Pie Recipe we have ever tasted; can you believe it's made in a slow cooker?!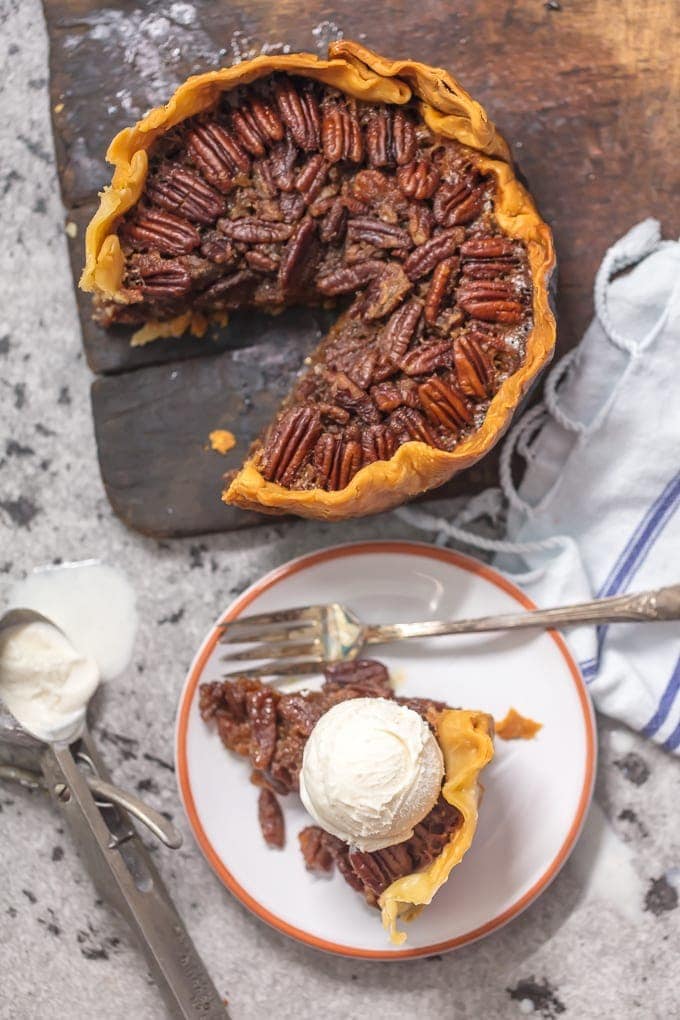 Easy Pecan Pie Recipe
This EASY Pecan Pie Recipe is made in a slow cooker! Crock Pot Pecan Pie is a real winner for holidays!
Pecan Pie is a Thanksgiving tradition. You gotta have the pumpkin pie AND pecan for the big feast, no questions asked. This dessert is simply a must! Luckily, I've found a way to make pecan pie so much easier than I ever thought possible.
Crock Pot Pecan Pie just changed my life. This EASY PECAN PIE RECIPE turned out awesome and I'm so very excited to share the recipe with you! Baking (especially PIES) have always intimidated me, but one by one we have conquered them this year and I've realized I don't need to be scared.
Baking pies is not only doable, it's so much simpler than I believed. And when you can make a pie in a slow cooker and it's just as good but that much easier, DO IT! You won't regret it.
If you don't have a slow cooker, try our classic pecan pie recipe instead!
This DEEP DISH Crock Pot Pecan Pie is just begging to be the star of your holiday table. It is just so fun and delicious!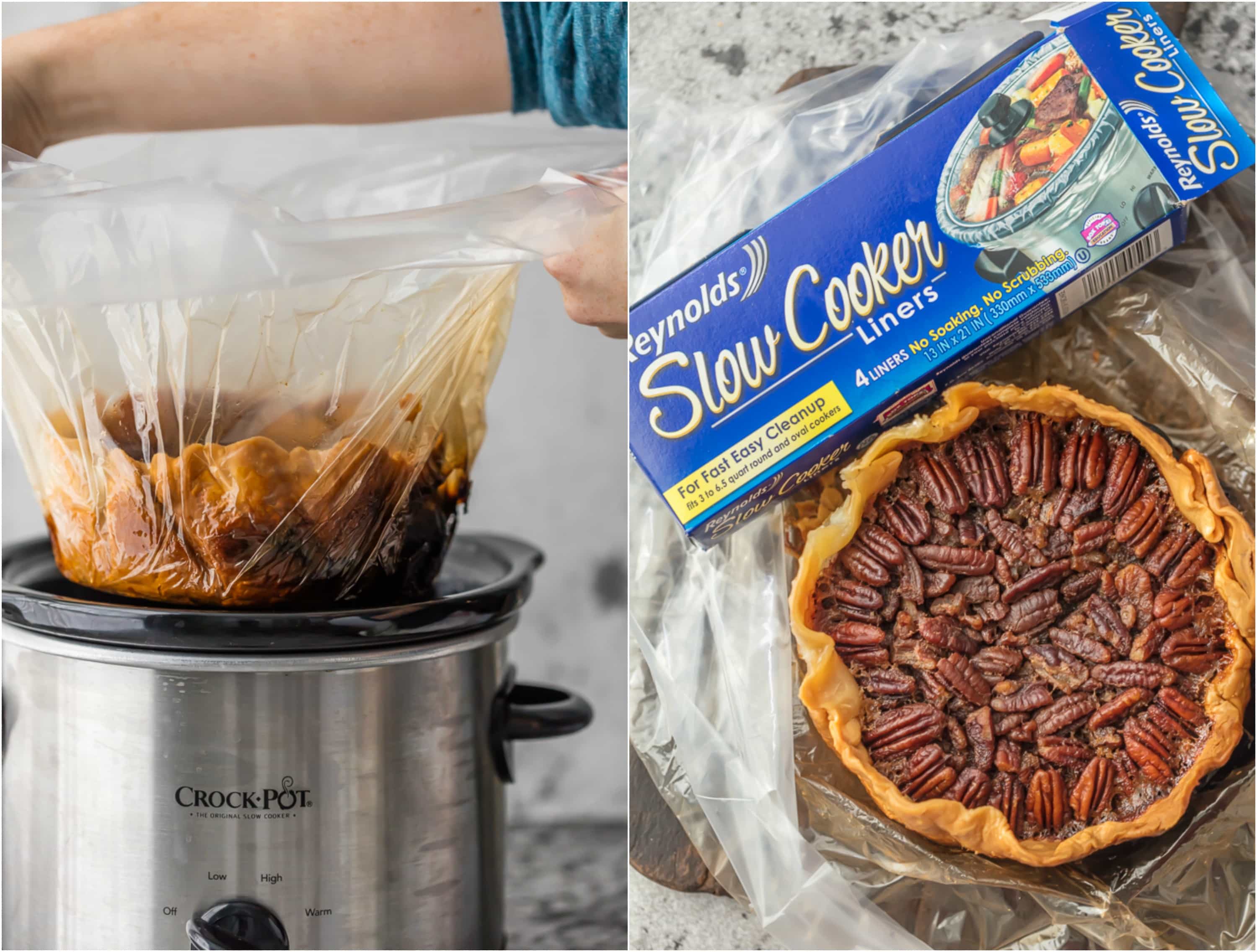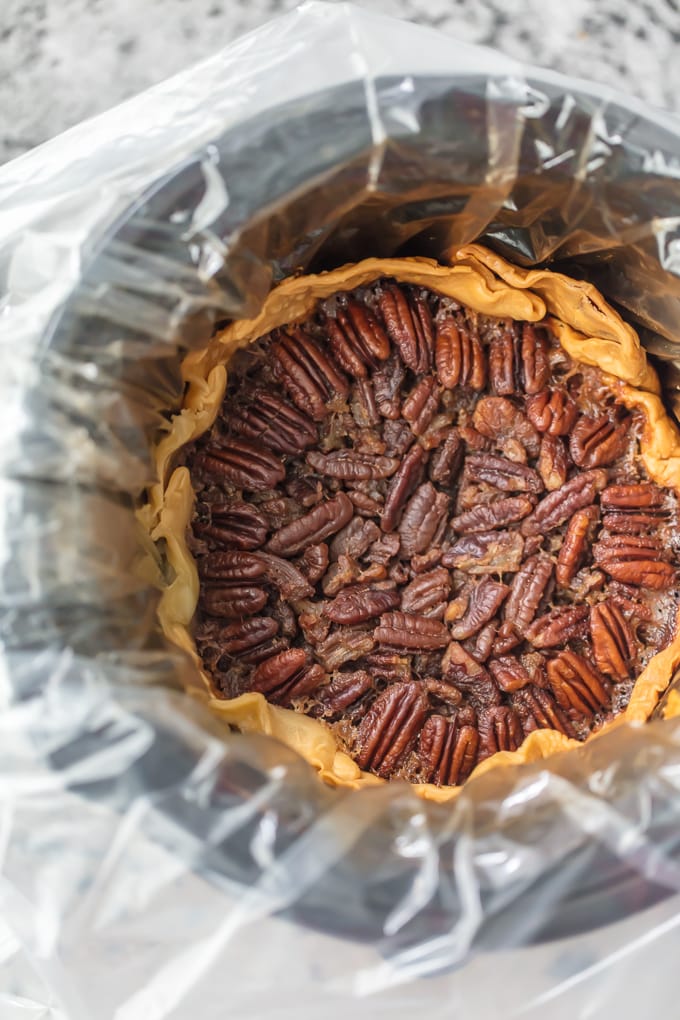 Crock Pot Pecan Pie
Crock Pot Pecan Pie is a no mess, EASY Pecan Pie Recipe!
If you're a long time reader of this site, you know I LOVE Reynolds Kitchens. This is my second year being a brand ambassador and I'm so so proud to represent their products with recipes. I have used their foil in some of my favorite recipes like Cheesy Garlic Butter Sandwich Skewers and Grilled Caesar Salmon Foil Packets, and I'm OBSESSED with their Parchment Paper for our Applesauce Chocolate Chip Cookies and Loaded Soft Batch Salted Caramel Cookies.
Their products are second to none, especially these super useful Slow Cooker Liners. They make cooking in a crock pot even easier than you thought and cleanup a breeze. They're absolutely essential for this crock pot recipe. How else would you get that sucker out of there?! With the Reynolds Slow Cooker Liner in place you can just lift it right out. No mess. ALL the flavor.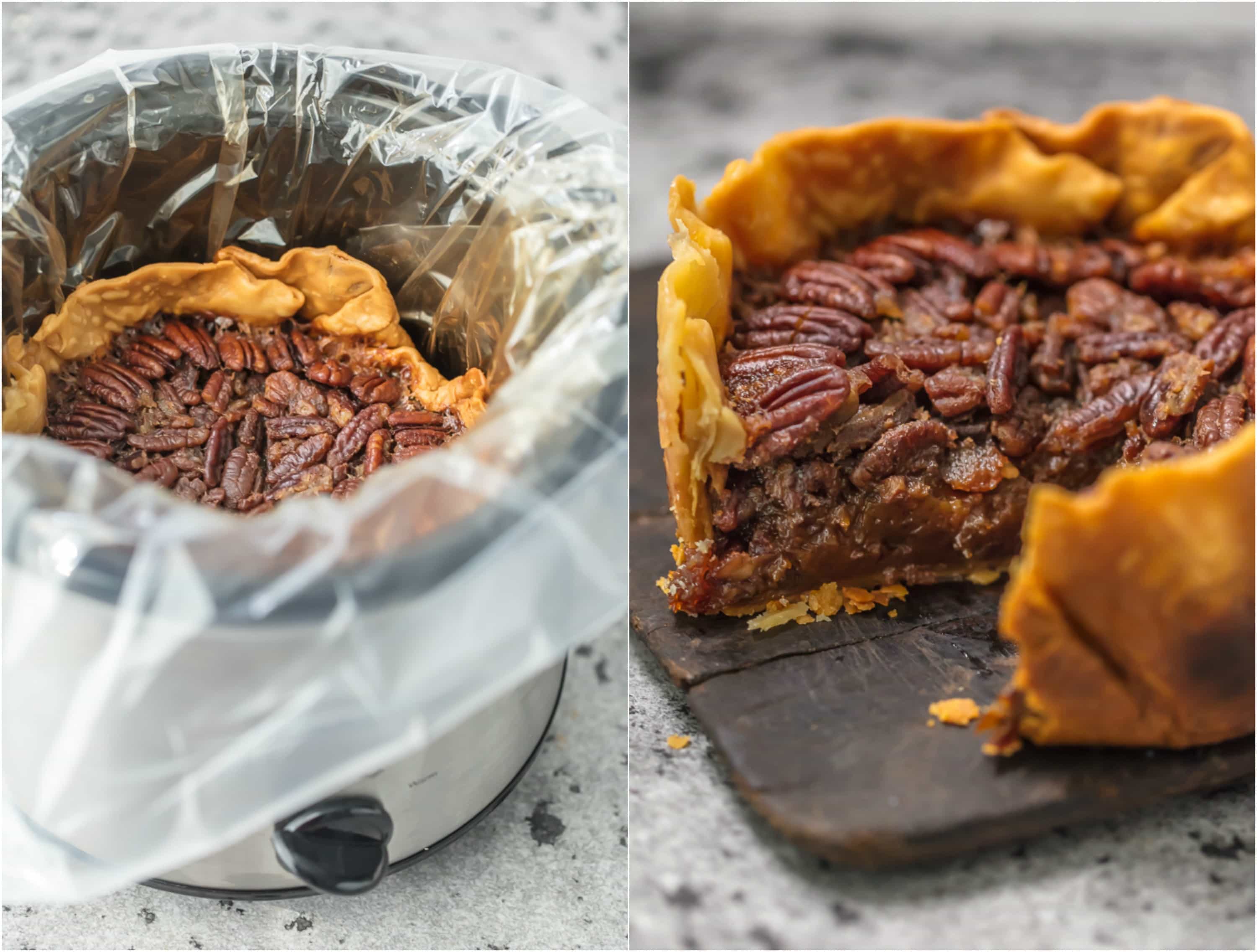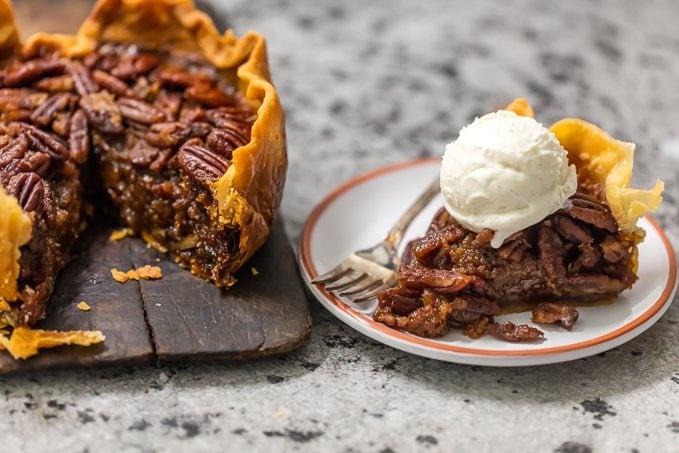 Tips for Making Pecan Pie in a Slow Cooker
Before today, I never even knew what was in a Pecan Pie. I researched some recipes and came up with what I think is a true winner. This easy pecan pie recipe is sweet, nutty, and oh so delicious. Perfect for the holidays!
Always use a slow cooker liner. It will make it easier to get this pie out of your crock pot and also reduce the mess.
Use a store-bought crust from the freezer aisle to make things even easier. I prefer crust dough to a crumb crust for this recipe.
Allow the pie to cool COMPLETELY before removing from the slow cooker. This is important so that it doesn't fall apart. If properly cooked all the way through, it will keep its shape well and you can re-heat as needed or serve at room temperature.
If you prefer more of a family style dessert, you can leave the crust off completely and dip this out cobbler style! Top with some vanilla ice cream and you're truly the star of the show!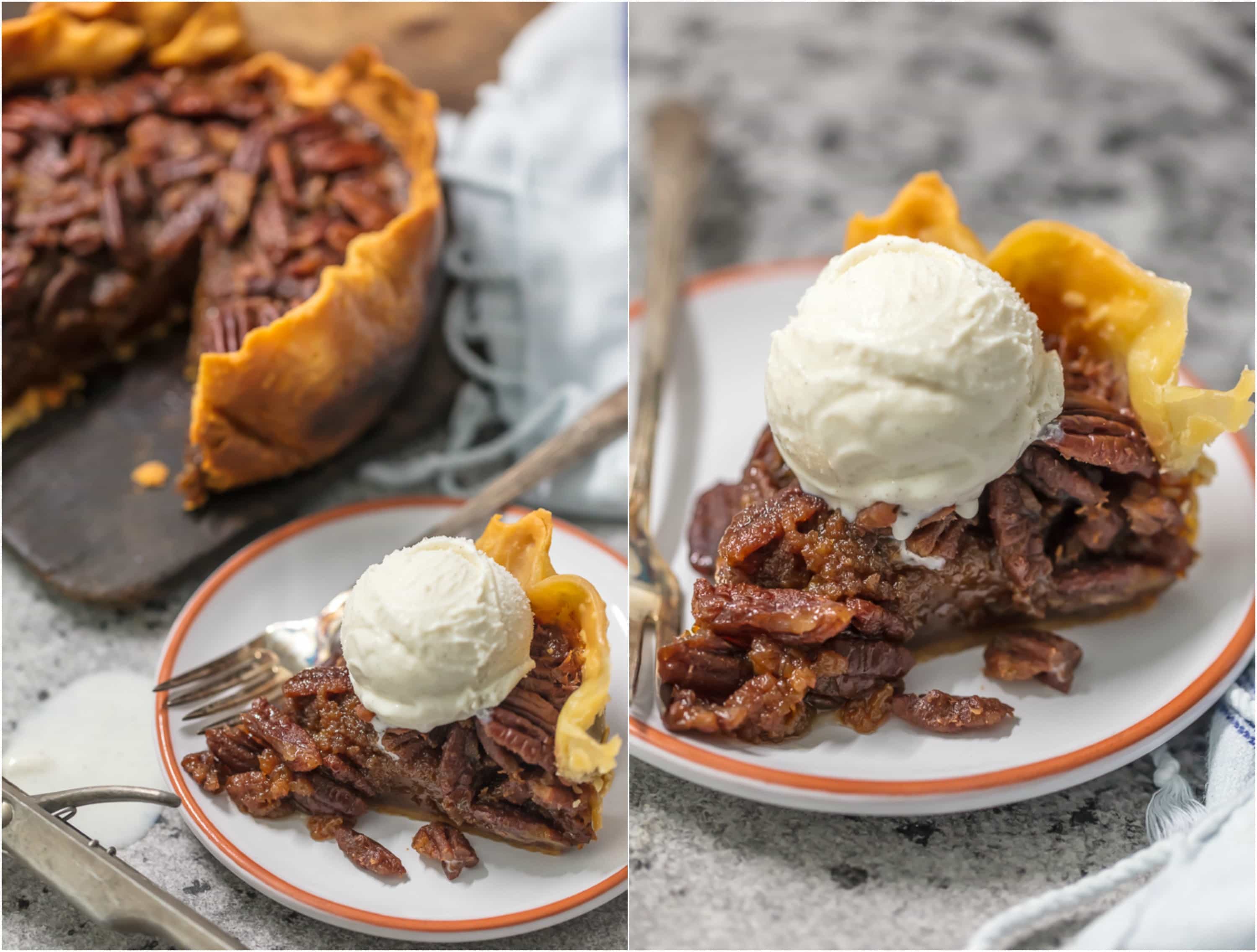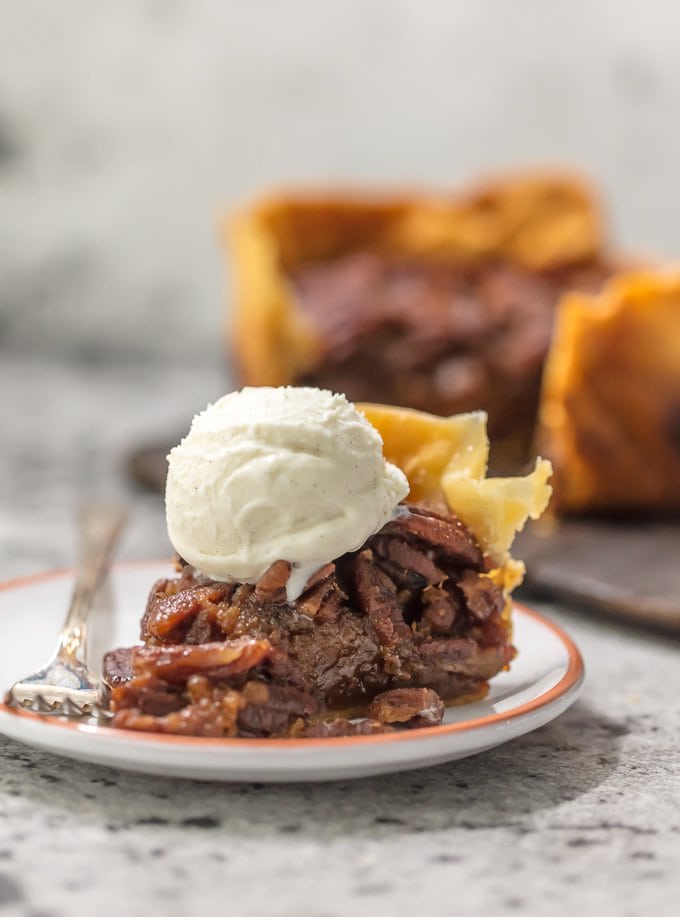 What is a substitute for corn syrup in Pecan Pie?
If you don't have corn syrup on hand, you can replace 1 cup of light corn syrup with 1 1/4 cups granulated sugar dissolved in 1/4 cup hot water.
Can you freeze this pecan pie recipe?
Crock Pot Pecan Pie freezes BEAUTIFULLY! Allow the pie to cool COMPLETELY and then wrap with several layers of plastic wrap. Wrap tightly and use a couple extra layers than you think you might need. Works like a charm.
Do you have to refrigerate a Pecan Pie?
Bacteria can grow quickly in a Pecan Pie, so be sure to keep in the fridge within two hours of cooking. You can also put this pie in the fridge while still warm.
Do you eat this easy Pecan Pie hot or cold?
BOTH! It's important to let the pecan pie cool completely after cooking so that it will keep its shape. You can serve cool or heat in the oven until warm enough to top with ice cream for your guests.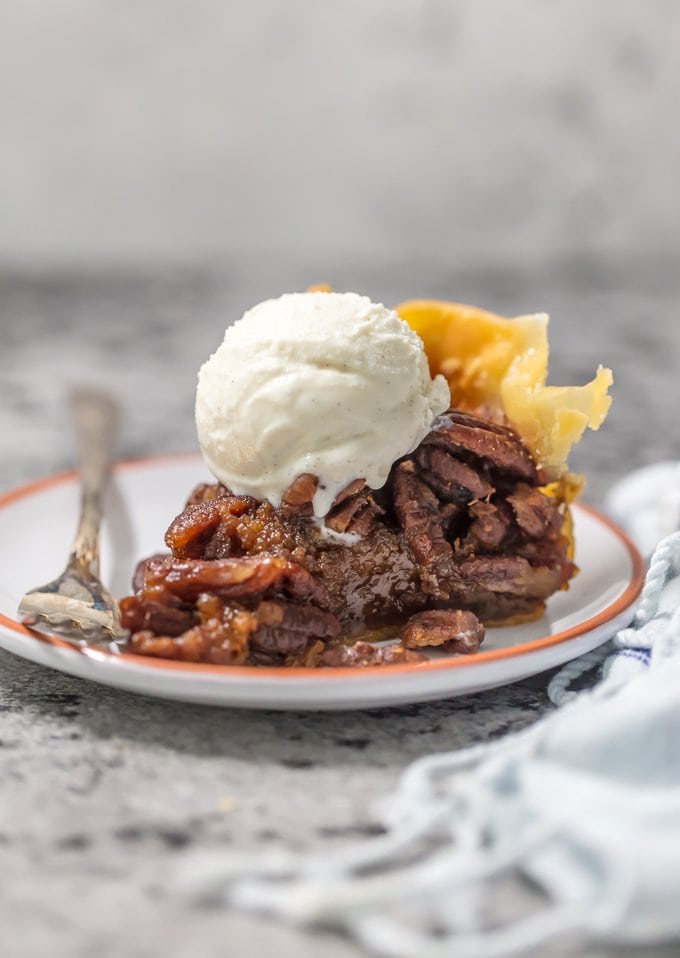 I hope this Crock Pot Pecan Pie is everything you hoped for from holiday dessert recipes this year. This makes a great pie for Easter, Thanksgiving pie, Christmas pie, or any holiday! With how easy it is, there's no reason not to try it. Be confident, you've got this!
See the recipe card below for full details on How to Make Easy Pecan Pie in a Crock Pot. Enjoy!
Other Holiday Pie Recipes we love: