Learn how to cook a turkey for Thanksgiving! I'm here to share a step by step recipe and lots of tips so you can roast the perfect turkey this year. Everything you need to know is here, so the entire process will feel like a breeze.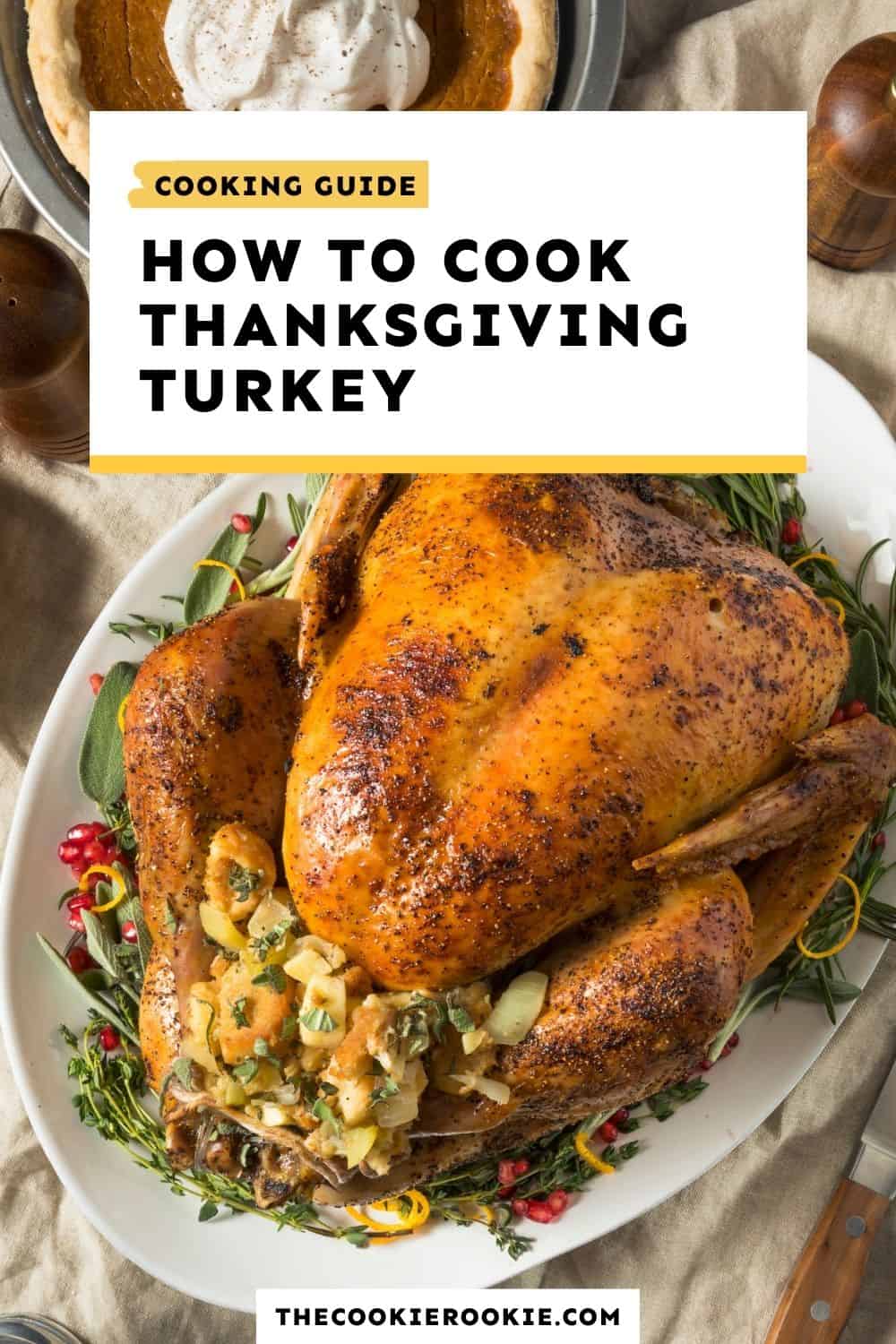 How to Cook the Perfect Turkey
As the holidays roll around, there's one thing that starts to take over my mind: how to cook the PERFECT turkey for Thanksgiving. It's the center of the feast, and while I love all the sides, I don't want to serve a sub-par turkey. Luckily, with a bit of time, practice, and help from those that came before me, I think I've finally perfected my recipe!
So if this is your first time roasting a whole turkey in the oven, or you've been trying year after year to get it just right, I'm here to help. I'm sharing everything you need to know about preparing, cooking, and serving turkey for Thanksgiving dinner.
Keep reading for all of my top tips, answers to frequently asked questions, and a step by step Thanksgiving turkey recipe.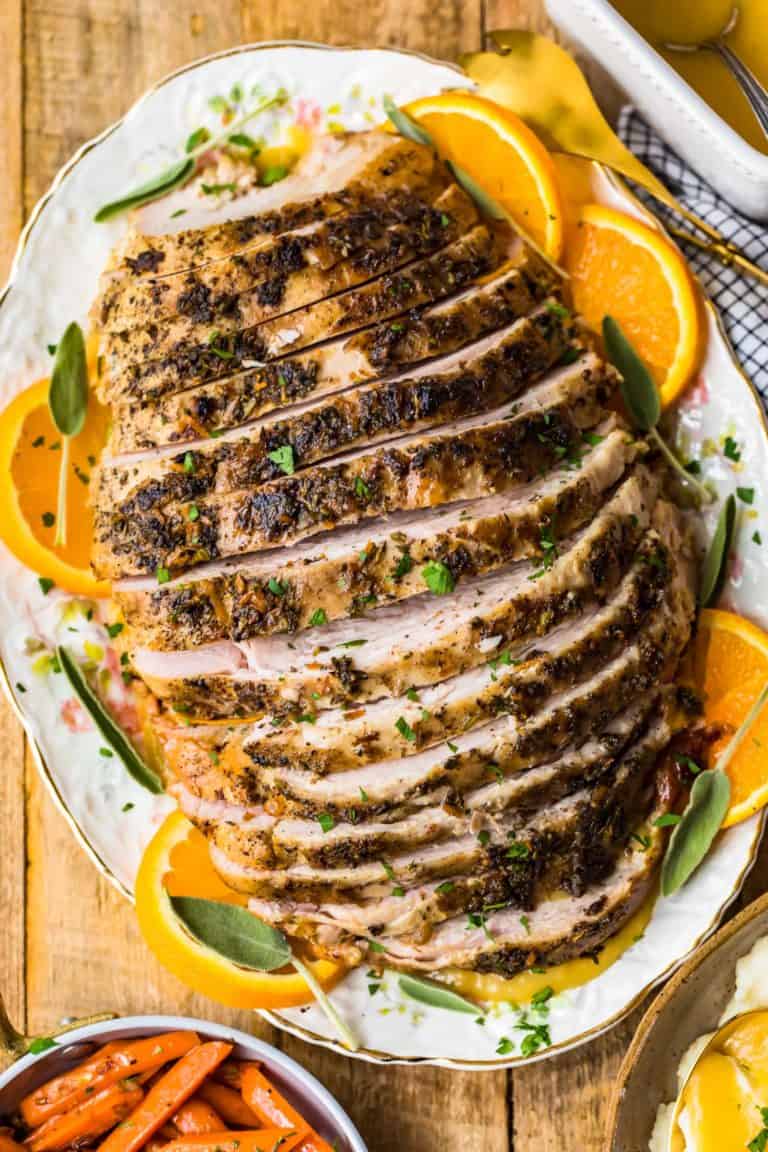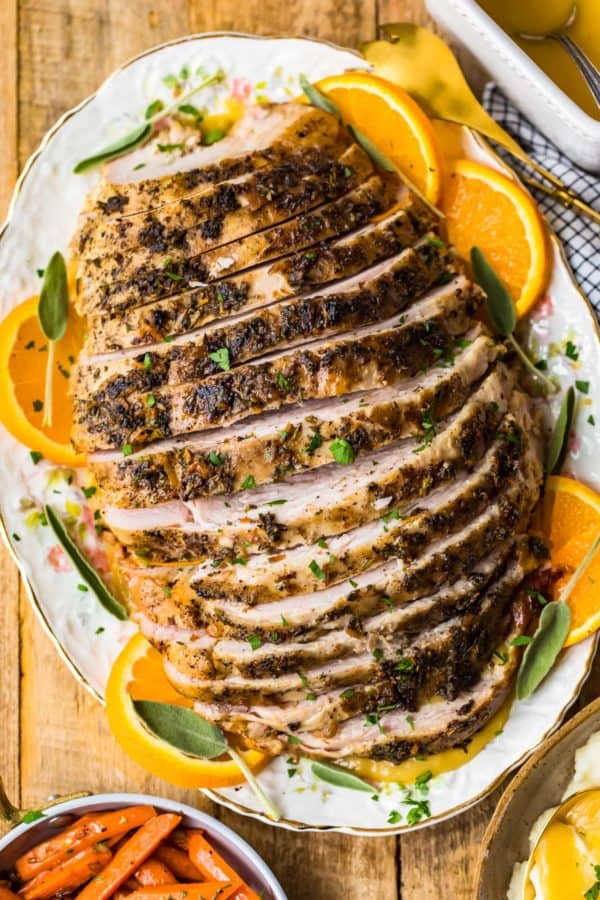 What You'll Need
Besides the turkey and some other ingredients for seasoning, you'll need a few basic kitchen tools to roast the turkey.
Here's what you'll need:
Buying and Storing the Turkey
When to buy the turkey: Plan to buy a fresh turkey up to 2 days before cooking, or get a frozen one as early as you need to (it can be stored in the freezer long-term).
Turkey Size: When choosing a size, estimate about 1 pound per guest for a large bird (over 12 pounds), or up to 2 pounds for small birds (under 12 pounds). This is because larger birds have more meat-to-bone, while smaller birds will get a lot of their weight from bones.

For Example: So if you have a big gathering with 16 guests, get a turkey that is at least 16 pounds. But if you have 6 guests, you'll want to get a turkey that is about 12 pounds.

Storing the turkey: Keep a fresh turkey in the refrigerator right up until you cook it. Transfer a frozen turkey to the refrigerator days in advance to thaw.
When to thaw the turkey: Estimate 24 hours in the fridge for every 4-5 pounds, to make sure it's fully and properly thawed.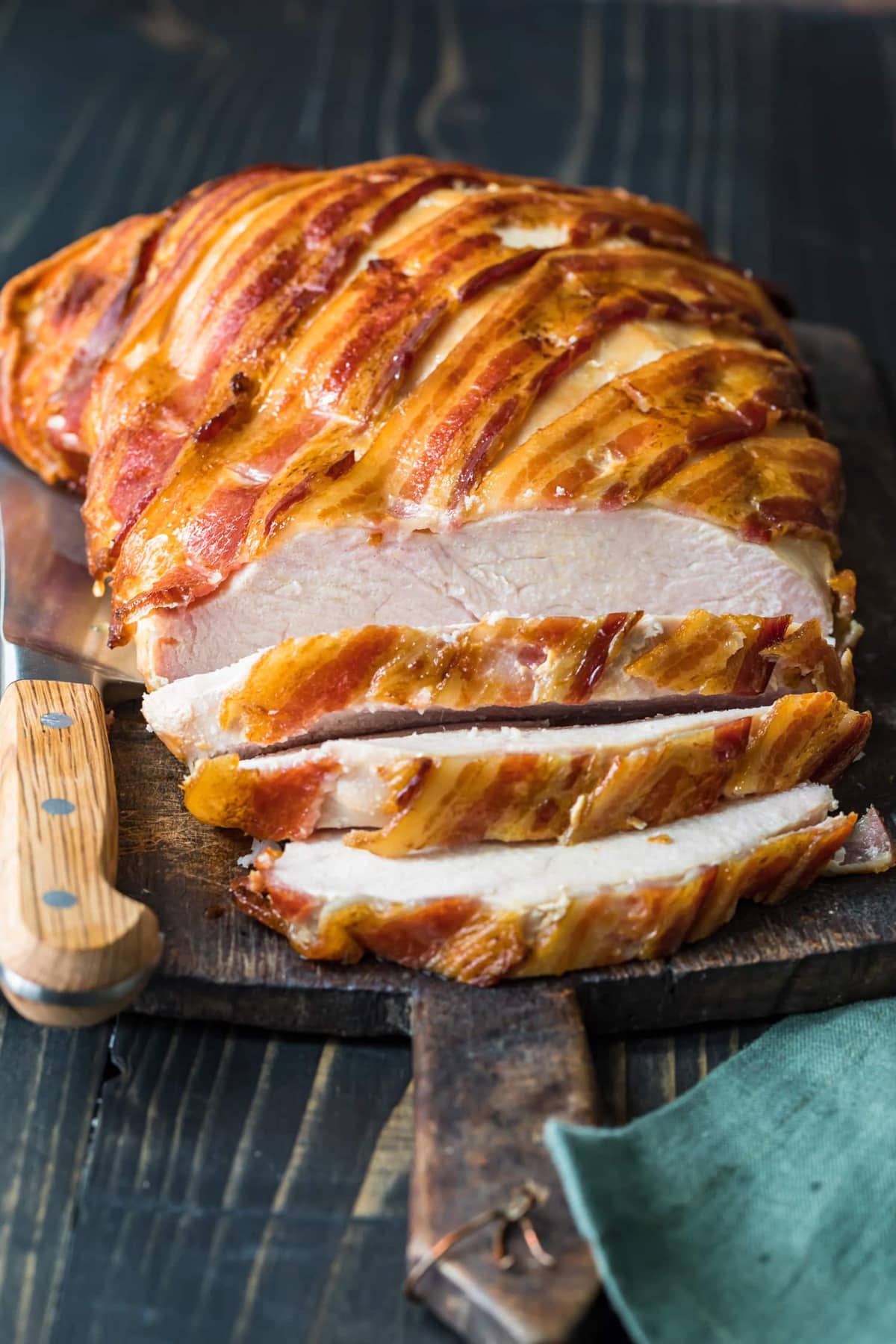 How to Cook a Turkey in the Oven (Step by Step)
From prepping and seasoning the turkey, roasting in the oven, all the way to carving and serving, here's the step by step to cooking the perfect turkey for Thanksgiving!
Step 1: Prep the Turkey for Roasting
The very first step is to set your turkey in the refrigerator to thaw (if frozen) days in advance.
Preheat the oven to 325°F.
Then take the turkey out of the fridge, remove wrapping/packaging, and remove the giblets from inside.
Make a turkey rub (salt & pepper, sage, thyme, garlic, rosemary), then rub it all over the surface of the turkey.
Tuck the wings under the breast. If you are stuffing the turkey, use string to tie the drumsticks/legs together.
Place it breast side up on a rack, inside of a roasting pan, and pour ½ cup of water into the pan.
Step 2: Roast the Turkey
Create an aluminum foil tent over the turkey.
Place it in the oven and cook for about 1-1 ½ hours, then remove the aluminum foil and place the turkey back in the oven.
Continue cooking, uncovered, for the correct length of time, according to the chart shared above (generally, add 15 minutes per pound of turkey).
Place aluminum foil loosely over the breast once the turkey reaches the desired brownness (usually up to an hour before it's done roasting). If needed, you can cover the whole turkey.
Begin checking the internal temperature of the turkey an hour before it's set to be finished, in 15 minute intervals. Temperature should reach 165°F.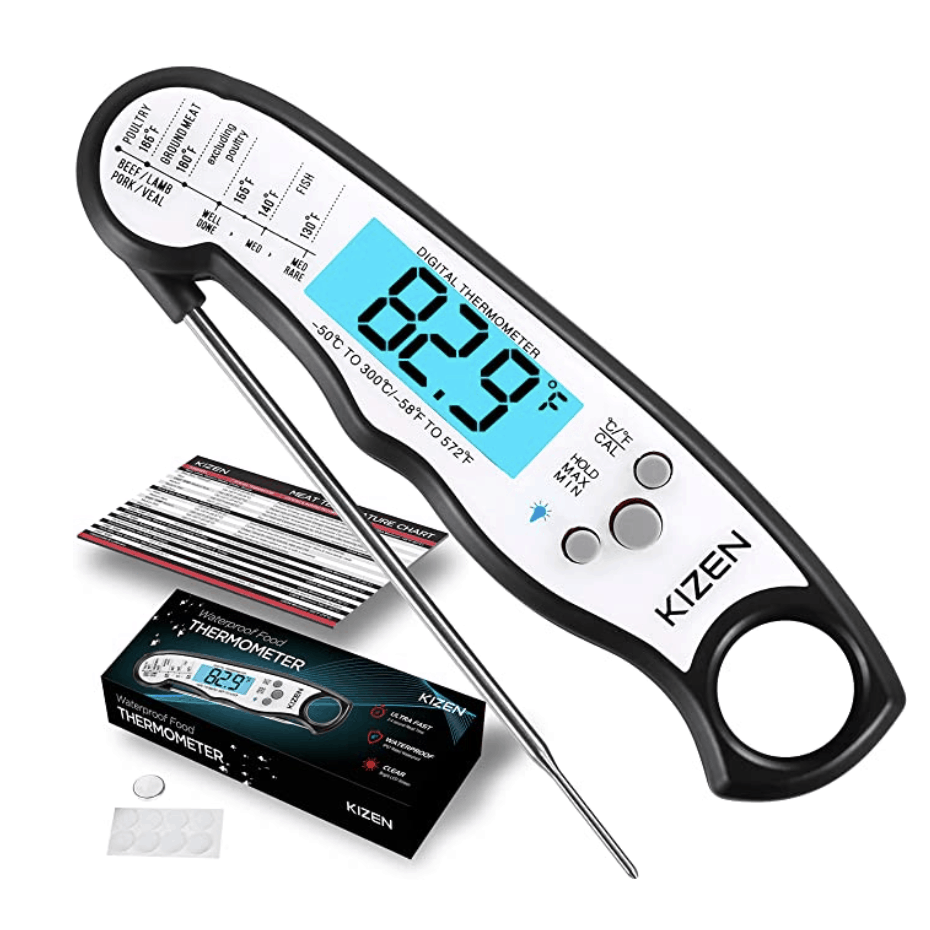 The Best meat thermometer!
I love using this meat thermometer for making sure the meat is at 165 degrees! Easy for beginners & totally worth the $10 cost!
How long do you cook a turkey?
A general rule of thumb is to cook a whole turkey about 15 minutes per pound (but always keep an eye on it towards the end of the cook time). I've done the math for you for a turkey between 12 and 22 pounds, cooked at 325°F.
| Turkey Size (Pounds) | Roasting Time |
| --- | --- |
| 12 lbs | 3 hours |
| 13 lbs | 3 hours 15 minutes |
| 14 lbs | 3 hours 30 minutes |
| 15 lbs | 3 hours 45 minutes |
| 16 lbs | 4 hours |
| 17 lbs | 4 hours 15 minutes |
| 18 lbs | 4 hours 30 minutes |
| 19 lbs | 4 hours 45 minutes |
| 20 lbs | 5 hours |
| 21 lbs | 5 hours 15 minutes |
| 22 lbs | 5 hours 30 minutes |
Turkey Cooking Time, per pound, unstuffed
Note: If you make a stuffed turkey, add 30 minutes to the listed cooking times.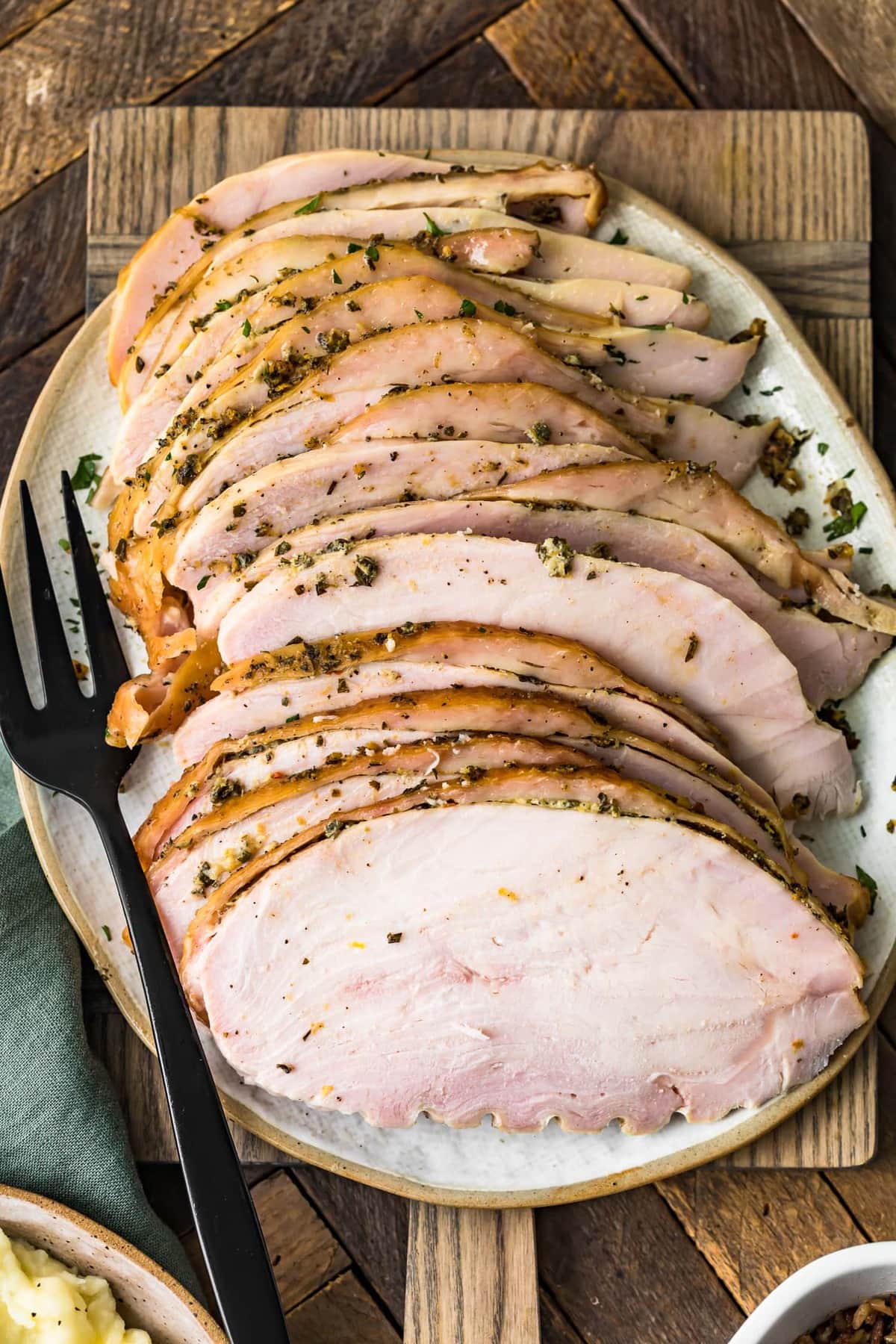 Step 3: Let Turkey Rest, Carve, and Serve
Once the turkey is finished cooking in the oven, let it rest for 20-40 minutes. You can tent the aluminum foil over the pan as it rests.
Carve it after it's had time to rest and cool slightly. (Here's a how-to)
Slice, serve, and enjoy! Be sure to put leftovers away within 2 hours.
Tips!
Cook turkey to an internal temperature of 165°F. Use a meat thermometer to make sure it's fully cooked.
If using a frozen turkey, give it ample time to thaw in the refrigerator before roasting.
DO NOT rinse or wash raw turkey. According to the USDA, this is not an effective way to remove bacteria, and it can actually spread bacteria onto other surfaces.
Cover turkey with aluminum foil at the start of cooking time, and at the end if desired, but uncover it through the majority of the cooking time.
I don't typically recommend stuffing the turkey (although you can), and I will explain why below.
After roasting, let the turkey rest 20-30 minutes before carving.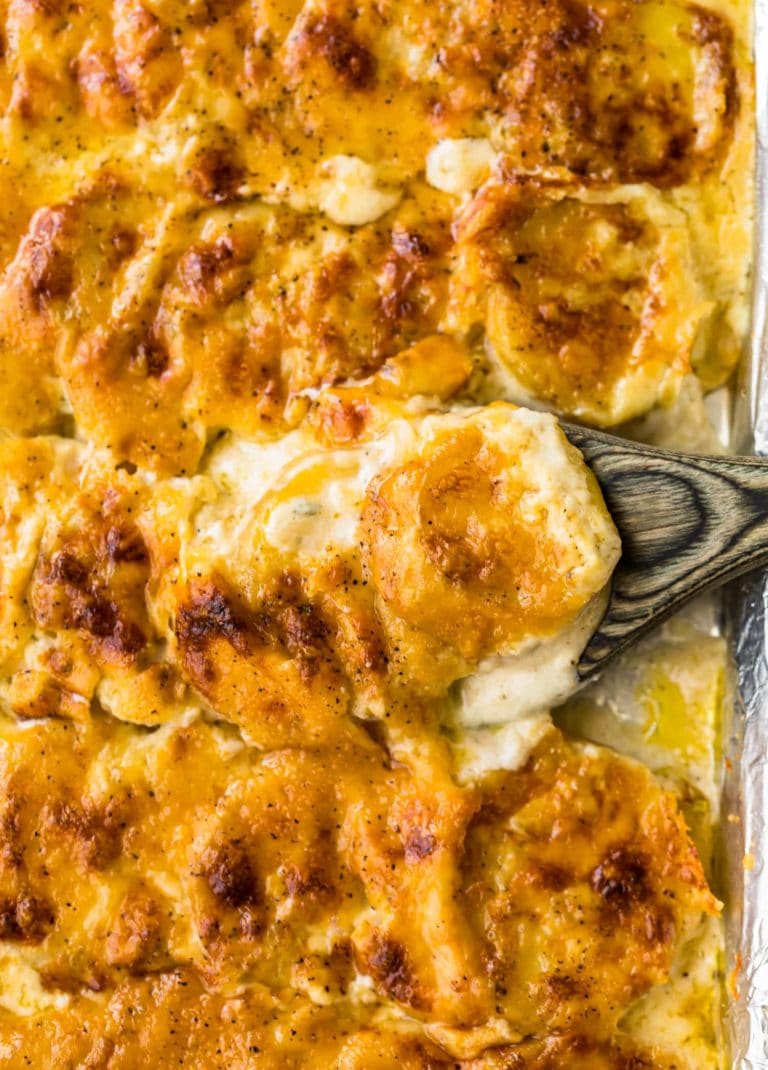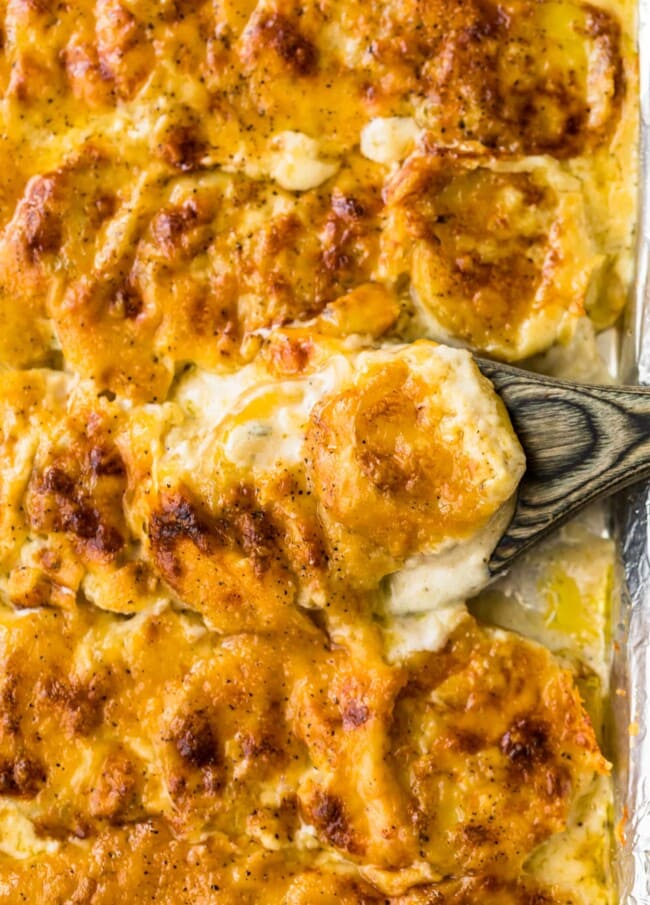 Try ALL the Sides
60+ Holiday Side Dishes
This Thanksgiving we hope you enjoy as many sides as possible with this Roast Turkey Breast!
See Sides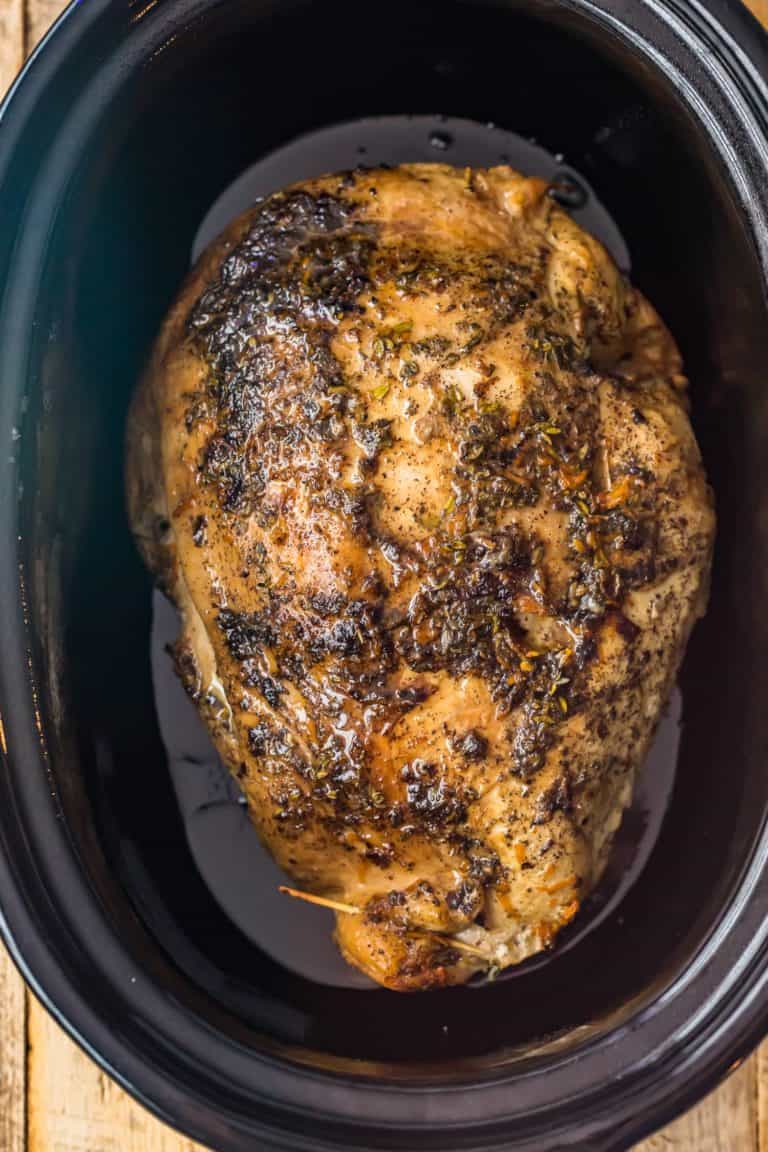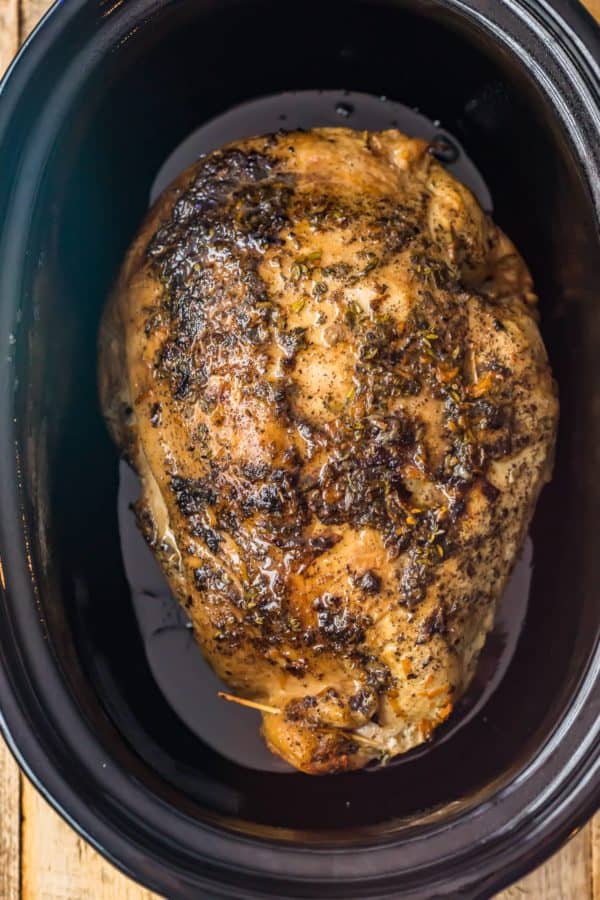 Storing and Reheating Leftover Turkey
Turkey should not be left out at room temperature for more than 2 hours. This means that by the time it's rested, been carved, served, and eaten, you'll need to put it away in the refrigerator quickly after eating.
Finish carving the turkey into slices/pieces, then place in airtight containers. I recommend separating it into smaller portions so it's easier to grab and reheat later.
It will keep in the refrigerator up to 4 days. If you have lots of leftovers and want to make them last longer, you can freeze them up to 3 months.
Leftover turkey is safe to eat cold, or you can reheat it before consuming.
Reheat in the oven at 325°F until fully warmed through. You can also use the microwave.
Should I stuff my turkey?
Stuffing a turkey on Thanksgiving may be the classic way to do it, but it might not be the best option. Stuffing increases the roasting time, and you're more likely to get uneven cooking. You also run the risk of undercooking the stuffing, and it requires more attention to detail.
Instead, make dressing on the side (dressing is just stuffing that wasn't cooked inside the turkey). It's an easier way to do it and all around ensures more even cooking.
How do you season a turkey?
My favorite way to season a turkey is a combination of a flavorful dry rub and stuffing it with onion, garlic, and herbs.
How do I check the internal temp of a whole turkey?
Insert the meat thermometer in 3 different spots to make sure it's fully cooked through: innermost part of the thigh, innermost part of the wing, and thickest part of the breast.
What temperature should I set the oven to roast turkey?
Oven temperature should be set between 325-350°F through most of the cooking time for best results.
Enjoy this holiday with family, friends, or whoever you're able to celebrate with, and ENJOY this perfect roast turkey recipe. Happy Thanksgiving!
Thanksgiving Cooking Guides
We LOVE to put everything in one place. We have compiled our fave Thanksgiving recipes, tips, and tricks in our easy to read cooking guides. Check them out!
See All Guides