This make ahead sausage stuffing recipe is so good I just know you are going to love it! You can make it ahead of time and it's the perfect side dish for your Thanksgiving and holiday menus.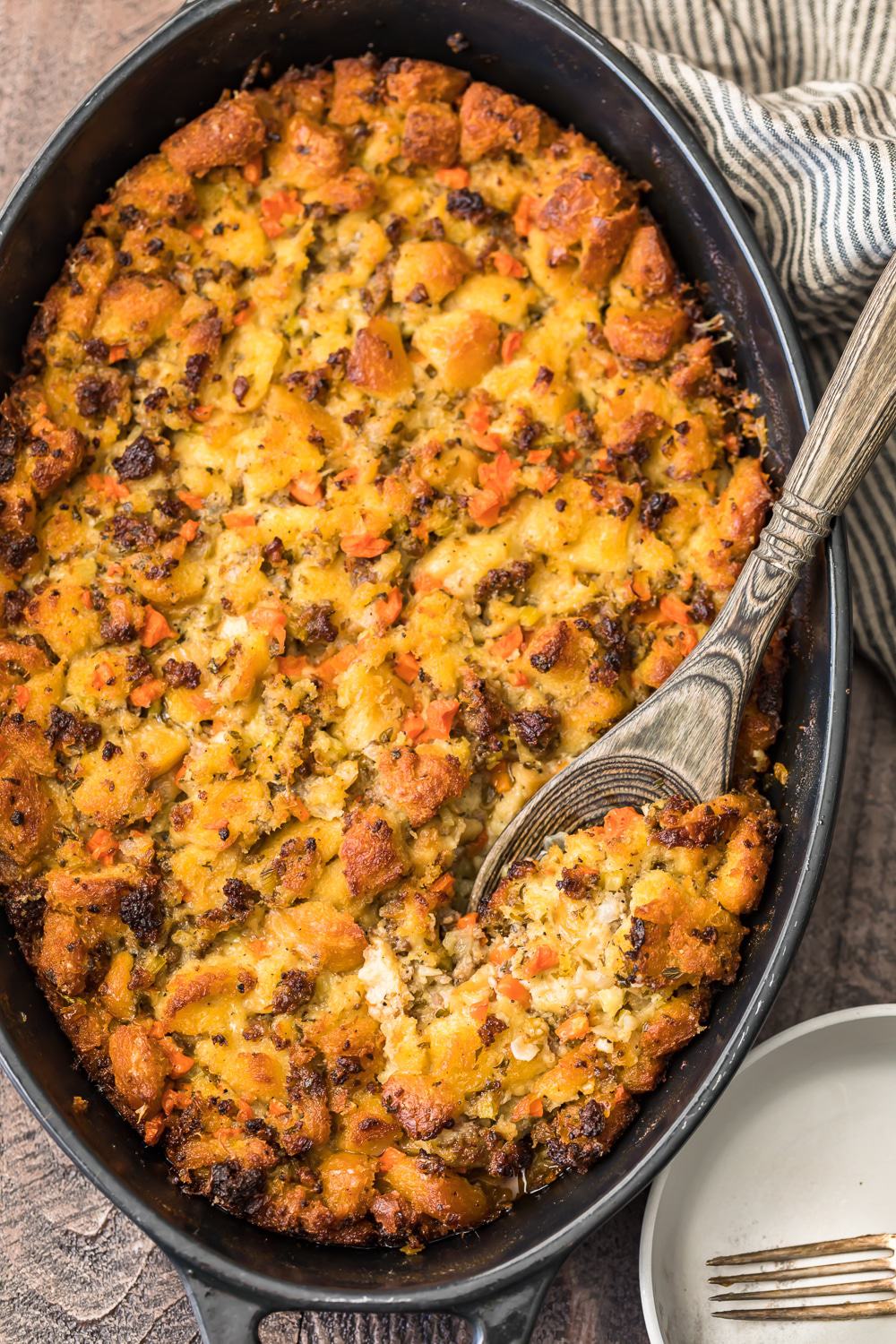 Even though I like to mix up my Thanksgiving sides year to year, but one thing that will always remain in my delicious sausage stuffing recipe! This is always such a hit and I get asked for the recipe all the time – so here it is!
How to make the best sausage stuffing recipe
Heat up your oven and butter your baking dish.
Place the torn bread on to baking sheets, and bake in the oven until it has dried out and place to one side.
While the bread is baking, cook the sausage on the stovetop and then sauté the vegetables. Deglaze the pan with the stock.
Place the bread in a large bowl and mix in the apple and sausage mix and then pour over the egg and stock mixture and let it soak in. Transfer everything to your baking dish and bake.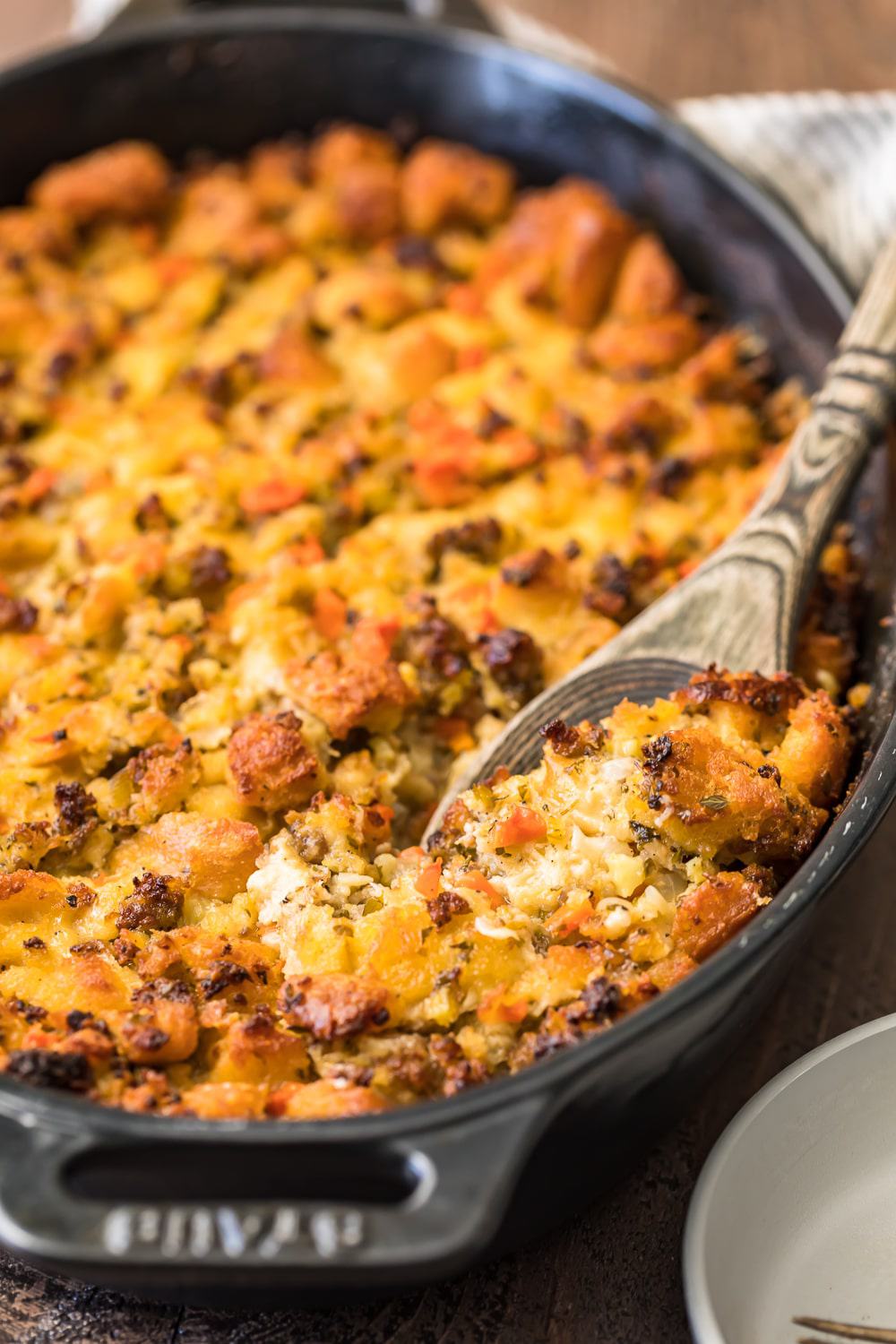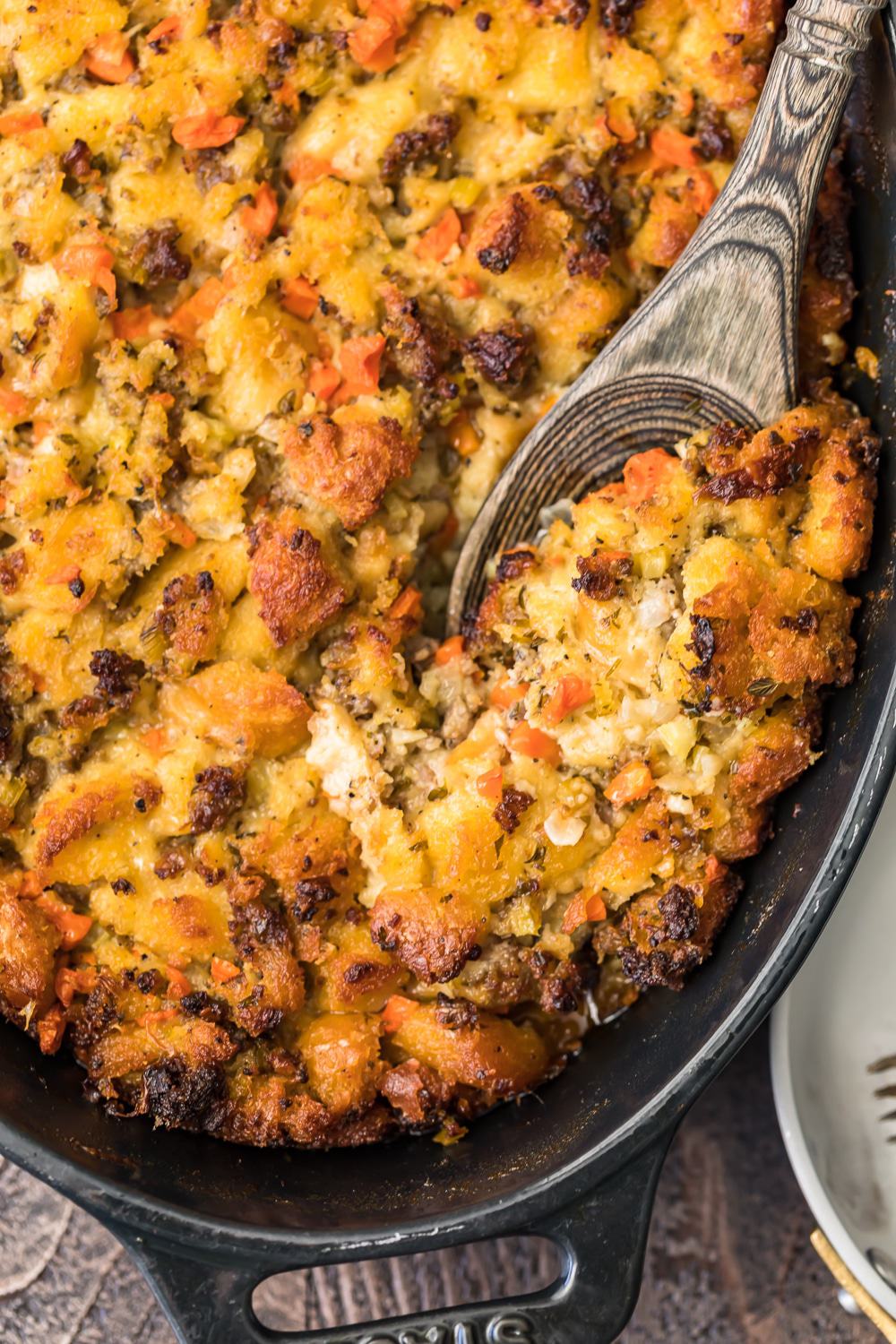 A tasty make ahead side dish for the holidays
I'm big on making as much of the side dishes the day before Thanksgiving as I can! I don't want to spend all day in the kitchen, I want to spend it with my guests! The stuffing can be assembled 1 day ahead. Just keep it covered and refrigerate until ready to bake. This recipe will serve 8, and it's easily doubled if you are hosting a big crowd.
Sausage stuffing is the perfect accompaniment to your Thanksgiving main
Whether you are enjoying a whole roast turkey for Thanksgiving, or an alternative like beef rib or salmon, this stuffing will work with all them. If you are still looking for some main course inspiration, be sure to check out these recipes: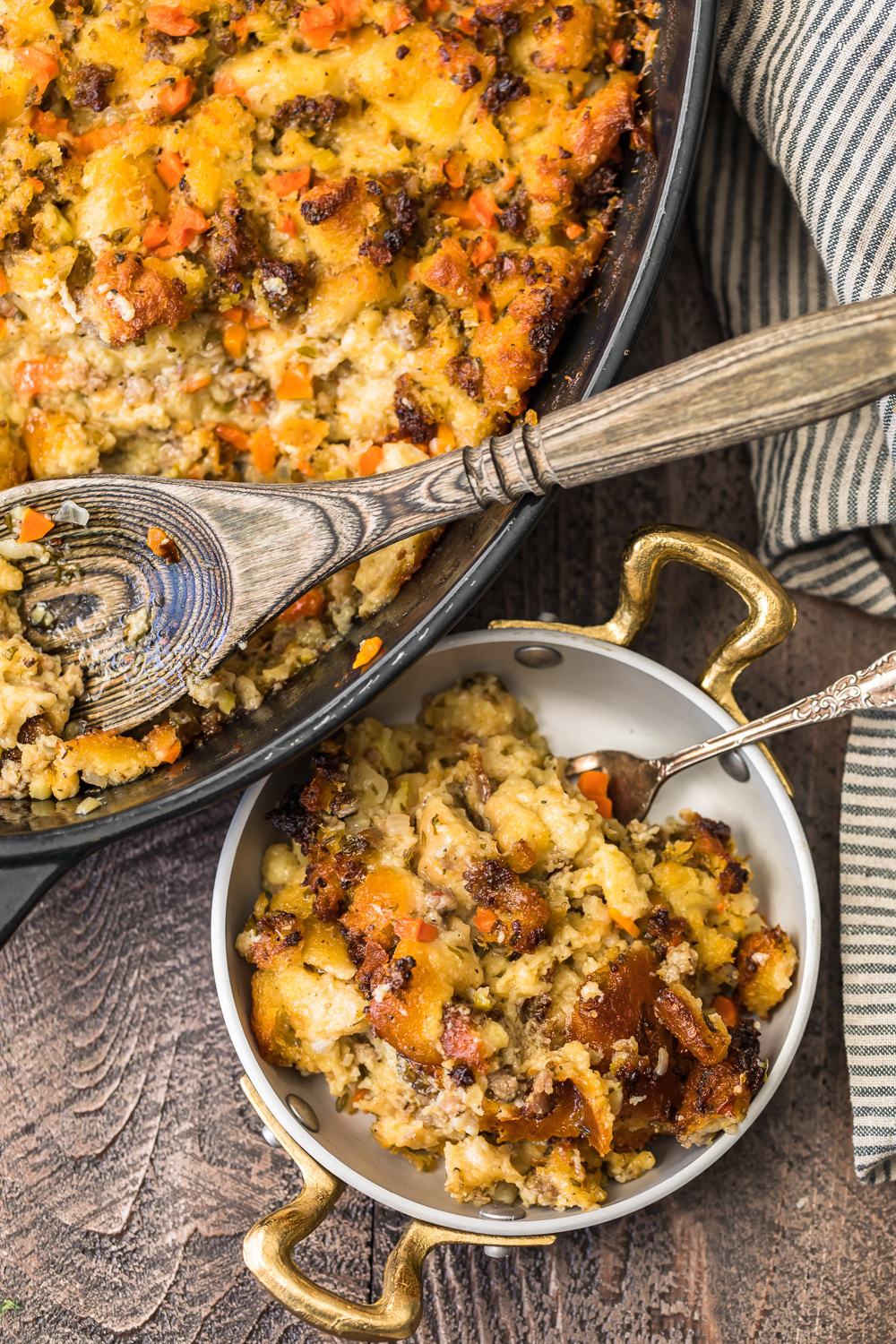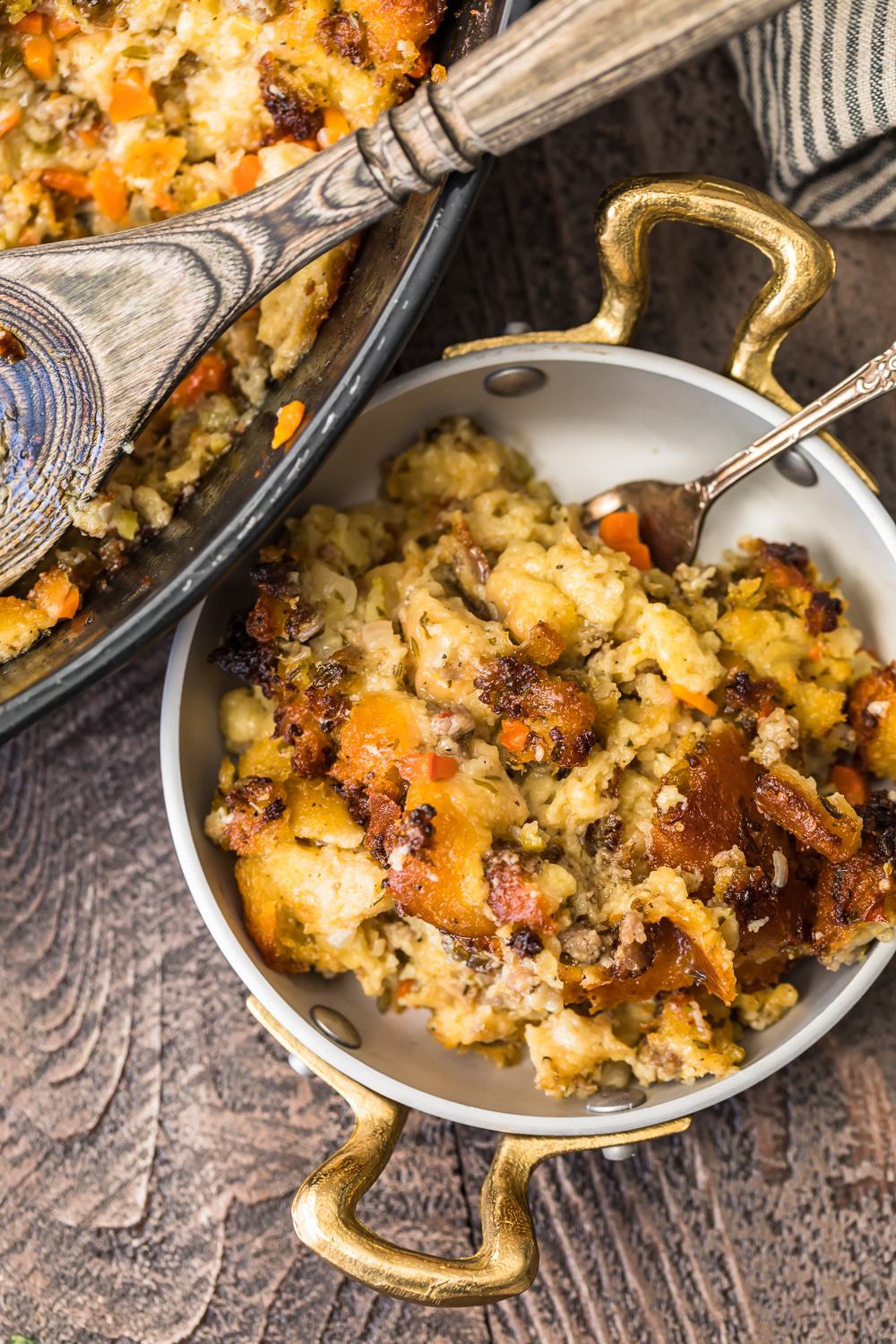 A classic sausage, apple and herb stuffing recipe
This is the kind of stuffing that your Grandmother used to make. The apple adds a wonderful sweetness to it and there's tonnes of flavor from the sage, thyme and parsley. It's a traditional recipe that will bring back memories of Thanksgivings past!
Top tips to make the best sausage stuffing recipe
Be sure to grease your baking dish with butter before adding the stuffing.
You just want to dry the bread out in the oven, do not brown it.
Bake the stuffing in a pre heated oven for the best results.
Let the stuffing sit for a few minutes before serving it to the table.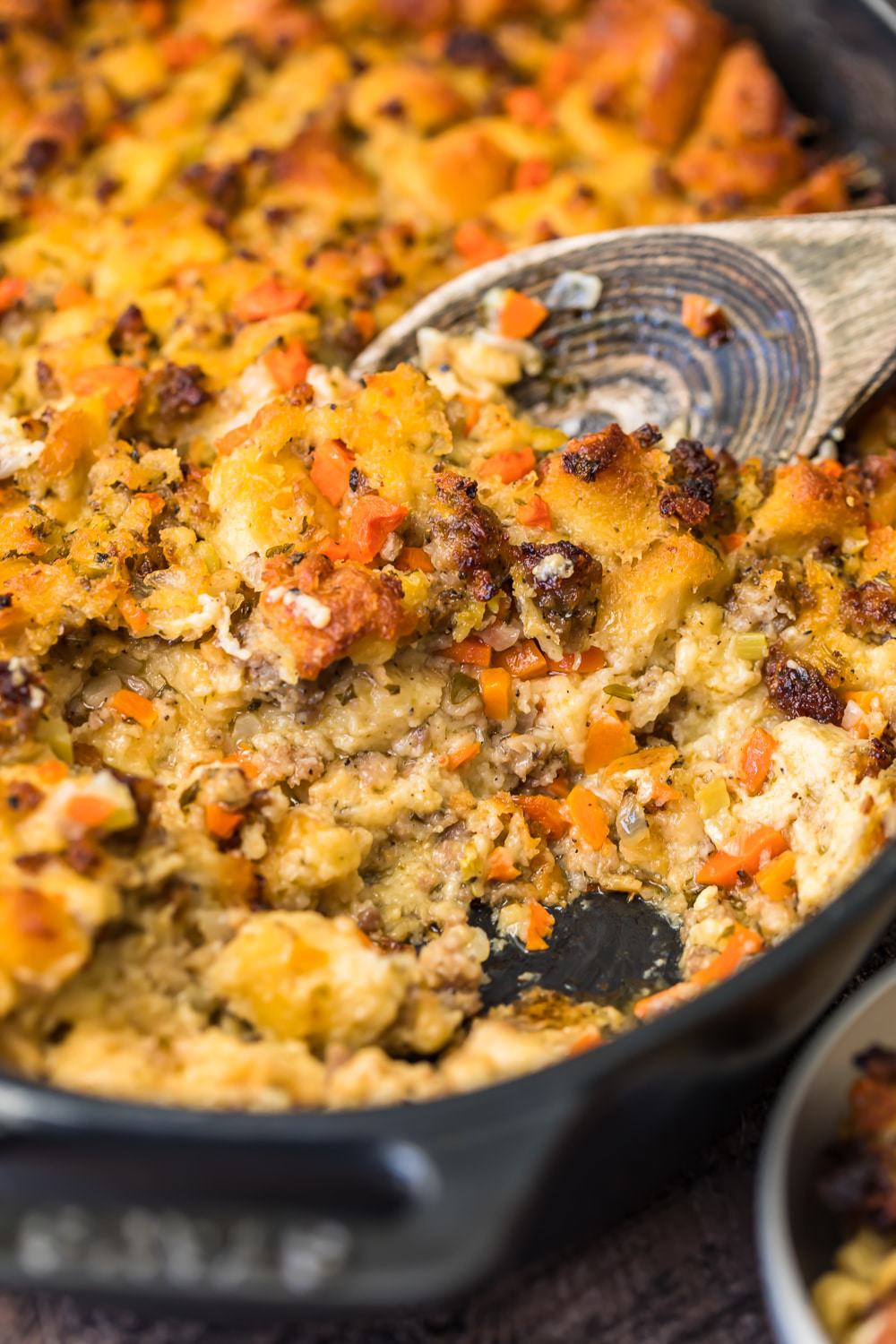 For more tasty holiday side dishes: