This is the only Sausage Stuffing Recipe you'll ever need! It's easy to assemble the day before Thanksgiving, which is a great time saver when you're in the middle of your holiday cooking. Flavorful, moist, hearty and oh so simple – this stuffing recipe really has it all!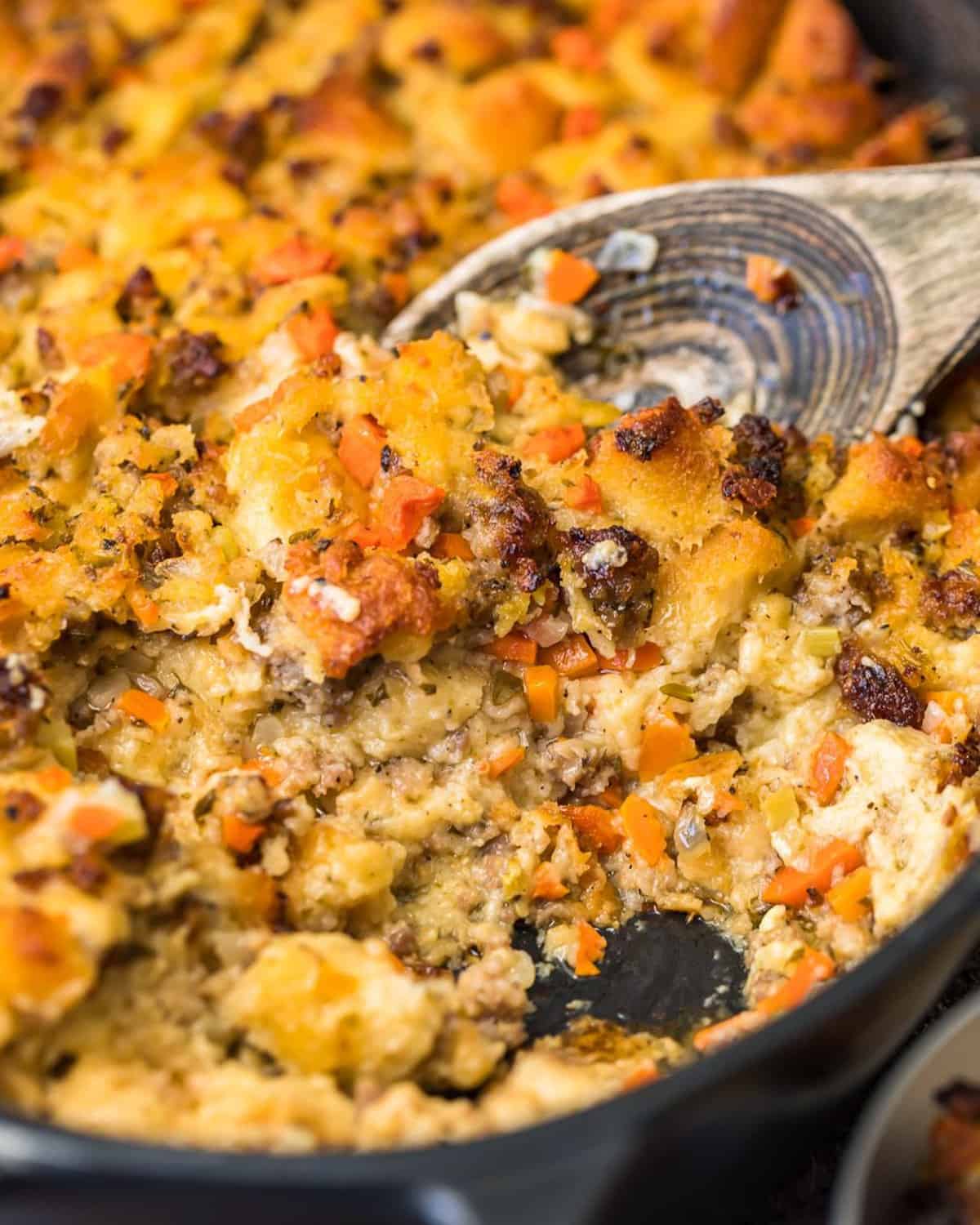 What's in this Sausage Stuffing Recipe?
The apple adds a wonderful sweetness to it and there's tons of flavor from the sage, thyme and parsley. It's a traditional recipe that will bring back memories of Thanksgivings past!
Bread: You can use cornbread, challah, or whatever your favorite bread is.
Butter: You'll need butter for the stuffing and for preparing the baking dish.
Breakfast Sausage: I like to use pork breakfast sausage, but turkey also works if preferred.
Onion: A yellow onion creates the best natural sweetness.
Fennel Bulb: It'll need to be trimmed and diced.
Celery: Make sure to always give your celery a little rinse prior to chopping.
Carrots: These will need to be peeled and diced into small pieces.
Apple: I like to use a granny smith apple for the touch of tart flavor it adds! It needs to be peeled, cored and diced.
Salt and Pepper: Try to be pretty conservative with the amount of salt you add. It can be easy to make this stuffing too salty.
Herbs: You'll need a medley of parsley, sage, and thyme to create the very best herbaceous flavor.
Eggs: I like to use organic free-range eggs when I can.
Broth: You can use chicken or turkey broth for this stuffing recipe.
PRO TIP: You just want to dry the bread out in the oven, do not brown it.
What kind of bread should I use to make stuffing?
I like to use a hearty, sturdy kind of bread that will hold its shape well and not get mushy. Challah and cornbread are two options that both work very well with this Thanksgiving stuffing recipe! However, any other sturdy bakery bread that you prefer should also get the job done.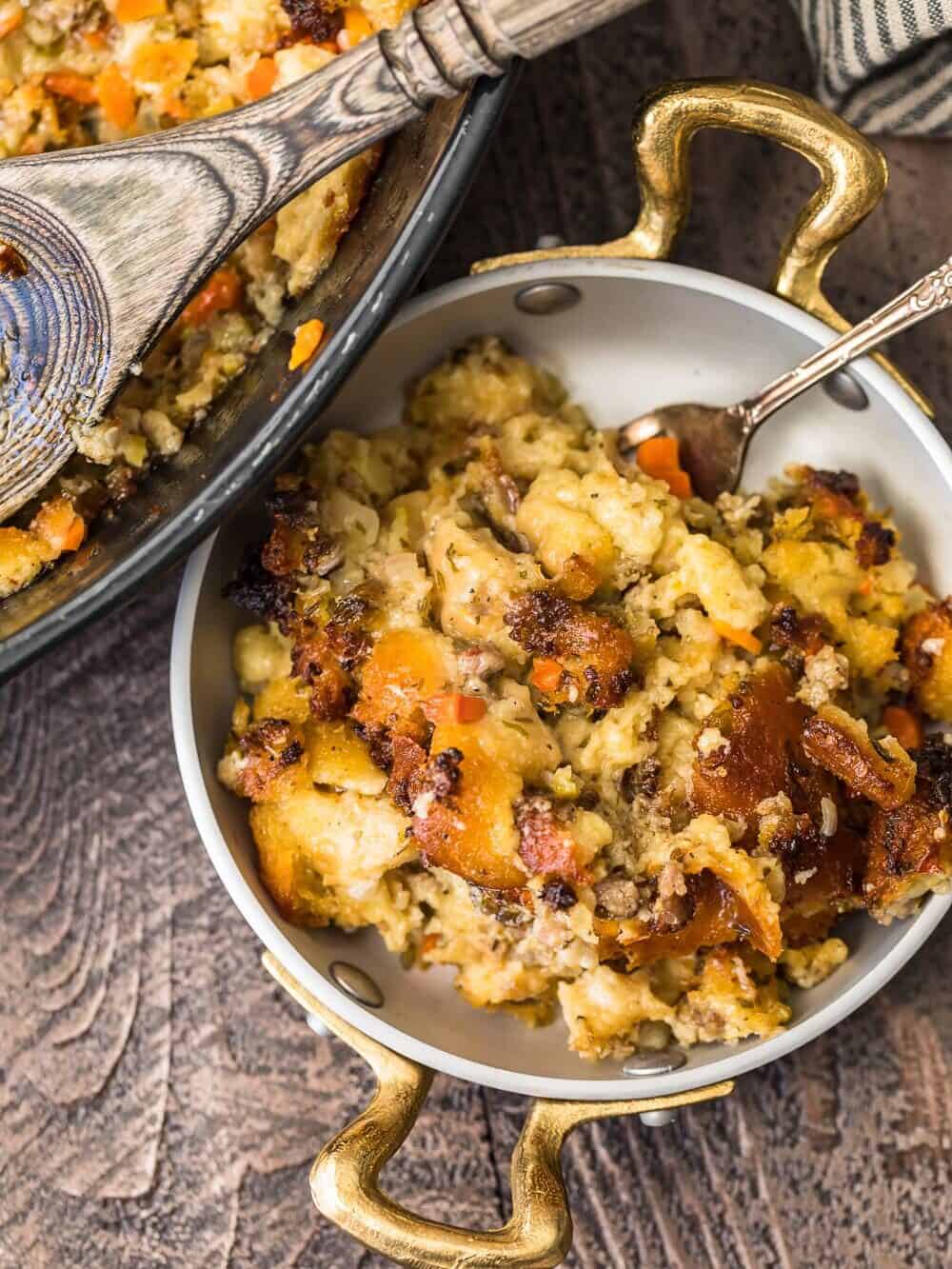 What does adding egg to stuffing do?
Eggs act as a binder to help hold the stuffing together. They also add a good amount of moisture to the stuffing so it doesn't dry out while baking.
Should the stuffing be covered while baking?
Yes! Bake the stuffing with foil over the baking dish for the first 35-40 minutes of cook time. Then, uncover and bake for an additional 30-45 minutes.
Can you make sausage stuffing ahead of time?
The stuffing with sausage can be assembled 1 day ahead. Keep covered and refrigerate until ready to bake. Transfer from oven about 15 minutes before cooking and add 5-10 minutes to final bake time.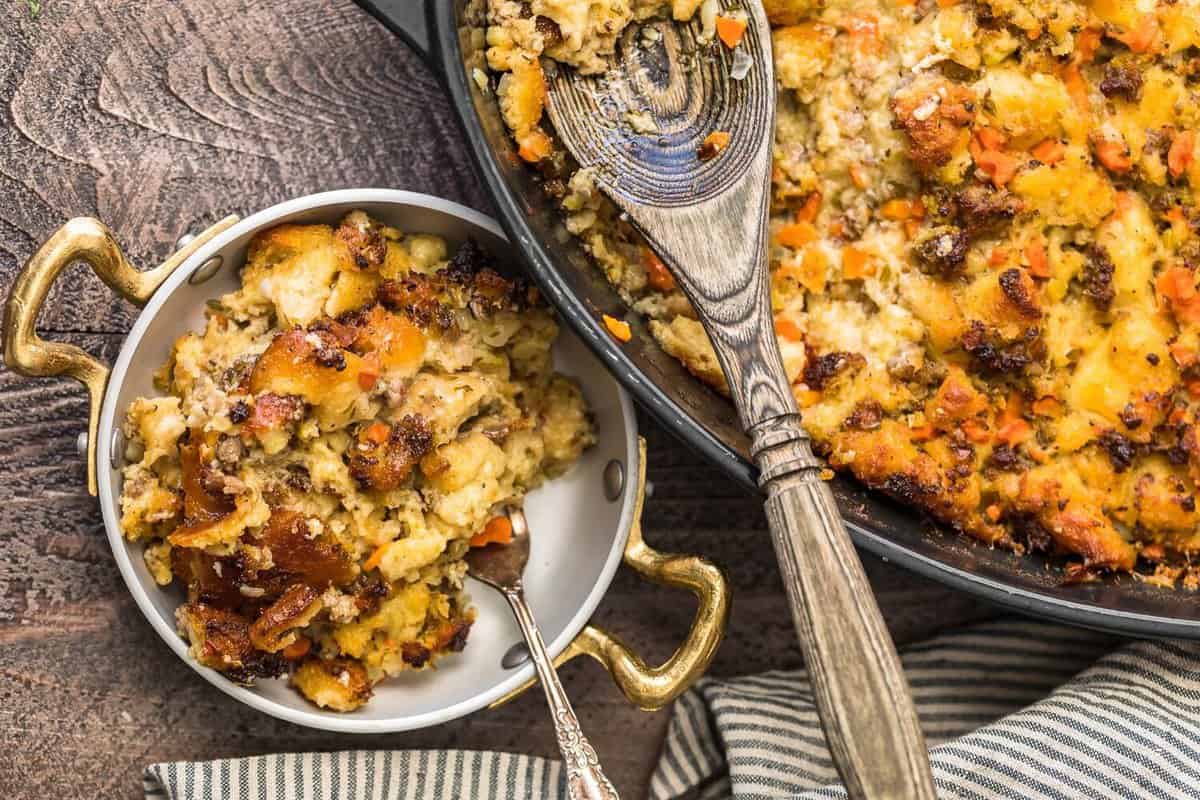 How to Store and Reheat
Once cooled to room temperature, you can store your leftovers in an airtight container in the fridge for 3-4 days. Reheat in the microwave for 30 seconds at a time until warmed through.
How to Freeze
Let fully cool to room temperature prior to freezing. Once cooled, wrap the dish tightly in plastic wrap and foil, then store in the freezer for up to 3 months. Let thaw in the fridge prior to reheating in the oven until warmed through.
Serving Suggestions
Happy Thanksgiving! Serve this sausage stuffing with all the best accompaniments like sweet potato casserole, turkey gravy, cranberry sauce and mashed potatoes.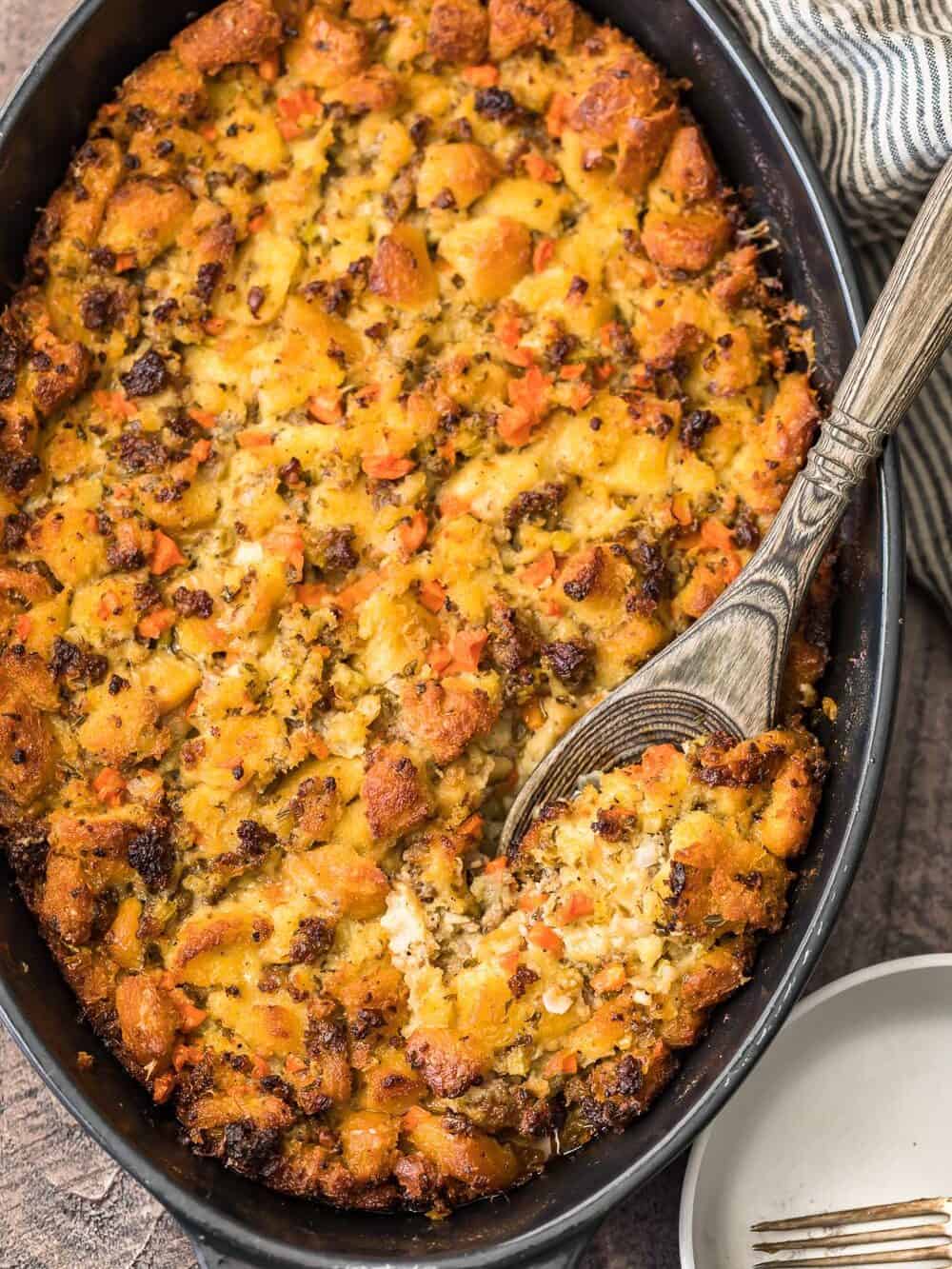 5-Star Review
"I honestly only eat the stuffing and skip the turkey. And this one is great cause it has proteins/sausages and I love that I can make it ahead of time!" – Trang
More Easy Stuffing Recipes We Love