This Vegetarian Stuffing is made with onions, garlic, celery, and plenty of fresh herbs. With plenty of flavors to appease the taste buds, it's sure to be a family favorite this holiday season!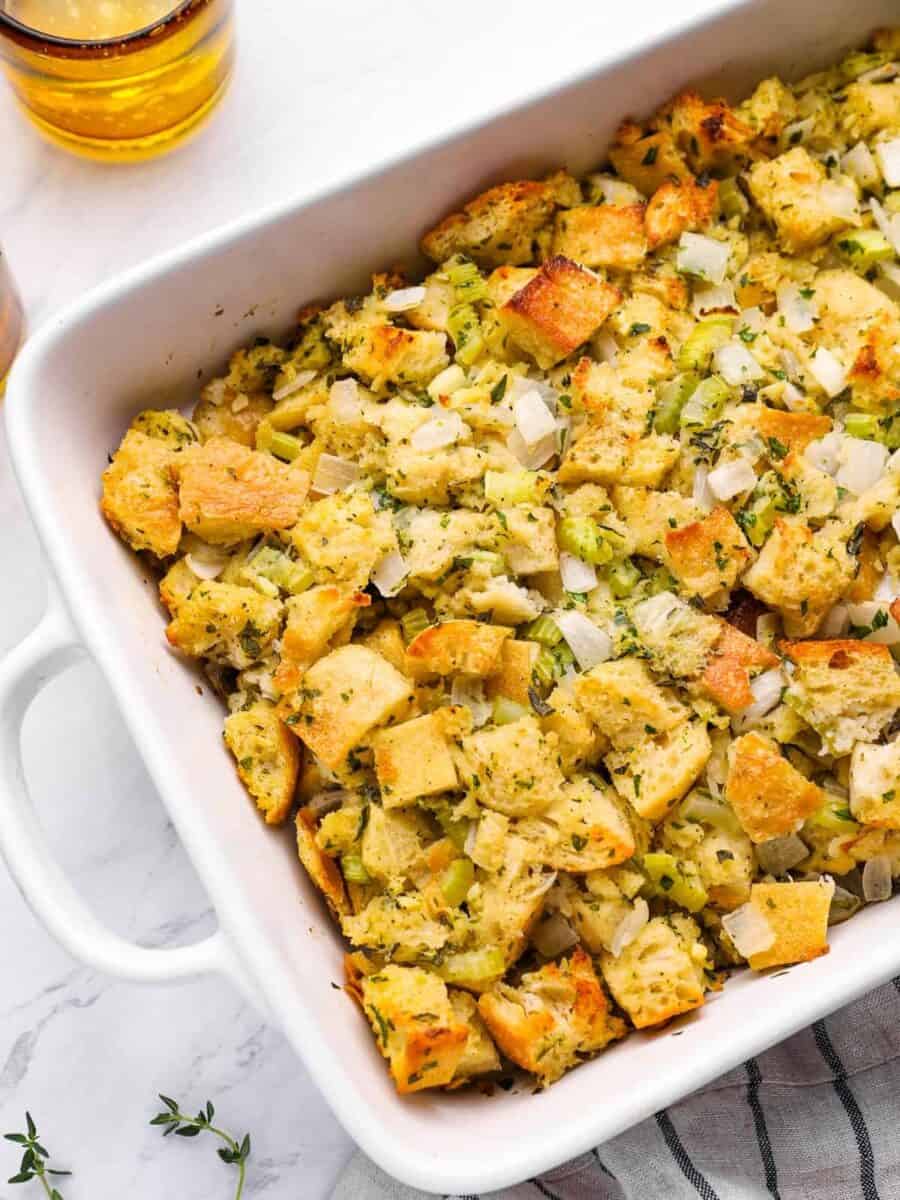 Why We Love This Vegetarian Stuffing Recipe
Every holiday table needs a delicious stuffing to complete the meal. This herby stuffing is the perfect compliment to turkey. Here are some reasons we love it.
Diet-Friendly. If you're a vegetarian who loves stuffing, you know that many recipes use turkey, chicken, or pork broth. But not this one! It's something everyone can enjoy.
Flavorful. You won't even miss the meat in this stuffing. It's got all the classic ingredients, plus plenty of herbs and spices.
Classic. It's just not Thanksgiving without stuffing, and this vegetarian version is perfect for everyone.
Variations on Vegetarian Thanksgiving Stuffing
There are lots of ways to change up this stuffing recipe. You can use any kind of onion you like, any combination of herbs you like, and even add up to ½ cup of diced apples, nuts, or dried cranberries to jazz up this stuffing.
For vegan stuffing, swap the butter for vegan butter and replace the eggs with flax eggs (1 tablespoon flaxseed meal + 2½ tablespoons of water per egg) or your favorite vegan egg replacer.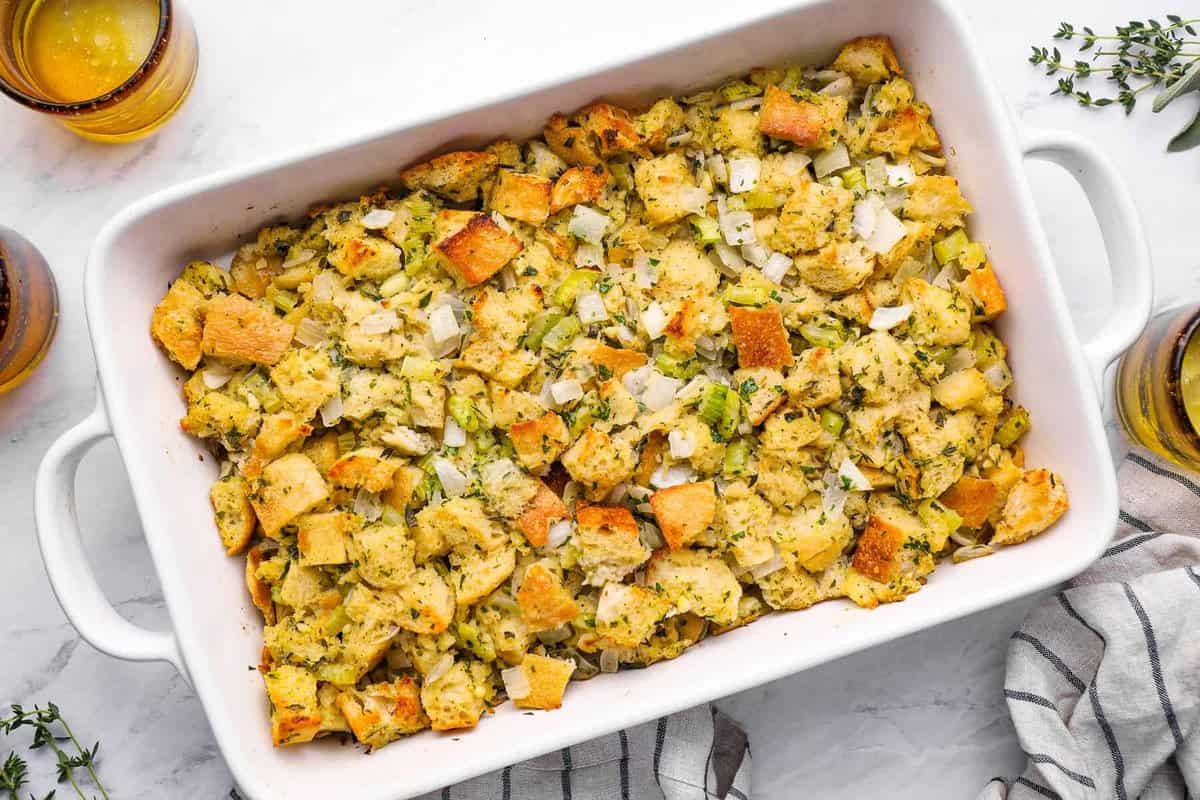 How to Store and Reheat
Store leftover vegetarian stuffing in an airtight container in the refrigerator for up to 4 days. Reheat in a 350°F oven covered with foil for 20 minutes, then remove the foil and continue to bake for another 15-20 minutes, or until hot.
How to Freeze
Freeze vegetarian stuffing whole or in individual portions in airtight containers for up to 3 months. Let thaw overnight in the refrigerator before reheating.
Serving Suggestions
Whether you're a vegetarian or not, this stuffing will blow you away. Serve it up with any holiday dishes you love, including Thanksgiving turkey, orange cranberry pork loin, or beef tenderloin. And if you don't eat meat, enjoy this along with a plate full of all those amazing side dishes!
Is stuffing vegetarian?
Not always! Most stuffings are made with chicken broth, and many contain meats, such as sausage. This recipe is guaranteed to satisfy the vegetarians in your life!
Can I make vegetarian stuffing with store-bought stuffing mix?
Sure! To save time, you can substitute store-bought stuffing mix in place of the bread, seasonings, and herbs. I still recommend sautéeing the onion, celery, and garlic and adding it to the store-bought stuffing mix to take it up a notch. Make sure to choose a brand that has all-vegetarian ingredients!
How can I make vegetarian stuffing vegan?
You can easily make this stuffing vegan by using vegan butter in place of the butter and swapping out the eggs for flax eggs (1 tablespoon flaxseed meal + 2½ tablespoons of water per egg) or your favorite vegan egg replacer. You can also leave out the eggs entirely, but you may need to add more broth.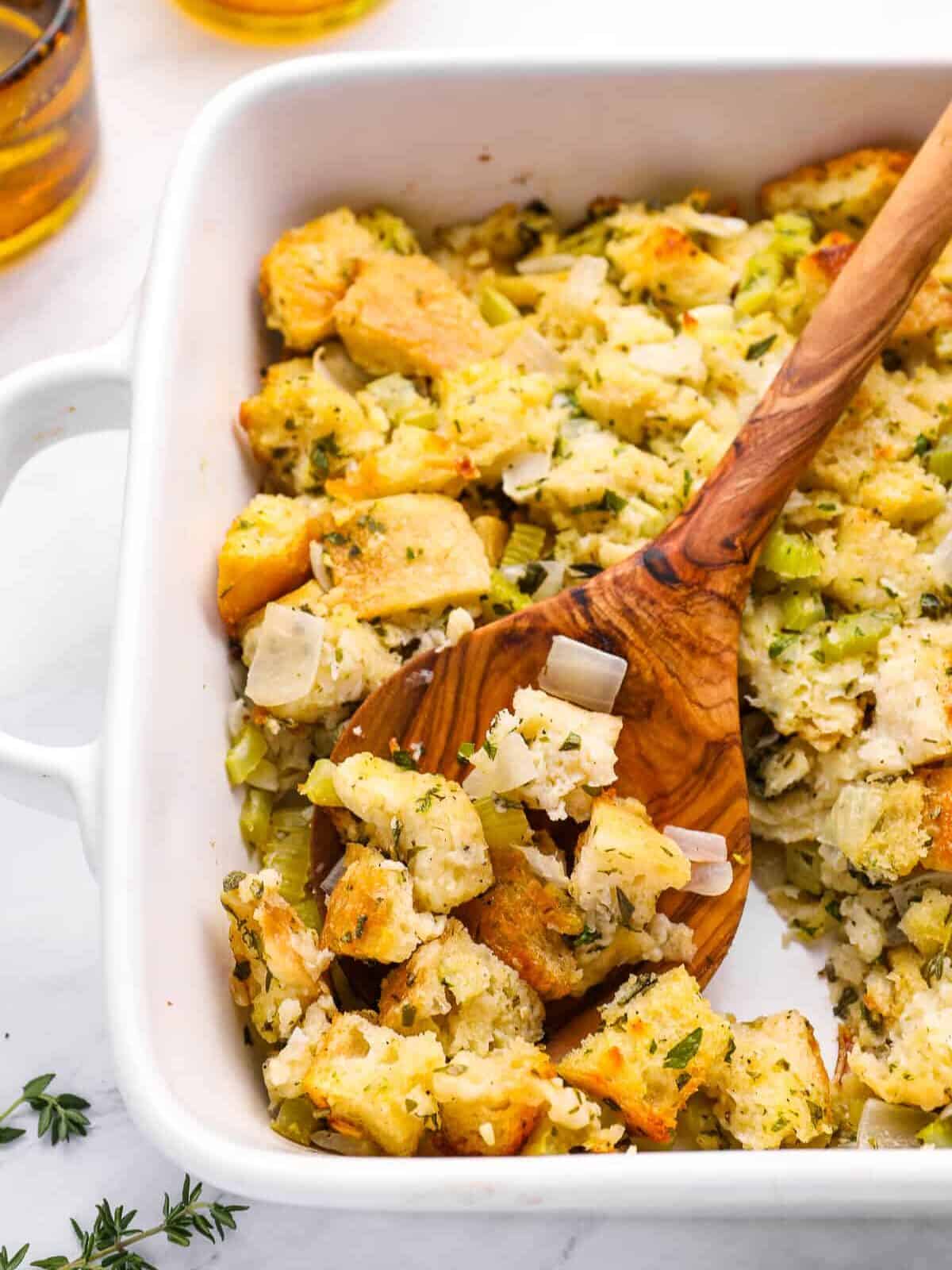 More Stuffing Recipes To Try
How to Make Vegetarian Stuffing Step by Step
Toast the Bread: Preheat your oven to 200°F. Grease a 9×13-inch baking pan with nonstick spray or melted butter. Set aside. Spread 1 pound of crusty bread cut into 1-inch pieces out on an ungreased sheet pan. Bake for 20 minutes.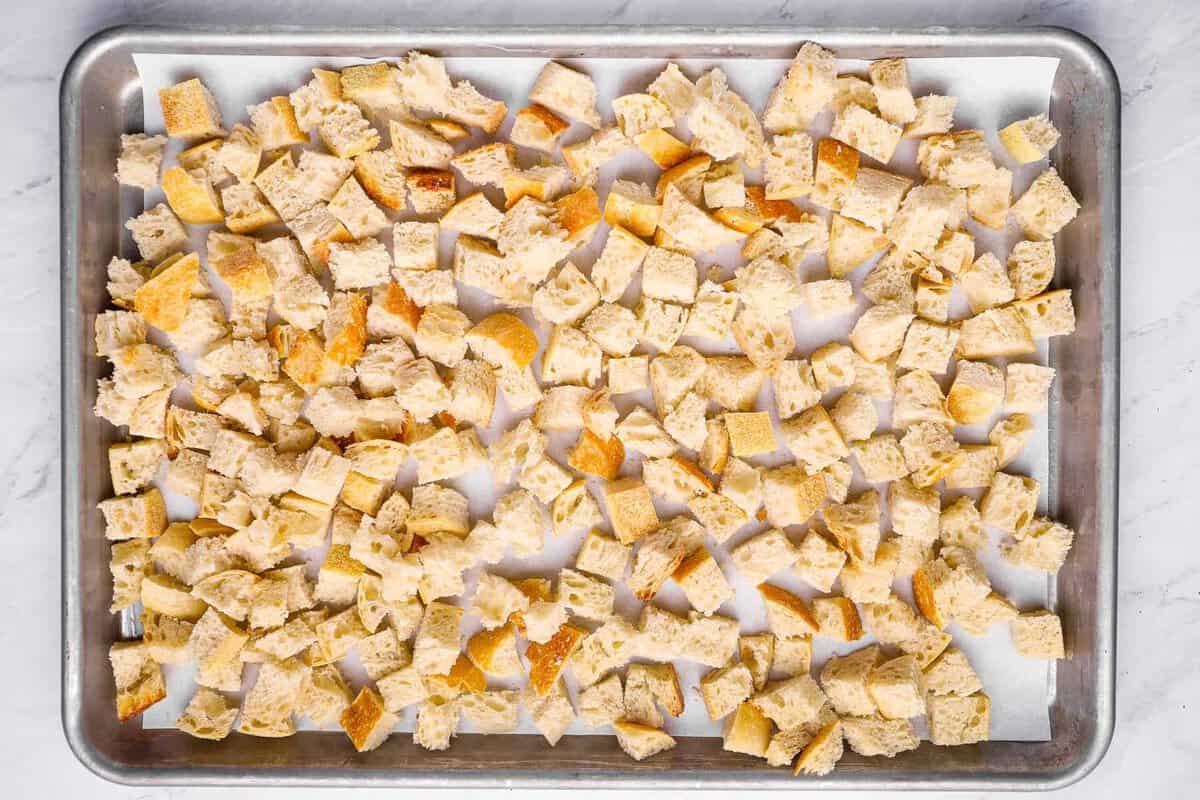 Cook the Veg: While the bread cooks, melt ½ cup of unsalted butter in a large sauté pan over medium heat. Add in 1 diced onion and 4 diced ribs of celery. Cook, stirring occasionally until softened, but not browned, about 5 minutes. Add in 4 minced cloves of garlic, ¾ teaspoon of kosher salt, and ½ teaspoon of ground black pepper, and cook for another minute. Transfer the mixture to a large bowl.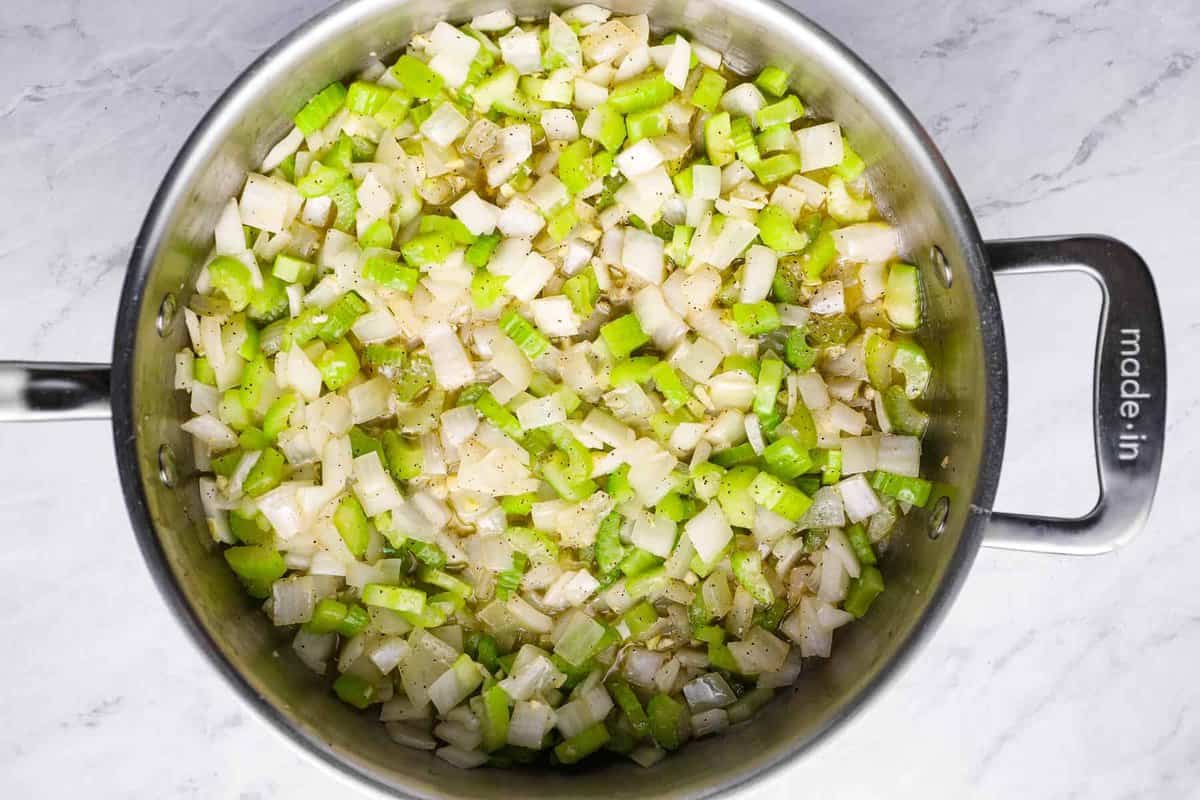 Mix the Stuffing: Once the bread is done, increase the oven temperature to 350°F. Add the bread, ¼ cup of chopped fresh parsley, 2 tablespoons of chopped fresh sage, 2 teaspoons of fresh thyme leaves, 1 teaspoon of chopped fresh rosemary, 1½ cups of low-sodium vegetable broth, and 2 large eggs to the large bowl. Toss well until the bread is coated and has absorbed some of the liquid.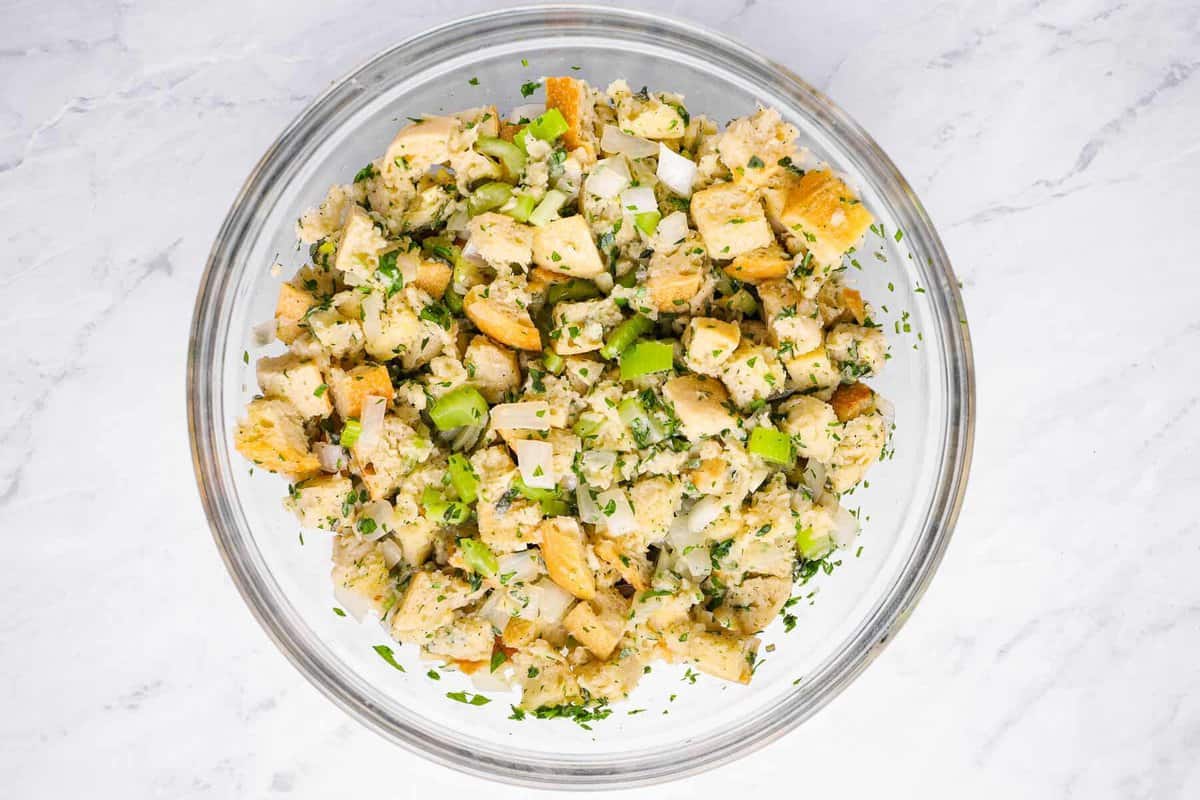 Bake the Stuffing: Transfer to the prepared baking dish. Cover with foil and bake for 30 minutes. Remove the foil and bake for another 10 minutes, until the top is golden. Garnish with more herbs, if desired, and serve warm.