This vegetarian stuffing is made with onions, garlic, celery, and plenty of fresh herbs. With plenty of flavors to appease the taste buds, it's sure to be a family favorite this holiday season!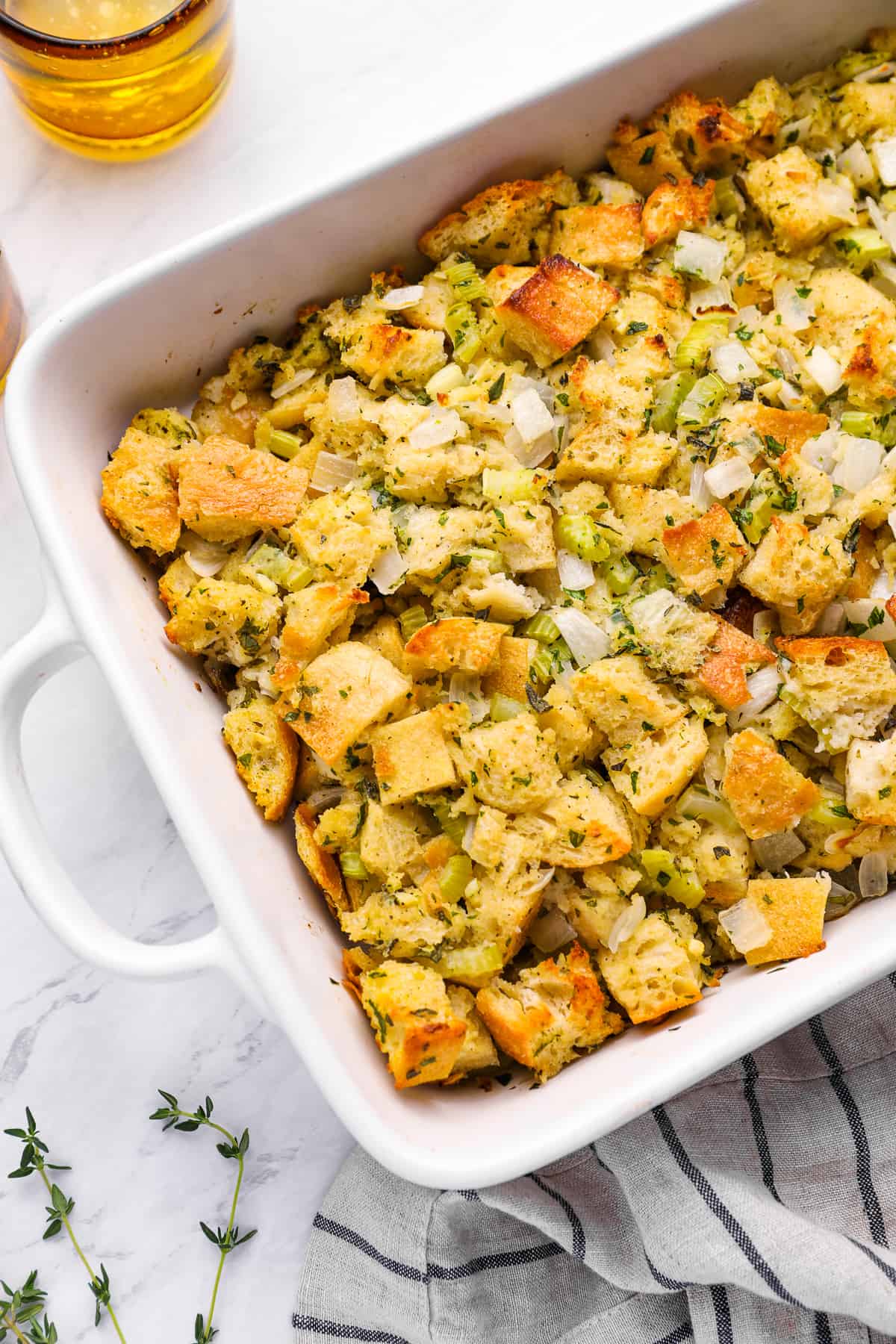 Vegetarian Thanksgiving Stuffing
This is the best vegetarian stuffing recipe because it's easy to make, full of savory flavor, and perfect for the holiday dinner table! All you need are several simple ingredients and before you know it, you have a delicious side dish for Thanksgiving day or Christmas dinner!
Why You'll Love this Vegetarian Stuffing Recipe:
Texture and Taste: This is the best vegetarian stuffing because it's full of maximum flavor and provides the crisp texture stuffing is best known for!
Classic Thanksgiving Sides: This is the most classic holiday side dish, and will fit right in with all of your other dishes.
Stuffing for Everyone: If you're a vegetarian who loves stuffing, you know that many recipes use turkey, chicken, or pork broth. But not this one! It's something everyone can enjoy.
Although some might consider this vegetarian thanksgiving stuffing, you don't have to make it just for Thanksgiving dinner. You can make this for other holidays, special occasions, or any time of year! It's so good, you just might want to make it in the middle of July!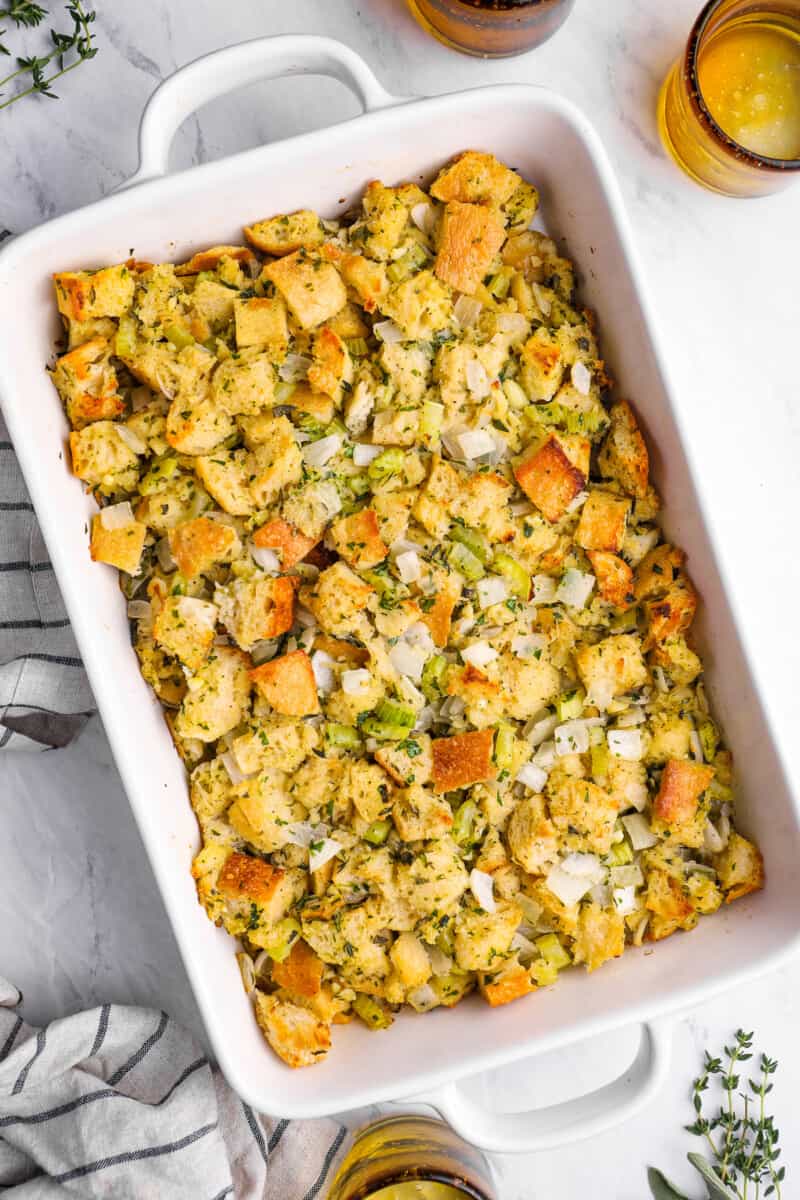 How to Make Vegetarian Stuffing
You can jump to the recipe card for full ingredients & instructions!
Place the bread pieces in the pan and bake.
Meanwhile, melt butter in a large skillet, then add the onion and celery and cook until softened.
Add in the garlic, kosher salt, and black pepper. Cook for one minute and then transfer the onion mixture to a large bowl.
Once the bread is done, take it out and turn the heat on the oven up.
Coat the bread in herbs, vegetable broth, and egg.
Transfer to the prepared baking dish, cover with foil and bake. After 30 minutes, remove the foil and bake for 10 minutes or until the top is golden brown.
Garnish with more herbs, serve warm, and enjoy this delicious vegetarian stuffing!
Recipe Notes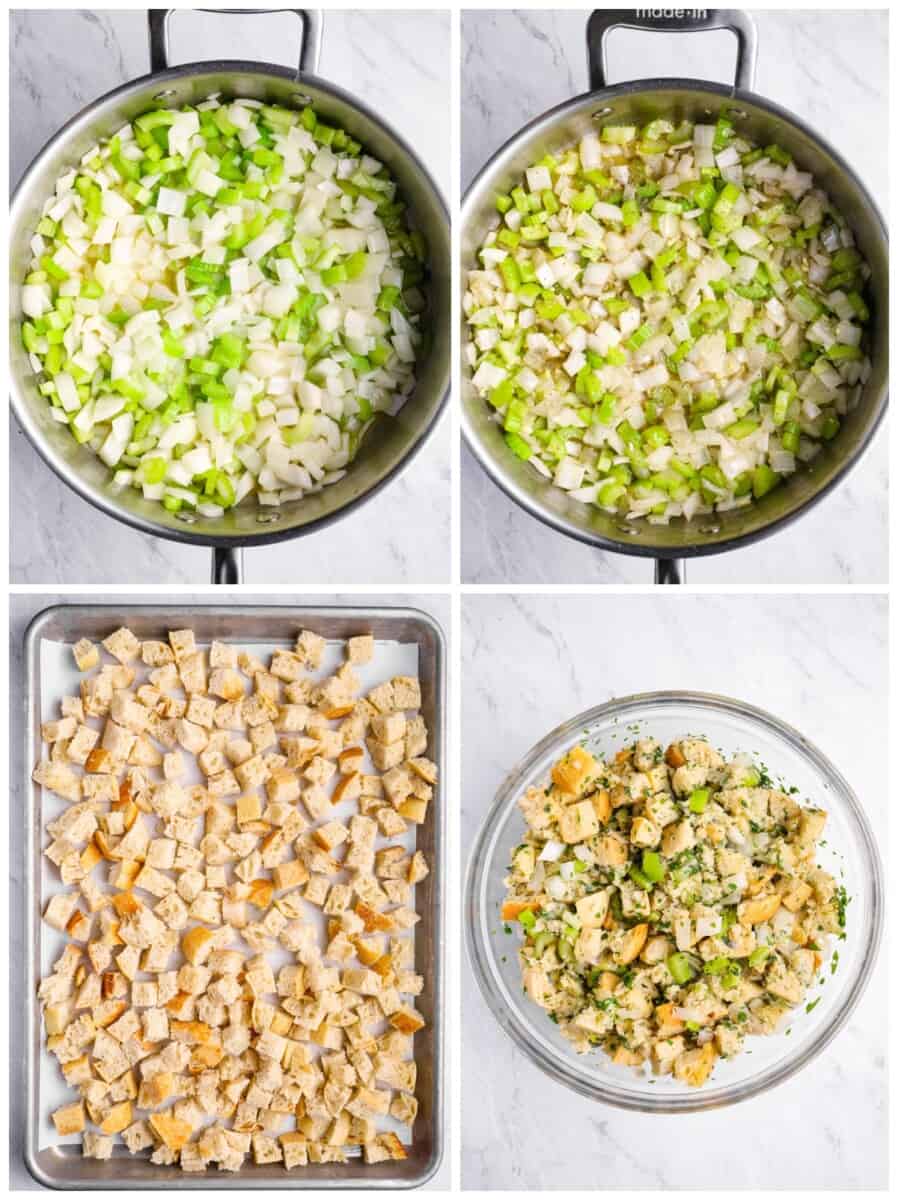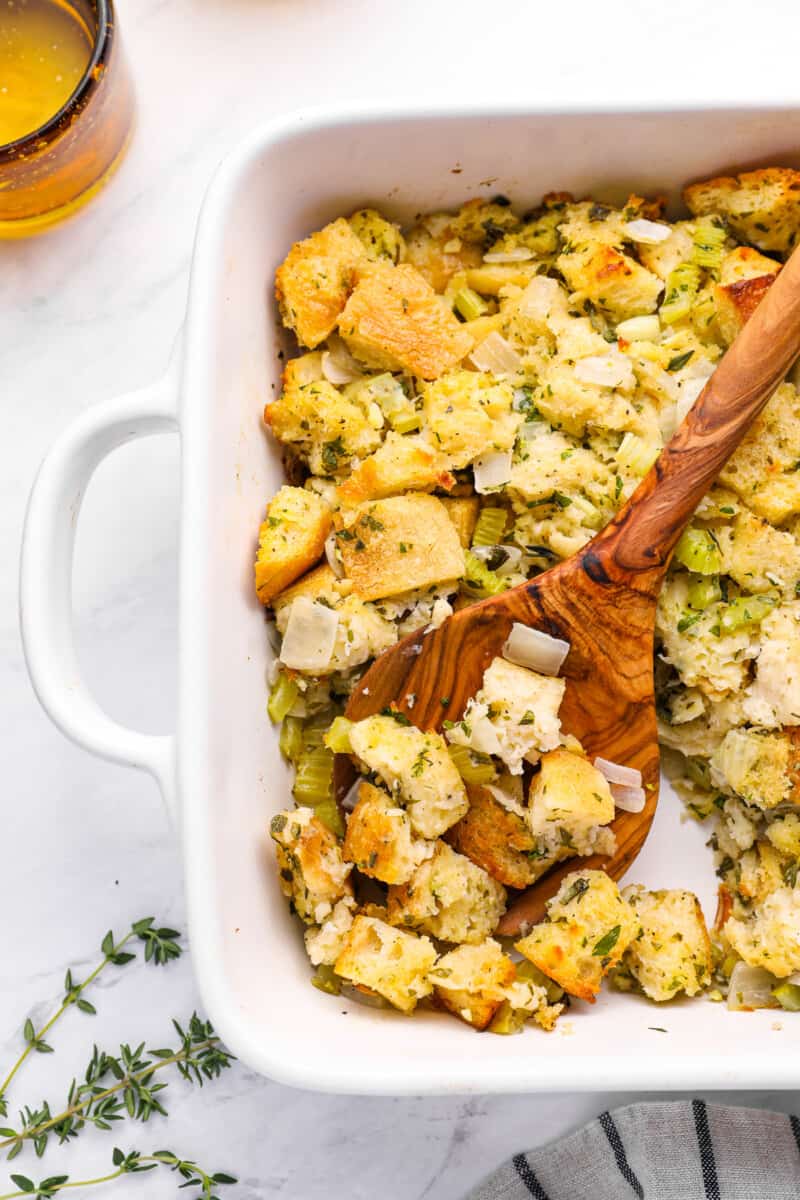 Is stuffing vegetarian?
Not always! Most stuffings are made with chicken broth, and many contain meats, such as sausage. This recipe is guaranteed to satisfy the vegetarians in your life!
Can I make vegetarian stuffing with store-bought stuffing mix?
Sure! To save time, you can substitute store-bought stuffing mix in place of the bread, seasonings, and herbs. I still recommend sautéeing the onion, celery, and garlic and adding it to the store-bought stuffing mix to take it up a notch. Make sure to choose a brand that has all-vegetarian ingredients, such as Pepperidge Farm Herb Seasoned Classic Stuffing, Whole Foods Market 365 Organic Multigrain Stuffing Mix, Aldi Chef's Cupboard Stuffing, or Mrs. Cubbison's Traditional Stuffing.
How can I make vegetarian stuffing vegan?
You can easily make this stuffing vegan by using vegan butter in place of the butter and swapping out the eggs for flax eggs (1 tablespoon flaxseed meal + 2½ tablespoons of water per egg) or your favorite vegan egg replacer. You can also leave out the eggs entirely, but you may need to add more broth.
Serving Suggestions
Whether you're a vegetarian or not, this stuffing will blow you away. Serve it up with any holiday dishes you love, including turkey.
And if you don't eat meat, enjoy this along with a plate full of all those amazing side dishes!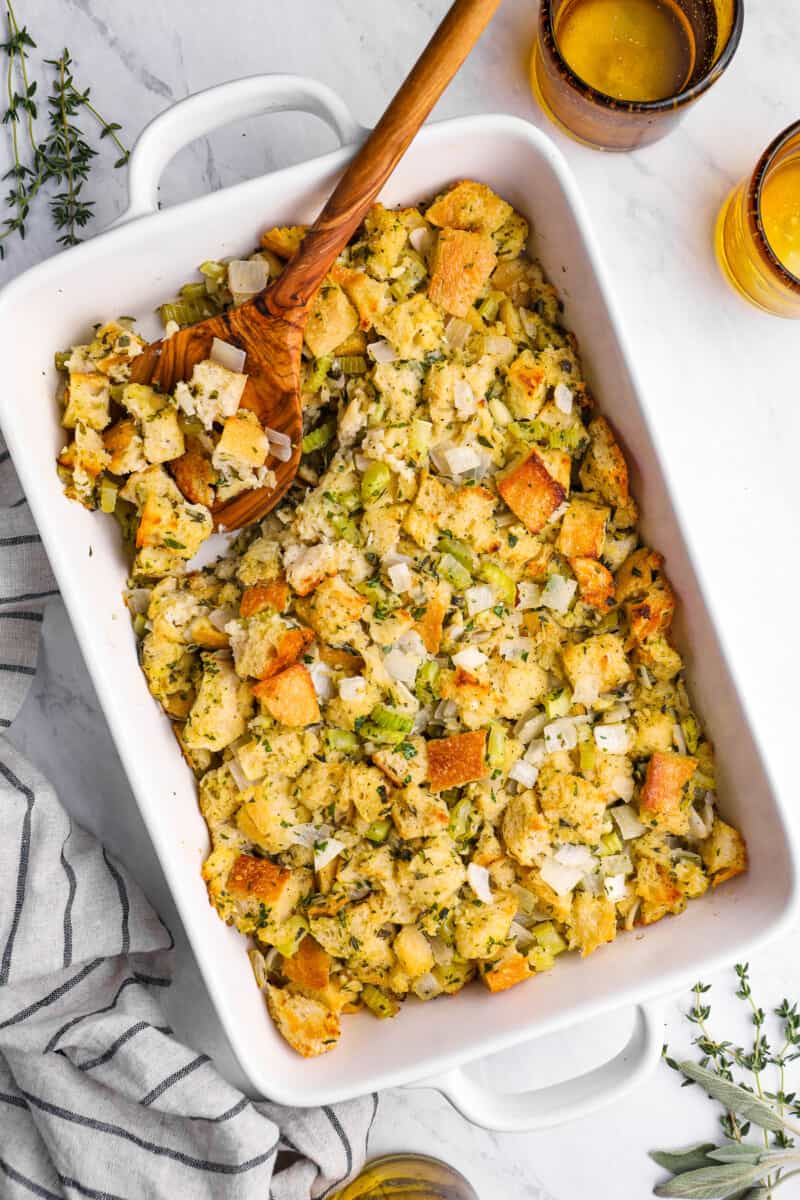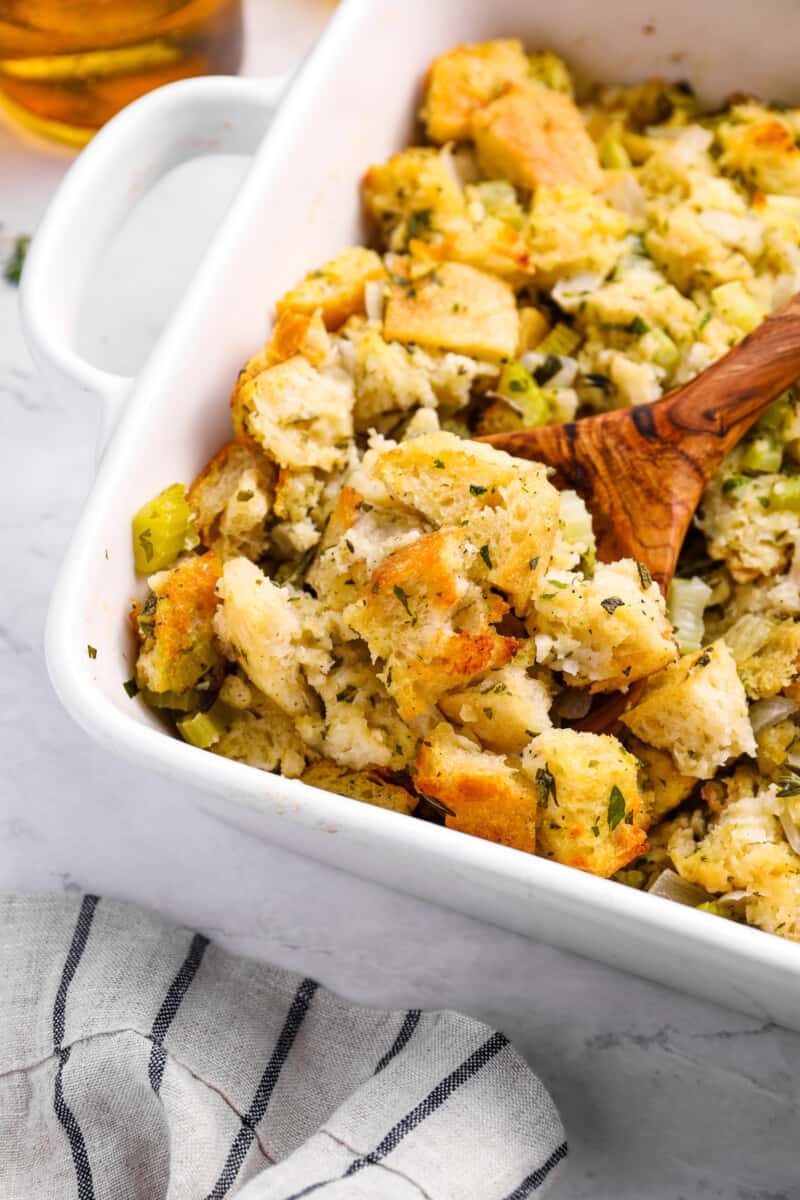 Make Ahead Instructions
This is a great make-ahead recipe since it's best made with day-old bread. To save yourself the toasting step, buy your bread 1-2 days before you plan to use it.
You can also prepare the stuffing through step 7, then cover tightly with plastic wrap and refrigerate overnight. The next morning, bake as directed, adding a few extra minutes to the final bake time if needed.
Storage Instructions
Store leftover vegetarian stuffing in an airtight container in the refrigerator for up to 4 days. Reheat in a 350°F oven covered with foil for 20 minutes, then remove the foil and continue to bake for another 15-20 minutes, or until hot.
Freezing Instructions
Freeze vegetarian stuffing whole or in individual portions in airtight containers for up to 3 months. Let thaw overnight in the refrigerator before reheating.
Substitutions
For gluten-free stuffing, use your favorite gluten-free bread.
For vegan stuffing, swap the butter for vegan butter and replace the eggs with flax eggs (1 tablespoon flaxseed meal + 2½ tablespoons of water per egg) or your favorite vegan egg replacer.
You can use any kind of onion you like.
If you're not a fan of celery, try swapping in water chestnuts instead.
You can use any combination of herbs you like.
If using regular (not low-sodium) vegetable broth, omit some or all of the salt.
Add up to

½ cup of diced apples, nuts, or dried cranberries to jazz up this stuffing.
Tips for the Best Vegetarian Stuffing
Buy your bread 1-2 days ahead of time so you can skip the toasting step!
To save time, you can use a food processor to chop your veggies or buy pre-chopped mirepoix from the grocery store!
If the bread seems dry after step 6, add in another ½ cup of broth.
If you love this delicious vegetarian stuffing recipe, you'll love the other holiday-perfect side dishes listed below! Happy baking!
If you make this recipe be sure to upload a photo in the comment section below or leave a rating. Enjoy! You can also jump to recipe.