Corned Beef Hash is a delicious and savory dish made with cubes of beef, potatoes, onions, and some simple seasonings. This classic diner-style breakfast is perfect for St. Patrick's Day, or the day after with that leftover corned beef. Serve it with eggs, coffee, and toast, so you can fill up before the day starts!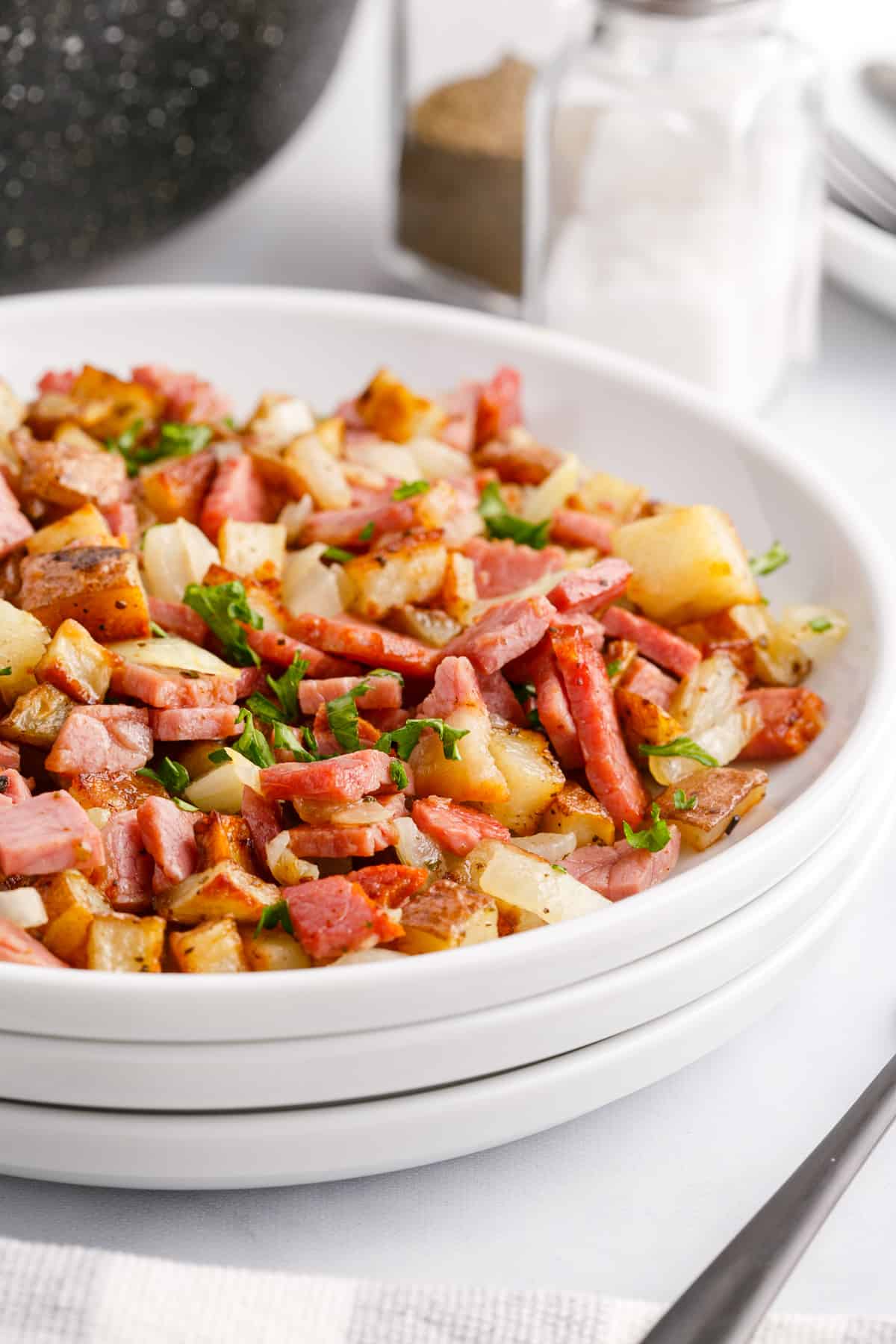 What's in Corned Beef Hash
You only need a few ingredients to make this Irish breakfast staple. It's hearty, savory, and easy to make!
Corned Beef: Cut this salt-cured beef brisket into small cubes to make hash.
Potatoes: I used a mix of red and white potatoes, cut into cubes. Cut them the same size so that they cook evenly.
Butter: I like salted butter to add more flavor, but you can use unsalted butter.
Onion: Diced white onion adds a savory flavor to the hash.
Herbs: Use dried thyme to season the potatoes, and use parsley for garnish if you like. If you want to use different herbs and spices, try rosemary, oregano, or smoked paprika for a little bit of heat.
Olive Oil: Oil coats the potatoes to help season them and cook in the oven.
Want to make this cheesy? Cover the hash with Swiss cheese (or your preferred cheese) and let it melt right before serving.
Can I use leftover corned beef in this recipe?
Absolutely! If you have leftover corned beef after your St. Patrick's Day dinner, this recipe is a great way to use it. Add pre-cooked corned beef to the recipe in step 6, and cook until it's warmed through.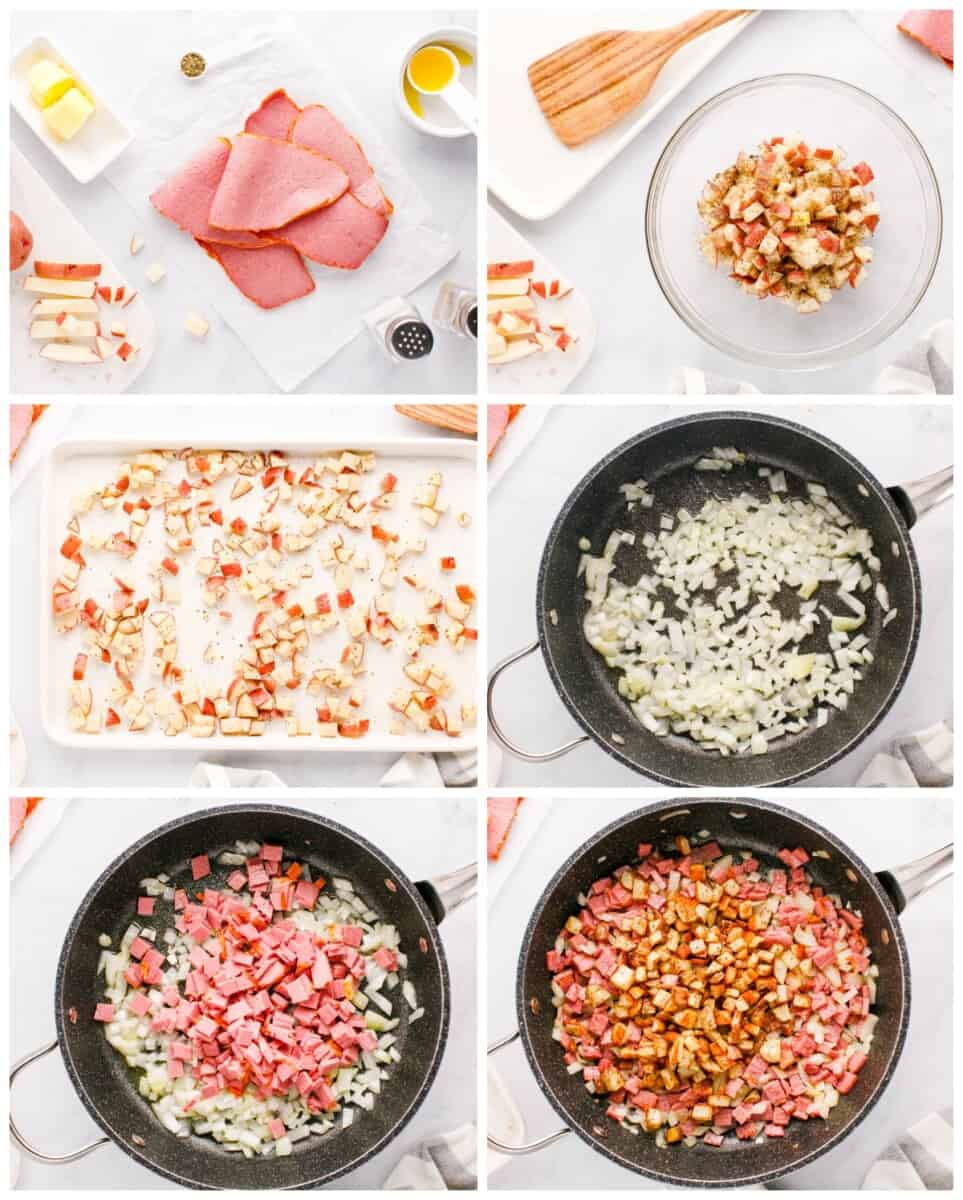 What kind of beef is corned beef?
Corned beef is a salt-cured beef brisket, which comes form the breast or lower chest of a cow. The curing process is what gives it that signature flavor.
What is corned beef hash?
Corned beef hash is an American-Irish recipe that originated in the 1800s. While enjoyed year round, this side dish is typically served with eggs and made most often on St. Patrick's Day, Thanksgiving, and Christmas.
Can I use canned corned beef?
I love using fresh corned beef, but canned corned beef works in a pinch.
Can I add other veggies?
Definitely. Diced peppers are a delicious addition to corned beef hash! Add with the onions in step 5.
Is corned beef gluten-free?
Yes, this recipe is gluten-free as is.
What kind of skillet should I use to make breakfast hash?
A cast iron skillet is ideal, but any heavy-bottomed skillet will work. You just want something that holds heat evenly. You can also use a Dutch oven, or a heavy-bottomed pot.
How to Store and Reheat
Store leftover corned beef hash in an airtight container, and keep it in the refrigerator for up to 3 days. To reheat, simply warm it up in a skillet with a bit of oil or butter. You can also just microwave it until warm.
How to Freeze Homemade Corned Beef Hash
Leftover corned beef hash can be stored in the freezer up to 3 months. Thaw it before reheating. Potatoes may change texture when frozen and reheated, but small cubes like this are usually fine.
What Goes with Corned Beef Hash
Top your corned beef hash with a fried egg, or any style of eggs you like. For a classic diner-style breakfast hash, add toast and coffee. I recommend making toast with rye bread, sourdough, or beer bread, then slathering it with creamy butter. Or try these gluten-free biscuits! This hash also goes well with fried cabbage and bacon.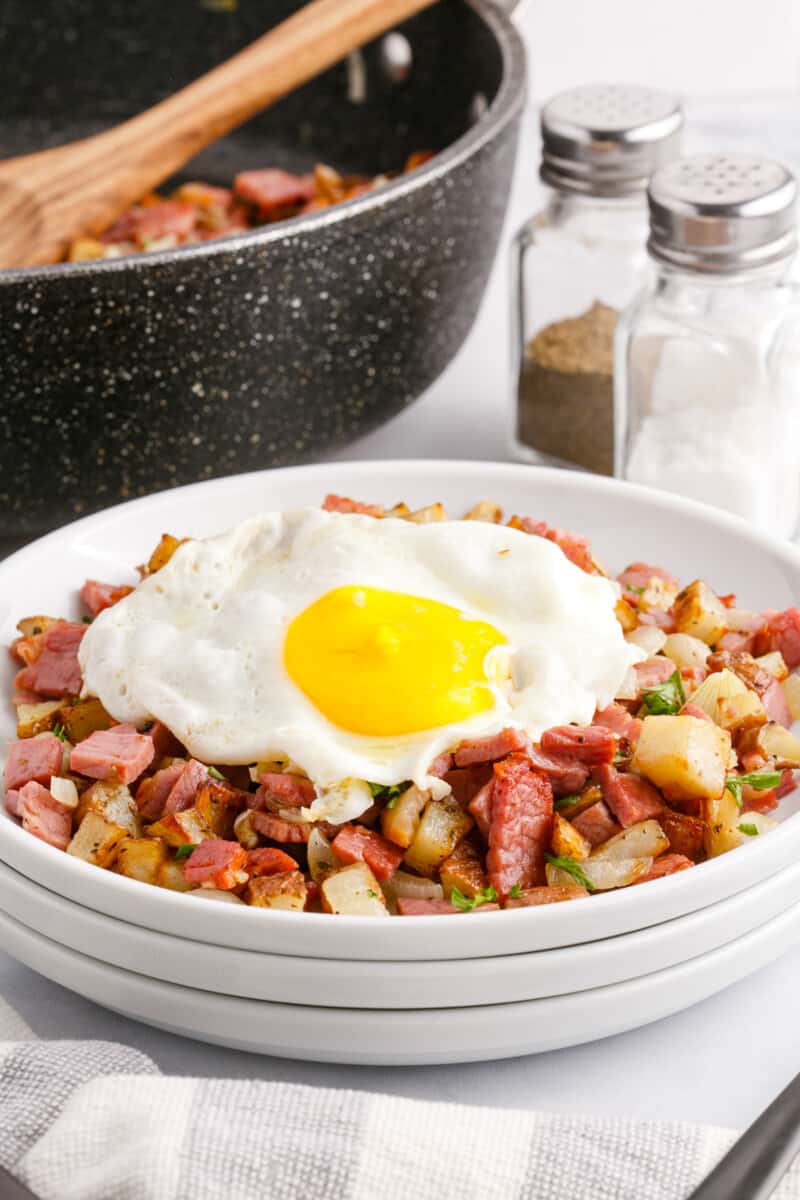 If you make this recipe be sure to upload a photo in the comment section below or leave a rating. Enjoy! You can also jump to recipe.
More Corned Beef Recipes We Love