This classic Reuben sandwich recipe is made with rye bread, and stuffed with tender corned beef, tangy sauerkraut, melty Swiss cheese, and creamy Thousand Island dressing. It's such an easy thing to make for St. Patrick's Day, or any lunch. The distinct flavor of these sandwiches is unbeatable!
What's on a Reuben Sandwich?
This is the best reuben sandwich recipe, and you only need a few ingredients to make it. There's so much flavor packed into these easy sandwiches!
Rye Bread: Marbled rye lends a distinct flavor and look to this popular sandwich. The best substitute would be pumpernickel, sprouted bread, or whole grain wheat.
Corned Beef: Corned beef is salt-cured brisket, and it's one of the highlights of a reuben. You can get slices of it at your local deli or grocery store.
Sauerkraut: This fermented cabbage adds a distinctly tangy and salty flavor.
Swiss Cheese: Swiss compliments the flavor of corned beef perfectly.
Thousand Island Dressing: This creamy dressing is deliciously tangy, sweet, and sour.
Butter: Use butter to grill up the sandwiches in a skillet.
Reuben sandwiches are one of my favorite St. Patrick's Day foods. And you can use leftover corned beef to makes these too.
Can I use Russian dressing on this Reuben?
Absolutely! When it comes to making a classic reuben, you can use either Thousand Island dressing (as we did here) or Russian dressing.
Buy a bottle at the store, or make your own Russian dressing by whisking together the following ingredients:
1 cup mayonnaise
¼ cup ketchup
1 tablespoon finely chopped onion
2-4 teaspoons jarred horseradish
1 teaspoon hot sauce
1 teaspoon Worcestershire sauce
¼ teaspoon ground paprika
¼ teaspoon ground black pepper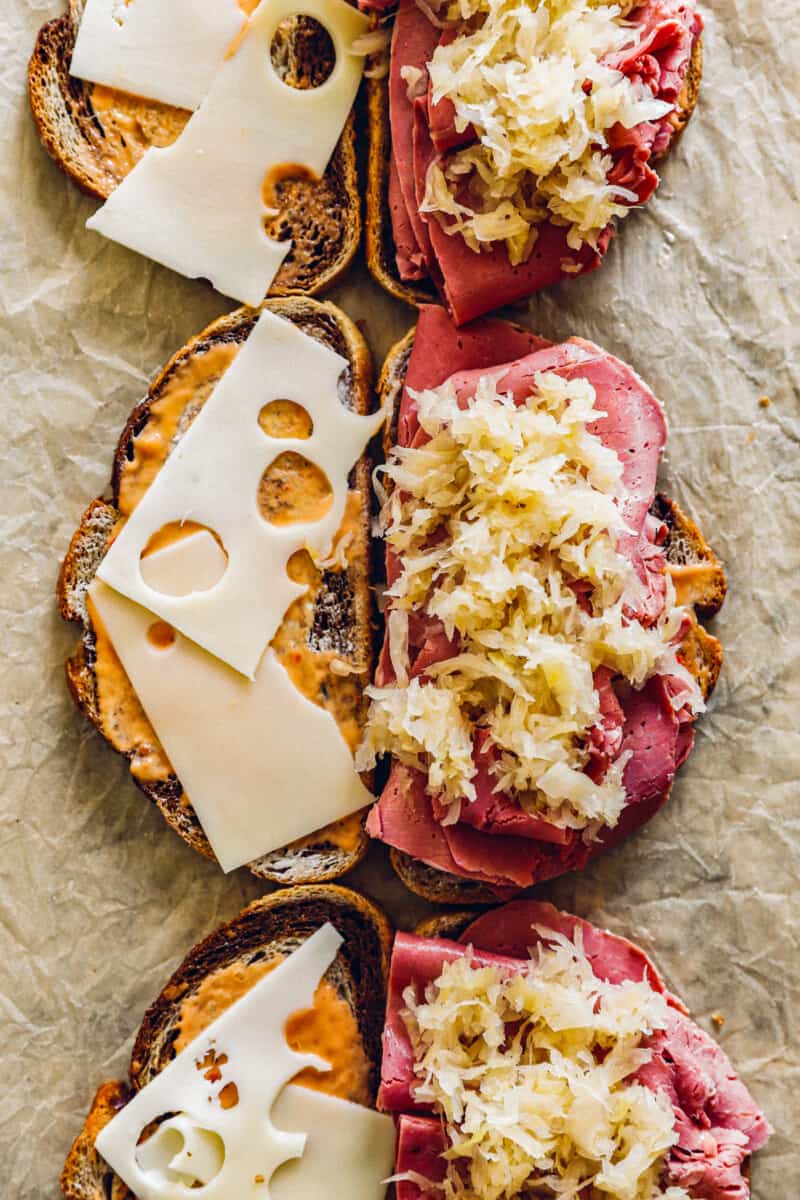 What is a Reuben sandwich?
The Reueben is a grilled sandwich consisting of corned beef, sauerkraut, and thousand island dressing with Swiss cheese. It's a North American sandwich that has been around for decades.
Is a Reuben made with pastrami or corned beef?
When you are making a Reuben, it's always made with corned beef.
Is a Reuben sandwich considered Irish or German?
Believe it or not, this amazing sandwich was made right in America. Rumor has it that it was made in Nebraska or New York City!
Can I use roast beef instead of corned beef?
It won't taste quite the same, but yes, feel free to use roast beef if that's what you have on hand.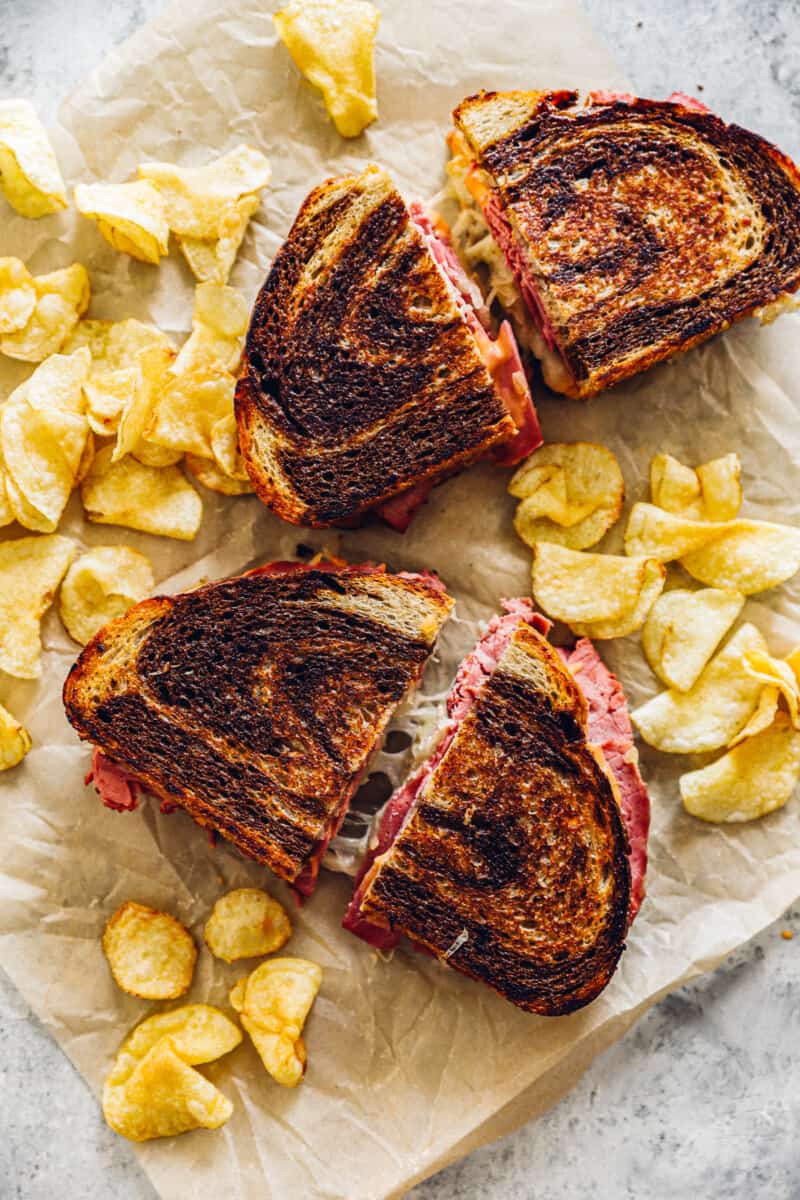 How to Store and Make Ahead
As with most sandwiches, you'll want to store ingredients separately and make the reubens as you serve them for best quality. If you're making any of the ingredients yourself (like the corned beef, sauerkraut, or dressing), make them ahead of time so they're ready to use at lunch time!
You can put a whole sandwich in the fridge if you like, either in an airtight container or wrapped in plastic wrap/foil. But storing bread/sandwiches in the fridge means it might get a little soggy. They can be eaten warm or cold.
What to Serve with Reuben Sandwiches
Serve your Reuben with potato chips and pickle slices for a simple deli-style lunch. Or serve them with any of your favorite potato side dishes. I recommend colcannon potatoes, these Air Fryer baked potatoes, or German potato salad. Refrigerator pickles or pickled beets would both add a bit more tanginess to compliment the sauerkraut.
If you make this recipe be sure to upload a photo in the comment section below or leave a rating. Enjoy! You can also jump to recipe.
More Corned Beef Recipes We Love