Make lunchtime more exciting with this delicious Reuben Sandwich recipe. It's easy to put together in minutes and consists of several simple yet flavorful ingredients that pair well together.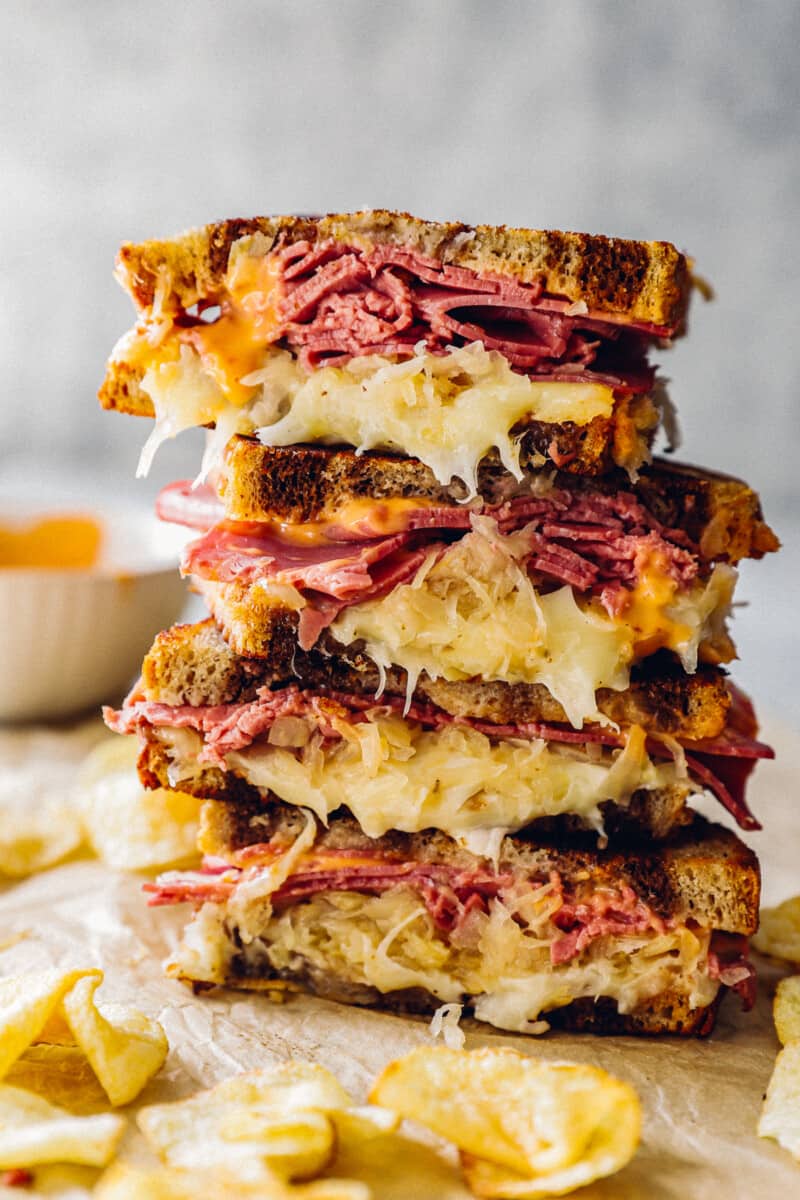 Homemade Reubens Recipe
If you've ever had the pleasure of enjoying a Reuben Sandwich, you know it's full of flavor and perfect for those who like a bit of a tangy taste with their meals.
When you want to make more exciting sandwiches for lunch instead of preparing the same traditional ham and cheese or bologna and cheese sandwiches, try this recipe.
Why you'll love this Reuben Sandwiches recipe:
QUICK RECIPE: It only takes a few minutes of your time to prepare a Reuben Sandwich, making it the perfect quick lunch to prepare.
UNIQUE FLAVOR: The recipe is perfect to follow when you want to eat something different than your usual lunch meals.
LEFTOVER FRIENDLY: You can use leftover corned beef and sauerkraut to make this sandwich, saving you time. It's great for the day after St. Patrick's day!
You can easily make a Reuben Sandwich within minutes when you have the right ingredients available to use. Not only will you enjoy the incredible flavor of these sandwiches, but you'll also appreciate how quickly you can assemble them!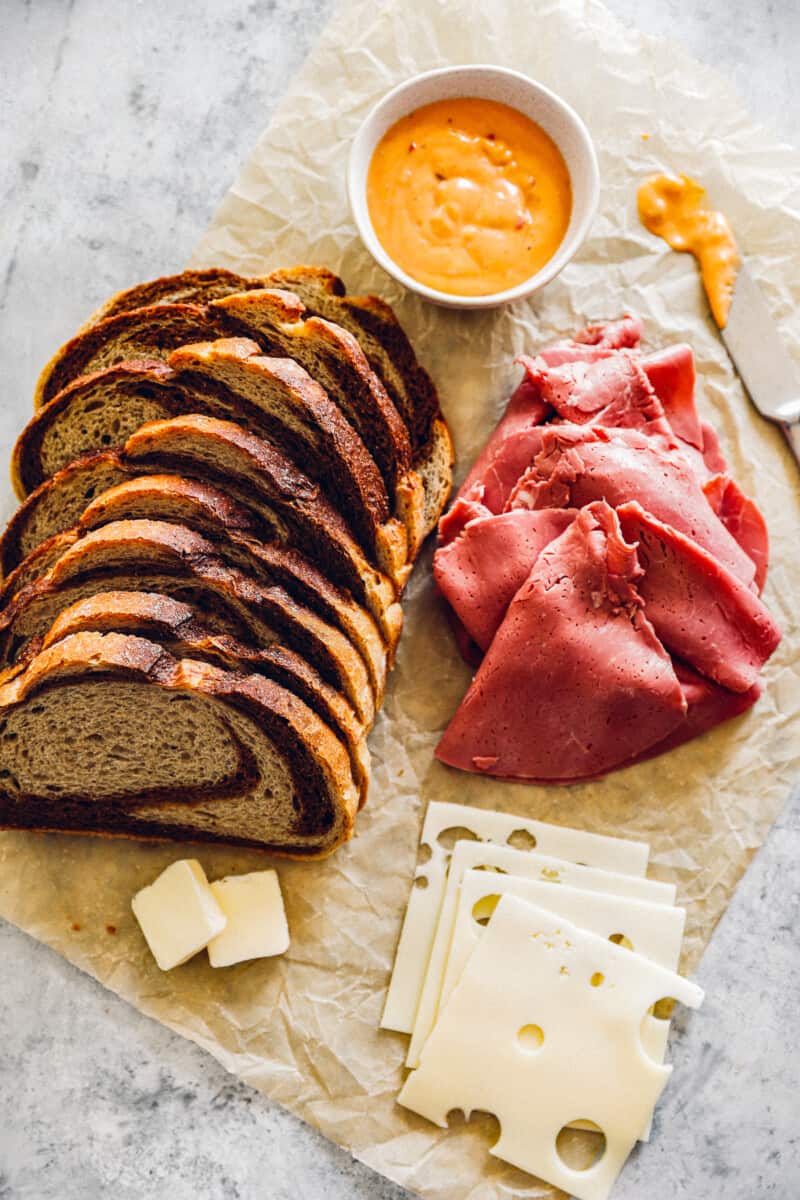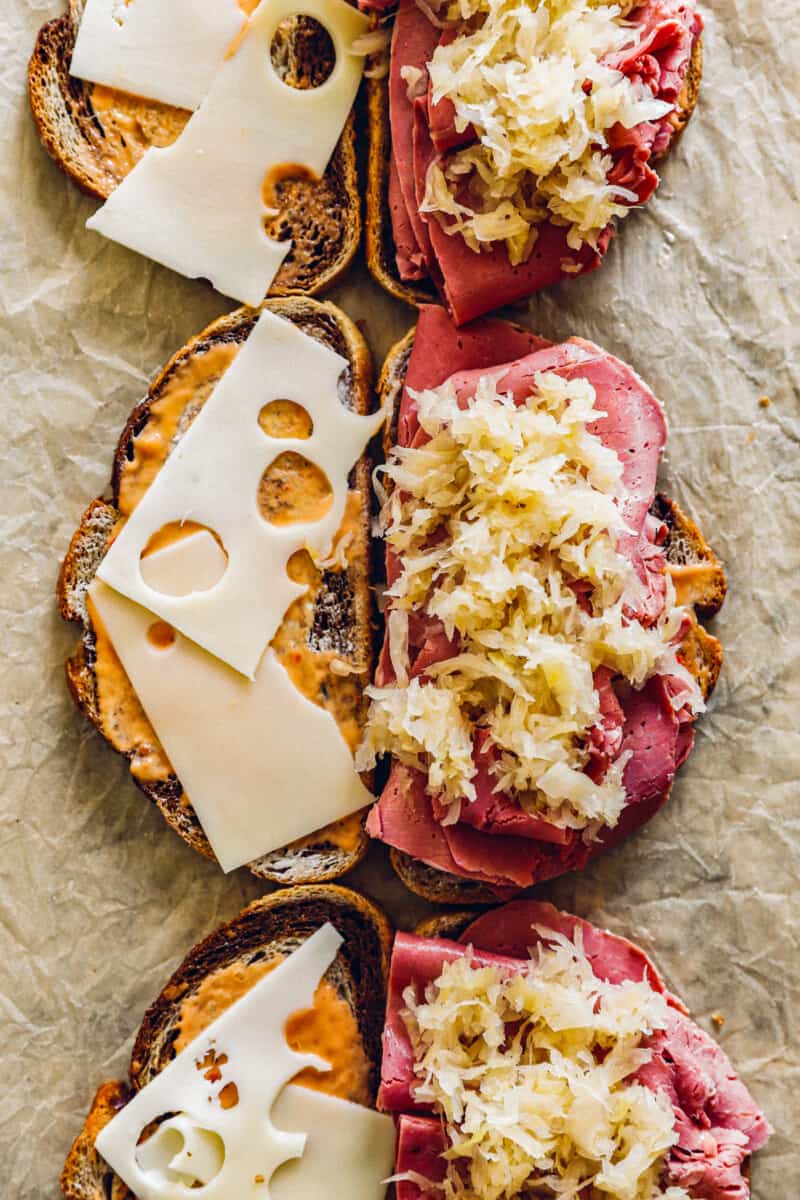 How to make Reubens at Home
Be sure to see the recipe card below for full ingredients & instructions!
Butter each slice of your marble rye bread and then flip the slices over before spreading a layer of the thousand island dressing on each side.
Add corned beef and sauerkraut to each slice of bread and then top it off with a slice of Swiss cheese per slice of bread.
Next, add the four remaining slices of bread with the butter side up on top of the Swiss cheese.
Heat your sandwiches in a large skillet on the stove over medium heat to get them slightly crispy.
Cover the pan for a minute or two to get the cheese to melt.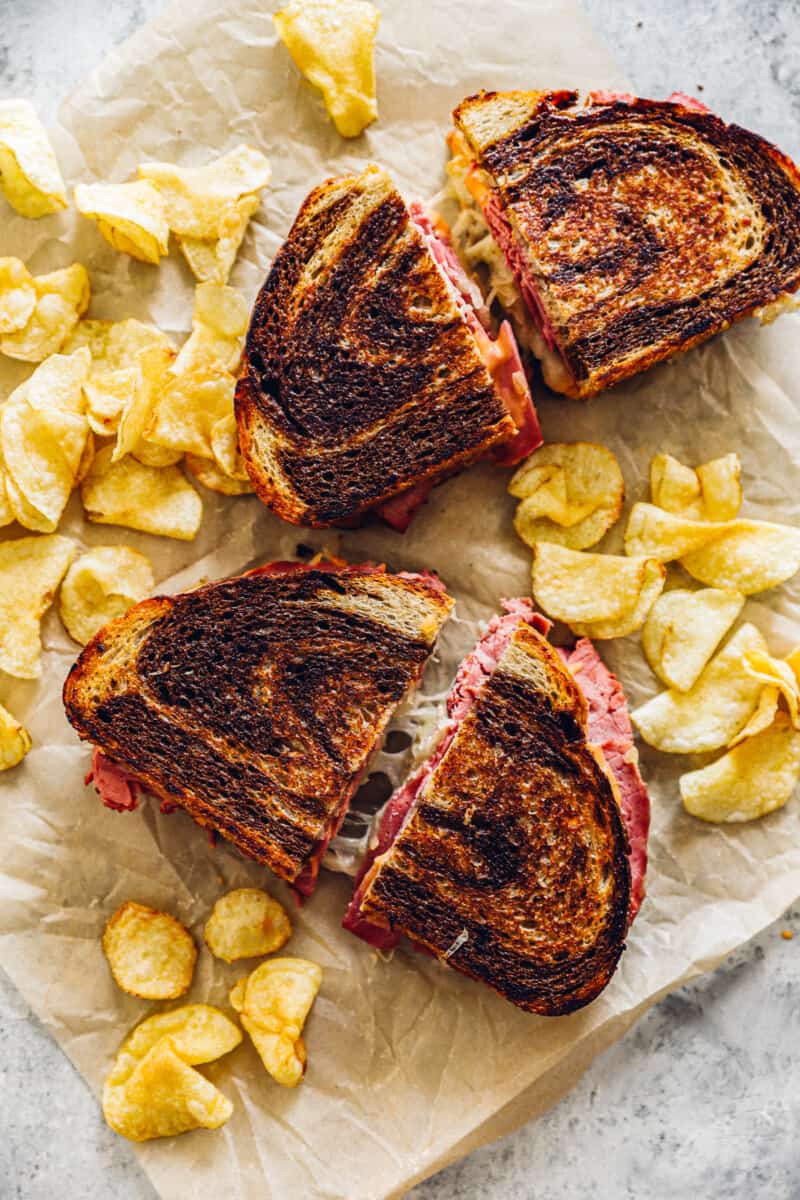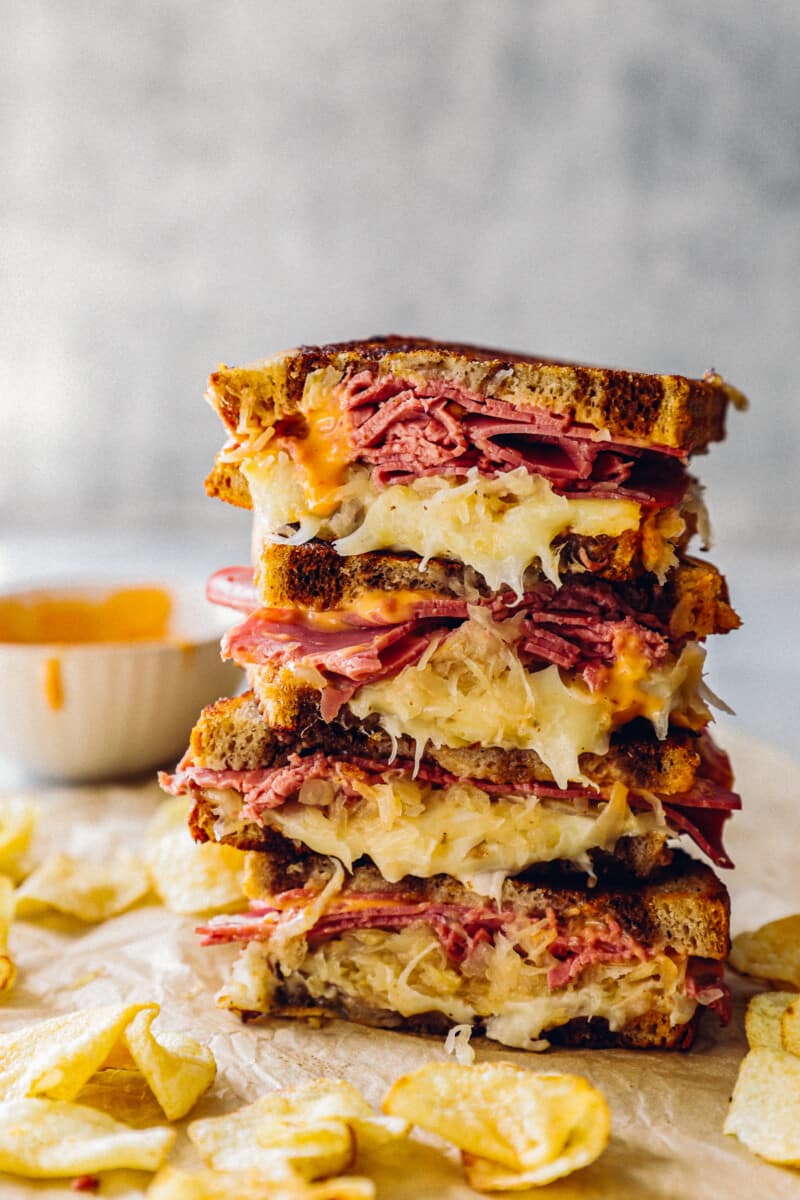 What is a Reuben sandwich?
The Reueben is a grilled sandwich consisting of corned beef, sauerkraut, and thousand island dressing with Swiss cheese. It's a North American sandwich that has been around for decades.
Is a Reuben made with pastrami or corned beef?
When you are making a Reuben, it's always made with corned beef.
Is a Reuben sandwich considered Irish or German?
Believe it or not, this amazing sandwich was made right in America. Rumor has it that it was made in Nebraska or New York City!
Serving Suggestions
This sandwich goes great with simple sides like chips and pickle, but you can also pair it with:
While the Reuben is nothing new, this recipe will easily blow you away because of its simplicity and excellent taste. You can even use up leftovers to make this yummy sandwich.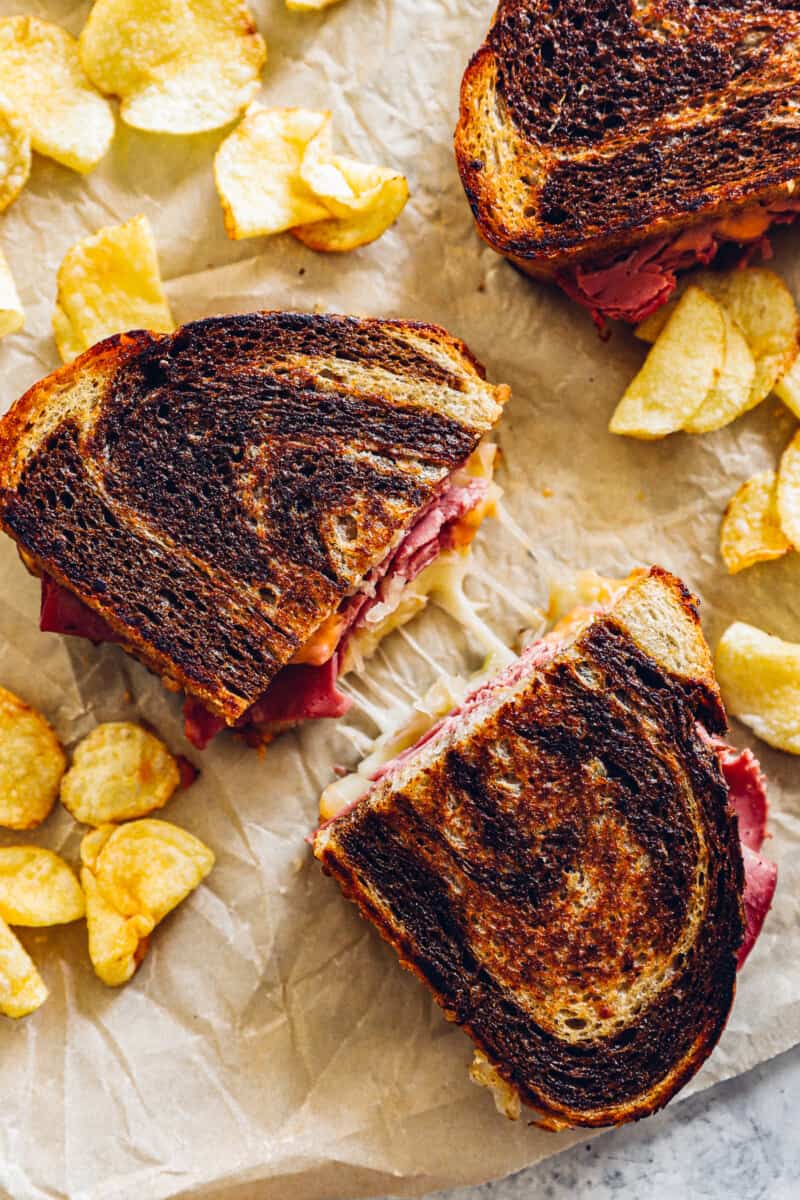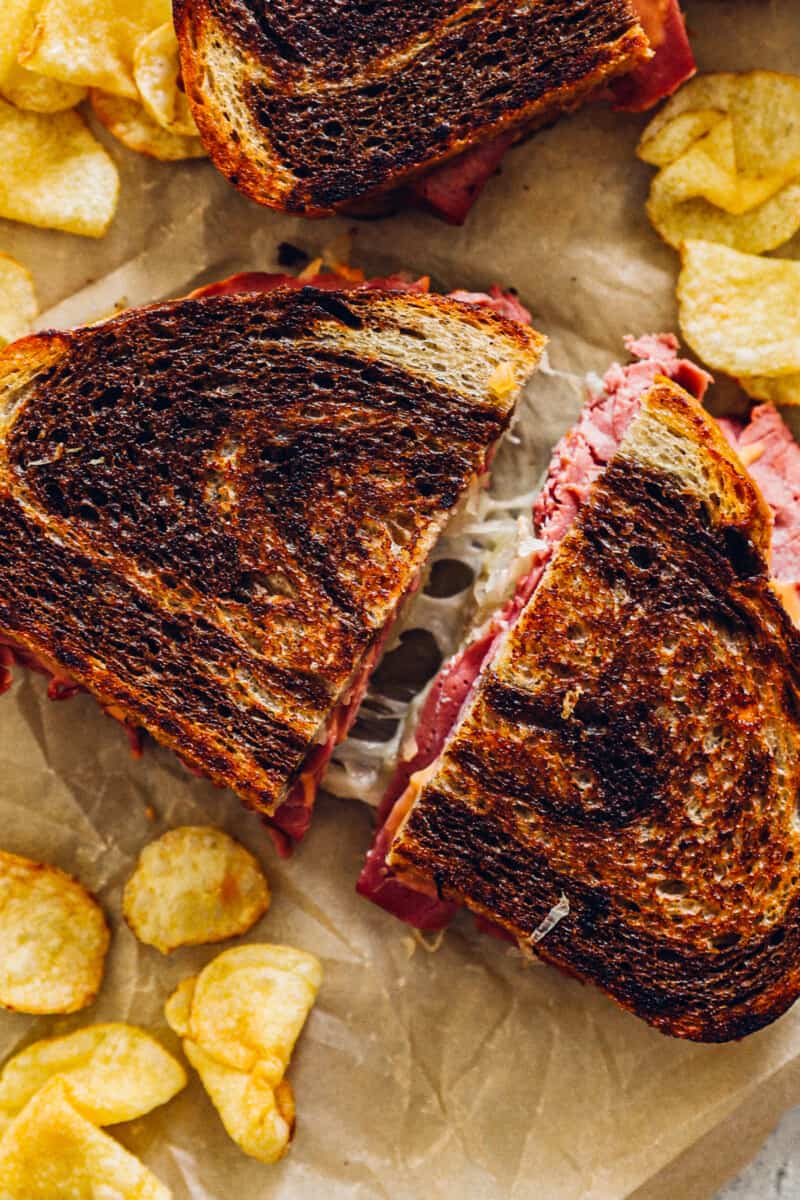 Tips!
If you don't have butter, you can add margarine to the bread of your sandwiches.
Use fresh sliced corned beef instead of canned corned beef for this recipe.
If you don't have marble rye bread, you can use regular rye bread.
I think this sandwich is best the day after St. Patrick's day. You can use leftover corned beef from the night before along with some sauerkraut. Add everything to some marbled rye bread and you have a perfect sandwich made with leftovers that is great for lunch or dinner.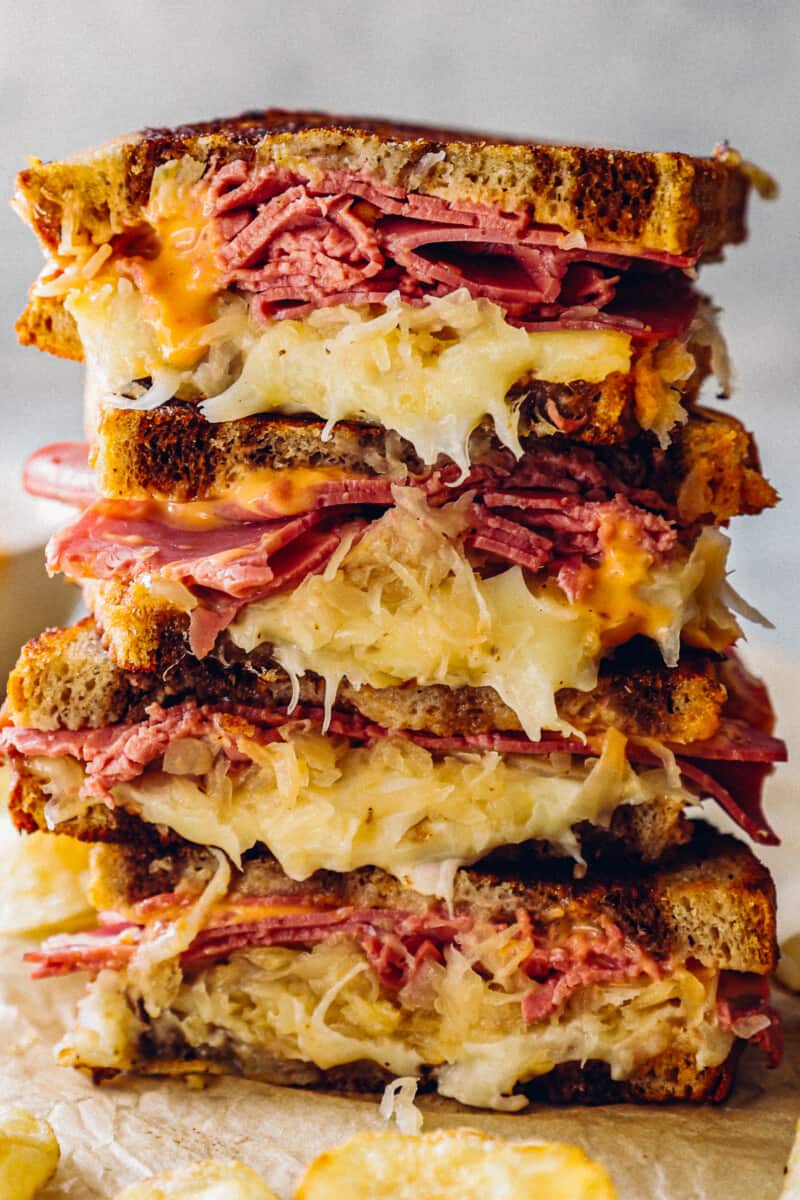 You only need a few ingredients to make a classic Reuben sandwich. It is full of flavor and is great for lunch or even a quick dinner.
If you make this recipe be sure to upload a photo in the comment section below or leave a rating. Enjoy!