This breakfast hash is made with tender potatoes mixed with breakfast sausage, spinach, onions, garlic, and a perfectly cooked egg. So this breakfast skillet hash is the best way to start any morning! Stay full all the way until lunch without weighing yourself down when you make this easy and nutritious breakfast recipe.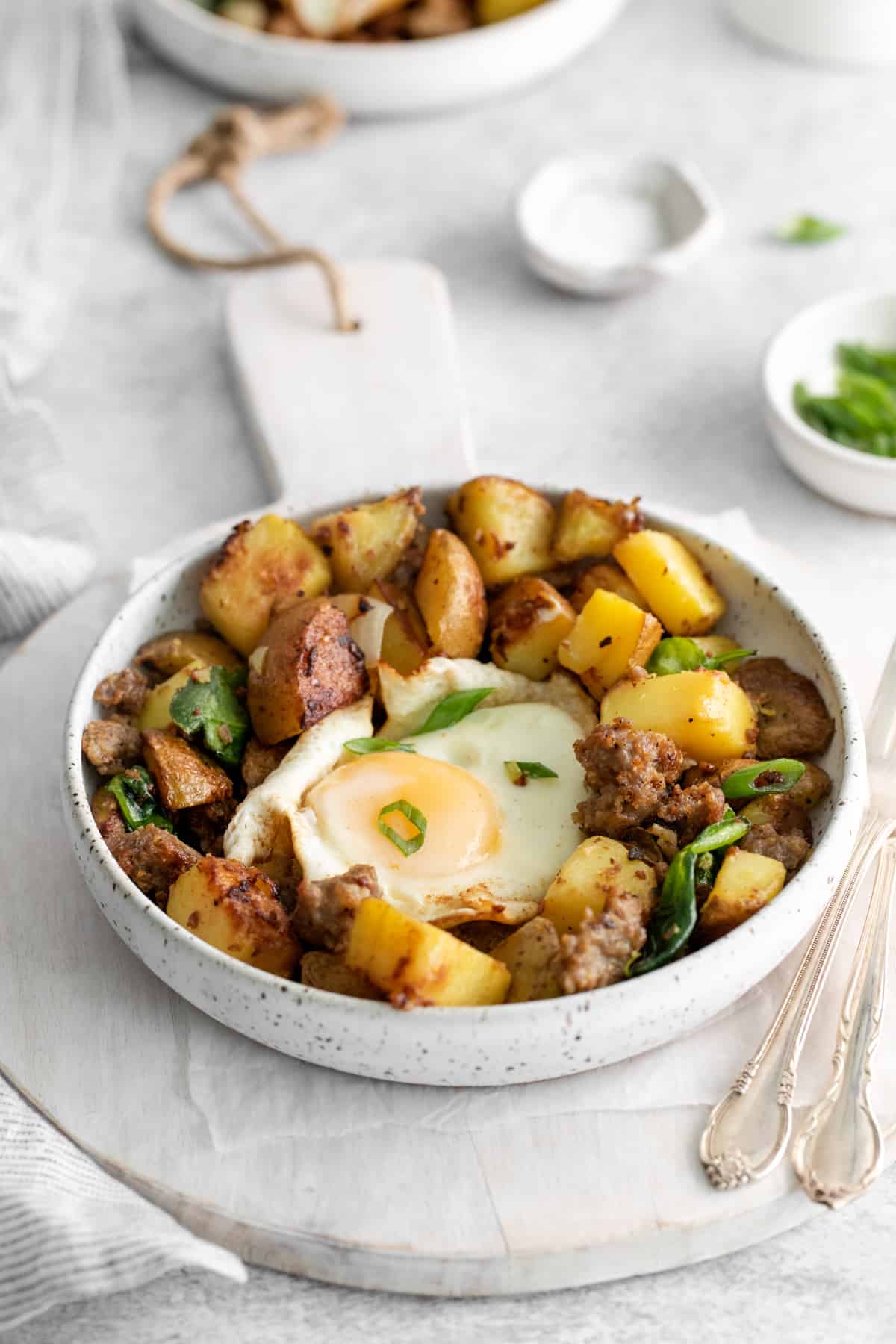 What's in this Breakfast Skillet?
Breakfast sausage, potatoes, spinach, and an egg come together to make the best start to the day. A classic, timeless breakfast staple that's as rustic as it is satisfying.
Sausage: I'm using a pork breakfast sausage but you could use any sausage you like, including chicken, turkey, venison, etc.
Potatoes: I'm using Yukon gold potatoes because they form a crisp exterior and creamy interior in hash. Red or russet potatoes would also work.
Onion and Garlic: Add delicious flavor to the hash. If you don't have fresh onion and garlic on hand, don't worry– you can use ¾ teaspoon granulated onion powder and ½ teaspoon granulated garlic powder instead.
Thyme: Adds a bit of fresh herbaceousness to the hash, but fresh rosemary, sage, or parsley could all be used instead!
Spinach: I love the freshness spinach adds to the hash. Feel free to add as much or as little as you like.
Butter: Adds delicious flavor to the eggs but you could also use oil or nonstick cooking spray if you prefer.
Pro Tip: To save time, you can use thawed frozen hash browns instead of fresh potatoes.
Variations on Sausage Hash
This breakfast sausage hash is amazing as is, but it's also super versatile and customizable! Swap the pork sausage for chicken, turkey, or venison sausage — or, try diced ham or bacon! Use your favorite kind of potatoes, such as Yukon gold, red, russet, or sweet potatoes! Try adding other veggies, such as bell peppers, tomatoes, or mushrooms for some extra nutrients. Not a fan of eggs? Feel free to skip them! You could also try topping the hash with some shredded cheese or diced avocado for a different take. A few shakes of hot sauce will really set this dish off!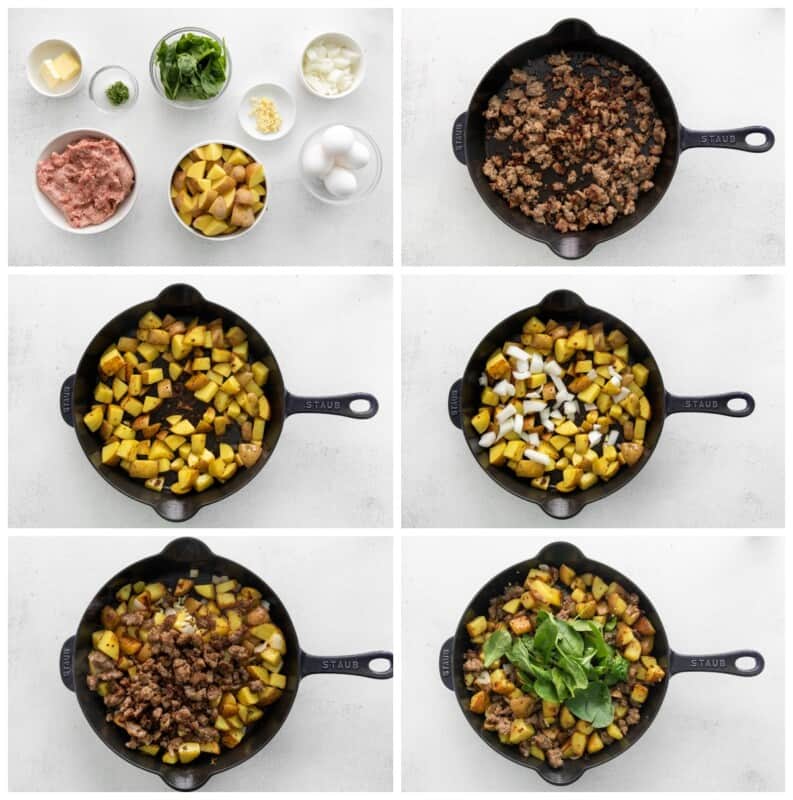 Can I make breakfast hash with a different meat than sausage?
Absolutely. You could use a different type of sausage, such as chicken, turkey, or venison; or, you could use ham or bacon.
What are the best potatoes for breakfast hash?
I like to use Yukon gold because they crisp up on the outside and remain fluffy on the inside, but you could also use red or russet potatoes.
Do I have to add eggs to breakfast hash?
Nope! I like adding eggs for a boost of protein, but you can absolutely make this recipe without any egg at all.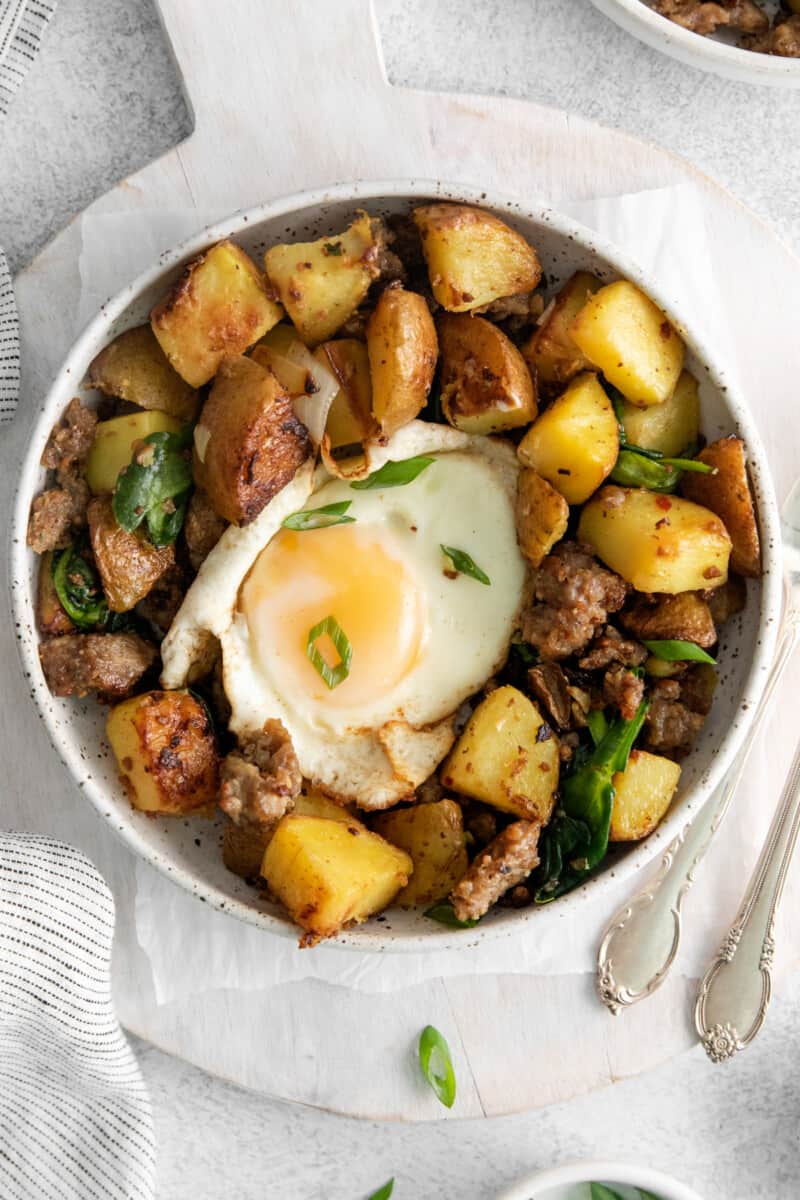 How to Prep and Store Breakfast Potato Hash
You can prep the potatoes and onions up to 2 days in advance. Store the diced potatoes in a bowl of unsalted water in the refrigerator, and store the diced onions in an airtight container in the refrigerator until ready to use.
Store leftover breakfast hash in an airtight container in the refrigerator for up to 2 days.
How to Freeze and Reheat Breakfast Sausage Hash
Freeze breakfast hash in an airtight container or Ziplock bag for up to 2 months. Let thaw overnight in the refrigerator before reheating.
Reheat gently in the microwave or in a cast iron skillet with a little bit of butter or oil until warmed through.
What to Serve with Sausage Breakfast Hash
This breakfast hash is rich and filling all on its own. I like to serve it with a refreshing fruit salad and a creamy green smoothie, an iced caramel latte, or an orange ginger wellness shot! You could also serve it up as part of a brunch buffet alongside french toast casserole, blueberry raspberry coffee cake, Belgian waffles, scrambled eggs, or a stack of pancakes.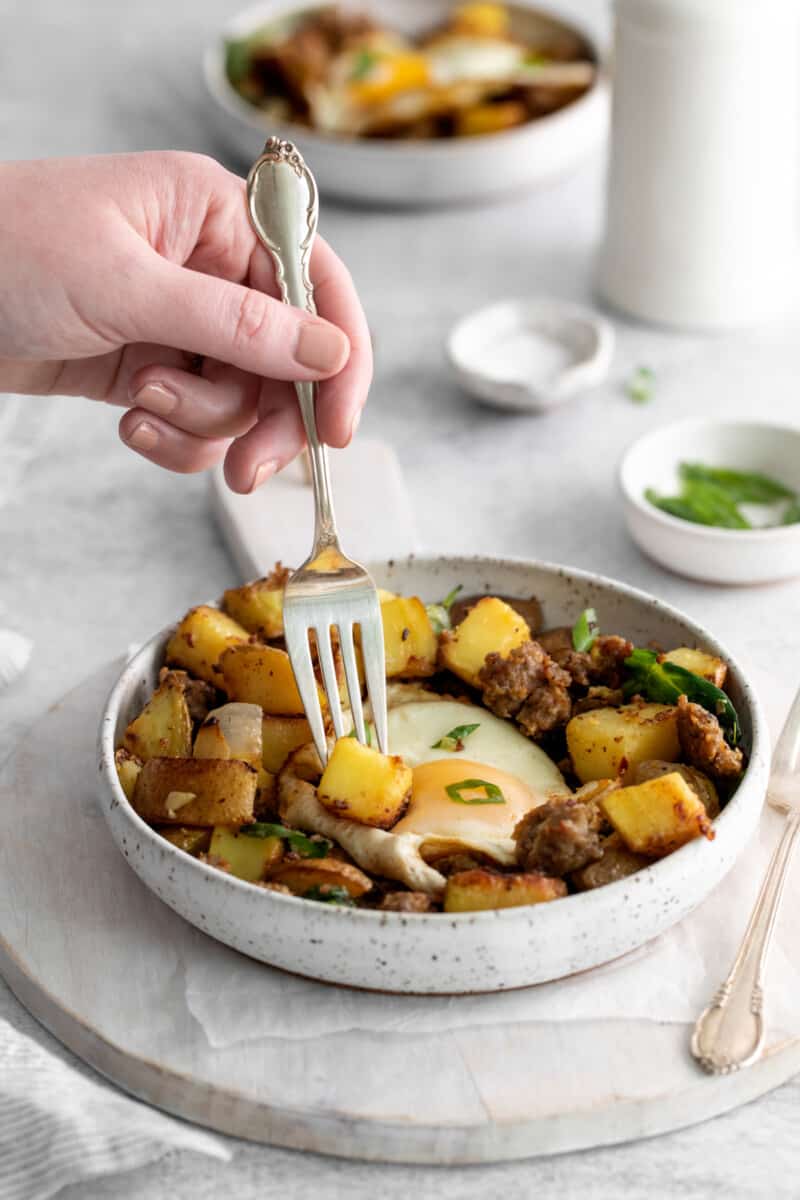 More Skillet Egg Recipes We Love