Reuben Egg Rolls with tasty corned beef, melted Swiss cheese, and fermented sauerkraut are the perfect appetizers for game-day parties or family gatherings. Generations ago, the Reuben sandwich, grilled with slices of rye bread, became a lunch staple in America's delicatessens and home kitchens. Swapping the bread for egg roll wrappers makes it even more delicious, especially when served with a creamy (and super yummy!) homemade Russian dressing.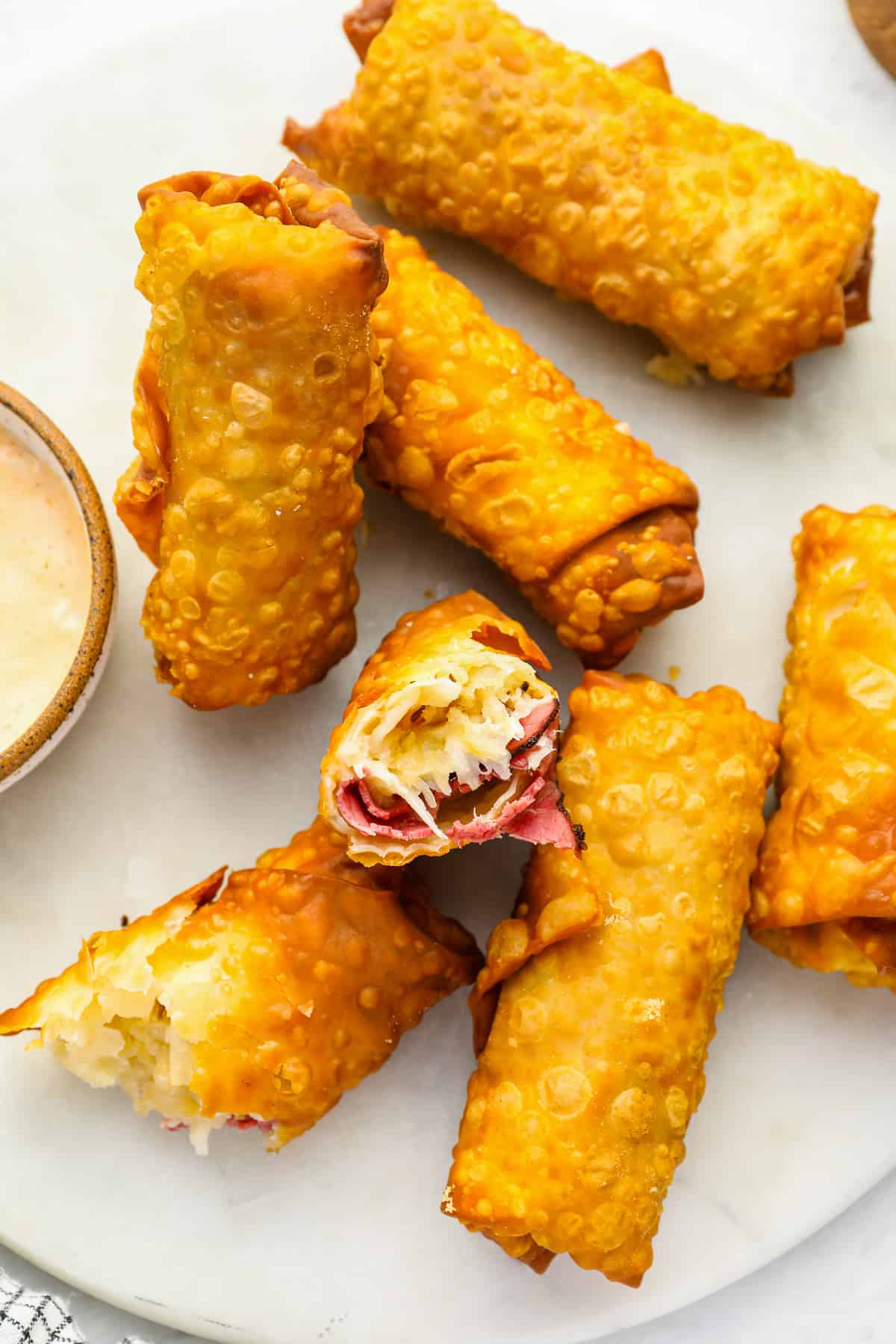 What's in Corned Beef Egg Rolls?
All the ingredients you need to make the perfect Reuben Egg Rolls in less than 30 minutes are easy to find at your local supermarket.
Russian Dressing: A tangy and spicy spread that starts with mayonnaise and ketchup, making the dressing a pretty pink color.
Egg Roll Wrappers: Found in the refrigerated section of most grocery stores, these Asian wheat-based pancakes are thin but strong enough to hold the deli ingredients in place while cooking in hot oil.
Corned Beef: An Irish staple, beef brisket cured for five days with pickling spices and salt turns into the most delicious corned beef thinly sliced for sandwiches. If you can't make your own, you can find it at delicatessens and most supermarkets.
Swiss Cheese: Swiss cheese with a mild, sweet, and nut-like flavor is easily one of the most popular cheeses in the world, and when melted to perfection goes perfectly with corned beef.
Sauerkraut: This fermented cabbage, packed with nutrients and beneficial probiotics, is easy to make at home or to find in stores.
Caraway Seeds: Highly aromatic caraway seeds, found in the spice section of most supermarkets, have a distinctive mild anise flavor that adds a punch of unique flavor to the Reuben Egg Rolls.
Oil: For the tastiest, crispiest rolls, peanut oil is always my go-to cooking oil, but you can also use canola, corn, or any vegetable oil you have ready to go.
If you want to pull out all the stops, you can place an order online for the most famous corned beef from Katz's Delicatessen in New York City.
Reuben Egg Roll Variation
While a classic Reuben is delicious, you can easily turn these egg rolls into Rachel egg rolls by swapping the corned beef for pastrami or turkey pastrami, and swapping the sauerkraut for coleslaw!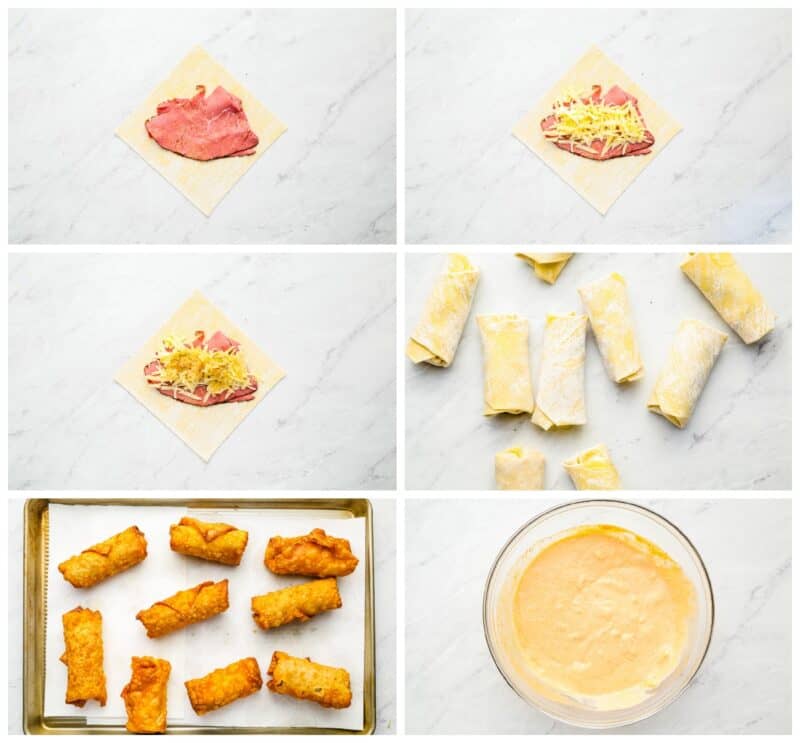 Can I use store-bought Russian dressing?
Absolutely! Homemade dressing is delicious, but store-bought works well in a pinch. You can also use Thousand Island dressing if you prefer.
Where can I find egg roll wrappers?
Egg roll wrappers are usually found in the refrigerated section of the grocery store, but you may also find them by the vegetables or in the International aisle.
Can I use wonton wrappers?
No. Unfortunately, wonton wrappers are far too small for this recipe. You could use spring roll wrappers, but keep in mind that those are much thinner and more difficult to work with. I highly recommend using egg roll wrappers for the best results.
Do I have to use caraway seeds?
While the caraway seeds are optional, they add a lot of flavor. Caraway seeds are one of the main ingredients in rye bread, which is the traditional bread Reubens are served on. For that classic Reuben flavor, I recommend adding them!
Can I bake or air fry Reuben egg rolls instead of frying them?
You sure can! To bake these egg rolls, place them on a lined baking sheet, brush with oil, and bake in a 400°F oven for 12-16 minutes, flipping halfway through. To air fry these egg rolls, place them in the basket of an air fryer, spray them with cooking oil, and air fry them at 370°F for 10 minutes, flipping halfway through.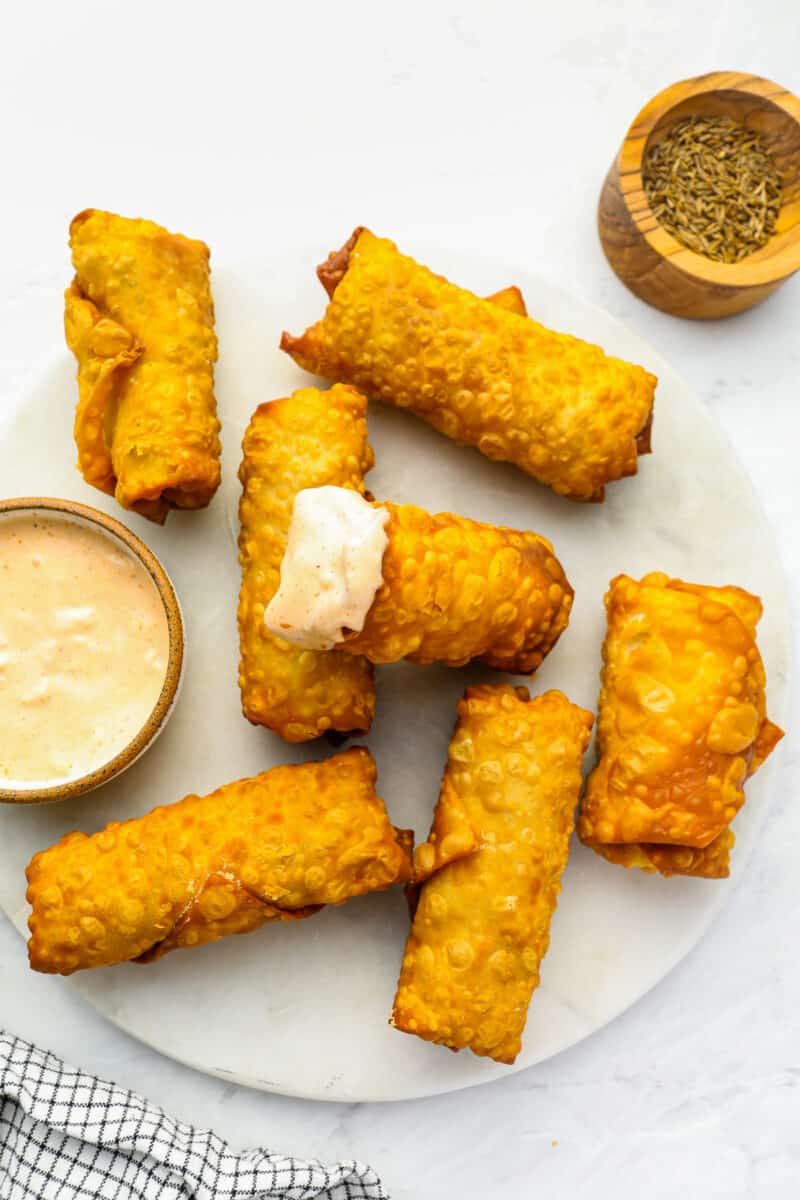 How to Store and Reheat Corned Beef Reuben Egg Rolls
Store leftover Reuben egg rolls in an airtight container in the refrigerator for up to 4 days. Reheat in a 350°F oven for 5-10 minutes, until warmed through.
How to Freeze Homemade Reuben Egg Rolls
If you don't want to fry all the egg rolls at once, you can freeze them for up to 6 months. Place them on a lined baking sheet and freeze until solid, about 1-2 minutes. Transfer to an airtight container or Ziplock bag to store. Fry directly from frozen, adding 1-2 minutes to the final cook time.
What to Serve with Reuben Egg Rolls
Reuben Egg Rolls are always a hit on game day by themselves or served alongside other apps. Other ideas to go with a deli-inspired menu include Deviled Eggs (Easy), Everything Bagel Pigs in a Blanket, and Ham Roll Ups.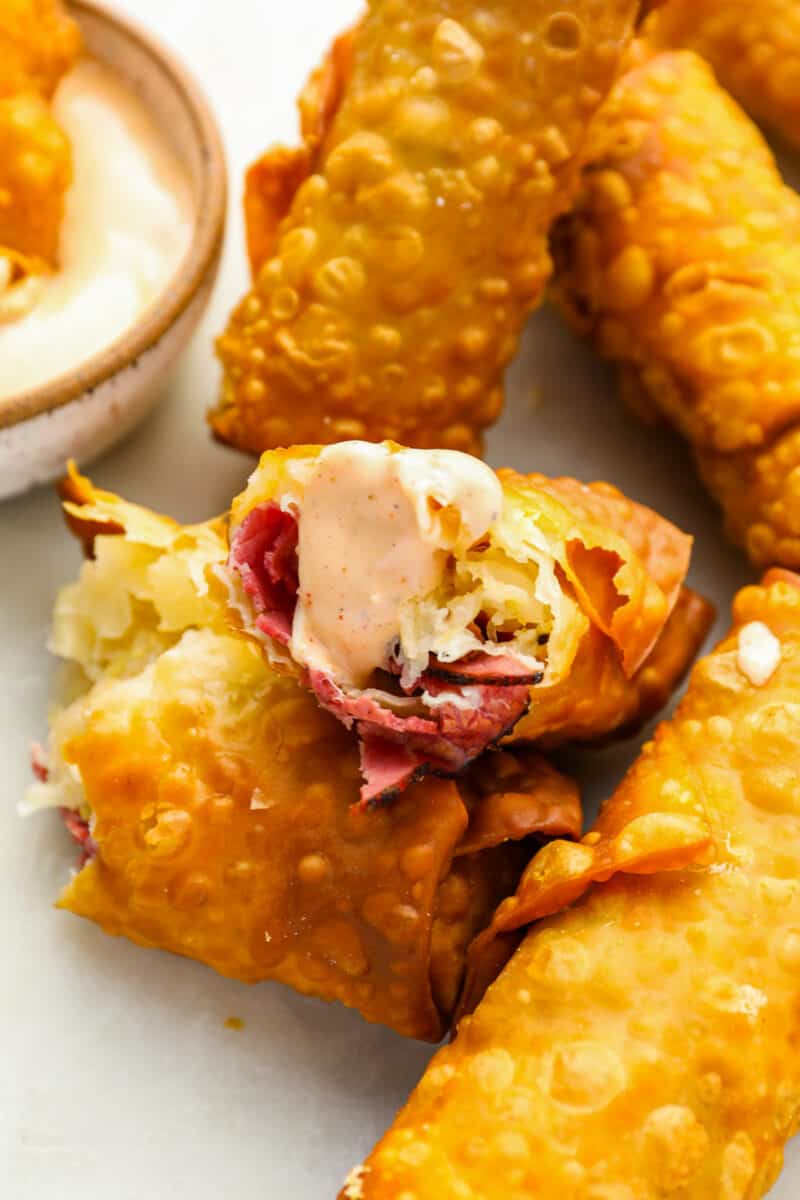 If you make this recipe be sure to upload a photo in the comment section below or leave a rating. Enjoy! You can also jump to recipe.
More Egg Roll Recipes We Love