This Reuben casserole is layered with corned beef, sauerkraut, Swiss cheese, Russian dressing, pickles, and rye bread. It tastes just like a classic Reuben sandwich, but everything is baked together to create a shareable dinner the whole family will love. Make this corned beef casserole for St. Patrick's Day to celebrate!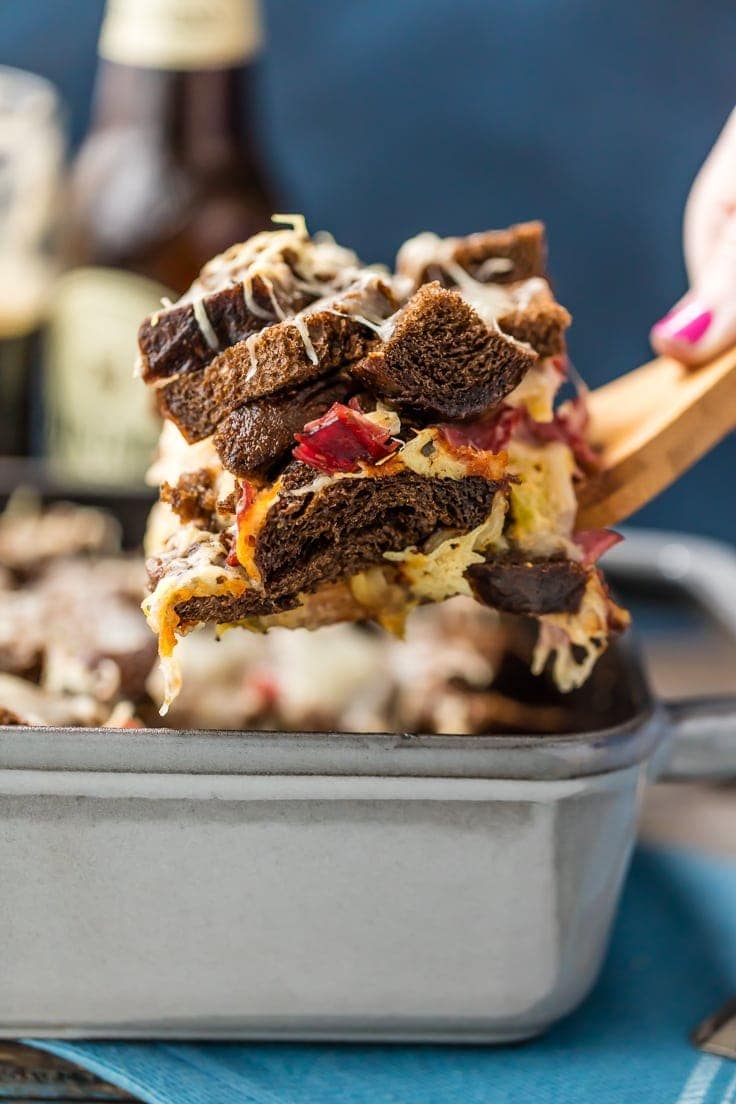 What's in this Reuben casserole recipe?
This loaded casserole is filled with all the same ingredients you'd find in a Reuben sandwich, so you don't need much. With a short prep time, dinner will be ready quick!
Rye Bread: Rye is the classic Reuben bread, so it works best with this casserole.
Corned Beef: This is a salt-cured brisket that has a distinct flavor. Cut it into thin slices to layer.
Sauerkraut: Fermented cabbage adds a zingy, tangy flavor.
Swiss Cheese: Use freshly-shredded cheese for best results.
Russian Dressing: This adds a creamy tanginess into the casserole. You could use Thousand Island dressing instead.
Sour Cream: This adds a bit more creaminess into the mix.
Dill Pickles: Finely chopped pickles add more texture and tanginess.
Butter: Melted butter adds a finishing touch to infuse more rich flavor.
What else can I add to corned beef casserole?
As with most casserole recipes, it's easy to add in more ingredients and make this reuben casserole your own! Here are some ideas.
Potatoes: Par-boil potatoes until soft, cut into thin slices or cubes, then layer them in with the rest of the ingredients.
Vegetables: Add in anything from celery and caramelized onions, to sliced carrots or beets, or buttery sweet peas.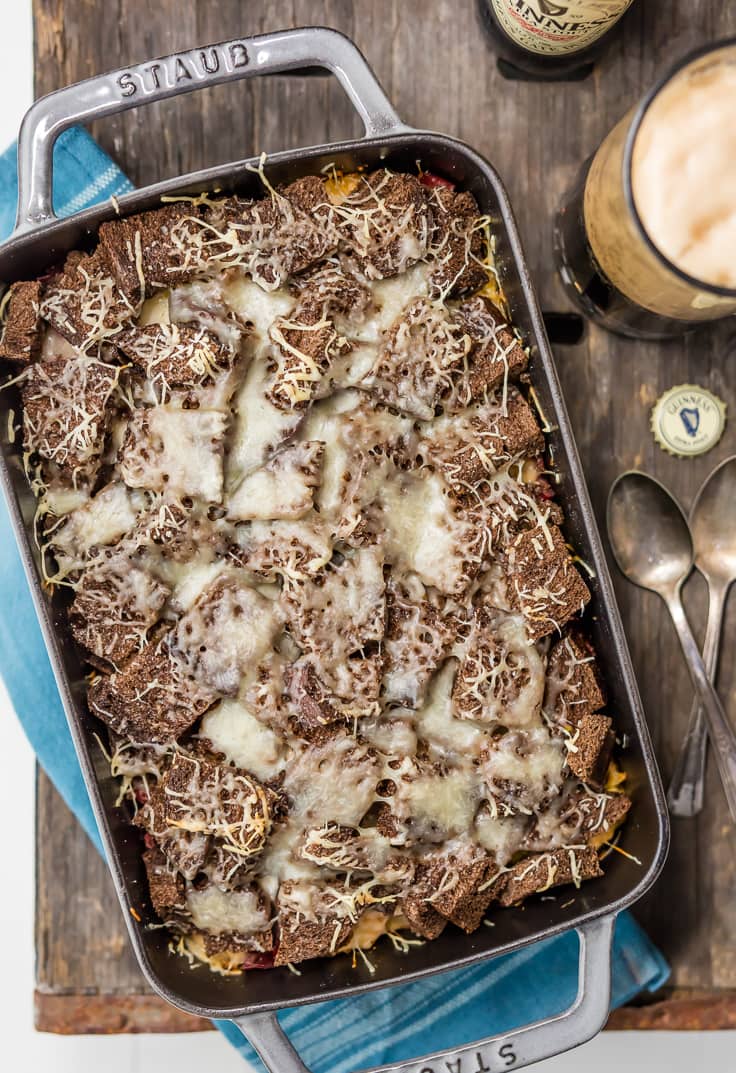 Can I use canned corned beef?
Fresh slices work best for this layered casserole. But if you want to use canned corned beef, chop it into small pieces and mix all ingredients together in the dish, topping with rye bread cubes.
Can I use a different type of meat?
Corned beef is the classic Reuben meat, but you can make substitutions if you like. Roast beef and pastrami would work as well.
How long does this casserole take to bake?
Bake this recipe covered for 30 minutes, then uncovered for 10 minutes, for a total of 40 minutes.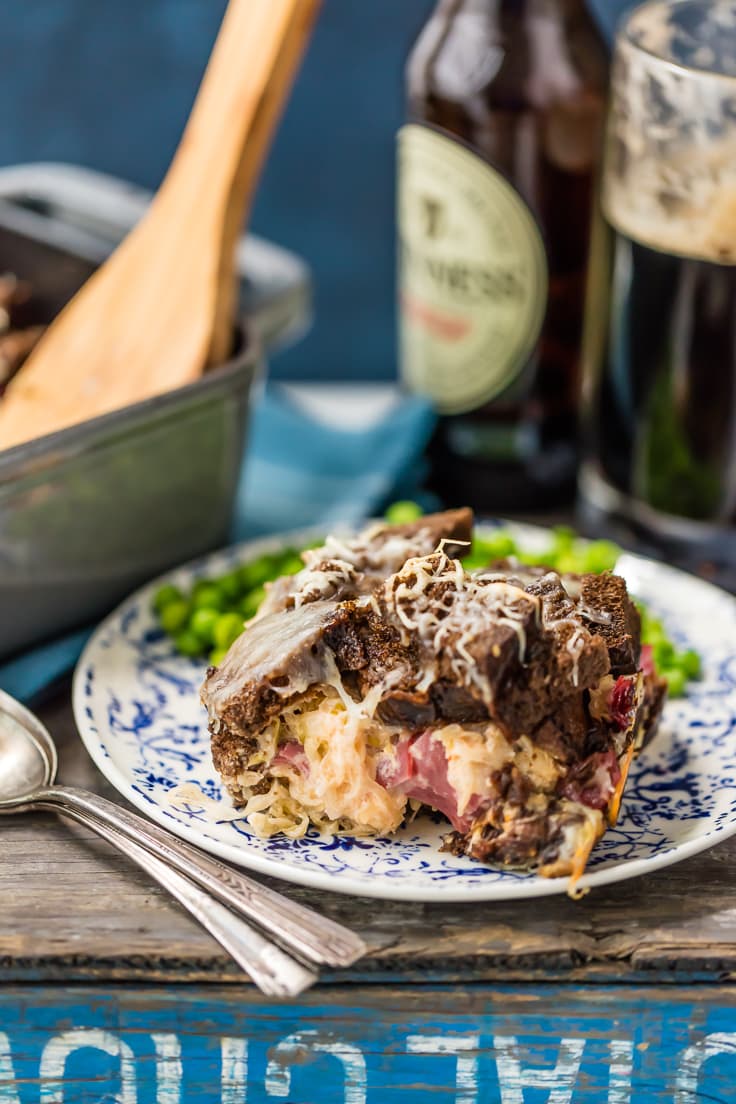 How to Store and Make Ahead
Store leftovers in an airtight container, and keep in the refrigerator up to 4 days.
To reheat, warm in the oven until fully heated through, or quickly reheat in the microwave.
If you want to make this ahead of time, follow up to step 7, then cover and keep the casserole in the fridge up to 1 day. When ready to bake, set it out on the counter while the oven preheats. Then drizzle with the melted butter and bake (steps 8 & 9).
How to Freeze Corned Beef Casserole
Store reuben casserole in freezer-safe containers, and freeze up to 3 months. Let it thaw in the fridge overnight before reheating.
What to Serve with Reuben Casserole
This flavor-packed corned beef casserole recipe is a full meal, with well-rounded ingredients. But if you want to add a little extra something to dinner, I recommend a side of vegetables or potatoes, soup, or salad. This tastes great with fried cabbage and bacon, German potato salad, pickled beets, or Crockpot potato soup.
If you make this recipe be sure to upload a photo in the comment section below or leave a rating. Enjoy! You can also jump to recipe.