This Creamy Cucumber Salad is just the right mix of healthy veggies and delicious flavor. This easy cucumber salad recipe (cucumbers, radishes, and apples) features a tasty cucumber salad dressing made with mayo and apple cider vinegar. It's a fresh and simple salad perfect for any occasion!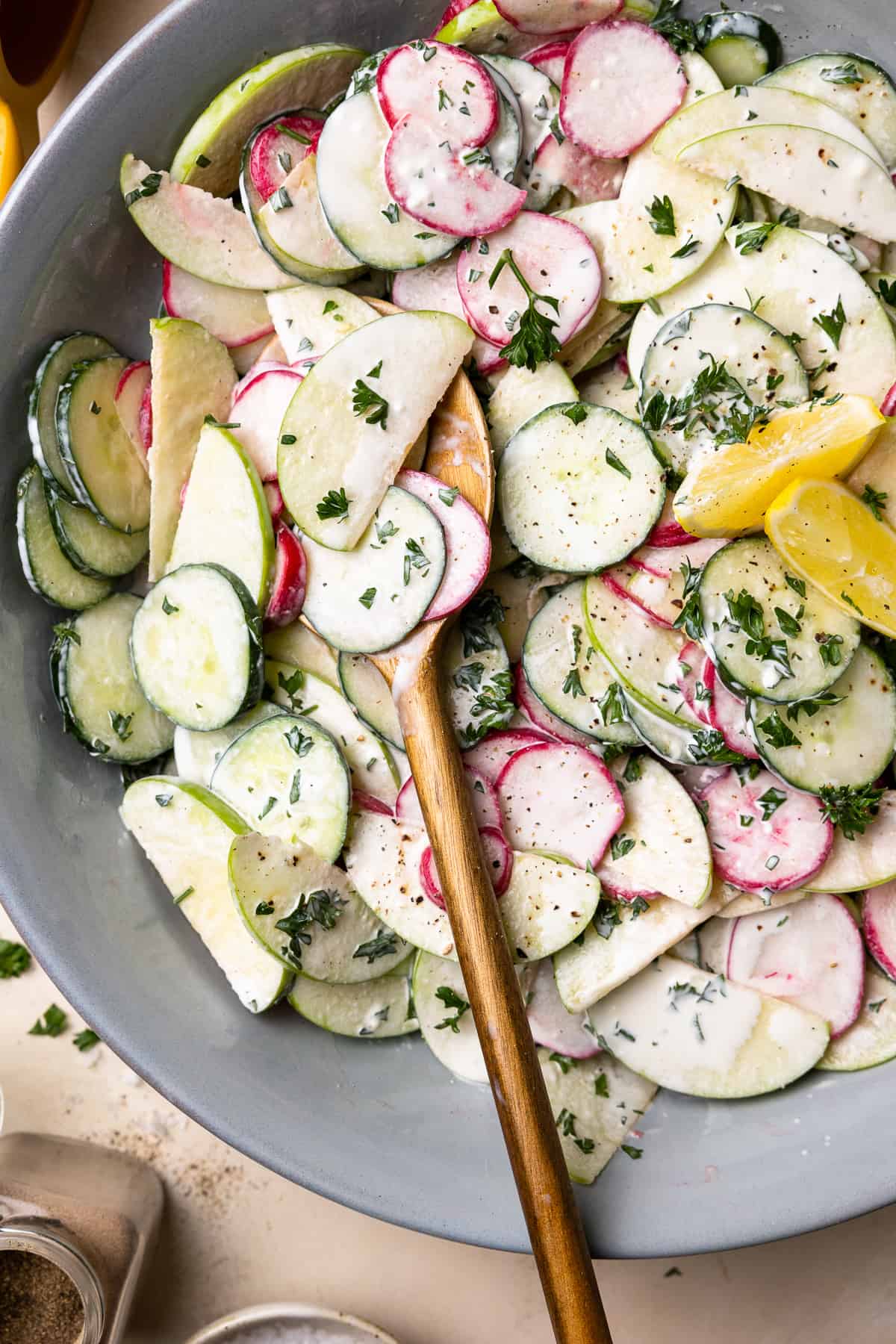 What's in this Creamy Cucumber Salad Recipe?
This easy cucumber salad is a mix of cucumbers, apples, and radishes, tossed with the perfect cucumber salad dressing. It's made with mayonnaise, apple cider vinegar, lemon juice, and parsley. It has such a cool and fresh flavor, with just the right kick from the radishes and parsley.
Cucumber: A large cucumber makes up the base of this salad. It's light, crunchy, and refreshing!
Radish: Sliced radishes add a slight kick to this salad, making it a great balance of sweet and spicy!
Apple: Granny Smith apples add a sweet and tart flavor to this salad, making it super refreshing and crunchy!
Mayonnaise: Mayonnaise forms the base of the dressing, making it creamy and luxurious.
Apple Cider Vinegar and Lemon Juice: Acidic ingredients like apple cider vinegar and lemon juice help to balance the dressing and keep it from tasting too rich.
Pro Tip: You can slice the cucumber, radishes, and apples by hand, but a mandoline will give you perfect slices every time!
Dill Creamy Cucumber Salad
To make this cucumber salad more savory, try adding ⅓ cup of thinly sliced red onion, 1 tablespoon of chopped fresh dill, and ½ teaspoon of ground black pepper. This will create a nice twist on the classic Amish cucumber salad!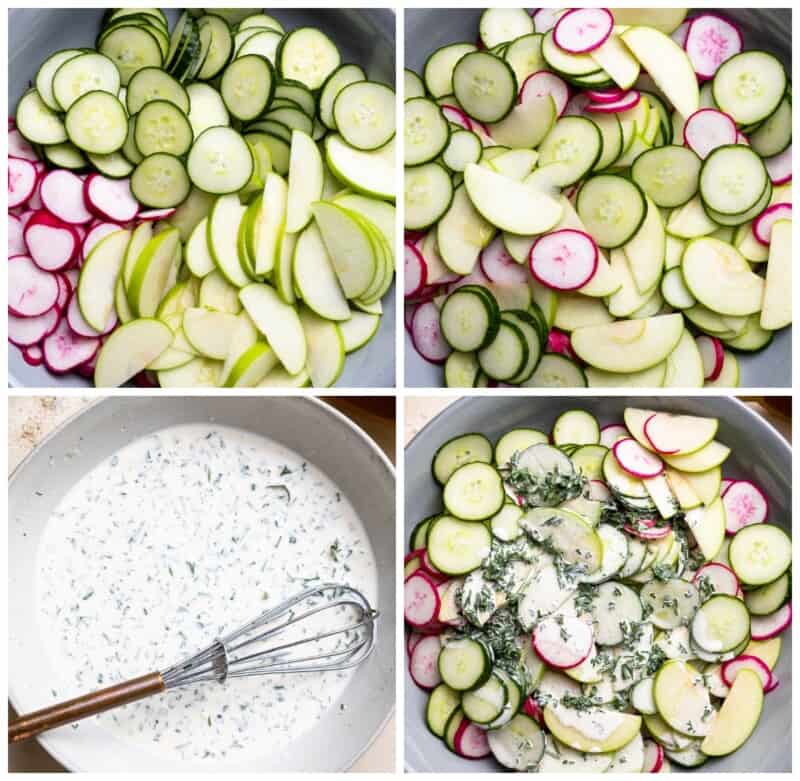 Is creamy cucumber salad sweet?
Nope! This cucumber salad is perfectly balanced. It's slightly sweet, slightly salty, and slightly tangy! Perfect for a summer day!
Do you leave the skin on for cucumber salad?
That's up to you! Personally, I like to leave the skin on for the pop of color and added nutrition, but you can peel your cucumbers if you prefer.
How do you keep cucumber salad from getting watery?
To keep this salad from getting watery, place the cucumber slices in a colander and generously sprinkle them with salt. This will help to remove some of the moisture before you add them to the salad.
How long does creamy cucumber salad last?
Unlike regular salads made with greens, this cucumber apple salad holds up quite nicely. To save any leftovers, just store it in an airtight container in the refrigerator. It will keep for a few days just fine. Plus, that gives the cucumbers and apples more time to soak up the flavor of the dressing!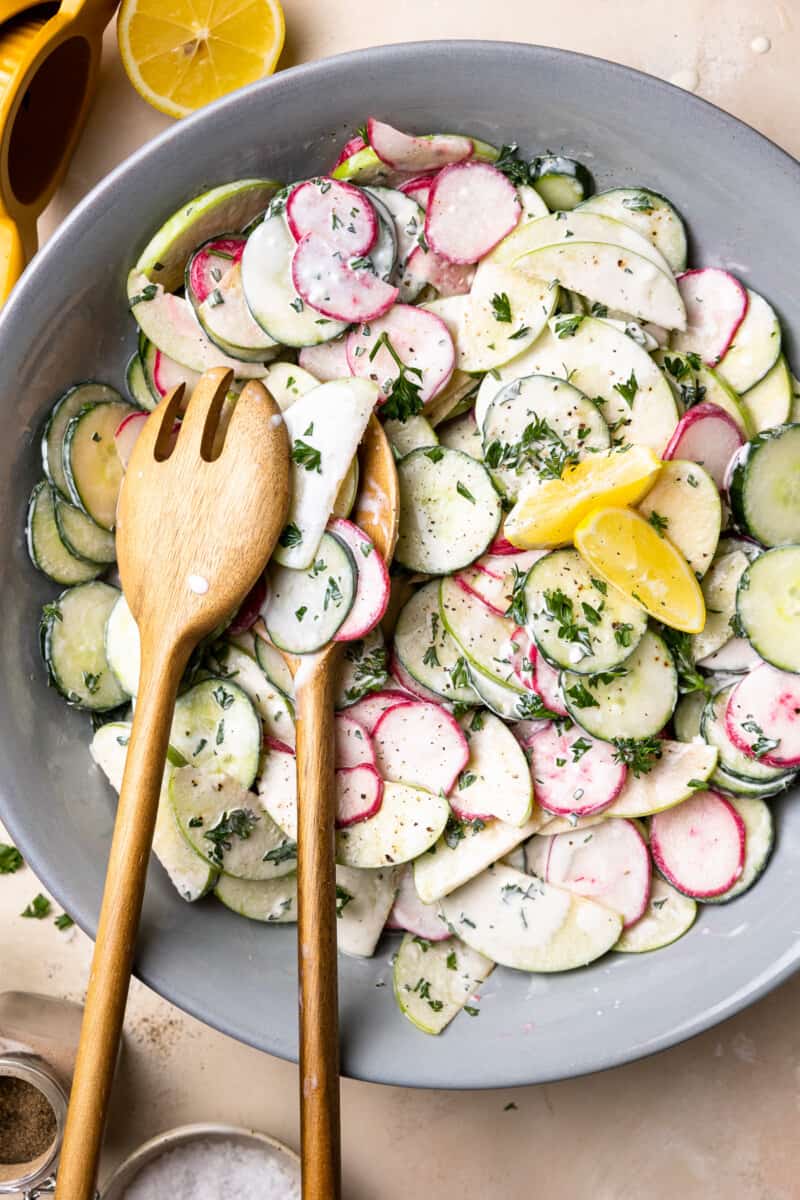 How to Store Creamy Cucumber Salad with Mayo
Store leftover creamy cucumber salad in an airtight container in the refrigerator for up to 3 days. Enjoy chilled straight from the refrigerator for the best taste.
What to Serve with Old Fashioned Creamy Cucumber Salad
We love a good easy side dish that goes with a good easy main course! That's my kind of meal. I love pairing this apple cucumber salad with oven fried chicken breast, Swedish meatballs, ranch chicken, turkey burgers, or crab cakes!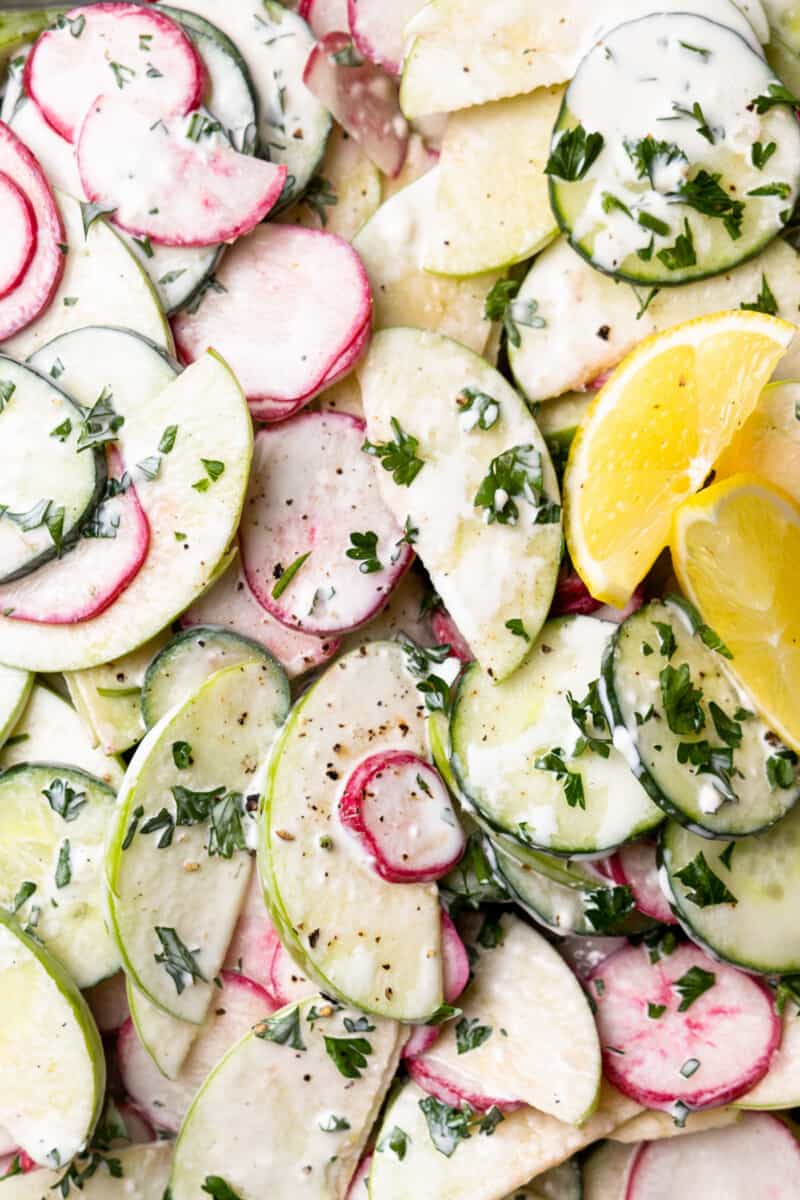 More Cucumber Salad Recipes We Love