This Creamy Cucumber Salad is just the right mix of healthy veggies and delicious flavor. This easy cucumber salad recipe (cucumbers, radishes, and apples) features a tasty cucumber salad dressing made with mayo and apple cider vinegar. It's a fresh and simple salad perfect for any occasion!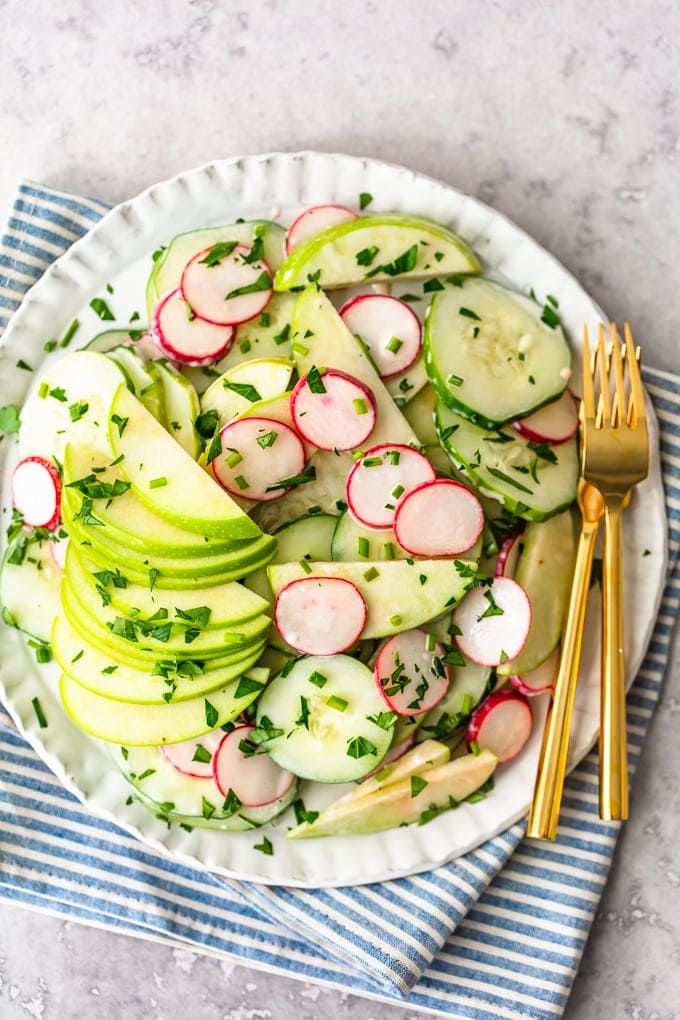 Creamy Cucumber Salad
Creamy cucumber salad with a mayo based cucumber salad dressing makes one fresh and beautiful salad for any occasion!
I'm always amazed by the simplicity of salads. How can something so healthy and so easy taste SO good? Every holiday feast needs to be balanced out with a nice salad, whether it's served before the meal or alongside it. This Creamy Cucumber Salad recipe is a favorite. I love the mix of flavors!
This easy cucumber salad is a mix of cucumbers, apples, and radishes, tossed with the perfect cucumber salad dressing. It's made with mayonnaise, apple cider vinegar, lemon juice, and parsley. It has such a cool and fresh flavor, with just the right kick from the radishes and parsley.
This cucumber apple salad is great for any holiday. I think it's a beautiful Easter salad, but it works just as well on Christmas or Thanksgiving. Any time you need a salad or side dish, this recipe will come in handy!
Make this Creamy Cucumber Apple Salad for any holiday, or any occasion. Simple, fresh, and so delicious!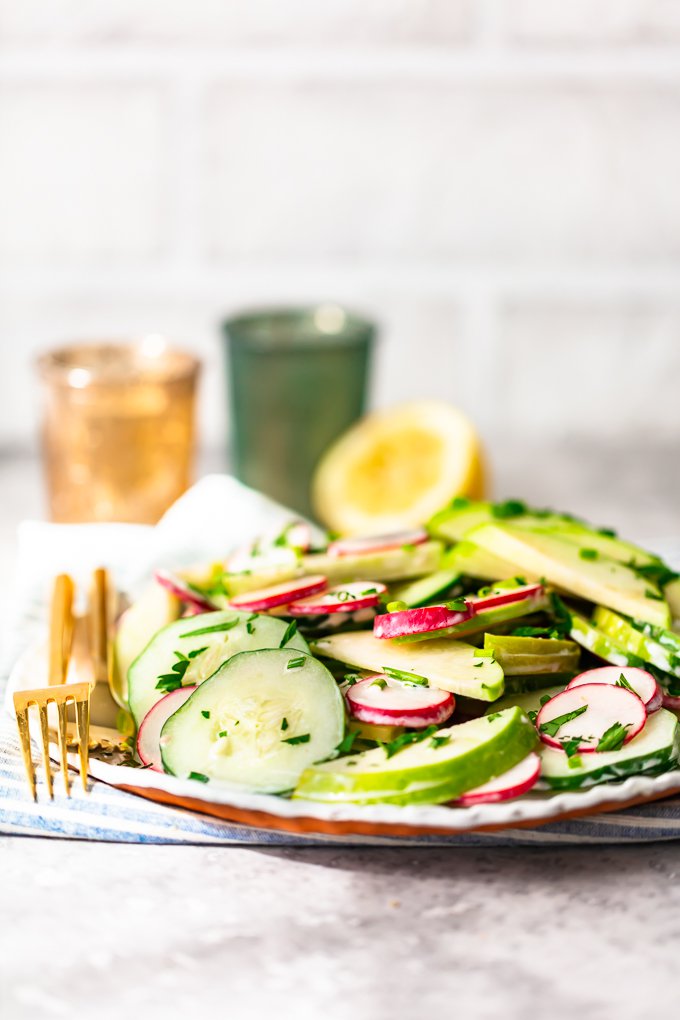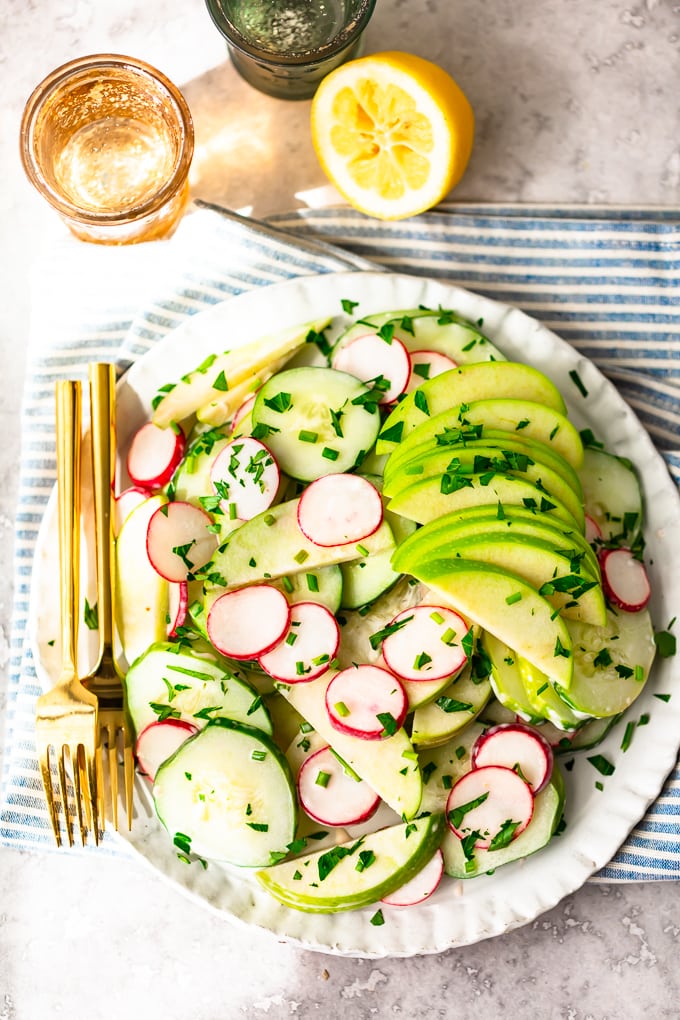 Easy Cucumber Apple Salad Recipe
When it comes to easy recipes, you can't beat a bowl full of fresh produce with a bit of salad dressing. Sometimes I'm surprised by just HOW good a fresh and simple salad can be, but this creamy cucumber apple salad recipe is a big reminder. Cucumbers, radishes, and apples are the perfect mix for this salad, bringing in just enough flavor, freshness, and fun.
A little kick from the radishes, a bitter sweetness from the apples, and a crisp freshness from the cucumbers. I could eat this salad just about any time!
Cucumber Salad Dressing
This creamy cucumber salad would be nothing without the creamy cucumber salad dressing. That's what makes it CREAMY after all. The mix of mayonnaise, apple cider vinegar, and lemon juice gives it a nice blend that perfectly complements that salad without overwhelming it. And the parsley finishes it off so well with that last little kick of flavor it needs.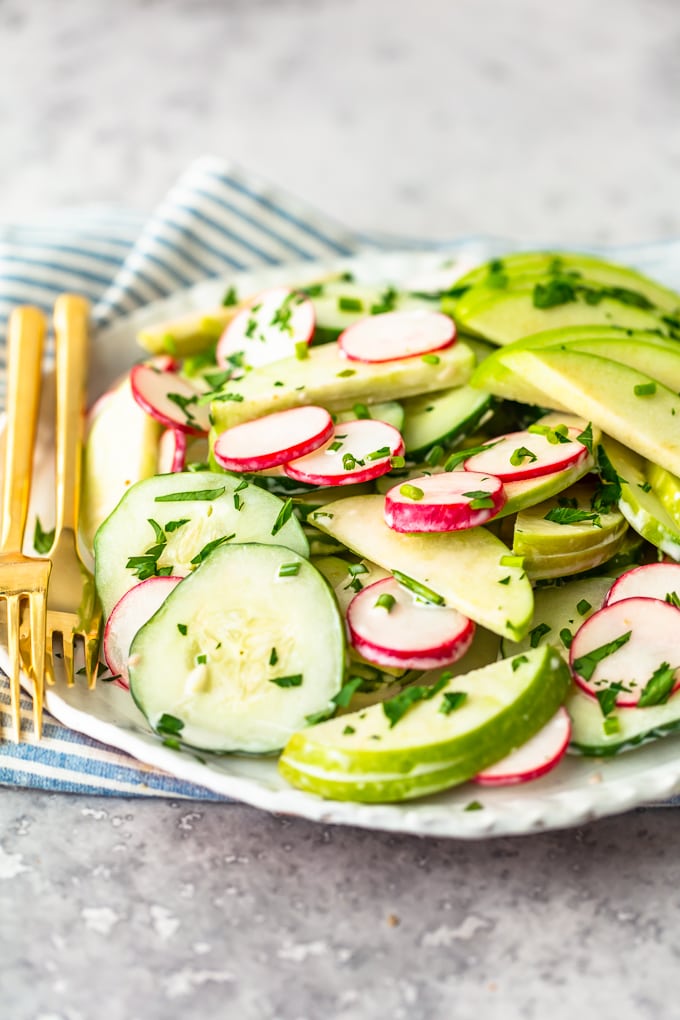 How to Make Cucumber Salad
My very favorite thing about salads is how simple they are. This cucumber apple salad requires almost no thought, no time, and no hassle. What a winning recipe! All you have to do is chop up the cucumbers, radishes, and apples, and mix them together. Then make the cucumber salad dressing by mixing the mayonnaise, apple cider vinegar, lemon juice, and parsley. Lastly, toss the veggies with the dressing, and let it sit in the refrigerate to get cool and crisp before serving.
How long does creamy cucumber salad last?
Unlike regular salads made with greens, this cucumber apple salad holds up quite nicely. To save any leftovers, just store it in an airtight container in the refrigerator. It will keep for a few days just fine. Plus, that gives the cucumbers and apples more time to soak up the flavor of the dressing!
Serving Suggestions
We love a good easy side dish that goes with a good easy main course!! That's my kind of meal. Here are some of my favorite meals to serve with this Apple Cucumber Salad: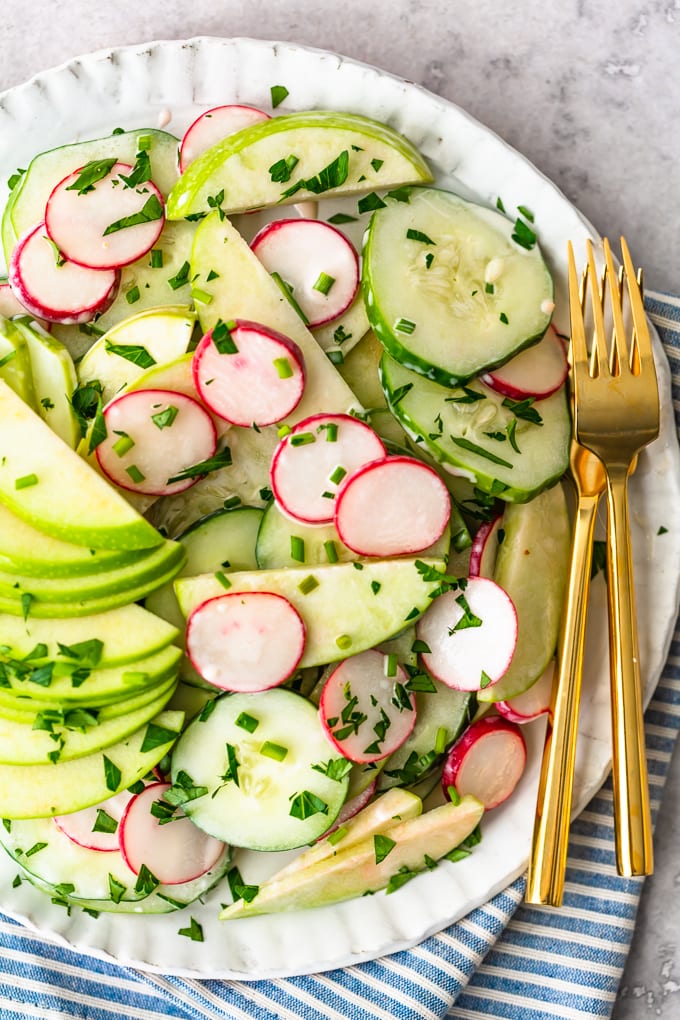 Make this beautiful and delicious Creamy Cucumber Salad for your next holiday gathering. It's the perfect balance to those big holiday feasts, and it's so darn easy to make!
See the recipe card below for details on how to make a Creamy Cucumber Salad. Enjoy!
If you enjoy this cucumber apple salad, try these other tasty salads too: