This Cucumber Tomato Salad recipe is so fresh and simple. It's filled with cucumbers, cherry tomatoes, red onion, and feta, and tossed in a lemon pepper olive oil dressing. It's the perfect healthy summer salad for every occasion!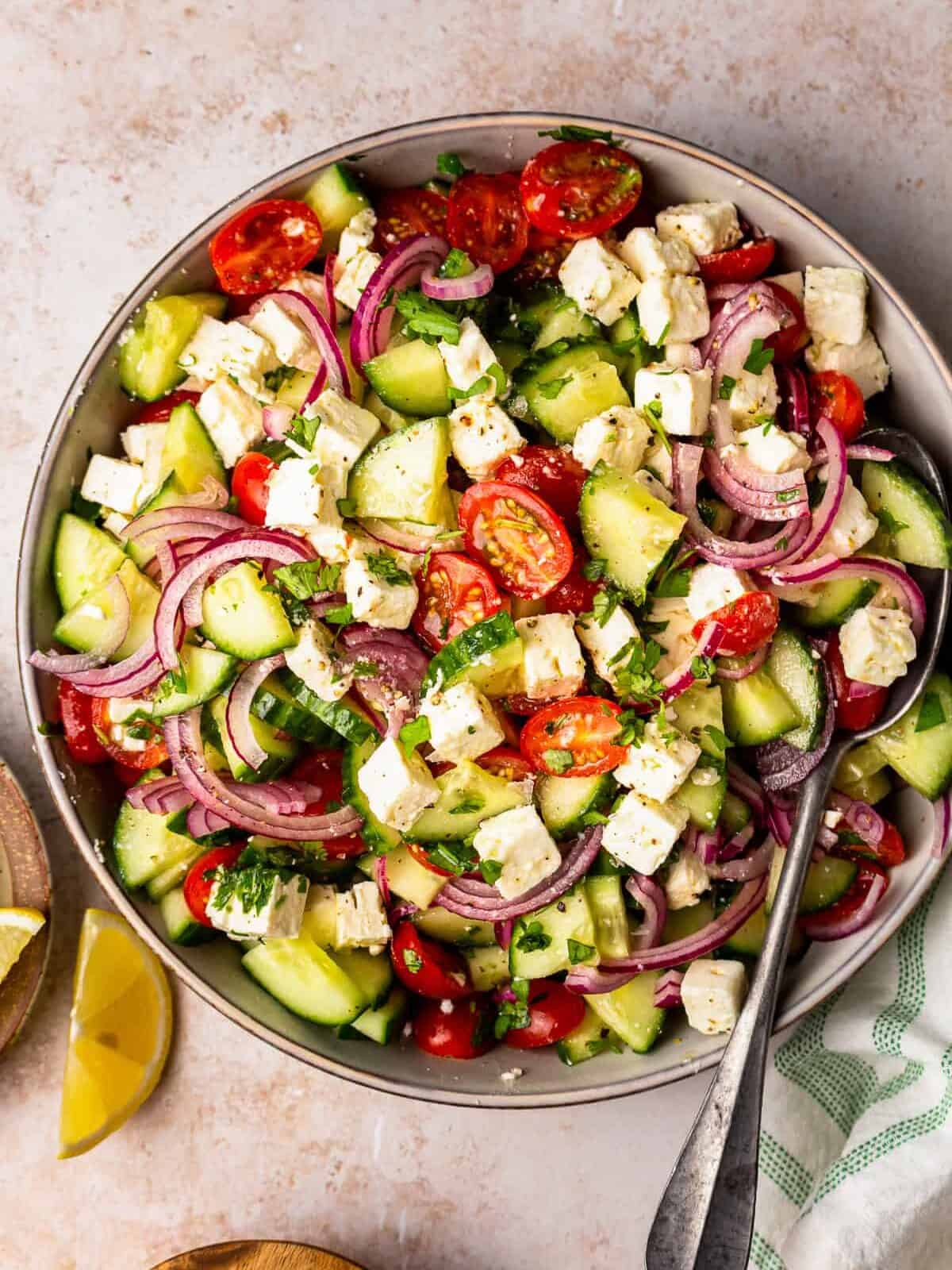 What's in Tomato Cucumber Salad?
Gather up some cucumbers and cherry tomatoes, add some red onion and feta, toss it all in a lemon olive oil dressing, and you've got a great salad ready to go!
Cherry Tomatoes: The perfect size for this salad. Simply cut them in half.
English Cucumber: Has thin skin and doesn't need to be peeled before cutting. Quarter and slice them to make them uniform in size.
Feta Cheese: Adds tanginess and creaminess to the salad. Cube it to match the size of the cucumber and tomato pieces.
Red Onion: Adds a bit of sharpness to the salad. Thinly slice it so it doesn't become overwhelming.
Cilantro: Adds a bit of brightness, color, and herbaceousness to the salad.
Olive Oil: Forms the base of the dressing and makes it rich.
Lemon Juice: Adds a bit of acid to cut the richness of the dressing.
Salt + Pepper: Enhance the flavor of the dressing.
Pro Tip: If you're not a fan of cilantro, swap it out for parsley or basil!
Variations on Cucumber and Tomato Salad
This salad is so simple and delicious! Add some more Mediterranean flair by mixing in some dried oregano, kalamata olives, and bell peppers, and swap the lemon juice for red wine vinegar.
For an Italian-inspired salad, swap out the feta for fresh mozzarella balls, the cilantro for basil, and the lemon juice for balsamic vinegar. Top with freshly shaved Parmesan cheese.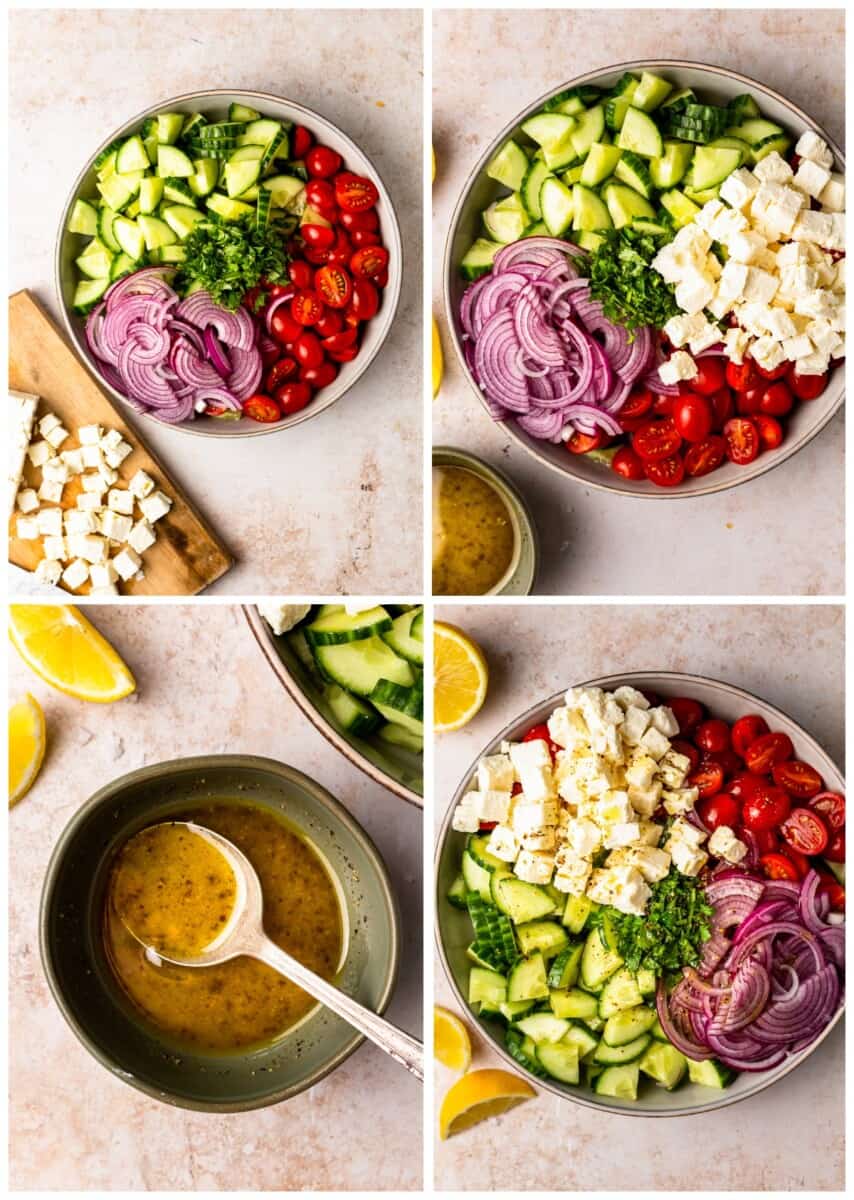 Can I make this salad ahead of time?
Don't dress the salad until you're ready to serve it. Salt draws moisture out of the veggies, so they'll end up soggy the longer they sit. What you can do ahead of time is chop up the veggies and combine the rest of the ingredients together. Keep them in a bowl covered with plastic wrap (or an airtight container) in the fridge, and add in the dressing right before serving. Luckily, this recipe won't take long to make either way, so it's easy to make right when you're ready to eat it.
What kind of dressing goes with cucumber tomato salad?
I made a simple olive oil dressing for this salad. I didn't want to mask the flavor of the cucumbers, tomatoes, and red onion. It's a mix of oil, lemon juice, and salt and pepper. Use Extra Virgin Olive Oil for the dressing.
Should I peel cucumbers for this salad?
I recommend using English cucumbers for this salad so you don't need to peel them! If you use a different type of cucumber with a tough or thick skin, then go ahead and peel it first.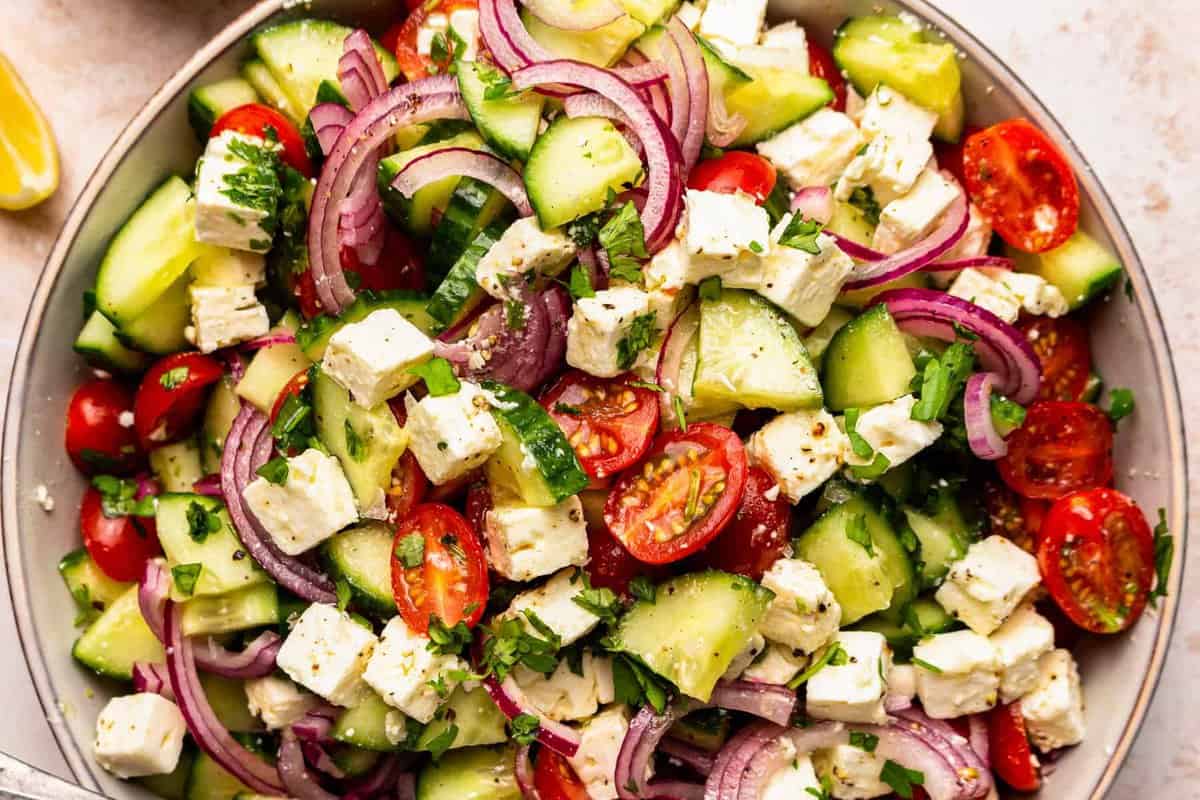 How to Store
Store leftover cucumber tomato salad in an airtight container in the refrigerator for up to 4 days.
Serving Suggestions
This cucumber, tomato, onion, feta salad is simple enough to go with just about everything! It pairs really well with Mediterranean-inspired dishes, like sheet pan Greek chicken, baked pesto salmon, or orzo salad. It also plays well with the flavors of grilled flank steak, cilantro lime salmon, or baked feta pasta.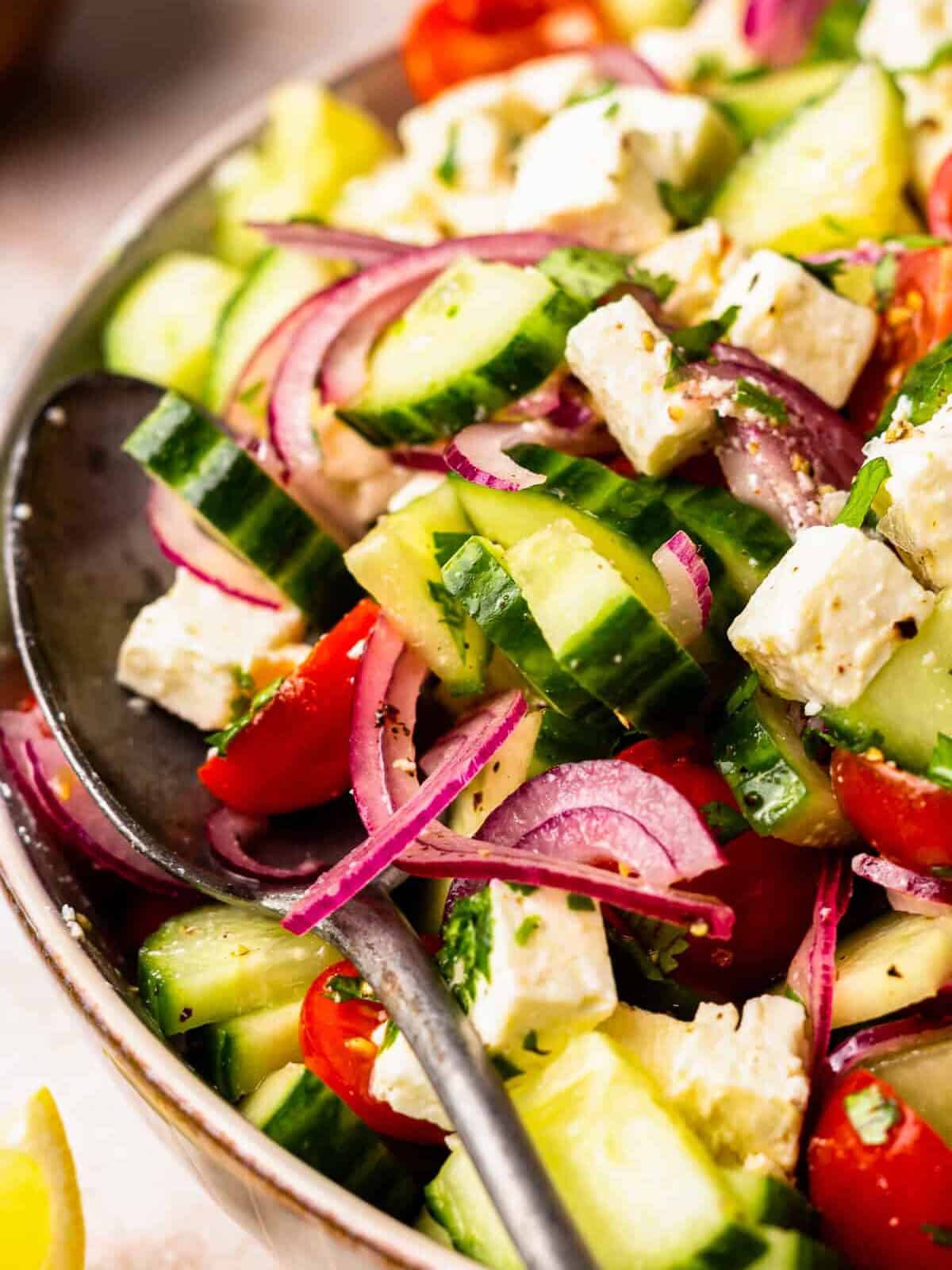 More Cucumber Salad Recipes We Love