Three Cheese Asparagus Gratin is a delicious side dish perfect for holidays or any weeknight meal! Asparagus under a creamy blanket of a blend of cheeses. What could be better than cheesy asparagus?! This easy asparagus recipe just too good not to try!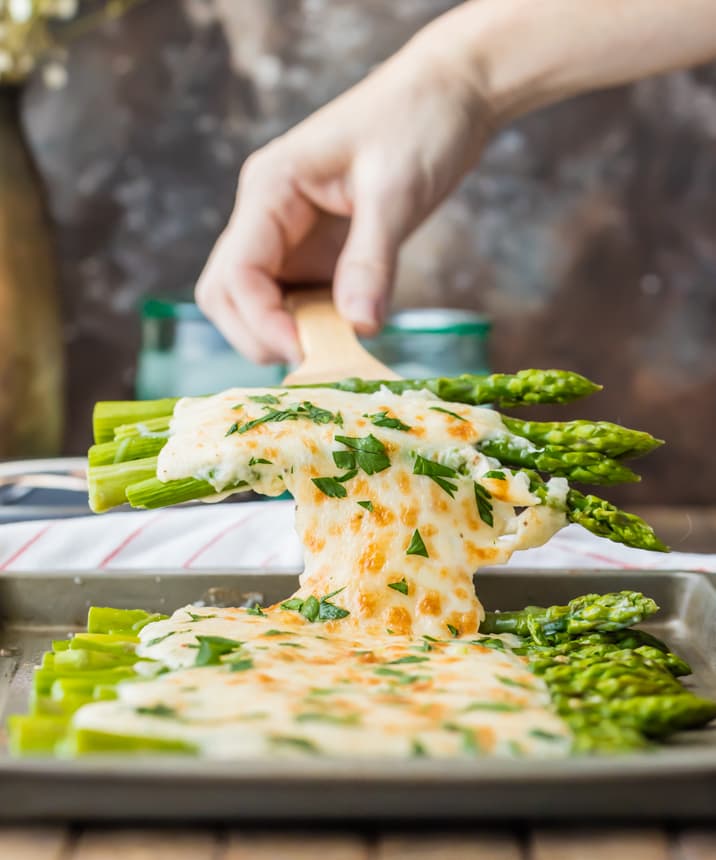 Easy Cheesy Asparagus Recipe
Three Cheese Asparagus Gratin is one of my fave veggie side dishes. This easy asparagus recipe is so cheesy, I never get tired of eating it!
Raise your hand if you love cheese. Like…LOVE CHEESE. For me, it doesn't get better than an easy, cheesy recipe. Pat keeps trying to tone down my cheesiness (in more ways than one), but I'll never give it up. Give me ALL of the cheese please!
I like my vegetables best when covered in a blanket of cheese, so this Three Cheese Asparagus Gratin is truly my kind of side dish. A blend of cheeses melted onto asparagus…it tastes amazing and it couldn't be easier to make. This is what I want on my Thanksgiving table, served along all of my other favorite holiday recipes. But it's just as good for a simple weeknight dinner, and it makes one delicious appetizer too. There's never a bad time for cheesy asparagus!
If you need a good veggie side dish (for Thanksgiving, Easter, or any other day), look no further than Three Cheese Asparagus Gratin. It's simple, it's tasty, and it's got everything you need. A nice balance of healthy vegetables and…less than healthy (but well worth it) amounts of cheese!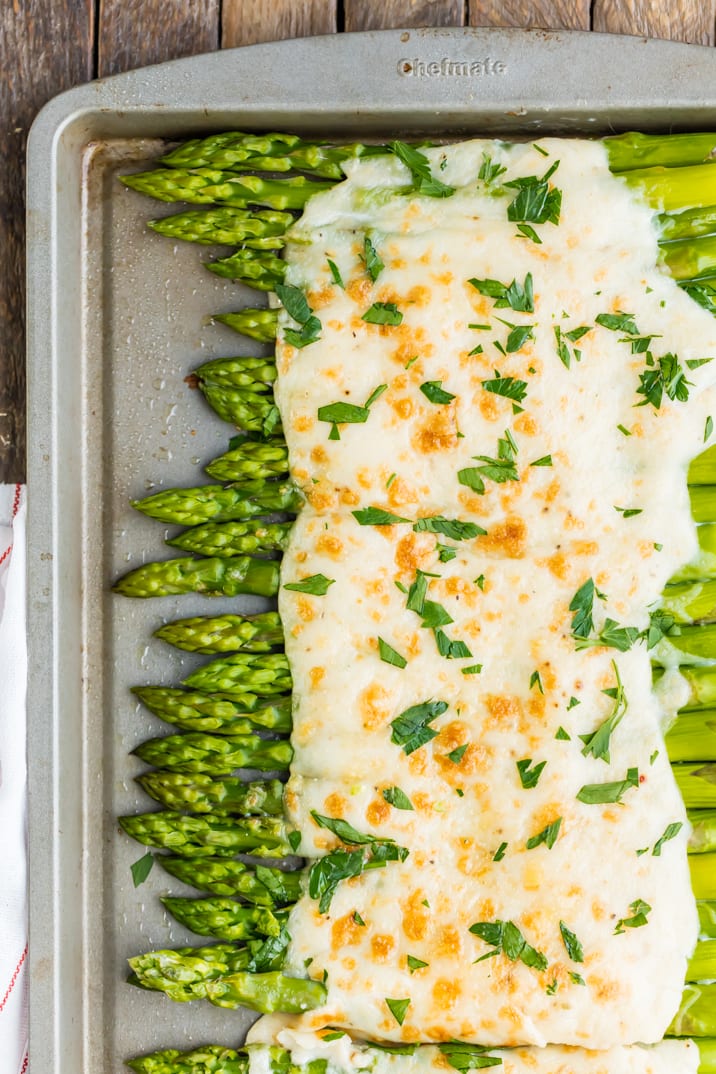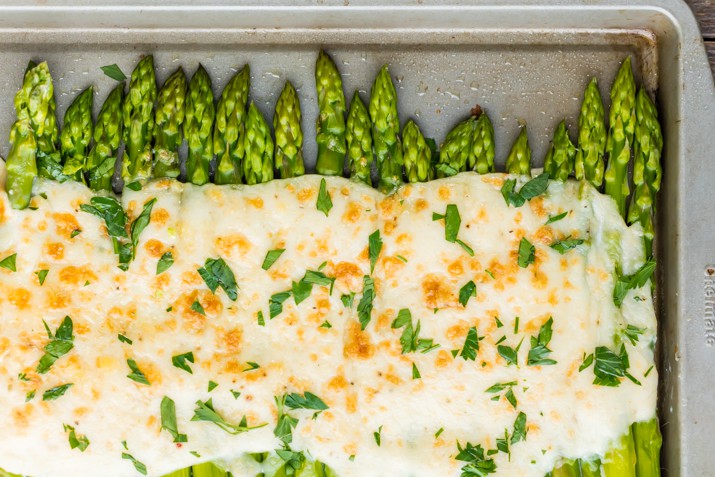 Cheesy Asparagus Recipe
I'm kind of jealous of this asparagus, sitting pretty under the perfect cheese blanket. That looks like a good place to be…I'm a little bit obsessed with this cheesy asparagus recipe. It's so warm, so delicious, so full of flavor…Three Cheese Asparagus Gratin really is the perfect side dish.
I'd eat this with anything and everything, for ever meal imaginable. I'm going to use girl code and assume that because it's an asparagus recipe…it's healthy. Right? Well in any case, it's yummy. You're going to love it!
More Easy Asparagus Recipes
Apart from how much I love the cheese in this recipe, I also love just how easy it is. This Three Cheese Asparagus recipe will be on my Thanksgiving table, I guarantee that! It's made in minutes, totally fool-proof, and sure to please.
Asparagus is becoming one of my favorite veggies. Every time I make it, I start thinking of more ways to use it! Some of my favorite easy asparagus recipes are: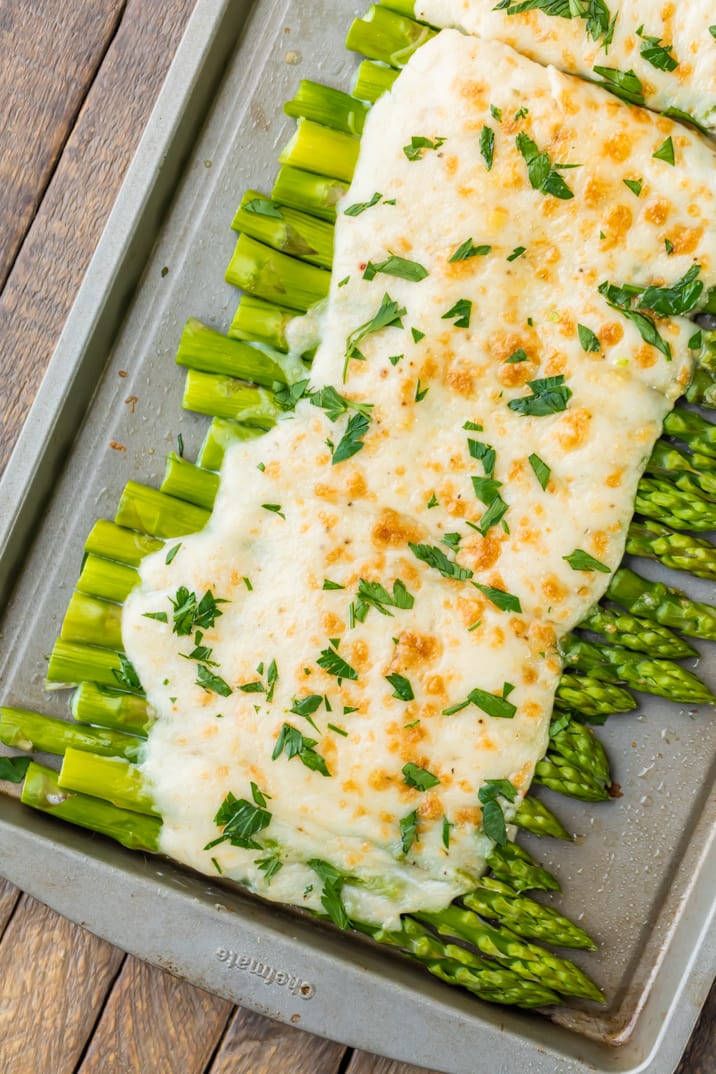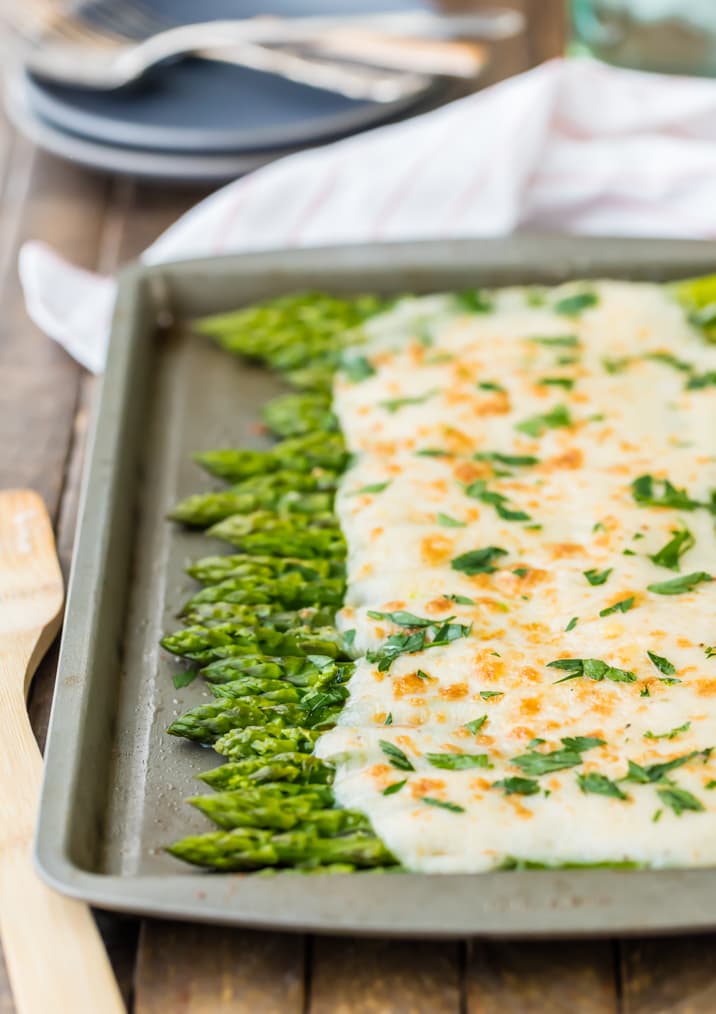 How to Make Three Cheese Asparagus Gratin
How easy is this recipe? Cook the asparagus in a skillet, throw it on a baking sheet, cover it in loads of cheese, and broil it to make it all melty. That's the gist of it, which means it's simple enough to make pretty much any time. We've got mozzarella, asiago, and parmesan mixed together on top of the asparagus, and it brings so much flavor. It's literally a blanket of cheese, and I couldn't be more happy about it.
I love this easy side dish recipe for Thanksgiving, because there's never enough time for everything. Having simple recipes that can just be thrown together without much hassle are exactly what you need. But I also love making this three cheese asparagus gratin for simple dinners or fun appetizers. You can't go wrong with this veggie dish!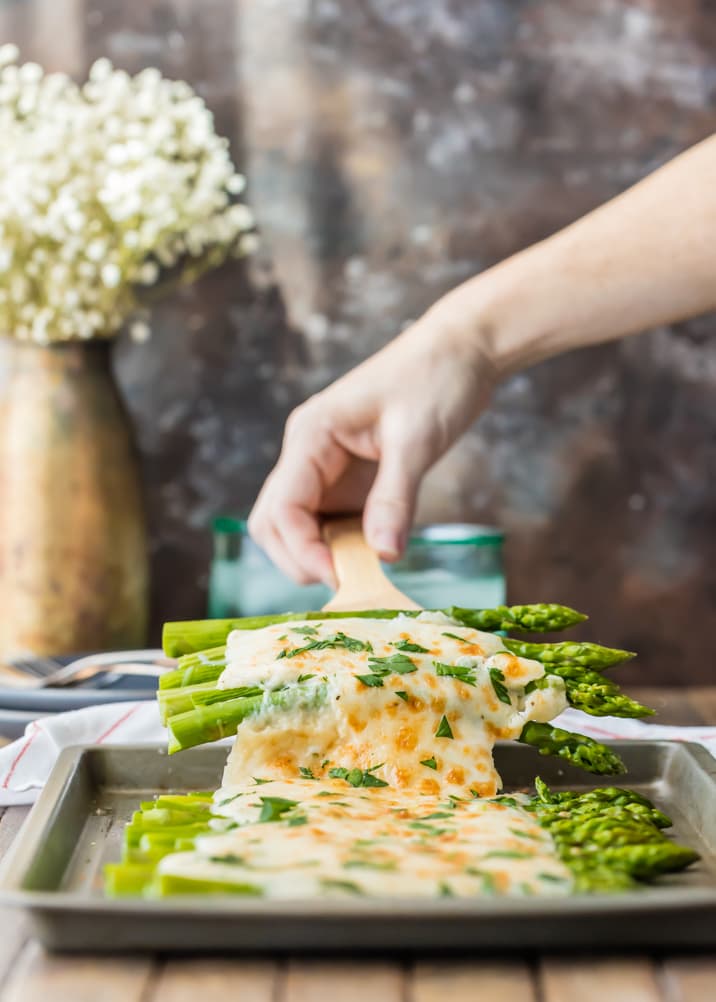 We made this cheesy asparagus last Thanksgiving and my Father in Law had asparagus (and actually loved it!) for the first time. What a success! Any day I can get someone to try a new veggie is a good day. Three Cheese Asparagus Gratin for the WIN! (If anyone manufactures a cheese blanket for humans…let me know! I'll invest!)
See the recipe card below for details on how to make Three Cheese Asparagus Gratin. Enjoy!
If you like this easy asparagus recipe, try these other delicious vegetable dishes too: