These Crockpot Stuffed Peppers are stuffed with savory ground beef, tender rice, delicious spices, and cheesy mozzarella. Easy and delicious, these stuffed peppers will be your new favorite weeknight meal.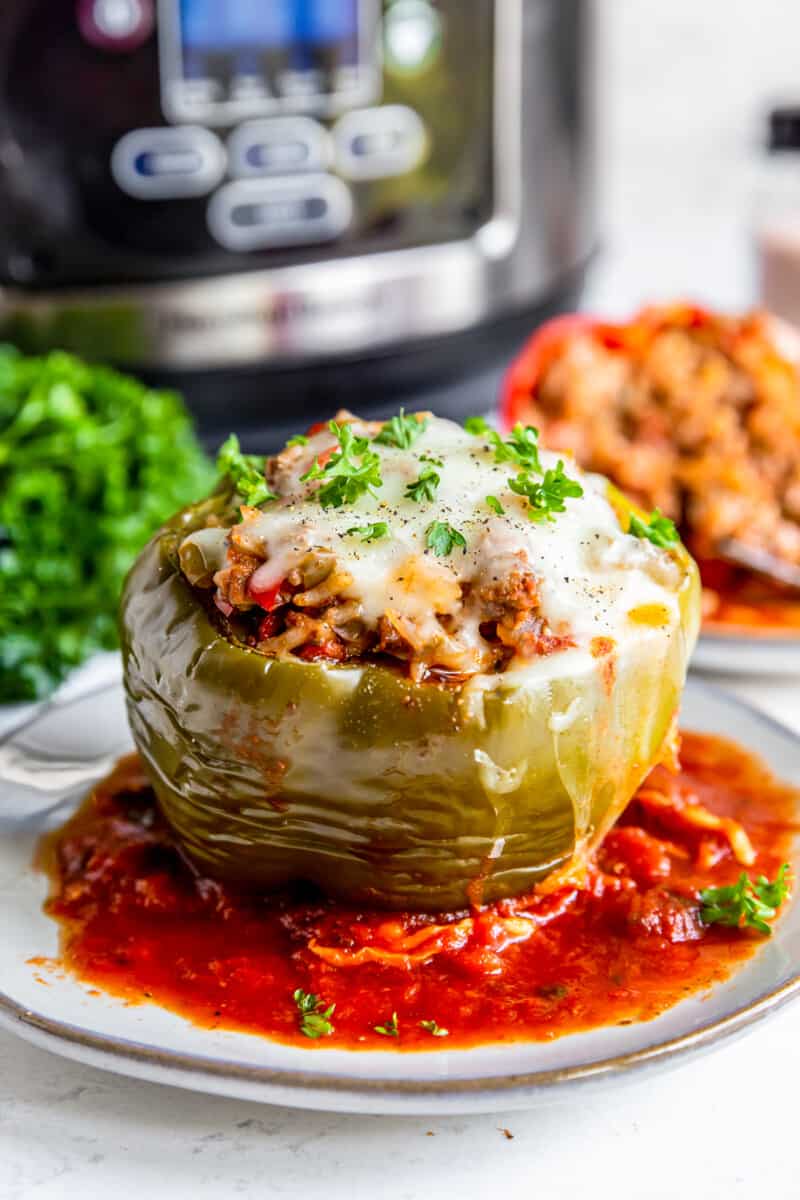 Crockpot Stuffed Pepper Recipe
I love using my crock pot, especially in the fall and winter months. However, stews and chilis can get boring really quickly, and these easy crockpot stuffed peppers are a change from the usual crockpot recipes.
With just a little prep work, you can come home to a hearty, healthy meal with aromas that fill the entire house. They are the perfect all-in-one meal!
Why you'll love this Slow Cooker Stuffed Peppers recipe:
Easy dinner idea: With just a little prep work, you can pack these stuffed peppers in the crockpot and come home to dinner ready to go for an easy dinner option.
Simple ingredients: You won't need to scour the grocery store looking for what you need because this recipe is made with simple ingredients.
Delicious and nutritious: Fresh peppers packed with protein, rice, cheese, and delicious spices, these stuffed peppers are not only delicious, but nutritious too!
Packed with a variety of different foods, these crockpot stuffed peppers add flavor, texture and variety to your dinner ideas.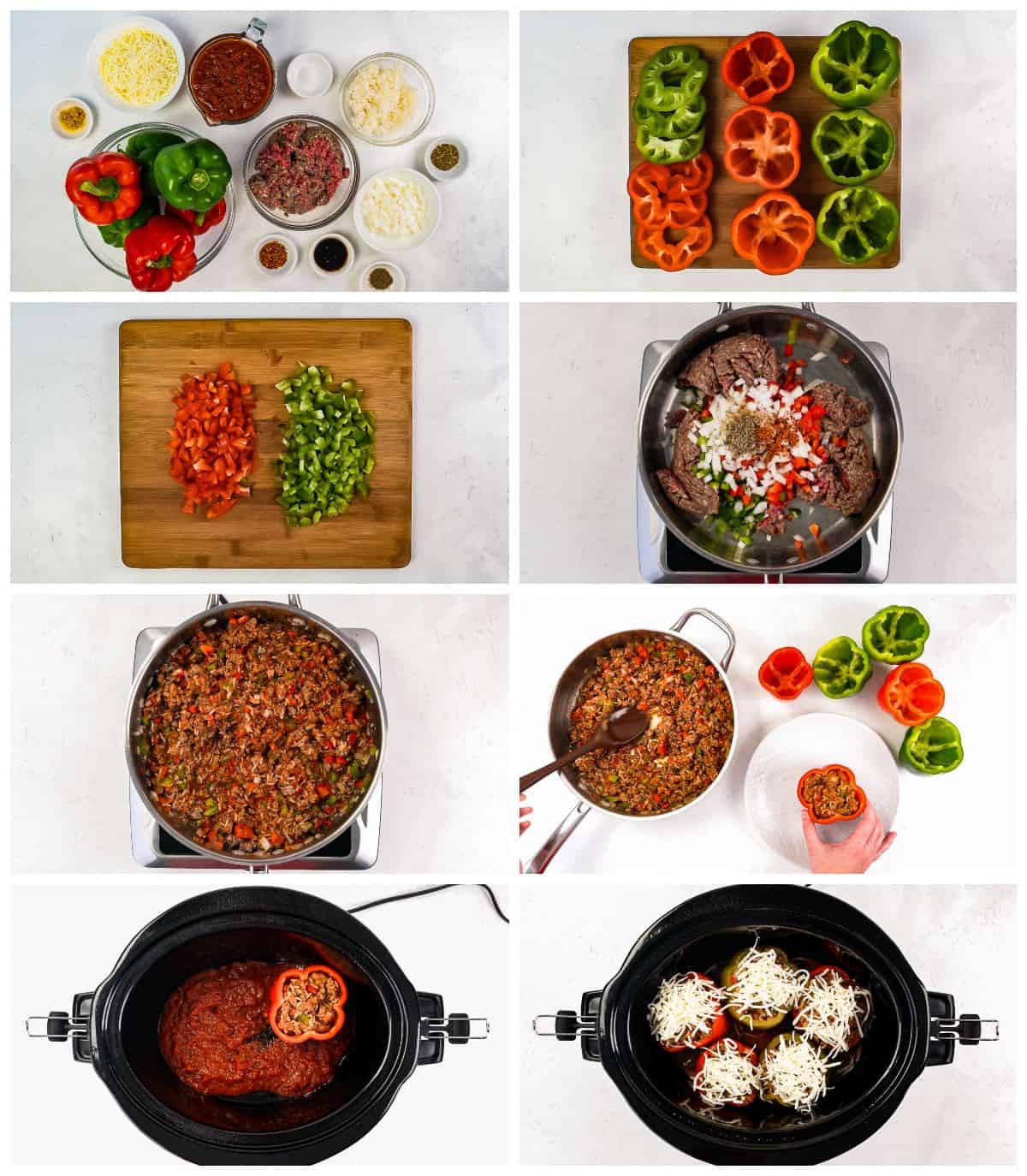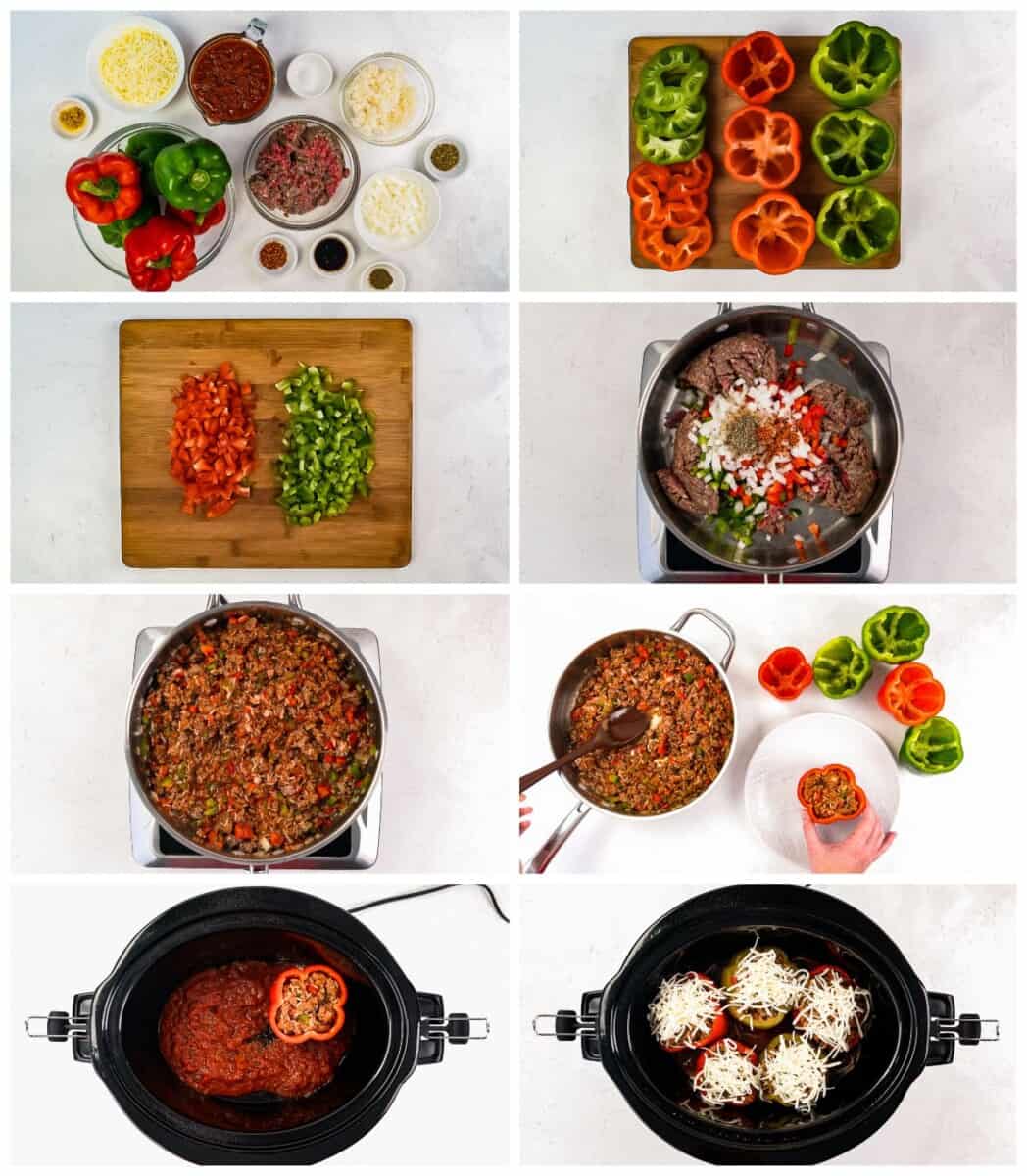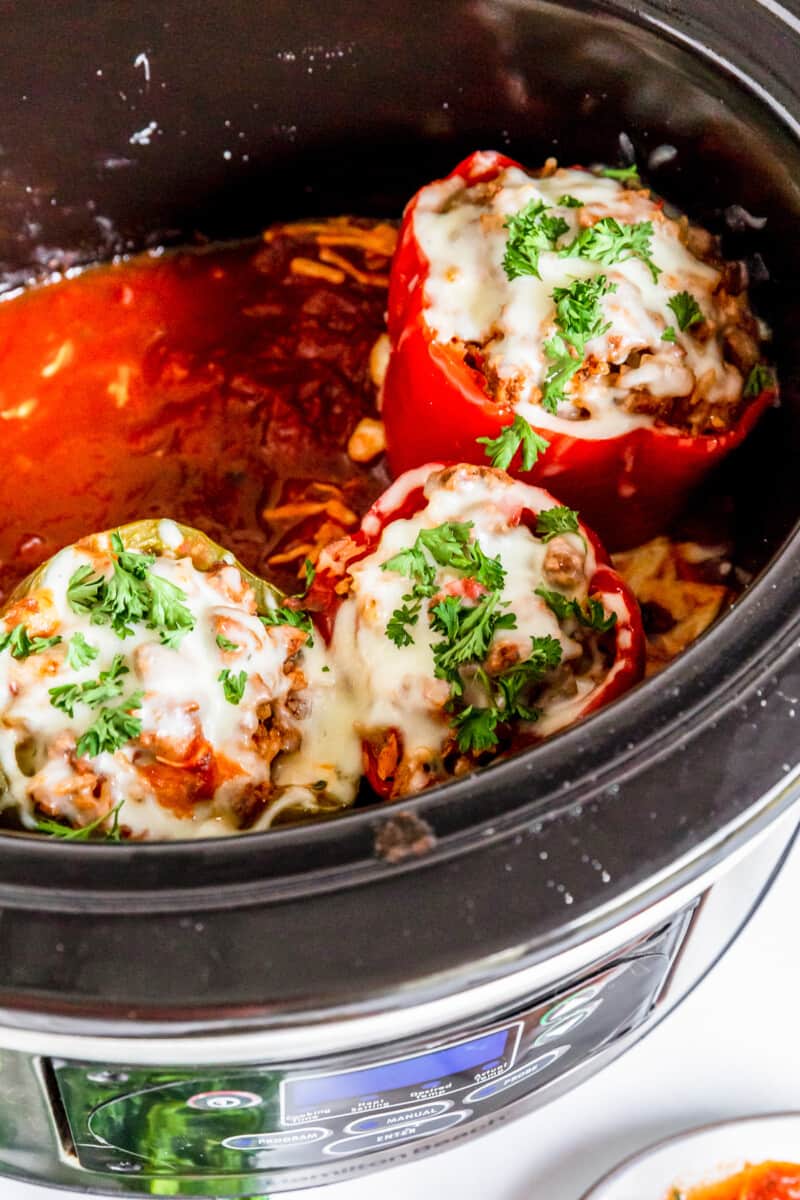 How to make Stuffed Peppers in a Crock Pot
You can jump to the recipe card for full ingredients & instructions!
First, spray the inside of the crock of a slow cooker with cooking spray.
Cut the tops of the bell peppers off. Set the whole peppers aside for stuffing. Then, dice the tops of all 6 bell peppers.
Add beef, diced peppers, onion, garlic, worcestershire sauce, italian seasoning, salt, red pepper, and black pepper to a large skillet. Cook over medium high heat until the beef is fully cooked.
Next, stir in the rice. Then add 1 ¼ cups of marinara sauce and stir to coat. Remove the pan from the heat.
Pour the remaining marinara in the bottom of the slow cooker.
Stuff each pepper with the beef-rice mixture, and place them upright in the slow cooker.
Slow cook the stuffed peppers on low for 4-hours or high for 2-hours. Sprinkle with cheese, close the lid and let the cheese melt for 5-10 minutes.
Serve garnished with parsley.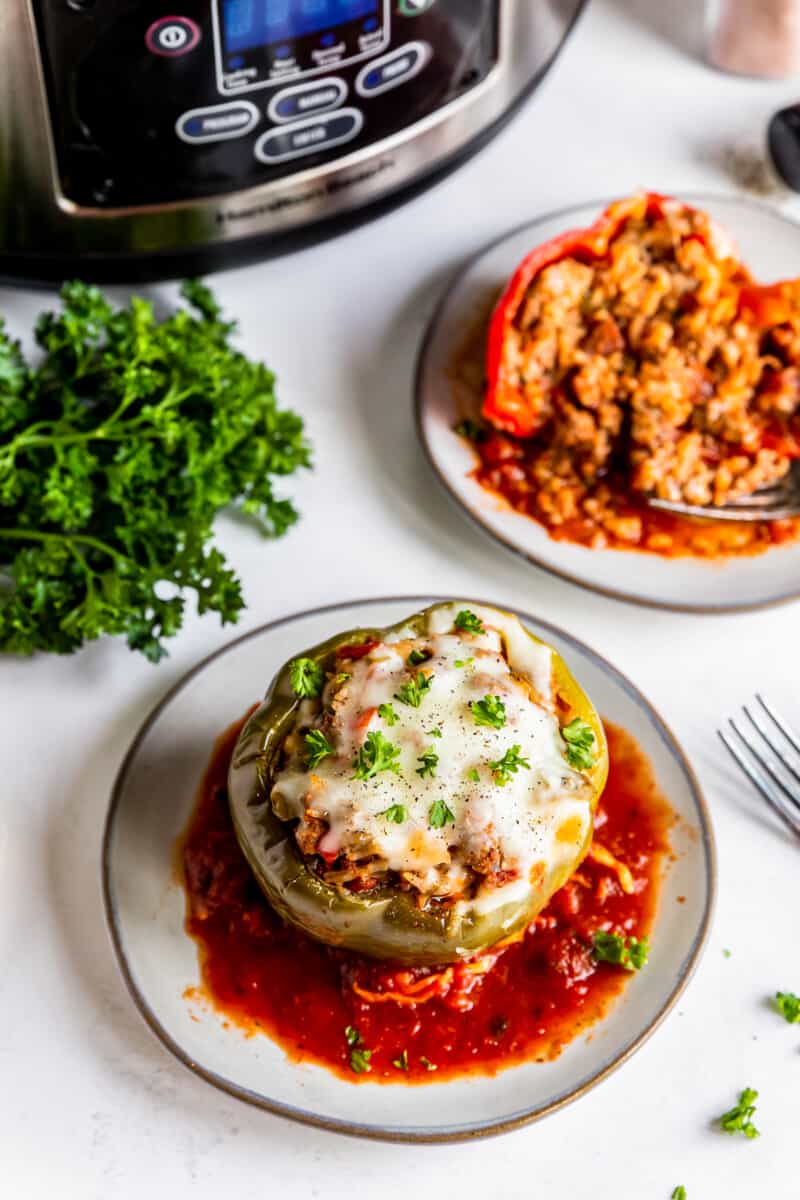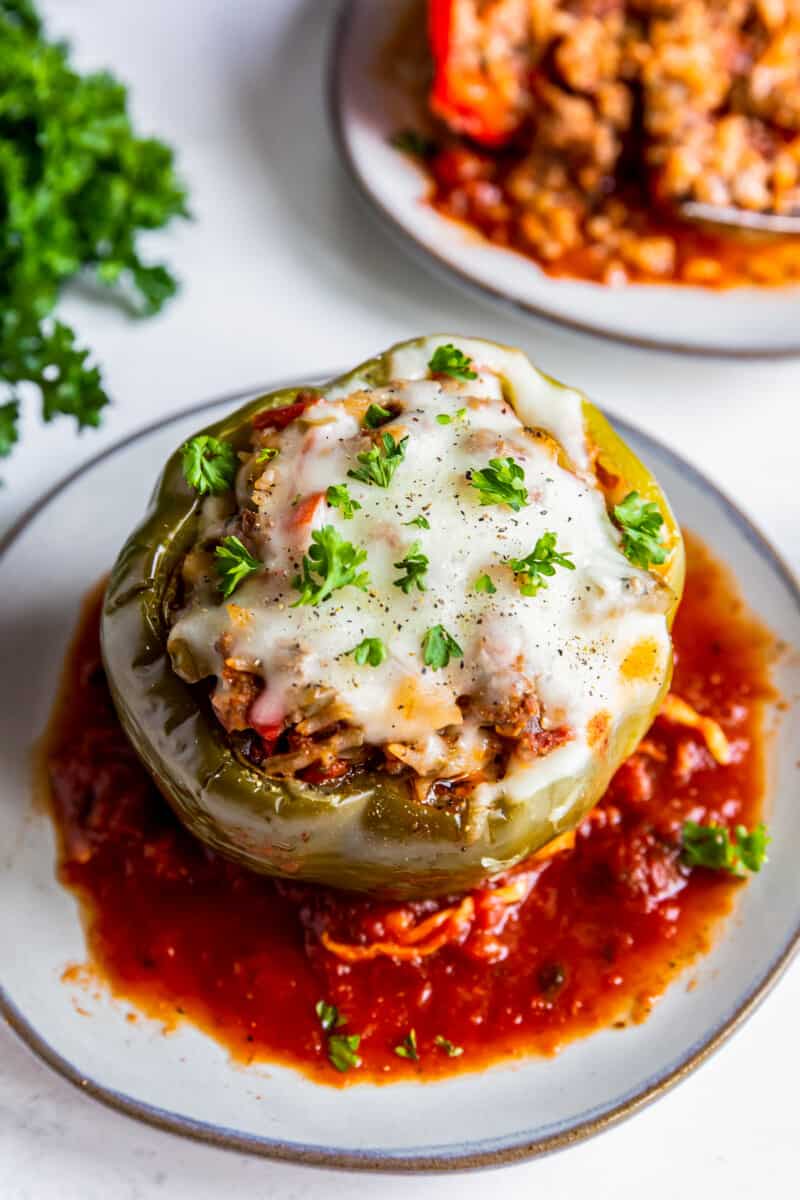 Do you have to boil peppers before stuffing them?
No, you don't. The beauty of using your crockpot for stuffed bell peppers is that you don't have to boil the peppers first.
Do you have to precook the meat for stuffed peppers?
For this recipe, we precooked the ground beef before stuffing the peppers. You can stuff the peppers without cooking the meat, but you will need to cook the peppers for a longer period of time. If you choose not to brown the meat, cook your stuffed peppers on low for 6-8 hours or on high for 4-6 hours. The internal temperature should reach 160 degrees F, regardless of which cooking method you use.
How long do you cook stuffed peppers in the crock pot?
These stuffed bell peppers can be slow cooked in your crockpot on high for 4 hours, or on low for 2 hours. Prep work will take about 20-minutes. So, you can have dinner done in 2 ½ hours or 4 ½ hours.
How do you store leftovers?
You can store stuffed peppers in a tupperware dish with a lid, and put them in the refrigerator. Stuffed peppers are good for 3-5 days in the fridge. Additionally, these freeze beautifully in individual freezer bags for a quick and easy lunch or dinner. Stuffed peppers will last in the freezer for 2-3 months.
Serving Suggestions
These crock pot stuffed peppers are the perfect all-in-one meal! With a variety of different foods stuffed into one pepper, you really don't need any additional sides. However, you can't go wrong with the following sides:
Stuffed peppers are delicious all on their own, but a couple sides really amps up your dinner! Serve them with breads, salads, or potatoes.
More Crockpot Recipes to Try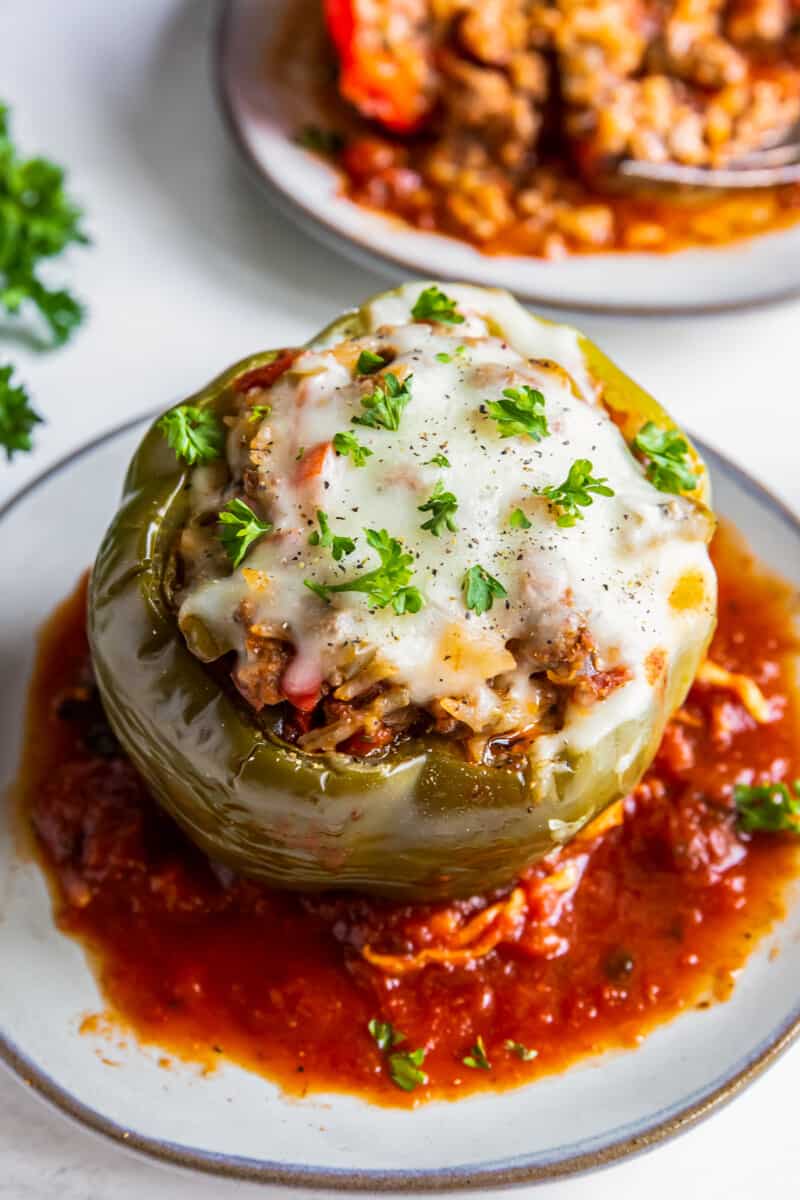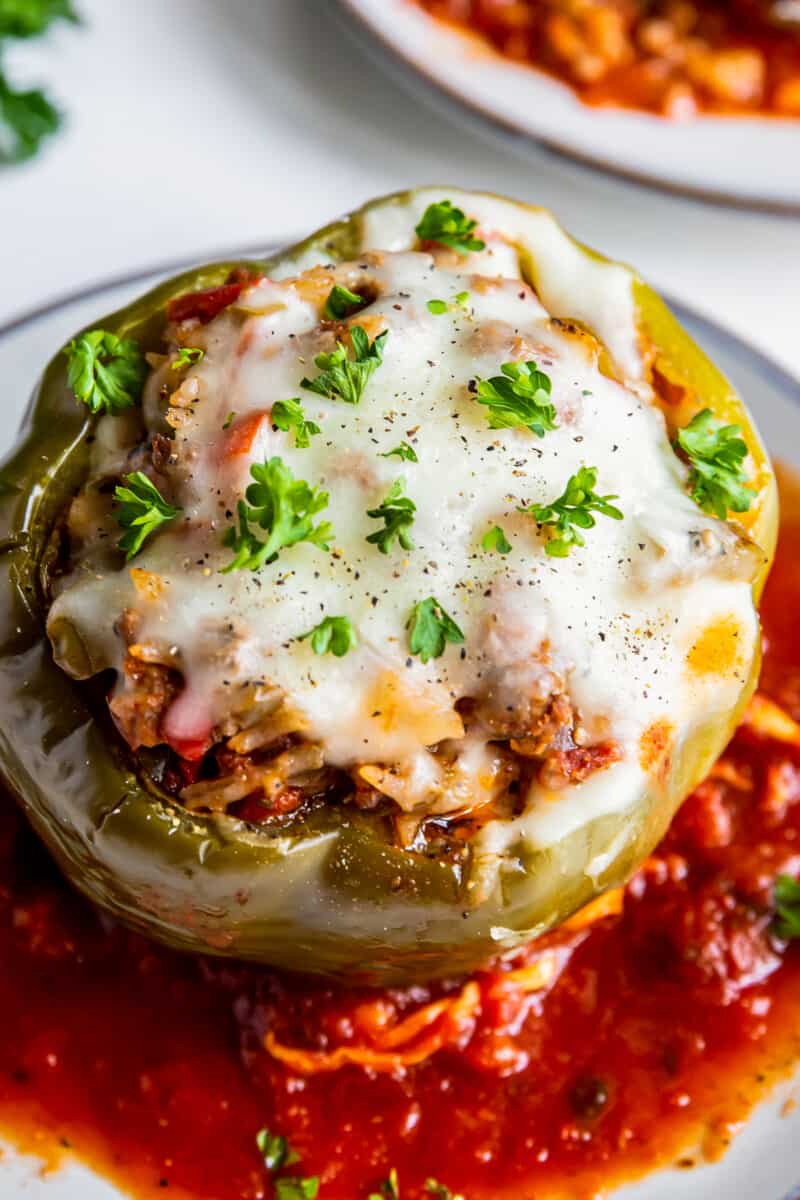 Tips!
When purchasing peppers, look for shiny, brightly colored, unblemished peppers with firm sides.
Use a paring knife, which is smaller to carefully remove all of the seeds.
You can top your peppers with any type of good melting cheese you like. Mozzarella, Jack, or if you like things spicy, pepper jack are all good options.
If you're looking for variety in your weekly dinners, this crockpot stuffed peppers recipe is just what you need. It's quick, easy, and delicious! Let us know how you liked them in the comments below!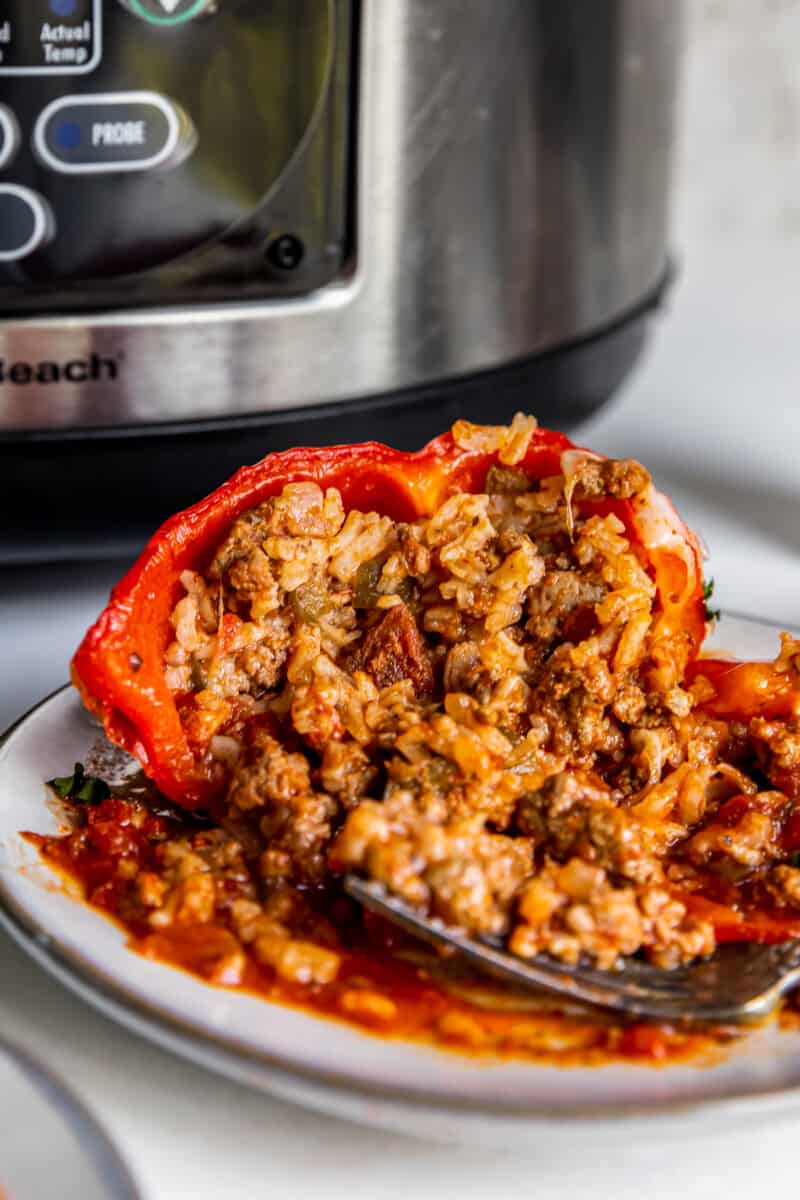 Wrap up paragraph closing out the recipe keywords etc.
If you make this recipe be sure to upload a photo in the comment section below or leave a rating. Enjoy! You can also jump to recipe.