Liven up your meals with these delicious Mexican zucchini boats. Loaded with seasoned beef, beans, and veggies, they're packed full of flavor and so easy to make!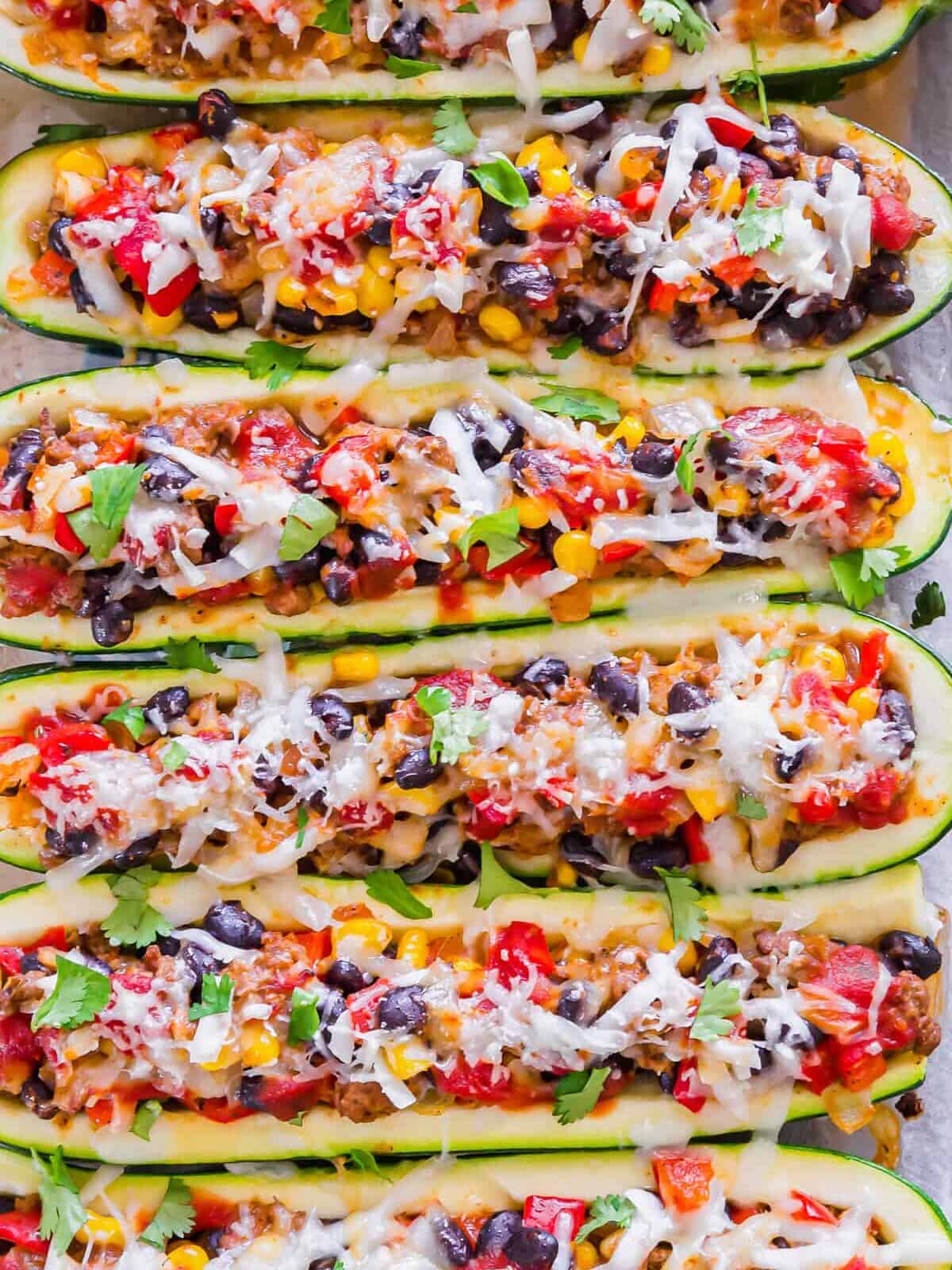 What's in Mexican Stuffed Zucchini?
Made with fresh veggies and natural ingredients, these zucchini boats are high in protein, making for a healthy ground beef recipe. Everyone will love the bright Mexican flavors, and you'll love all the healthy ingredients!
Zucchini: Look for similarly-sized medium or large zucchini so they cook evenly in the oven.
Olive Oil: Helps the beef brown without burning,
Ground Beef: I like 90% lean ground beef, but you can use fattier beef. Just be sure to drain off the excess fat to prevent soggy zucchini boats.
Onion: Adds a mild earthy and sweet flavor.
Bell Pepper: Mild, sweet, and crunchy! I like red for the pop of color, but yellow, orange, or green would also work.
Garlic: Enhances the earthy flavors of the veggies.
Black Beans + Corn: Classic Mexican flavor staples that bulk up these zucchini boats to make them super filling!
Spices: Cumin, chili powder, salt, and oregano add Mexican flair to these taco boats!
Salsa: Adds zesty freshness!
Cheese: Creamy, gooey cheese holds the filling together. I like Mexican blend or cheddar, but feel free to use your favorite!
Pro Tip: Don't scoop out the zucchini all the way to the skin. Leave a bit of flesh to support the filling.
Variations on Stuffed Zucchini with Ground Beef
There are so many ways to change up these zucchini boats to suit your personal tastes. You could swap the ground beef for ground chicken or turkey, or you could make them vegetarian and simply add more of your favorite diced vegetables, like squash, tomato, mushroom, or peas.
For spicier zucchini boats, add some cayenne pepper to the ground beef or add some diced jalapeños to the filling. You could also swap out the cheese for pepper jack.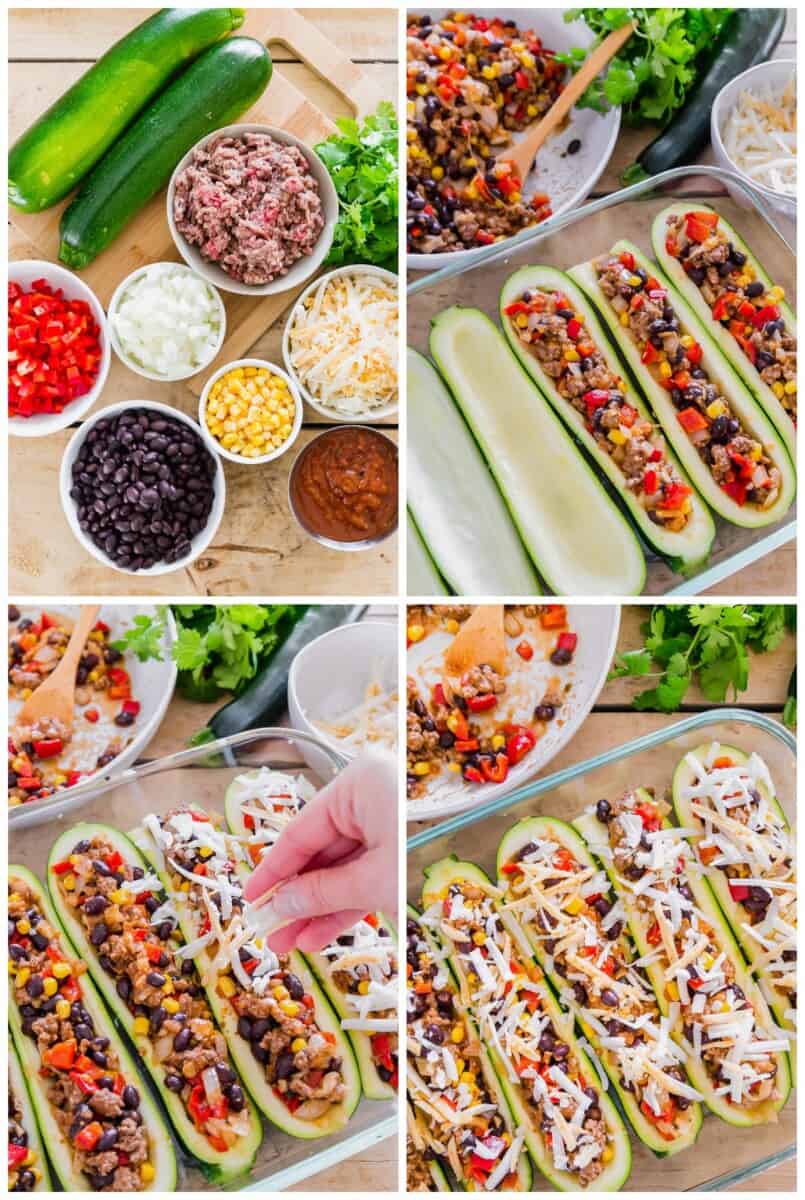 Can you make them ahead of time?
These Mexican stuffed zucchini boats are great to make ahead. You can make the beef filling 2 or 3 days ahead of time and keep it covered in the fridge until you are ready to use it. It's best not to cut and fill the zucchini more than a day ahead of time, or they can start to brown.
Should I peel the zucchini?
There's no need to peel the zucchini in this recipe. The skin is delicate, so it is easy to slice right through. Plus, it contains a lot of nutrients!
Are Mexican zucchini boats keto?
Unfortunately, as written, this recipe is not keto-friendly. Beans and corn do not fit into the keto diet.
How do you reheat them?
Cooked zucchini boats will keep well in the fridge for a couple of days. You can quickly heat them through in the microwave, but the zucchini can get a little mushy this way. I prefer to heat them in the oven at 350°F for 10 minutes, then place them under the broiler to finish them off.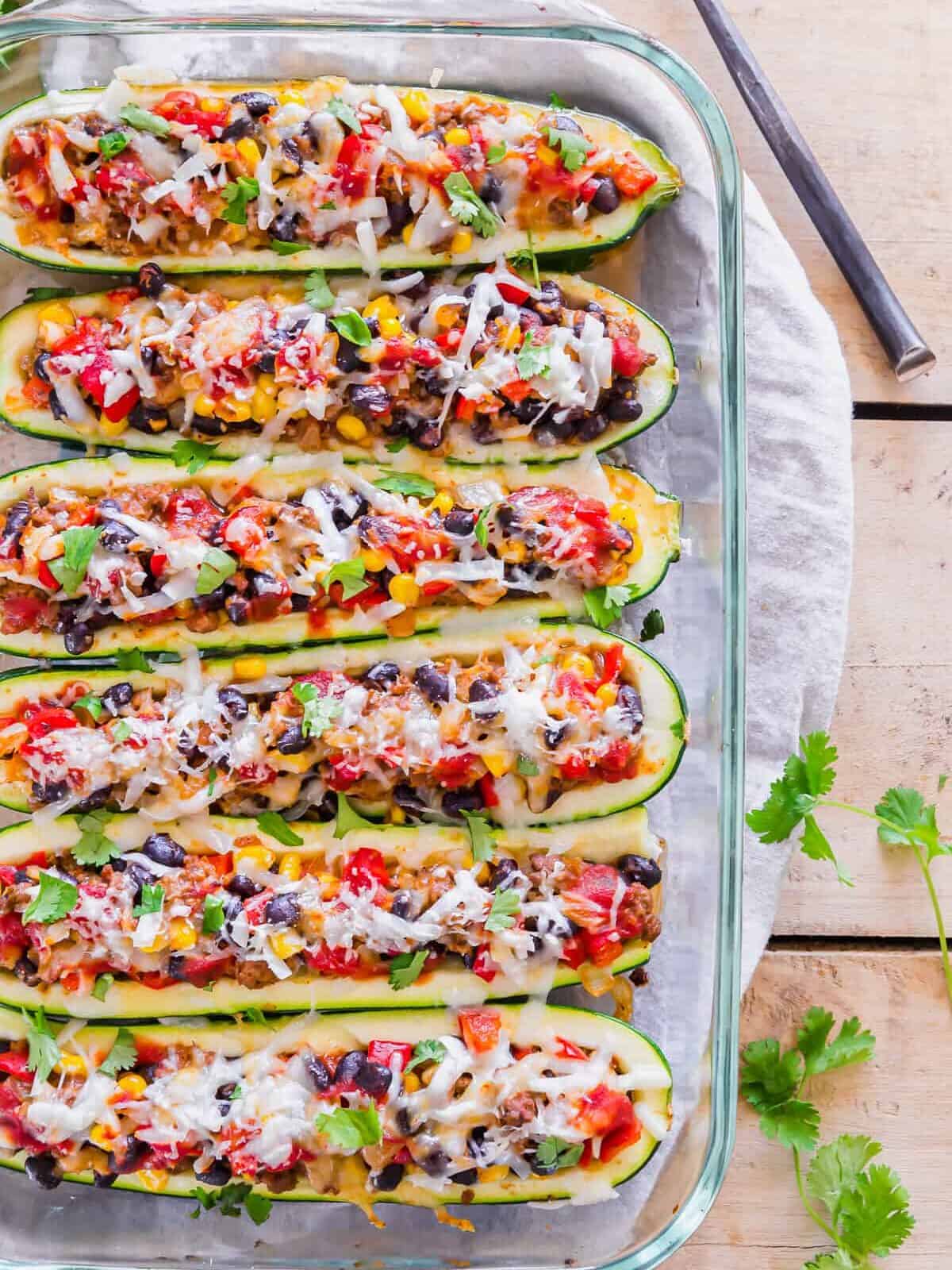 How to Store and Reheat
Store leftover Mexican zucchini boats in an airtight container in the refrigerator for up to 4 days. Reheat in the microwave in 30-second intervals until warmed through or in a 350°F oven for about 10 minutes. You can broil the boats for extra melty cheese.
How to Freeze
Freeze Mexican zucchini boats in a single layer on a lined baking sheet until solid, about 1-2 hours. Tightly wrap each boat in plastic wrap before placing them in a large Ziplock bag to store for up to 3 months. Let thaw overnight in the refrigerator before reheating.
Serving Suggestions
These zucchini boats are great with more than just salsa and cilantro. Top them with sour cream, guacamole, or pico de gallo! They pair great with cilantro lime rice, basmati rice, or a healthy quinoa salad. Street corn pasta salad, Parmesan roasted potatoes, or a crisp taco salad would also be delish!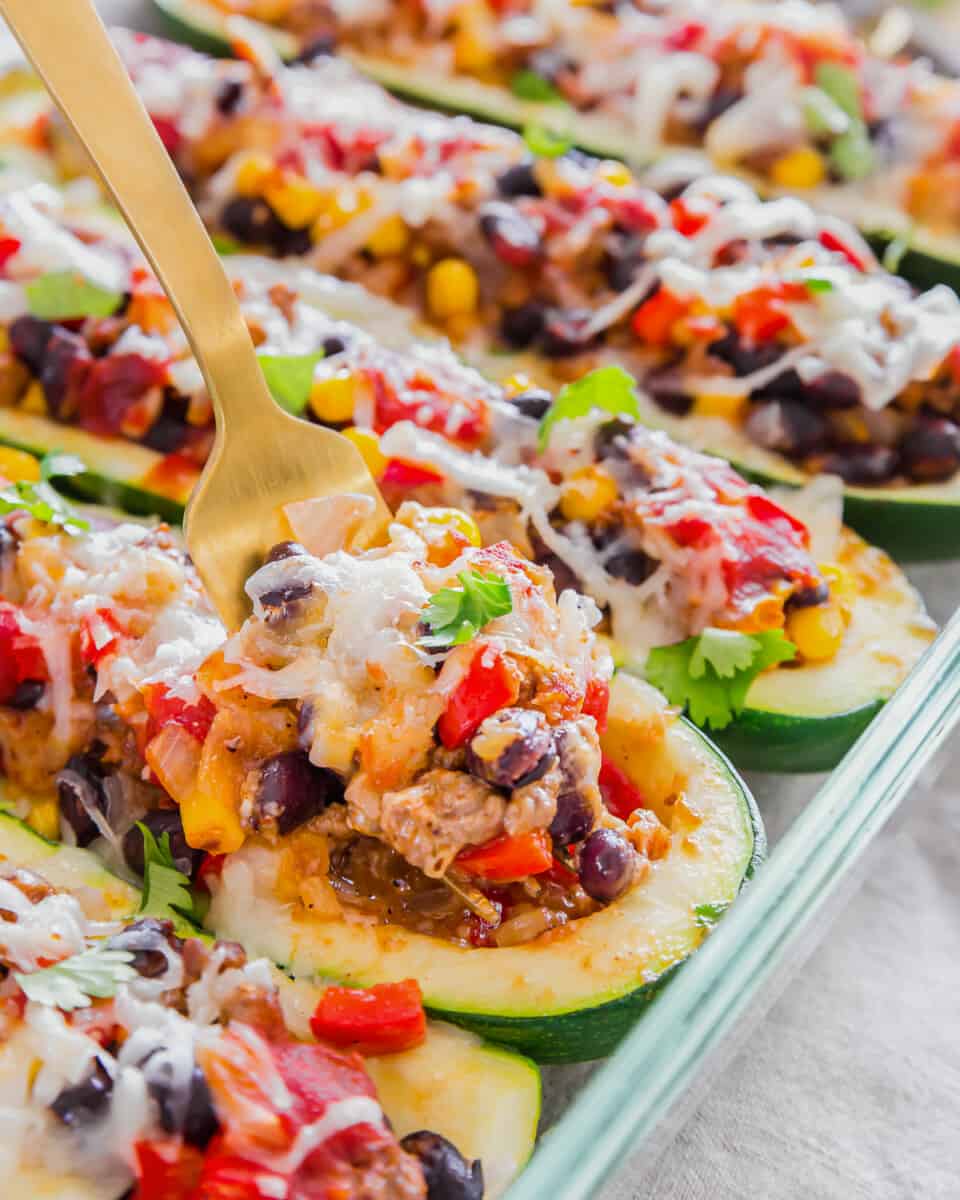 More Zucchini Recipes We Love