Stuffed Peppers is a classic recipe of rice, beef, spices, and tomato sauce all cooked and stuffed inside of bell peppers and topped with melty cheese. This easy Stuffed Peppers recipe makes the perfect healthy lunch to meal prep and bring to work! This healthy recipe is also a great dish for the whole family to incorporate more vegetables into meals!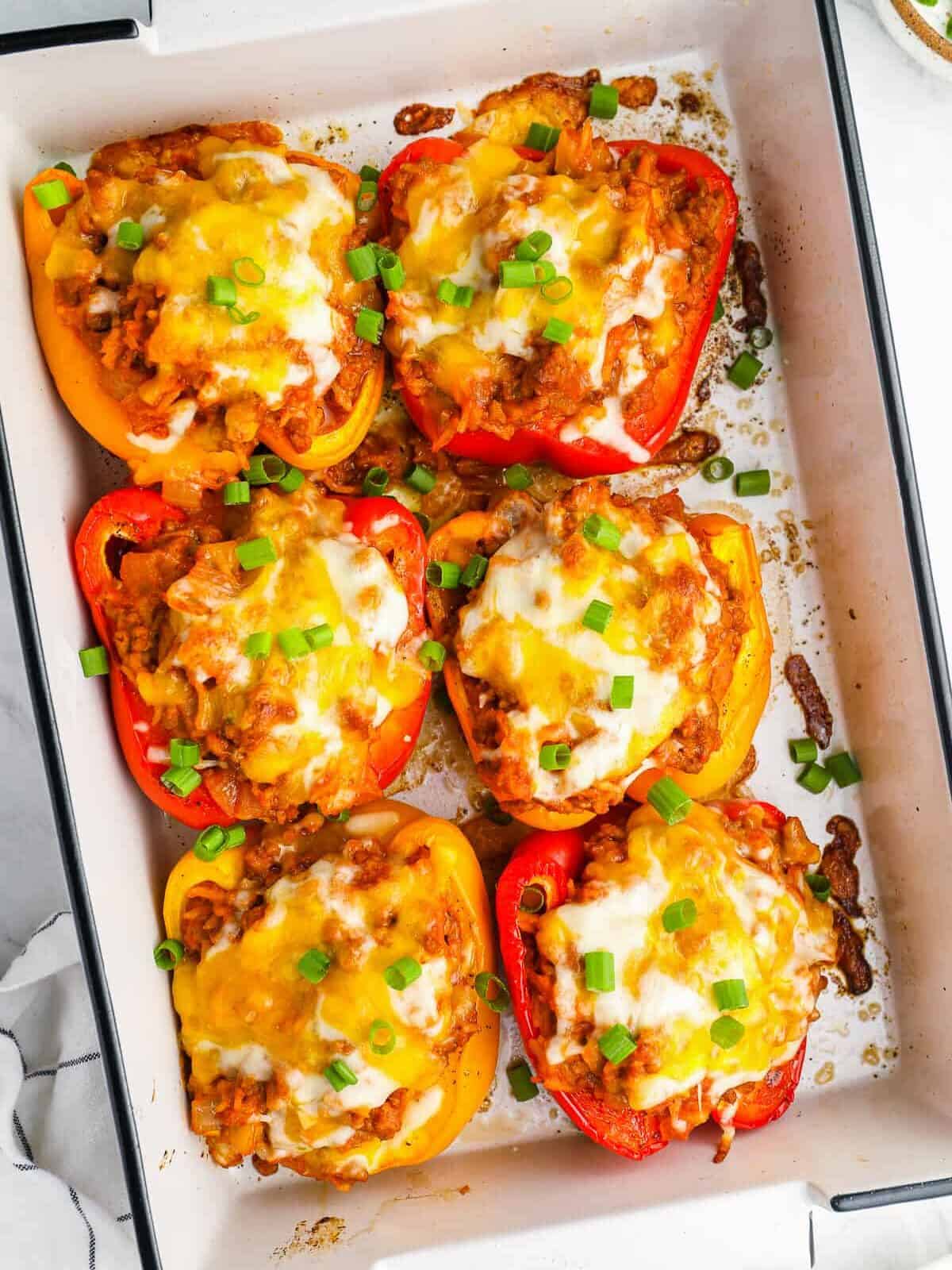 What's in Stuffed Peppers with Rice?
This healthy ground beef dinner recipe uses simple ingredients to create this fool-proof delicious dish every time!
Bell Peppers: One of the main ingredients within this recipe is bell peppers. You can use any color of bell peppers.
Oil: Olive oil is used in this recipe to help with the roasting of the bell peppers.
Ground Beef: Lean ground beef adds protein to this easy recipe as well as additional flavor.
Onion: Onion is a basic ingredient that adds necessary flavor within this dish.
Garlic: Like onion, garlic gives this recipe additional layers of flavor to help incorporate everything together and create a cohesive taste.
Seasonings: This recipe uses simple spices to create a simple and delicious beef and rice mixture.
Rice: Cooked rice is a simple but necessary addition to this recipe. This dish is also a great way to repurpose leftover rice into a different meal!
Tomato Sauce: Tomato sauce has been included within this recipe to add a bit of acidic, tangy flavor and to help bind the rice and meat mixture together.
Cheese: The melty mozzarella cheese within this recipe is added on top of the rice and beef mixture and adds a delicious, creamy element to this dish. You can also use cheddar cheese in place of the shredded cheese in this recipe.
Pro Tip: For even more vegetables in this dish, use cooked cauliflower rice in place of the regular rice.
Variations on Easy Stuffed Peppers
These stuffed bell peppers are endlessly riff-able! To switch up this recipe, swap the ground beef for ground sausage or pork. To try an Italian spin on this dish, omit the chili powder and cumin and add in 1 tablespoon of Italian seasoning.
For vegetarian stuffed peppers, swap the beef for vegetarian meat crumbles or beans.
For even healthier stuffed peppers, swap the ground beef for ground or shredded turkey or chicken. You can also switch up the cooked white rice for cooked brown rice, quinoa, or barley!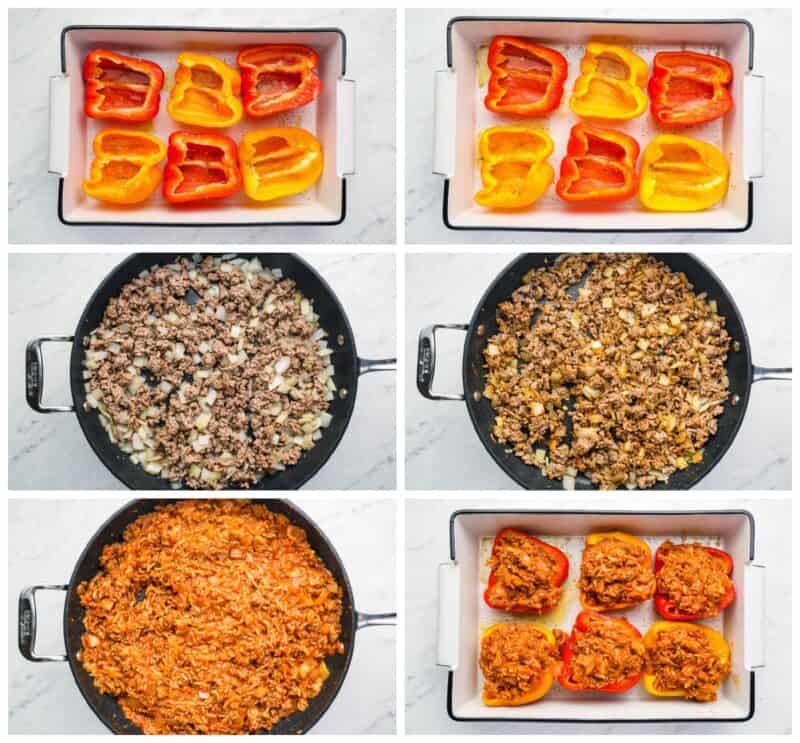 Are stuffed peppers healthy?
These stuffed peppers are a pretty healthy choice. They are high in protein and low in calories, but they do boast quite a bit of fat, so they are best enjoyed in moderation. To make them even healthier, opt for leaner ground beef or swap it for ground chicken or turkey.
Do you have to cook peppers before stuffing them?
Yes! Some recipes claim that the peppers do not need to be precooked, but I have found that prebaking them ensures that they are cooked through properly by the time the cheese melts. If you do not bake them beforehand, they may turn out crunchy and undercooked.
How long do you cook stuffed peppers?
These stuffed peppers take about 10 minutes to bake once stuffed. However, prebaking the peppers adds 20 minutes to that bake time, and you have to take into account the time it takes to cook the ground beef. All said and done, this recipe should be table-ready in just an hour!
Can you overcook stuffed peppers?
Yes! As with any dish, it is possible to overcook these stuffed peppers. Overcooked peppers can turn out soft, mushy, and/or burnt. Plus, the meat can end up chewy if they are overbaked. Remove the peppers from the oven when the cheese has melted and the peppers are fork tender.
Can you freeze stuffed peppers?
Absolutely! These peppers can be frozen for up to 3 months.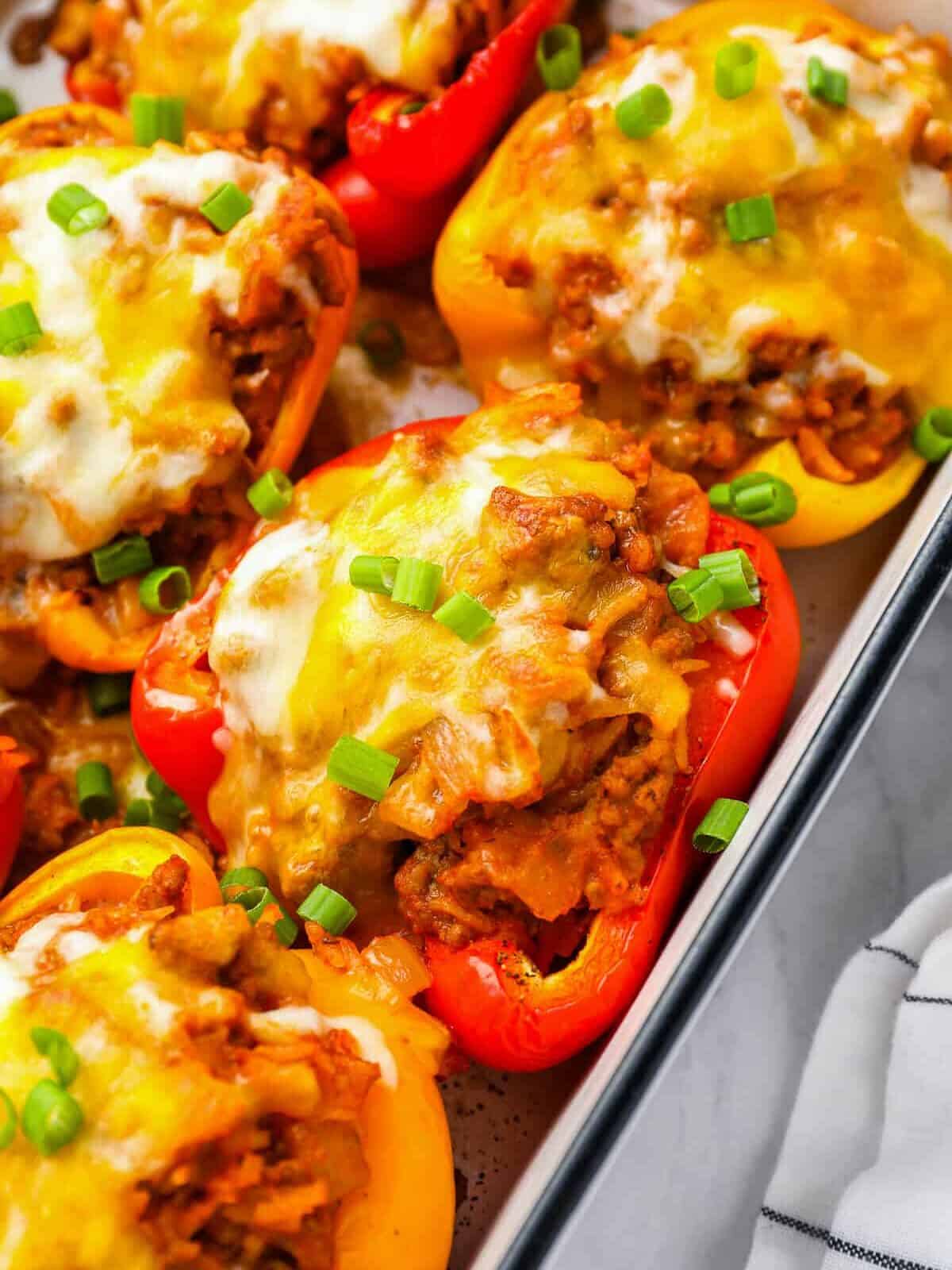 How to Store and Reheat Healthy Stuffed Peppers
Store leftover stuffed peppers in an airtight container in the refrigerator for up to 4 days. Reheat in a 350°F oven for 15-20 minutes, until warmed through.
How to Freeze Italian Stuffed Peppers
These stuffed peppers can be frozen either before or after baking.
Freeze unbaked stuffed peppers in a 9×13-inch baking pan covered tightly with plastic wrap for up to 3 months. Let thaw overnight in the refrigerator before baking according to the recipe.
Freeze baked stuffed peppers in a single layer on a lined baking sheet until solid, about 1-2 hours. Transfer the frozen peppers to an airtight container or Ziplock bag to store for up to 3 months. Let thaw overnight in the refrigerator before reheating.
What to Serve with Stuffed Peppers with Ground Beef
This dish pairs well with a variety of meals. This meal specifically pairs well with Mexican side dishes such as Healthy Mexican Street Corn or Crockpot Refried Beans. This recipe also goes great with other vegetable dishes such as Broccoli Cheese Twice Baked Potatoes and Cheesy Broccoli Salad.
You can also serve this dish as it is with a variety of toppings including Pico de Gallo, sour cream, fresh cilantro, salsa, and more! For more easy meal ideas to go with this dish, check out all side dish recipes and healthy recipes, and choose your favorite!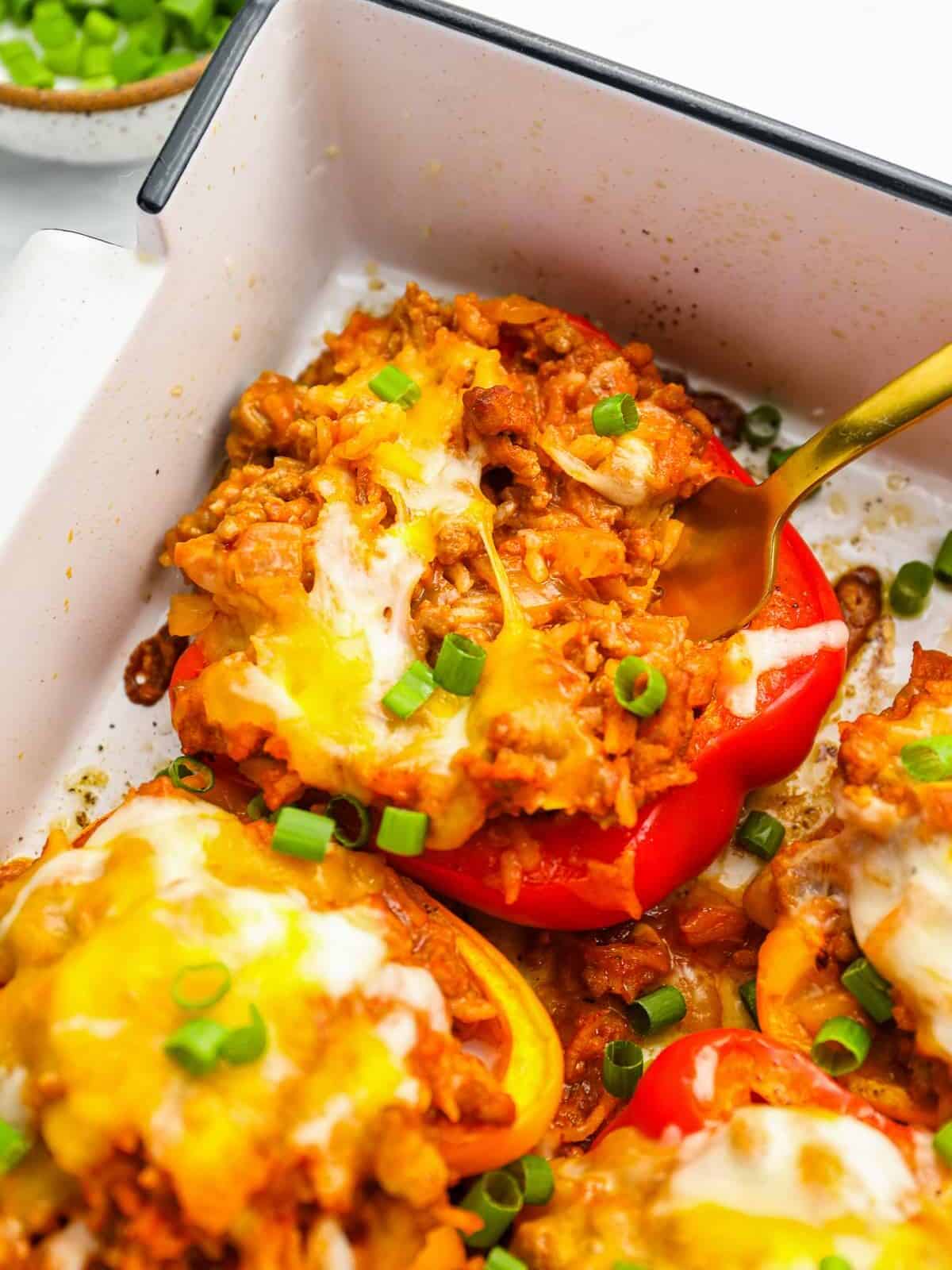 More Stuffed Pepper Recipes We Love