Turkey Meatloaf smothered with a savory glaze is a great family weeknight dinner! It's filling, protein packed, flavorful, and incredibly easy to make. Serve it alongside just about any side dish you want to make the whole family happy!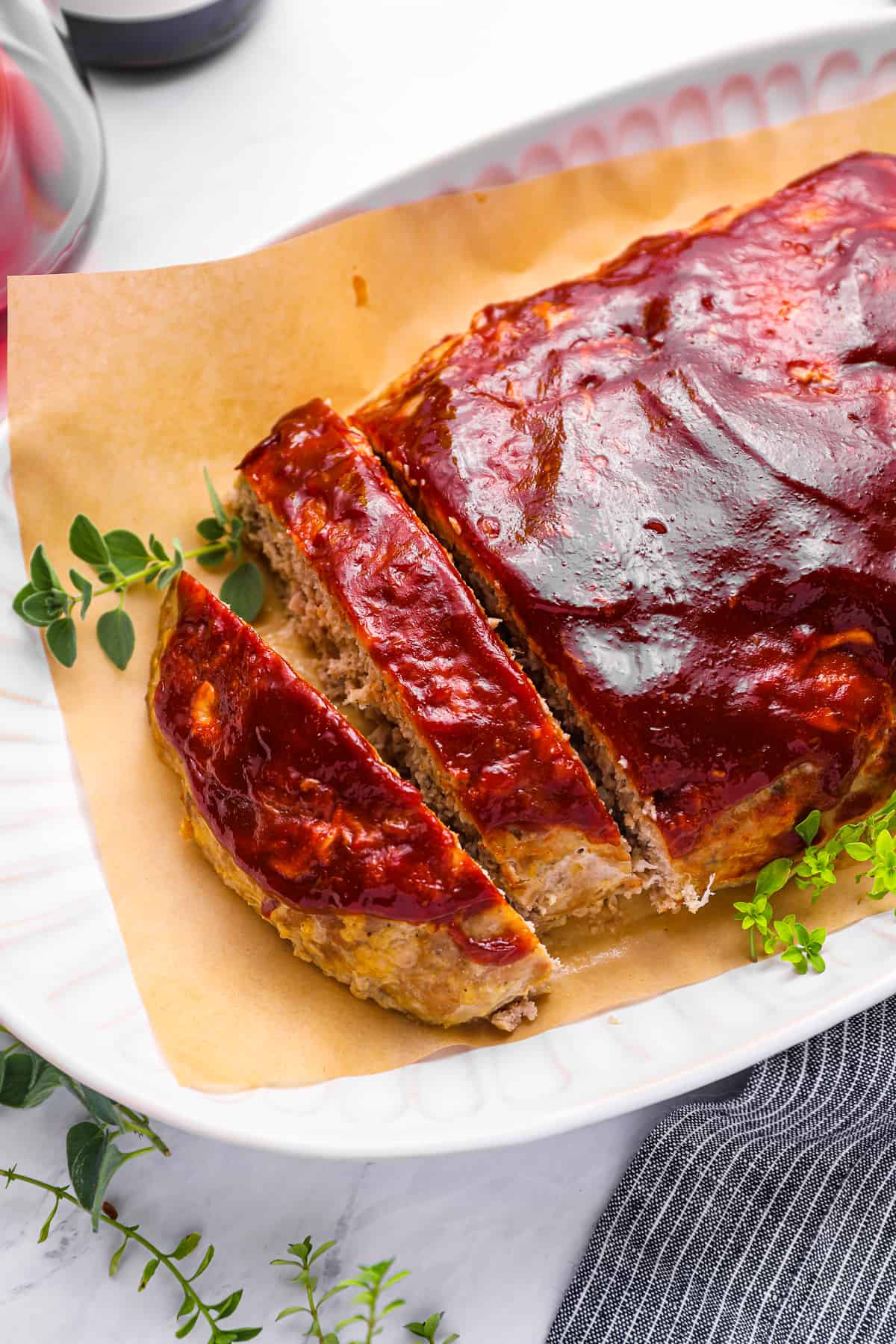 Ground Turkey Meatloaf
If you're trying to eat less beef in your diet, this Turkey Meatloaf is about to rock your world. Lean ground turkey is all dressed up with various seasonings, herbs, and other flavorful additions that make it downright delicious.
Plus, there's just enough whole milk, eggs, and breadcrumbs in the mix to give the ground turkey the best sturdy, yet moist consistency. It's truly the perfect meatloaf! I think my favorite part might just be the glaze on top that's simply made with ketchup and barbecue sauce.
You might even be tempted to make this Turkey Meatloaf instead of roasting a whole bird on Thanksgiving. It may seem unusual, but it's definitely less maintenance!
Why You'll Love this Turkey Meatloaf Recipe:
Filling: This protein packed entree is so very filling! No one's leaving the dinner table still hungry after eating Turkey Meatloaf for dinner.
Flavorful: Onion powder, garlic powder, fresh thyme and more come together to give this meatloaf the best flavor.
Glazed: You just can't serve meatloaf without glaze. Ketchup and barbecue sauce come together to make the best tangy and sweet topping!
There are SO many side dishes you can pair with this easy dish. My favorite might just be mashed potatoes…with lots of butter, of course!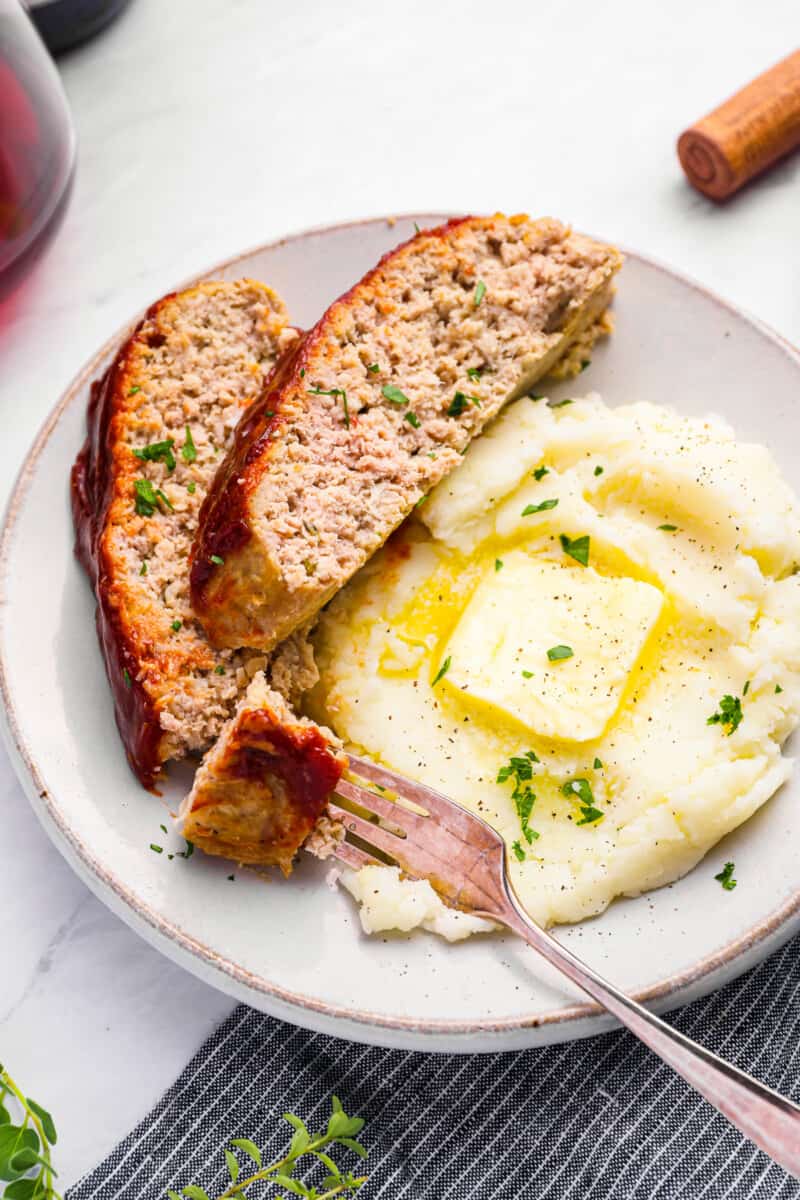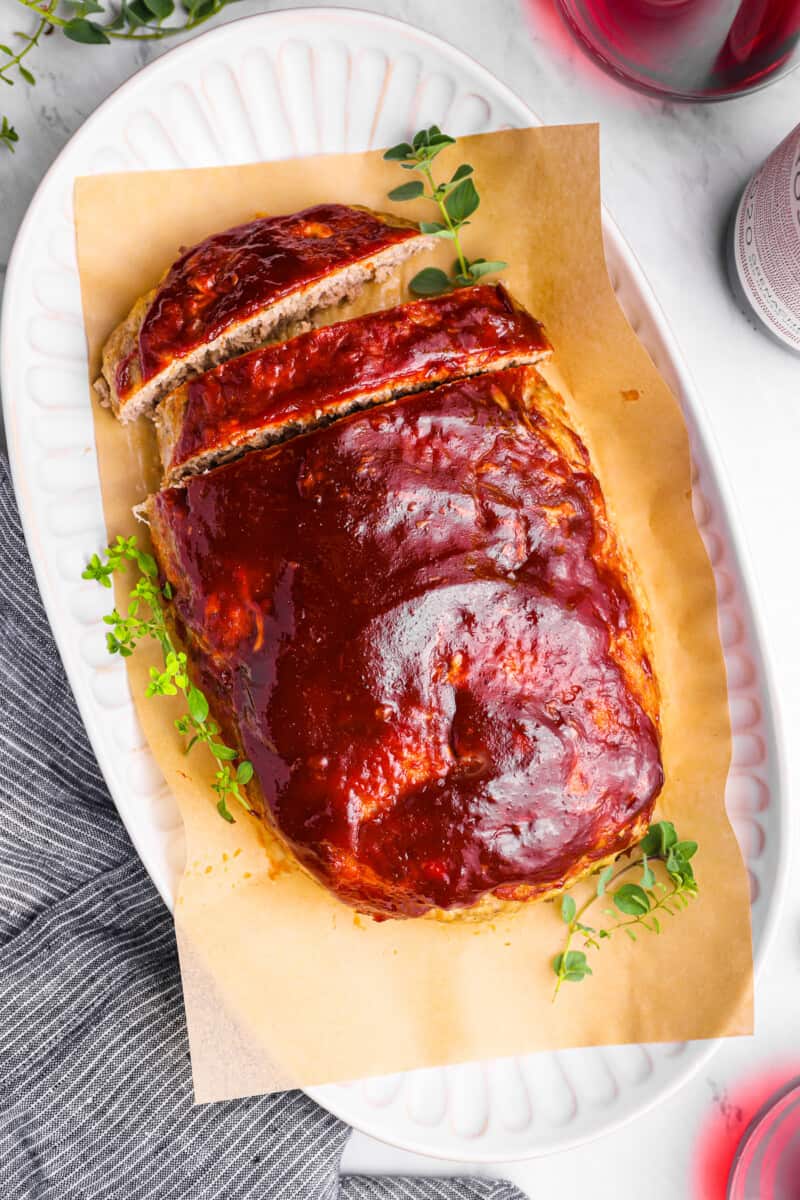 How to Make Turkey Meatloaf
You can jump to the recipe card for full ingredients & instructions!
Sauté the onions and garlic.
Whisk together the panko, milks, eggs, thyme, worcestershire, and seasonings.
Combine that mixture with the sautéed onion mixture and ground turkey.
Transfer the mixture to a prepared baking sheet. Form it into a loaf.
Whisk together the ketchup and barbecue sauce. Glaze the meatloaf.
Bake.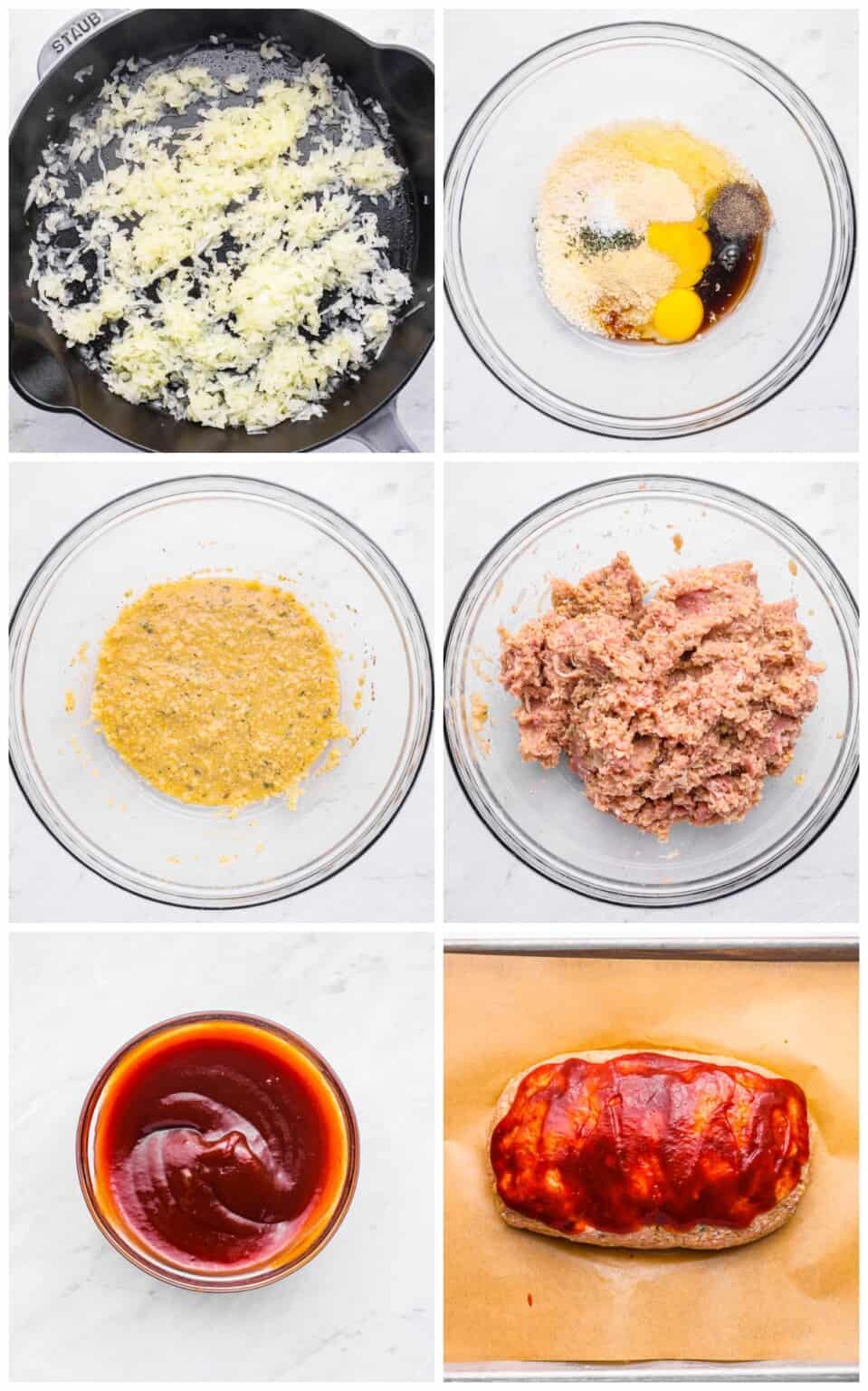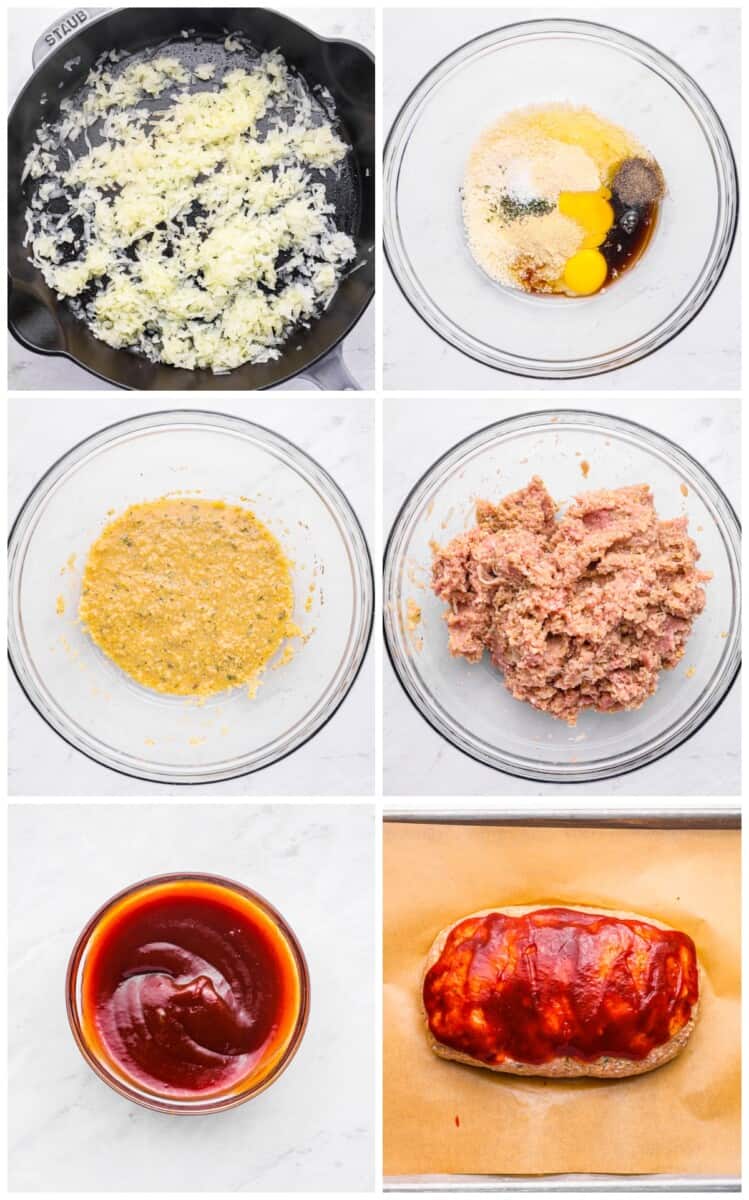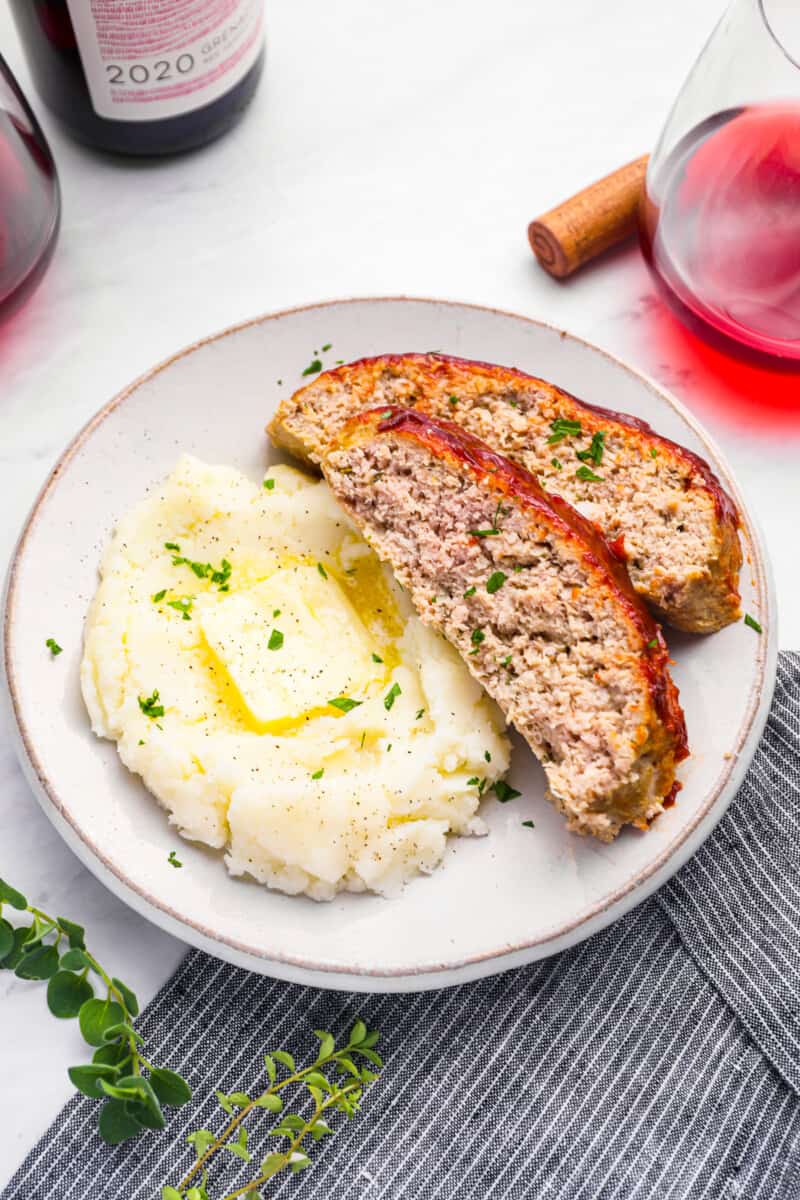 How long does turkey meatloaf take to cook?
Turkey meatloaf is done cooking when it reaches an internal temperature of 165°F. This should take about 1 hour total.
Should I cook turkey meatloaf covered or uncovered?
I always recommend cooking meatloaf covered for the majority of the cooking process to seal in moisture. Remove the foil in the last 15 minutes of baking.
How can I make turkey meatloaf gluten-free?
To make this meatloaf gluten-free, swap the breadcrumbs for gluten-free breadcrumbs and be sure to use gluten-free worcestershire sauce, ketchup, and barbecue sauce.
Why does my turkey meatloaf fall apart?
The most common reason why turkey metloaves fall apart is because they don't have enough binding agents. Be sure to add enough eggs and breadcrumbs to ensure that your meatloaf doesn't fall apart. If your meatloaf is still falling apart, it may be overcooked. Be sure not to overcook your meatloaf!
Serving Suggestions
Make this entree into an unforgettable meal with any of these side dishes!
This kid-friendly dinner is perfect to make on those crazy weeknights when you need something homemade, filling, and EASY on the table!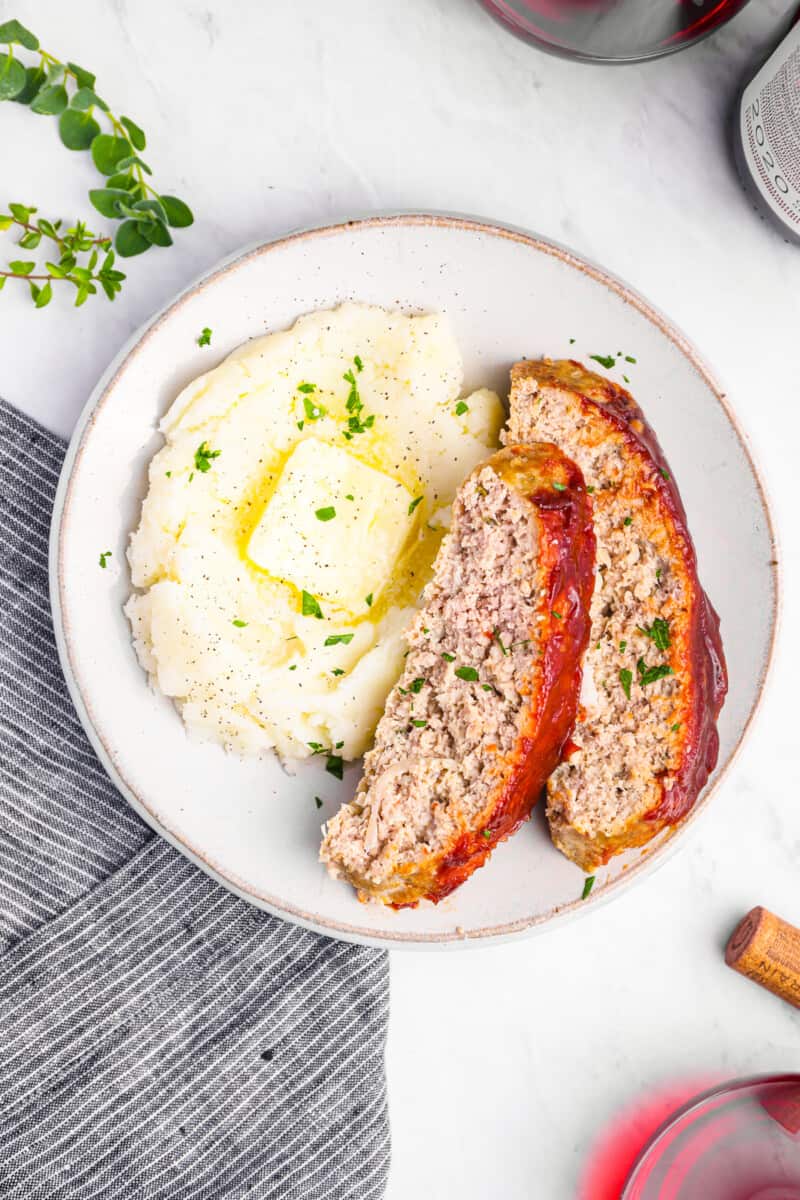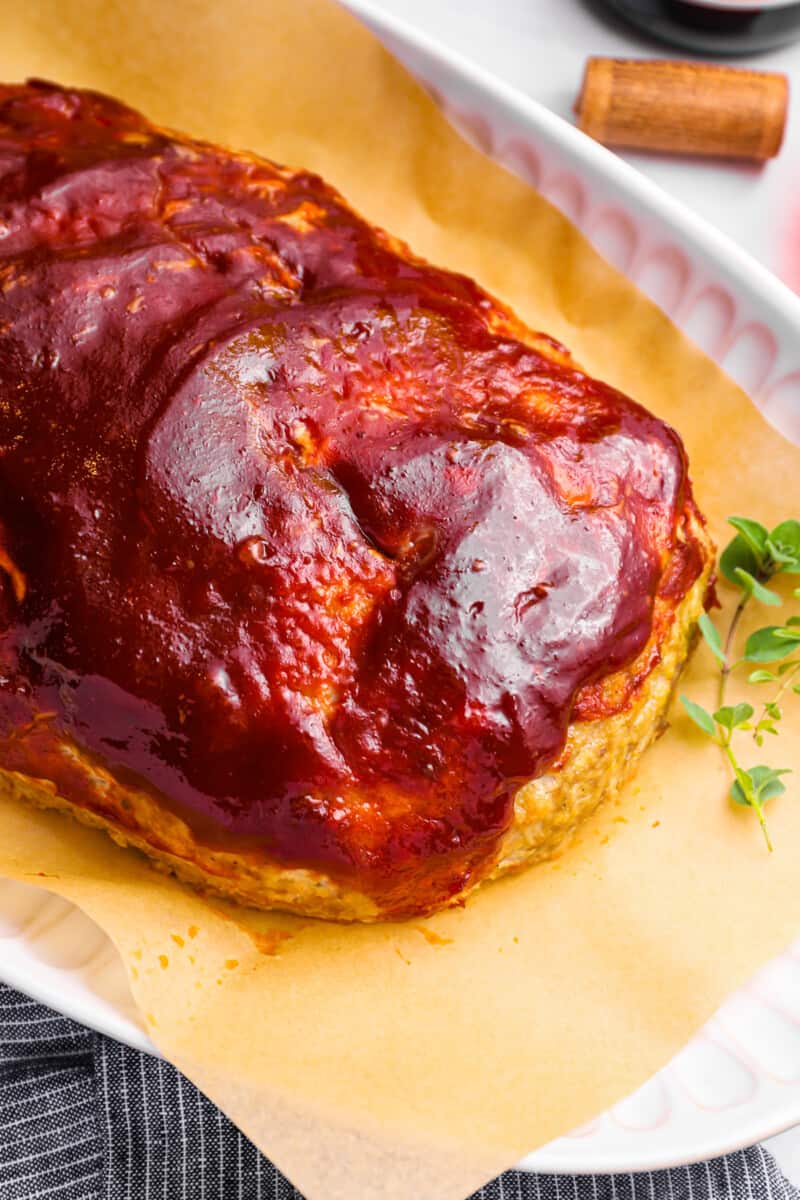 Make Ahead Instructions
The turkey meatloaf mixture can be made up to 1 day in advance. Prepare the recipe through step 4, then store covered in the refrigerator until ready to shape and bake.
Turkey meatloaf can also be shaped and frozen for up to 1 month. Prepare the recipe through step 5, then wrap the baking sheet or loaf pan in 2 layers of plastic wrap and 1 layer of aluminum foil to store. Let thaw overnight in the refrigerator before baking.
Storage Instructions
Store leftover turkey meatloaf in an airtight container in the refrigerator for up to 3 days. Reheat individual slices in a shallow baking dish in a 250°F oven sprinkled with 1 tablespoon of beef broth per slice. Cover with foil and bake for 20-25 minutes, or until warmed through.
Freezing Instructions
Freeze turkey meatloaf whole or cut into individual slices tightly wrapped in 2 layers of plastic wrap and 1 layer of aluminum foil for up to 3 months. Let thaw overnight in the refrigerator before reheating.
Substitutions
You can use any neutral oil you like, such as canola, avocado, or coconut oil.
In place of the Panko breadcrumbs, you can use regular breadcrumbs or gluten-free breadcrumbs.
You can use any kind of milk you like in this recipe, including plant-based milks.
In place of the turkey, try chicken, pork, or beef!
Tips for the Best Turkey Meatloaf
For a tender meatloaf, mix until just combined. You want the ingredients evenly incorporated, but not so mixed that they become tough.
You can also make this meatloaf in a standard loaf pan. Grease the pan and line it with a parchment sling for easy removal.
For a spicy turkey meatloaf, add a dash or hot sauce, sriracha, or red pepper flakes to the meat or sauce.
Turn this meatloaf into mini meatloaf muffins by pressing the mixture in the wells of a cupcake pan and baking for 25-30 minutes.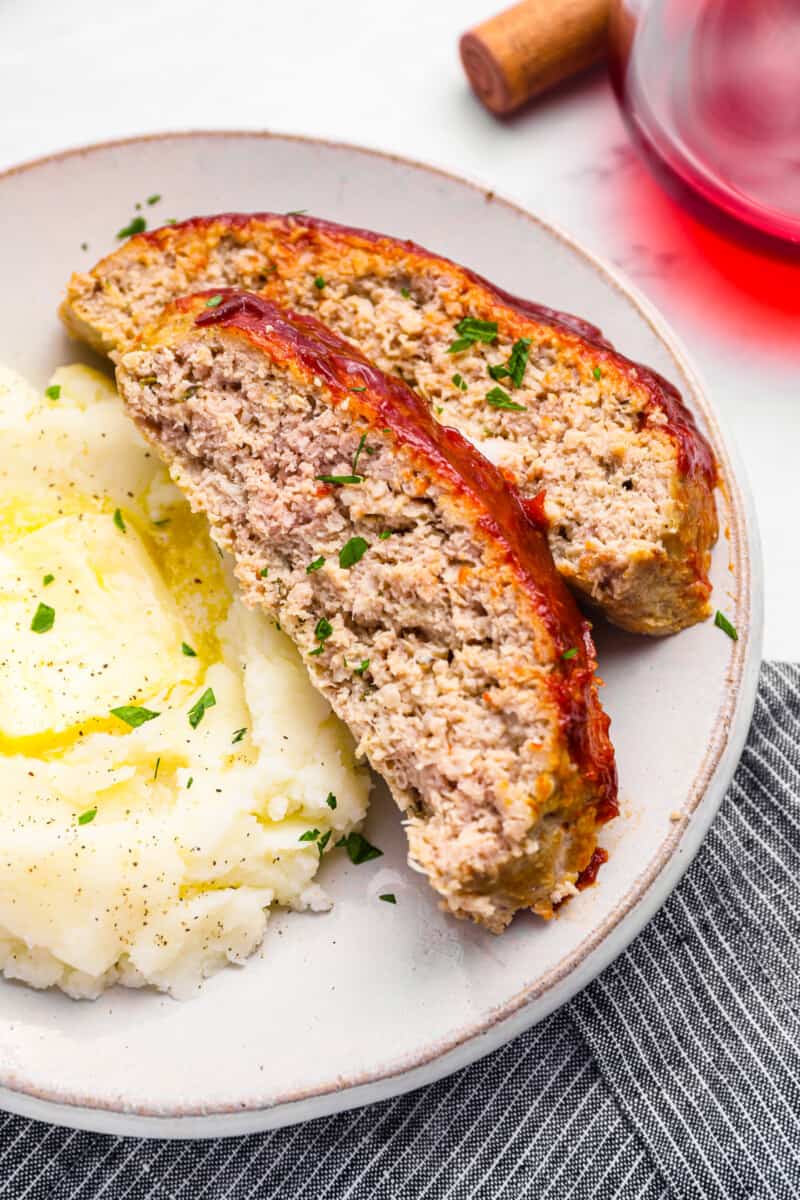 If you don't feel like roasting a whole bird this year, consider making this ground turkey meatloaf for Thanksgiving instead! It might not be the most traditional option, but it's certainly a delicious one.
If you make this recipe be sure to upload a photo in the comment section below or leave a rating. Enjoy! You can also jump to recipe.