These homemade Thanksgiving Rolls are perfect for your holiday dinner. They're soft and fluffy, deliciously buttery, and they're pretty easy to make with just a handful of ingredients. They're the best rolls for Thanksgiving because they really go the extra mile to make the whole meal feel special.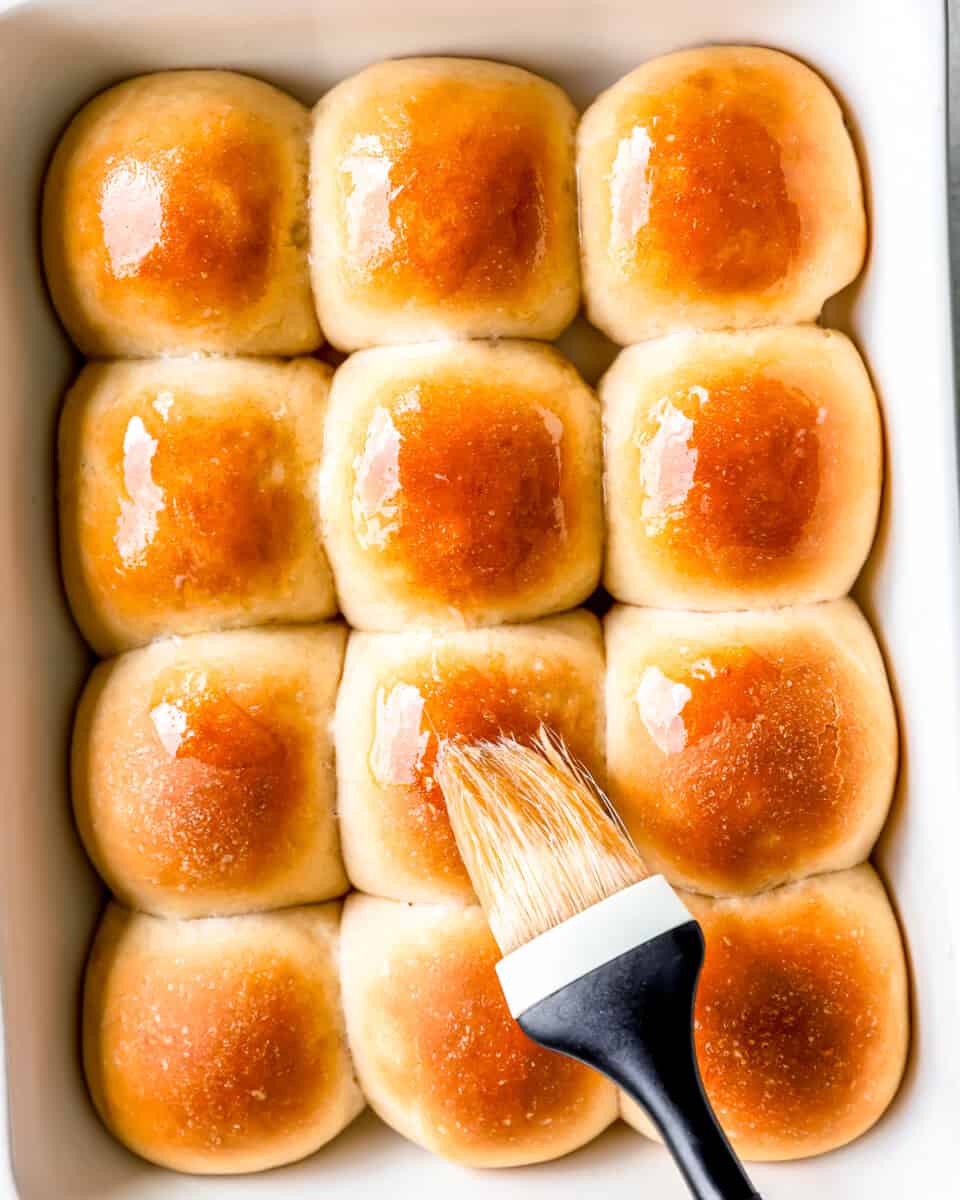 Why We Love This Thanksgiving Rolls Recipe
It's simply not Thanksgiving without amazing, fluffy, homemade rolls. This recipe has become a staple and here are a few reasons we love to make it:
Simple. With just 6 ingredients, these rolls are made primarily from pantry staples.
Tasty. These buttery, rich rolls pair perfectly with all of your Thanksgiving favorites.
Versatile. Use them to soak up all the leftover goodness from your holiday meal, or cut them up to make leftover turkey sandwiches the day after!
Variations on Thanksgiving Dinner Rolls
You can liven up these classic rolls for Thanksgiving by mixing 1 teaspoon of garlic powder, 1-2 tablespoons of freshly chopped herbs, or ½ cup of freshly grated cheddar into the bread dough.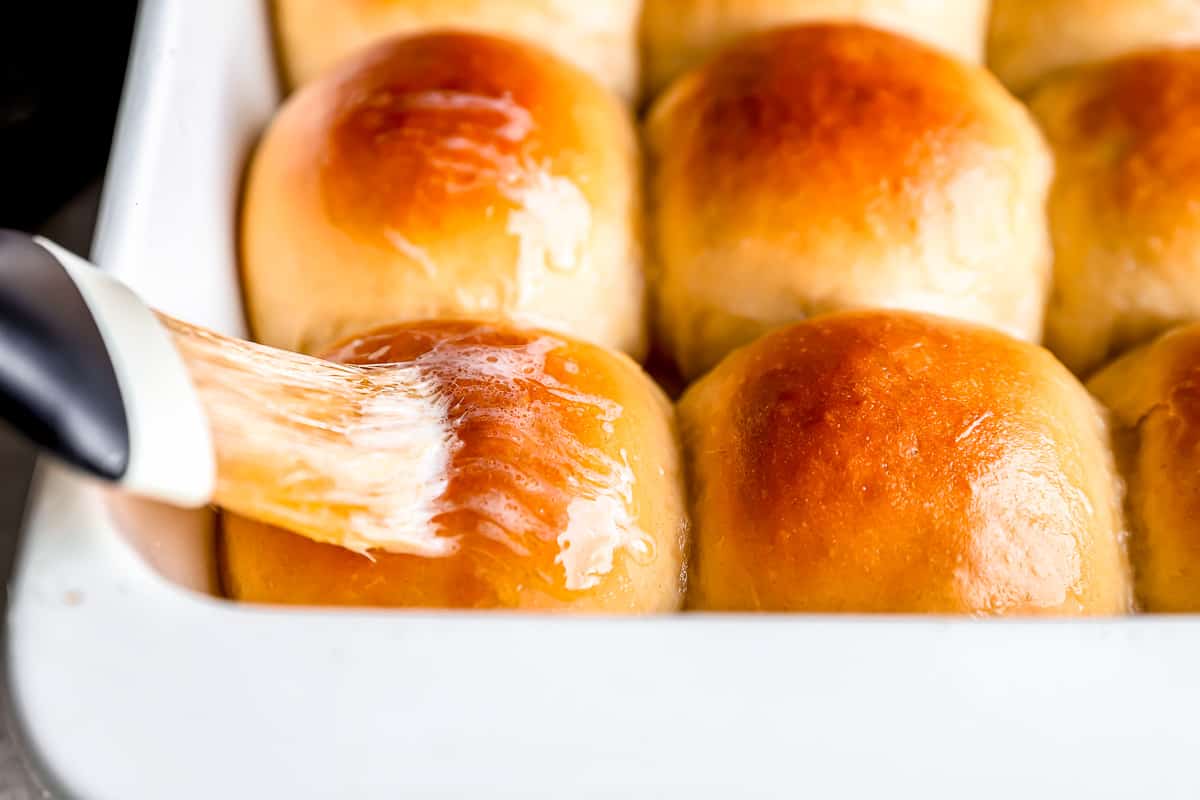 How to Store
Store leftover Thanksgiving rolls in an airtight container at room temperature for up to 3 days, or in the refrigerator for up to 5 days. Wrap the rolls in foil and place them on a baking sheet in a 350°F oven for 10-15 minutes to rewarm them or enjoy at room temperature.
How to Freeze
You can freeze these Thanksgiving dinner rolls shaped, risen, or fully baked.
Shaped: Shape the dough into rolls and place them on a baking sheet with space between them. Freeze for 8-12 hours, then transfer to a Ziplock bag and store for up to 3 months. Thaw at room temperature for 3-5 hours, until risen. Bake as directed.
Risen: Let the rolls rise completely, then freeze in a Ziplock bag for up to 3 months. Thaw at room temperature until soft, about 2 hours. Bake as directed.
Fully Baked: Freeze fully-baked dinner rolls in a Ziplock bag for up to 3 months. Thaw at room temperature for about 2 hours and reheat before serving.
Serving Suggestions
Serve these delicious Thanksgiving dinner rolls with any of my favorite Thanksgiving turkey recipes. Use them to soak up leftover turkey gravy and cranberry sauce, or enjoy them with my favorite honey butter!
How many dinner rolls per person for Thanksgiving?
The average estimate is 1½ rolls per person, so make 2 just to be safe! You can always freeze the extras.
How can I tell if my yeast is still good?
When using instant yeast, your best bet is to check the expiration date. As long as the package is sealed and within the date, the yeast should be good to go. If your bread dough doesn't rise after the first proofing, your yeast may be old!
Why are my rolls dense?
Dense or heavy rolls are usually caused by not kneading the dough long enough. Be sure to knead the dough until it is smooth and elastic. Properly kneaded dough will spring back slowly when pressed with one finger. If it springs back too quickly, it is under-kneaded., and if it does not spring back at all, it is over-kneaded. You can use these same tops to tell if the dough is properly proofed. Too springy means under-proofed and not springy enough means over-proofed.
Why are my rolls hard?
There are a few culprits for hard dinner rolls. First, you may have added too much flour. Be sure to measure your flour using the spoon-and-level method to avoid using too much. Second, the dough may be over-mixed. Over-mixed dough will not spring back when pressed gently with a finger. Finally, the rolls may simply be overbaked. Perfectly baked rolls should be golden brown on top and 190°F internally.
How do you keep dinner rolls warm on a buffet?
Line your bread dish with cloth and cover the rolls to keep in the heat!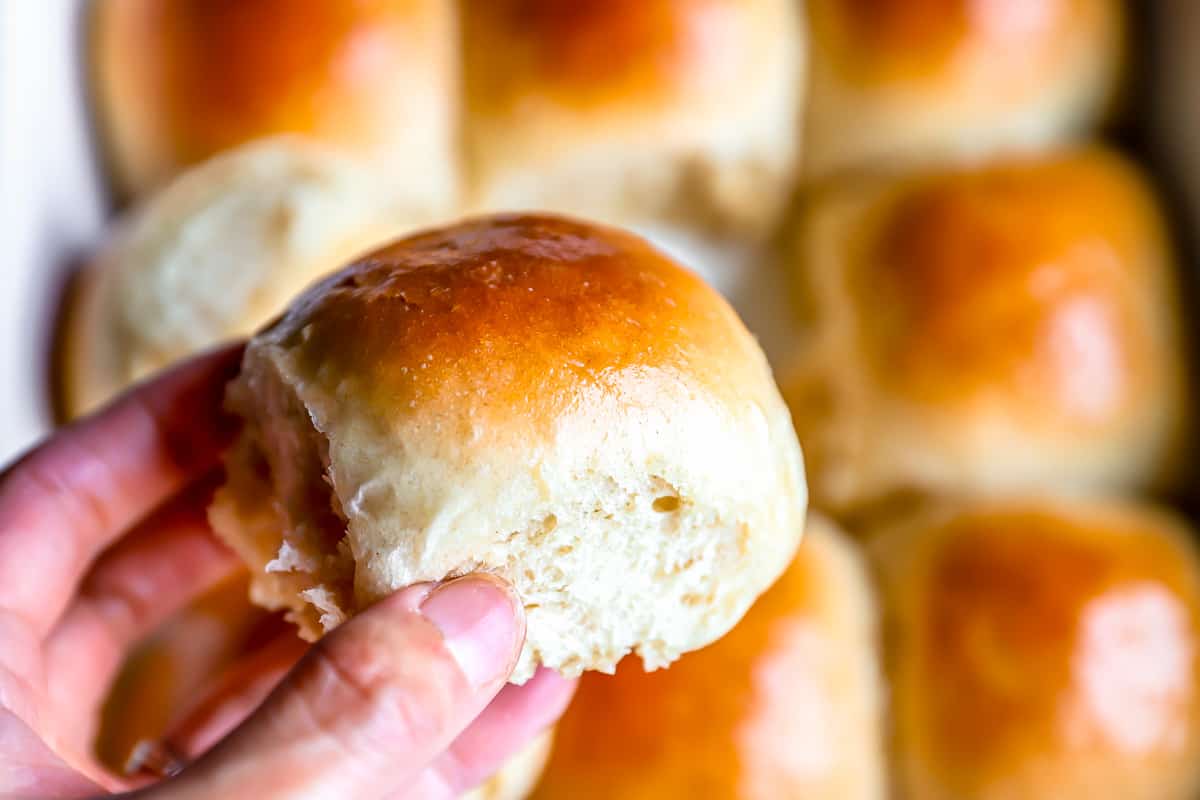 More Dinner Roll Recipes We Love
How to Make Thanksgiving Rolls Step by Step
Make the Dough: Heat 1 cup of milk, 2 tablespoons of granulated sugar, ½ teaspoon of kosher salt, and 2 tablespoons of unsalted butter in a small pot on the stove until it reaches 110°F. Transfer the warm milk to the bowl of a stand mixer fitted with the paddle attachment. Add in 2¼ teaspoons of instant yeast, stir, and let the mixture sit until foamy. Add 2½ cups of all-purpose flour to the stand mixer and mix on low for 3-4 minutes, or until a smooth ball of dough forms.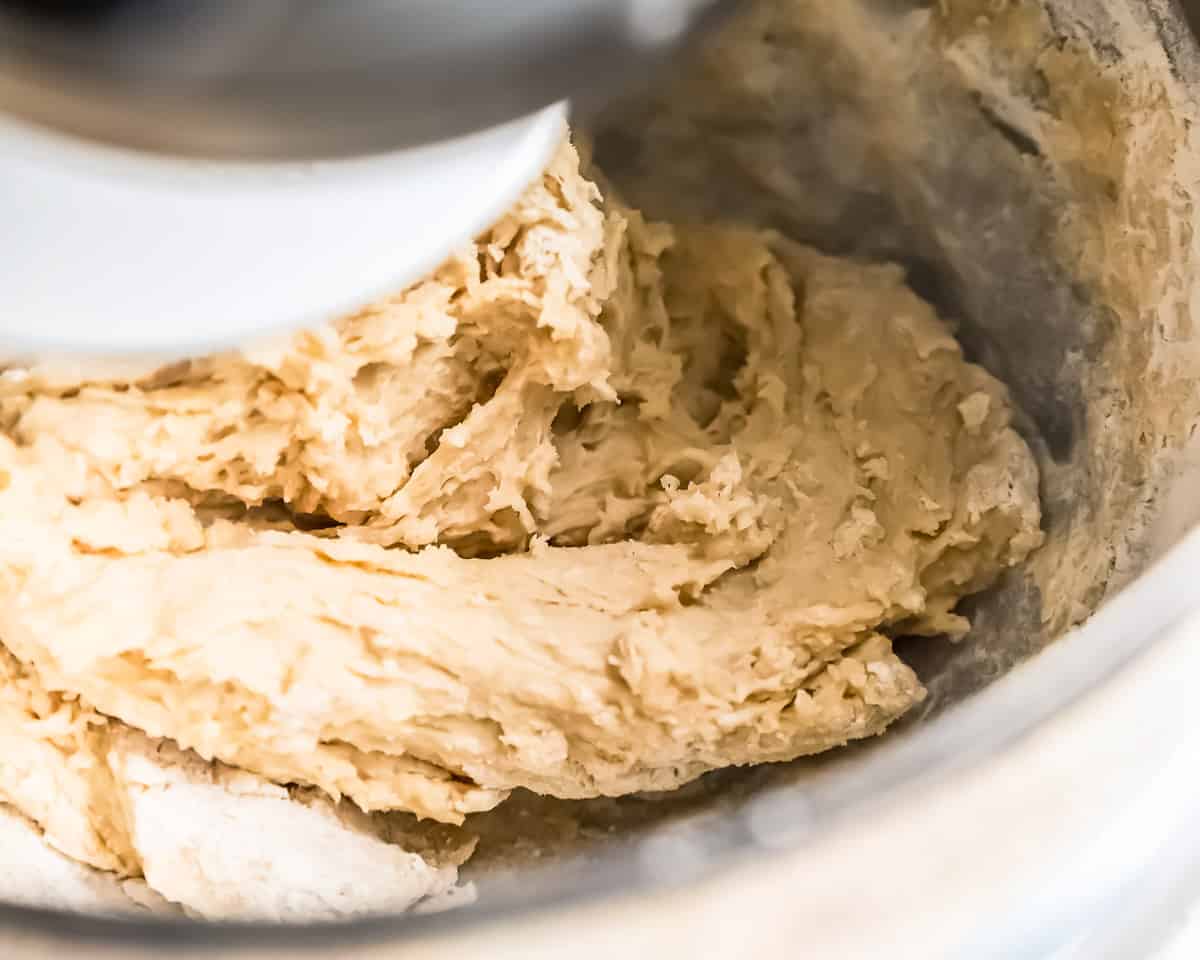 Let the Dough Rise: Cover the bowl of dough with a clean kitchen towel and let it rise in a warm place for about 30 minutes, or until doubled in size.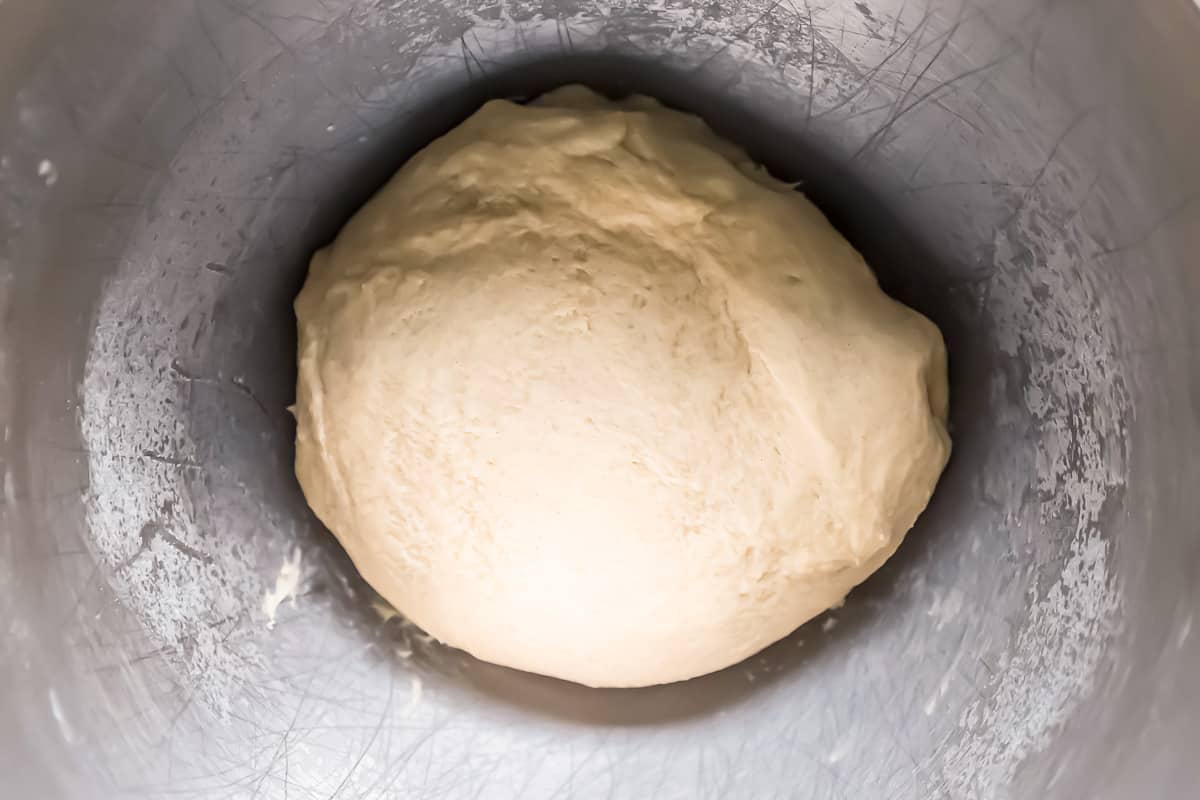 Shape the Dough: Divide the dough into 12 equal-sized balls (about 51 grams per ball if you're weighing them), and place the balls into a greased 9×13-inch baking pan.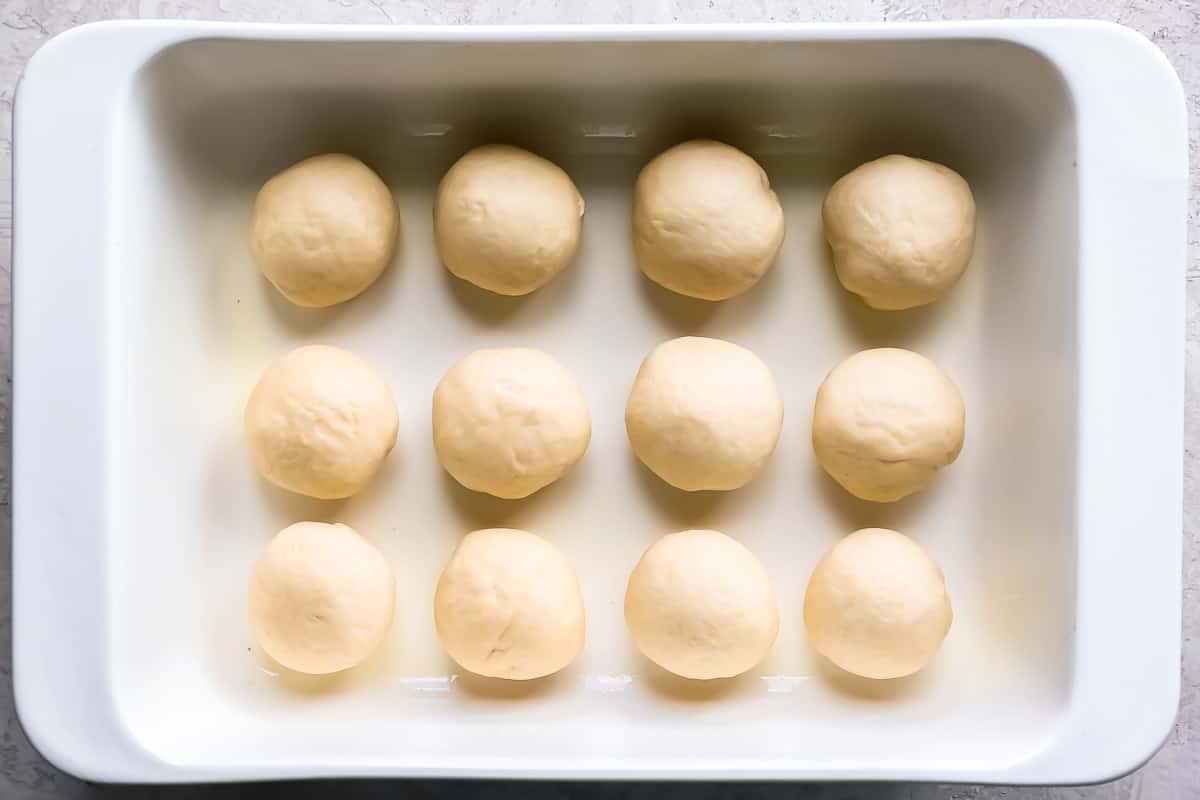 Let the Dough Rise Again: Preheat the oven to 375°F, cover the dough with a towel, and let it rise for another 30 minutes while the oven preheats.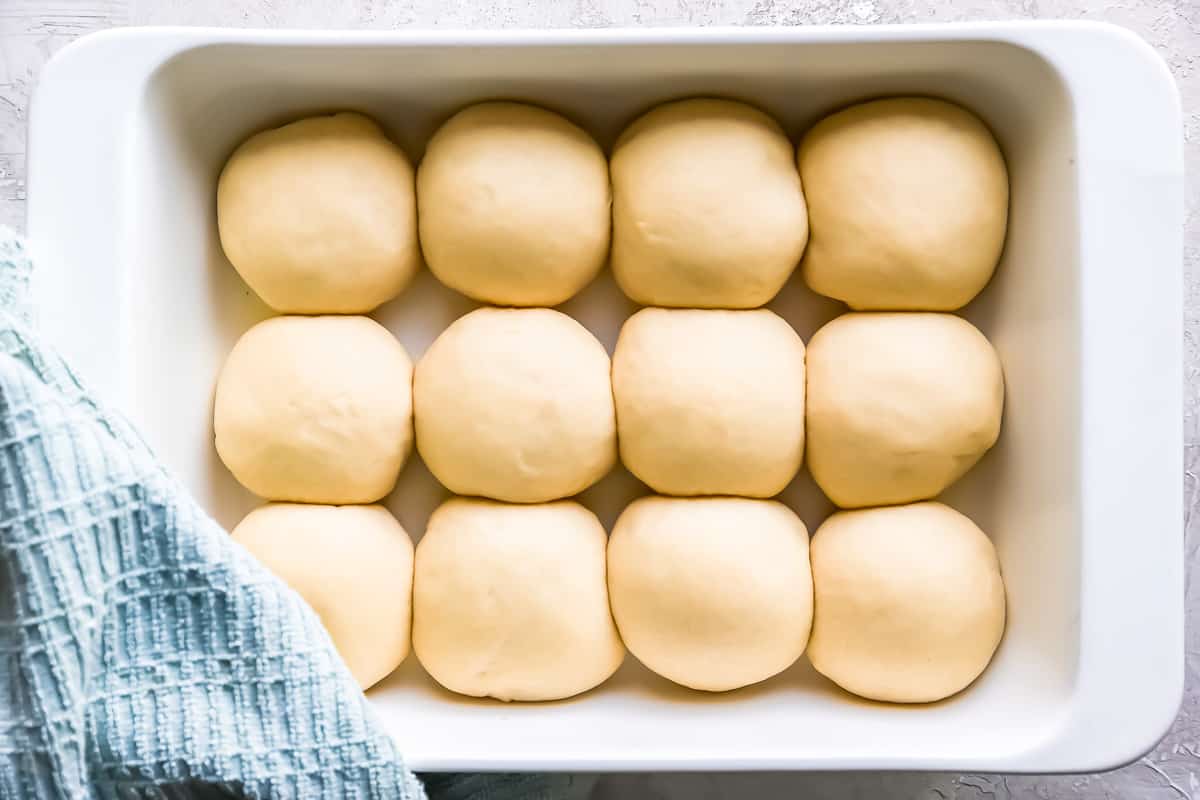 Bake the Rolls: Remove the towel and place the rolls in the preheated oven to bake for 12-15 minutes, or until they are golden brown on top.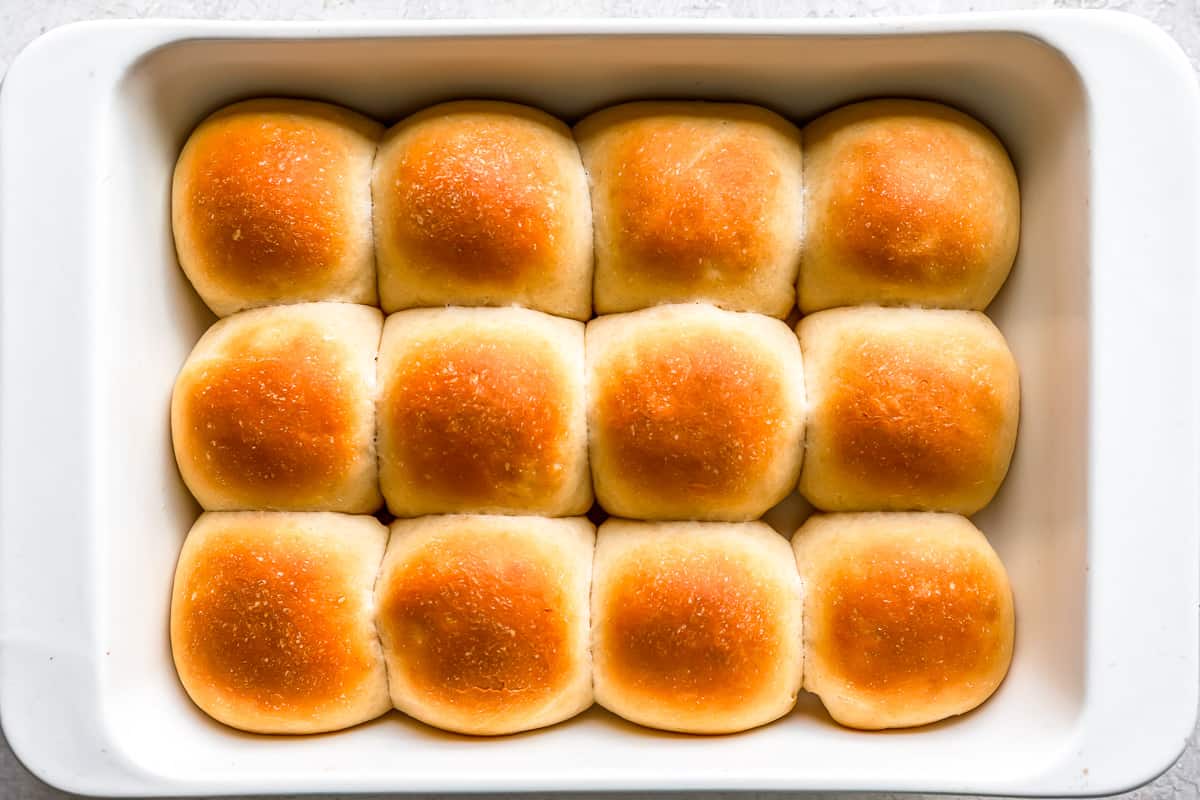 Brush the Rolls: While the rolls bake, melt the remaining 2 tablespoons of butter in the microwave or on the stovetop. Once the rolls are fully baked, brush the tops of the hot rolls with the melted butter.