Impress everyone at the dinner table with Easy Beef Bolognese recipe! This classic meat sauce is so hearty and rich with classic Italian flavor. It truly is the BEST bolognese sauce and it couldn't be easier to make!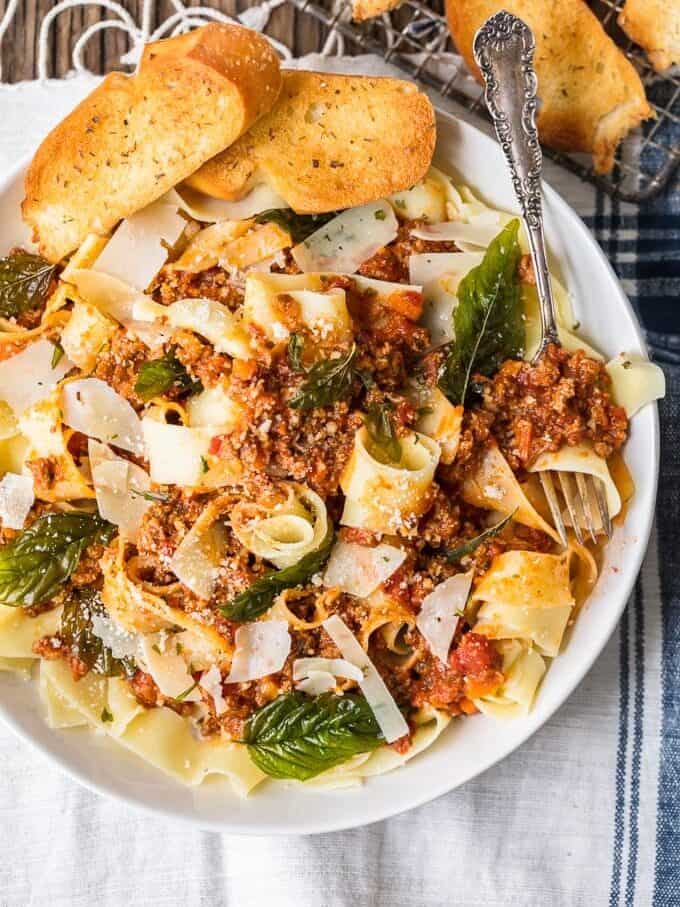 What's in this Bolognese Sauce Recipe
This medley of bold ingredients comes together beautifully in this easy bolognese recipe!
Basil: Fresh basil leaves add the most wonderful herbaceous quality to the dish.
Olive Oil: I recommend using a good quality extra virgin olive oil for the best flavor.
Butter: Unsalted butter is preferred to avoid a salty sauce.
Onion: A yellow onion is preferred, but a white onion will work in a pinch.
Carrot: Make sure it's finely minced.
Celery: This is an optional ingredient, so feel free to skip it if you're not a celery fan.
Ground Chuck: You can use ground beef instead if you'd like.
Salt: Be careful not to be too heavy handed!
White Wine: A dry white wine works best for this recipe.
Milk: Whole milk is preferred.
Whole Nutmeg: Don't worry, you won't be able to distinguish the taste. The nutmeg is used to deepen the overall flavor of the sauce.
Tomatoes: For the absolute best bolognese sauce, use a can of imported Italian roma tomatoes. San Marzano is what I use.
Pasta: Use your favorite kind for this sauce recipe. I think it pairs best with pappardelle or another type of ribbon pasta.
Parmigiano-Reggiano: The best garnish! Make sure it's freshly grated.
PRO TIP: Make your bolognese dinner the best it can be with homemade pasta!
What meat is bolognese made from?
Sometimes, bolognese sauce is also made with Italian pork sausage or ground beef instead of ground chuck. Feel free to use whatever meat option sounds best to you!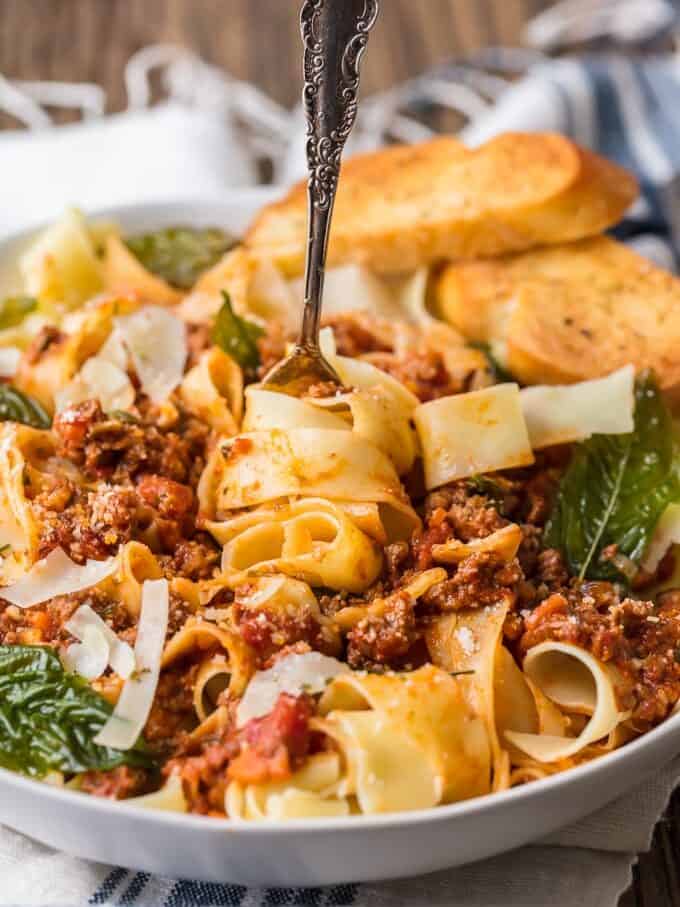 What does bolognese sauce taste like?
Bolognese sauce is supremely hearty thanks to the meat! The savory depth is enhanced by ingredients like the nutmeg and dry white wine. Of course, the tomatoes are the most pronounced ingredient that tie it all together.
Are bolognese and spaghetti sauce different?
Yes! While there are spaghetti meat sauces that are similar to bolognese sauce, they don't include the other ingredients like carrots and nutmeg like bolognese sauce does. Also, because of the milk, bolognese sauce is notably thicker.
What kind of pasta is served with bolognese sauce?
Traditionally, bolognese sauce is served with tagliatelle, lasagna, or other flat, broad noodles. Spaghetti bolognese is probably the most popular way to serve it here in America. I'd recommend going with a flat pasta as mentioned.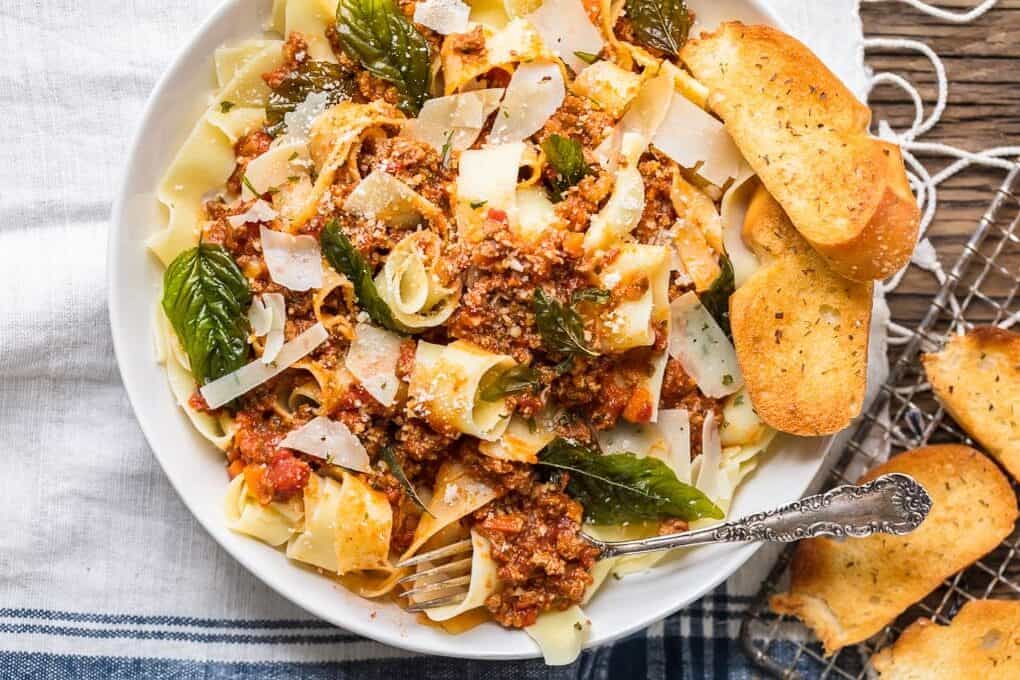 How to Store/Reheat
In an airtight container in the fridge, bolognese sauce will stay fresh for up to 3 days. Feel free to reheat in the microwave or back in a pot over medium-low heat until warmed through.
How to Freeze
Beef bolognese sauce keeps well in the freezer for up to 2 months. Just make sure it's completely cooled to room temp prior to freezing.
Serving Suggestions
Compliment your Italian entree with an easy side dish recipe like crispy garlic roasted asparagus or a fresh caprese salad!