Garlic Asparagus is an easy side dish for any meal. This CRISPY garlic roasted asparagus recipe is both healthy and flavorful. Baked with panko breadcrumbs, garlic, cheese, and olive oil, this is a dish everyone is sure to love. If that's not enough, our garlic parmesan asparagus is topped off with homemade garlic aioli!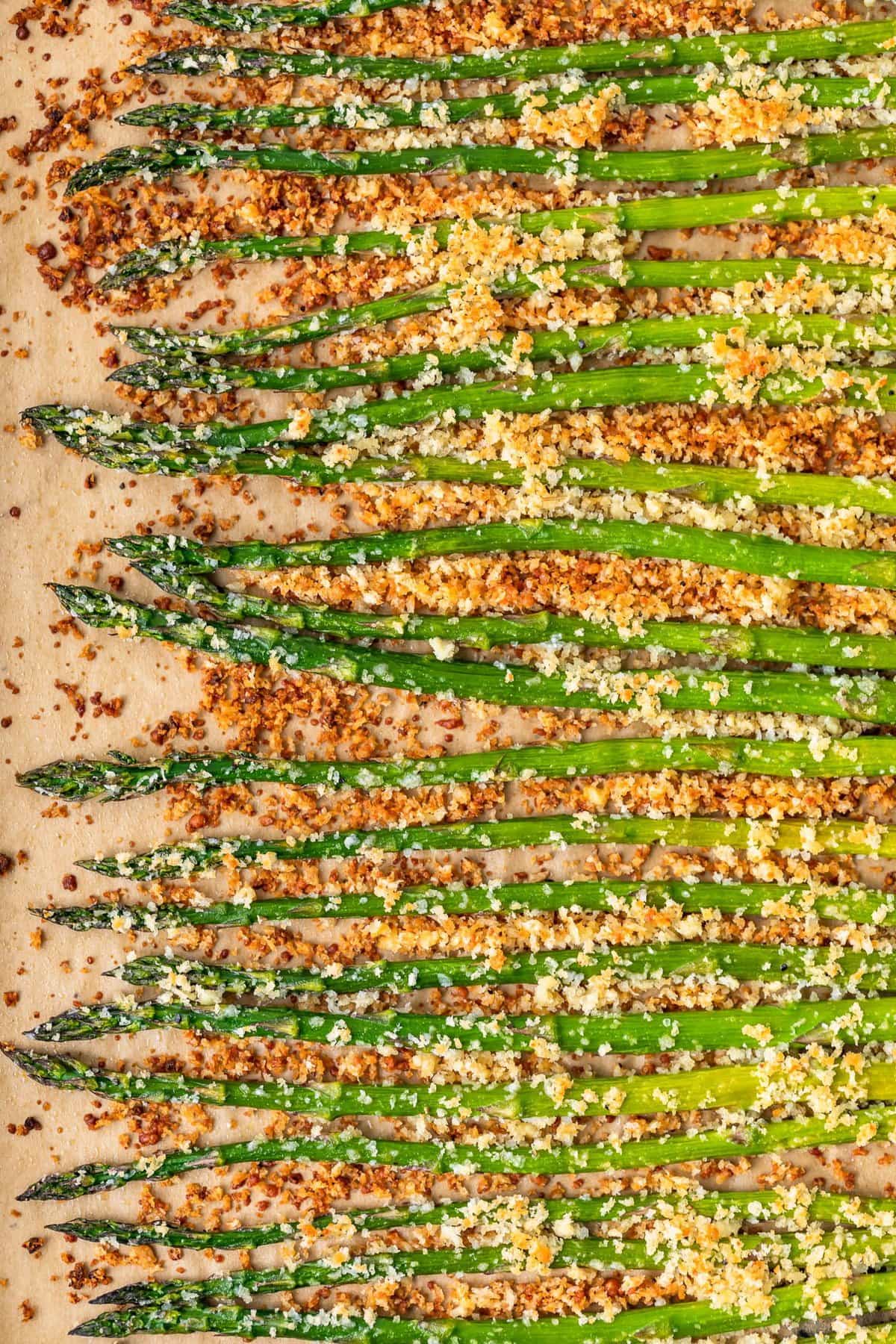 Garlic Asparagus
This Garlic Asparagus is topped with garlic, parmesan, and plenty of olive oil, and then roasted to perfection. And then topped off with the most amazing homemade aioli!
Looking for a simple yet delicious side dish to serve for…well, for anything? Any holiday, any dinner, any time! This Garlic Roasted Asparagus is just the thing.
The flavors of garlic and parmesan mix together perfectly to create a dish with allll the taste, without being overwhelming. And the panko breadcrumbs add a nice crispy, crunchy texture! After baking, top the asparagus with roasted garlic aioli for a creamy addition.
I'm excited to make this Crispy Garlic Parmesan Asparagus all spring and summer long, but like I said, it works for ANY occasion, any holiday. It's one of those side dishes you can easily make when you're feeling stuck on what to cook.
This Garlic Roasted Asparagus is crispy, tasty, and absolutely addicting once you add on the garlic aioli. Yum!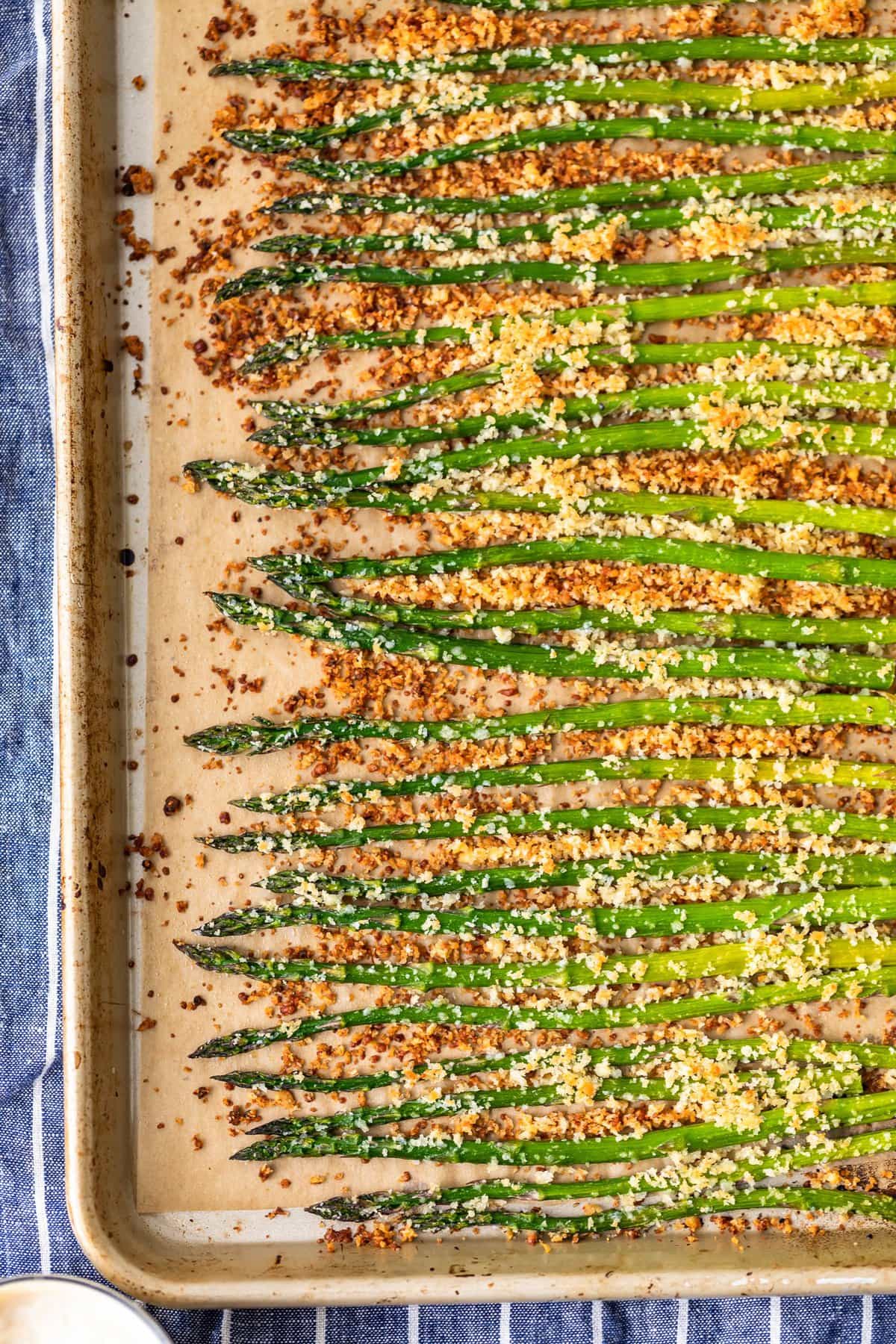 Roasted Garlic Parmesan Asparagus
Sometimes the best side dishes are the simple ones. Just some fresh veggies and a few ingredients to add flavor, roast it, and done! No need to complicate things, just make dinner easy with a recipe like this. Pair it with chicken, fish, pork…or add it to your holiday table along with a nice ham, lamb, or turkey.
What's in this asparagus dish?
Garlic
Parmesan Cheese
Olive Oil
Salt & Pepper
Panko Breadcrumbs
Homemade Roasted Garlic Aioli
This crispy garlic parmesan asparagus is absolutely amazing on its own, but the final touch on this dish is the Homemade Garlic Aioli! It's sooo creamy and adds an extra layer of garlic flavor…because you can never have enough, right?
I like to roast garlic in the oven before mixing it up and making the aioli, and that little extra step has made all the difference in my opinion. It's SO good. Not just for this dish, but for any dipping needs you may have!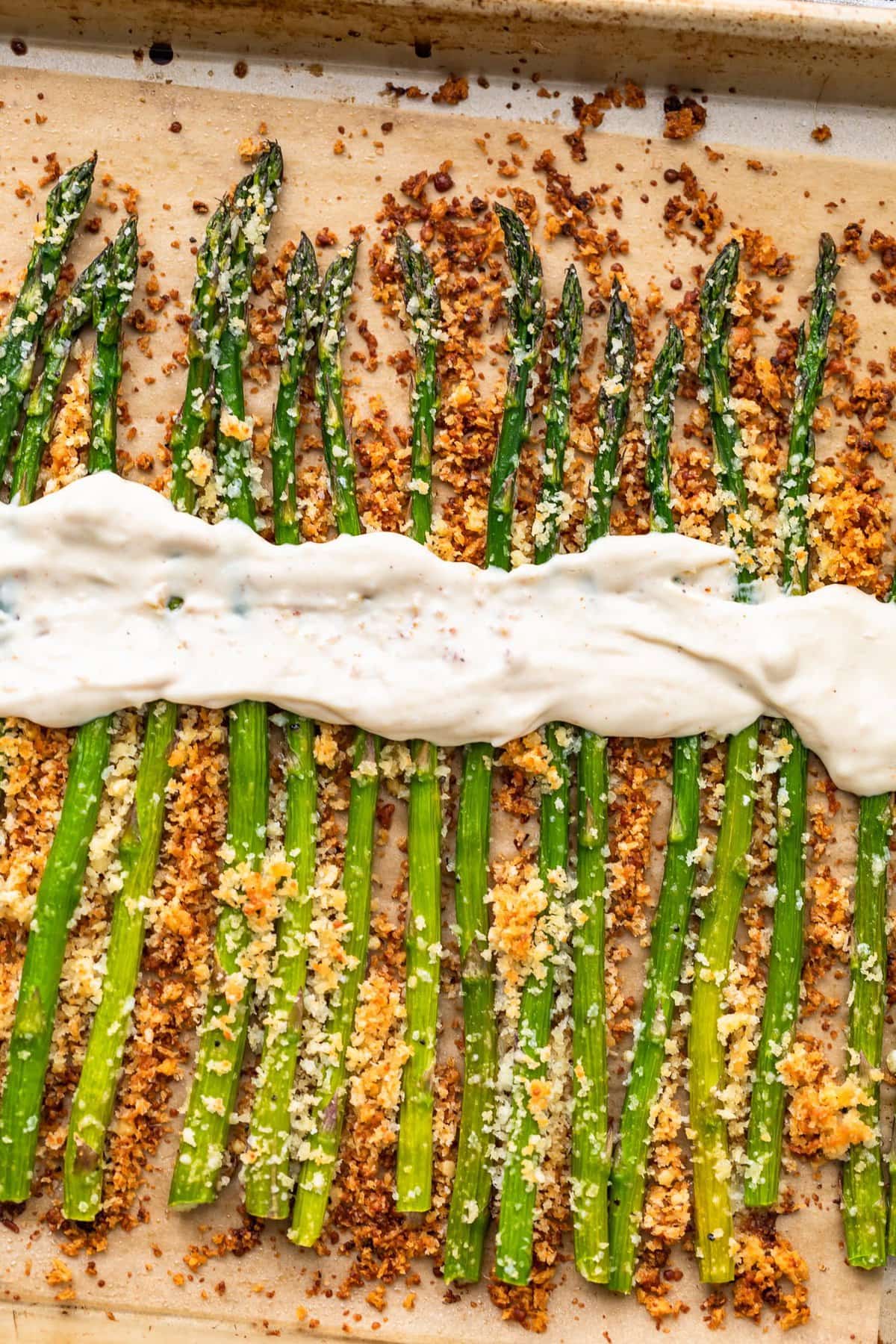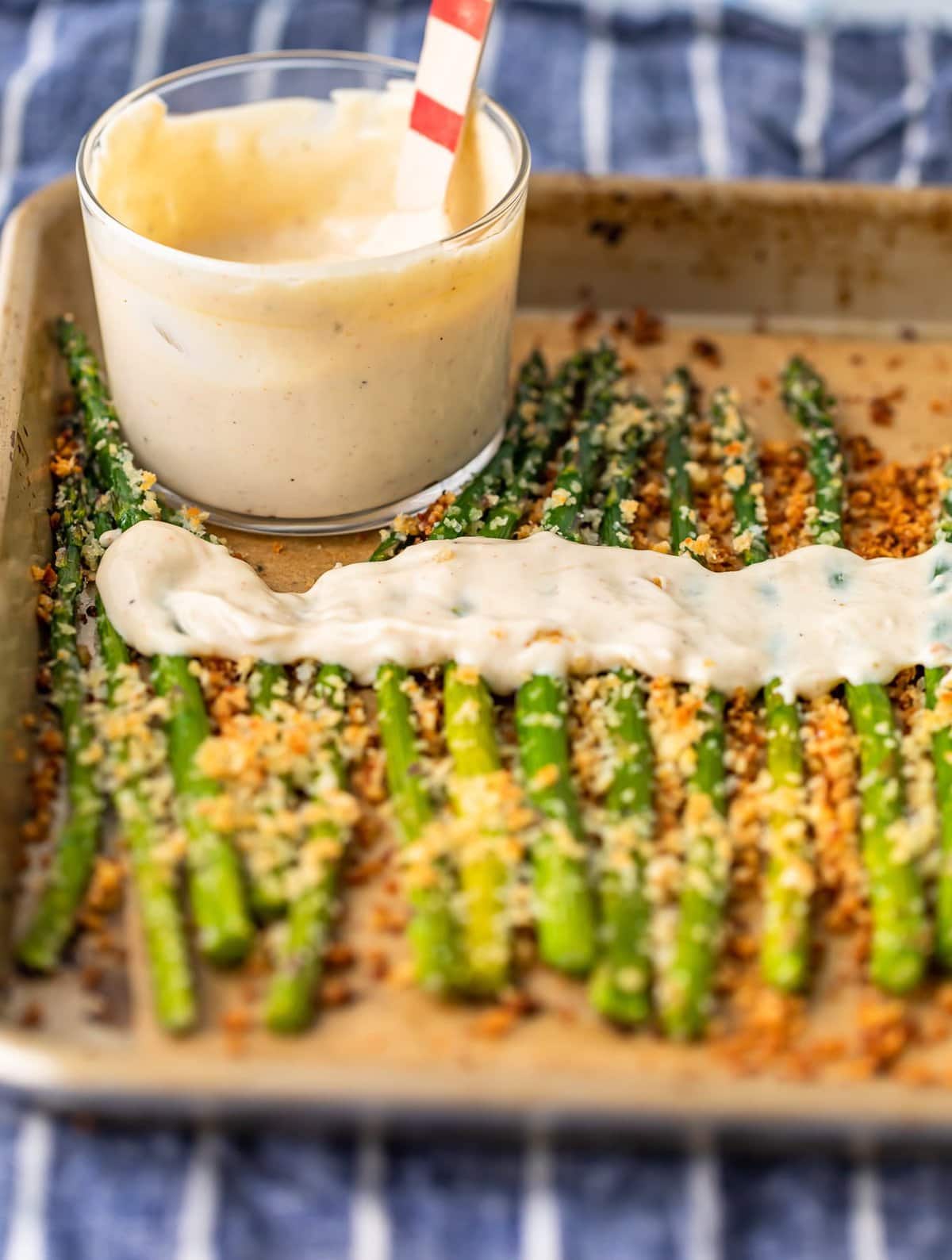 How to Make Roasted Garlic Asparagus
You only need about 30 minutes to make this crispy garlic asparagus, and most of that time is totally hands off. Prep it, throw it in the oven, and let it do its thing!
Preheat the oven to 400°F, and prepare a baking sheet by covering it with parchment paper or aluminum foil.
Place the olive oil, minced garlic, Parmesan cheese, salt & pepper, and panko breadcrumbs in a resealable bag, and shake it all together to mix.
Now place the asparagus in the bag with the rest of the ingredients, and massage it to coat the asparagus.
Next, spread the asparagus spears out on the baking sheet so that they're not touching.
Bake 15-20 minutes at 400°F, until asparagus becomes tender, and breadcrumbs turn golden brown.
When it's done baking, top the asparagus with the aioli to serve!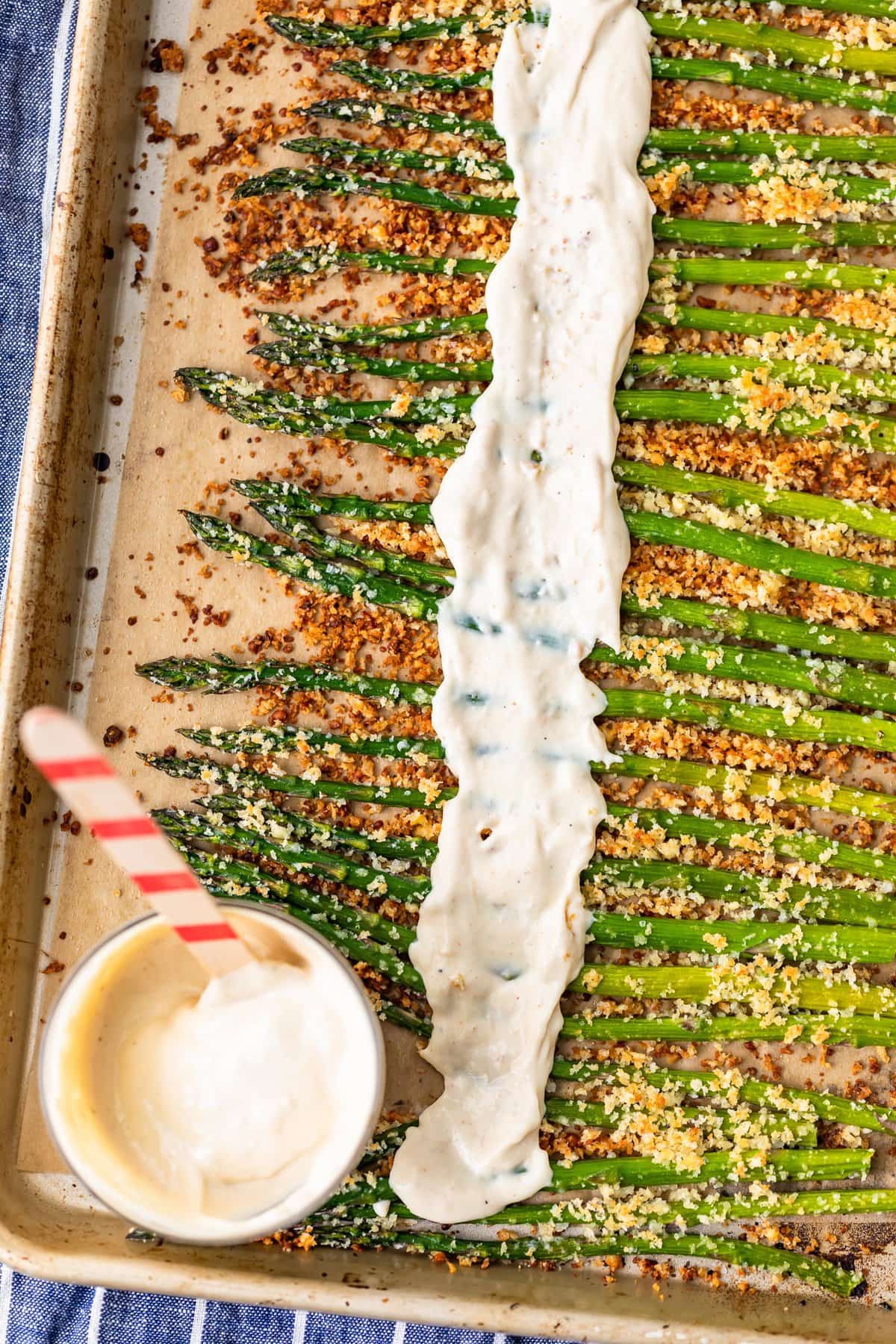 Best Asparagus Side Dishes
The more I cook asparagus, the more I fall in love with it! It's such a healthy vegetable, and it is so easy to change up the flavor and create something simple yet delicious. It's the perfect spring vegetable and the perfect spring side dish!
This garlic roasted asparagus is a new favorite (partially because of the amazing roasted garlic aioli), but I've got plenty of easy asparagus dishes to make for Easter, Mother's Day, summer dinners, or any time of year!
Best Asparagus Side Dishes
These easy asparagus side dishes are healthy AND tasty!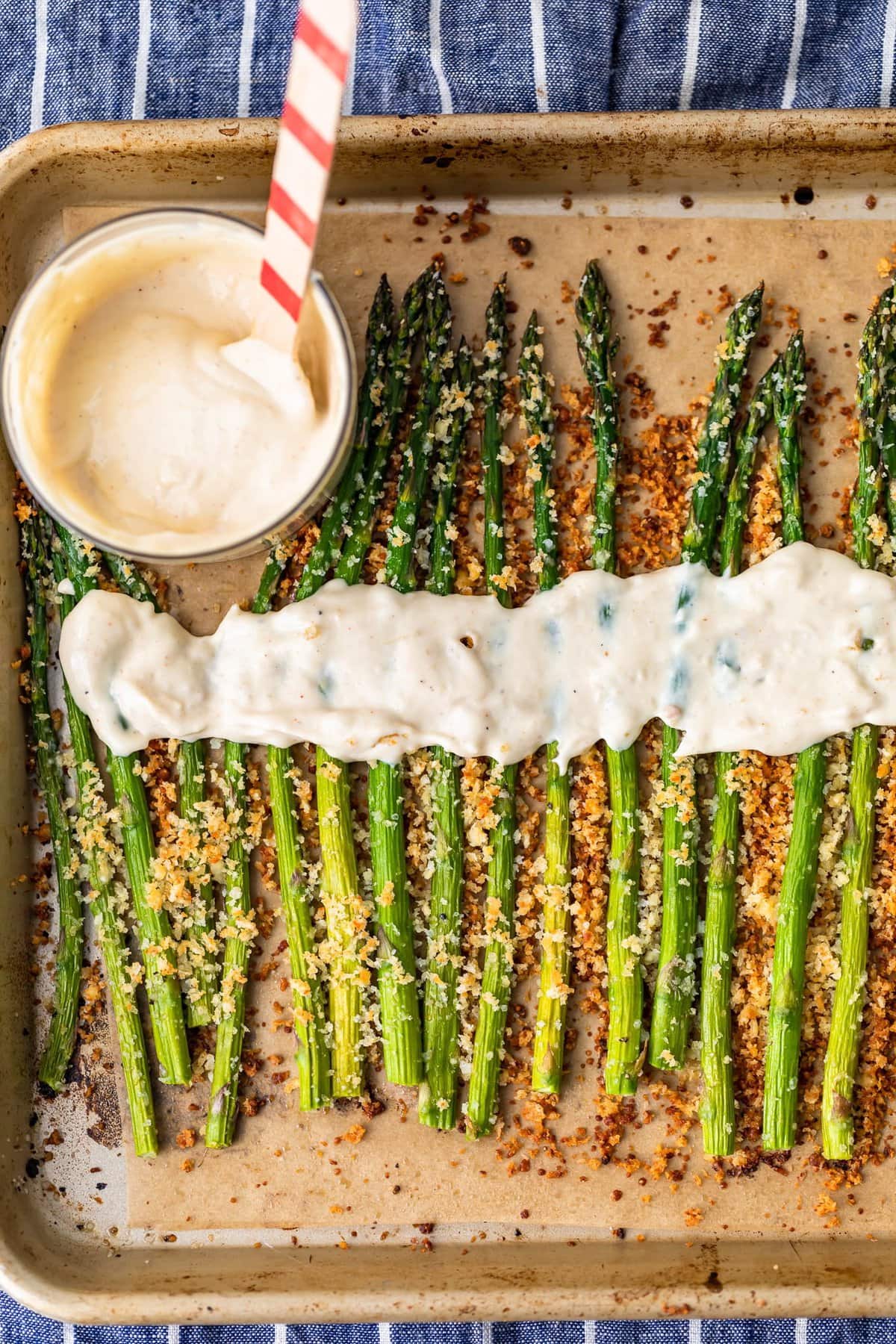 Try this garlic roasted asparagus with your next meal and let me know what you think. I have a feeling you're going to love it!
See the recipe card for details on how to make Crispy Garlic Roasted Asparagus. Enjoy!
Be sure to try some of our other favorite veggie side dishes: