This Penne alla Vodka recipe is made with a creamy tomato-based vodka sauce that is just delicious. It's so easy to make the sauce and mix in some pasta for a dinner that tastes more complicated than it is. Vodka penne is a classic for a reason, and it's ready in under 30 minutes!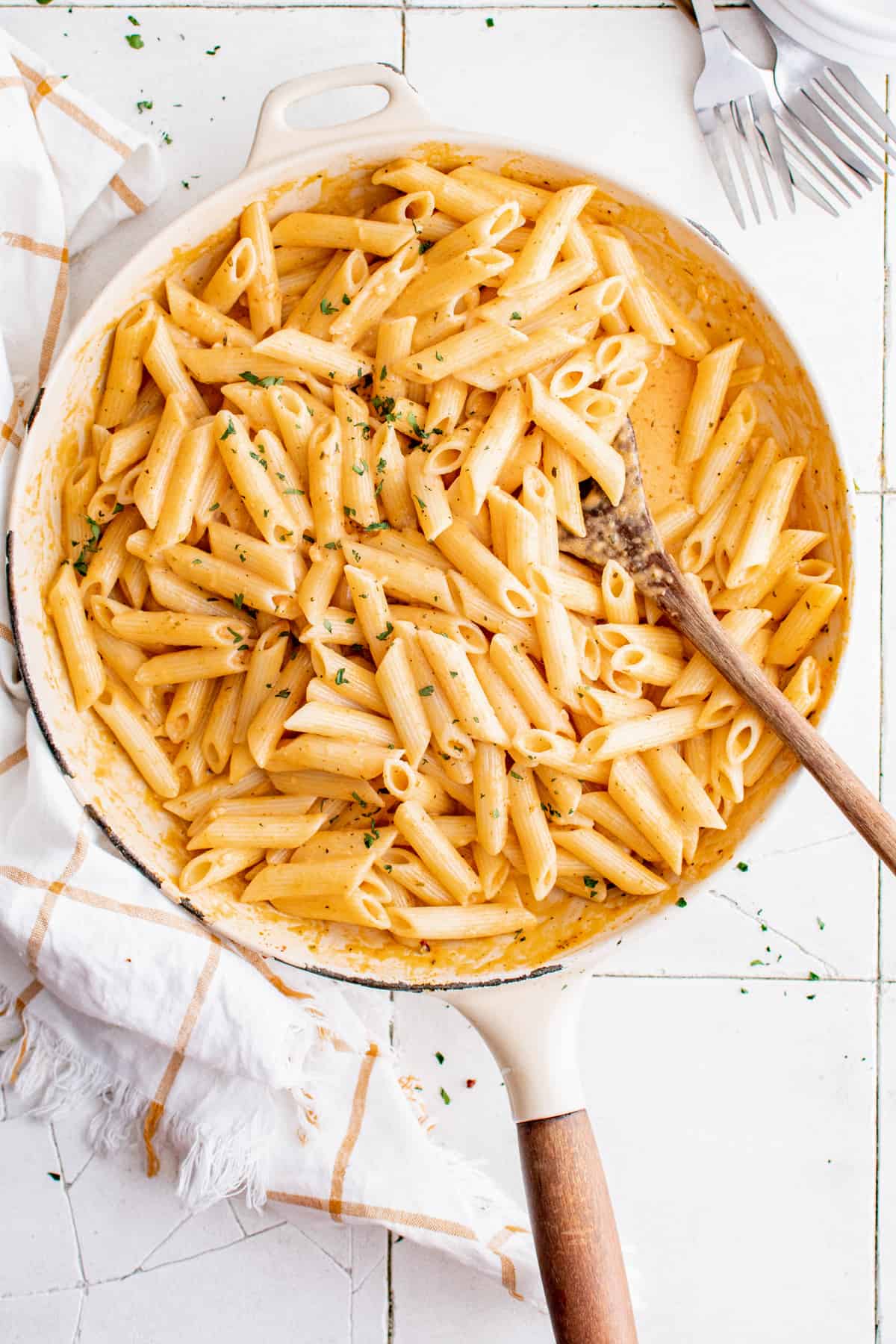 What's in Penne alla Vodka?
This easy penne alla vodka recipe contains pretty simple ingredients, but it creates the most flavorful pasta dish!
Pasta: Penne is the prime choice of pasta for this dish, of course (it's in the recipe name!). Cook the pasta al dente before making the sauce.
Tomato Paste: We're making a creamy tomato vodka sauce, so the paste creates the base.
Heavy Cream: This adds a silky, creamy texture. You can use half and half as a substitute.
Vodka: You only need a small amount. It helps blend the other ingredients into a nice texture, without adding in additional flavor.
Pasta Water: Save about ½ cup of water when boiling your pasta. Use a glass jar or heat-resistant container and set it aside until you need it.
Cheese: Parmesan works best for this dish, and I recommend grating your own cheese for best quality.
Garlic: I used 3 cloves of garlic here, but feel free to use more to your taste.
Seasoning: Grab your Italian seasoning and some salt and pepper.
Can I make penne alla vodka with chicken?
Absolutely! Add grilled chicken, shredded chicken, or poached chicken breast (or any chicken you like). Just slice, shred, or cube it up, then mix it in with the pasta and sauce to warm up. You can make the chicken ahead of time, or cook it while you're boiling the pasta.
For other add-in options, try Italian sausage, pancetta, or prosciutto.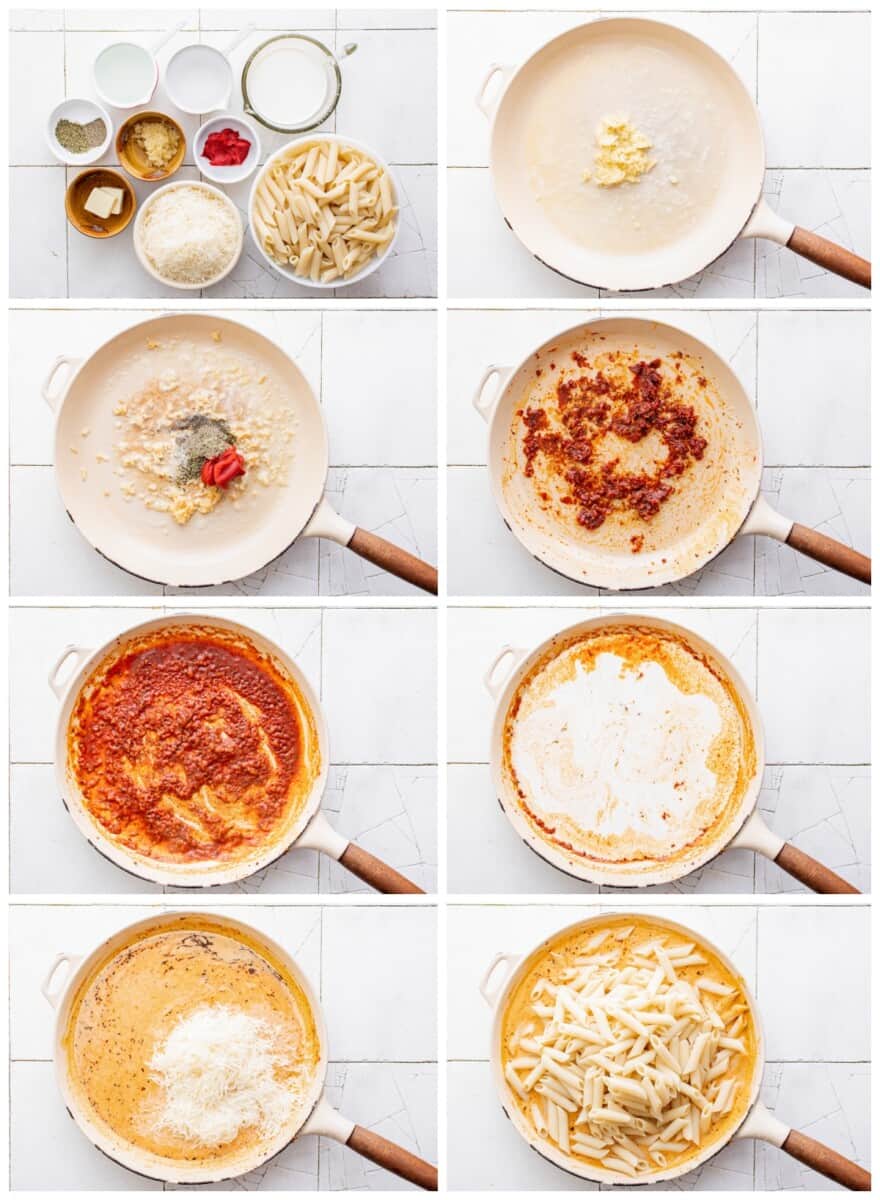 Is there actually vodka in penne alla vodka?
Yes, there is actually vodka in penne vodka sauce! It's a small amount and doesn't mess with the flavor the way wine would. Also, the alcohol cooks out as the sauce simmers.
Why do you use pasta water in pasta sauce?
You need a bit of liquid to fill out the sauce, and pasta water is more flavorful than plain water. Plus, the starch from the pasta helps to thicken the sauce and it will coat the pasta more evenly.
Can I use a different type of pasta?
This sauce tastes amazing with any type of pasta, so use whatever you like. Short and tubular noodles, like rotini or ziti, make great substitutes. But it will taste just as good served over angel hair pasta or tagliatelle.
Why does my vodka sauce taste bitter?
Any bitterness from the vodka should cook out, so keep simmering if it doesn't taste quite right yet. You can also add a tiny bit more cream or pasta water to help dilute the flavor.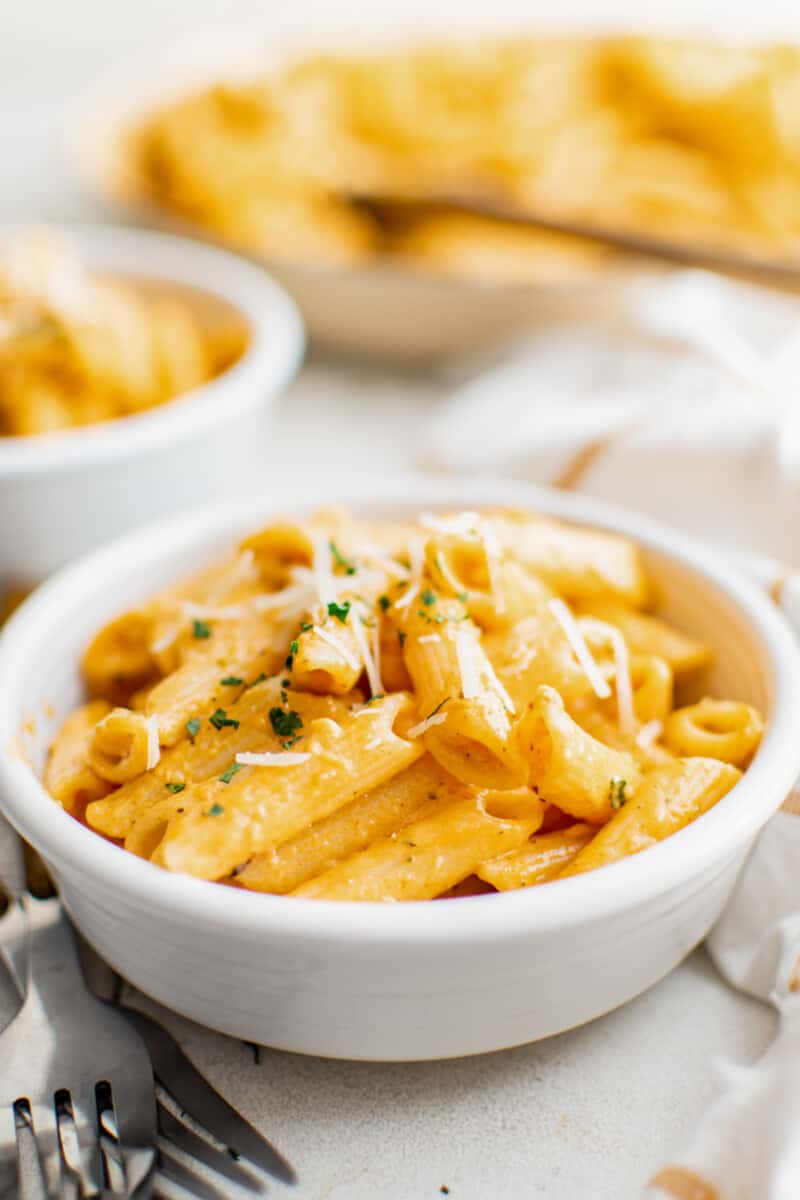 How to Store and Reheat Vodka Penne
Store leftovers in an airtight container and keep in the refrigerator up to 3 days. Then you can simply reheat it in a skillet or in the microwave.
How to Freeze Vodka Sauce
I don't recommend freezing pasta, but you can definitely freeze the creamy vodka sauce and save it for later. Pour it into a freezer-safe container or bag, and keep it for up to 3 months. Defrost it in the fridge before using it, then just reheat and add fresh pasta.
What to Serve with Penne alla Vodka
This creamy penne recipe goes well with cheesy garlic bread, chicken Caesar salad, and a glass of red wine. You can't beat the simplicity of a classic Italian dinner!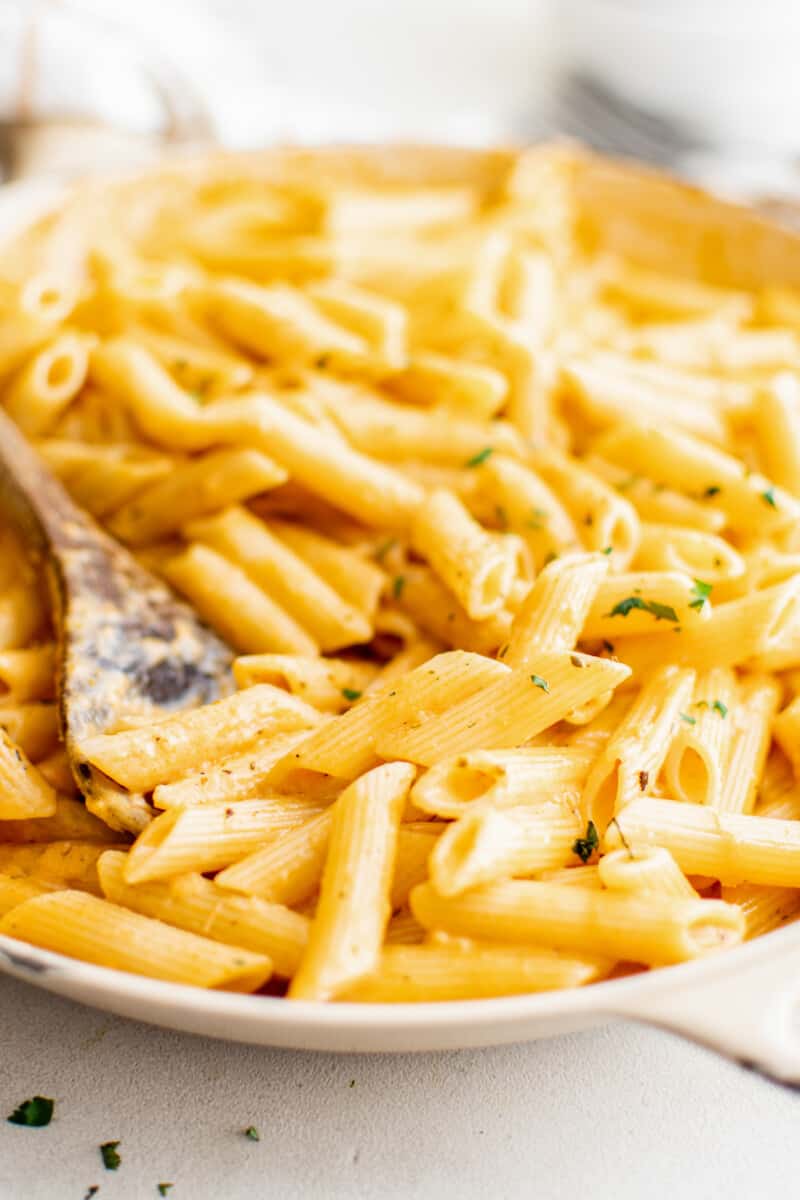 For more delicious pasta sauces, be sure to try this Homemade Alfredo and Beef Bolognese Sauce.
If you make this recipe be sure to upload a photo in the comment section below or leave a rating. Enjoy! You can also jump to recipe.