Gazpacho is the ideal summer soup. It's flavorful, fresh, thick, creamy, and because it's served cold, it's so refreshing on warm days. Try this easy gazpacho recipe for a quick meal or appetizer!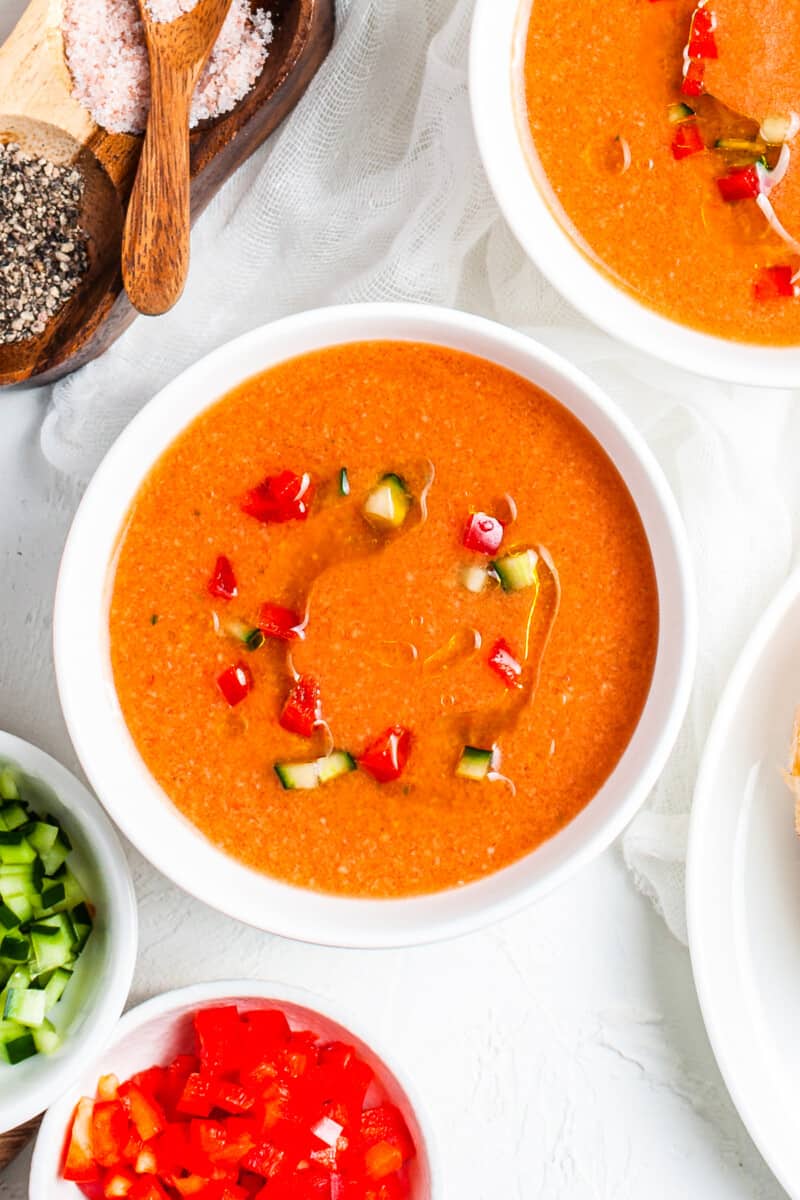 Homemade Gazpacho Recipe
This easy gazpacho recipe is the perfect way to cool down during warm summers. It's so delicious and really simple.
Just blend up some veggies to make this cold soup. It's filled with fresh tomatoes, bell peppers, and cucumbers, making for an incredible flavor!
Serve it for a light meal, as a healthy side dish, or as an appetizer before dinner.
Why you'll love this Easy Gazpacho recipe:
SUMMER SOUP: Soup lovers will love this cold soup recipe for hot summer days.
HEALTHY: What could be healthier than fresh vegetables blended up and served in a bowl?
EASY RECIPE: All you need is a blender to make this recipe. No cooking necessary!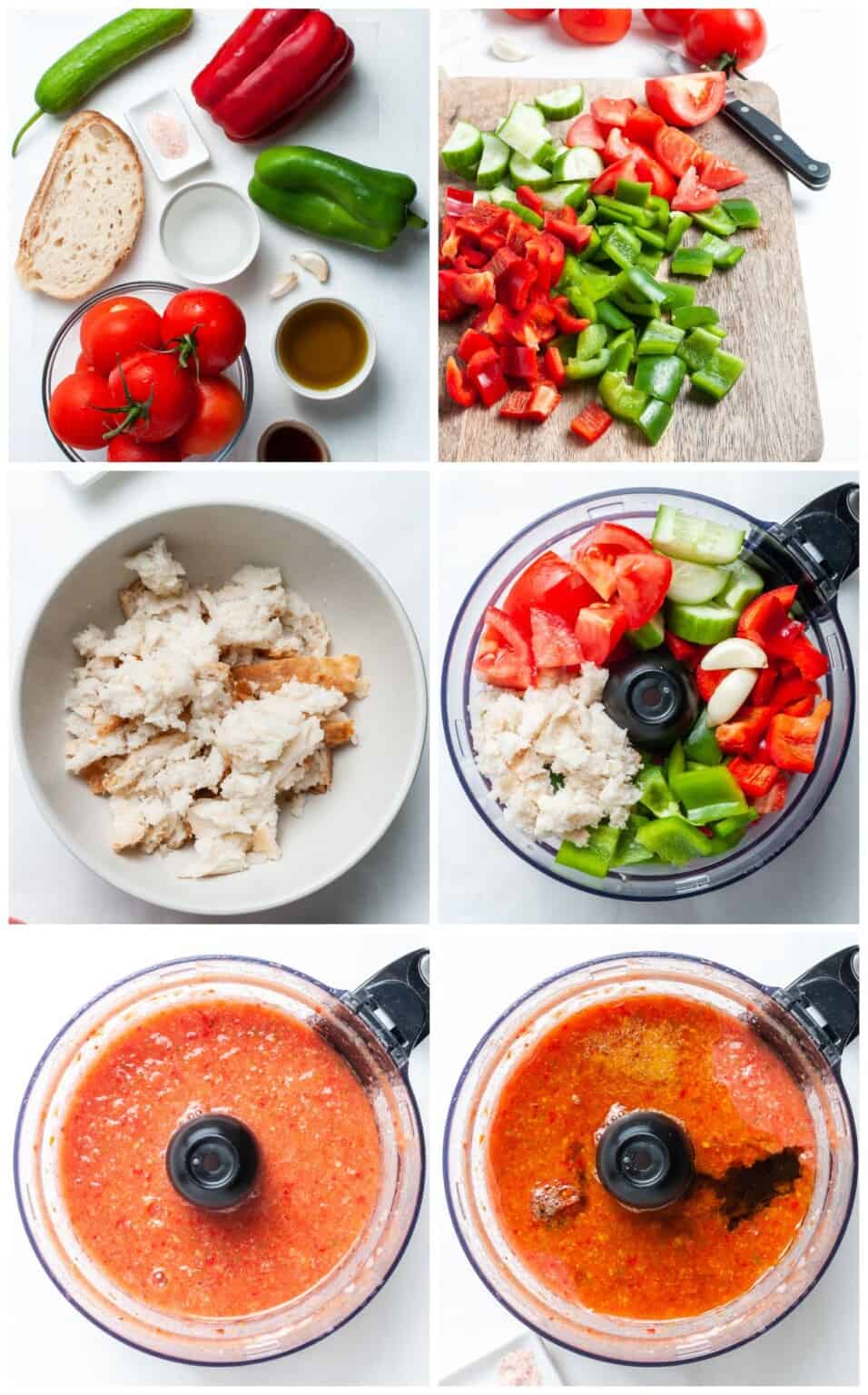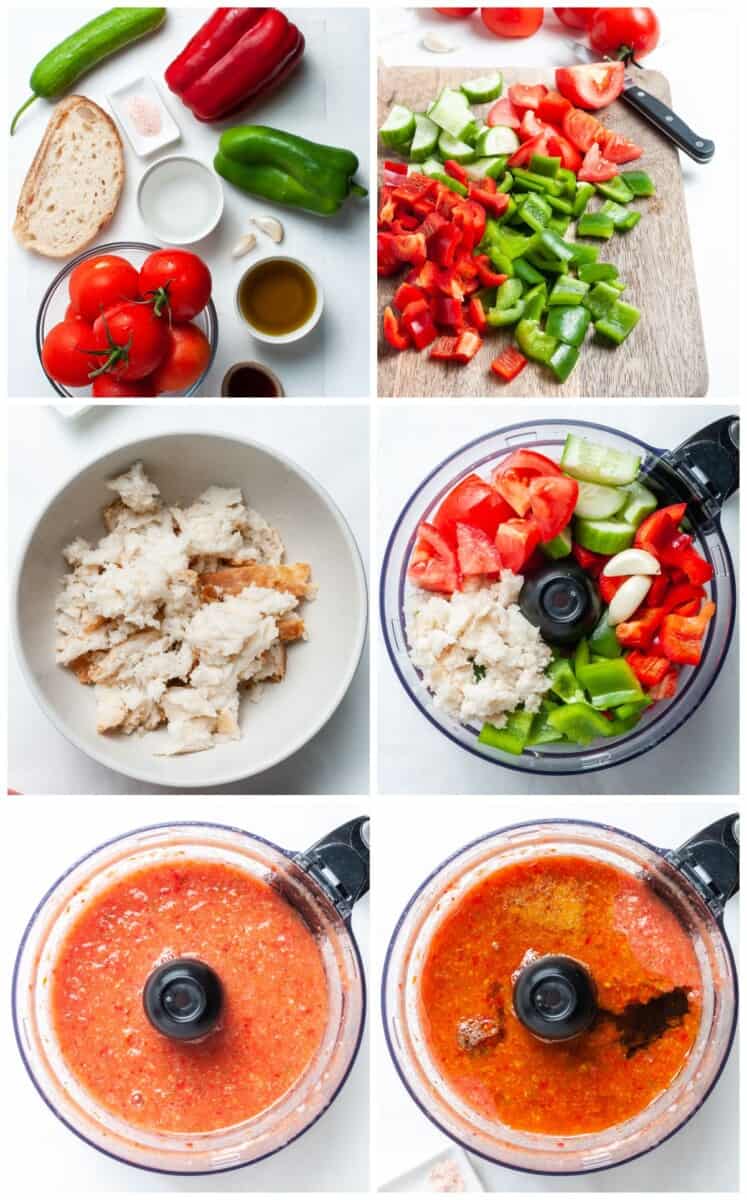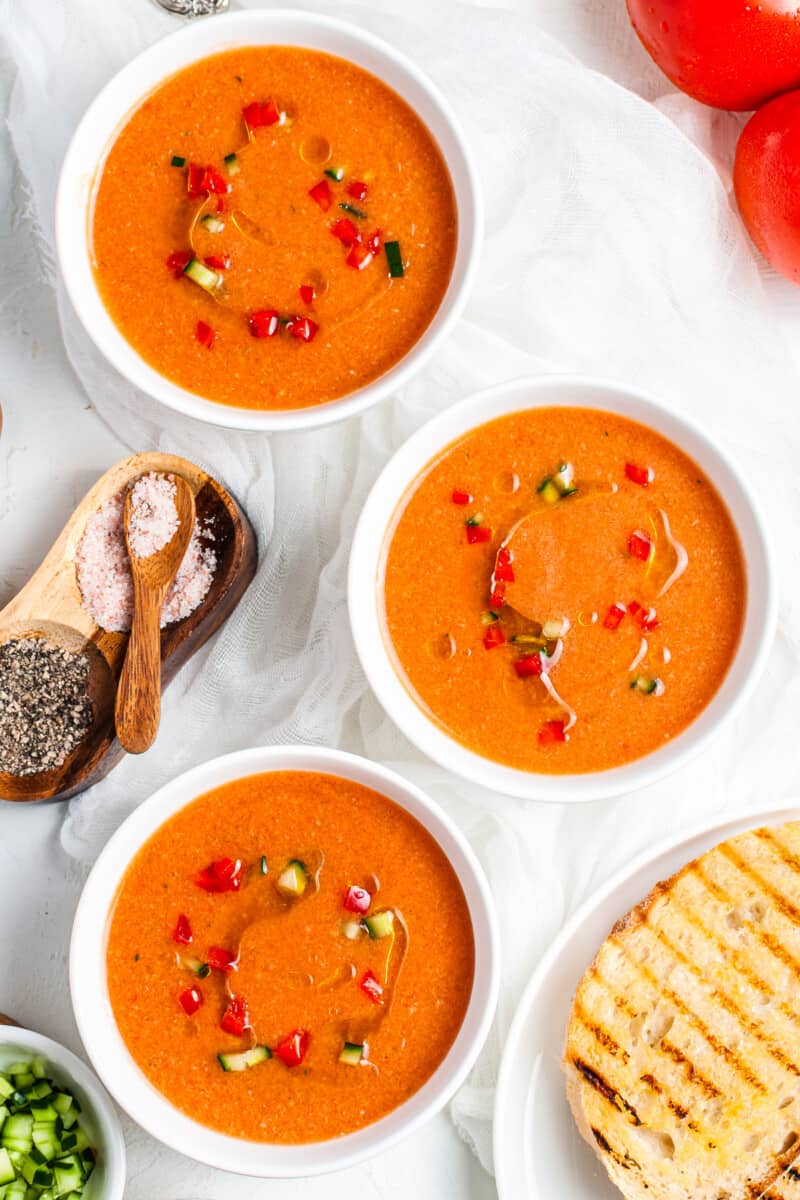 How to make Gazpacho from Scratch
You can jump to the recipe card for full ingredients & instructions!
Use your hands to tear up the bread into small pieces, and place it in a bowl of cold water to soak for 10-15 minutes. After soaking, squeeze it with your hands to remove as much water as possible.
Place the bread in a blender or food processor, along with the tomatoes, peppers, cucumber, and garlic, and blend until smooth.
Add in the vinegar, olive oil, and salt, and stir.
Pour the soup through a fine mesh sieve to remove any veggie chunks or pulp that might be lingering.
Pour the soup into a bowl and cover with plastic wrap. Store it in the refrigerator until ready to serve. I recommend giving it a couple of hours in the fridge for the perfect serving temperature.
Serve cold, straight from the fridge. Top it off with finely chopped veggies if you like.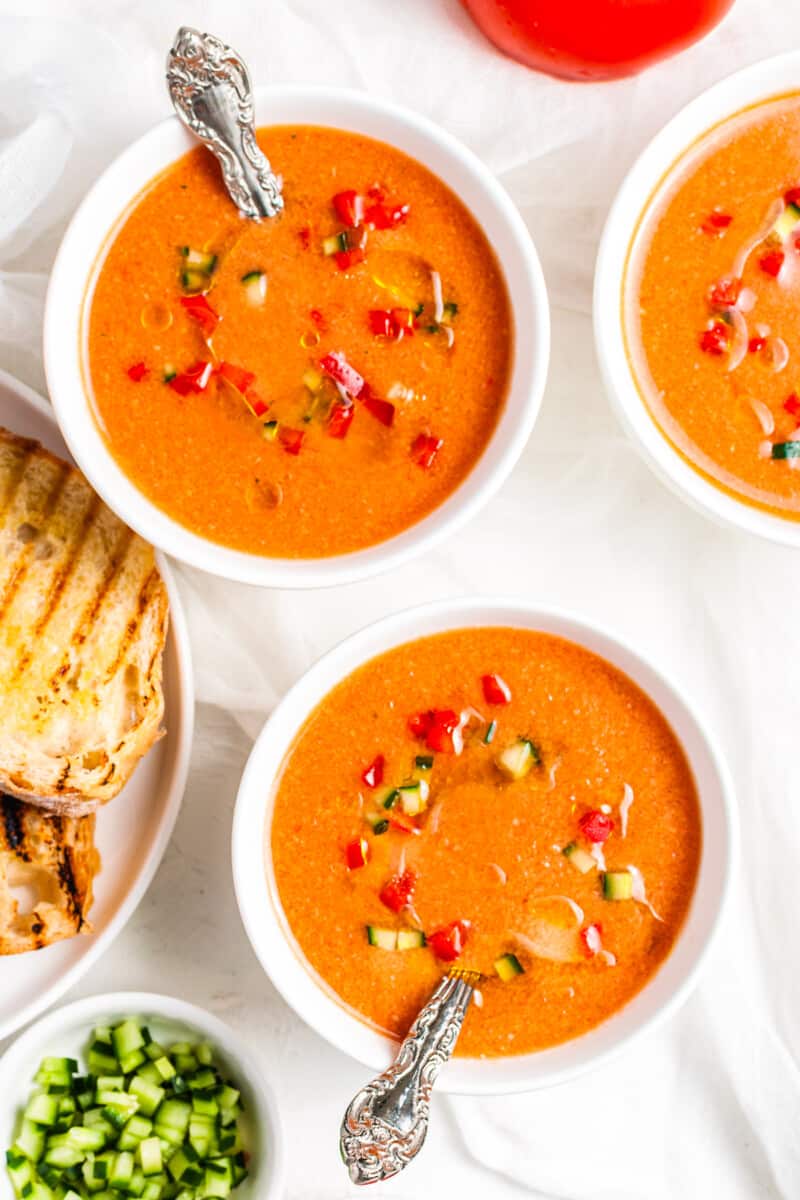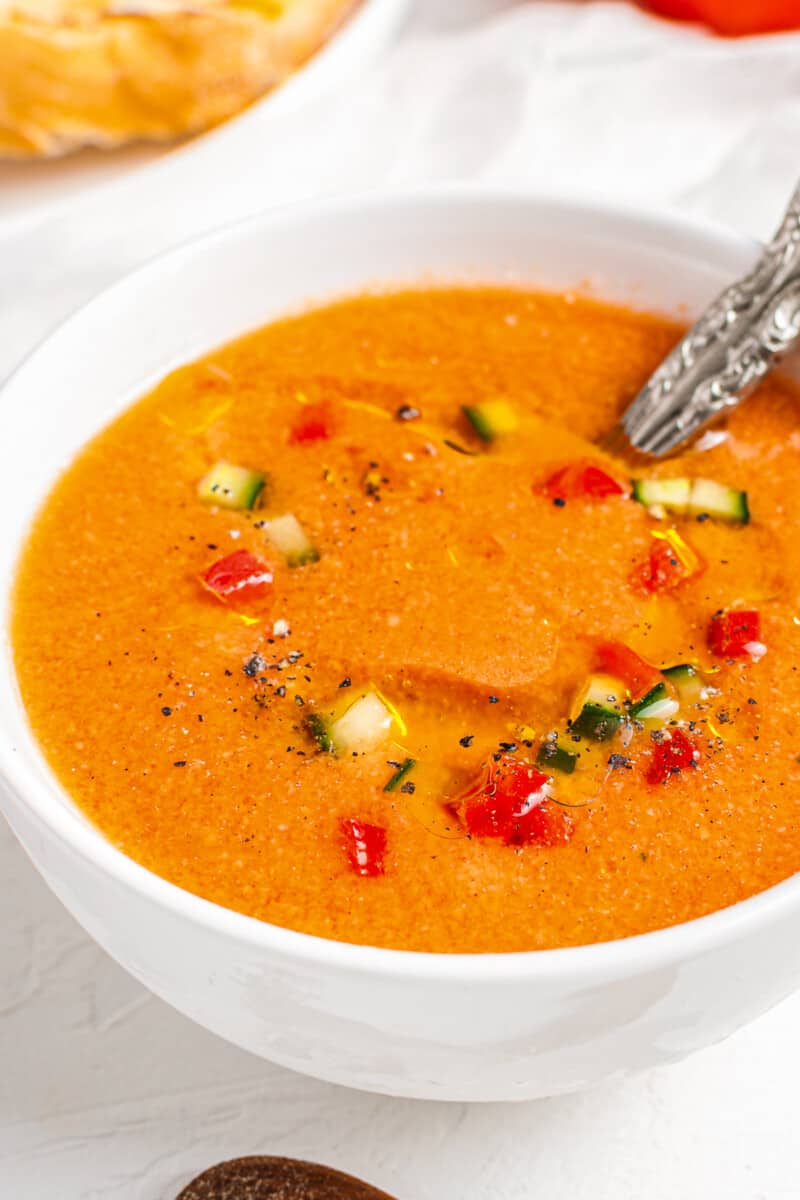 What is gazpacho?
Gazpacho is a cold soup made by blending up raw vegetables, traditionally with tomatoes, peppers, cucumbers, and bread.
Why is gazpacho served cold?
This dish originated in Andalusia, the southern region of Spain. Because of the warm climate, this soup is traditionally served cold to combat hot days.
Can I eat it warm?
It tastes amazing when served cold, but you can serve it warmed if you prefer. Follow the instructions in the recipe card to make the soup, then let the blended mixture simmer on the stove, stirring regularly, until warmed through.
Can I freeze gazpacho?
Yes, if you want to store this for longer periods of time, you can freeze it without compromising quality. Pour it into freezer-safe containers or resealable bags, and freeze up to 6 months.
To "reheat", let it thaw in the fridge overnight, or until it reaches your preferred serving temperature. Then top with fresh chopped veggies to serve.
What should I serve with this cold soup?
This flavorful veggie soup makes a great pre-dinner appetizer, but it also makes a beautiful main dish for lighter meals. Serve it with a salad, some bread, maybe a simple appetizer, and definitely add a glass of wine!
Try this traditional Greek salad, a classic Caprese salad, or this focaccia.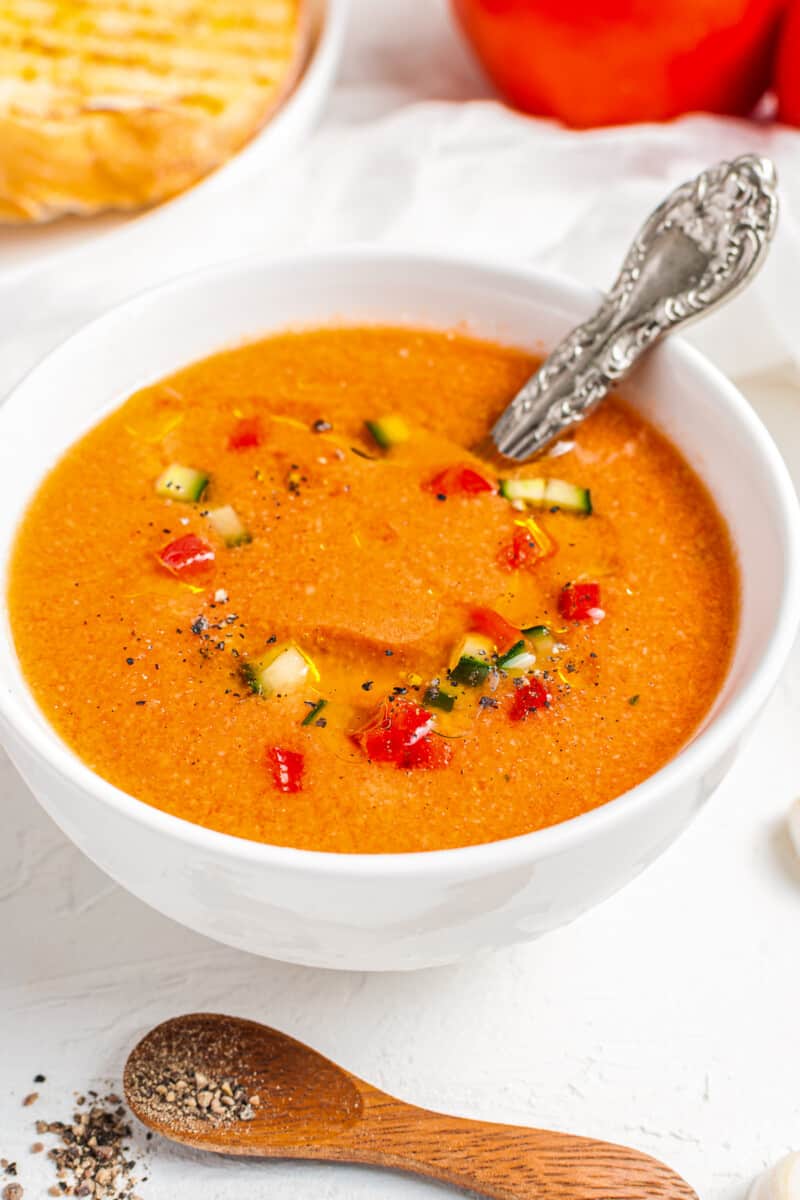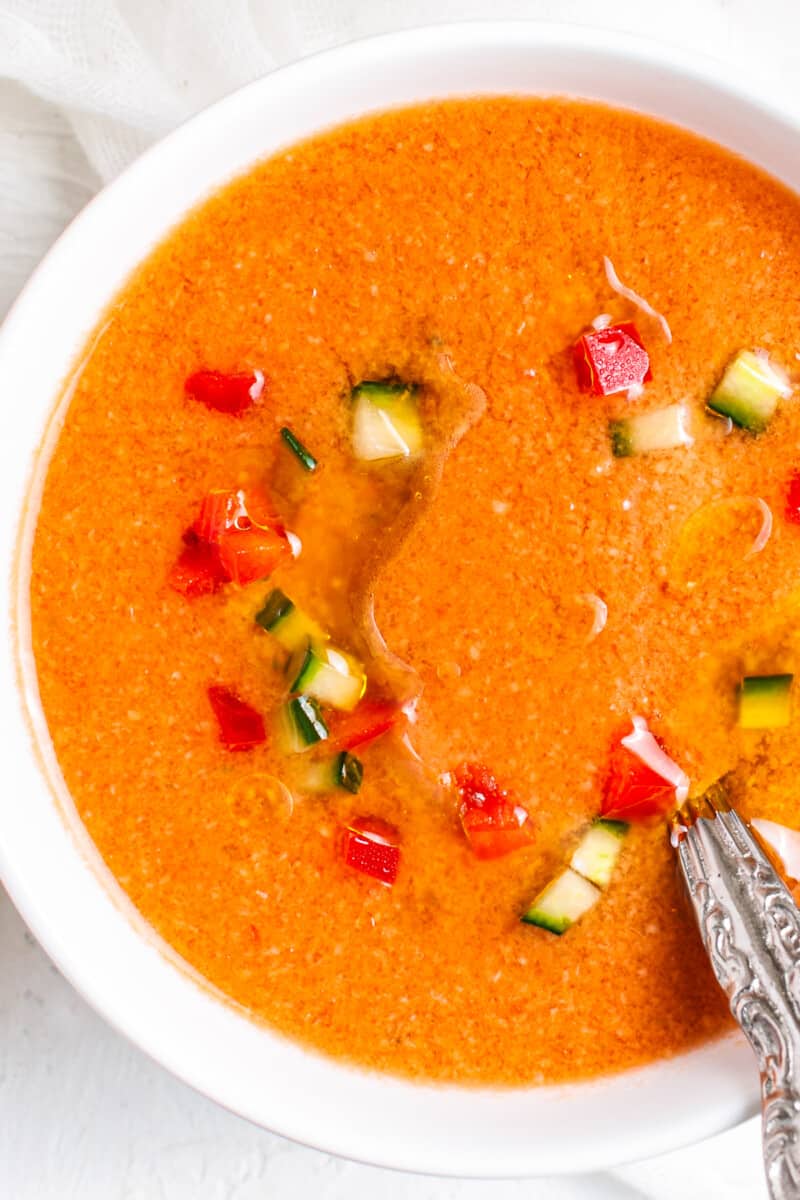 Tips!
Use really fresh, ripe tomatoes to get the BEST flavor.
Be sure to use a good Extra Virgin Olive Oil for this recipe. The oil will make a noticeable difference to the flavor since gazpacho isn't cooked.
I recommend using slightly stale white bread here, as it helps create the ideal consistency.
To store leftovers: pour into airtight containers and keep in the refrigerator for 2-3 days. To store longer, freeze it.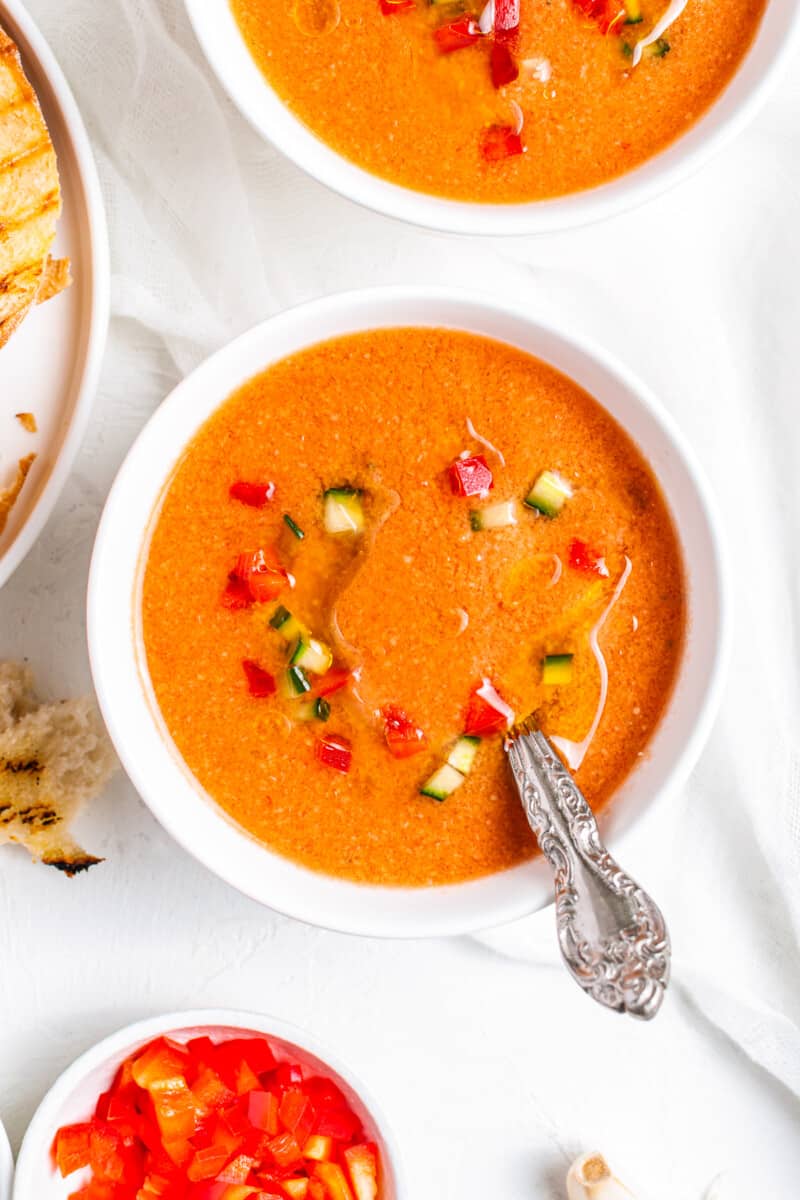 This homemade gazpacho recipe is so easy and flavorful, it will quickly become a summer favorite. On a hot day, this soup plus a glass of wine or refreshing cocktail can't be beat!
If you make this recipe be sure to upload a photo in the comment section below or leave a rating. Enjoy! You can also jump to recipe.