This Traditional Greek Salad is healthy, delicious and so easy to make! Cucumbers, feta, olives and other goodies are drizzled in a light Greek salad dressing. Simple, fresh and delicious!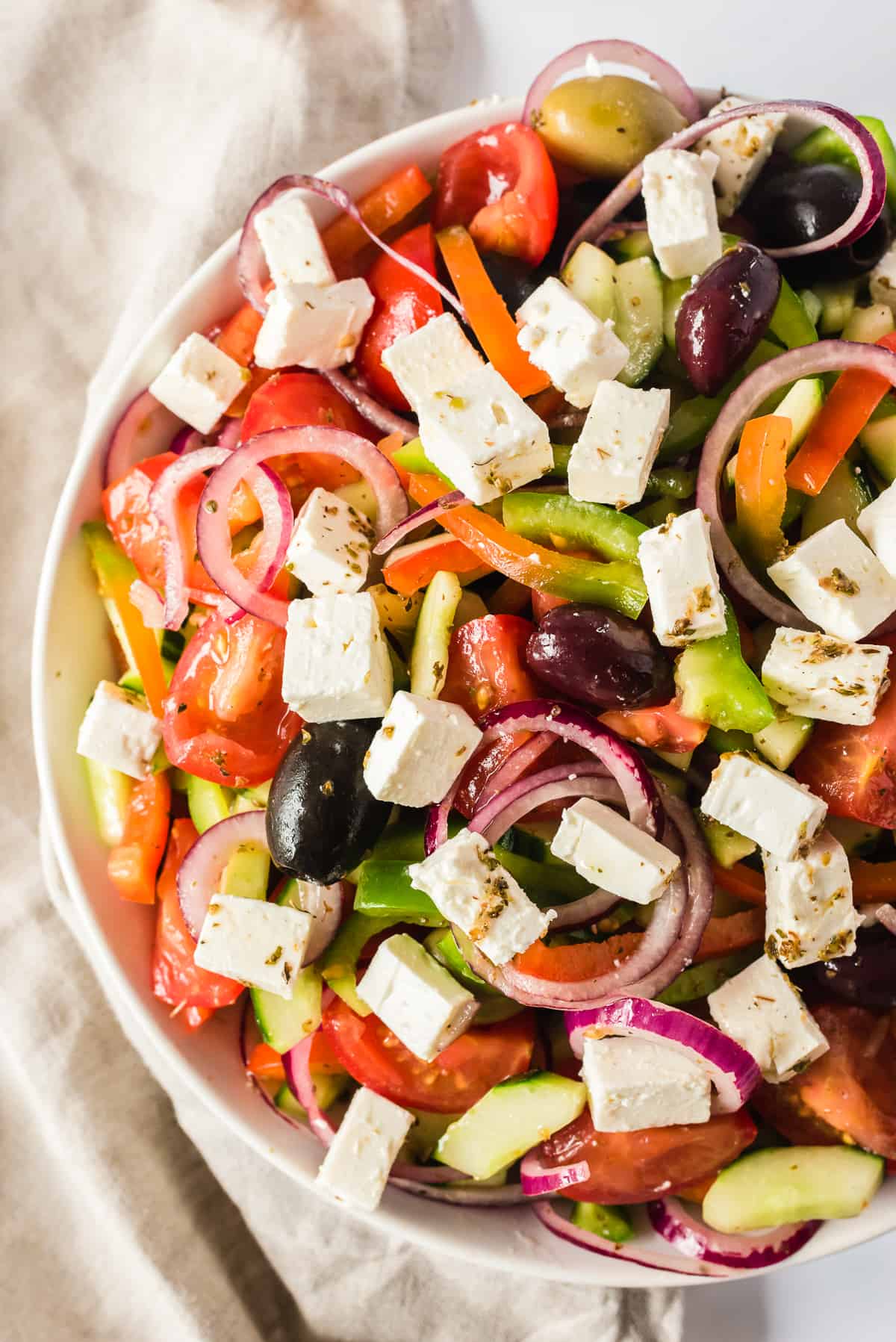 Greek Salad Recipe
Some recipes stand the test of time for a reason, they are delicious! This Traditional Greek Salad is so bright and joyful, it's a taste of the Mediterranean in every bite!
Creamy feta, salty kalamata olives, crunchy onions and juicy tomatoes are anointed with a herby, citrus Greek dressing. Have it as a hearty side or satisfying main!
Why you'll love this Greek Salad Recipe:
Packed with Mediterranean flavor! This greek salad is loaded with fresh and vibrant ingredients – sunshine in a bowl!
A delicious Greek salad dressing. A simple, light and velvety dressing made with oregano, lemon and olive oil.
Healthy. The dressing is light, the veggies are packed with goodness. It's a hearty salad that'll make you feel good!
This is a delicious, healthy summer salad that works as a main dish, appetizer, or side!
How to make this Traditional Greek Salad
You can jump to the recipe card for full ingredients & instructions!
Make the dressing. Mix all the ingredients for the dressing together and stir. Add salt and pepper to taste.
Prep the salad. Chop your veggies, then toss all ingredients for the salad except for the feta in a bowl.
Mix. Pour the dressing over it and give it a stir. Then add the feta.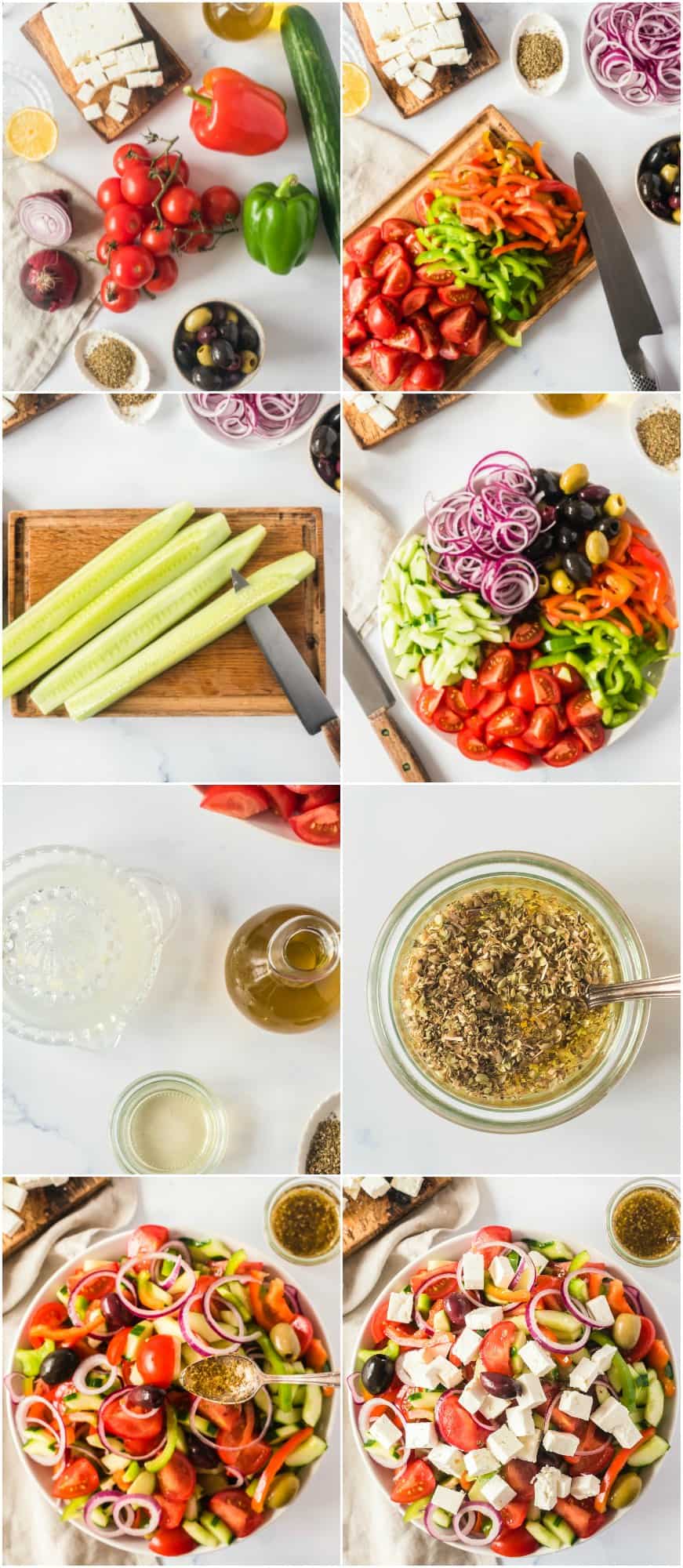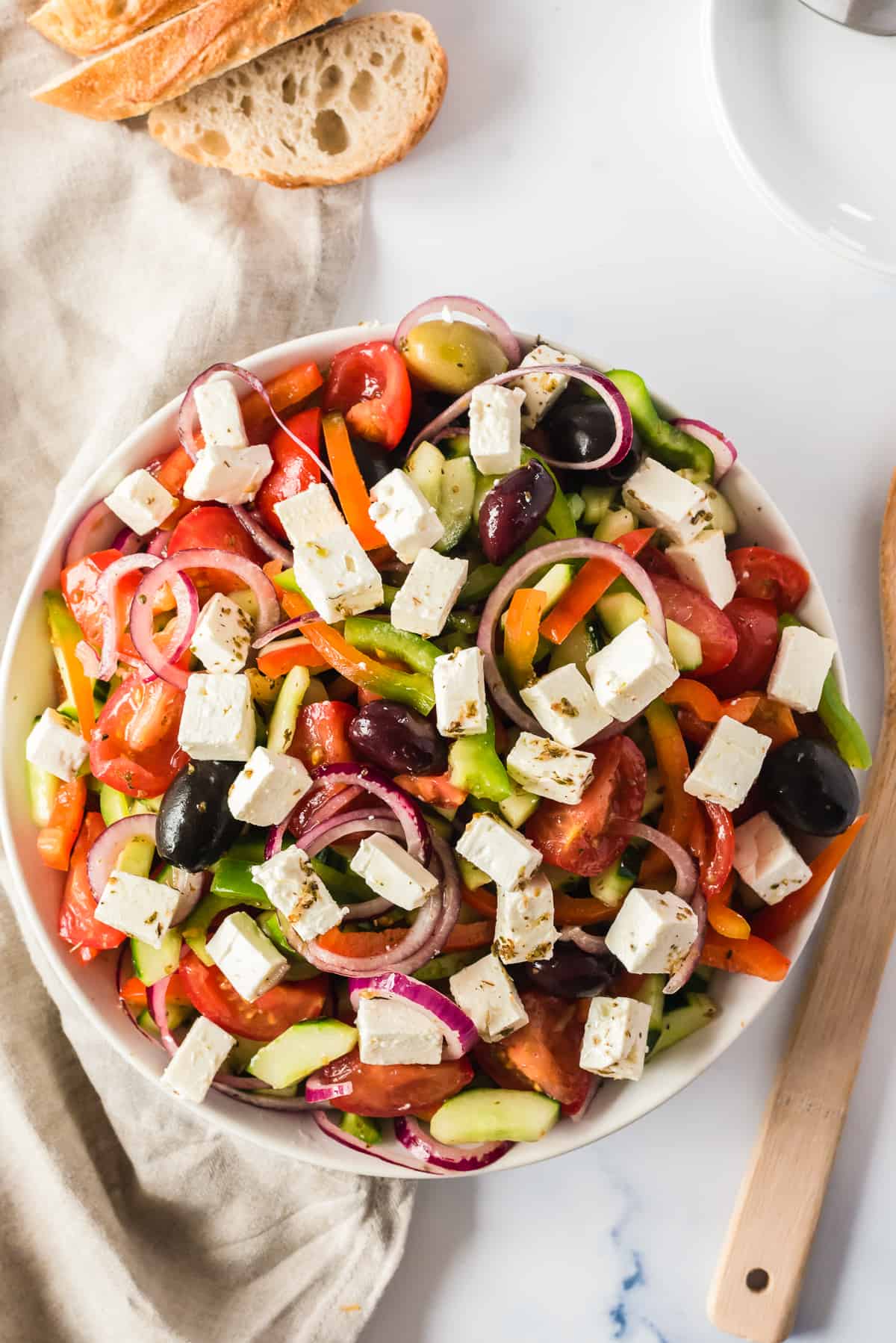 Can I make this ahead of time?
I would not recommend making this too far ahead. It will stay nice for a couple of hours if kept in the fridge.
If you really want to make it the day before, prepare everything but don´t add the dressing and the feta. Put these on right before serving. I think it tastes better fresh.
This is one of my favorite potluck salads, so I just bring the dressing in a separate container and finish it up to serve.
Can I change the ratio of the ingredients?
Sure! If you love feta cheese for example feel free to add more. Use more cucumbers and less tomatoes if you want – I think this ratio is really good though.
Too many cucumbers might water down the taste, since they are less aromatic than bell peppers or tomatoes.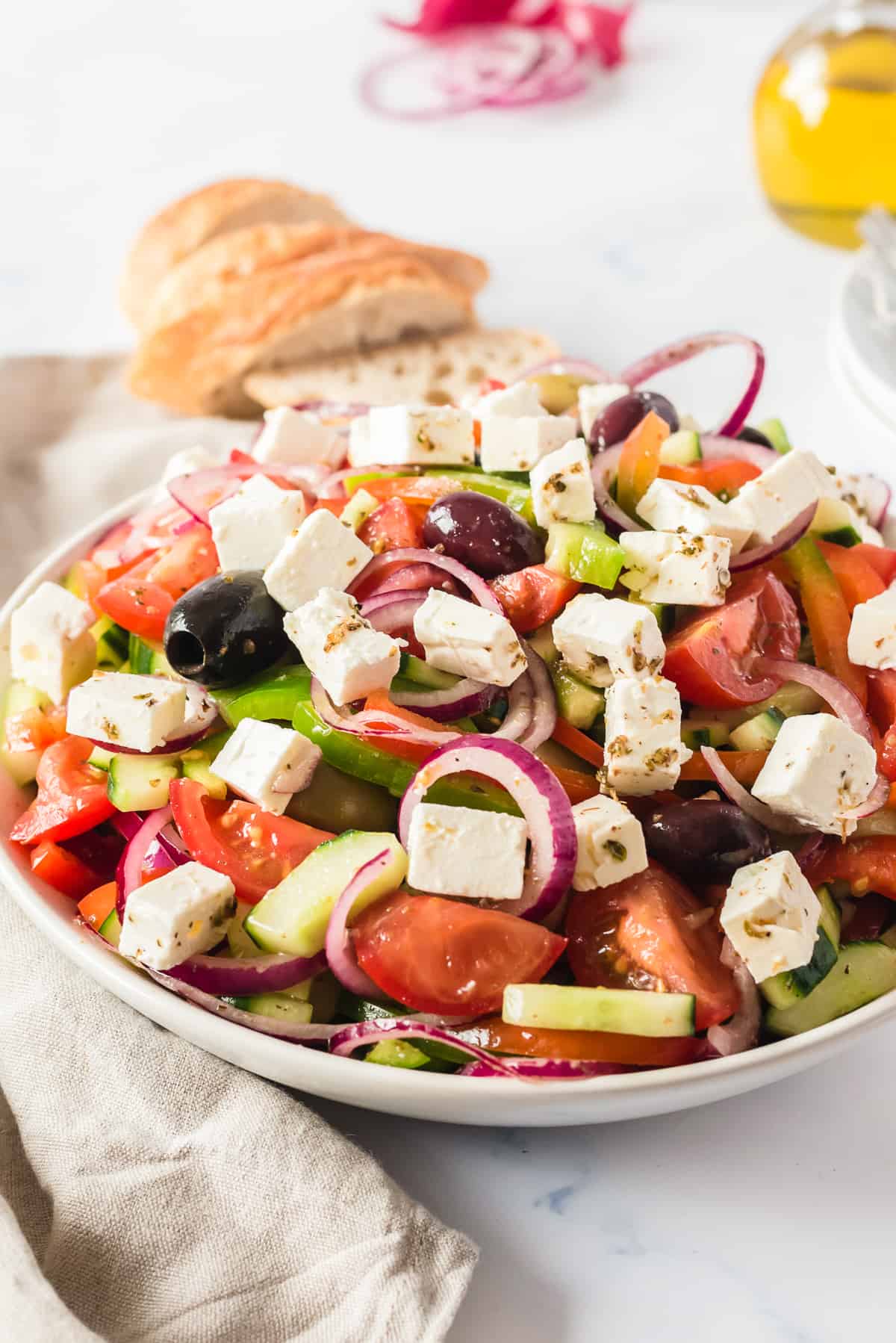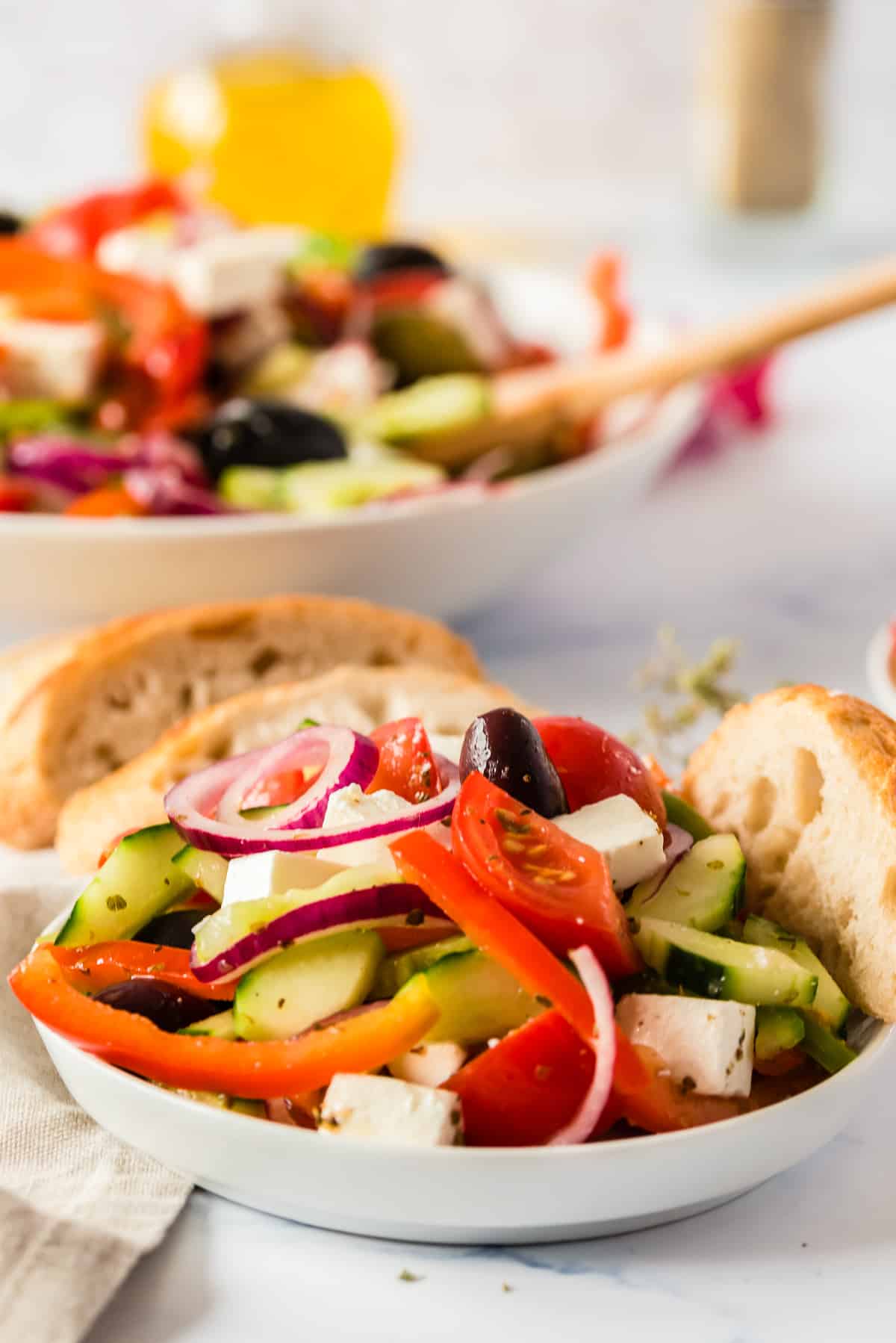 Is Greek Salad Healthy?
Greek salad is low-calorie and nutrient-dense, it provides you with a healthy dose of vitamins A and C, as well as potassium and iron. It also contains phytonutrients and antioxidants, which have numerous health benefits.
Feta cheese, when compared to other cheese, is lower in calories and fat. It also contains a high amount of B vitamins, phosphorus and calcium.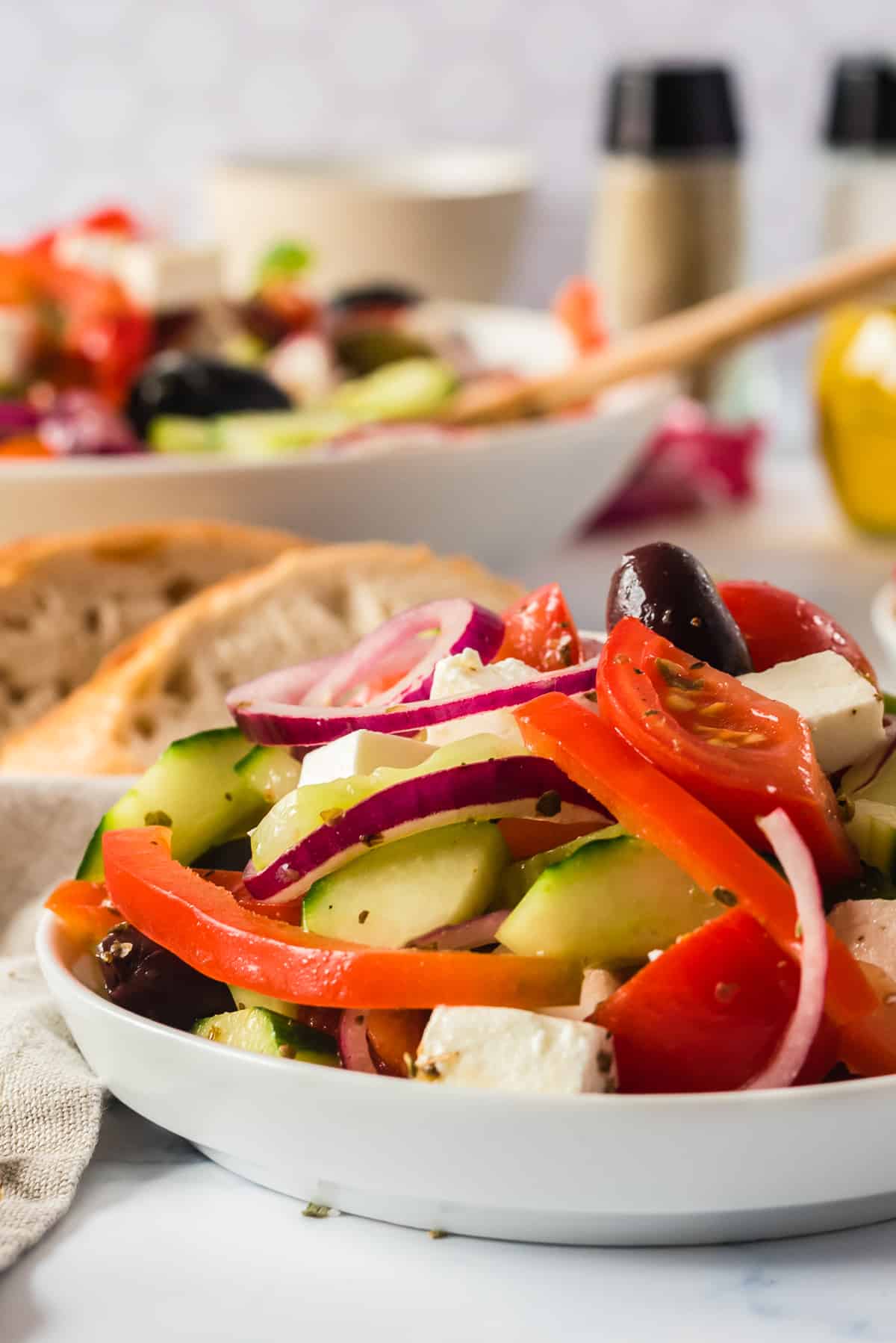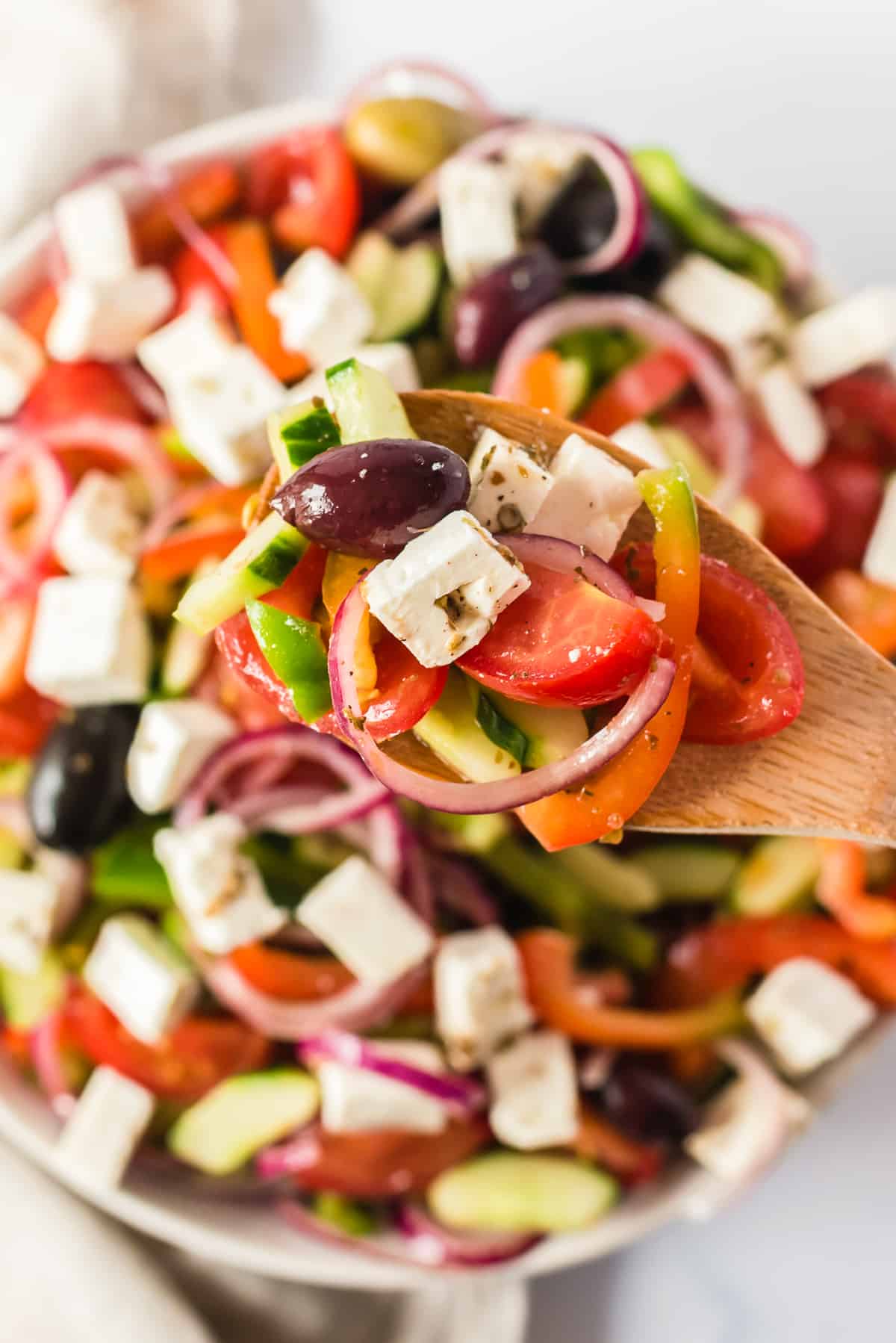 Tips!
Double the ingredients to feed around 12-14 people as a side dish.
This is a salad that really lets these simple ingredients shine. So, the better quality your ingredients have the better your salad will be.
You can top with a sprinkle of oregano or mint.
A traditional Greek Salad is topped with sliced feta not crumbled ( if you're a feat fan, it's far more satisfying that way!).
Serve with fresh bread or flatbread if you like.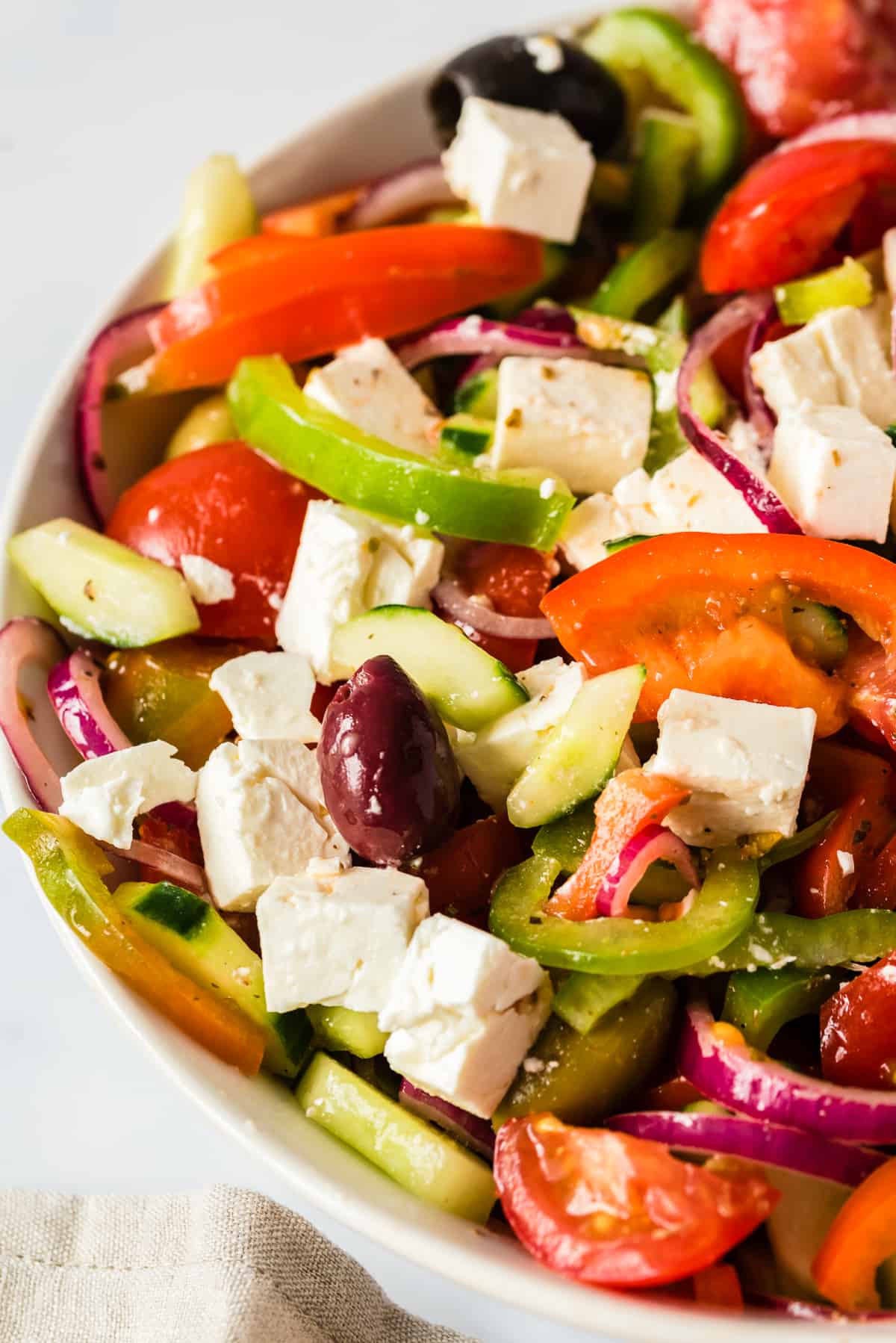 Try serving this with a bowl of gazpacho and some focaccia for a simple lunch!
If you make this recipe be sure to upload a photo in the comment section below or leave a rating. Enjoy! You can also jump to recipe.