These easy Ramen Cups might just be the most delicious way to dress up a package of ramen noodles! Toss out the little powder packet that comes with the noodles, though. This recipe uses Better than Bouillon and soy sauce to make the broth pretty perfect! You'll love the way it tastes with each bite of noodles and veggies.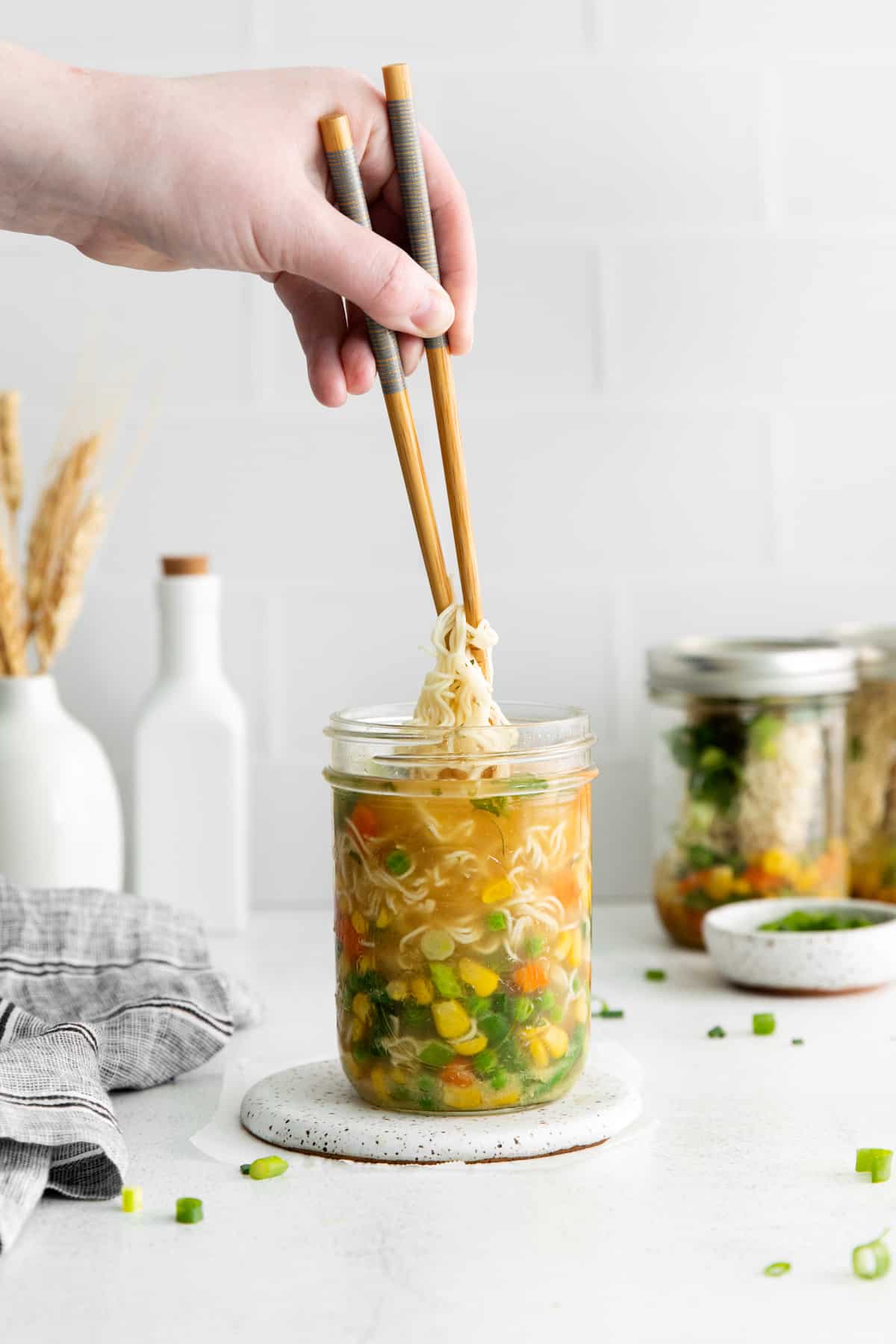 Instant Ramen Noodles
Ramen noodles are the staple struggle meal for everyone in their 20s. I think we can all fondly remember those nights when instant ramen was all we could afford, and maybe all you even knew how to make! Well, now you can enjoy the classic flavors of that nostalgic fave, but elevated in the best way.
One of the best things about a styrofoam cup of instant noodles is how convenient it is. You just have to pour the hot water in, wait a few minutes, and dig in! This recipe is essentially the same thing, except we're trading freeze-dried veggies for frozen ones and the packet of powder broth for an even better concoction.
Why You'll Love this Instant Ramen Recipe:
Convenient: Toss it all in a jar, add hot water, and enjoy!
Nostalgic: If you grew up loving instant ramen noodles or have fond memories from your early 20s of it, you'll love how similar (but so much better) this easy recipe is.
Fun: Serving these Ramen Cups for dinner to family or friends is always a fun idea! You can also bring it with you to work to make everyone jealous.
Frozen veggies, a quick and easy broth, and instant ramen noodles combine in a jar to make the best pantry staple recipe!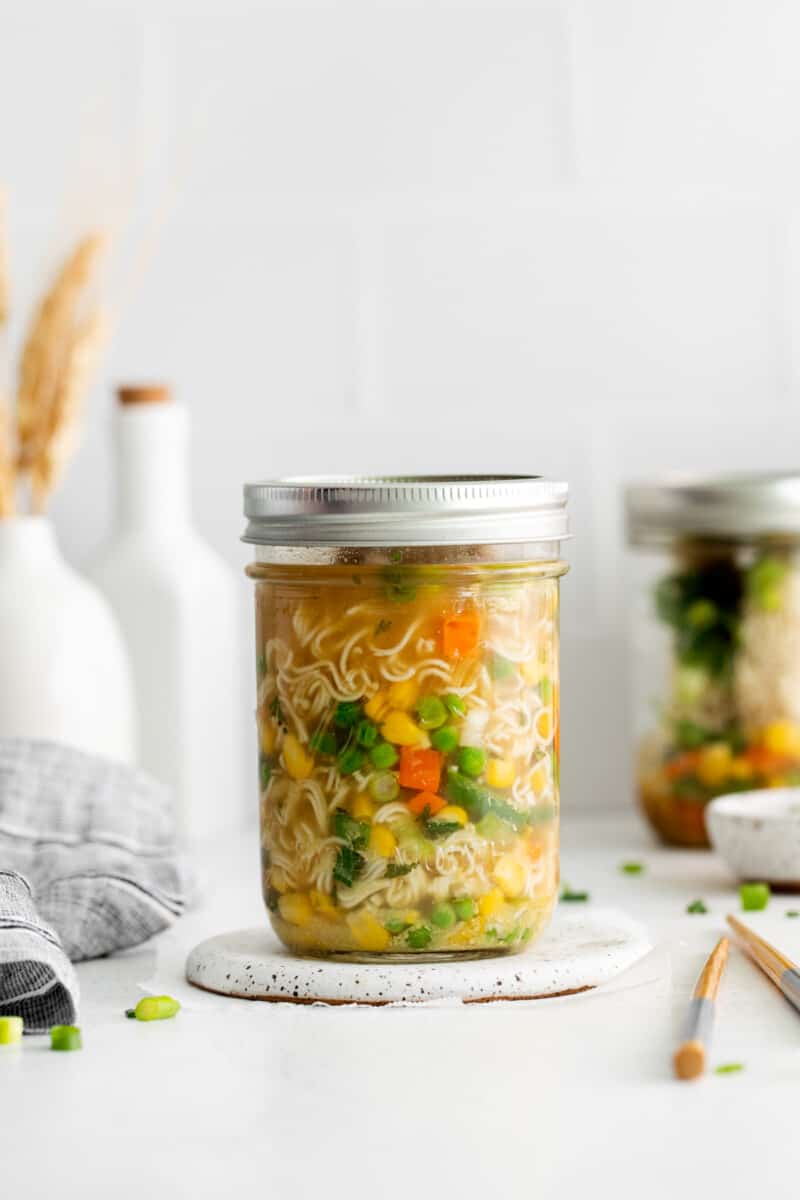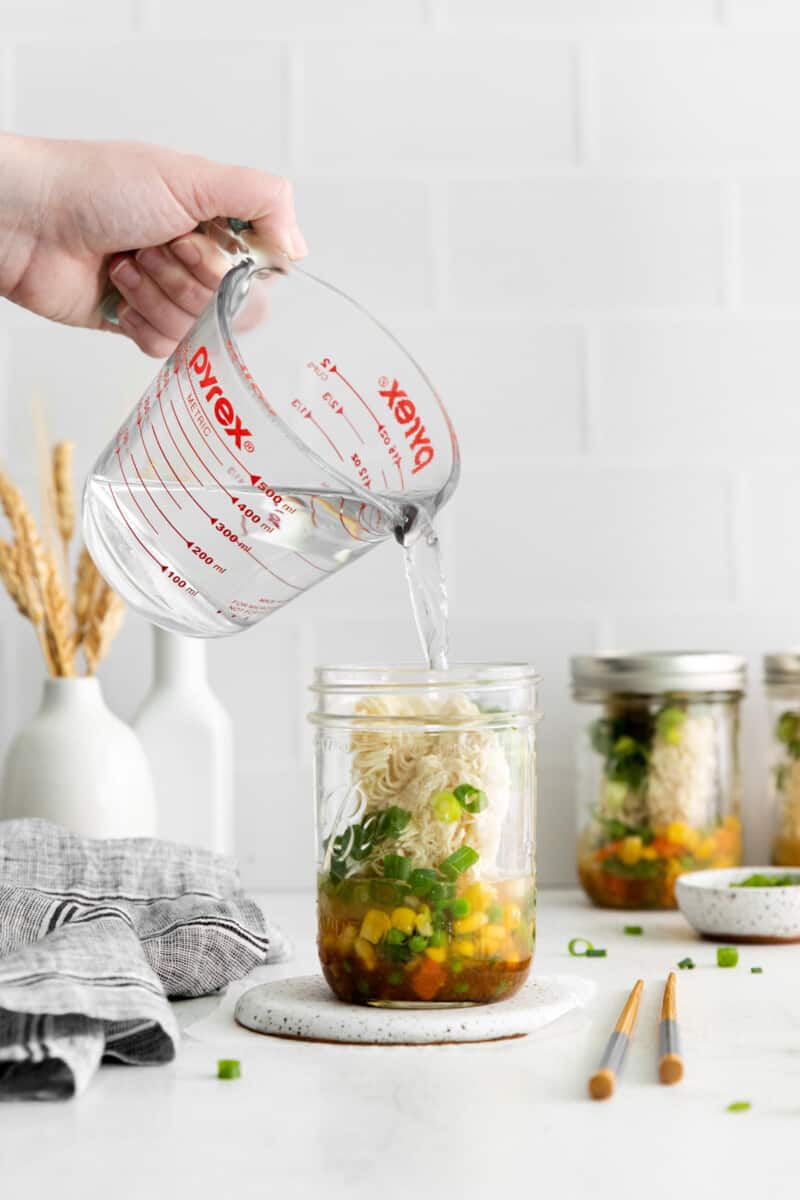 How to Make Ramen Cups
You can jump to the recipe card for full ingredients & instructions!
Add the Better than Bouillon, soy sauce, ground ginger, and garlic powder to a jar. Combine.
Add the frozen veggies to the jar. Don't mix.
Place the uncooked ramen on top of the veggies.
Sprinkle on the green onions.
Pour boiling water into the jar and let it sit for 5 minutes.
Recipe Notes
Better Than Bouillon: The secret to getting lots of flavor into a small noodle cup! I'm using the chicken flavor, but you could use vegetarian, mushroom, or beef if you prefer.
Soy Sauce: Adds a salty umami flavor to the noodles.
Parsley: Adds a bit of freshness and color to the noodles.
Ginger: Adds an earthy spiciness to the ramen.
Garlic Powder: I love adding a little more garlic powder (even though it is in the bouillon) just to make sure the ramen is super flavorful.
Frozen Vegetables: A great shortcut for this recipe. I'm using a mix of carrots and peas, but you could really use any small chopped vegetable. Finely minced fresh carrot, corn, thinly sliced mushrooms – anything that will cook in the heat of the water will work.
Noodles: I'm using ramen noodles, but you could switch up the noodles for udon, rice noodles, vermicelli, etc. Oceans Halo ramen noodles are my favorite!
Green Onion: Adds a bit of fresh onion flavor to the ramen and is one of my favorite garnishes!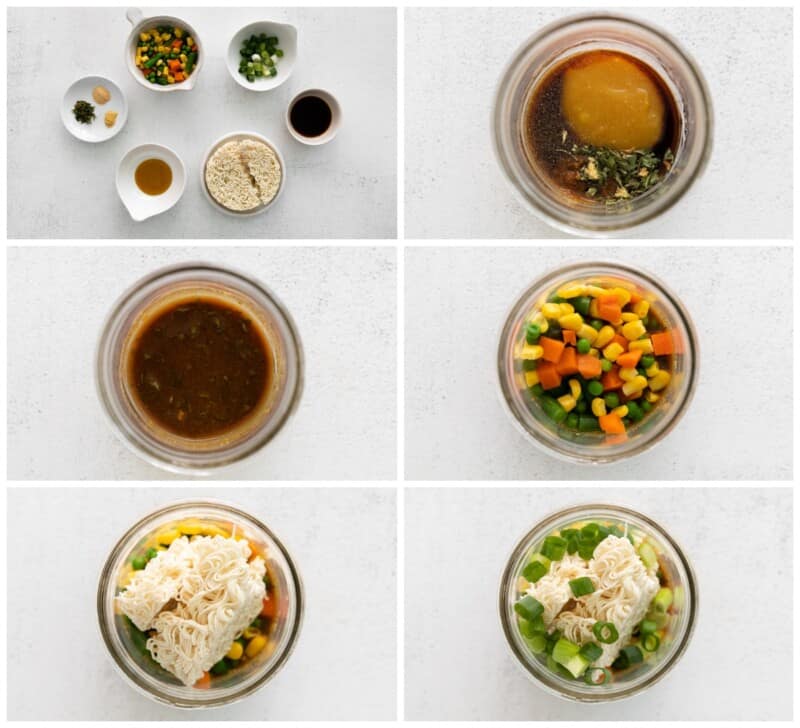 Why should I make my own ramen cups?
Commercially prepared ramen cups are notorious for being extremely high in sodium and low in nutritional value. Making your own cups allows you to control the sodium content and add vegetables and proteins to increase the overall nutrition.
What types of vegetables work best in ramen cups?
I like to use frozen vegetables because they will defrost in the heat of the water, but they are less likely to go mushy than fresh vegetables. You can really use any vegetables you like, though!
How can I add protein to homemade ramen cups?
I recommend cooking and storing your protein separately from the noodle cups, then adding it after the soup has been prepared. Some great additions would be shredded chicken, diced bacon, a soft-boiled egg, or diced tofu!
Are homemade ramen cups gluten-free?
No, these ramen cups are not gluten-free. To make them gluten-free, you will need to use a gluten-free bouillon, tamari or coconut aminos in place of the soy sauce, and gluten-free noodles in place of the ramen (such as rice noodles).
How can I make ramen cups spicy?
When preparing the cups, add a few shakes of chili flakes, or after cooking the ramen, add some chili oil or sriracha.
Whether you store it in the freezer or enjoy it right away, you'll love digging into your homemade Ramen Cup!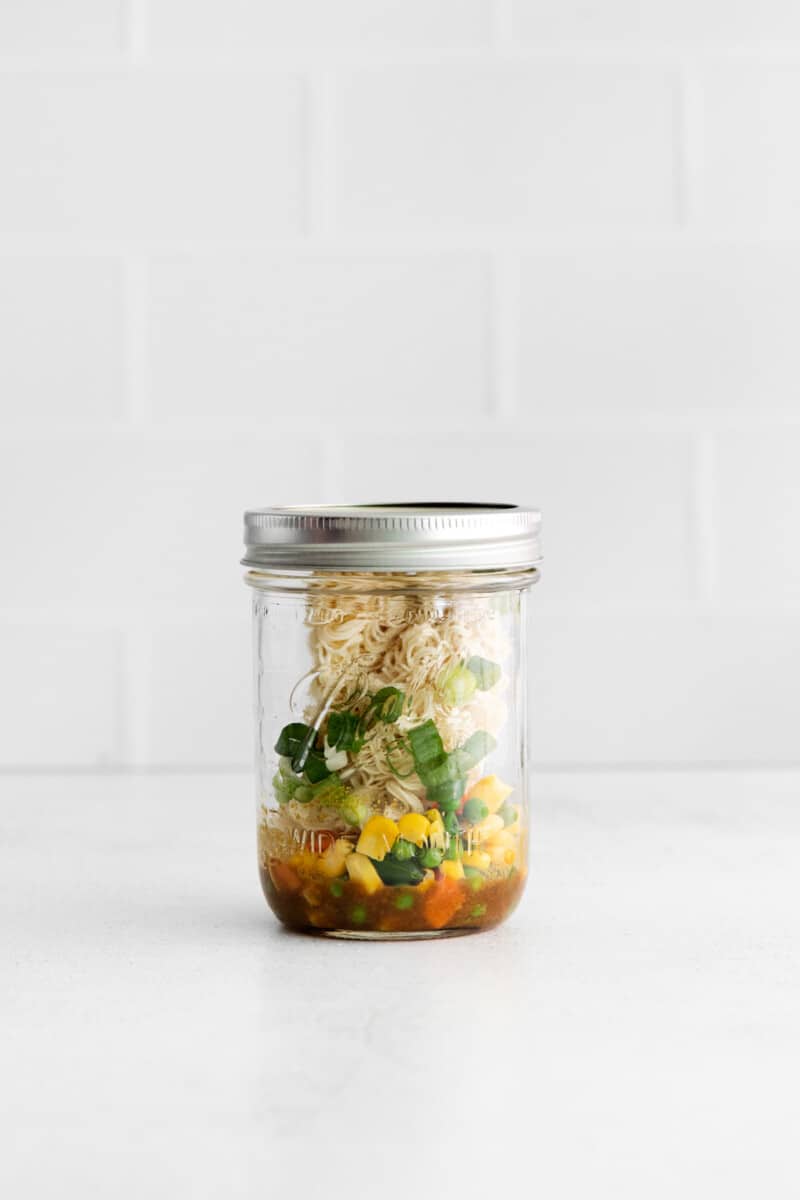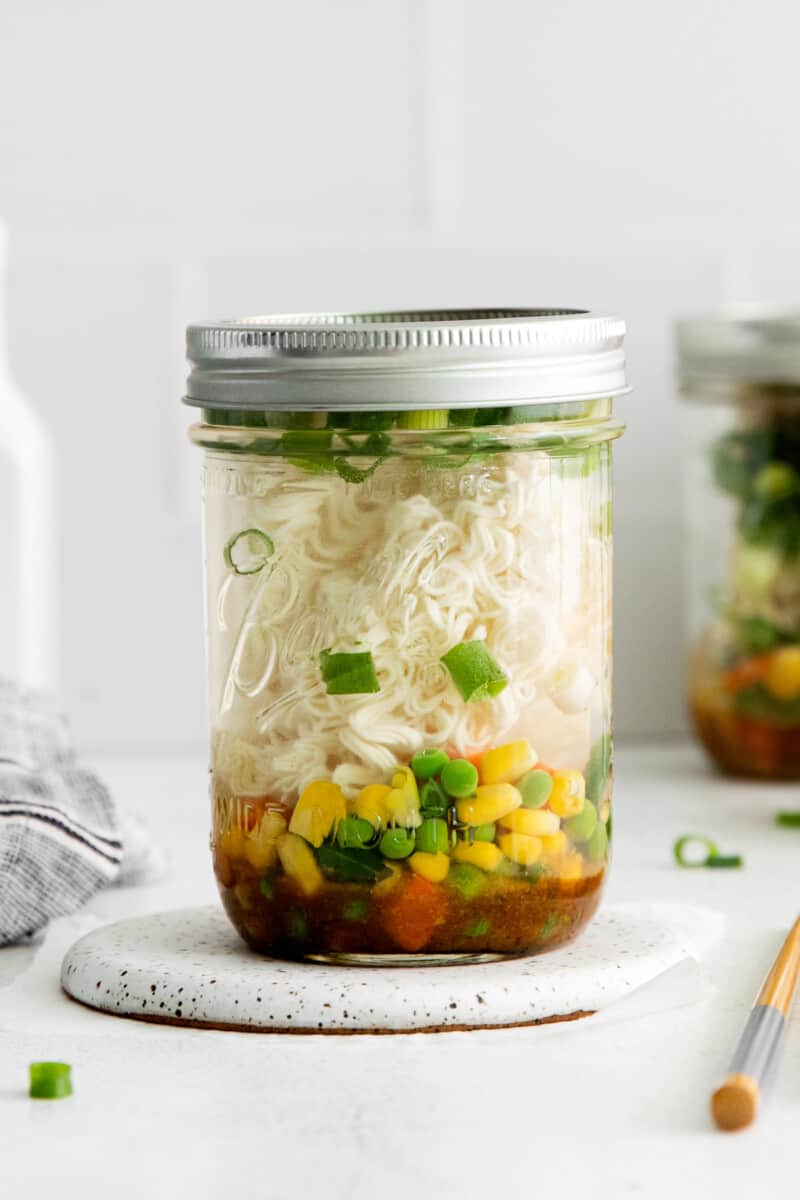 Make Ahead Instructions
These homemade ramen cups are designed to be a make-ahead meal prep lunch or dinner. Simply prepare them as instructed and store them in the refrigerator for up to 4 days.
Storage Instructions
Fully assembled ramen cups can be stored with the lids tightly on in the refrigerator for up to 4 days. Pour 1¼ cups of boiling water over the noodles, cover, and let stand for 5 minutes before enjoying. Alternatively, add just enough water to cover the noodles, microwave for 2 minutes, cover for 2 minutes, and stir until the seasoning has fully dissolved. I do not recommend freezing ramen cups.
Variations
There are so many unique variations on this basic noodle cup recipe.
Switch up the bouillon for vegetable, onion, or beef bouillon; white, yellow, or red miso paste; or red curry paste
Add a protein, such as cubed tofu or tempeh; shredded cooked chicken, pork, or beef; crumbled bacon; or soft-boiled eggs
Try thin rice vermicelli noodles instead of ramen (most other types of noodles will need to be precooked)
Add the veggies of your choice, such as carrots, mushrooms, zucchini, peas, Napa cabbage, corn, edamame, or green beans
Add some garnishes, such as sriracha; sesame seeds; a drizzle of rice vinegar, hoisin sauce, or fish sauce; or fresh herbs, such as cilantro or mint leaves.
#1 Noodle Cup Tip
Do not add any raw meat to your noodle cups. The water will not get hot enough to cook it. Always use precooked meat, and add it to the noodle cups after heating.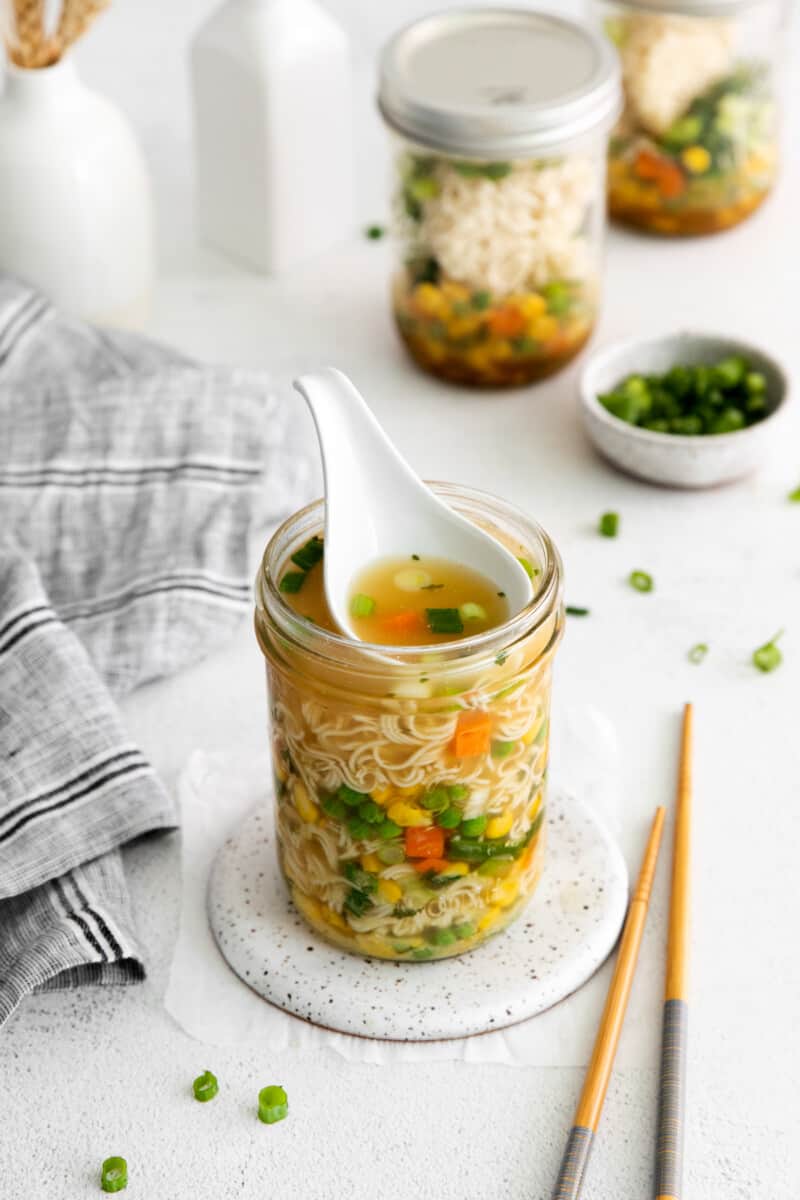 Ramen Cups are budget-friendly, kid-friendly, and college-student friendly! They feature all of the flavors of instant ramen you love, but even better. This easy elevated recipe is a dinnertime must-make!
If you make this recipe be sure to upload a photo in the comment section below or leave a rating. Enjoy! You can also jump to recipe.