This Egg Salad Sandwich recipe is filled with that classic egg salad flavor we all love. Hard-boiled eggs, mayonnaise, and the best spices and herb blend. Learn how to make egg salad for the perfect sandwich or just to eat as a simple side dish. Either way, you'll want to keep eating this delicious recipe over and over again!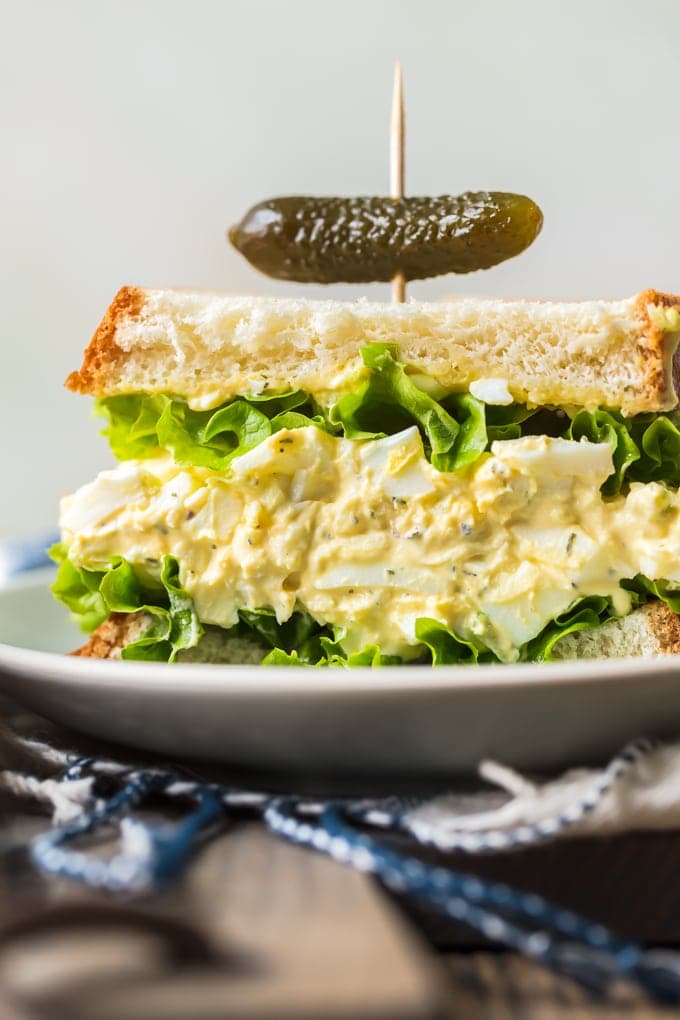 Egg Salad Sandwich
This Egg Salad Sandwich recipe is such a classic. Learn how to make egg salad sandwiches for a quick and easy lunch!
I LOVE egg salad. It's creamy but with just the right amount of texture from the eggs. And egg salad sandwiches are the best! There's nothing better than a simple sandwich for lunch.
This Egg Salad Sandwich recipe is an easy go-to lunch when I'm craving something delicious but don't want to bother with cooking.
Make up some egg salad ahead of time to keep in the refrigerator, so you can just grab it to make sandwiches over the next couple of days. No hassle! It's definitely one my favorite meal prep lunches.
This is one of those great Sunday afternoon meals I like to prepare for the family when we just need something simple (but totally delicious!).
Learn how to make Egg Salad Sandwiches for a tasty yet simple lunch!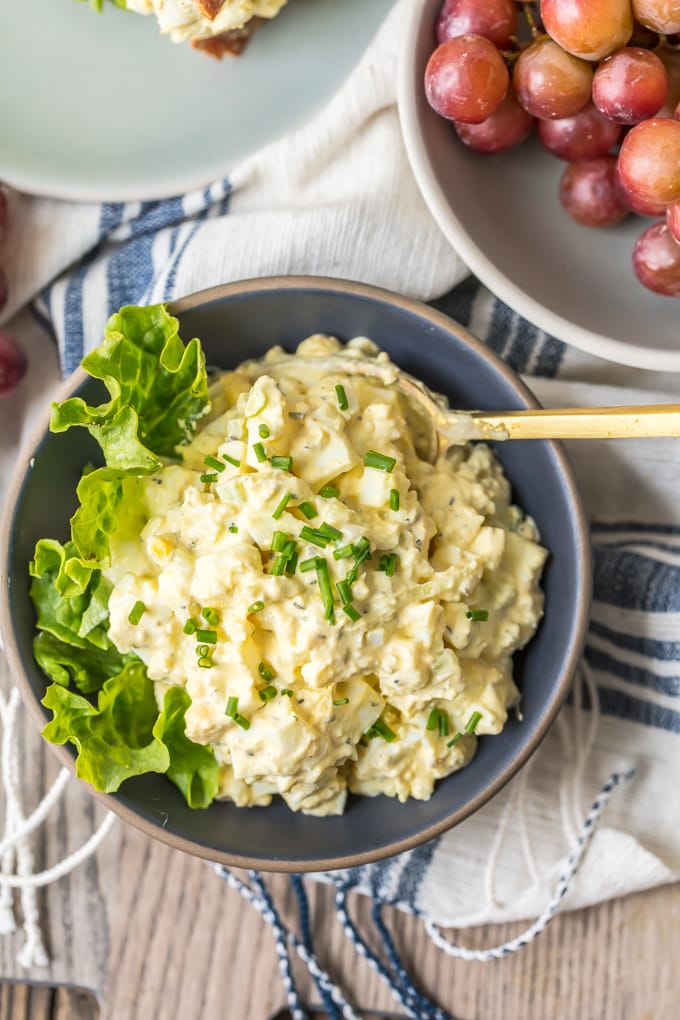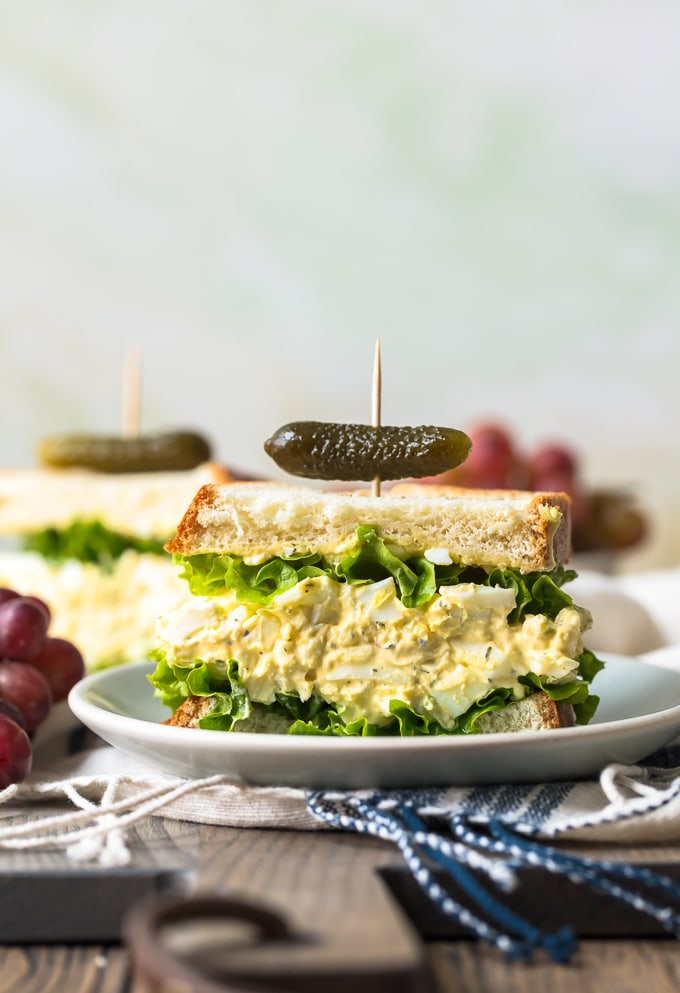 How to Make Egg Salad
Classic egg salad is easy to make, and once you've got the salad prepared, just put it on some fresh bread to make a tasty sandwich.
This Egg Salad Sandwich is such a great recipe because you can make parts of it ahead of time (hard boil the eggs and prepare the egg salad) to make your life easier during a busy week.
You can jump to the recipe card for full ingredients & instructions!
How to:
Hard-boil the eggs (should be done ahead of time so they have time to cool)
Mix all of the ingredients together in a bowl
Put the egg salad on some bread, add lettuce, and you've got a sandwich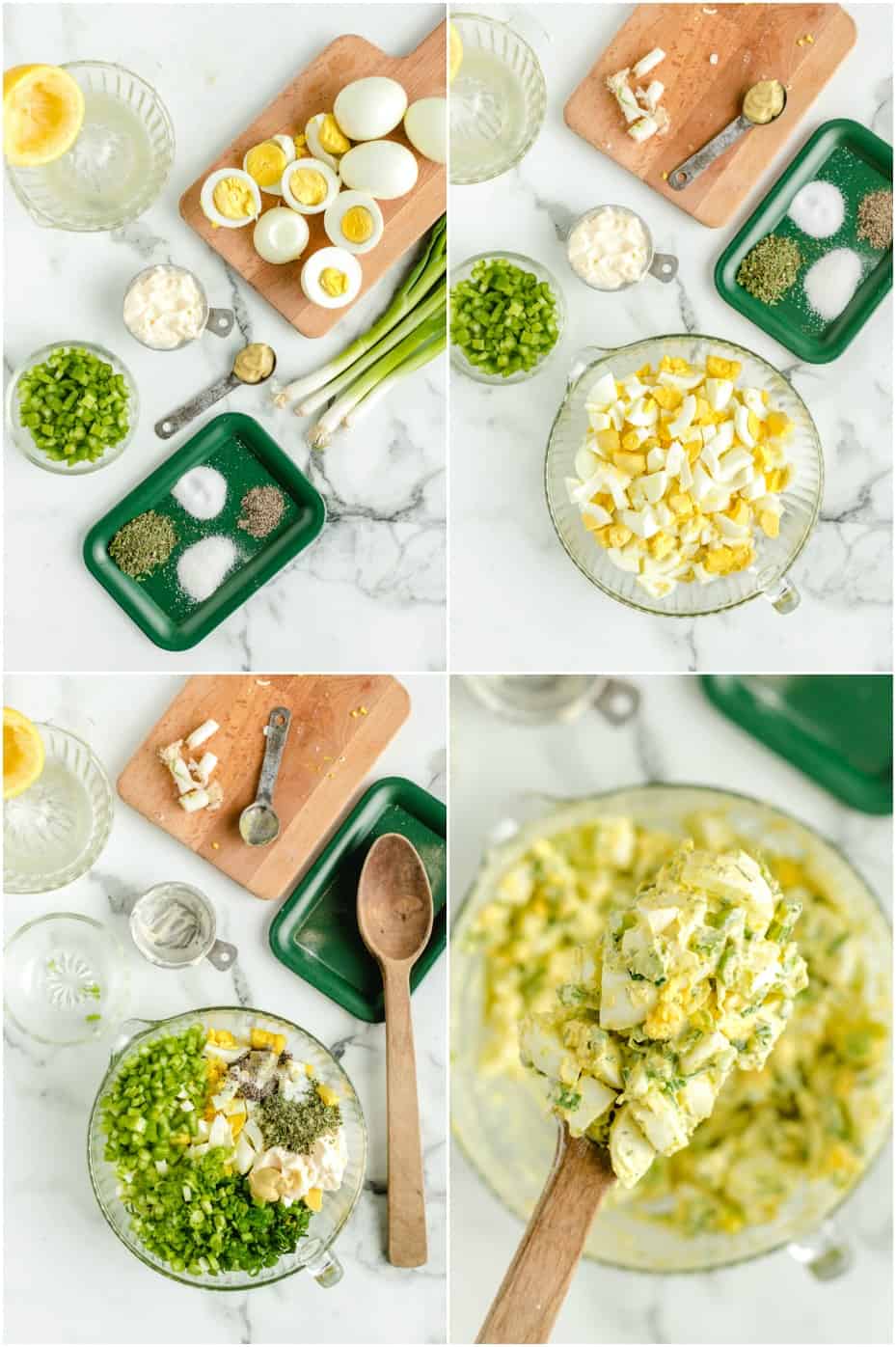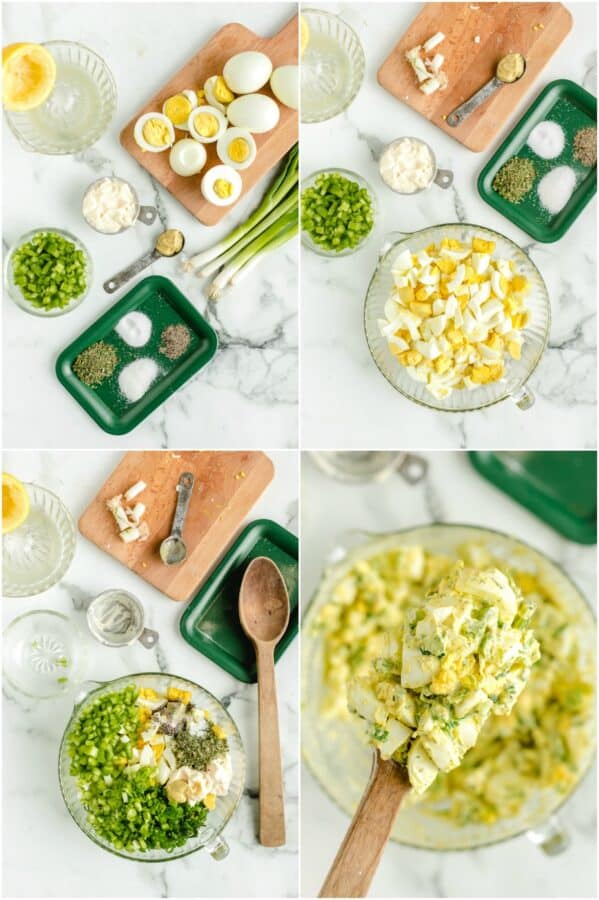 If you're making the egg salad ahead of time, store it in the refrigerator until you're ready to make a sandwich. (We recommend this homemade sandwich bread for serving!)
You can also serve it as a side dish on a bed of lettuce. This is a great dish to keep around for quick meals!
Be sure to try this Instant Pot Egg Salad too.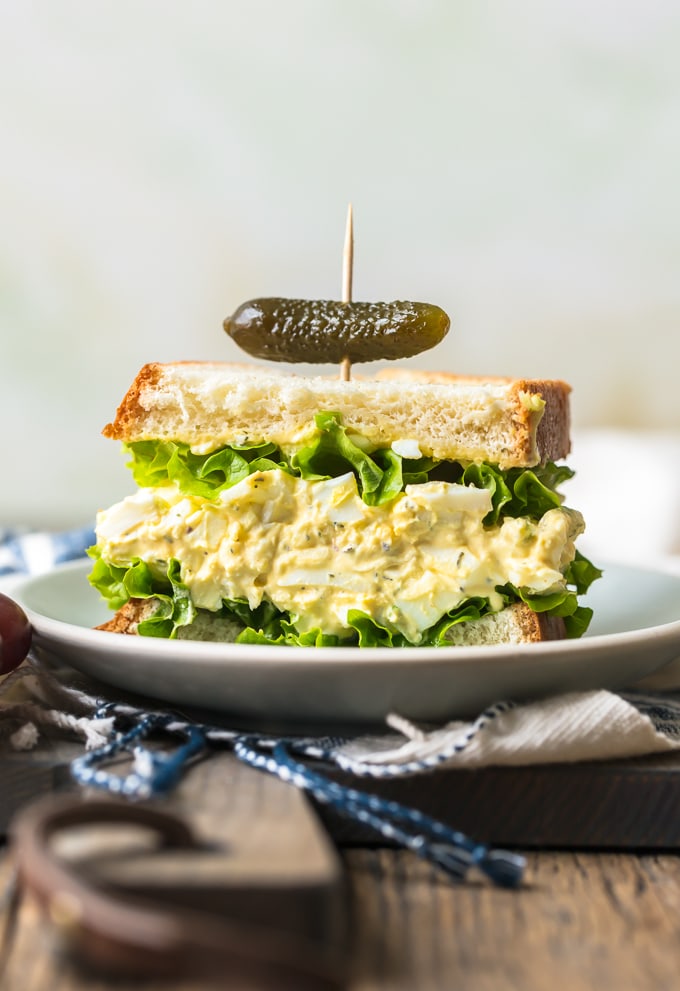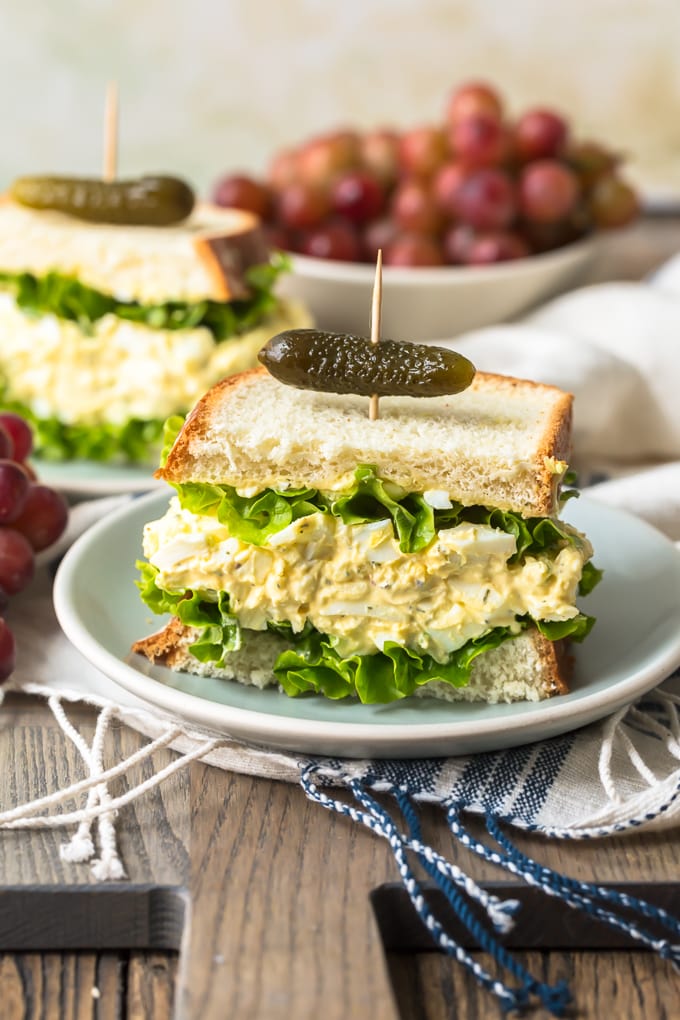 How many eggs do you need for an egg salad sandwich?
For this egg salad sandwich recipe, it comes out to about 2 eggs per sandwich. This makes it a bit chunkier with more texture, just the way I like it!
How long does egg salad last in the fridge?
This recipe can be stored in the refrigerator for up to 5 days. So this is the perfect thing to prepare on a Sunday night so you can make quick, easy egg salad sandwiches all week.
Is egg salad good for you?
Eggs are full of protein, but other than that, it isn't the healthiest thing. This egg salad sandwich recipe is quite reasonable when it comes to calories and fat grams though.
If you want to make this a bit healthier, remove the yolk from some of the eggs, use light or low-fat mayo, and pile extra vegetables onto your sandwich!
What do you put in egg salad?
Eggs and mayonnaise are the base, but it's the details, the extra ingredients, the spices & herbs, that really packs it with flavor. This is the best egg salad sandwich recipe because I've also added in a delicious homemade herb blend!
Egg Salad Sandwich Ingredients:
Eggs
Mayonnaise
Celery
Lemon Juice
Scallions
Salt & Pepper
Dijon Mustard
Granulated Sugar
Parisien Bonnes Herbes Blend (see recipe notes for the included herbs)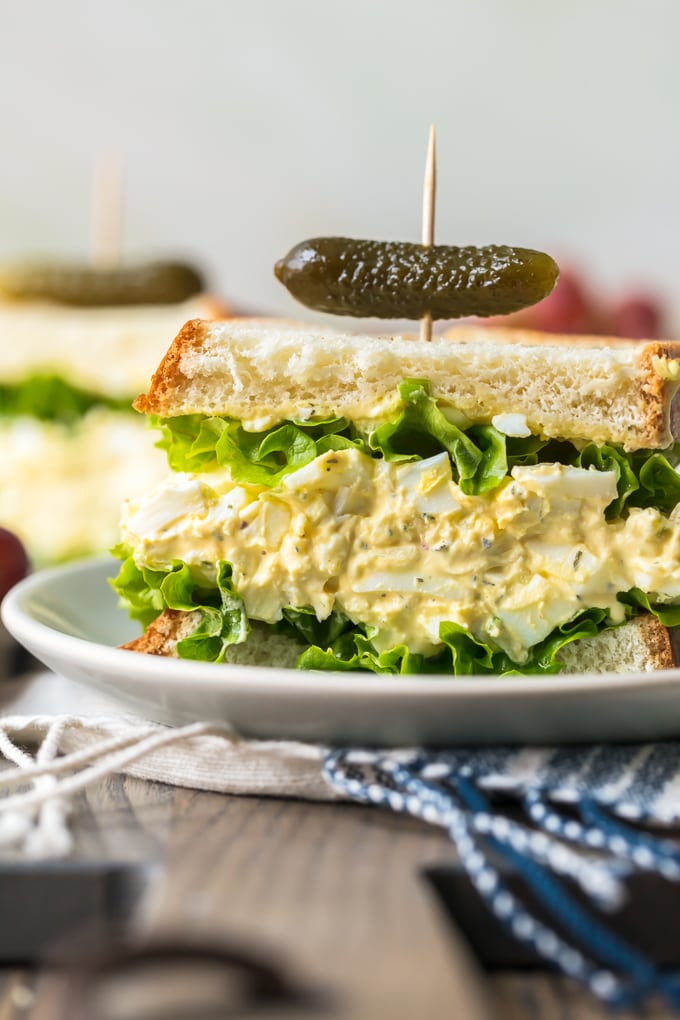 I just love this easy and delicious Egg Salad Sandwich recipe! It's creamy, a little chunky, and filled with flavor. It's one of my favorite easy lunch recipes to prepare for myself, or for the whole family.
More Sandwich Recipes
This Egg Salad Sandwich is just one of our favorite lunch sandwiches. Be sure to make these other easy sandwiches as well!
See All Sandwiches
If you like this Egg Salad Sandwich Recipe, be sure to upload a pic in the comments below or leave a rating. We hope you enjoy!