This easy cowboy caviar recipe is simple to make and takes just 10 minutes. Dressed in a light vinaigrette, this appetizer is perfect to feed a crowd and can be made ahead of time. Healthy, vegan and gluten-free.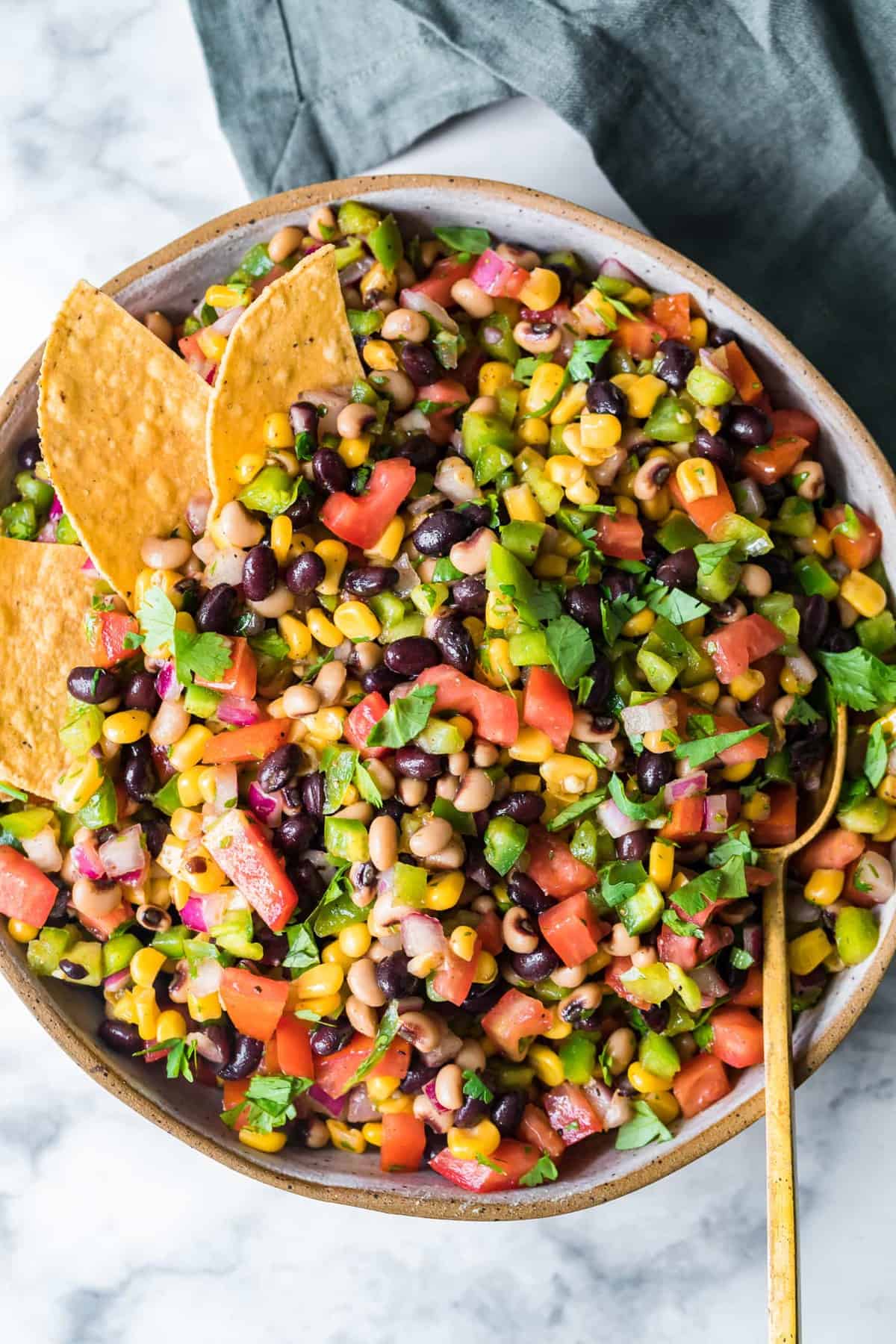 Easy Cowboy Caviar
Time for a classic appetizer that's packed full of flavor. It's so easy to whip up a big batch for easy entertaining. Perfect for game day and all your host(ess)ing needs!
How To Make Cowboy Caviar
You can jump to the recipe card for full ingredients & instructions!
In a large bowl, stir together all of the ingredients.
In a separate medium bowl, whisk together the dressing ingredients.
Pour the dressing over the cowboy caviar and stir to combine/coat.
Store in the fridge to marinate for 1 hour before serving.
Serve with tortilla chips.
Enjoy!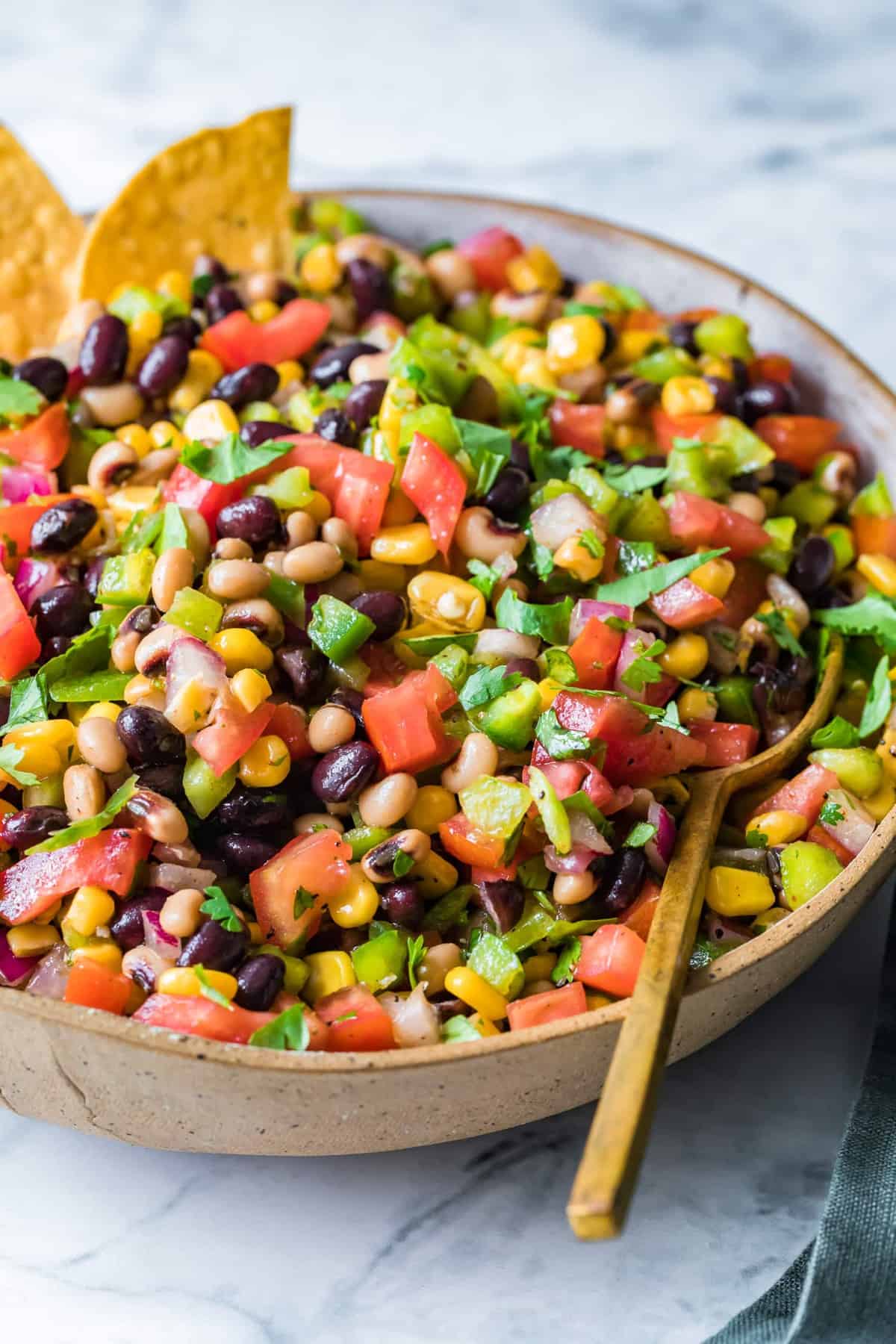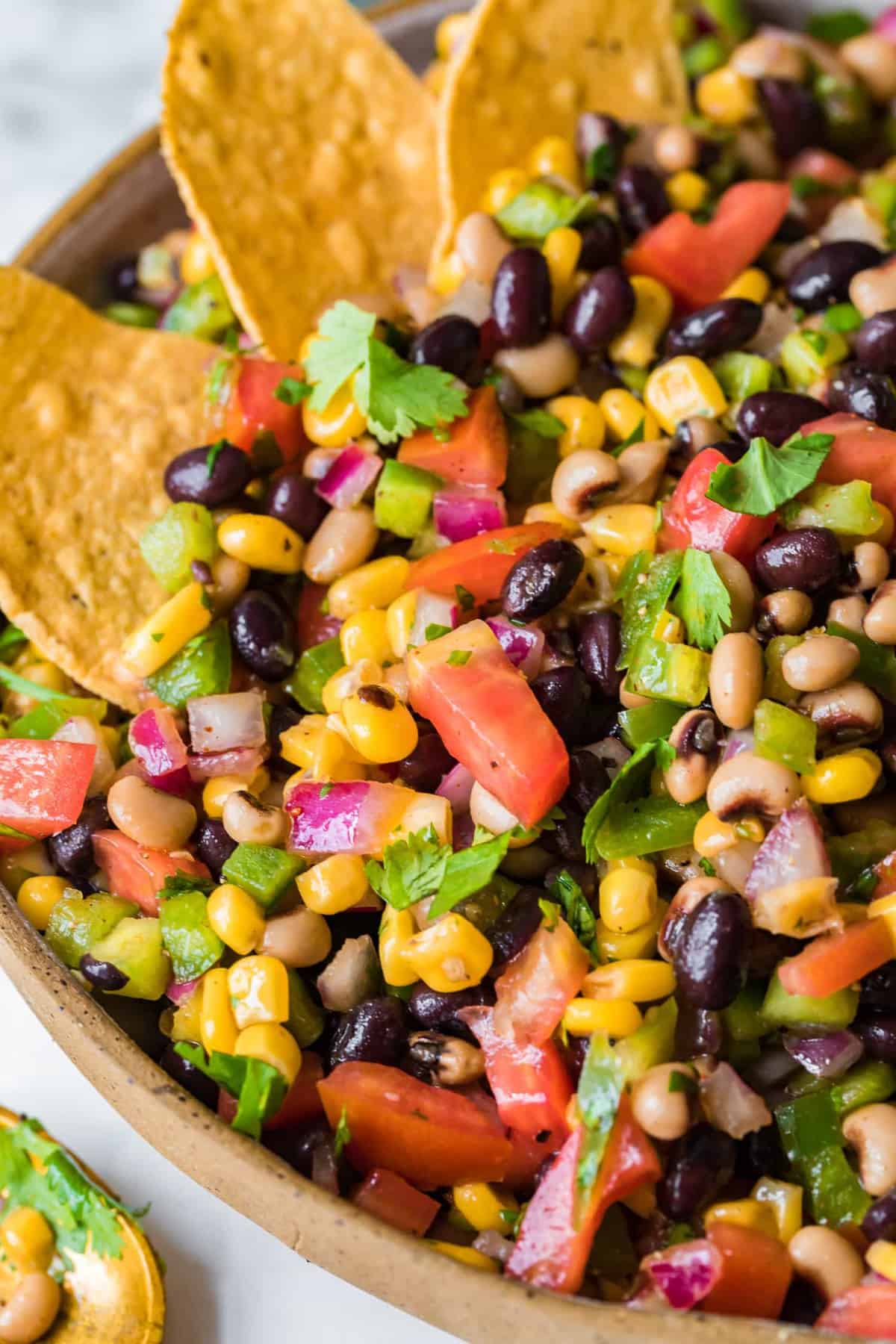 What is Cowboy Caviar Made of?
Cowboy caviar is somewhere between a salad and a dip and makes for perfect game day food. It's made with a combination of:
tomatoes
red onion
green pepper
jalapeños
corn
black beans
black eyed peas
cilantro
All of these fresh veggies and beans are them tossed in a flavorful light and tangy vinaigrette for a real hit of flavor.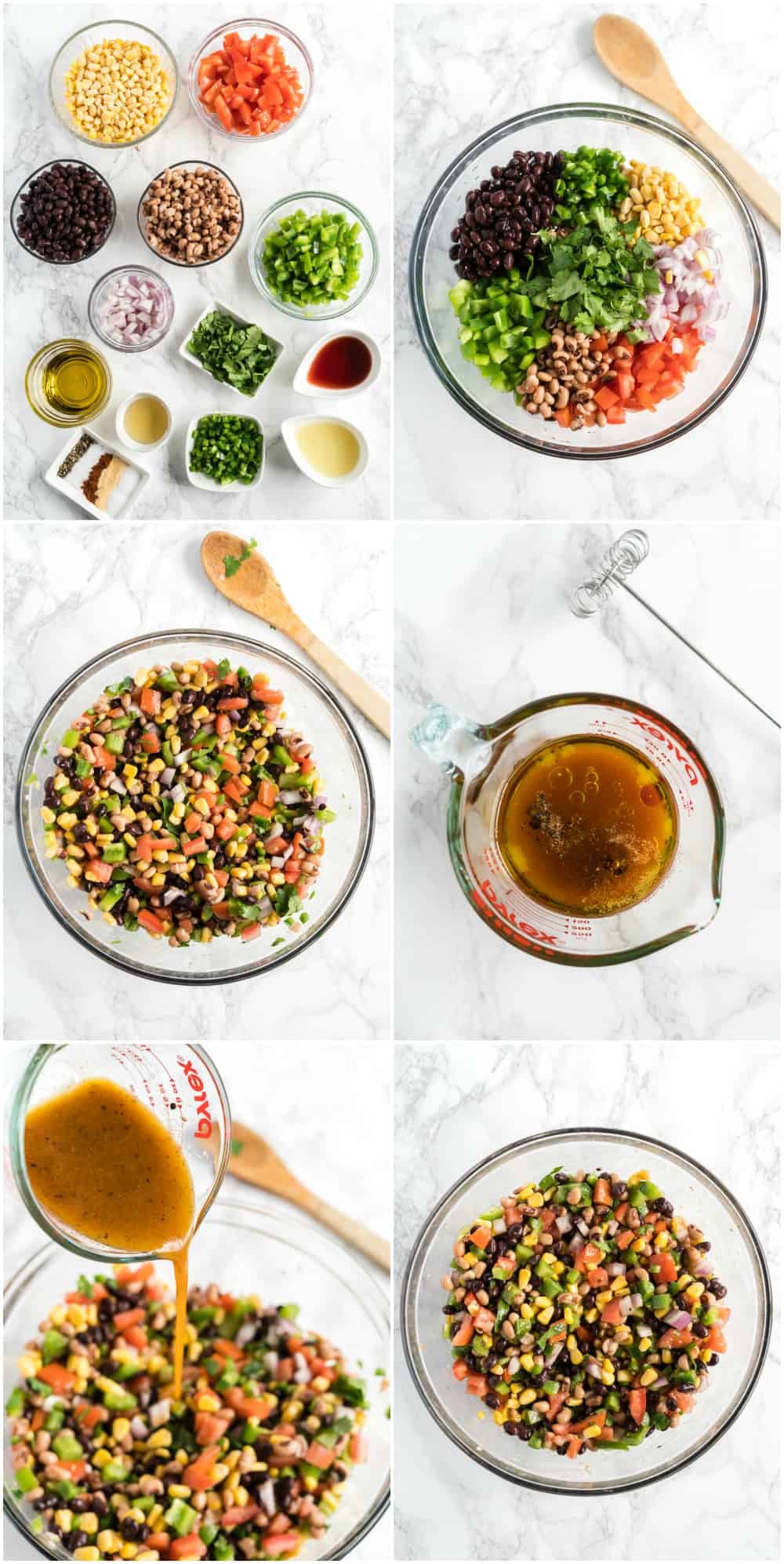 Is this Easy Cowboy Caviar Recipe Healthy?
Cowboy caviar is a great option to serve at a party if you want to offer up a healthy choice. You get tonnes of vitamins and minerals from all the veggies in this recipe and the beans add protein and fiber. It is naturally vegan and gluten free too!
Can you Freeze Cowboy Caviar?
Yes! If deciding to freeze, be sure to store in an airtight container. You can keep in the freezer for up to 3 months. When ready to serve, allow to thaw in the fridge (at least 12 hours) before serving.
Is Cowboy Caviar a Make Ahead Recipe?
I don't recommend making this cowboy caviar recipe more than 4 hours ahead of when you want to serve. You could make it ahead, freeze it, and then thaw before serving.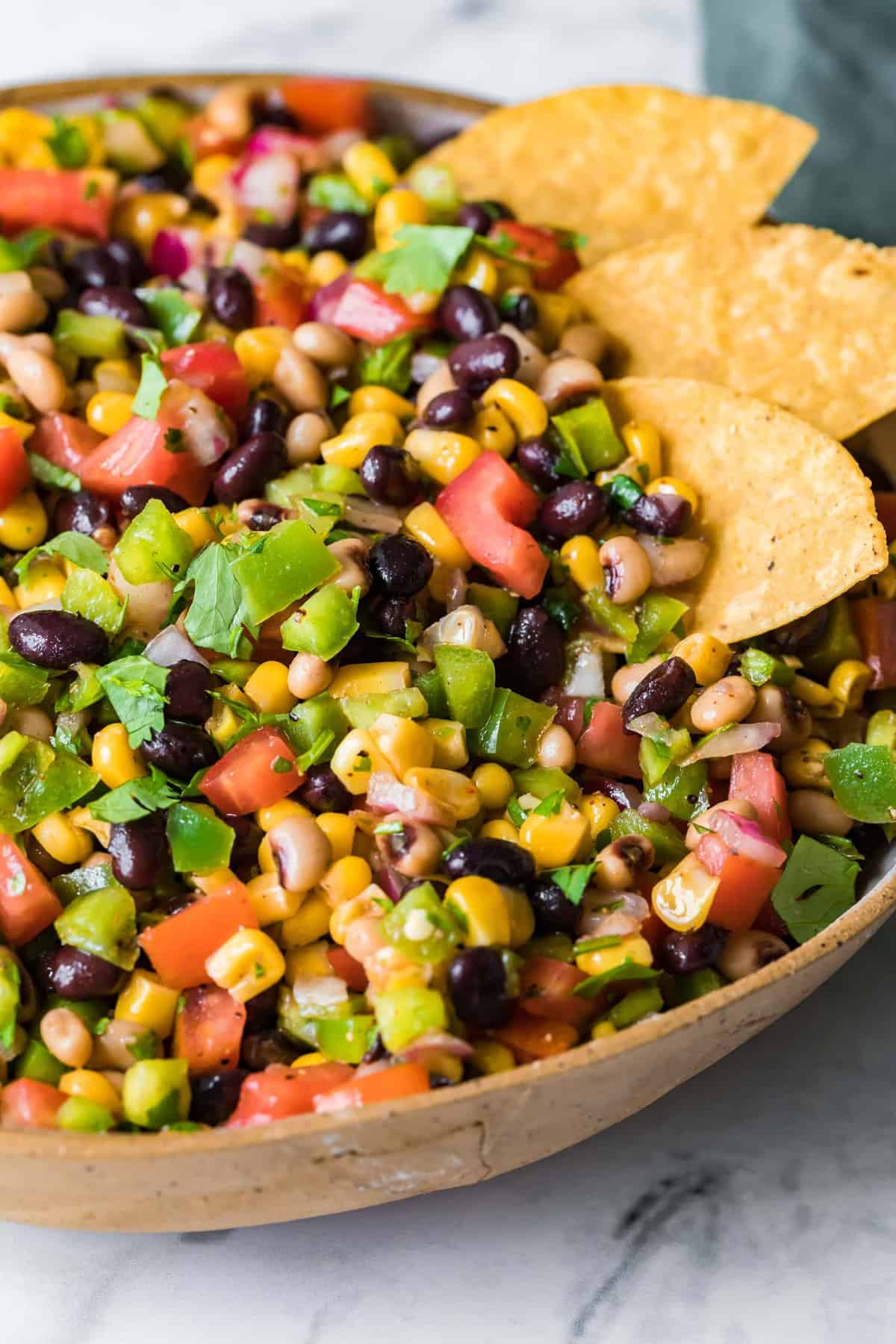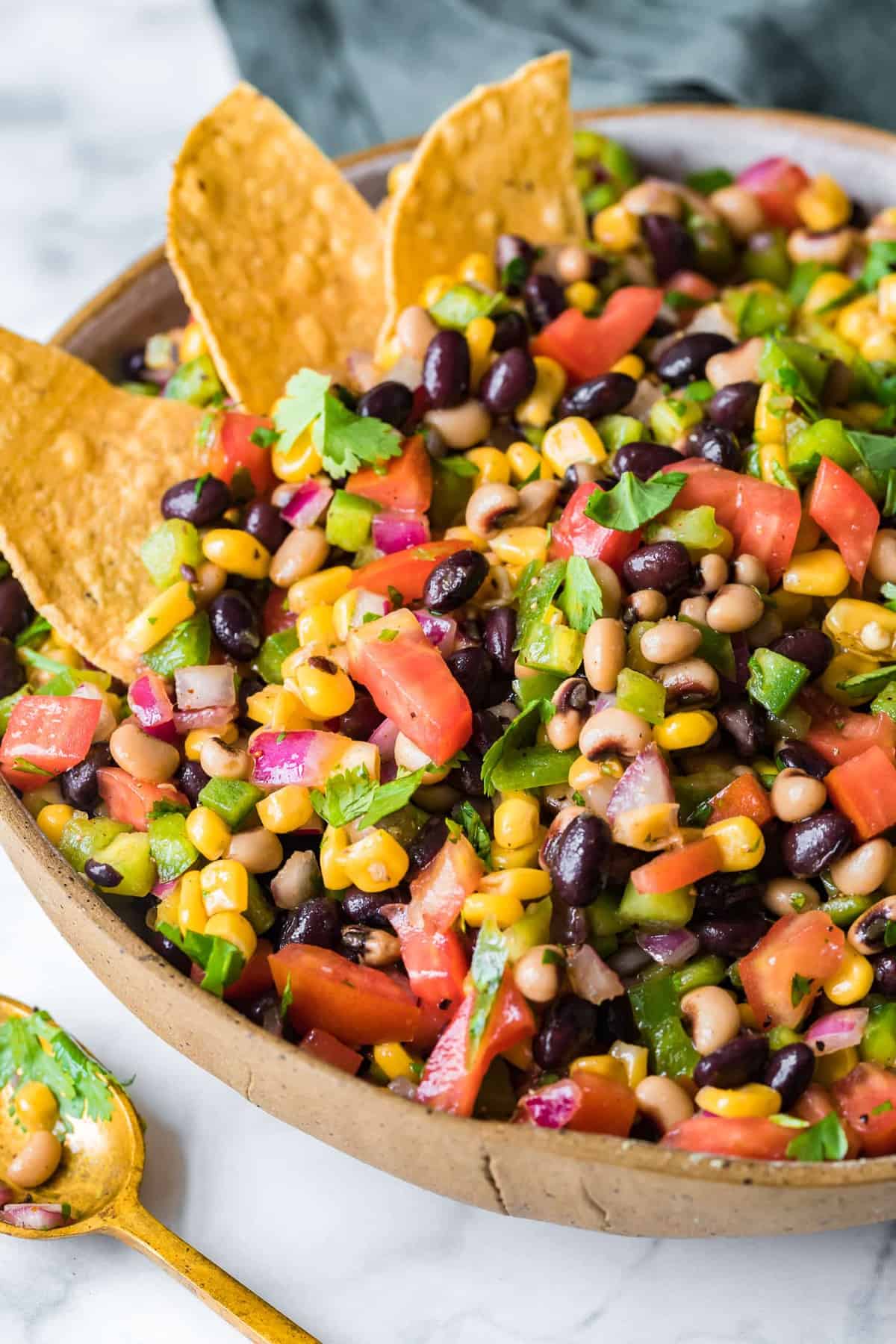 Variations for this Recipe
This is traditional cowboy caviar recipe, and it's delicious as is, but the following would make excellent additions:
avocado
red bell pepper
crumbled feta
scallions
Serve with your favorite tortilla chips!
Tips!
I used frozen corn in this recipe, but you could also use frozen or fresh.
Use the freshest veggies you can and preferably organic.
If you prefer things spicy, leave the jalapeno seeds in.
Let the salad marinate for at least an hour before serving.
Serving Suggestions
This Cowboy Caviar is an awesome appetizer or even a great side dish salad! You can eat it with chips, use it as a topping for nachos, or even eat with a fork as a salad. Here are some fun recipes to pair with this delicious and addicting recipe.