There's nothing quite as satisfying as Homemade Soft Pretzels dipped in cheese sauce! Make this game day favorite from the comfort of your own kitchen and enjoy every last bite of the salty and soft goodness. The best part? The cheese doesn't cost extra when you make it at home!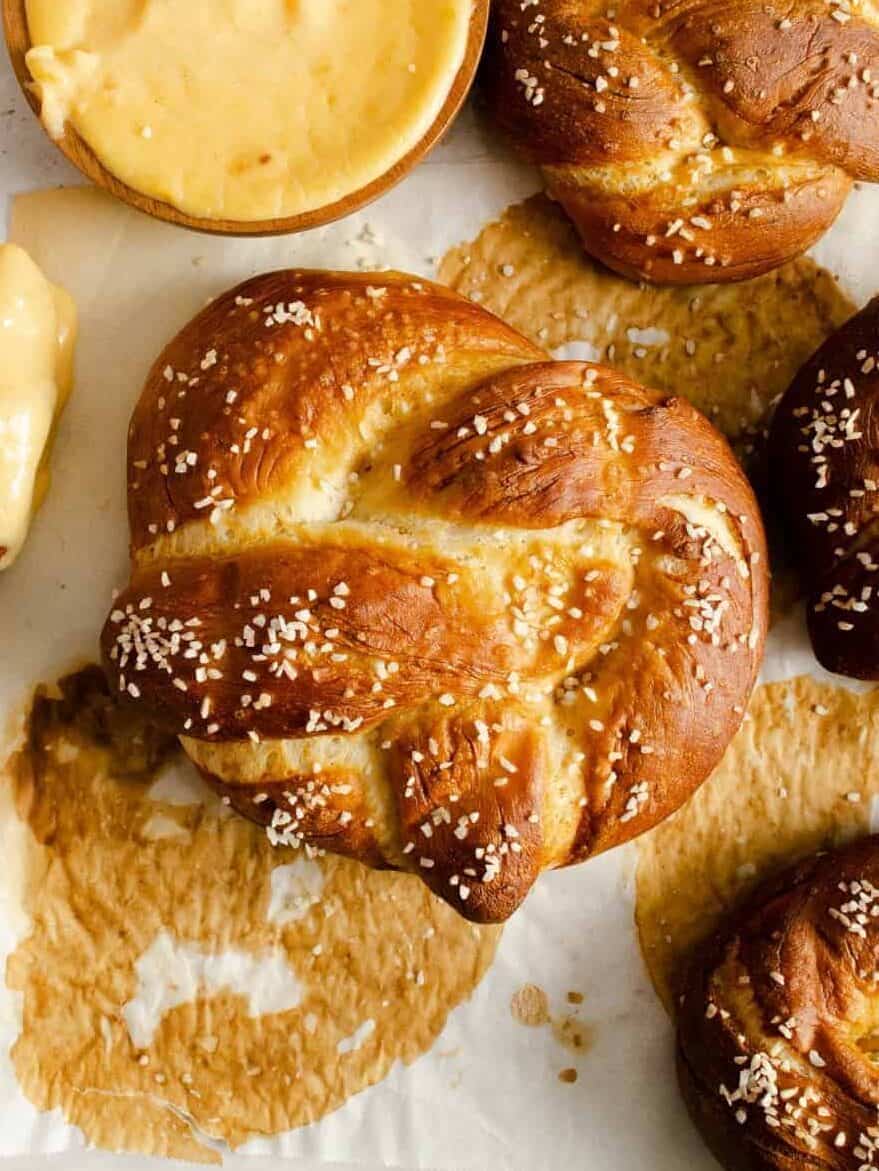 What's in this Homemade Pretzel Recipe?
A simple dough is boiled in a baking soda bath and baked to crispy on the outside, chewy on the inside perfection. A rich, creamy cheddar cheese sauce is the perfect complement to these soft and salty pretzels!
Active Dry Yeast: Helps these pretzels puff up.
Water: Helps to activate the yeast, hydrate the dough, and create a crisp outer crust.
Salt + Sugar: Kosher salt and brown sugar enhance and balance the flavor of the pretzels.
All-Purpose Flour: Gives the pretzels structure. If you have bread flour on hand, that's even better.
Baking Soda: Gives the pretzels their characteristic deep golden brown and cracked appearance.
Pretzel Salt: Won't melt into the pretzels and adds a great flavor and appearance.
Butter + Flour: Unsalted butter and all-purpose flour create a roux to thicken the cheese sauce.
Whole Milk: Help to thin the cheese sauce to the perfect consistency for dipping.
Sharp Cheddar Cheese: Has a great flavor and melts beautifully.
Ground Paprika: Adds a touch of warmth and color to the sauce.
Pro Tip: When kneading the dough, try not to add too much additional flour, as it can make the pretzels dry.
Variations on Homemade Pretzels
These soft pretzels are amazing as is, but they also make a great base for many different flavors. Try some of these fun variations:
Sesame: Top the pretzels with 2 tablespoons of sesame seeds before baking.
Ranch: After baking, top the pretzels with 3 tablespoons of melted butter and 1 envelope of ranch seasoning mix. Serve with marinara sauce or ranch dressing.
Pepperoni Pizza: Top each pretzel with 5 or 6 pepperoni slices and sprinkle with 1½ cups mozzarella cheese before baking. Serve with marinara sauce.
Cheddar Jalapeño: Add ¼ cup drained and chopped pickled jalapeños to the dough in step 2. Top with 1 cup shredded cheddar cheese before baking.
Garlic Parmesan: Follow this recipe for garlic Parmesan soft pretzels!
Cinnamon-Sugar: Omit the pretzel salt. Top the pretzels with 3 tablespoons melted butter, 2 teaspoons cinnamon, and ½ cup granulated sugar after baking. Serve with vanilla frosting.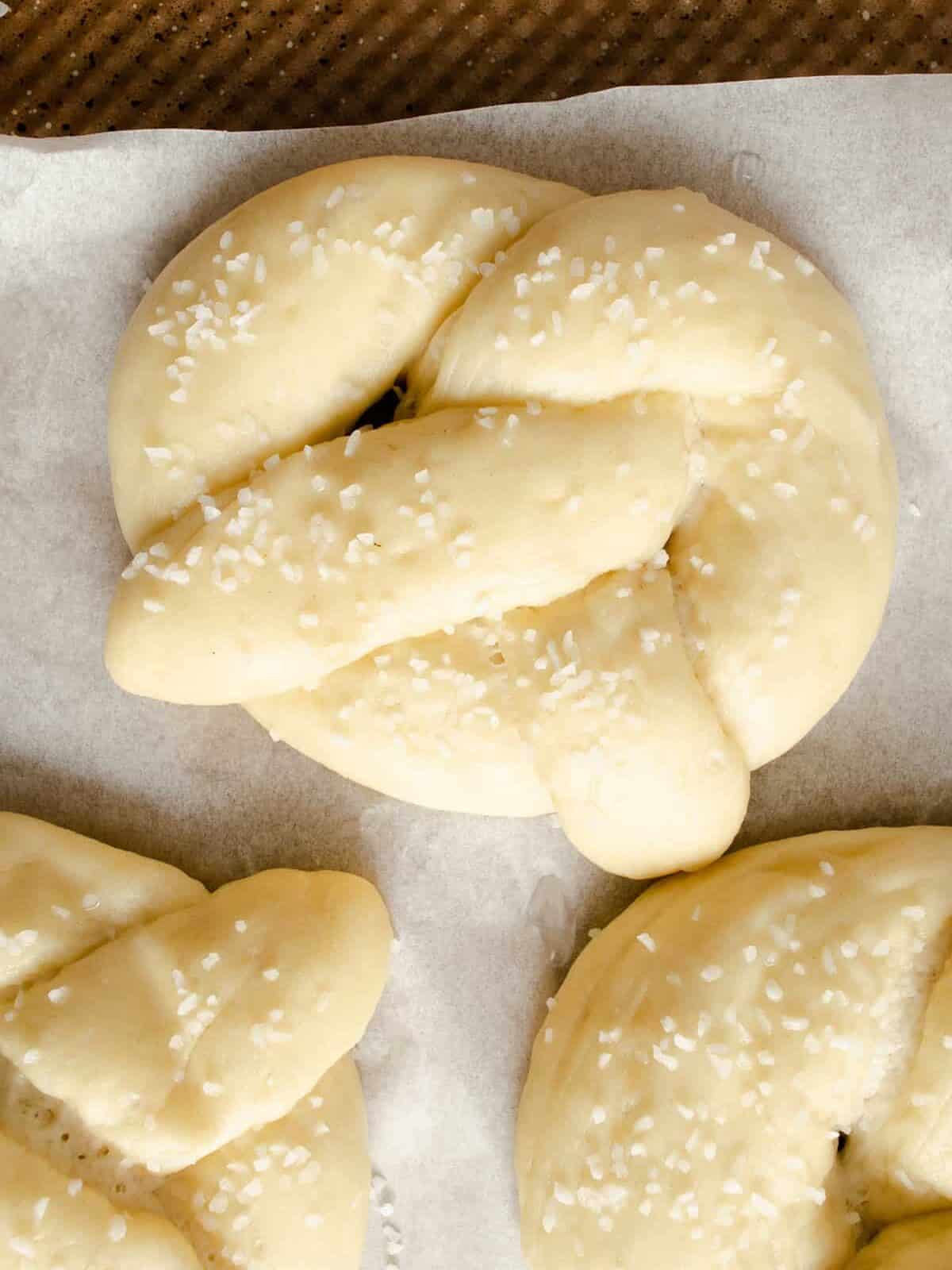 What makes a soft pretzel taste like a pretzel?
Dipping the pretzels in an alkaline water bath (made with baking soda) before baking gives them a signature chewy crust and dark color.
How can I tell if the dough has been kneaded enough?
The dough will be smooth and not shaggy on the outside. It will also start to feel firmer the longer it is kneaded. To test if it has developed enough gluten, stretch a small amount of the dough thin enough that you can see light through it. If it rips, it needs to be kneaded for longer. If it stays intact, you are done kneading.
How do I shape soft pretzels?
Start by rolling a piece of dough out into a 6-inch long skinny rope. Next, take both ends of the rope in your fingertips and draw them together so the dough forms a circle. Twist the ends of the rope together once or twice, depending on your preference. Then bring the twisted end toward yourself and fold it down onto the bottom curve. Use a bit of water to stick the ends together if needed.
Why do you boil soft pretzels before baking?
Boiling the dough causes it to puff up instantly, leading to a chewy interior. It also firms the outside of the dough, helping to create a crisp crust.
Do all soft pretzels need a baking soda bath?
Yes! This is what helps the pretzels develop that crust and their signature golden brown color.
Why didn't my cheese sauce thicken?
You likely did not fully incorporate the butter and flour or didn't let the milk mixture thicken enough before adding the cheese. To fix it, you can simmer the sauce, stirring it occasionally, until it reaches the desired consistency.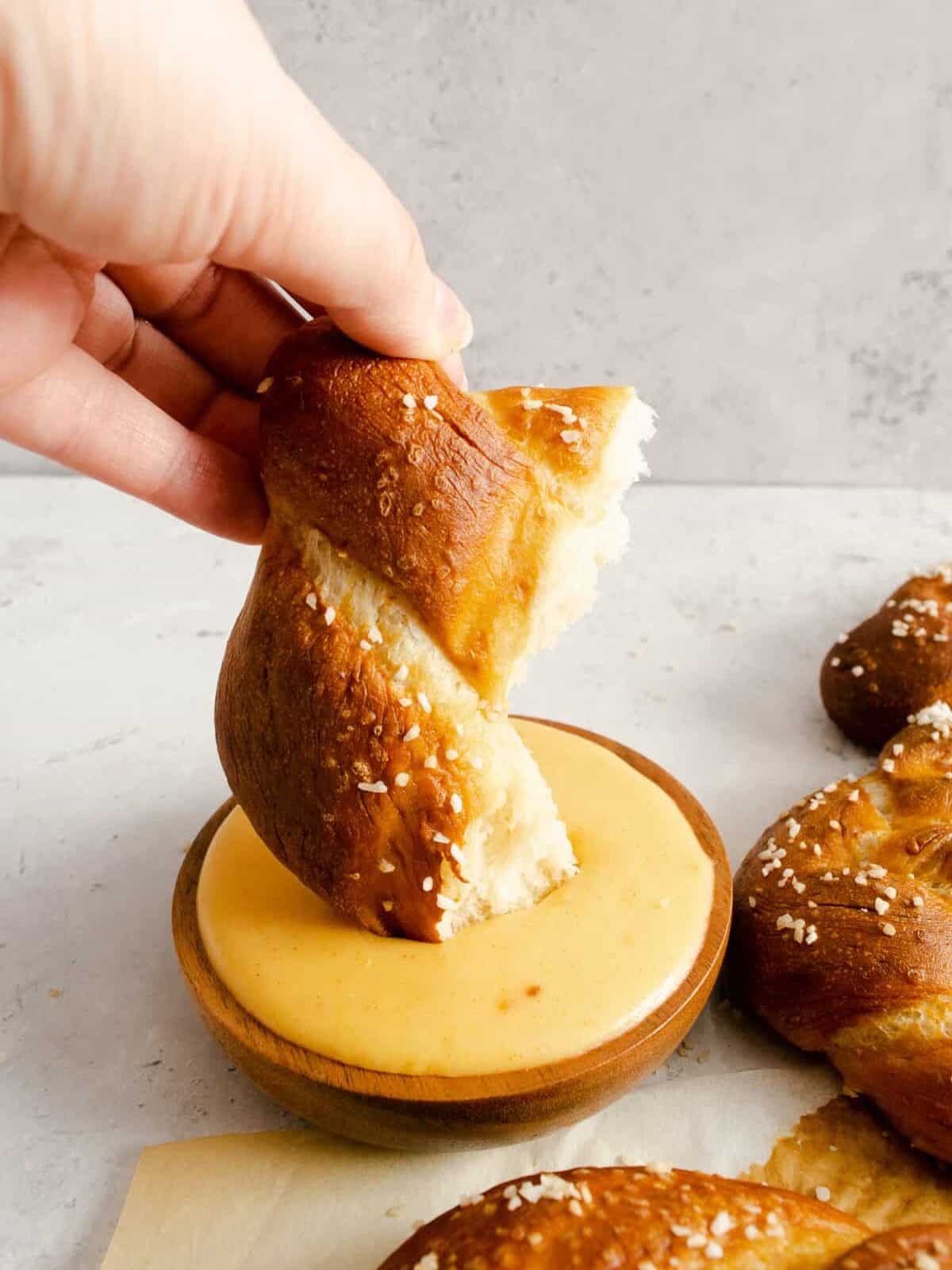 How to Store and Reheat
Fully assembled, these homemade soft pretzels are best enjoyed on the day they are made. If storing for later, leave off the salt until ready to serve and keep in an airtight container at room temperature for up to 2 days. To reheat, place in a 350°F oven for about 5 minutes, brush with melted butter, and top with pretzel salt.
Store leftover cheese sauce in an airtight container in the refrigerator for up to 3 days. Reheat in the microwave in 30-second increments until hot.
How to Freeze
Freeze these pretzels without the salt in a single layer on a baking sheet until solid, then transfer to an airtight container or Ziplock bag for up to 1 month. Reheat from frozen at 350°F for 10-12 minutes.
I do not recommend freezing the cheese sauce.
Serving Suggestions
I love to serve these pretzels as a game day appetizer platter with a variety of sauces, like honey mustard, fry sauce, Buffalo sauce, BBQ sauce, Chick Fil A sauce, garlic aioli, or even Boursin cheese. If you're feeling that Southwestern flair, try serving them with my favorite queso recipe.
My very favorite way to serve these easy homemade soft pretzels is with our 5 minute Nacho Cheese Sauce! (Simply the best.)
They're also really delicious as dippers for Mexican street corn dip, Buffalo chicken dip, cheesy refried bean dip, bacon spinach dip, or ranch dill pickle dip.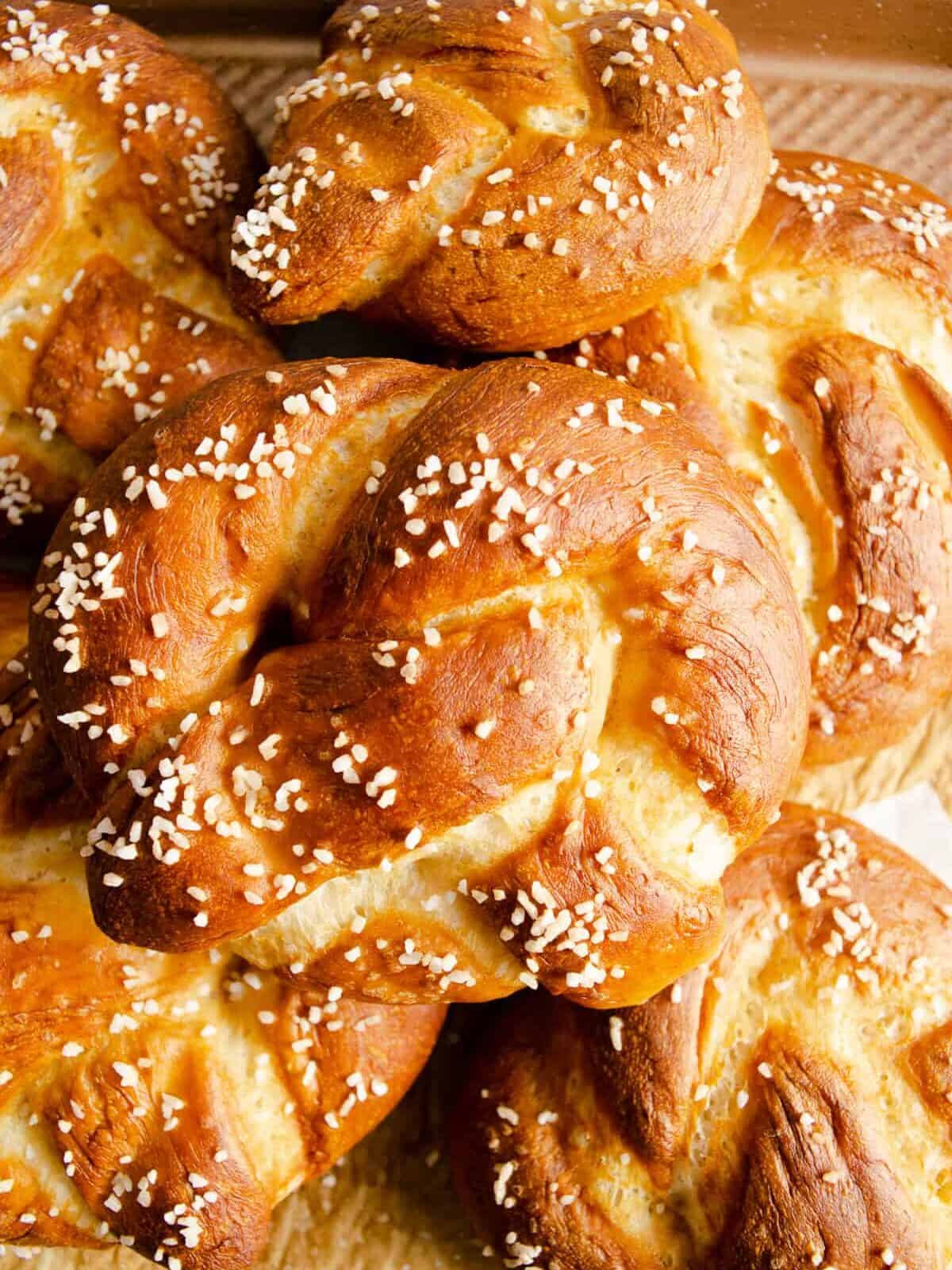 More Game Day Dippers We Love