Chicken Pot Pie Casserole is such an easy way to make Chicken Pot Pie. This crazy good chicken casserole is loaded with carrots, peas, chicken, and topped with a flakey pie crust, making it the ultimate easy comfort food. OBSESSED is an understatement!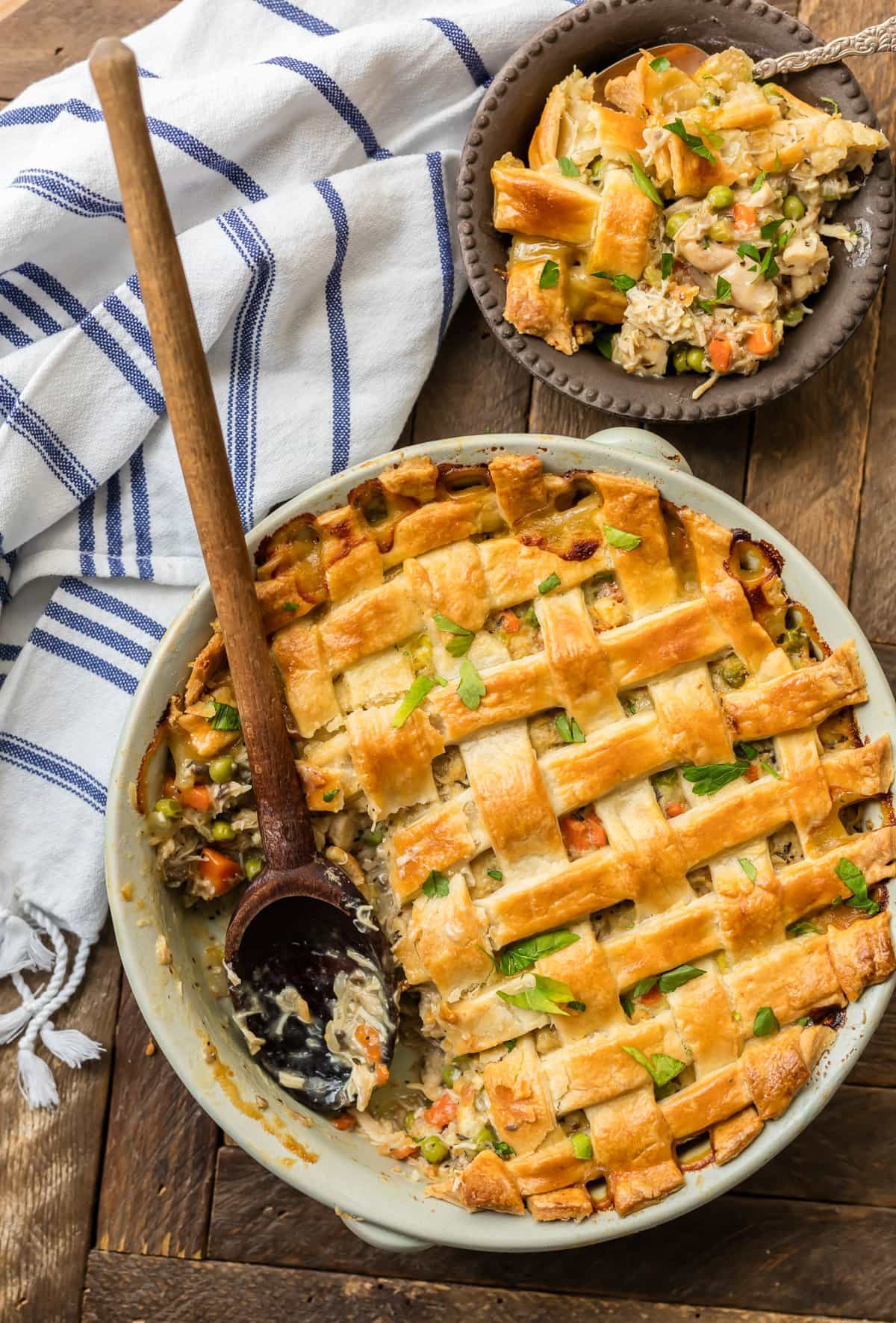 Easy Chicken Pot Pie Casserole Recipe
Chicken Pot Pie Casserole is the ultimate comfort food for a chilly night. Chicken Casserole + Pot Pie equals one DELICIOUS recipe!
This casserole is an easy version of the classic chicken pot pie and might just be my new favorite casserole. That's saying something because we LOVE casseroles around here. Some of my favorites have been our Broccoli Rice Casserole, Reuben Casserole (fun, right?), and Stuffed Pepper Casserole.
This Easy Chicken Pot Pie Recipe is loaded with the tastiest sauce, chunky chicken, peas, carrots, and more, and topped with a beautiful lattice pie crust. Homey, delicious, fun, and SO COMFORTING. All the flavor and absolutely none of the fuss. I recently made Chicken Pot Pie Soup and remembered just how much I love the flavors of a Chicken Pot Pie.
Don't you want to just dive in?! Even though the pie crust isn't made from scratch, people are going to be super impressed with this recipe.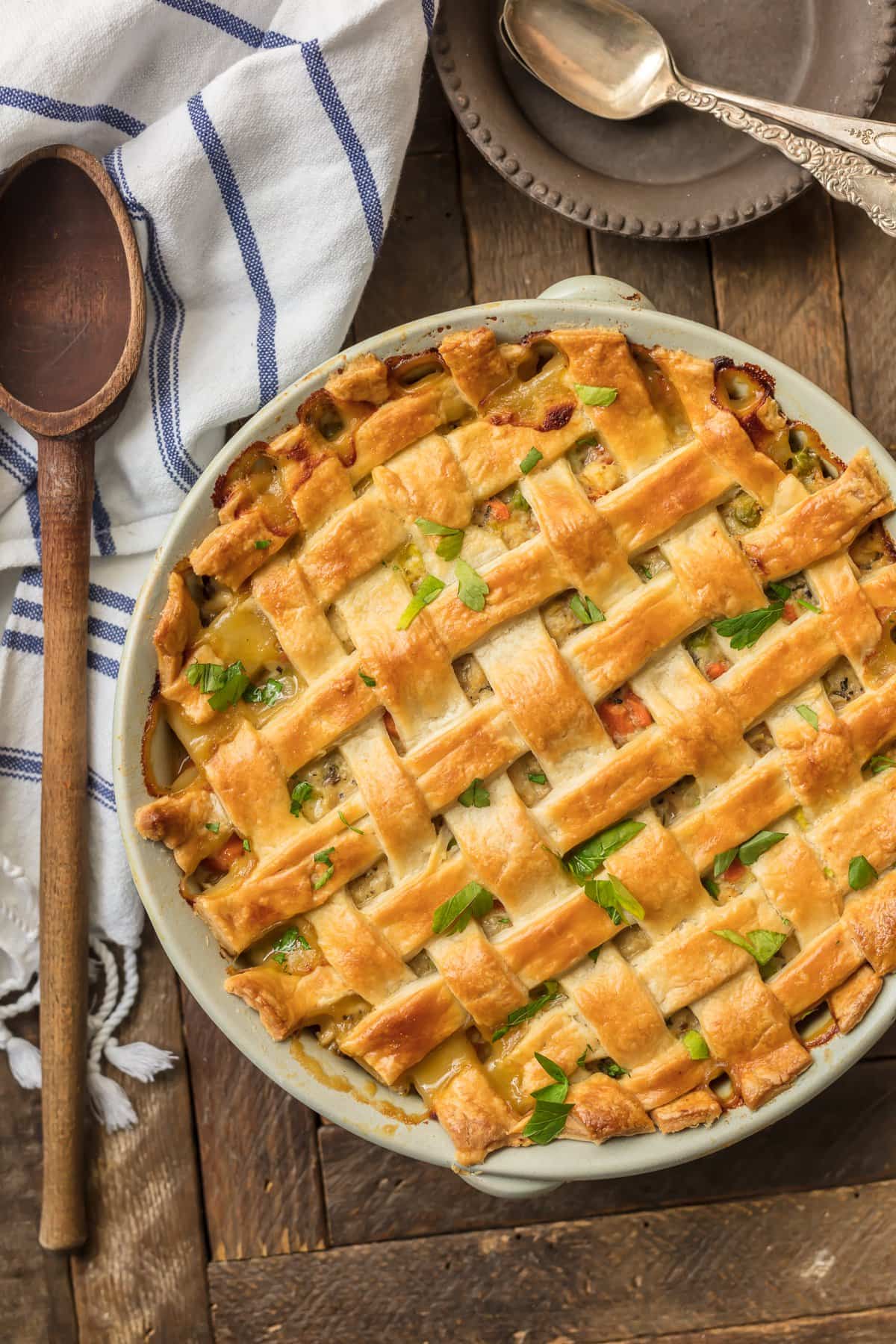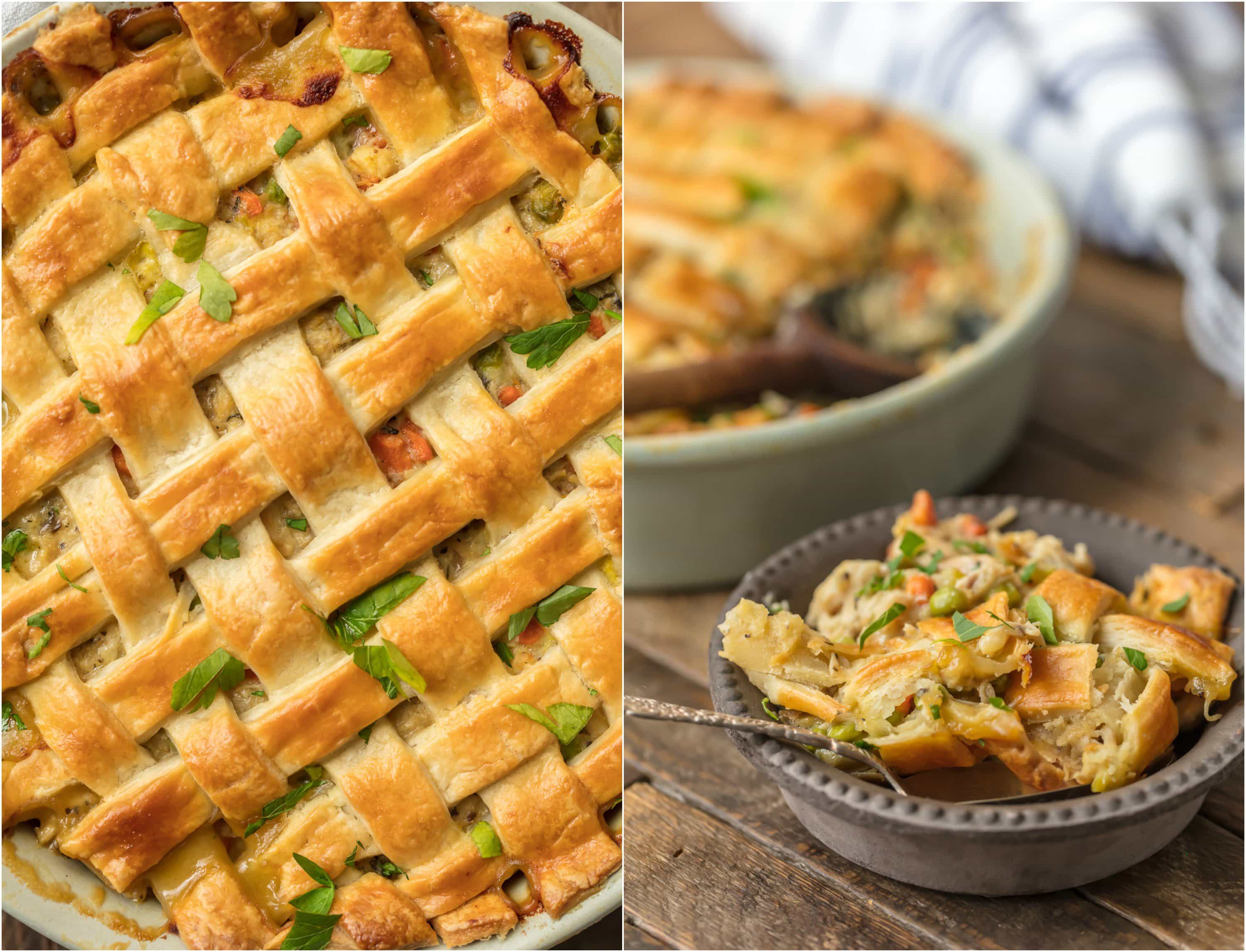 Chicken Pot Pie Casserole
This Chicken Pot Pie Casserole is just perfect for those busy nights where you're not sure what to cook but you know you're in need of something special.
The lattice top is so pretty, but if you're in a real rush, you can just lay the crust on top, poke some holes, and let it do its thing. The easy Chicken Pot Pie recipe will still look delicious and taste exactly the same.
No need to get fancy when dinner awaits! I like to make Chicken Pot Pies as EASY as possible if you couldn't tell. I want to get right to the eating and not have to slave away in the kitchen.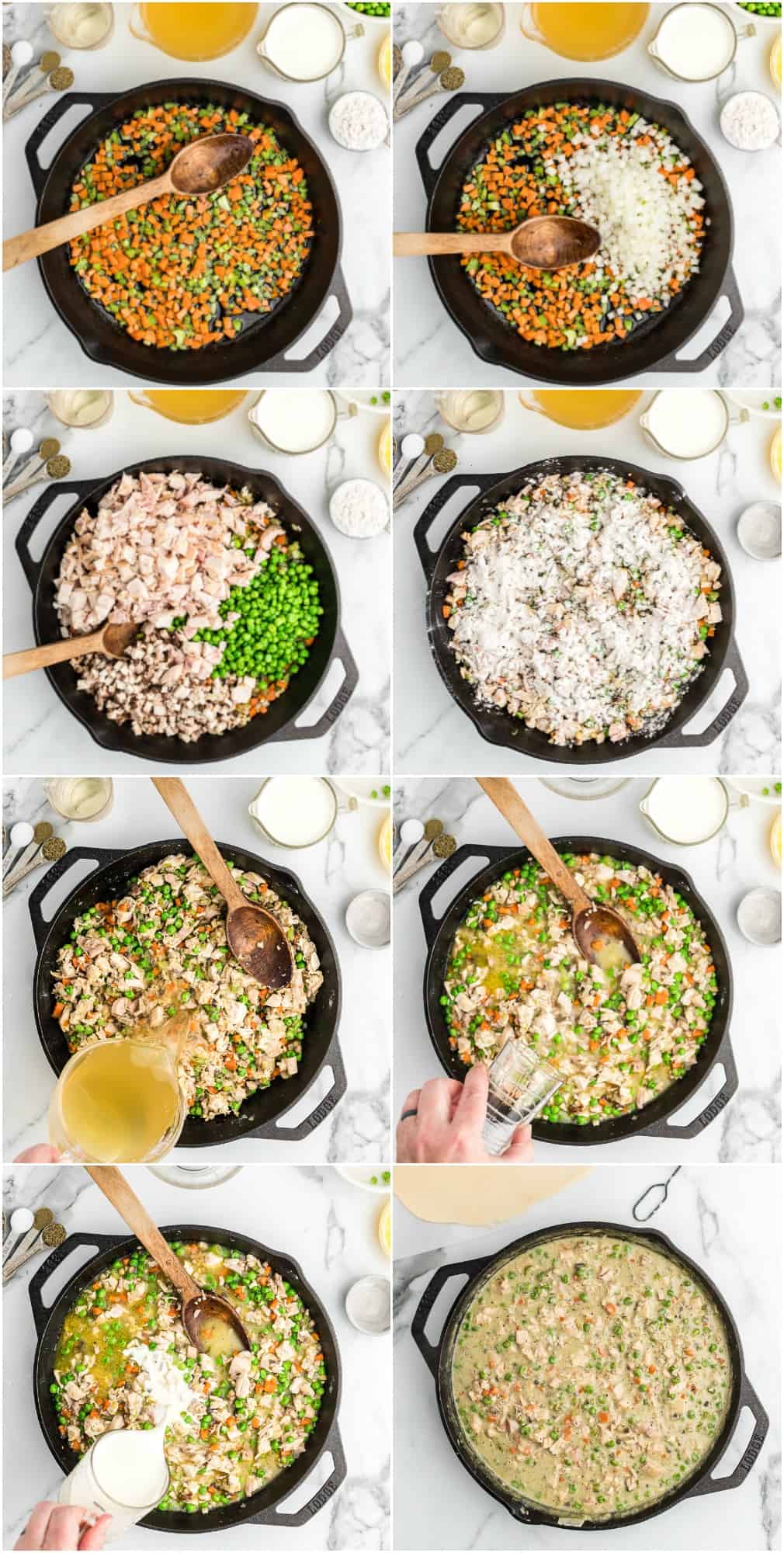 How to Make Chicken Pot Pie Casserole (Step by Step)
Making this classic dish as easy to serve and share casserole is the best way to do it. It's the easiest way to make chicken pot pie, and it's the easiest way to save it for later too. It's absolutely delicious!
Be sure to watch the video to see the step by step recipe!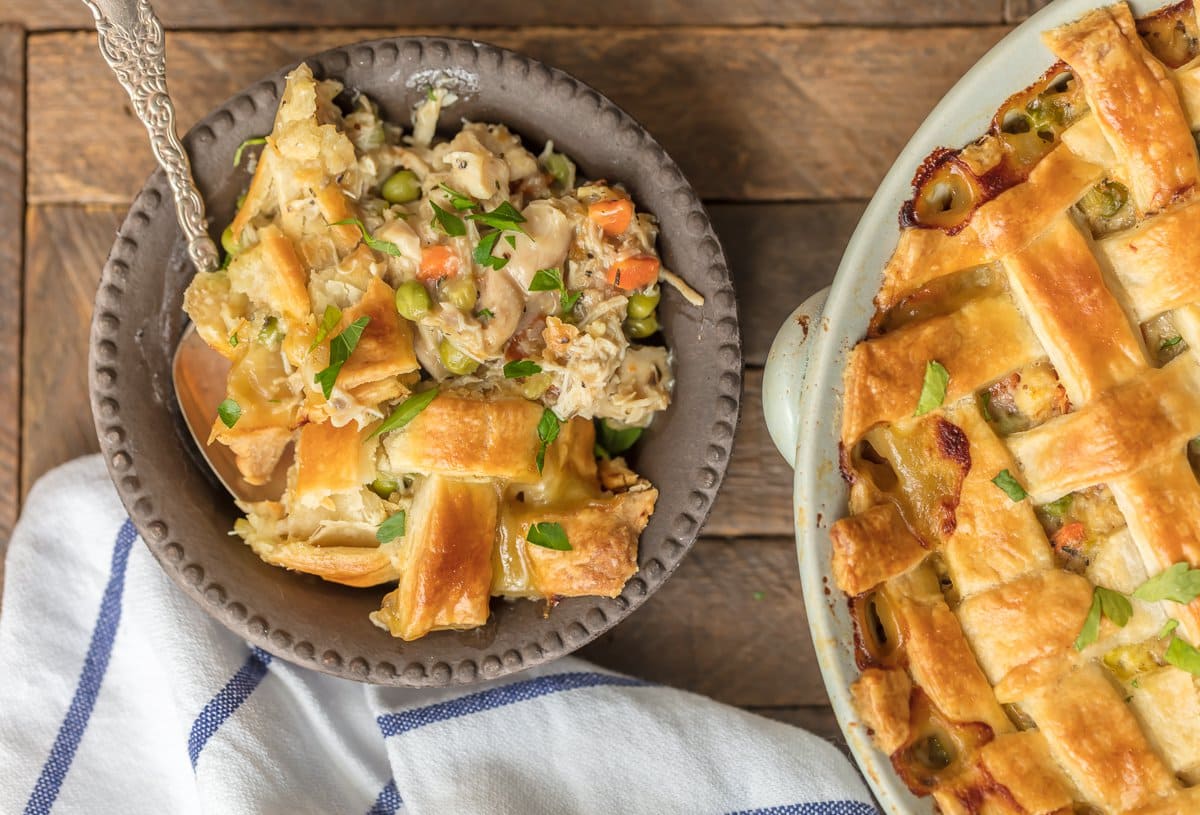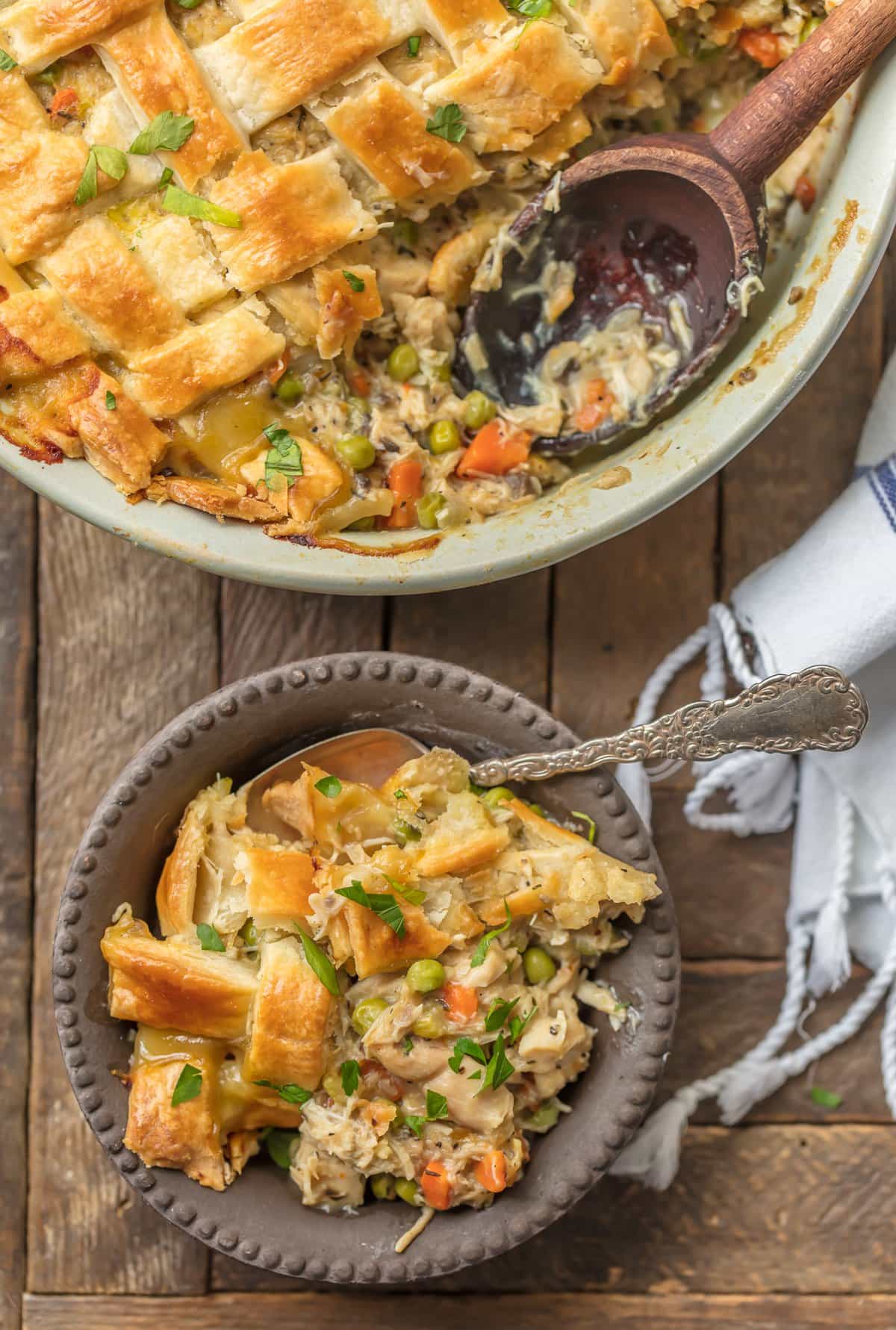 Pot Pie + Chicken Casserole
If this Chicken Pot Pie Casserole isn't the ultimate comfort food, I don't know what is.
Once you taste this recipe, I know you'll be as hooked as we are! Casseroles don't only have to be eaten at grandma's house, they can be a hit for any family! All the warmth, flavor, and ease that make a truly great meal, all in one place. My kind of recipe!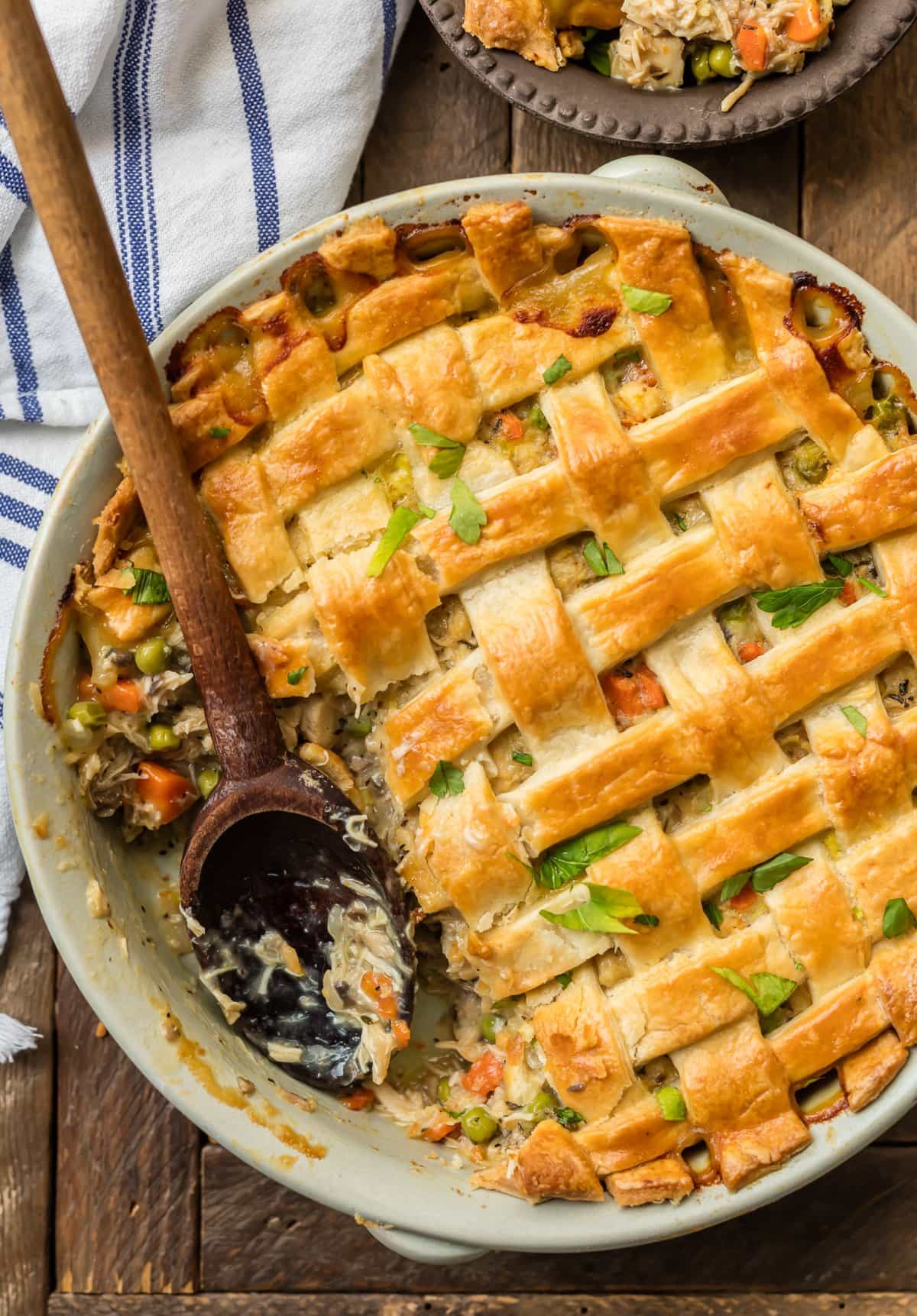 Is Chicken Pot Pie good for you?
I wouldn't call this easy chicken pot pie recipe healthy per se…it has heavy cream, wine, butter as well as the pie crust…BUT each serving is under 500 calories so that's a win in my book!
Everything in moderation. There are healthy tweaks you can make to this recipe to get the calories down even more.
Why is it called Pot Pie?
The origins of this recipe can be found in Greece. They placed meat in pots to serve. It was the Romans that added the top layer of crust, creating the "pie".
Easy Chicken Recipes
SO MANY! Chicken is my favorite. If you like this easy chicken pot pie recipe, you'll love these other favorites too:
If those aren't your fancy, one of our favorite Chicken Breast Recipes is sure to please! And try our Bacon Cheeseburger Pot Pie for an extra tasty comfort meal.
If you make this recipe be sure to upload a photo in the comment section below or leave a rating. Enjoy! You can also jump to recipe.