Chicken Pot Pie Casserole is such an easy way to make chicken pot pie. This crazy good chicken casserole is loaded with carrots, peas, and chicken, and topped with a flakey pie crust, making it the ultimate easy comfort food!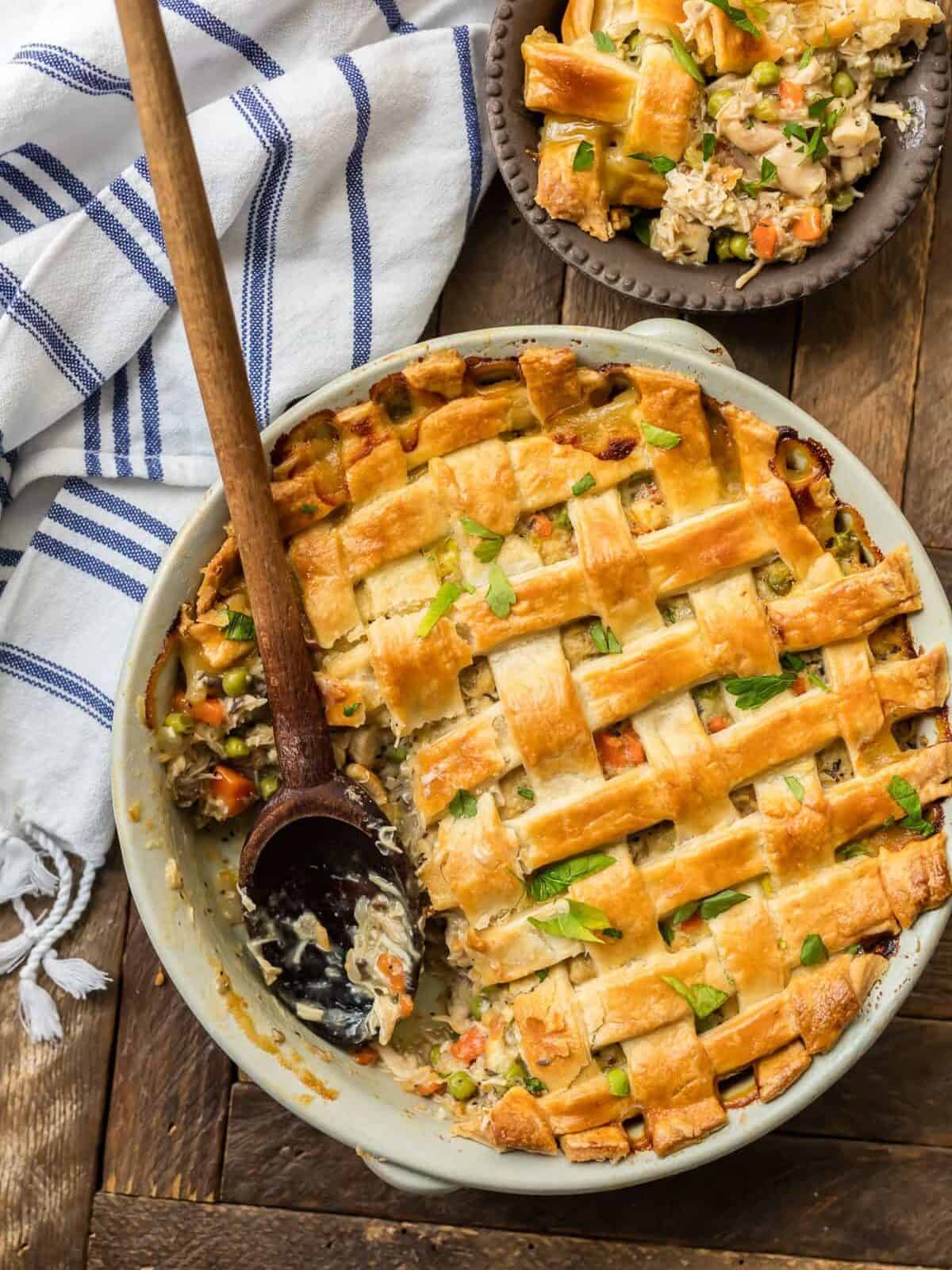 What's in this Chicken Pot Pie Casserole Recipe?
This casserole is loaded with the tastiest sauce, chunky chicken, peas, carrots, and more, and topped with a beautiful lattice pie crust. Homey, delicious, fun, and so comforting. All the flavor of a classic chicken pot pie and absolutely none of the fuss.
Pie Crust: For this recipe, we only need one pie crust to place on top of the pie– so easy!
Butter + Oil: Olive oil helps the veggies cook without burning, while infuses them with a rich flavor.
Mirepoix: Carrots, celery, and onion create a flavorful, vegetal base for this dish.
Garlic: Adds an earthy flavor.
Chicken: Pot pie is the perfect recipe to use up leftover cooked chicken. I cubed mine, but shredded chicken also works well!
Mushrooms: Add a rich umami flavor.
Peas: Add a pop of color and sweetness.
All-Purpose Flour: Thickens the gravy.
Chicken Broth: Combines with the fat and drippings to create a rich gravy.
White Wine: Adds a touch of acidity and freshness. You can use a splash of vinegar and more chicken broth if you prefer.
Heavy Cream: Makes this pot pie thick and creamy. You can use half-and-half to lighten it up a bit.
Spices: Kosher salt, black pepper, thyme, and basil enhance the flavors of this dish.
Egg: Combines with water to create an egg wash that gives the crust a rich golden brown color.
Pro Tip: If you plan to freeze this casserole, don't bake it in a glass baking dish, as it could shatter due to temperature shock!
Variations on Easy Chicken Pot Pie Casserole
This casserole is such a great jumping-off point for just about anything your heart desires! Try some of these simple swaps:
Meat: Use up whatever you have on hand– turkey, pork, sausage, tofu… the possibilities are endless!
Veggies: Got odds and ends in the crisper drawer? Dice them up and use them here. I love broccoli and pearl onions in mine!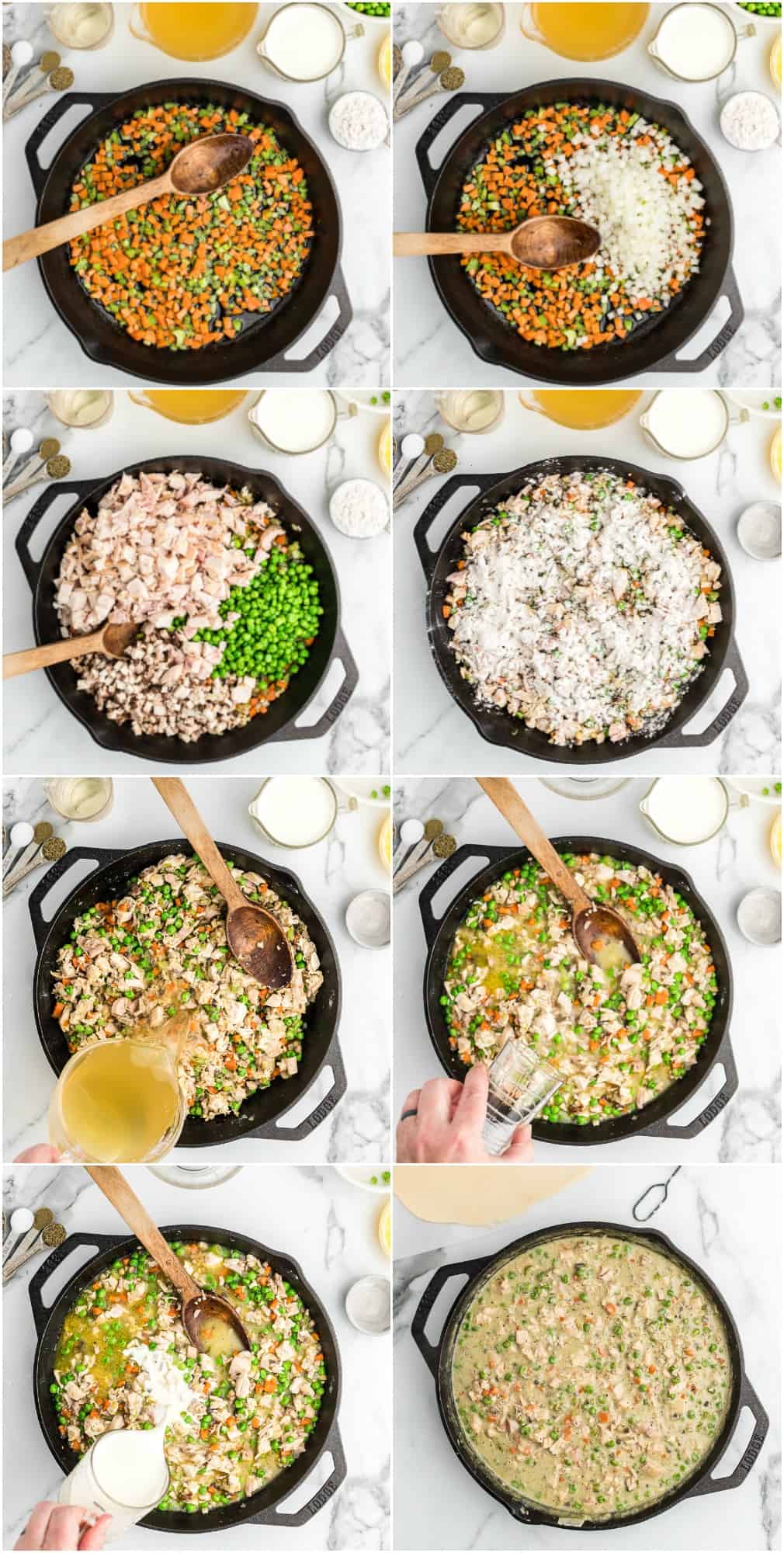 Why is it called pot pie?
The origins of this recipe can be found in Greece. They placed meat in pots to serve. It was the Romans that added the top layer of crust, creating the "pie".
What kind of chicken is best for chicken pot pie?
Use shredded or cubed cooked chicken for this pot pie.
Can I use homemade pie crust for chicken pot pie?
Absolutely. Store-bought pie crust is a welcome shortcut, but use your favorite homemade pie crust. This is my go-to homemade pie crust recipe.
What can I do if my pie crust is browning too quickly?
If you notice that the pot pie crust is browning too quickly, loosely cover the pot pie with foil halfway through baking.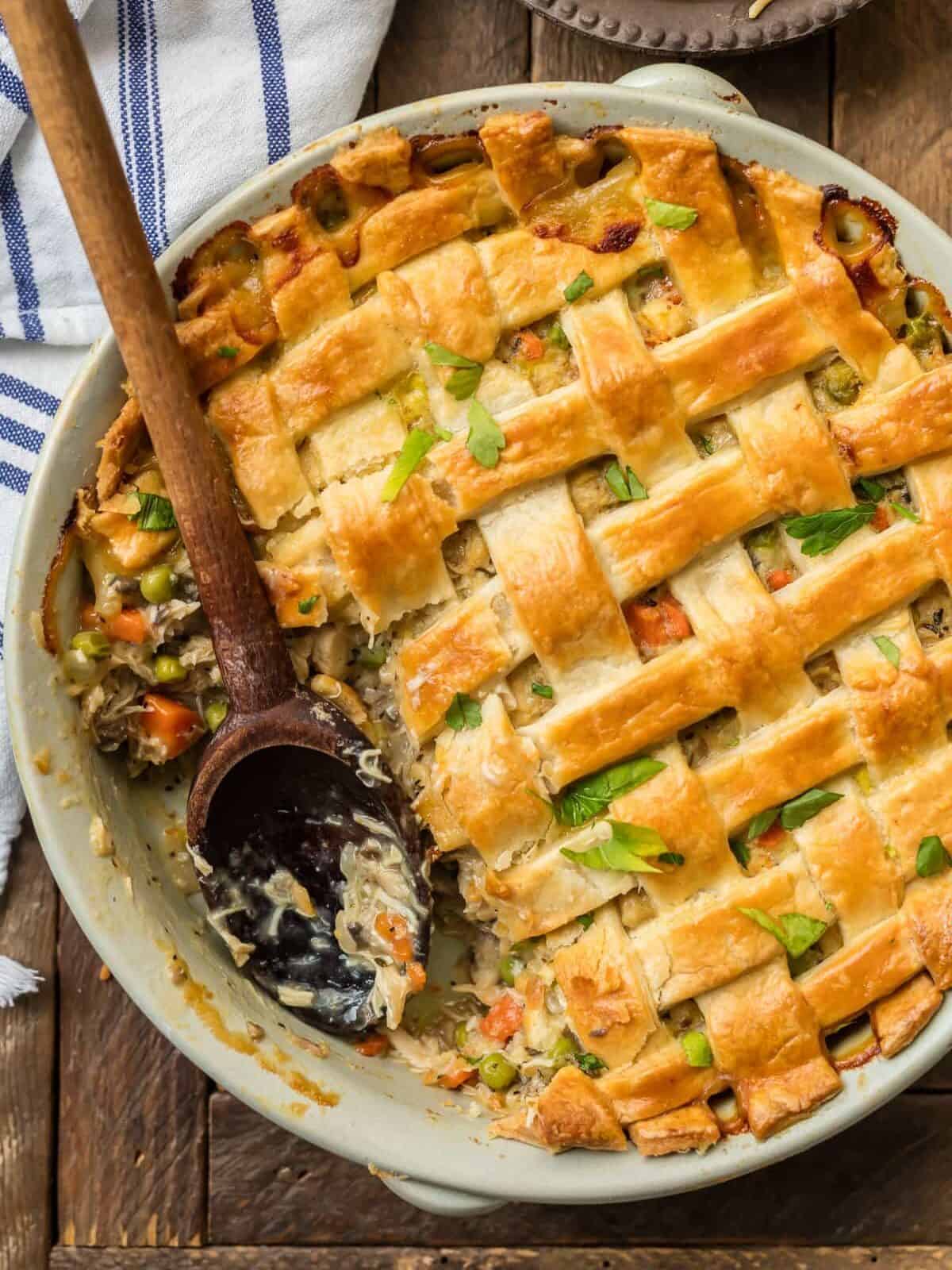 How to Store and Reheat
Store leftover chicken pot pie casserole in an airtight container in the refrigerator for up to 3 days. Reheat in a 375°F oven for 25-30 minutes, or until warmed through.
How to Freeze
You can freeze chicken pot pie casserole both before and after baking. Just be sure to do so in a non-glass baking dish to prevent it from shattering. Tightly wrap the casserole in 2 layers of plastic wrap and 1 layer of aluminum foil and freeze for up to 2 months.
To reheat an already-baked frozen pie, place it in a 375°F oven for 30-35 minutes. To bake from frozen, bake in a preheated oven with the foil on for 30 minutes, then remove the foil and continue to bake for 45-50 minutes, until golden brown and 165°F internally.
Serving Suggestions
This casserole is a meal all by itself. But because this casserole doesn't have a second crust, you could serve it over a bed of mashed potatoes, rice, or cauliflower. A fresh green salad or some roasted vegetables on the side would also be delish! For something a little lighter, consider some coleslaw.
More Chicken Pot Pie Recipes We Love