Cranberry bliss bars are a classic sweet treat that you can pick up at Starbucks during the winter months. This copycat cranberry bliss bar recipe can be easily made at home any time you'd like! The bars are chewy, sweet and full of winter flavors.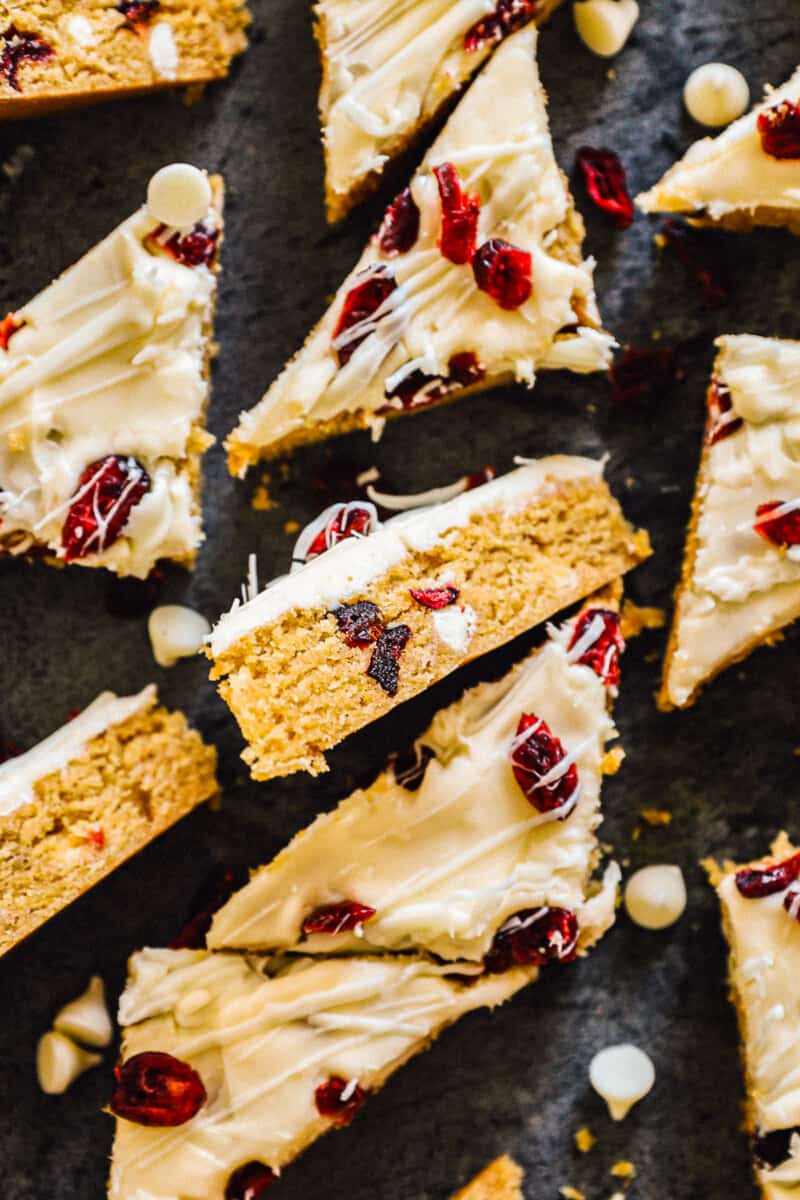 Copycat Starbucks Cranberry Bliss Bars Recipe
Cranberry bliss bars are a classic Starbucks treats that is only available a few months out of the year in the winter months. They come out when Starbucks releases their winter line of drinks. Cranberry bliss bars are super popular and sometimes sell out!
These blondie bars with cranberries and white chocolate are soft, chewy, and full of cranberry flavor. You get a bit of crunch from the white chocolate chips and dried cranberries in the blondie bar and on top.
Why you'll love this White Chocolate Cranberry Blondies recipe:
EASY TO MAKE: Copycat cranberry bliss bars are simple to make at home. They are perfect for beginner bakers and a great recipe to have kids help make.
COPYCAT TASTE: Even though this is a homemade version of the classic Starbucks treat, the taste is spot on. You won't be able to tell the difference between the store-bought version and this one!
FESTIVE TREAT: These cranberry blondie bars are great for the holiday season. They make a great addition to a cookie tray or as a gift to friends and family.
I love this recipe because I can make these bliss bars anytime during the year. No need to wait until Starbucks releases their winter line, I can have these bars whenever I get a craving!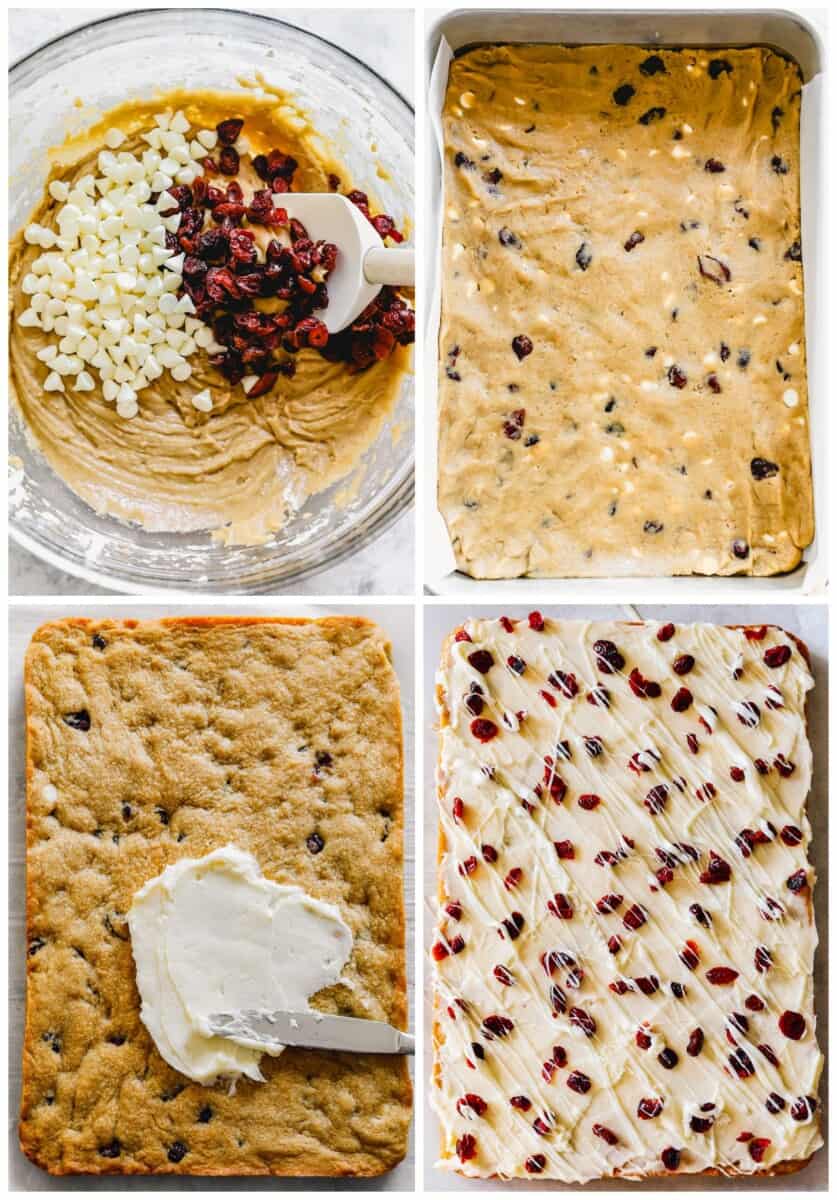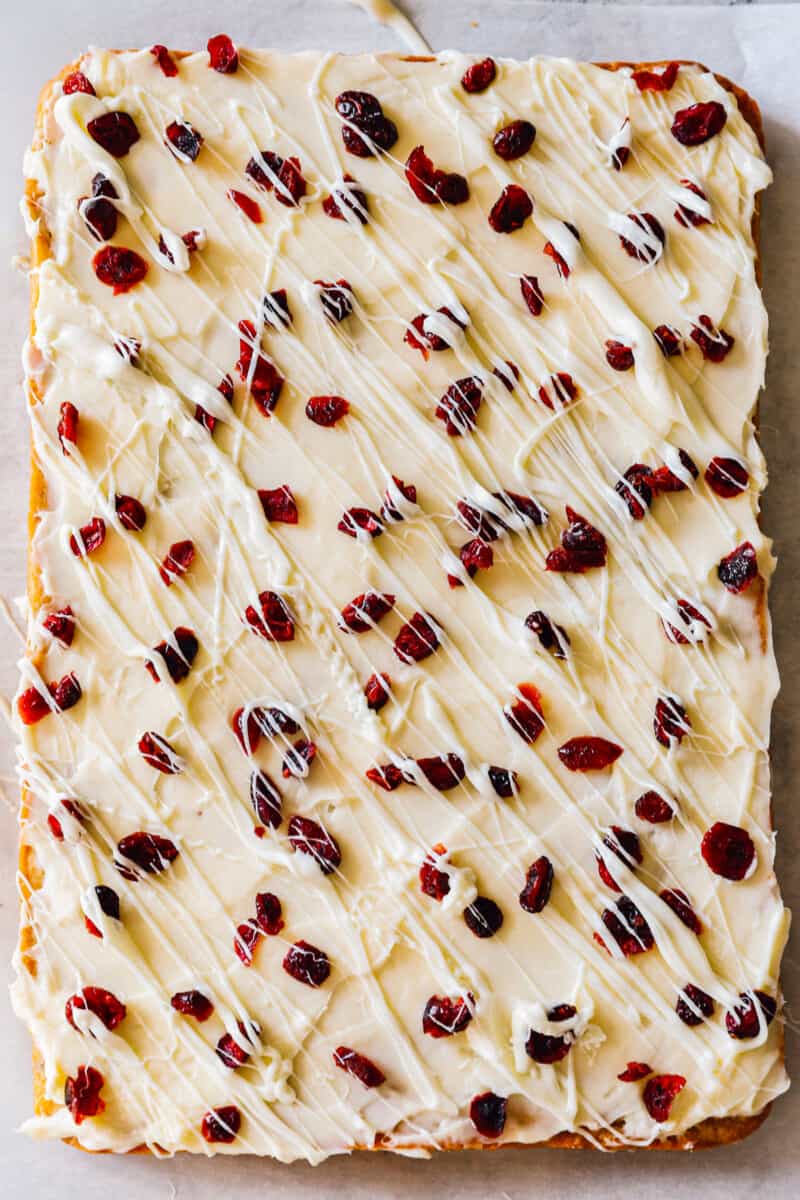 How to Make Cranberry Bliss Bars from Starbucks at Home
You can jump to the recipe card for full ingredients & instructions!
Whisk the brown sugar into the melted butter until well combined.
Add the flour, baking powder, cinnamon, and salt together.
Add your dry ingredients to your wet ingredients and stir to combine.
Fold in your white chocolate chips and cranberries.
Press the batter into a prepared baking dish.
Bake for 17-19 minutes.
Beat the powdered sugar, vanilla, and cream cheese together.
Spread the frosting over the cooled bars.
Sprinkle additional white chocolate chips and cranberries over the bars.
Drizzle melted white chocolate on top.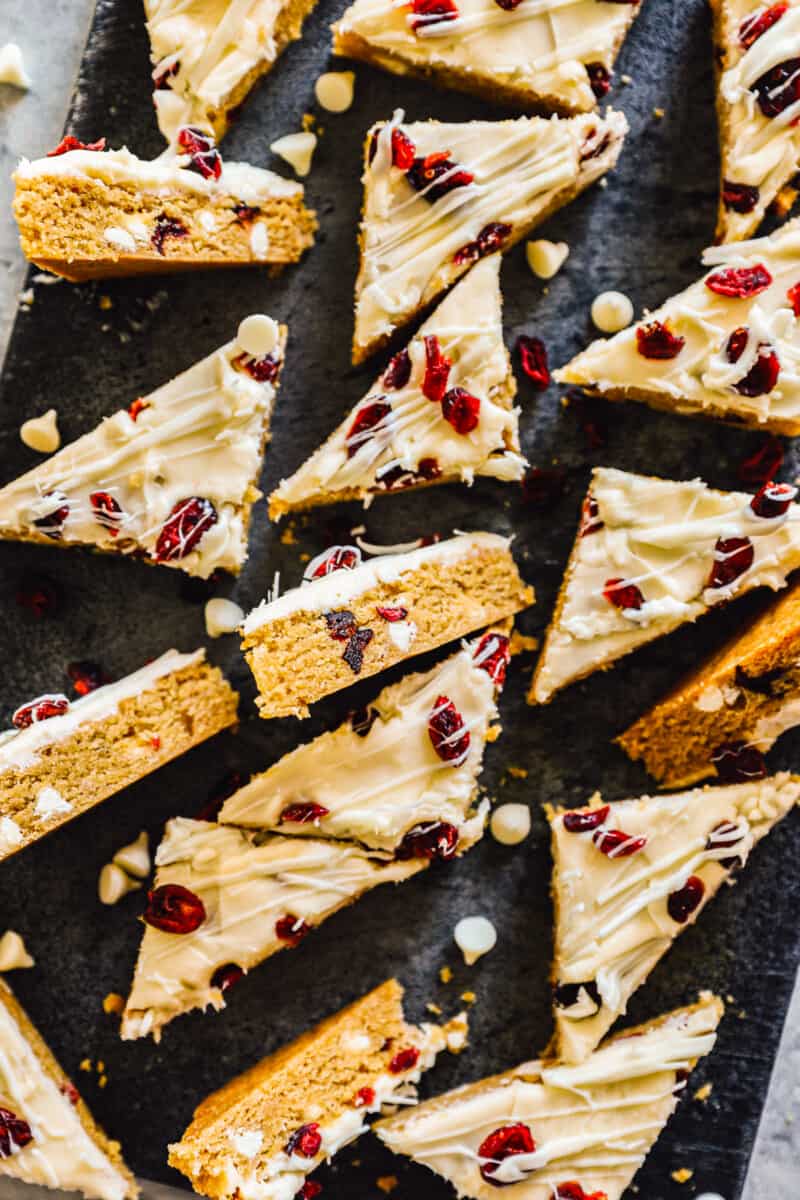 What is in cranberry bliss bars?
Cranberry bliss bars are similar to blondie bars, but with white chocolate and dried cranberries. These bliss bars also have a cream cheese frosting and melted chocolate on top.
Are cranberry bliss bars seasonal?
Yes, these bars are on the Starbucks seasonal menu. You can only get them during the holiday season. You can use this easy cranberry bliss bar recipe to make them anytime you'd like!
Do cranberry bliss bars need to be refrigerated?
It is best to keep your bliss bars in the fridge to set the frosting and to store any leftovers. This will keep your cranberry bars as fresh as possible.
Can I freeze cranberry bliss bars?
You sure can! These bars freeze beautifully! Allow the bars to cool and set completely before cutting into slices. Place the slices in a Ziplock bag and set it in the freezer for up to 3 months.
Serving Suggestions
Since these are a copycat Starbucks treat, it only makes sense to pair them with a coffee!
Cranberries and white chocolate go well together and they make a festive additional to these bars. The base is similar to a blondie and is then topped with a cream cheese frosting and more white chocolate. They make a great dessert but can also be served for breakfast with your favorite coffee.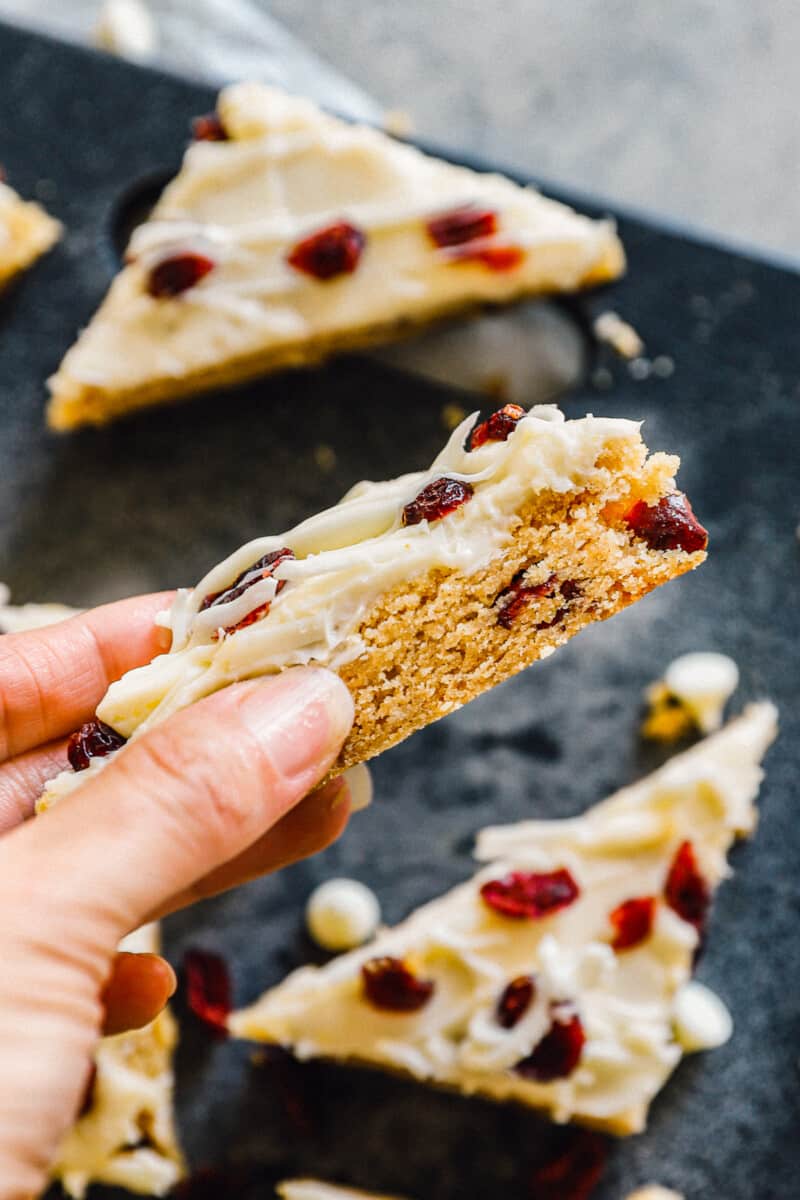 Tips!
Make sure to scrape down the sides of the bowl with a spatula to fully incorporate all of your ingredients.
Gently fold in the white chocolate chips and the dried cranberries.
Any dried fruit would work well in these bars. You can easily substitute dried apple, oranges, or even strawberries!
You are going to want to share this recipe with anyone who loves grabbing a cranberry bliss bar at Starbucks. They will love being able to make this sweet, chewy treat at home.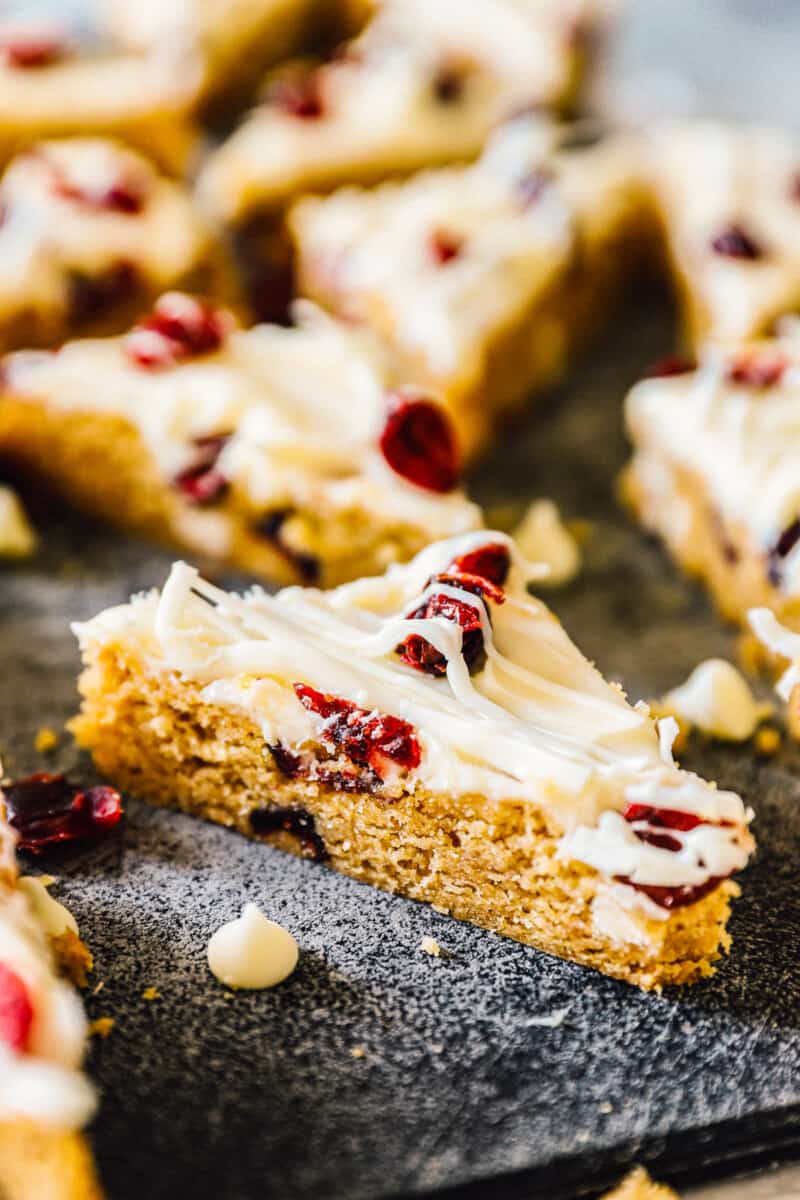 Starbucks cranberry bliss bars are a yummy treat that you can grab from the coffee shop. Since it's seasonal, you can't pick one up all the time.
Being able to make these bars at home is a great way to save money while enjoying a chewy cranberry bar that tastes identical to the store bought version.
If you make this recipe be sure to upload a photo in the comment section below or leave a rating. Enjoy! You can also jump to recipe.