White Chocolate Mousse is just so rich and creamy! There's nothing better than a super Easy White Chocolate Mousse recipe with only two ingredients. This is one of our favorite Easy Christmas recipes, but it's delicious year-round as well. This Easy Chocolate Mousse Recipe has layers of white chocolate mousse and mini chocolate chips make a great individual dessert anyone would love. What are you waiting for?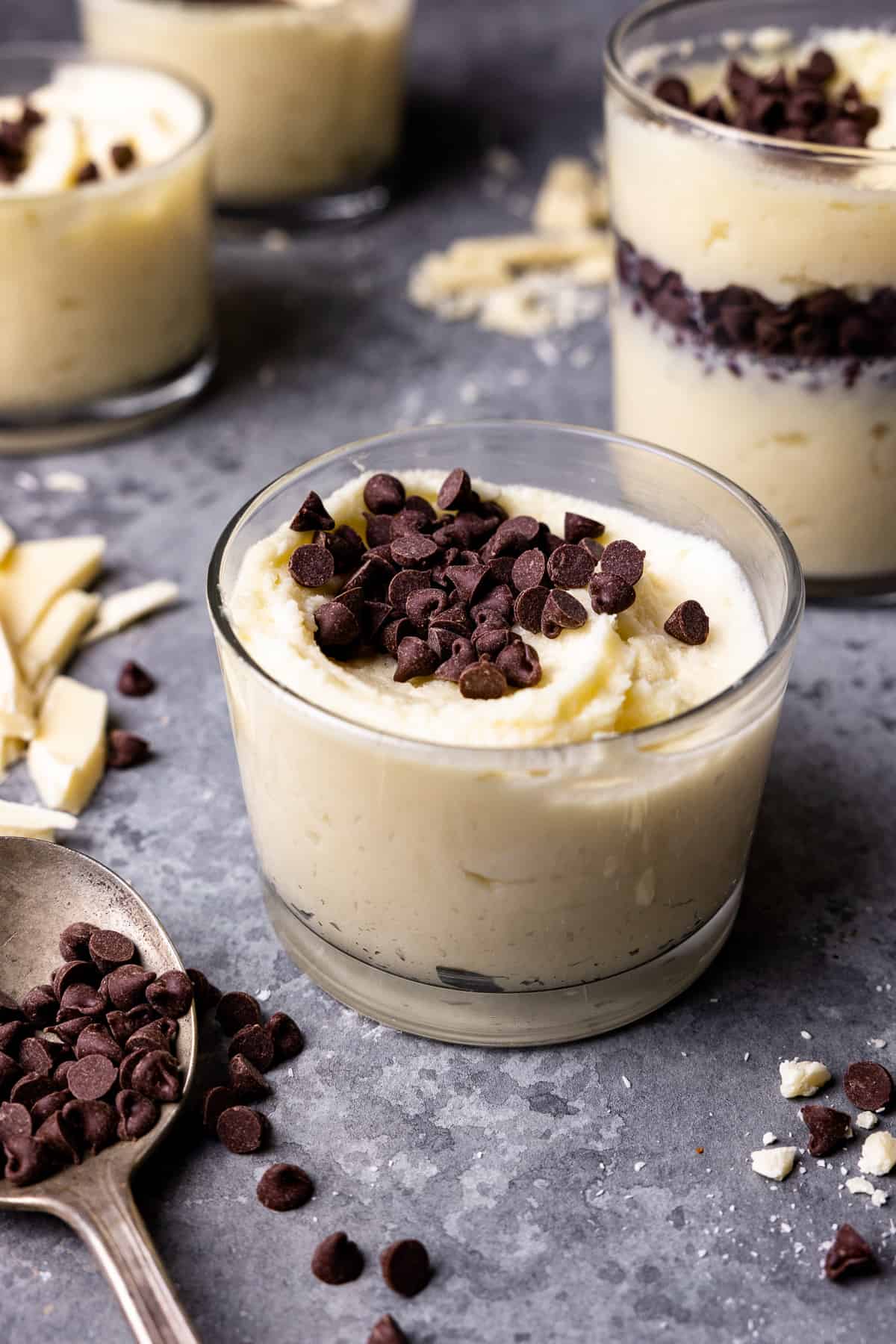 White Chocolate Mousse Recipe
White Chocolate Mousse is a simple yet tasty holiday dessert. This easy chocolate mousse recipe only uses 2 ingredients!
White Chocolate Mousse is an easy and delicious sweet treat! There are some days that just call for a simple recipe. This has been one of those days. Christmas is around the corner and I've cooked just about every type of recipe under the sun in preparation. Like clockwork…I've come to realize I always love the easiest recipes the best.
This Easy Chocolate Mousse Recipe is great because it's just the right touch of sweetness to end your day. It can be dressed up for a holiday or dressed down for a simple night at home, and it is totally and completely foolproof. This White Chocolate Mousse Recipe is perfect for all occasions!
If I can make this Easy Chocolate Mousse Recipe, then you certainly can too! So don't shy away from this simple 2 ingredient mousse recipe. You'll be glad you tried it!
Easy Chocolate Mousse Recipe (2 Ingredients!)
This easy Chocolate Mousse recipe is light and fluffy and whipped together in mere minutes. Throw it together with some chocolate chips or fruit, and you have a beautiful dessert that anyone will love! The perfect sweet end to a family gathering.
When you see how easy this White Chocolate Mousse is (it's only two ingredients!), you'll be making it for all sorts of occasions! Plus, you can use this as a starter recipe and build on it. Get creative, use different types of chocolate, and add fruit, cinnamon, or whipped cream. This easy chocolate mousse recipe is simply delicious as is, but there's definitely room to change it up.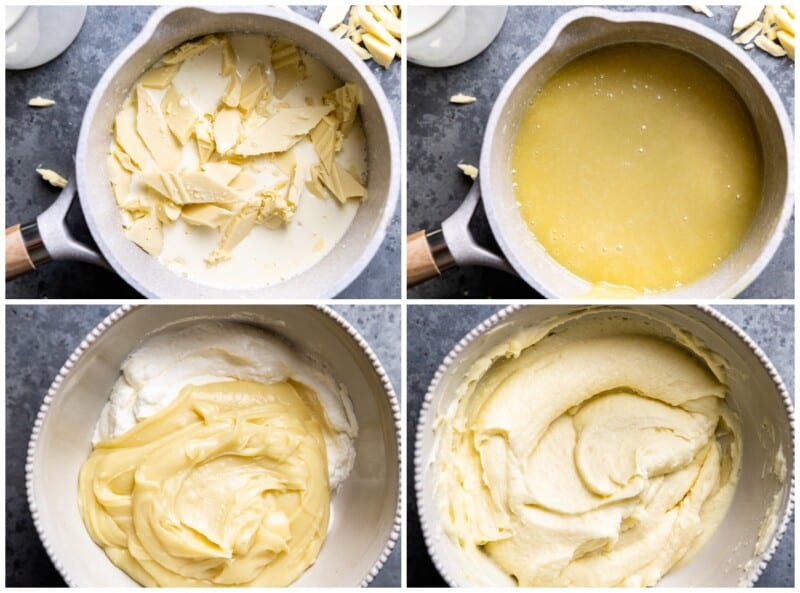 Easy White Chocolate Mousse for Christmas
Every Christmas table needs an easy chocolate mousse recipe, but not all recipes are created equal.
White Chocolate Mousse is one of those must make dessert recipes for the holidays like Easy Angel Food Cake, Red Velvet Cupcakes, and French Silk Pie. I've done my best to work on those classic recipes to bring you the simplest versions possible.
Some holiday recipes are really high maintenance and difficult…and that's just not me and not this site. I'm all about the easy recipes. Gimme all the 2 ingredient recipes, please! This Easy White Chocolate Mousse Recipe is simply perfection. Next time I plan to make it with layers of macerated strawberries instead of the chocolate chips. Yum!
How long can you keep this in the fridge?
For best quality, this chocolate mousse recipe can be stored in the refrigerator for about 3-4 days.
Can you make chocolate mousse without eggs?
Yes! I love this easy chocolate mousse recipe because it only contains 2 ingredients! And neither of those ingredients are eggs. You just need white chocolate and heavy cream for this easy mousse recipe.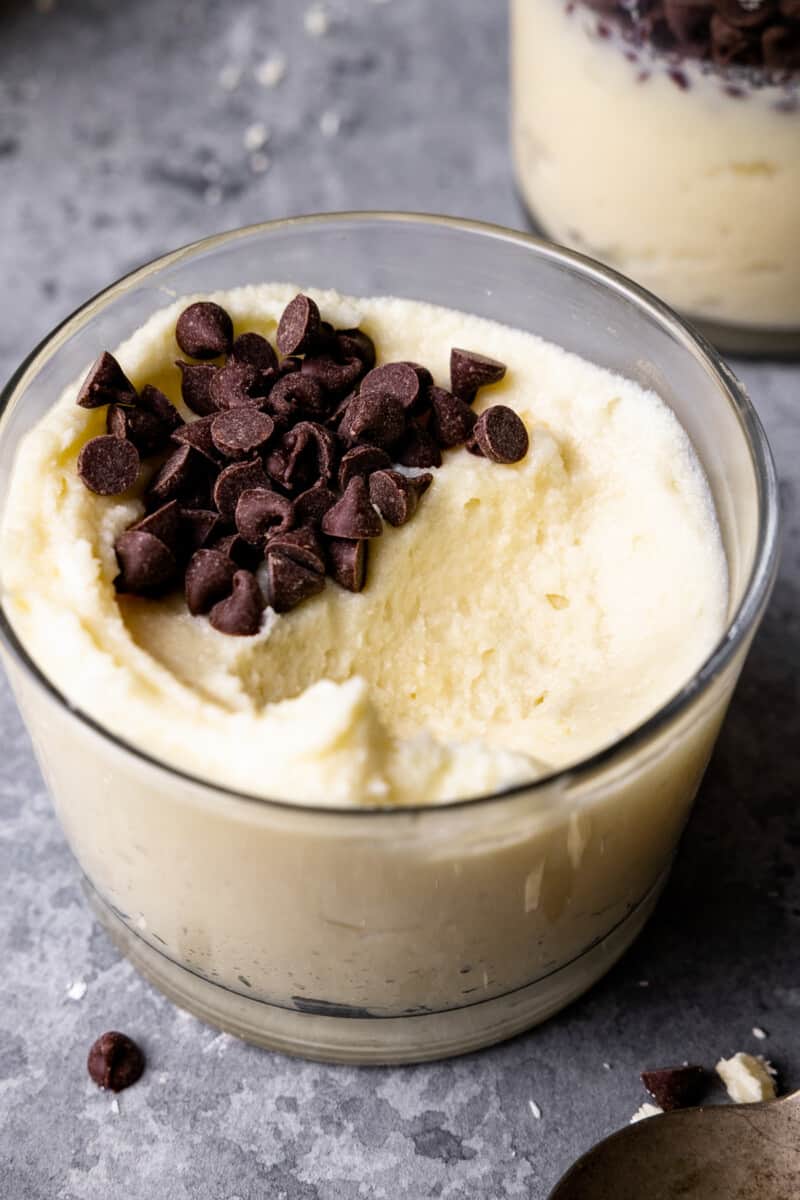 Chocolate Mousse can be intimidating, but it doesn't have to be! It's so creamy, easy, and amazingly yummy. I love that you can customize it any way you like to create the perfect sweet dessert for your friends or family. I'm so excited for you to try it!
Be sure to try these other easy dessert recipes: