These FRIED BLUE CHEESE STUFFED OLIVES are just delicious. And when served with a simple garlic aioli sauce, they are absolutely addicting! These fried and stuffed olives are the perfect holiday appetizer, just what you need for Christmas or New Year's Eve!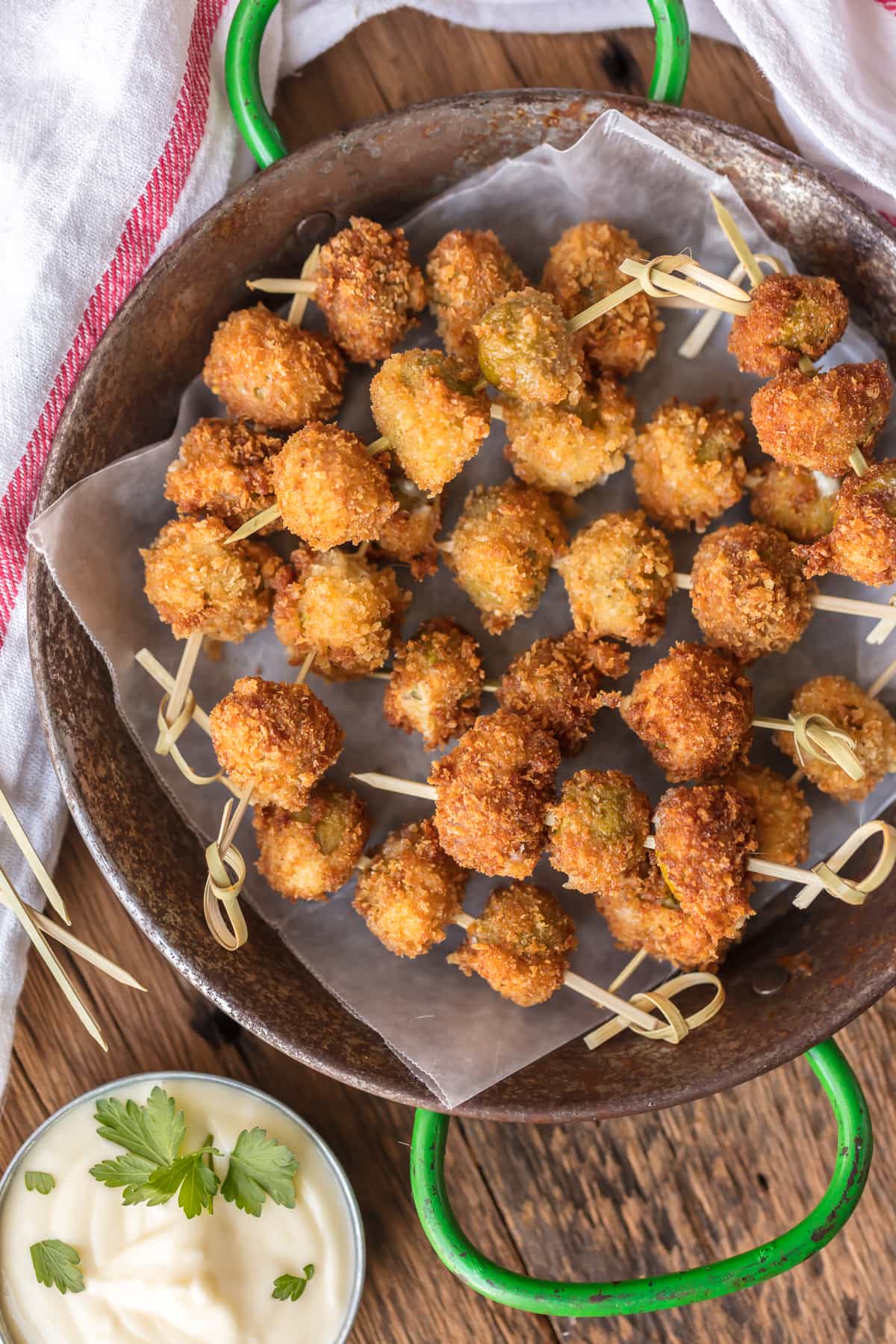 Blue Cheese Stuffed Olives
Blue Cheese Stuffed Olives are the perfect New Year's Eve appetizer. They're simple, they're bite-sized, and they're addictingly good paired with the garlic aioli sauce!
In a past life (about 10 years ago), I was a waitress at a really beautiful high-end martini bar/restaurant in Jacksonville Beach. Considering my hermit like lifestyle these days (kind of kidding), it's weird to think about what a social life I had right after college. I learned so much about amazing wine, delicious food, and talking to strangers on a nightly basis. If I tried to cocktail waitress today I'd probably be fired within hours. SOMEONE GET RID OF THAT BORING GIRL!
But at the time, it was so fun and the world seemed like my oyster. Or maybe, better yet, the world was my blue cheese stuffed olive! Every night before we opened, we would stuff the olives with blue cheese in anticipation of all the dirty martinis people would order, and I would sneak a few every single time. Have you tried them? I don't even like olives but I LOVE these Fried Blue Cheese Stuffed Olives!
So when we had the idea to stuff olives with blue cheese and deep fry them, I thought this just might be the grown up, hermit like version of my 24 year old self. I'm pretty pleased with the result! These fried blue cheese stuffed olives are the perfect holiday appetizer, or the perfect treat to indulge in year round. So easy and delicious!
And don't even get me started on the garlic aioli sauce we made to dip them in…YUM! An appetizer match made in heaven.
These Fried Blue Cheese Stuffed Olives make the perfect, classy New Year's Eve appetizer. Don't forget the garlic aioli sauce!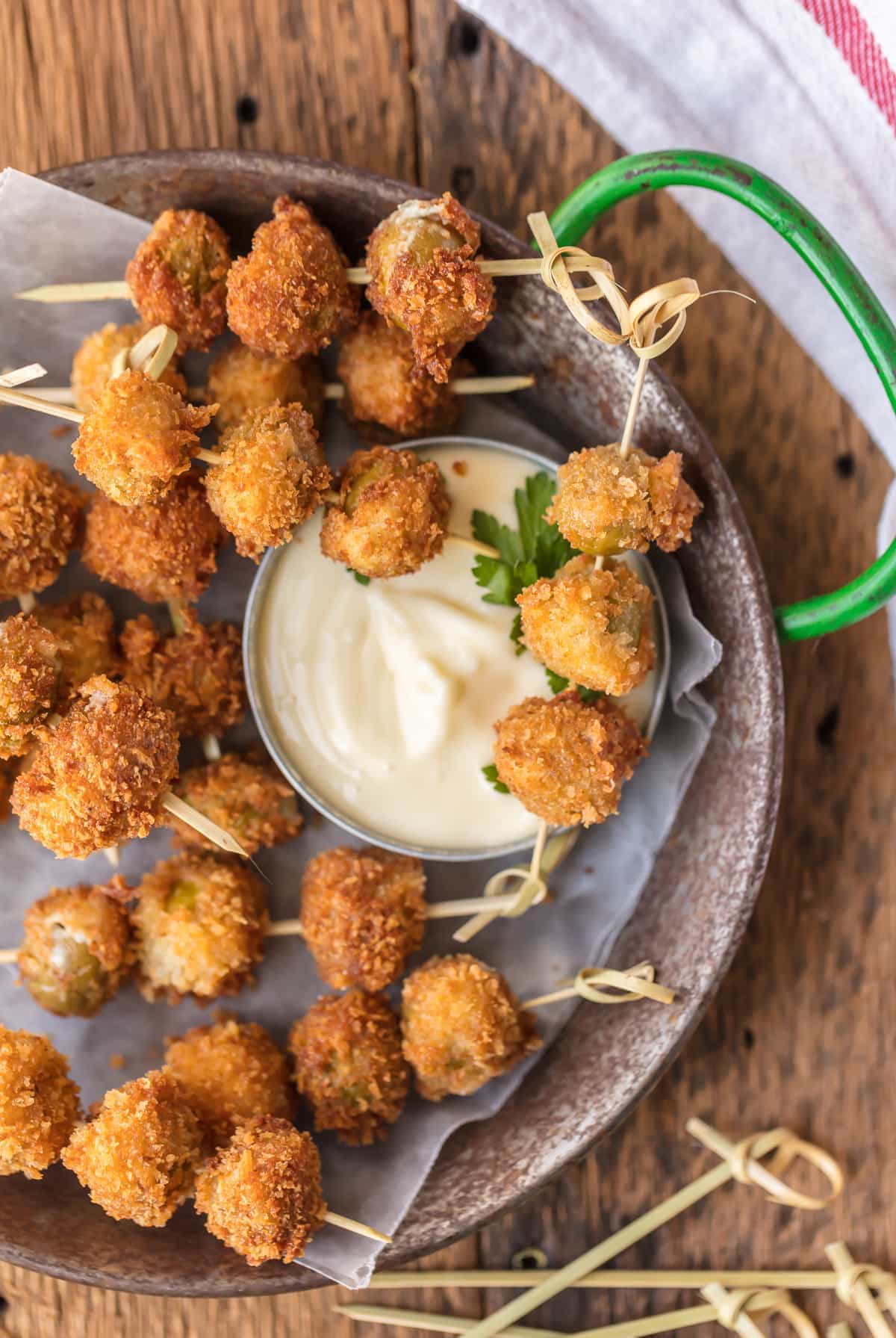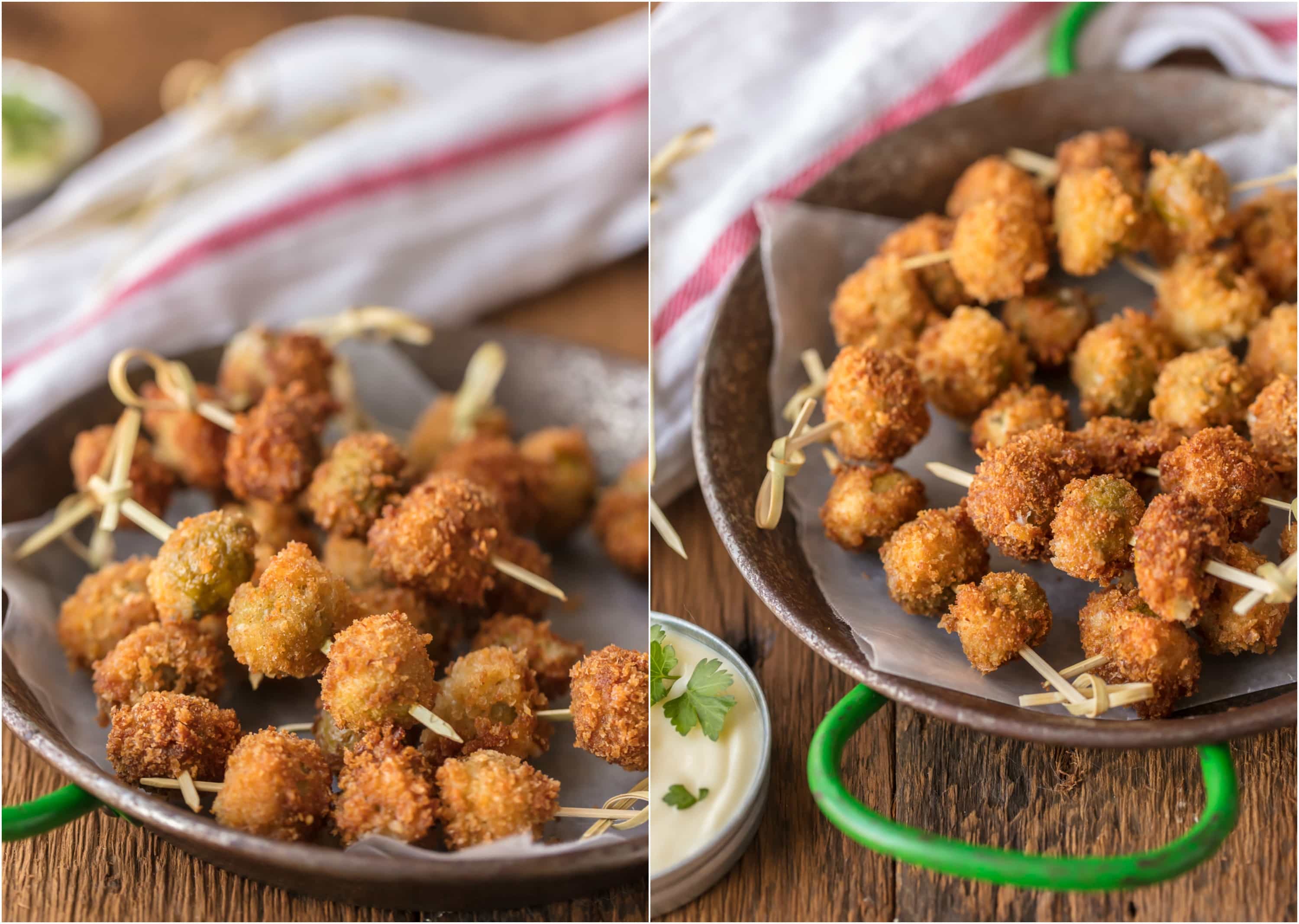 New Year's Eve Appetizer: Stuffed Olives
This is such a simple yet amazing appetizer. Fried Blue Cheese Stuffed Olives are the ideal New Year's Eve appetizer, trust me! There's so much flavor in such a small bite. You can pop them in your mouth by themselves, over and over again, or you can dip them in this easy Garlic Aioli sauce. Both are good decisions, I assure you! They're great on their own, or great paired with holiday cocktails. Also a great idea! I just can't get enough of these fried and stuffed olives!
We stuffed our olives with blue cheese, but you could also stuff them with other favorites such as goat cheese, pimentos, or ham. Or you could use Boursin cheese. I love me some boursin. But I guess it is my time at that martini bar that brings me back to loving the blue cheese best. It's just such a classic. And so tasty!
These fried olives will be right at home at any New Year's Eve party. Serve them along with all the best appetizers, a few cocktail options, and your guests will be more than happy. Of course these olives are good for any occasion, but I think they suit New Year's Eve so well.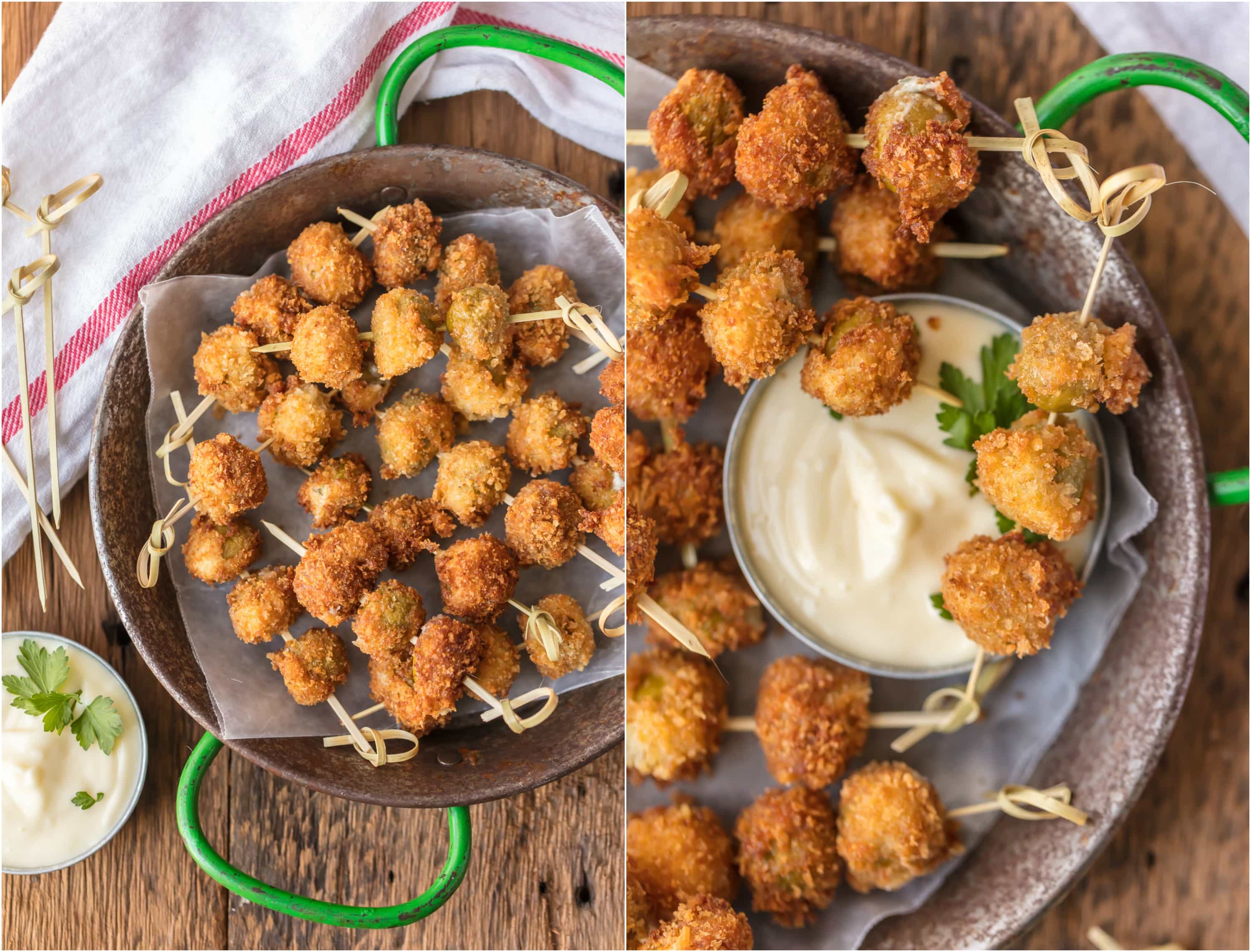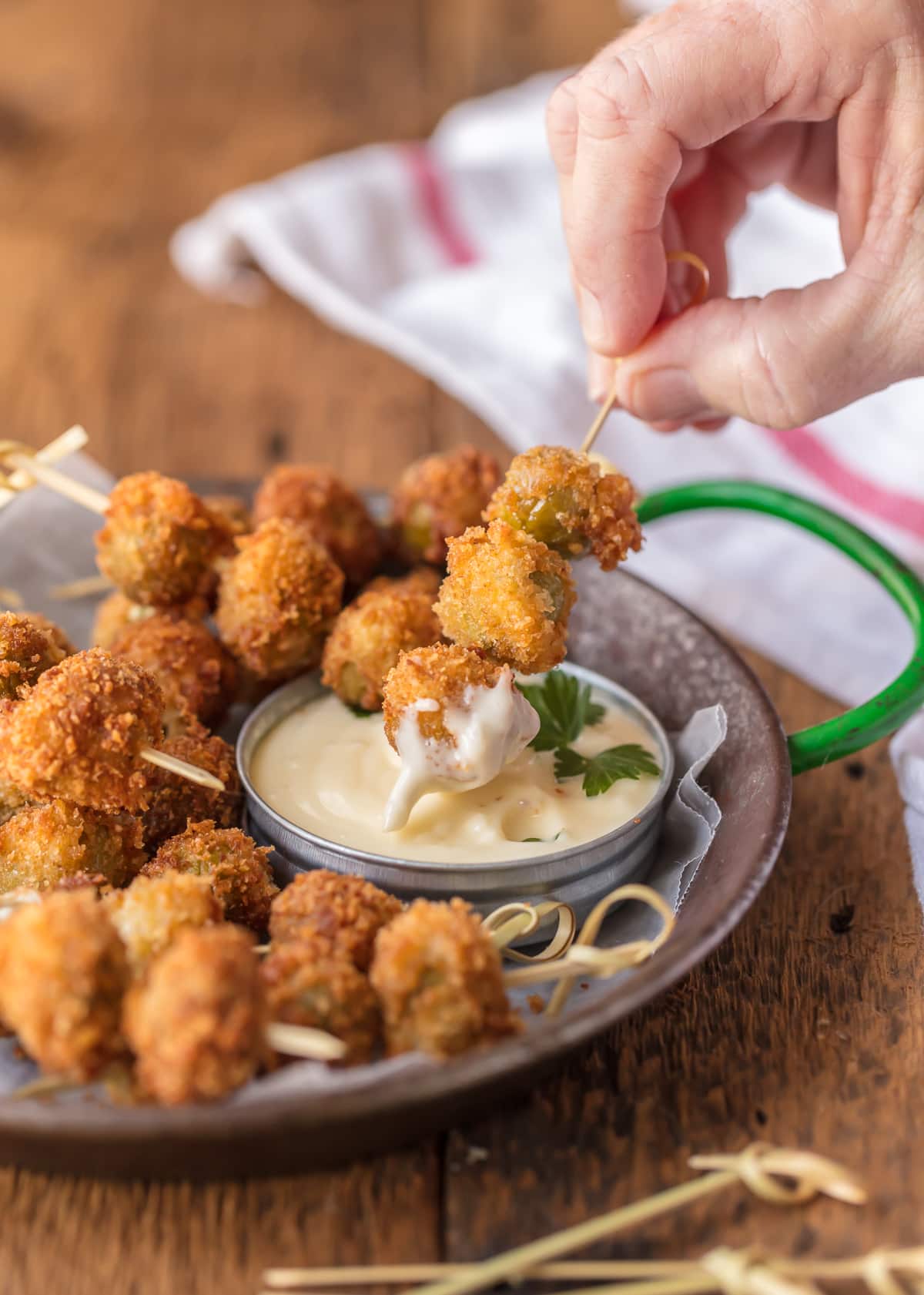 How to Make Fried Blue Cheese Stuffed Olives
I made a seemingly endless stream of blue cheese stuffed olives when I was at the martini bar, so trust me when I say this recipe is simple! Sure, we're frying them up, so there are a few extra steps beyond just stuffing the olives, but frying these babies up will be done quicker than you think.
How to Make Stuffed Olives:
Stuff each olive with a piece of cheese and set them aside. Be sure you dry the olives well before stuffing.
Using a large pot or dutch oven, fill about 1/3 of it with oil, and heat it to 350°F.
Set up 3 small bowls: place flour in one, beaten eggs in the second, and breadcrumbs in the third bowl.
Place olives (5-8 at a time) in the bowl of flour, and toss to coat.
Transfer olives to the egg bowl, and fully coat them with egg.
Move the olives to the bowl of breadcrumbs and toss to coat the olives.
When the oil is fully heated, place the prepared batch of olives in, and fry them for about 30-45 seconds. Then removed them and set them aside while you fry the rest of the olives.
If you are preparing these blue cheese stuffed olives for a party, you can easily make them ahead of time so that you're not frying while guests are arriving. Just follow the steps above and refrigerate the olives. When it's time to serve, reheat the stuffed olives in the oven at 400°F for just 2-3 minutes.
How to Make Garlic Aioli
This recipe is not complete without the garlic aioli sauce! Sure, the stuffed olives are plenty good on their own, but a little dipping sauce makes everything better, right? Whip up this aioli in no time to serve with the olives, or refrigerate it and use it for any of your dipping needs!
Place garlic cloves through a garlic press.
Make a garlic paste by mixing the garlic with salt, and using a knife to scrape, press, and mix.
Mix garlic paste with Greek yogurt (or mayonnaise), olive oil, and lemon juice.
Whisk mixture together, season with salt & pepper, and refrigerate until ready to use.
Blue cheese stuffed olives and aioli are a match made in heaven!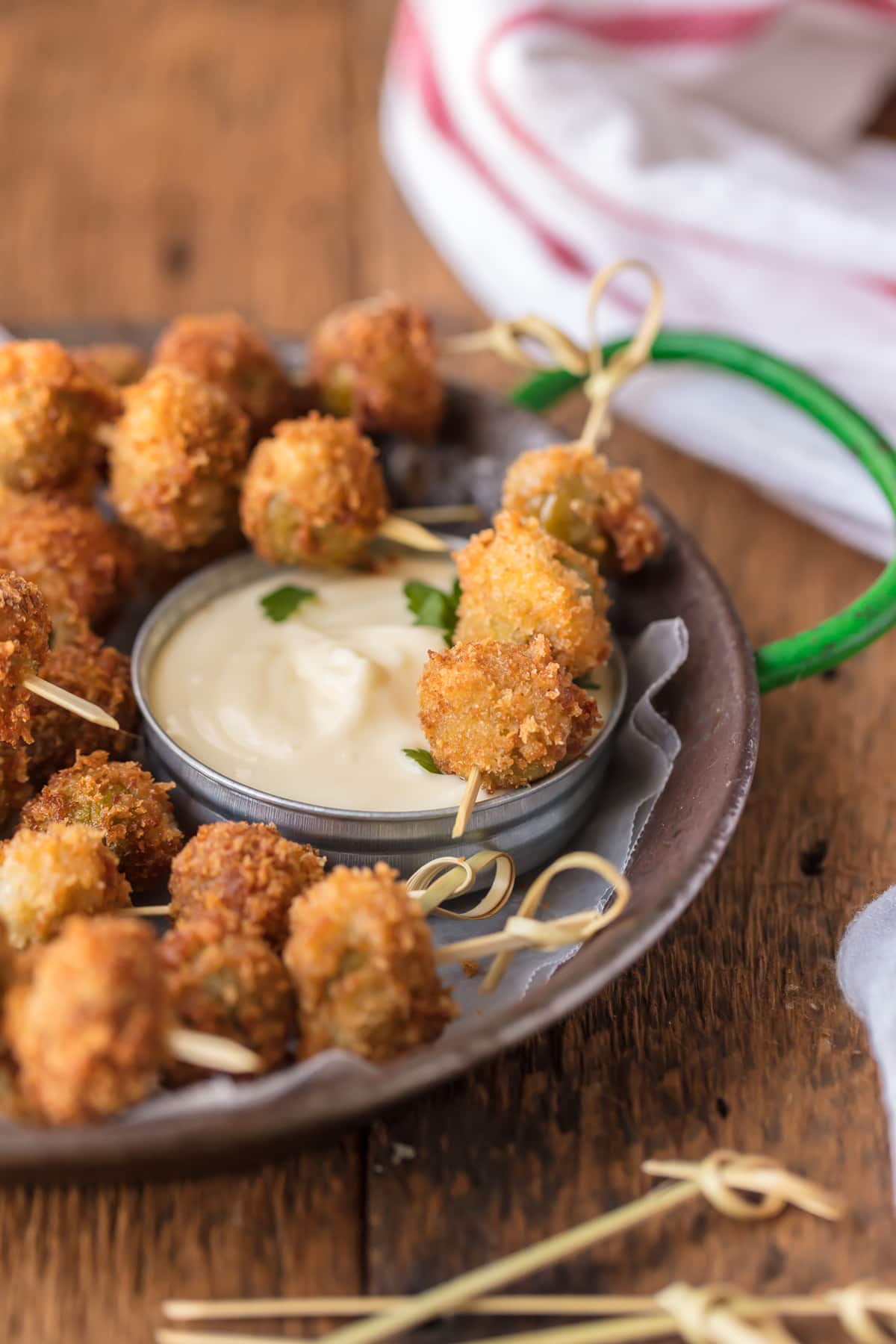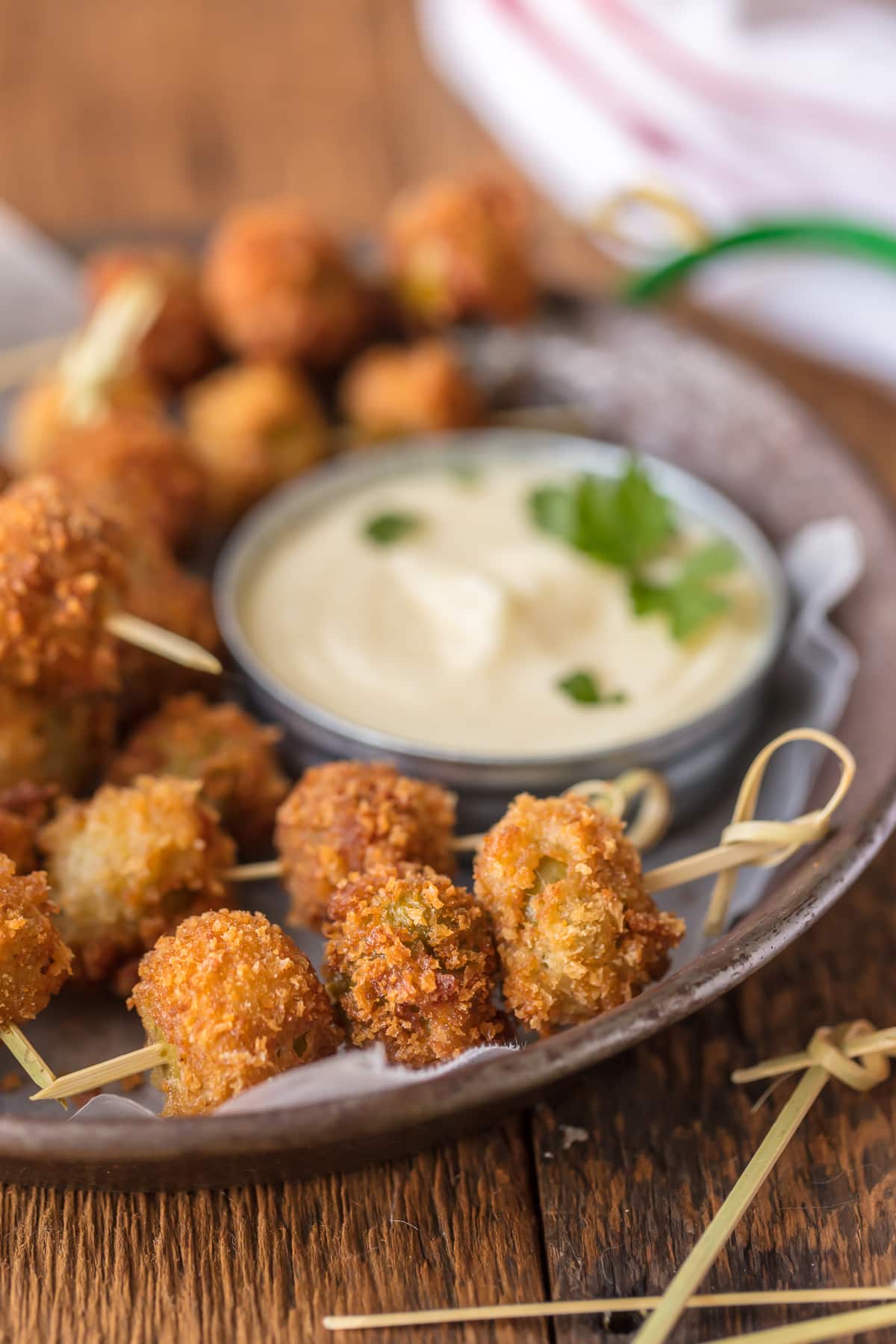 Finding the perfect appetizer for New Year's Eve, holidays, or any party is tough, but these simple Fried Blue Cheese Stuffed Olives have got you covered! Prepare these fried olives, serve with the garlic aioli, and your guests will be amazed!
See the recipe card below for details on how to make Blue Cheese Stuffed Olives with Garlic Aioli. Enjoy!
If you like this stuffed olive recipe, try these other appetizers for New Year's Eve and beyond: