This brined chicken breast with garlic and crispy sage is one of our favorite easy meals for entertaining guests or a delicious night at home. You won't believe how tasty these simple garlic and sage chicken flavors are until you try them all together. The garlic brine makes the chicken SO TENDER and JUICY!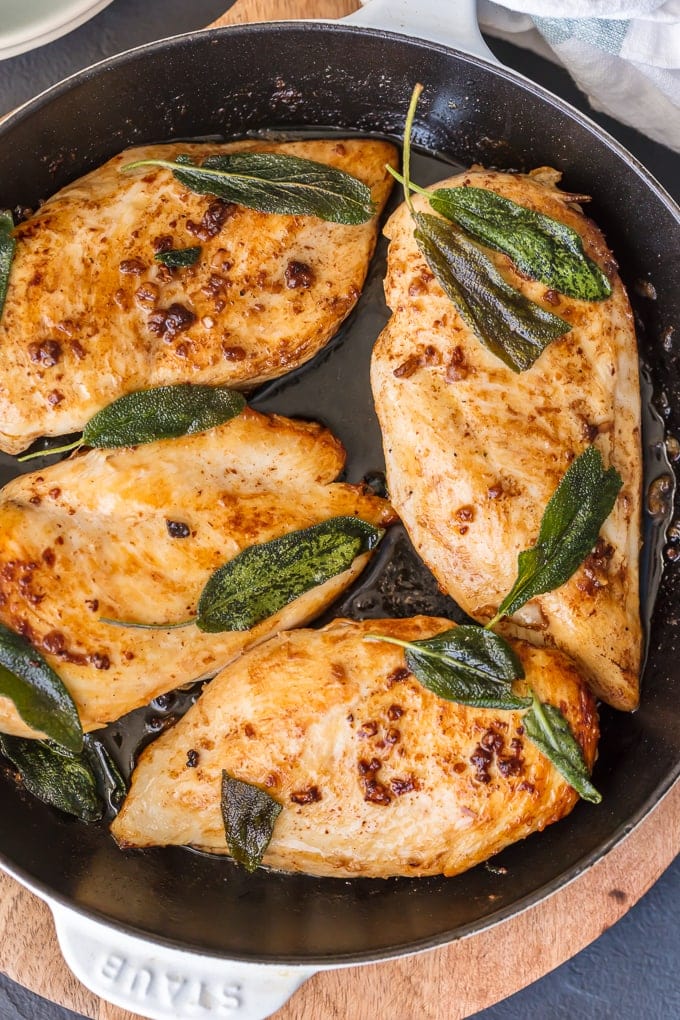 How To Brine Chicken Breast with Garlic and Crispy Sage
This Brined Chicken Breast recipe features a flavorful garlic brine and crispy sage.
There's nothing better than an easy and DELICIOUS chicken meal. It's something we are always looking for in our family. I may just love a staple chicken dish even more than I love cheesy dips. MAYBE.
Some of my favorite easy weeknight recipes from the blog include:
But there's always room for another amazing and easy chicken recipe on The Cookie Rookie, so I'm so excited to share this Garlic Brine Chicken Breast with Crispy Sage today! It's SO DARN GOOD!
This Garlic Brine Chicken Breast with Crispy Sage will be added to your favorite dinner recipes in no time!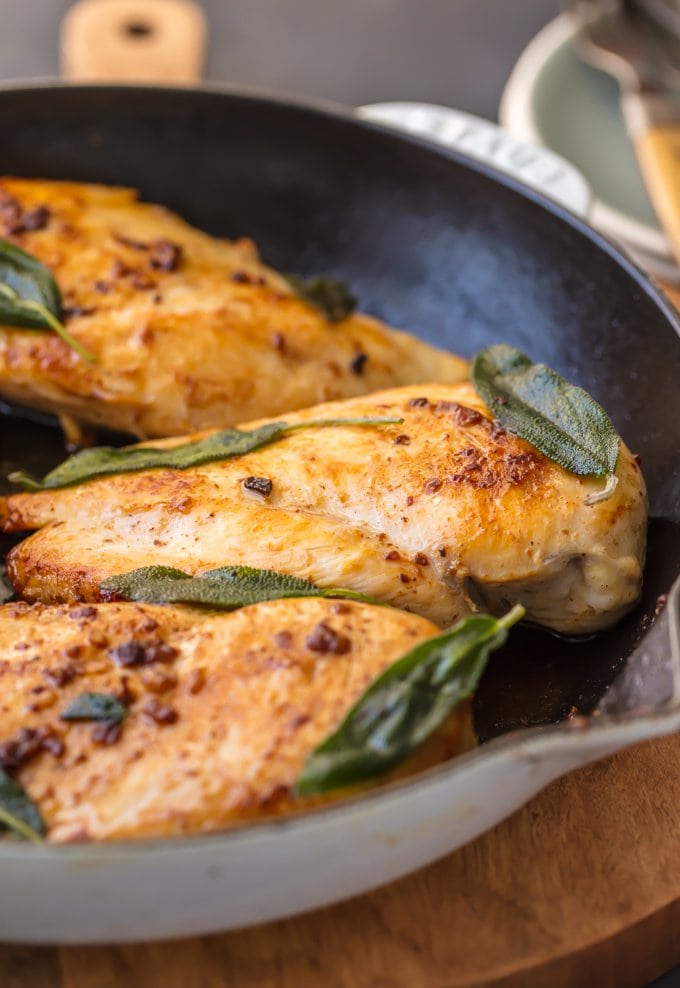 What is Brined Chicken Breast?
Brined Chicken Breast is super moist, tender, and flavorful–who wouldn't want that?!
Brining is a method of seasoning the chicken breast, much like marinating. The great thing about brining is that it keeps the chicken moist in addition to adding flavor.
How to Brine Chicken Breast:
To make this brine, simply add salt to water plus any other seasonings you want. For this garlic and sage chicken breast recipe, we also add sage leaves and garlic to the brine.
Once you have your brine, let the chicken breast soak. Make sure it is fully emerged in the garlic brine solution.
How long does Brined Chicken Breast take?
How long to let your brined chicken breast soak depends on the recipe. For this recipe, let the chicken soak for about 15 minutes in the garlic and crispy sage brine.
A few things to note:
If you leave your chicken breast in the brine solution for too long, the meat might become too salty
In this case, you can rinse the chicken
However, washing the chicken after soaking in brine is not necessary
15 minutes is a good amount of time to brine and leaves the brine chicken breast plenty flavorful and moist without being too salty.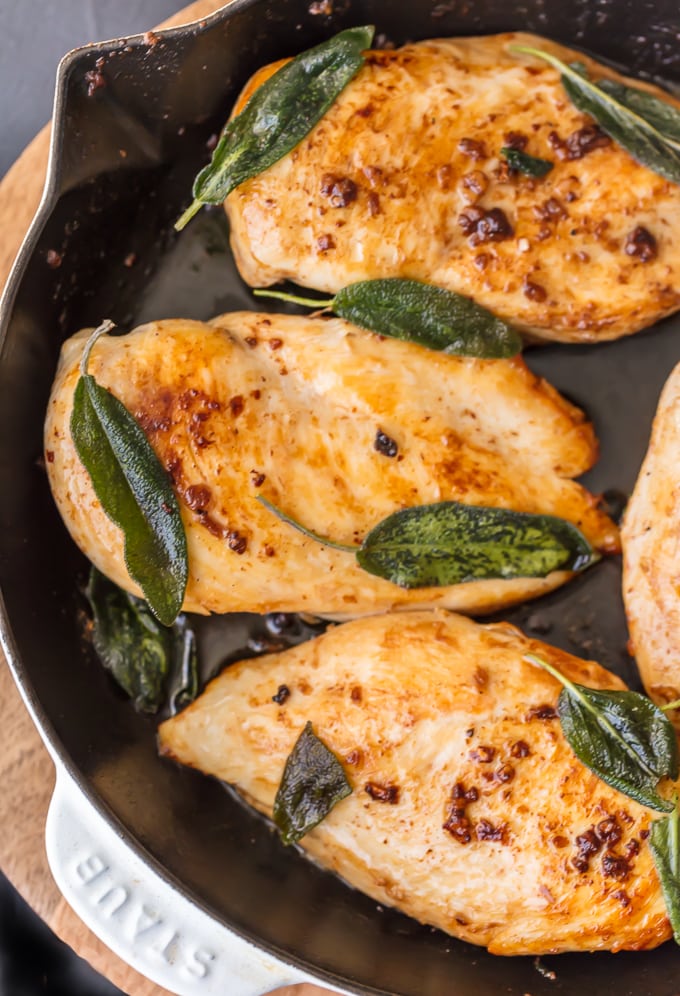 Garlic Brined Chicken Breast Recipe with Crispy Sage
We adapted this recipe from one of my very favorite cookbooks, The New Easy from Donna Hay. I have loved Donna Hays website (click HERE to check it out) for a long time, but just recently fell in absolute love with her cookbooks. She is so approachable and makes the most delicious recipes.
PLEASE check her out! We didn't change this much from the cookbook, but made little tweaks like frying the sage separately to make it extra crispy. The flavor combo of the garlic and sage chicken is something I would have never explored on my own, but it's my new favorite. You MUST try it.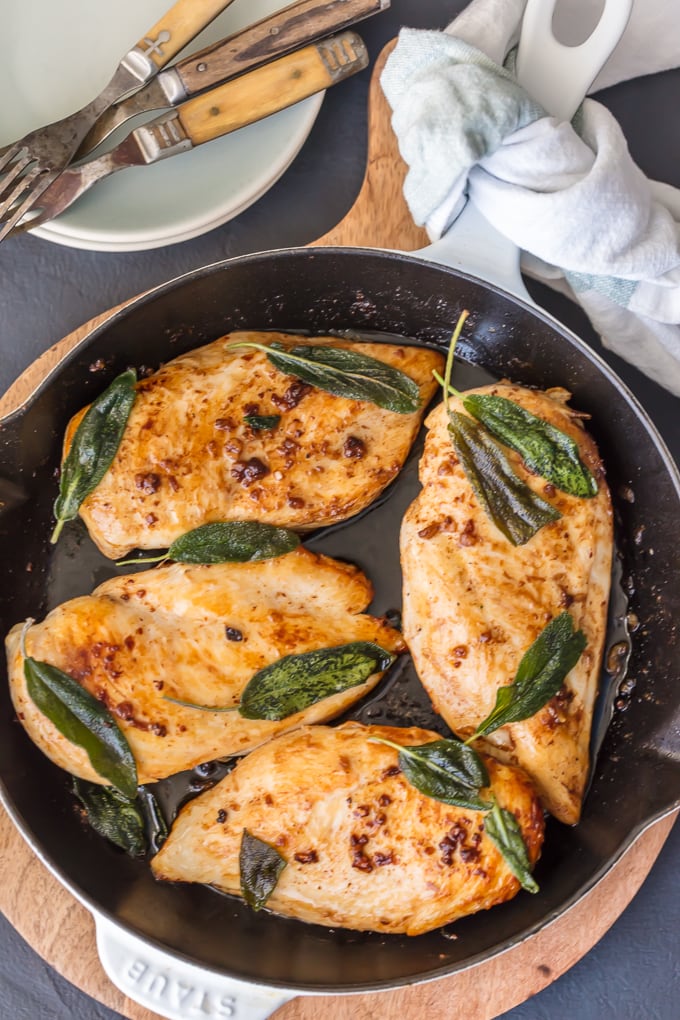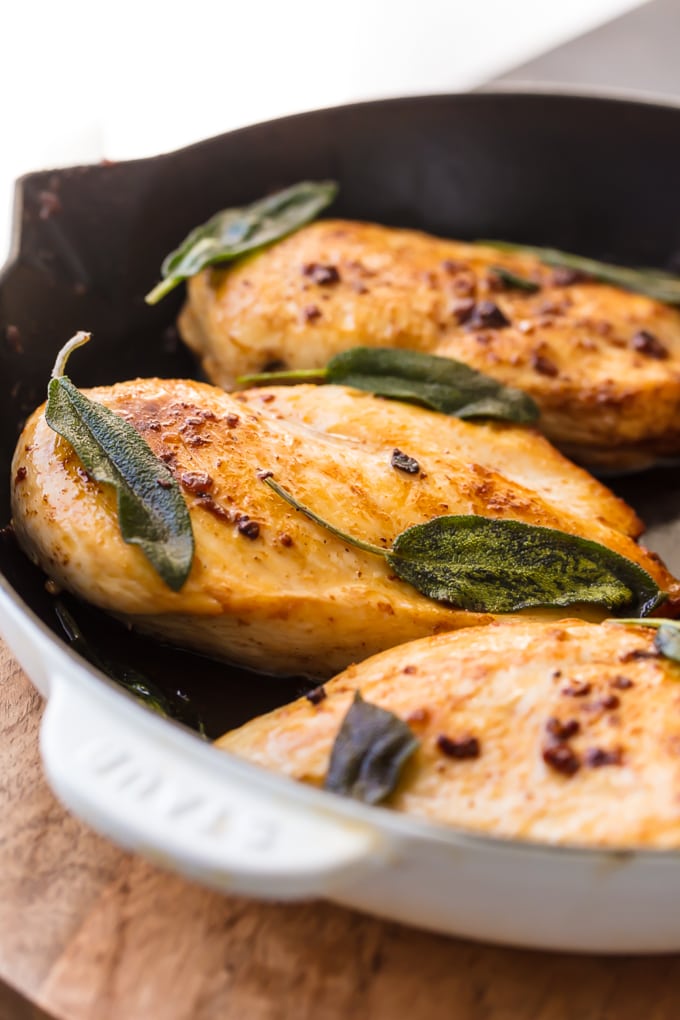 Pat had leftovers of this Garlic Brine Chicken Breast with Crispy Sage when he came home from work and was blown away. He's usually quite understated with his critiques, but this one got a big stamp of approval. It's just so juicy and flavorful. An instant EASY favorite. Winner winner, chicken dinner!
See the recipe card for details on how to Brine Chicken Breast with Garlic and Crispy Sage. Enjoy!
Clearly you love chicken recipes, so make sure to try these too: