This Pepperoni Pizza Gnocchi Bake takes all the delicious flavors of the classic pizza, turning it into a delicious and comforting gnocchi casserole!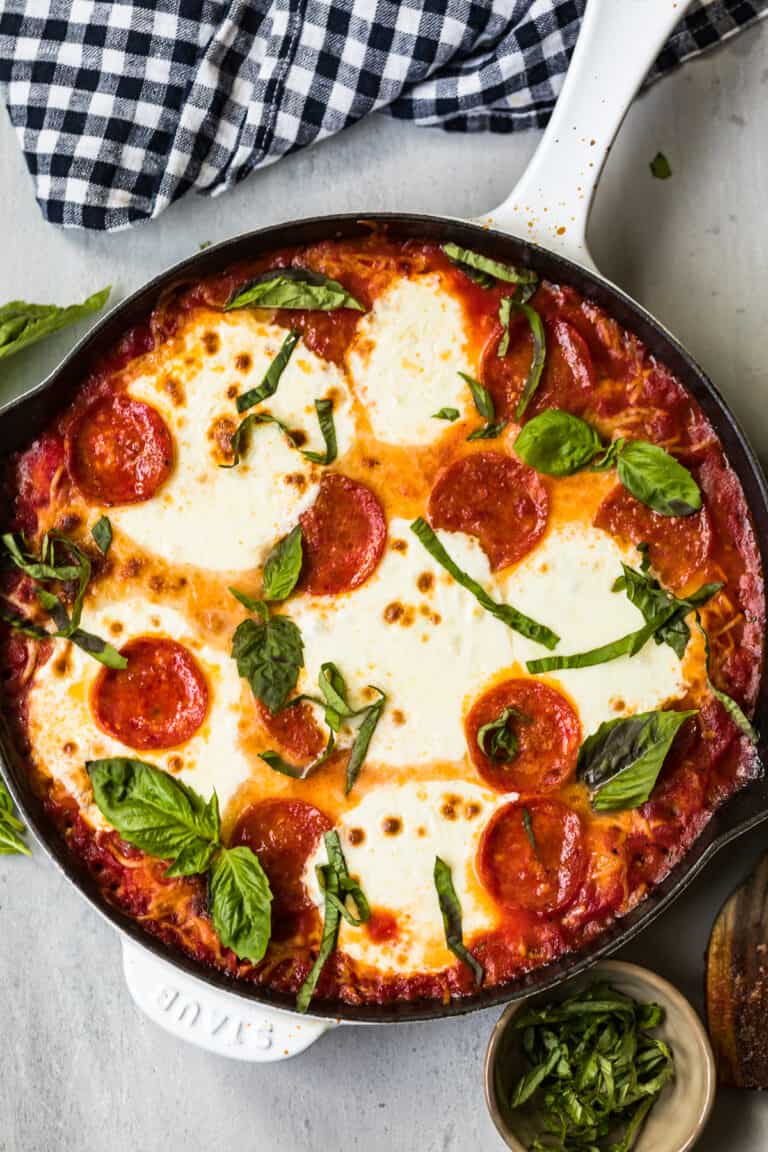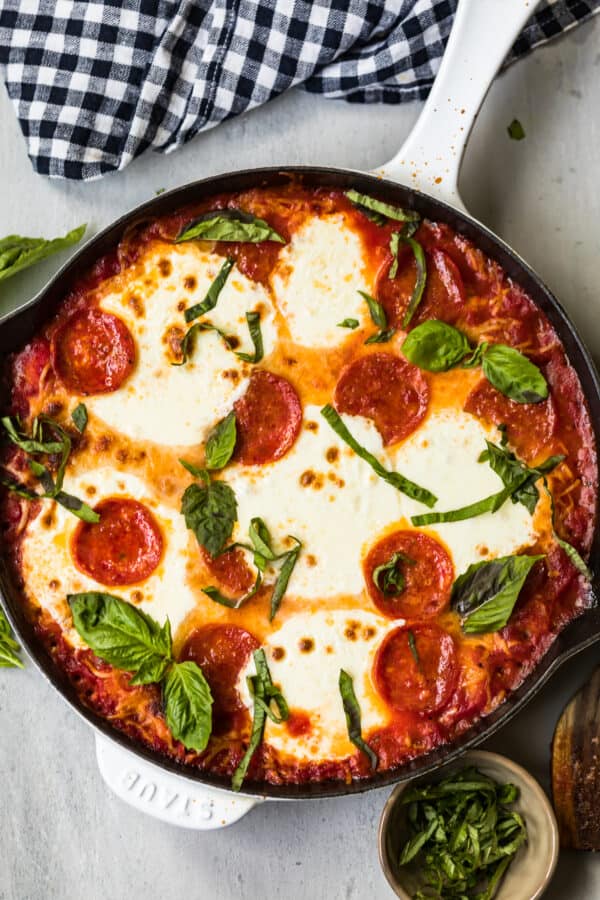 Pepperoni Pizza Gnocchi Bake is hearty, cozy, cheesy and oh so easy! This will become an instant family favorite. Golden baked gnocchi is topped with melty mozzarella and slices of mouthwatering pepperoni.
Hearty pasta bake marries delicious pizza – a match made in heaven. Add some garlic knots and it'll feel just like pizza night!
If you're looking for other delicious pasta recipes, why not also try my Pasta Pomodoro Recipe or my Chicken Alfredo Pasta Bake Recipe!
Why you'll love this Pepperoni Pizza Gnocchi Bake
Weeknight comfort food. A super satisfying gnocchi pasta, loaded with cheese and a host of other goodies, guaranteed to please the hungriest of bellies!
An easy pasta bake. Using packaged gnocchi, this delicious pasta casserole comes together with only a handful of pantry staples.
Two delicious dishes in one! All the flavors of a pepperoni pizza but in casserole form – what's not to love!
Cheese lovers rejoice. This is loaded with ooey gooey mozzarella!
How to make this Pepperoni Pizza Gnocchi Bake
Be sure to scroll to the bottom for the full recipe
Cook the gnocchi – Prepare gnocchi according to package instructions.
Make the bake – In a large skillet with oil, cook the garlic until fragrant. Then add in the tomatoes and seasoning. Finally stir in the gnocchi and simmer layer on mozzarella and pepperoni.
Add the topping – Layer on the mozzarella and pepperoni slices.
Bake – Bake for 25-30 minutes or until cheese is melted and bubbly.
Garnish, serve and enjoy!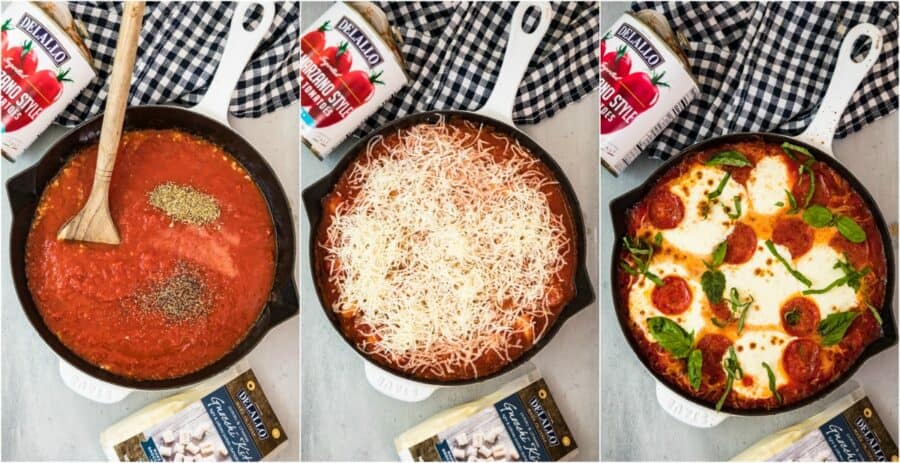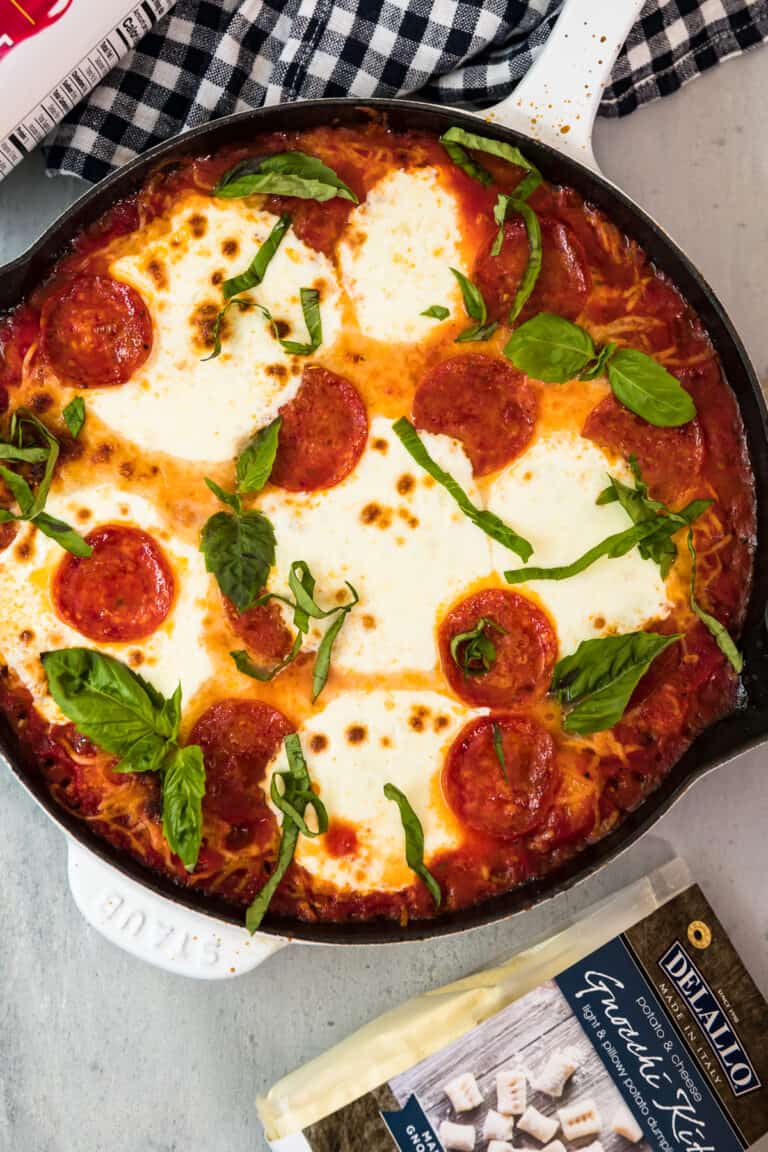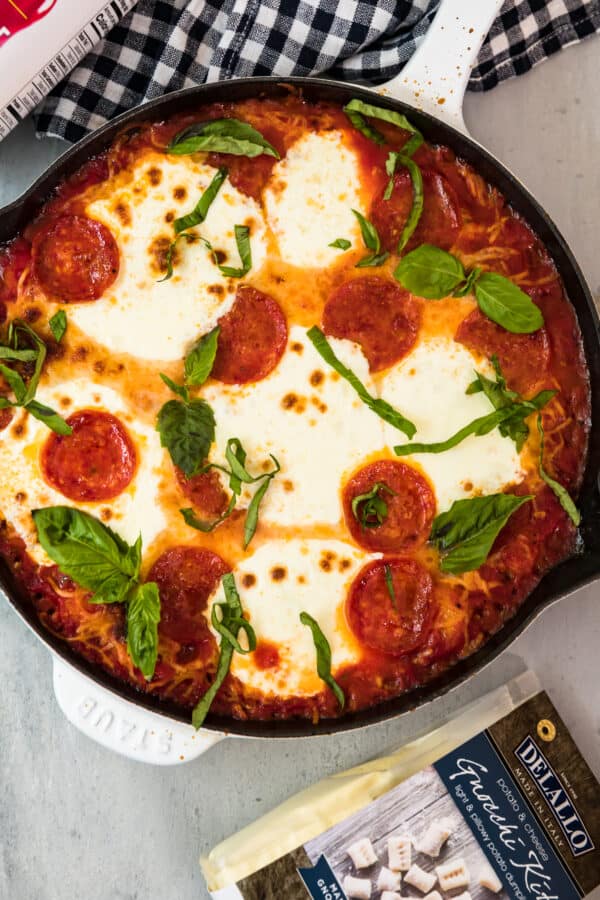 How to Make Gnocchi from Scratch
I've fallen SO in love with Delallo this year. Their Italian food products are simply second to none, and really make cooking fantastic meals at home for your family so much easier and more delicious.
For this amazing and easy recipe, I used Delallo's Potato and Cheese Gnocchi Kit as well as their Extra Virgin Olive Oil and San Marzano Crushed Tomatoes. High quality and affordable; the best combination!
Now let's talk about this Gnocchi Kit. If you're intimidated to make gnocchi, you're not alone. It looks and sounds involved, but Delallo has made it super simple and fool proof. The flavor is delicious and you feel like a real chef!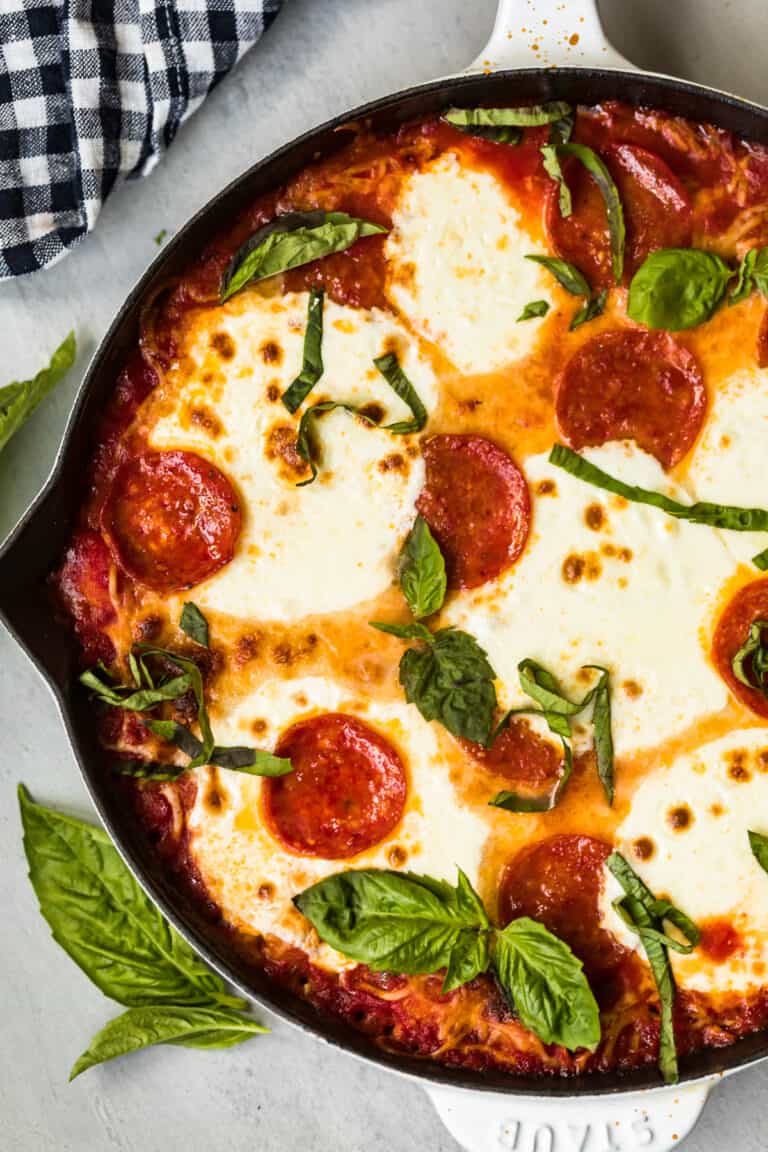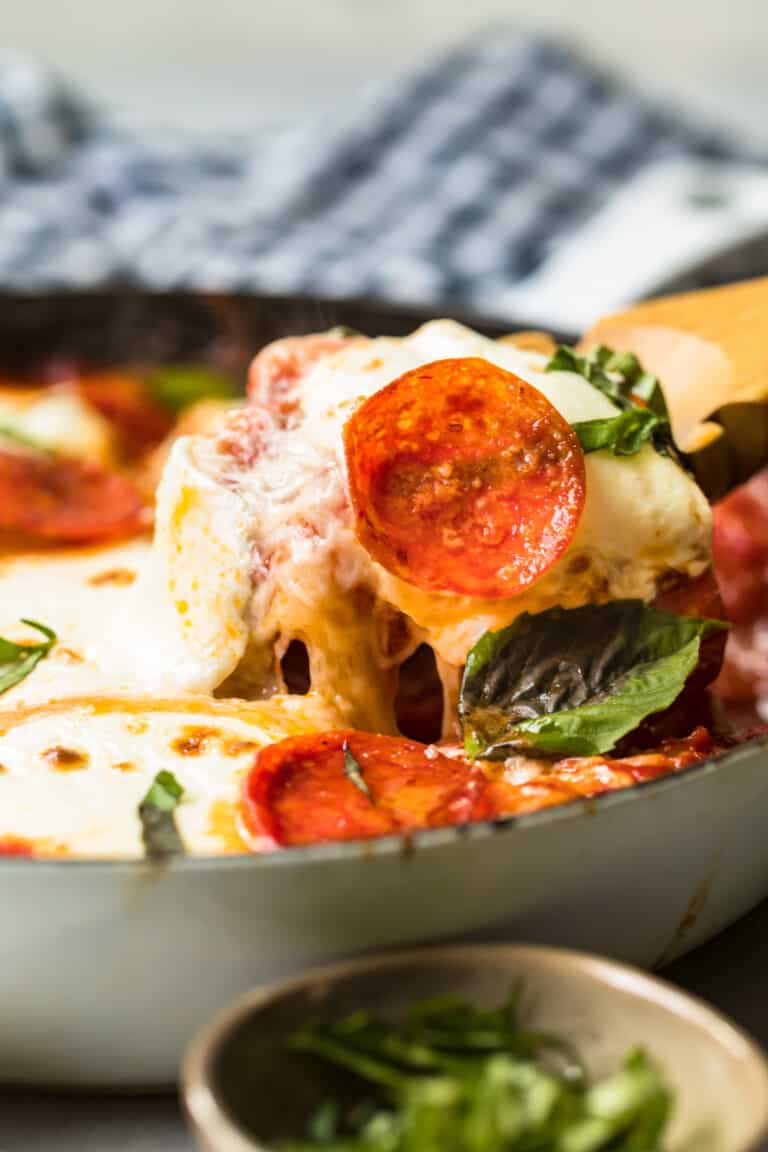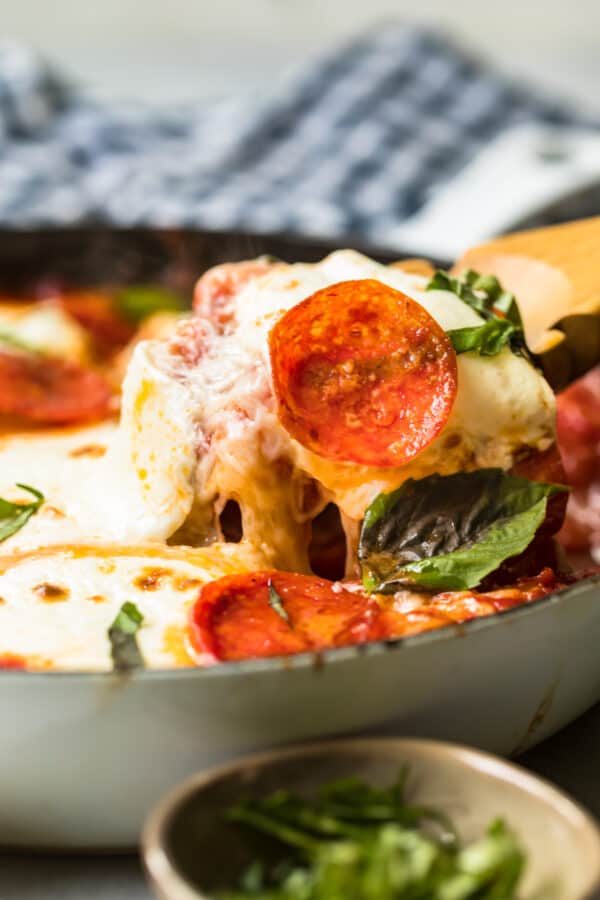 What is gnocchi?
Gnocchi are like little tiny potato dumplings of loveliness! Gnocchi is a thicker pasta that's kind of a fluffy Italian dumpling made from a mixture of potatoes and flour. They are gorgeous, satisfying and delicious!
Gnocchi makes for a great pasta bake base, they hold their fluffy consistency and get golden with crispy edges – so good!
Lucky for us, Delallo has made making the ultimate gnocchi SO EASY! We use their Gnocchi kit almost weekly and love it. Click here to find out more.
What to serve with this Pepperoni Pizza Gnocchi Bake
This is a cozy, comforting recipe that'll please even the most ravenous! You can serve with some warm, crusty bread – mop up all that cheese and tomato sauce!
If you want to lighten up your sides, then of course a simple and fresh side salad would be great too. Steamed veggies will also play well with this hearty main.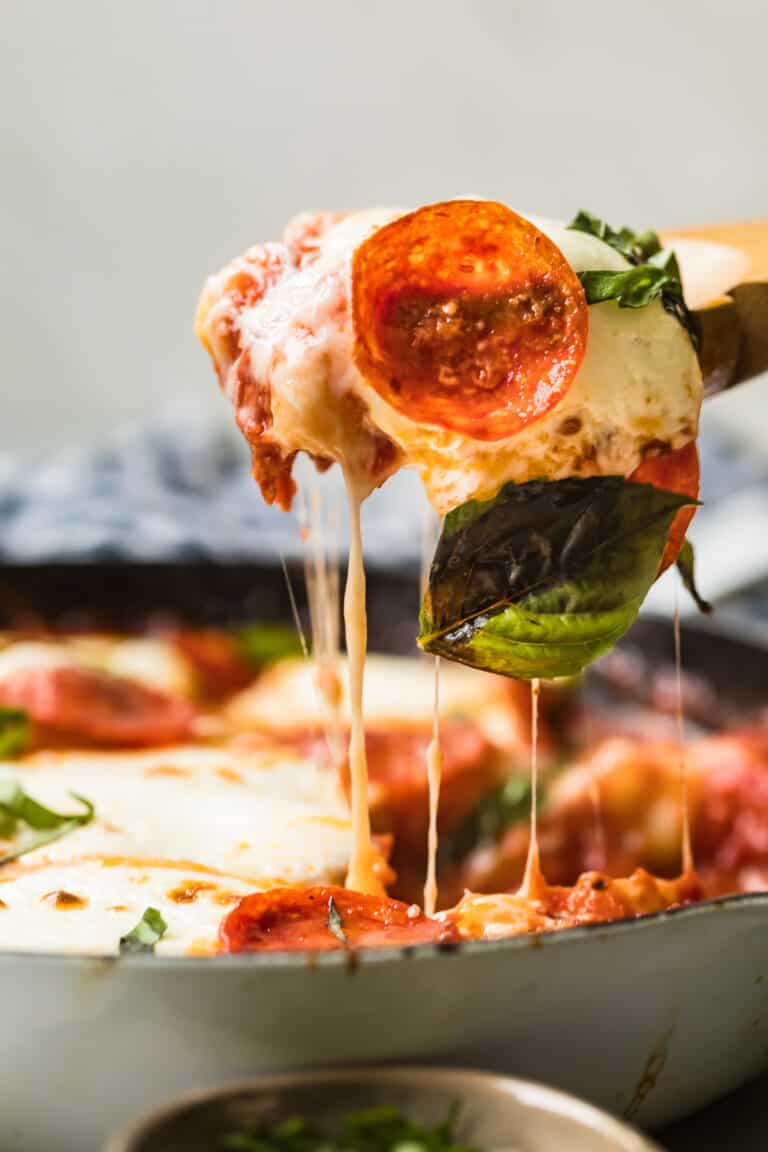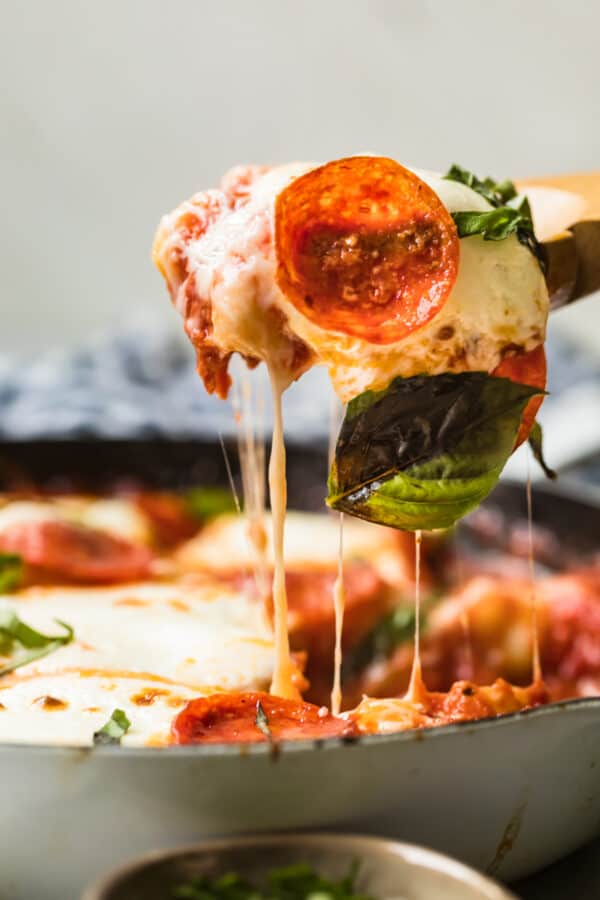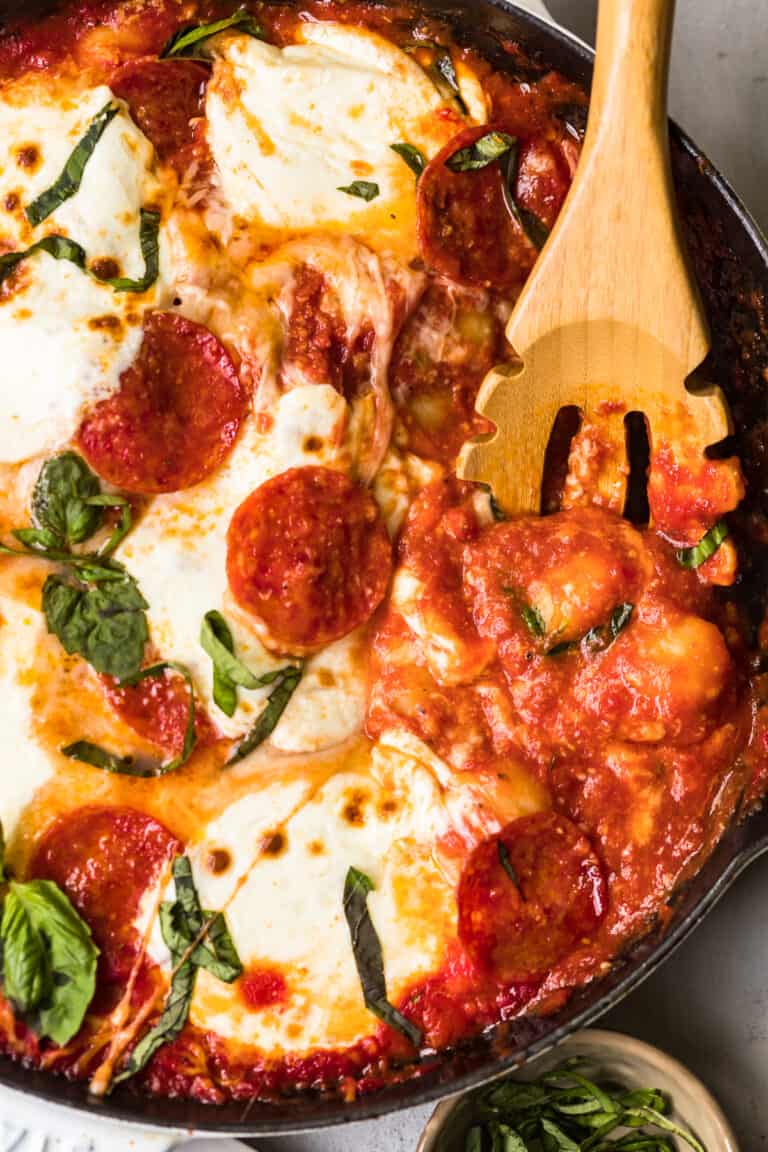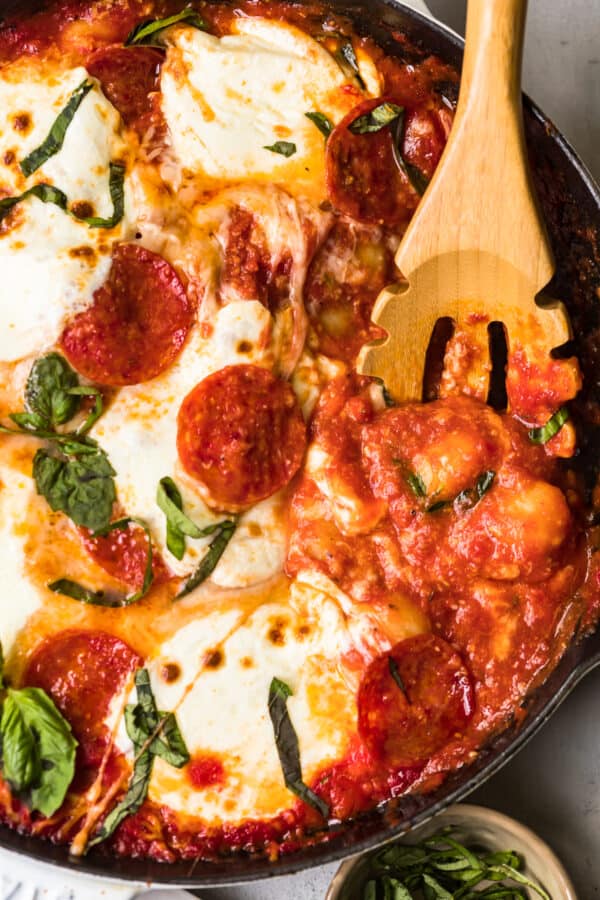 Variations and add ins
This gnocchi bake can be loaded with all kinds of goodies! Here's some ideas:
Turkey Pepperoni
Jalapenos
Cooked Ground Beef
Sauteed Mushrooms
Cooked Bacon
Roasted Peppers
Olives
Artichokes
Italian Seasoning
Recipe notes and tips
Use a preheated oven
Have fun with different toppings.
Ideally shred your own mozzarella, pre shredded does not melt as well.
The skillet will come out hot, hot, hot from the oven! Make sure you use a towel or oven glove! Let cool for 5-10 minutes before serving.
Make this Pizza Gnocchi Bake vegetarian by omitting the pepperoni.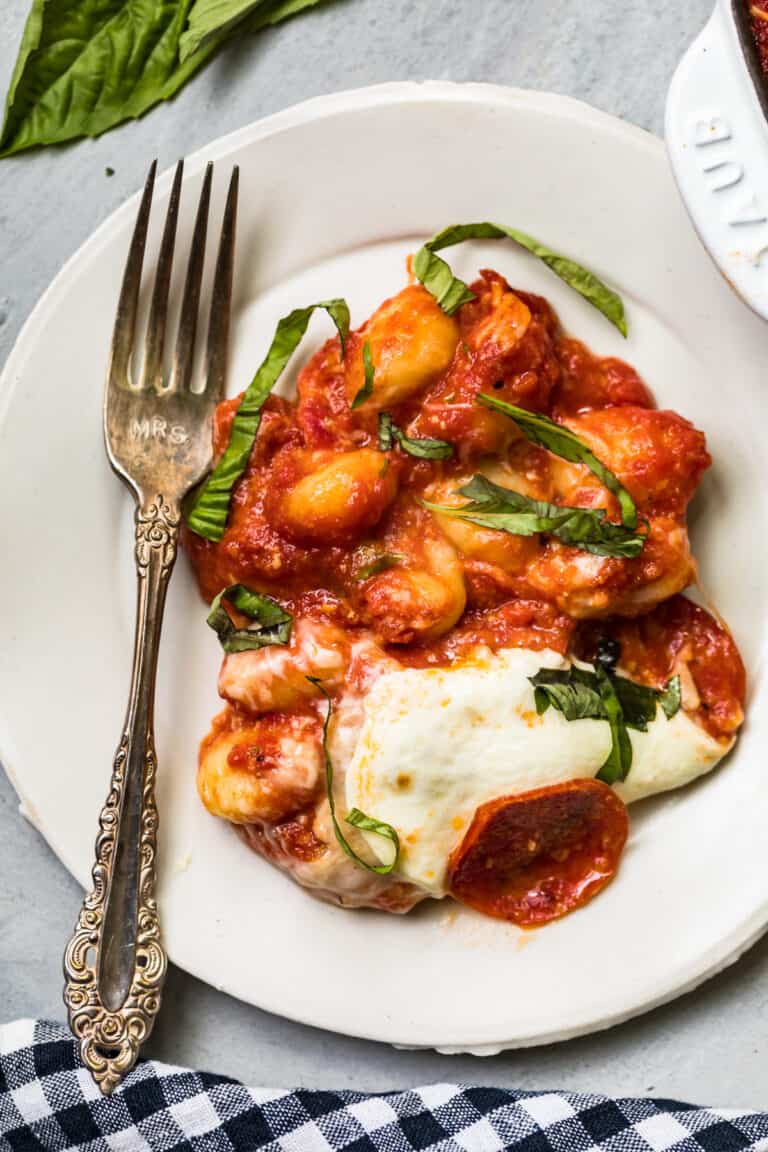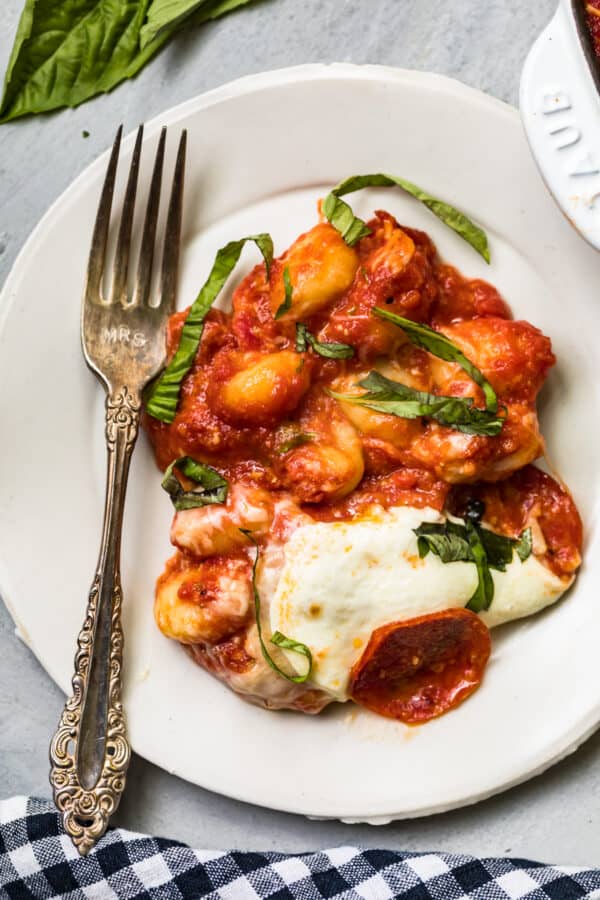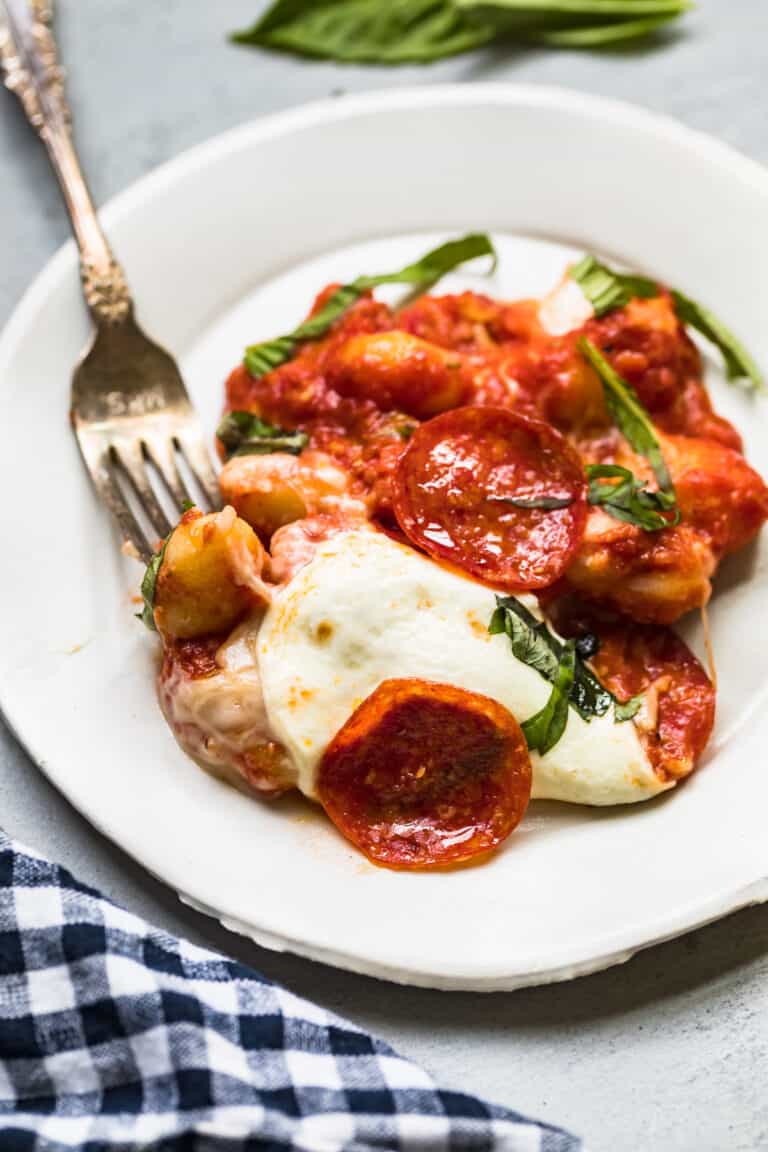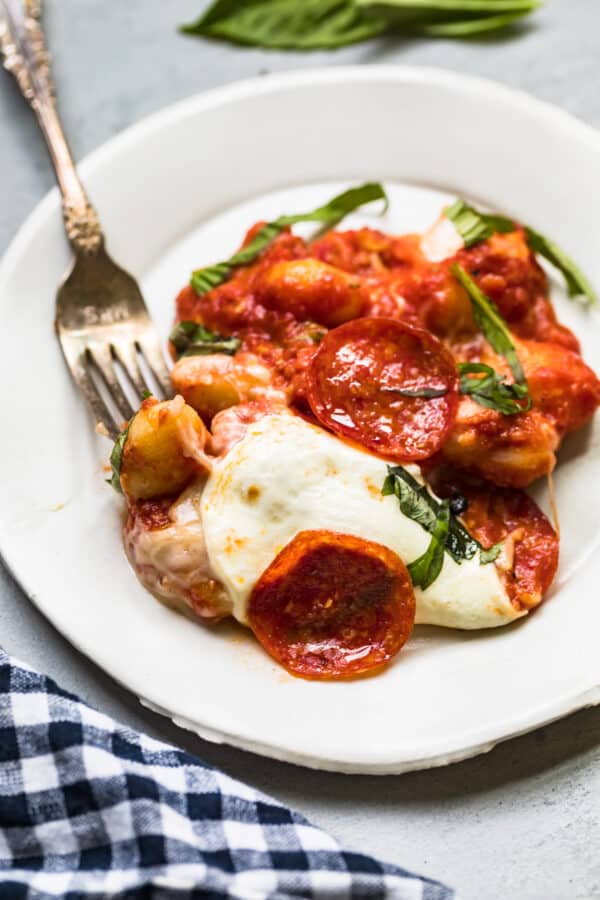 Other delicious Delallo Recipes