Perfect for the warmer weather, this grilled shrimp salad is healthy and light, and incredibly delicious! Marinated shrimp is grilled before being added to a fresh salad for a tasty Mexican-inspired dish.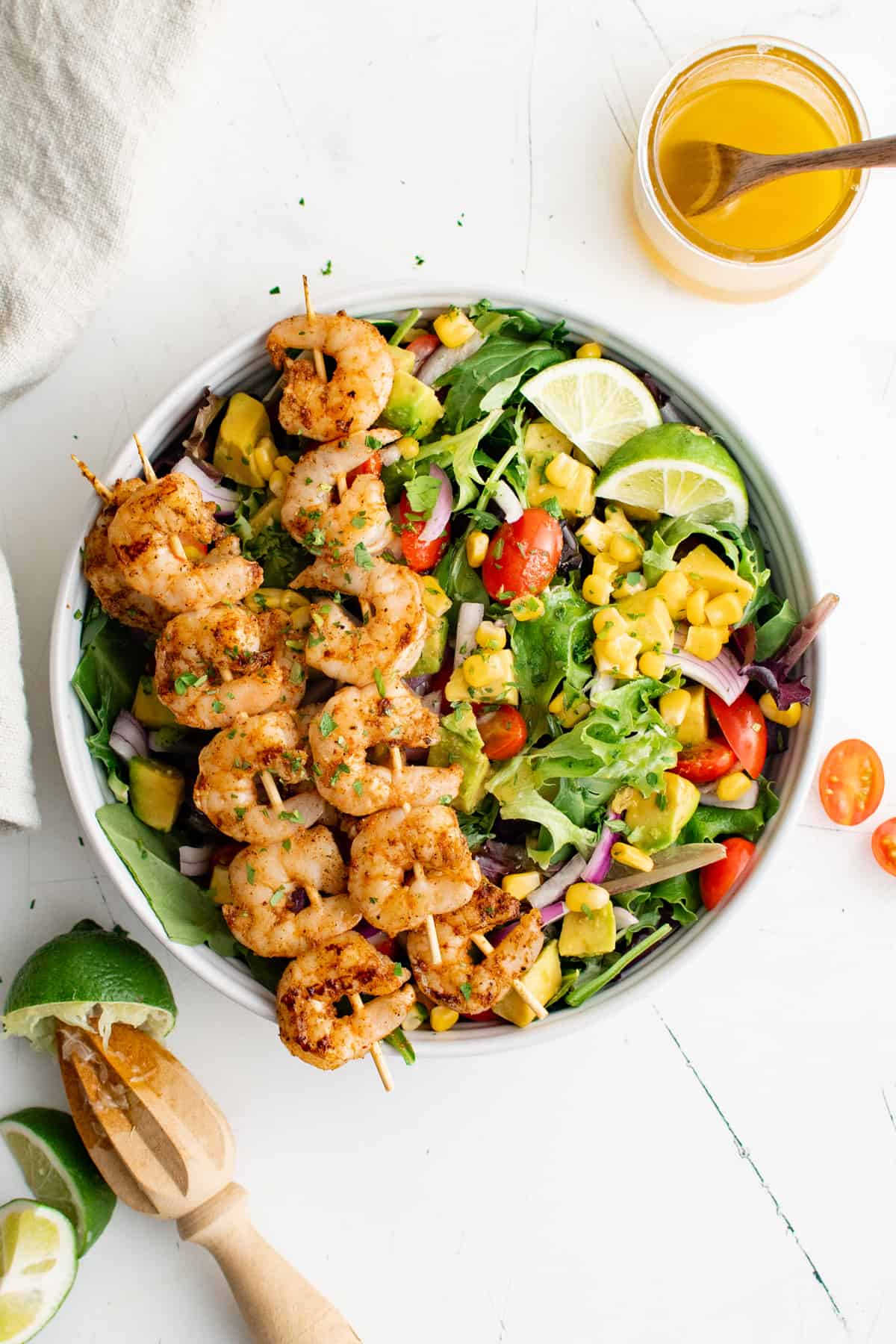 Shrimp and Avocado Salad
This grilled shrimp salad is filled with avocado, corn, tomatoes, and all kinds of fresh and flavorful ingredients. And of course, grilled shrimp! It's the perfect summer meal.
Make this salad for grilling season or any time, because it always makes for a delicious dinner on those hot summer evenings.
Simple to make, the shrimp is marinated in lime juice and spices before being grilled and added to salad vegetables. It is then finished with a sweet and tangy honey lime dressing.
Be sure to try my Shrimp Fajitas and Creamy Parmesan Shrimp too!
Why You'll Love this Zesty Lime Grilled Shrimp Salad:
Make Ahead: The components of this grilled shrimp salad can all be made ahead of time and then it takes only minutes to put everything together and serve.
Healthy: Shrimp are a great source of low-fat protein, and you get lots of goodness from all of the fresh salad ingredients too!
Quick and Easy: Simple to prep and quick to cook, this fresh and tasty salad comes together with very little effort.
This grilled shrimp salad with avocado is full of wonderful vibrant flavors and really is a joy to eat! This will be your favorite summer dinner!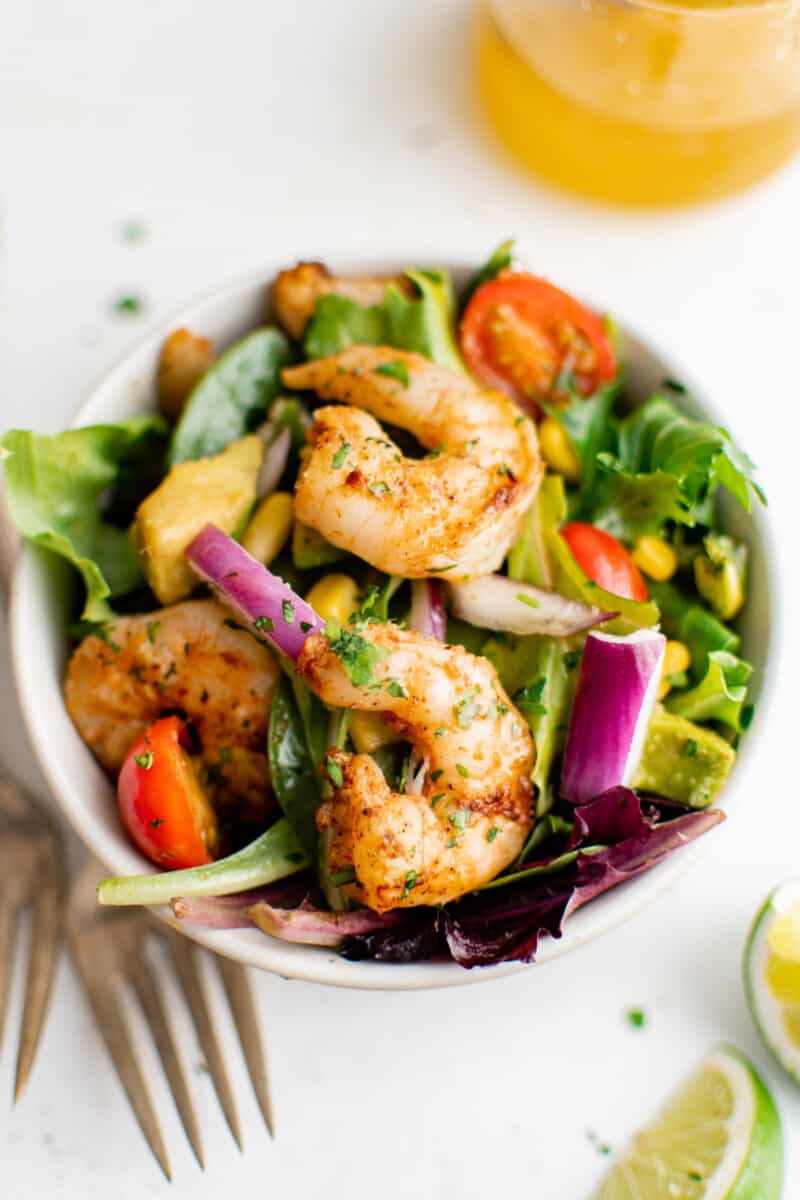 How to Make Grilled Shrimp Salad
You can jump to the recipe card for full ingredients & instructions!
Marinate the shrimp in the lime juice and seasonings.
Preheat your skillet and thread the shrimp on skewers.
Cook the shrimp til pink and opaque, set to one side.
Whisk together the ingredients for the dressing.
Place the salad ingredients in a serving bowl and drizzle over some of the dressing.
Add the shrimp on top and serve with the remaining dressing.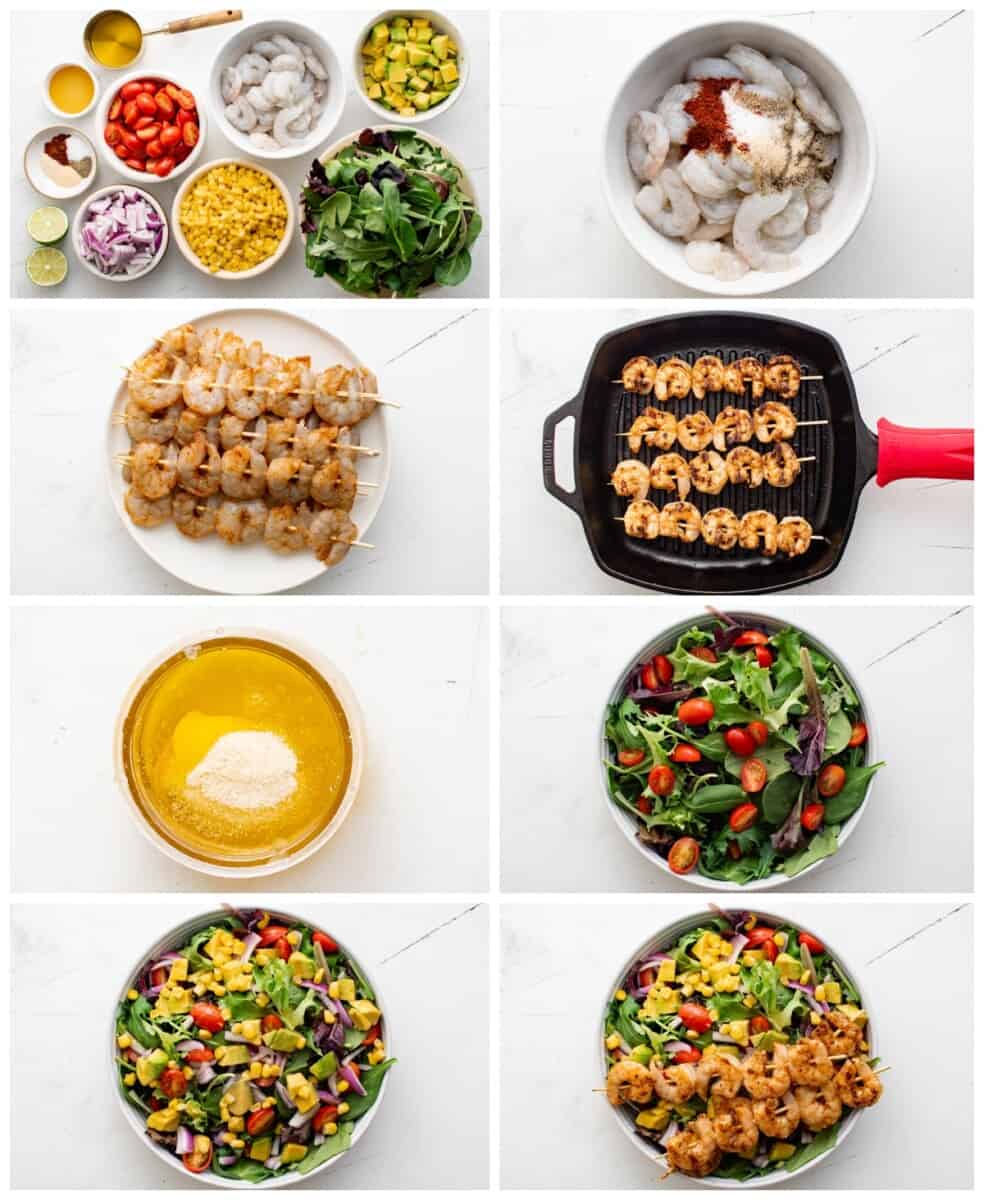 Should I soak shrimp before grilling?
Although not required, it's always a good idea to brine shrimp before cooking them. It sounds redundant because shrimp come from saltwater, but soaking them in a saltwater brine adds moisture and prevents them from drying out.
Can I grill shrimp from frozen?
Because shrimp are small and cook quickly, you actually can cook them from frozen. Cooking them from frozen actually prevents scorching and can lead to juicier shrimp. However, I recommend thawing the shrimp overnight in the refrigerator for this recipe so that the marinade can better penetrate the shrimp.
Why are my shrimp sticking to the grill pan?
Shrimp stick to the grill pan when they are too moist or the grill pan wasn't well-oiled. For best results, pat the shrimp dry before grilling and spray the grill pan with nonstick spray.
How can I tell when shrimp are cooked?
Raw shrimp are translucent gray in color. Cooked shrimp are an opaque white color with some pink and bright red accents and 120°F internally.
Can I make grilled shrimp salad with fresh corn?
Of course you can! Canned corn is easy to find, but if you have access to fresh corn, feel free to use that instead!
Serving Suggestions
This grilled shrimp salad is a filling and hearty meal by itself, or, serve it up with sides like:
However you enjoy it, this salad is sure to please. Fresh and flavorful and full of texture, and I love how easy it is to make!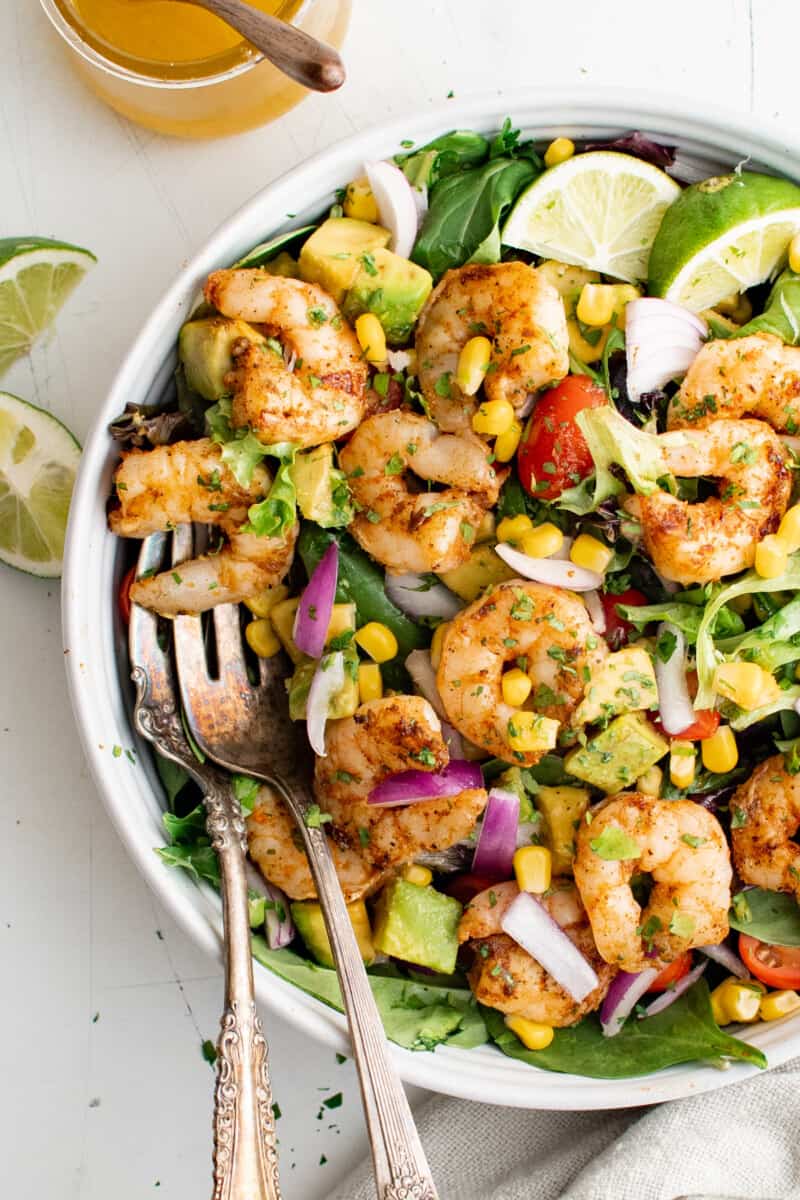 Make Ahead Instructions
The shrimp can be grilled and stored in an airtight container in the refrigerator for up to 3 days before you plan to serve them.
The dressing can be made and stored in an airtight container in the refrigerator for up to 3 weeks.
Storage Instructions
Store leftover fully-assembled grilled shrimp salad in an airtight container in the refrigerator for up to 1 day. Beyond that, the salad may begin to wilt and taste unpleasant. Enjoy the salad cold for best results.
I recommend storing the shrimp, dressing, and salad separately for longer storage.
Store leftover grilled shrimp in an airtight container in the refrigerator for up to 4 days.
Store leftover salad dressing in an airtight container in the refrigerator for up to 3 weeks.
Store leftover undressed salad in the refrigerator for up to 3 days (wait to slice the avocado until ready to enjoy).
Freezing Instructions
While I don't recommend freezing the assembled salads, you can freeze the grilled shrimp for up to 3 months. Freeze the shrimp in a single layer on a parchment-lined baking sheet until solid, about 1-2 hours. Then, transfer to an airtight container or Ziplock bag for storage.
Choosing and Preparing Shrimp
You can use medium or large shrimp. Look for a 26-30 per pound size, and choose peeled and deveined shrimp to save yourself the hassle.
You can use frozen shrimp, but I recommend letting them thaw overnight in the refrigerator in order to allow the marinade to penetrate the shrimp.
Make sure that any shrimp you are using does not have an ammonia smell or slimy coating on the outside. This means it has gone bad.
If you can't find peeled and deveined shrimp, use scissors to cut through the shell along the back of the prawns, and remove the shells and tails. Rinse to remove the veins and pat dry with a paper towel.
Pat the shrimp dry before marinating to help the marinade stick better.
Substitution
Not a fan of shrimp? Try using boneless, skinless chicken breasts instead. Cook 5-7 minutes per side, or until 165°F internally. Let rest for a few minutes, then slice and add to the salad.
You can also use this shrimp marinade instead for a different flavor profile.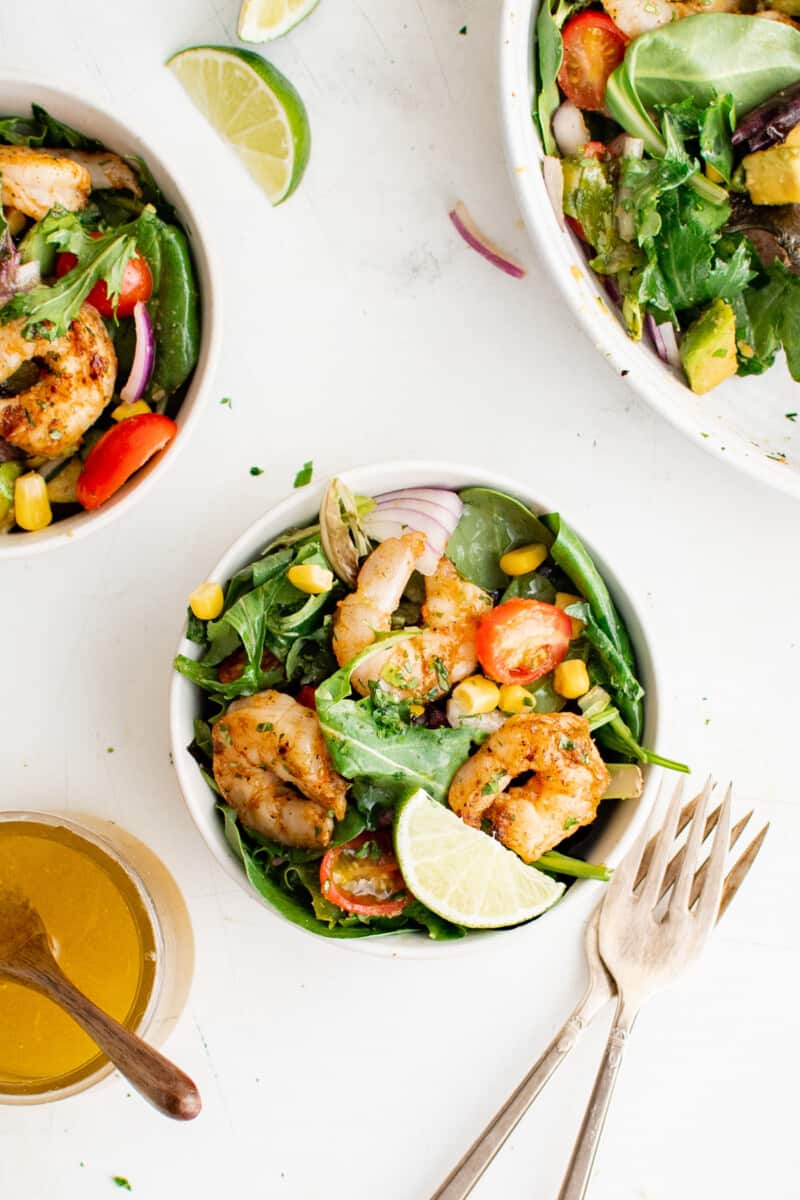 This easy grilled shrimp salad is perfect for those warm summer nights, it comes together with very little effort and the flavors are out of this world.
More Healthy Dinner Recipes to Try:
If you make this recipe be sure to upload a photo in the comment section below or leave a rating. Enjoy! You can also jump to recipe.