Asparagus plus crescent rolls equal the best puff pastry appetizers for any meal or party! Asparagus Crescent Rolls are so tasty and a snap to make. And a bonus: they make eating your vegetables a whole lot more fun!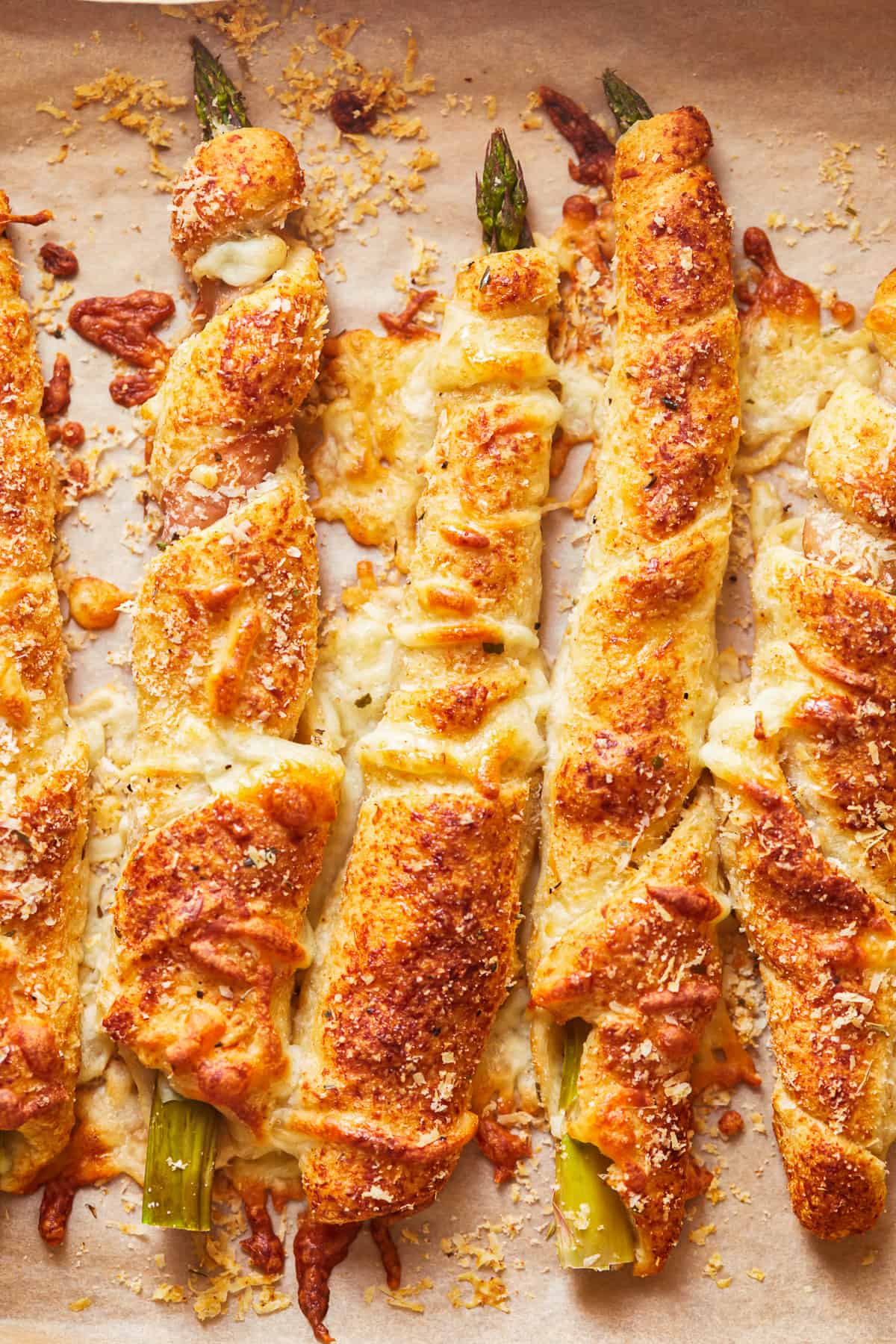 What's in Crescent Rolls with Asparagus?
Wrapping asparagus in cheesy crescent rolls changes everything! Hum-drum veggies turn into treats nobody can get enough of. Note to self: Fix more than you think you'll need. These will go like hotcakes!
Crescent Roll Dough: The perfect easy appetizer hack! This pre-made dough makes this appetizer super easy!
Cheese: Parmesan cheese coats the crescent rolls for a crispy, tangy flavor, while mozzarella cheese is melted on top for a creamy, crispy topping.
Seasoning Salt: Adds extra flavor to these crescent rolls!
Asparagus: The star of the show! Crispy, earthy, and subtly sweet. They make this feel healthy!
Pro Tip: Check out my recipe to make your own Homemade Crescent Rolls!
Variations on Asparagus Wrapped in Crescent Rolls
From time to time, I add prosciutto to these baked appetizers. It makes them more flavorful, more filling, and more elegant; in my book, that's a win-win-win!
To add prosciutto into this recipe, just lay a slice of it out on each crescent roll wedge, top with the asparagus, and roll. If the prosciutto is large, you may need to cut each slice in half or even thirds.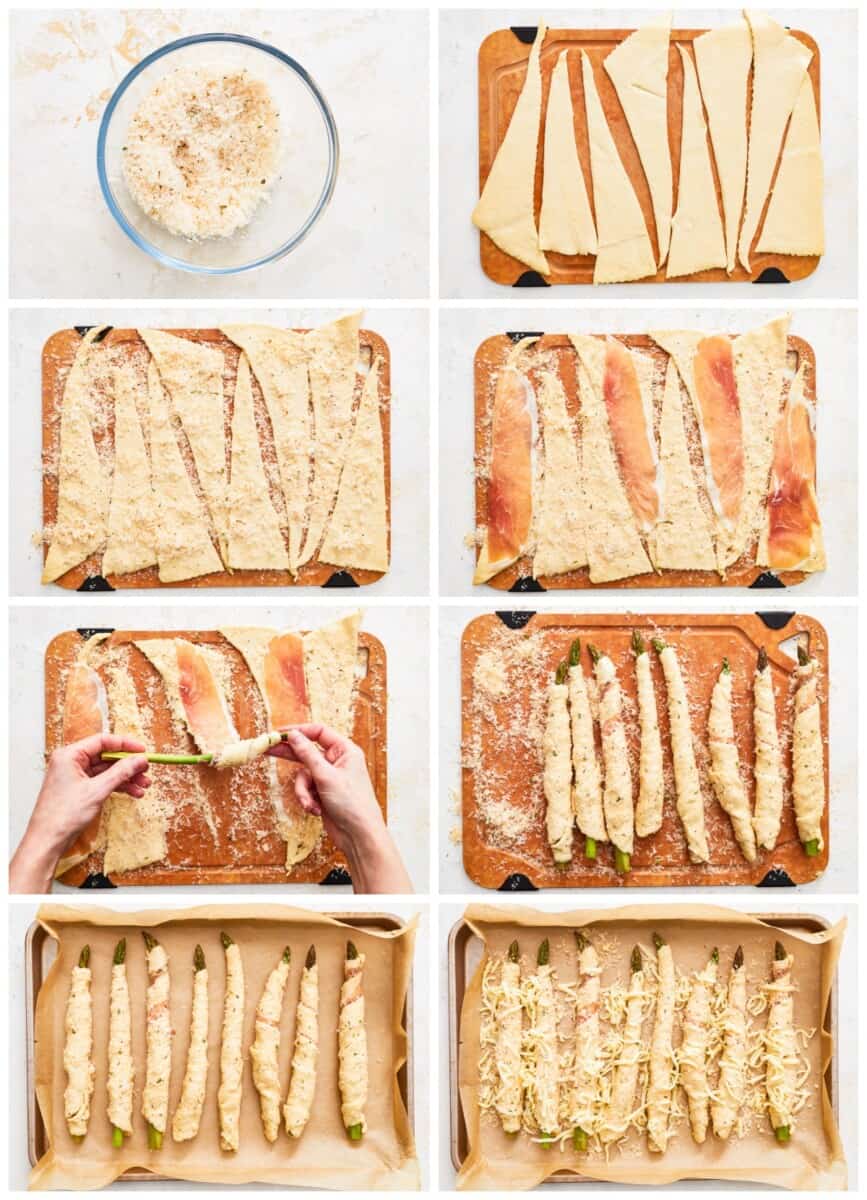 What is prosciutto? Can I substitute anything else?
Prosciutto (pronounced pro-SHOOT-o) is a slightly sweet cured Italian ham. If you prefer, you can substitute a very-thin slice of deli ham.
Is all asparagus the same?
Asparagus most commonly is green, and some varieties are white and even purple. They can all be used interchangeably in this recipe.
Can I use different cheeses in this recipe?
Sure! Romano cheese can sub for the Parmesan, and gruyere can swap out for the mozzarella.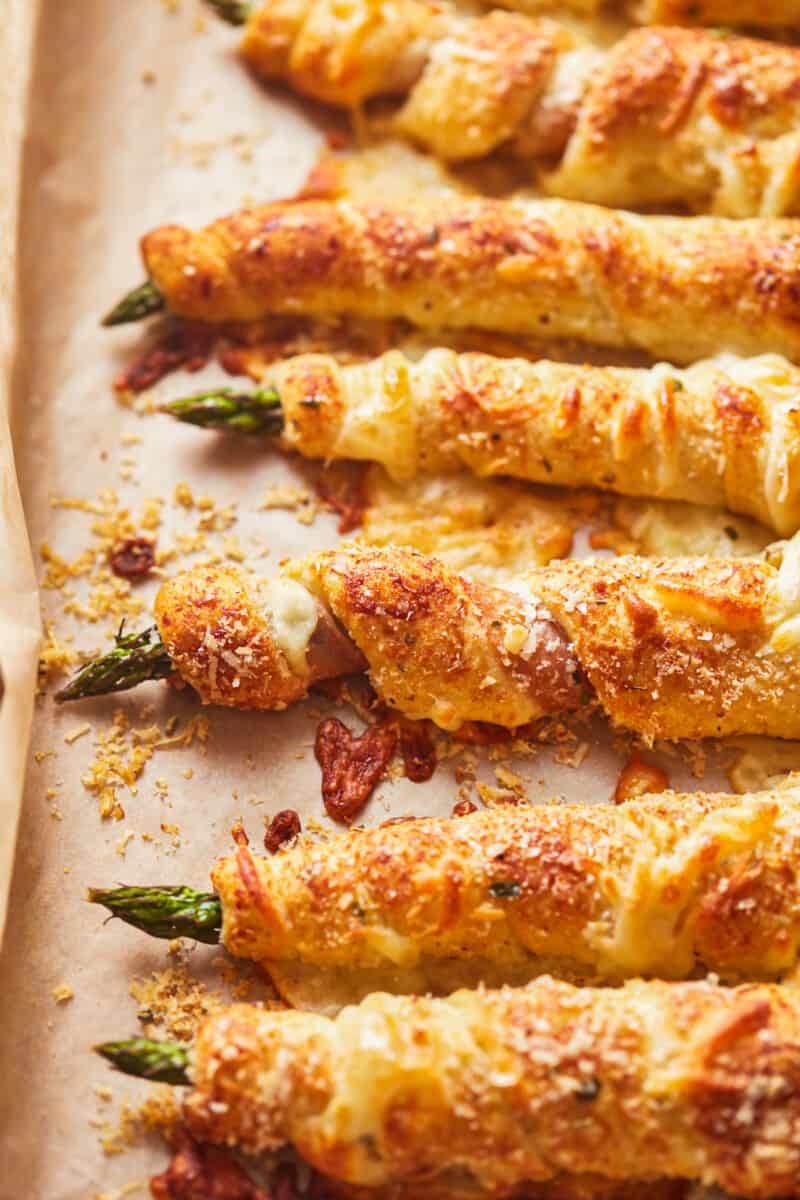 How to Store and Reheat Crescent Wrapped Asparagus
Store leftover asparagus crescent rolls in an airtight container in the refrigerator for up to 4 days. Reheat in a 350°F oven for 8-10 minutes, or until warmed through.
How to Freeze Asparagus Crescent Wraps
Freeze asparagus crescent rolls in a single layer on a lined baking sheet until solid, about 1-2 hours. Transfer to an airtight container or Ziplock bag to store for up to 3 months. Reheat directly from frozen, adding 3-5 minutes to account for the freezing.
What to Serve with Asparagus and Crescent Roll Appetizers
These crescent roll appetizers are so flaky, so crisp, and so delicious. They make a great complement to chicken or beef, and the kids will love them too. They go well with our Prosciutto Wrapped Chicken, Creamy Swiss Chicken Bake, or Spinach Stuffed Chicken. They're also great with beef tenderloin or bacon meatloaf.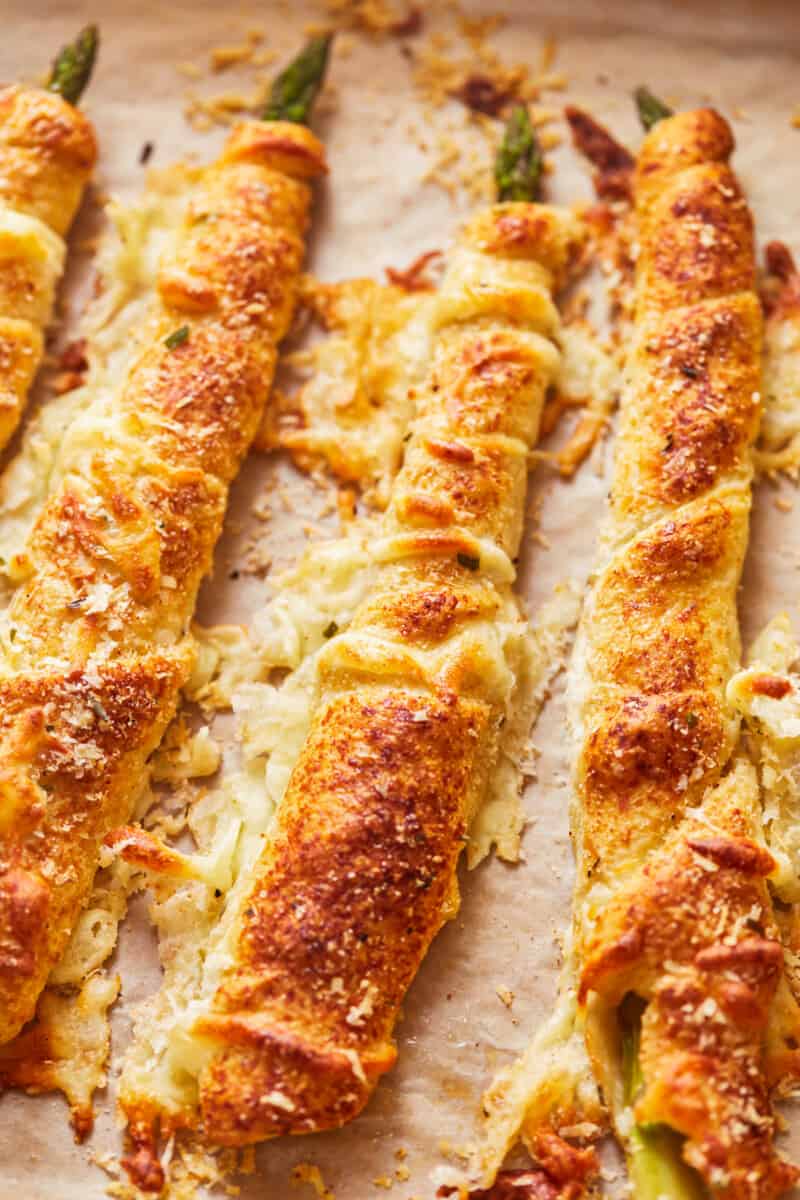 More Asparagus Recipes We Love