Asparagus plus crescent rolls equals the best crescent roll appetizers for any meal or party! These cheesy asparagus puff pastry spirals are so cute, so tasty, and so easy to make. They definitely make eating your vegetables a whole lot more fun for the kids (and us adults)!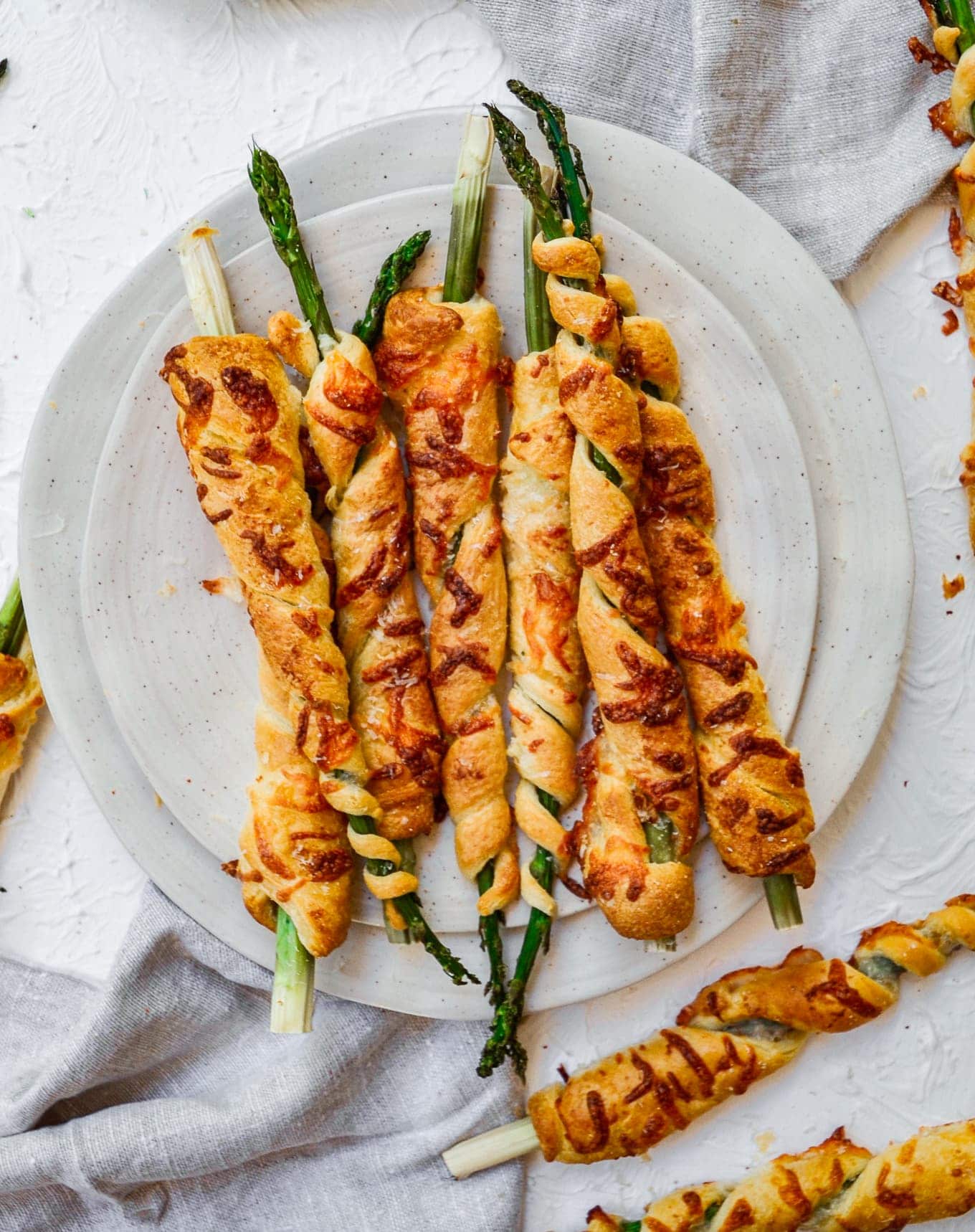 Asparagus Wrapped in Crescent Rolls
Eating vegetables isn't always the funnest part of the meal, but when you wrap asparagus in cheesy crescent rolls, it changes everything!
These asparagus crescent roll appetizers are perfect for parties, or as a side dish for any weeknight dinner. The dough gets covered in parmesan cheese, wrapped around asparagus, sprinkled with mozzarella cheese, and baked to perfection. Your kids definitely won't mind eating their vegetables when they're wrapped in cheesy bread!
I also like adding prosciutto into these asparagus puff pastry spirals for something extra classy (prosciutto makes everything classy, right?). Pair them with chicken and you've got a beautiful meal.
Asparagus wrapped in crescent rolls makes the perfect easy appetizer or side dish!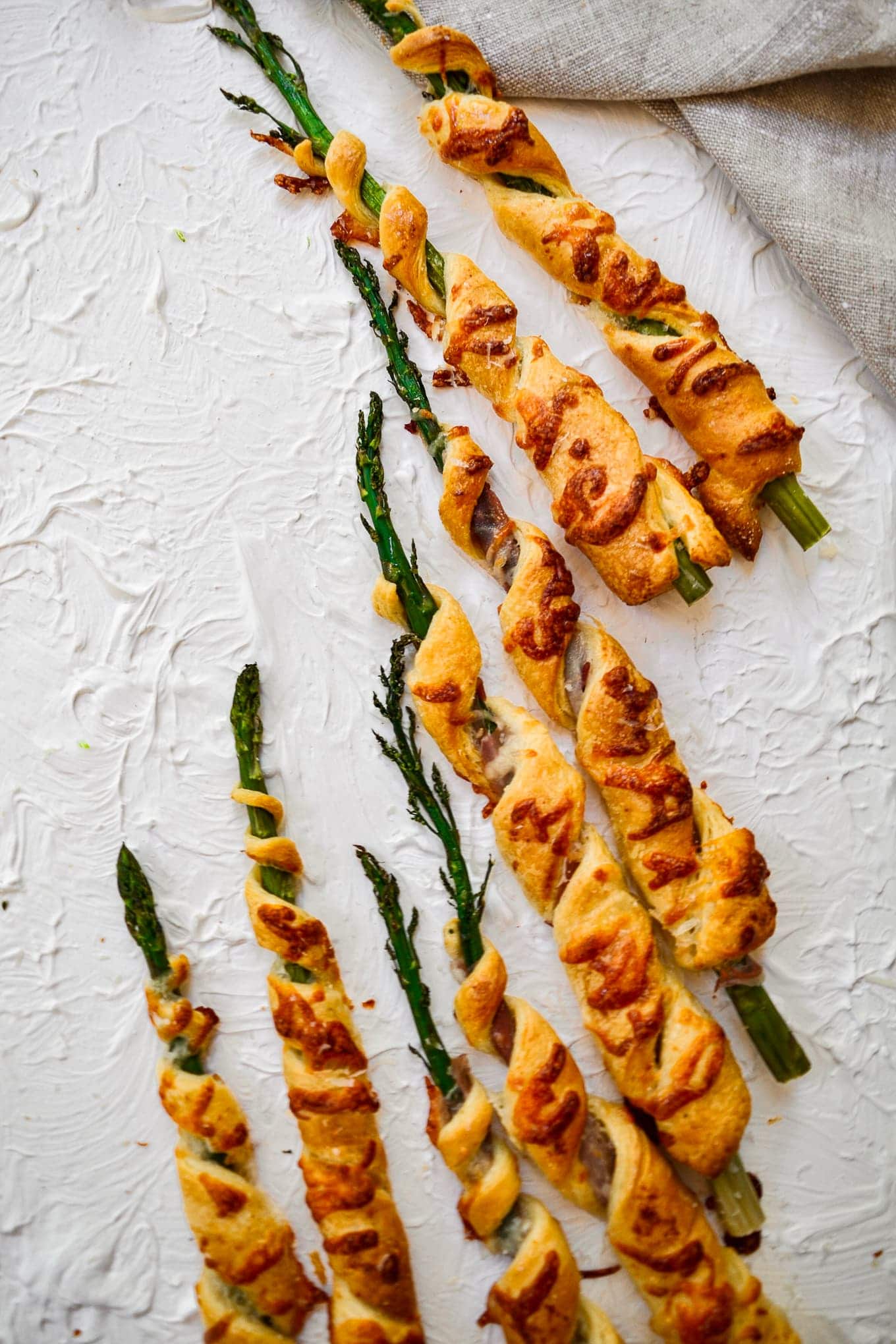 Cheesy Crescent Roll Appetizers
These crescent roll appetizer are so good, so flaky, so crisp, so delicious! They make a great complement to chicken or beef, and the kids will love them too.
For this recipe, each pre-cut crescent roll triangle from the can will be cut in half, essentially doubling the number of dough pieces you have. One piece of dough will be used for each asparagus stalk.
So if you want to make 8 asparagus crescent roll spirals, you'll use half a can of pre-made crescent rolls. If you want to make 16 (approximately 4-6 servings), you'll use an entire 8 oz tube.
Asparagus Prosciutto Spirals
Like I said earlier, I really love turning these into asparagus and prosciutto crescent spiral from time to time. It adds even more flavor, and makes them feel like a fancy appetizer. They go well with our Prosciutto Wrapped Chicken, Creamy Swiss Chicken Bake, or Spinach Stuffed Chicken.
To add prosciutto into the recipe, just lay a slice of it out on each crescent roll wedge before wrapping the asparagus.
Check out my recipe to make your own Homemade Crescent Rolls!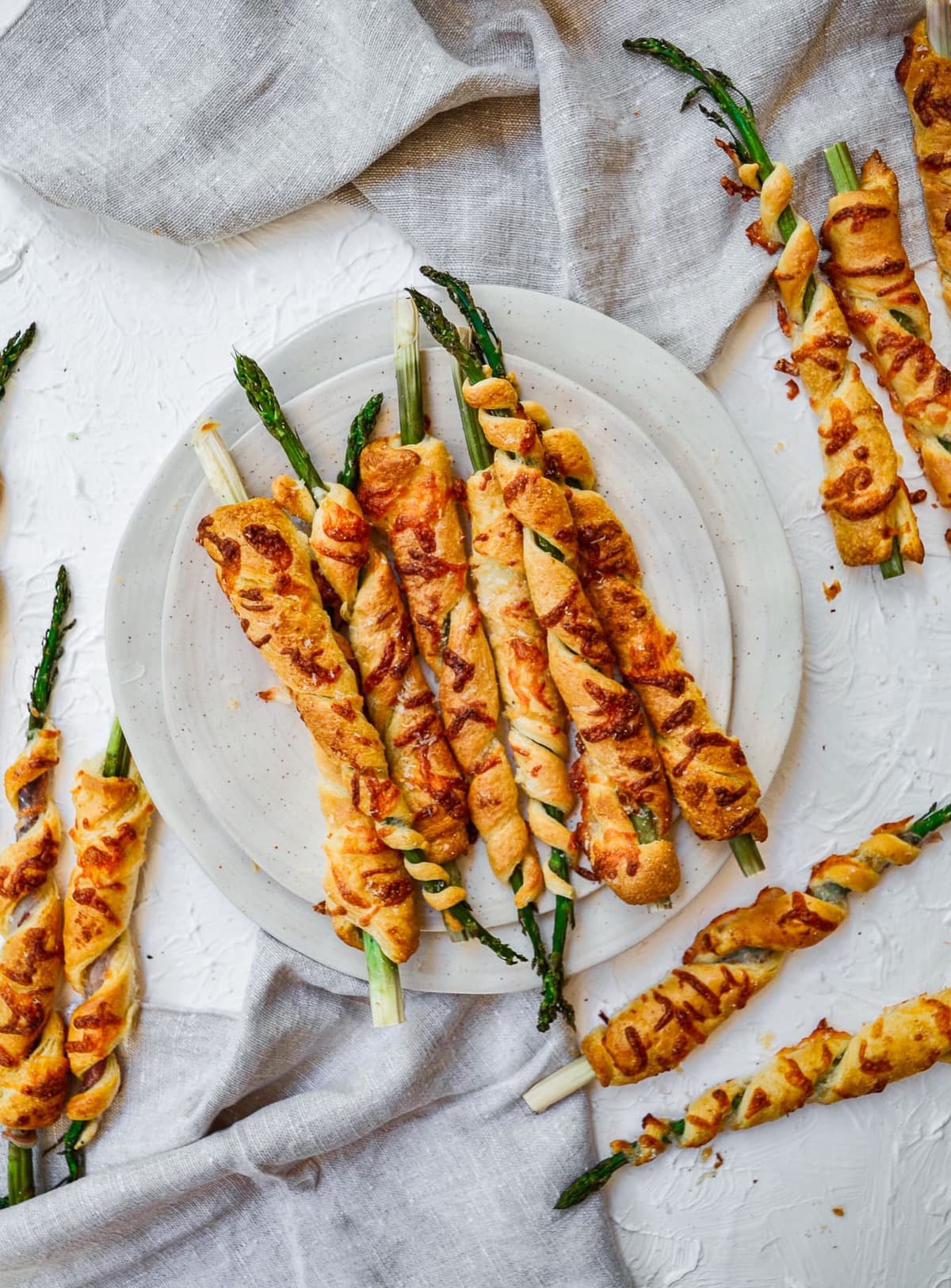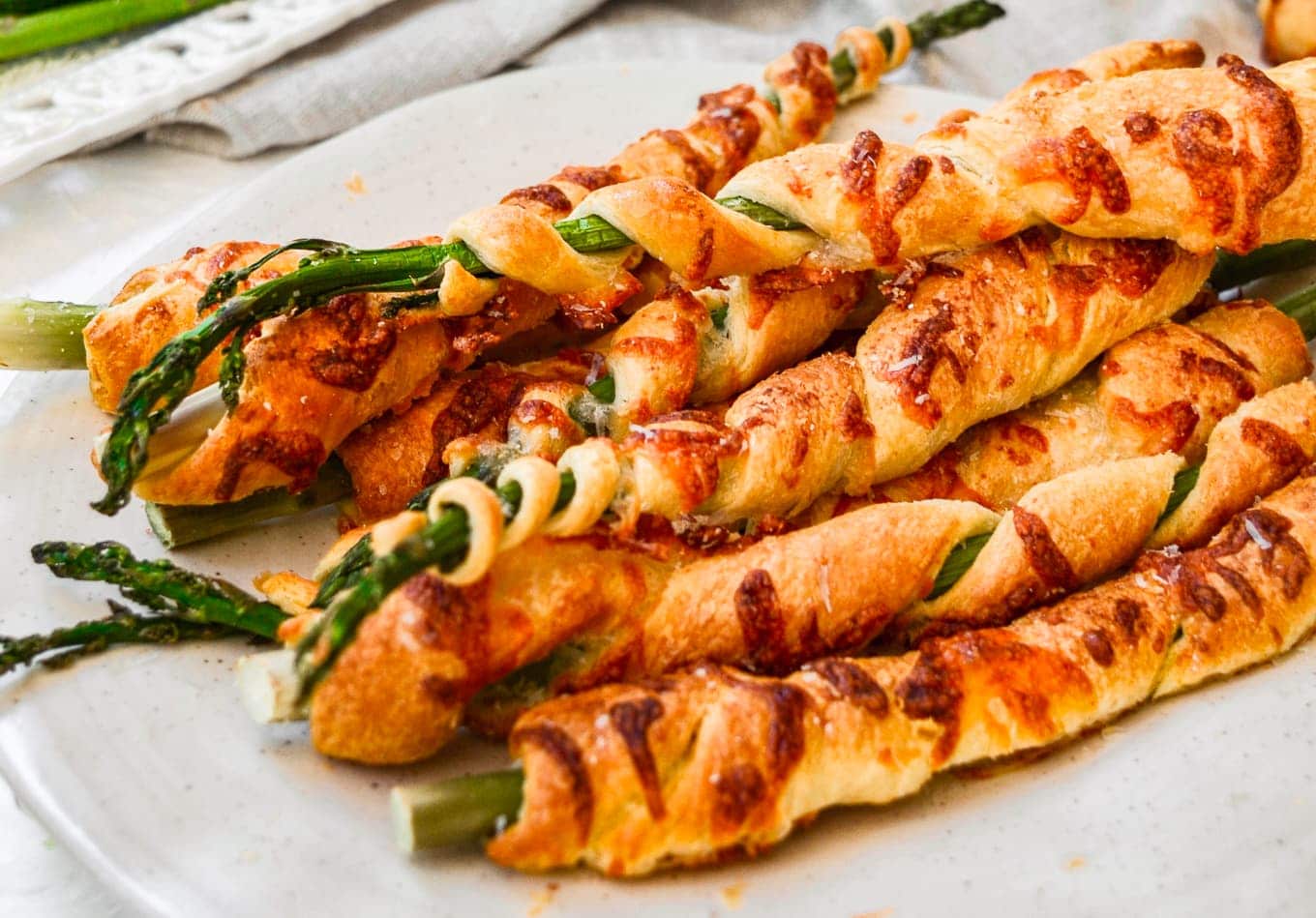 How to Make Asparagus Crescent Roll Spirals
This recipe is so easy (and fun) to make. All you need is a can of crescent roll dough, asparagus, Parmesan and Mozzarella cheese, and proscioutto if you want to add that in too.
To Make:
Cut each crescent roll wedge in half (you'll use one piece of dough per asparagus).
Next, put your parmesan and seasoning salt into a bowl and mix them together.
Before wrapping the asparagus in the dough, coat each piece of dough in the parmesean mixture (coat both sides generously).
Now wrap the asparagus in the parmesean crusted crescent roll wedges. (Add a slice of proscuitto in here if you want.) Start the tip of the crescent roll wedge at the top of the asparagus stalk, and wrap the asparagus while twisting to create a spiral.
Place them on a foil lined baking sheet. sprinkle with the excess parmesean cheese, and some shredded mozzarella cheese too, if desired (I can never get enough cheese!).
Bake at 350°F for 13-15 minutes (follow directions on crescent roll package).
I absolutely love how easy it is to make these cheesy asparagus crescent roll appetizers for any meal!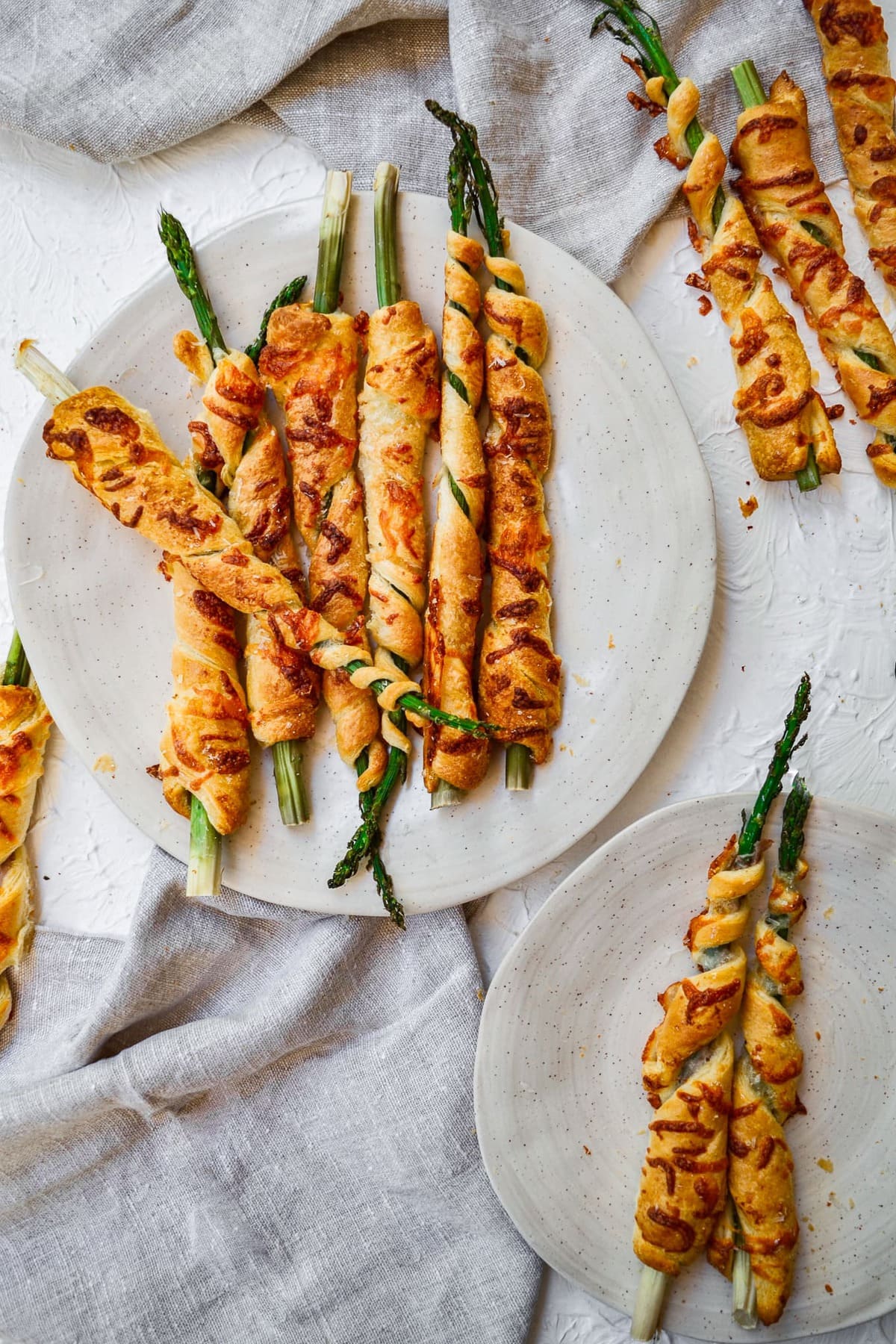 Easy Asparagus Dishes
Asparagus is such a great veggie for side dishes and appetizers. There's so much you can do with it! These cheesy asparagus crescent roll appetizers are one of my favorites for a fun dinner, but you should try these other recipes as well.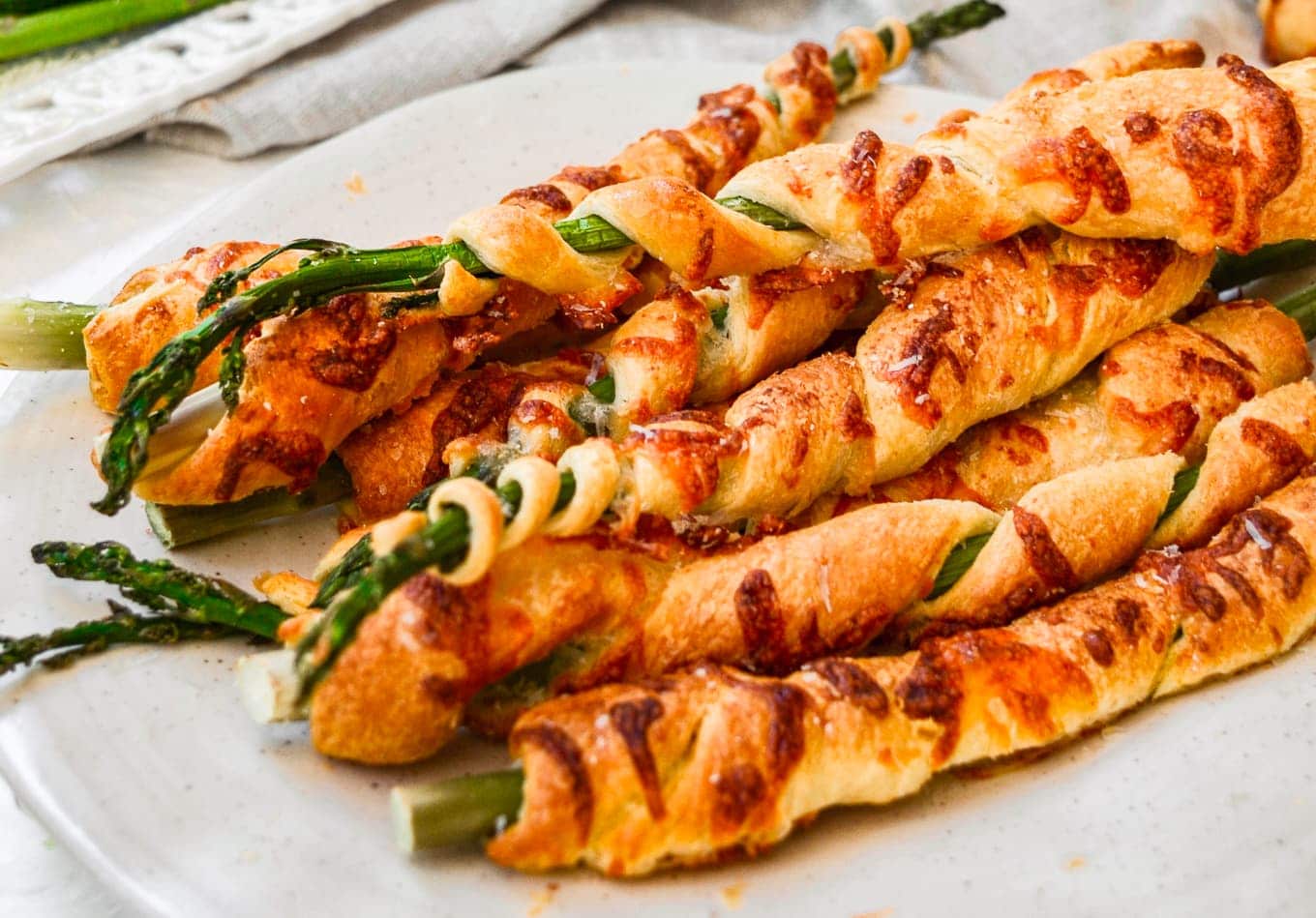 There you have it. These crescent roll appetizers are as simple as can be. They come out so delicious and impressive. Now you can get your kids to eat those veggies, and you'll be more excited about eating them too!
See the recipe card for details on how to make Asparagus Crescent Rolls Appetizers. Enjoy!
Try these other fun and easy veggie dishes: