Baked Orange Soda Hot Wings! The perfect mixture of spicy and sweet, these chicken wings are an EASY BAKED APPETIZER perfect for tailgating!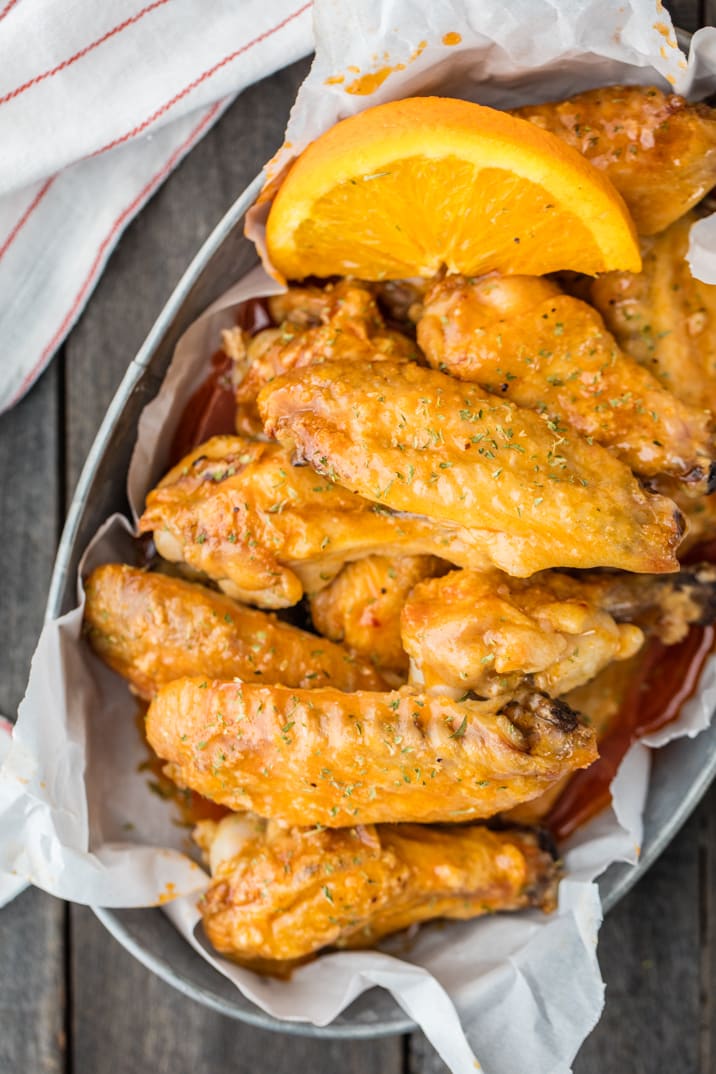 BASEBALL PLAYOFFS ARE HERE!!!! For just the THIRD time in my life, my Royals are in the postseason. It is way too exciting and scary…our family gets WAY too into it. (This is the post I wrote last year after we lost the World Series…and it still stings the same as it did that night! But how cute was 2 year old Desdi Mae cheering on our boys in blue??) Playoffs mean agonizing games, incredibly fun and exciting memories, and also great food. IT'S TAILGATE TIME!!! These Orange Soda Hot Wings are just what we need to fuel through the next couple weeks (hopefully!).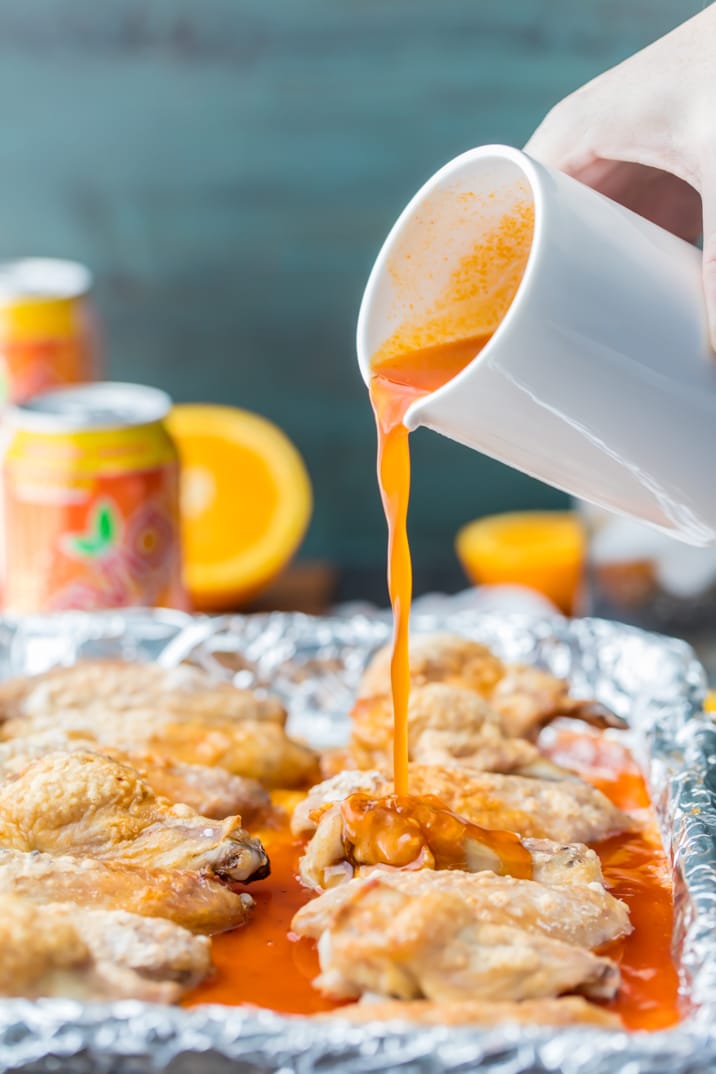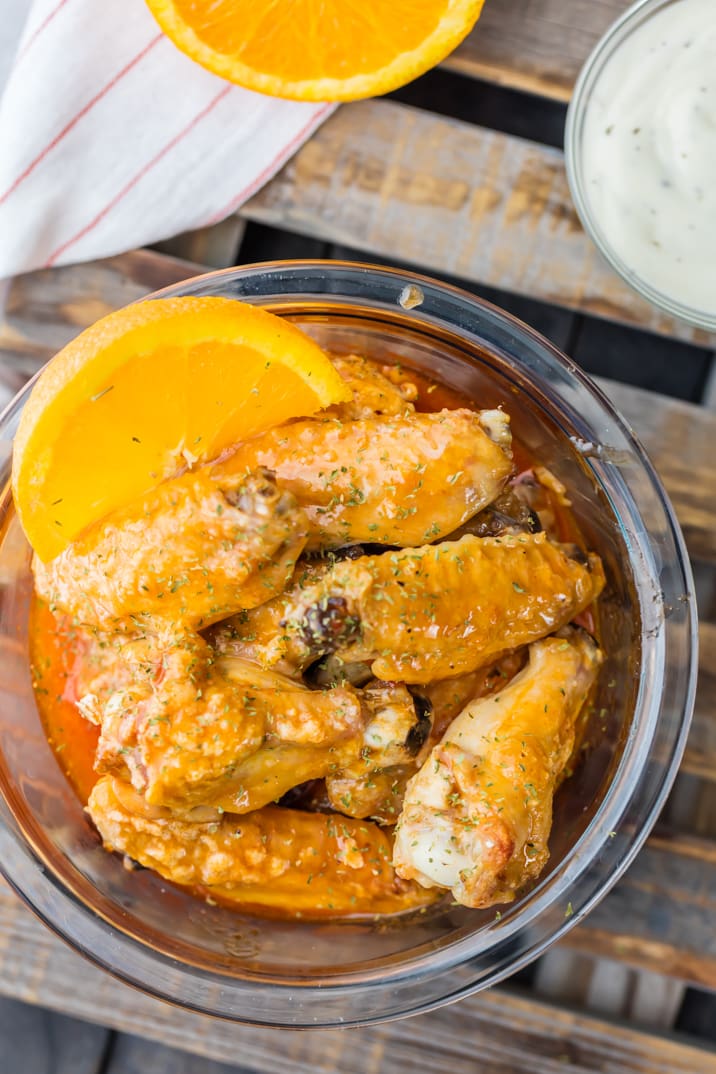 I'm SO excited about baseball playoffs, but also excited about this post!! One of my very favorite partnerships this year has been with Zevia soda. You may remember a couple weeks ago when I posted my Margarita Ice Cream Floats. I'm so proud to be partnering with a company that truly cares about its product and it's ingredients!! Zevia has recently gone COLOR and GMO free…so on top of zero calories now they are zero color and zero GMOs. Such a great option for so many drinks, and even recipes! You're going to love these Orange Soda Hot Wings!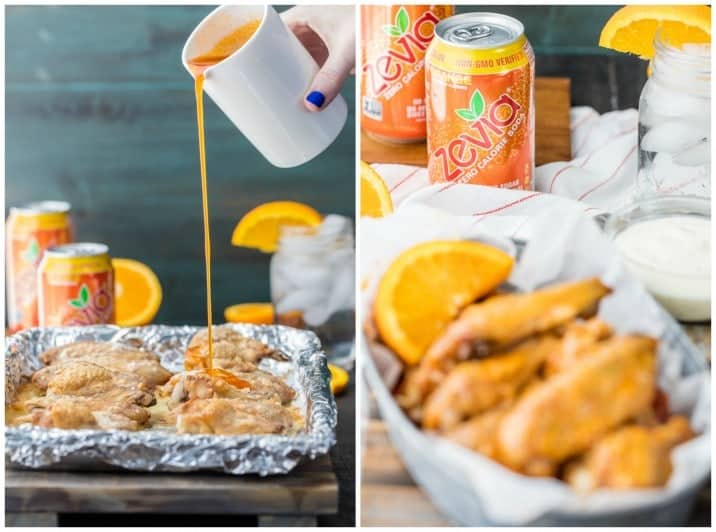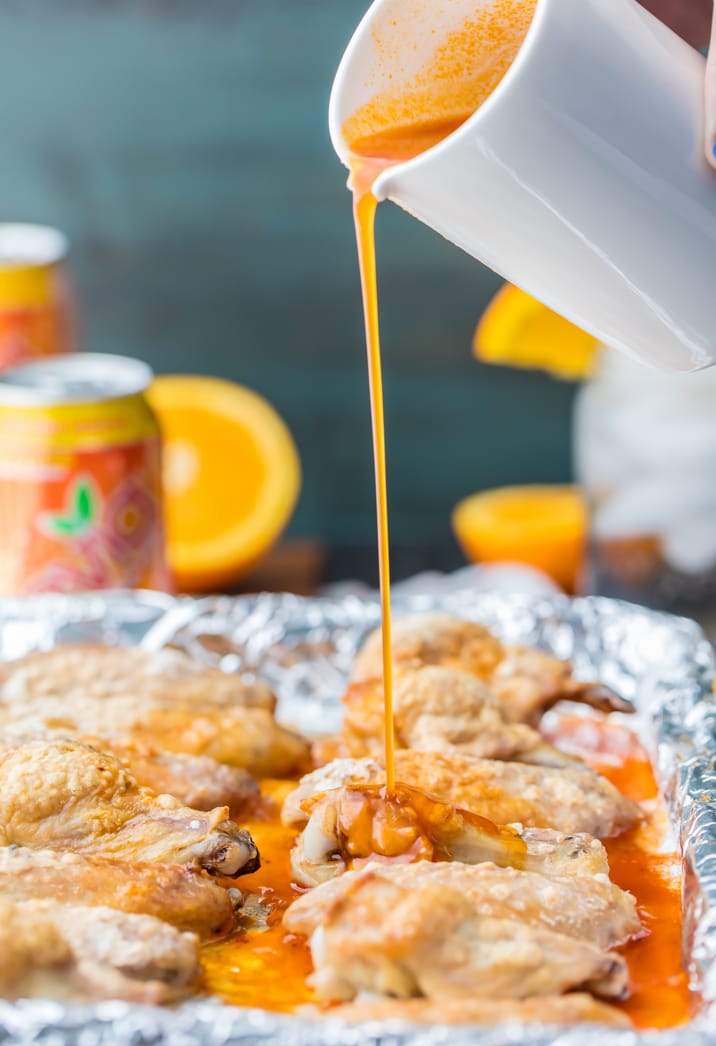 October is NonGMO month and these wings are the perfect way to celebrate. Zevia is kicking off a fun campaign all about smarter tailgating, and snacking smarter is easier than you might think. AND THERE IS A GIVEAWAY!!! It's super simple and free to enter, and you could win everything you need for the perfect NonGMO party! Click HERE to enter!! I was able to make these easy (AND SO DELICIOUS) Orange Soda Hot Wings with only non-GMO products, and you can too! I shopped at Whole Foods (not sponsored…just an easy way to find what I was looking for!), and one trip was all I needed. I'm an no expert, that's for sure, but I love companies that are trying their best to be transparent, and Zevia is just that. Being informed is important, whichever way you fall on the debate.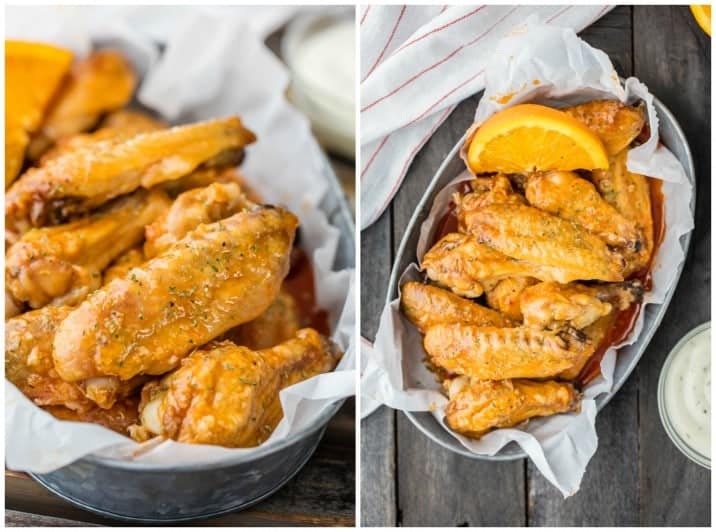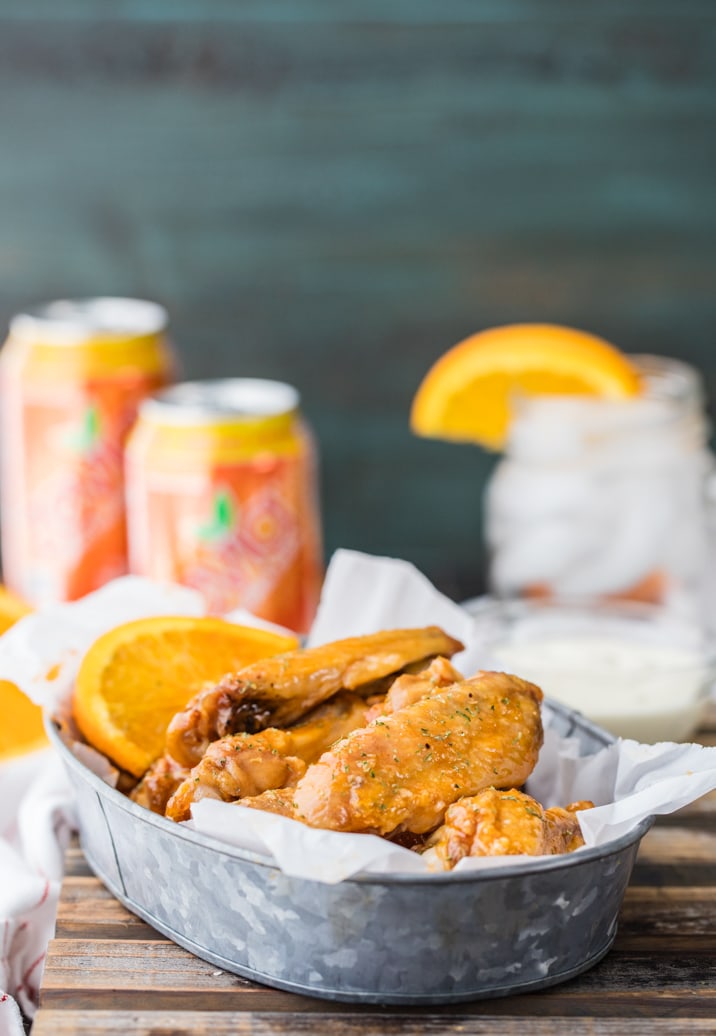 I LOVE the addition of the Orange Soda to this wing sauce. It gives the wings such a tangy zip, hard to explain until you try it! I baked these wings using tips from one of my VERY FAVORITE bloggers, Nagi from RecipeTin Eats!! She has an entire book dedicated to the perfect wings, and her tips to baking them crispy are PERFECTION! Thank you Nagi!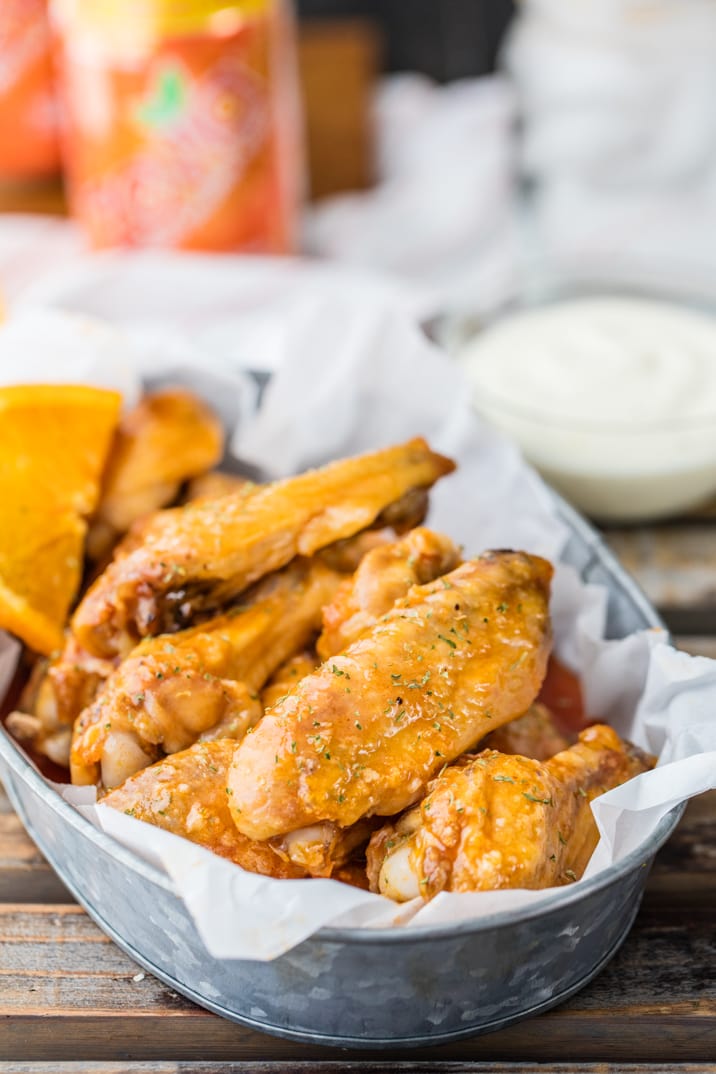 So, in closing…GO ROYALS!!!!
I hope you love these Baked Orange Soda Hot Wings as much as we do!
Be sure to check out Zevia for all their #ClearlyDifferent soda options, and click HERE to see where to buy near you!! Enjoy!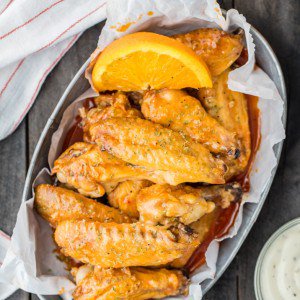 Orange Soda Hot Wings
Ingredients
1

dozen organic chicken wings

1

tablespoon

baking powder

NOT baking soda

salt and pepper to taste

3/4

cup

Zevia Orange Soda

1/4

cup

organic hot sauce

such as The Wizard Hot Stuff or Benitos

1/4

cup

organic honey

1/2

tablespoon

minced garlic

2

tablespoons

unsalted butter

chopped parsley for garnish
Instructions
Preheat oven to 250F

In a large bowl, combine baking powder (again, not baking soda) and salt and pepper to taste. Place wings in bowl and coat completely with the mixture.

Place wings on a foil-lined baking sheet, it's okay if they're touching.

Bake for 30 minutes.

Increase heat to 425F and continue baking for another 30-40 minutes.

While the wings cook, make your sauce.

In a saucepan, combine soda, hot sauce, honey, garlic, and butter. Stir to combine. Over medium heat, bring to a boil.

Reduce heat to simmer and continue simmering for at least 30 minutes, or until sauce thickens and becomes more of a syrup.

Remove wings from the oven and let sit for 5 minutes.

Toss wings in the sauce and serve hot. Garnish with chopped parsley if desired.

Enjoy!
This post is brought to you by the great folks at Zevia! All opinions are 100% my own. As always, thanks so much for supporting the brands that support The Cookie Rookie!