Sticky Wings are the perfect appetizer for any occasion. These Baked Sesame Chicken Wings are a favorite for game day. A little bit spicy, a little bit sweet, and loved by all. You'll never miss deep frying your wings after you taste how amazing baked wings are!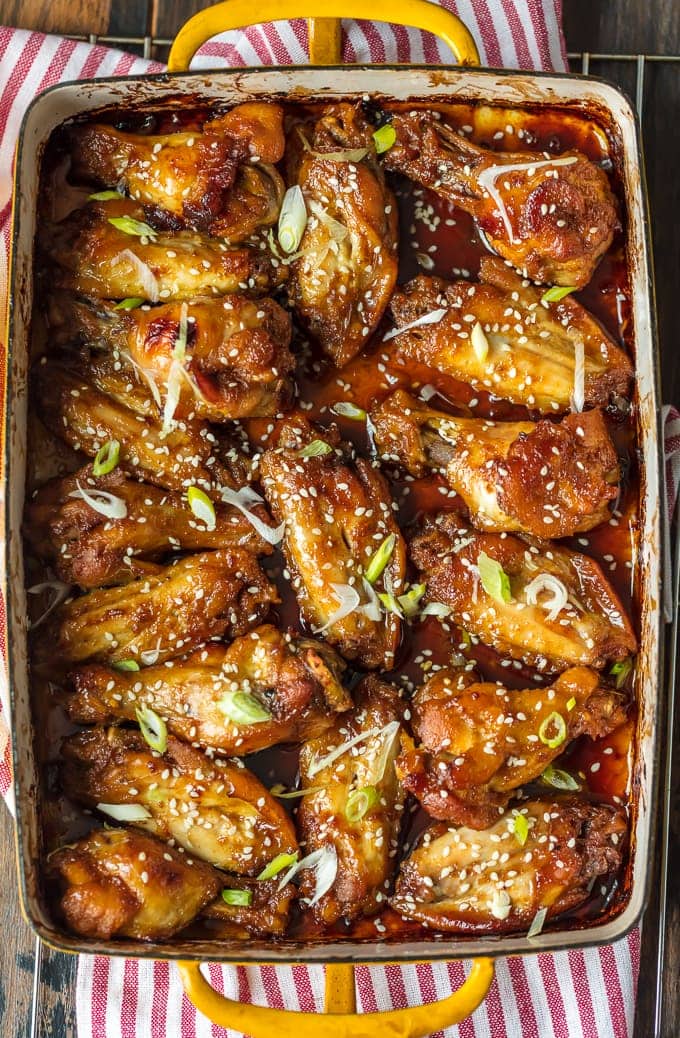 Sticky Wings
These sticky wings are baked in a flavorful Asian-inspired sesame soy sauce. These baked wings are the perfect mix of sweet and spicy!
Pat and I always have a debate every time we order baked wings. He always wants really spicy, and I always want something mild like garlic parmesan or honey bbq. I just don't like my mouth to be on fire for the rest of the night. But I get his point…A little flavor on your wings is a good thing. Too mild is just boring…you might as well order chicken strips off the kids menu.
This Sticky Wings recipe is the perfect compromise…something we can both devour. There's plenty of spice, but not too much. Enough delicious sesame sauce to go around, and they're baked wings instead of fried. Are you intrigued?
These Sesame Chicken Wings are the perfect sweet & spicy wings recipe!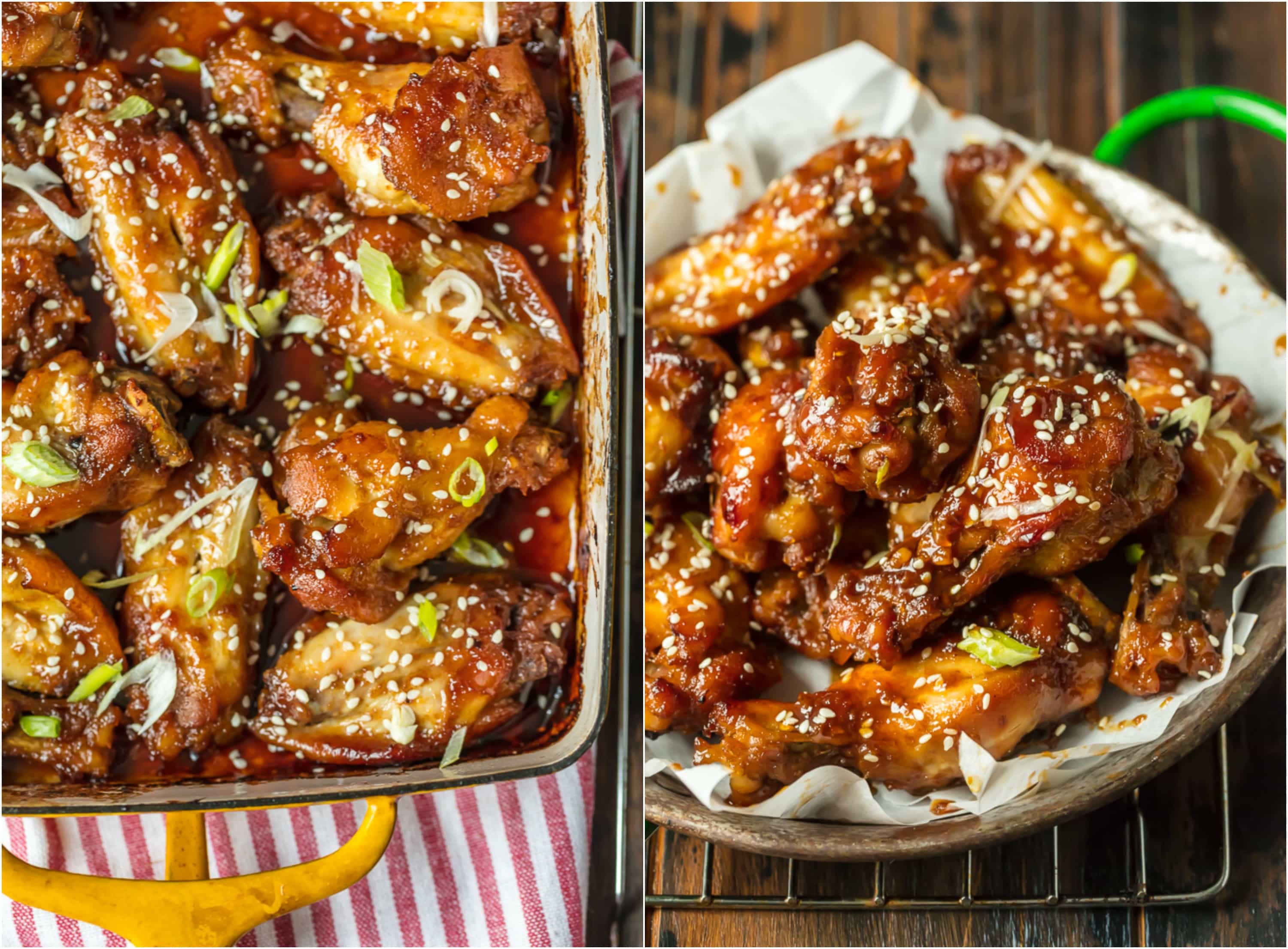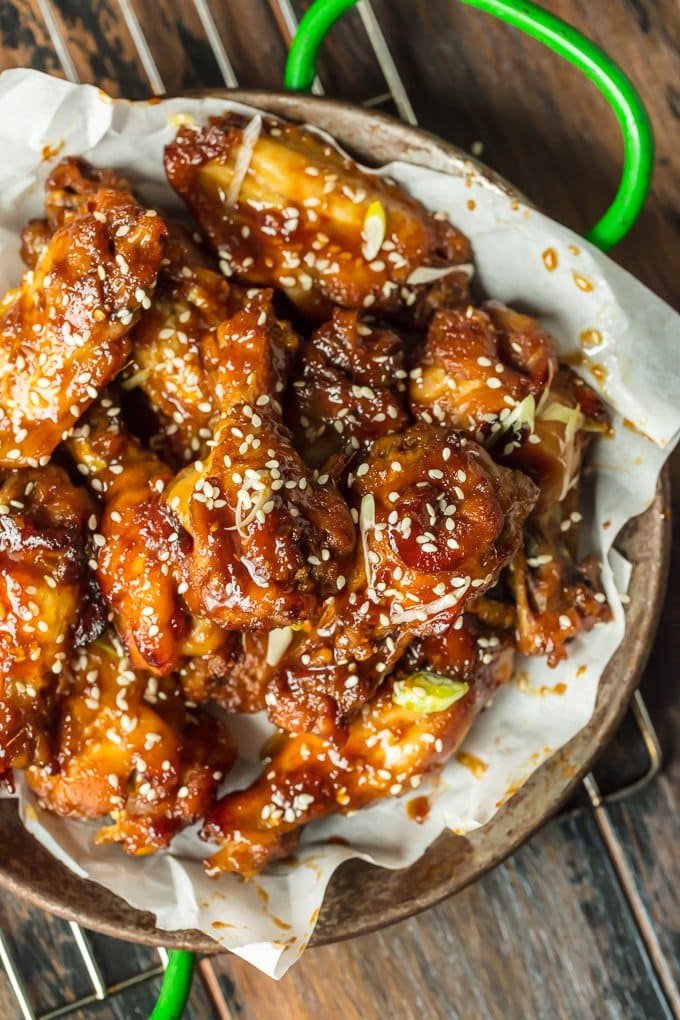 How to Make Sticky Wings
Place two 2-gallon sized resealable plastic bags together. (I use two just in-case one has a small hole.)

Pat the chicken dry with paper towels and sprinkle lightly with salt and black pepper.

Pour ½ teaspoon kosher salt, ¼ teaspoon black pepper, minced garlic, maple syrup, soy sauce, ginger paste and crushed red pepper into the inside plastic bag.

Add the chicken pieces to the marinade, and zip the inside bag closed, squeezing out as much air as possible.

Seal the outside bag around the inside bag and turn the chicken over a few times to cover ensure all pieces are covered with marinade.

Refrigerate the chicken at least 1 hour or overnight.

When ready to cook, heat the oven to 425°F and line a medium sized baking dish with parchment or spray the dish with nonstick cooking spray.

Place chicken in the pan, being sure to keep a little space between the pieces. Pour the excess marinade over the chicken.

Cook the chicken 20 minutes, then flip each piece over and brush with pan drippings (marinade). Sprinkle chicken with toasted sesame seeds and cook another 10-15 minutes or until the sauce has thickened and has caramelized to the meat. The chicken should cook a total of 30-35 minutes.

Remove the chicken from the oven and let cool slightly.

Garnish with sliced green onions and serve.
How do you bake chicken wings in the oven?
Baked wings are so easy to make! And baking chicken wings in the oven is much healthier than frying them.
For our Sesame Sticky Wings recipe, you'll heat your oven to 425°F. Once they're all sauced up, you'll bake them in the oven for about 30-35 minutes.
How do I make sticky wings crispy?
You'll never miss the fry on these sesame sticky wings! My trick for making them extra crispy? Leave them under the broiler for a couple of minutes to crispy them up.
Sesame Chicken Wings
The thing that makes these Asian Sticky Wings truly amazing is the sauce. It's SO delicious and SO sticky…good luck trying not to get messy! But that's what you get with wings, it's all part of the fun.
Sticky Wing Sauce Ingredients:
Soy Sauce
Maple Syrup
Garlic
Ginger Paste
Crushed Red Pepper
Salt & Pepper
This makes up the sauce to marinate the wings in, and man is it good! Finishing them off with toasted sesame seeds after baking adds that last bit of texture and flavor to make the perfect sesame wings!
How do you toast sesame seeds?
If you can't find Toasted Sesame Seeds at the store, just toast them yourself! It's really simple and worth the extra step.
Heat a small skillet over medium heat.
Spread the seeds in an even layer and cook until they are lightly browned.
Shake or stir the seeds often to prevent burning and to promote evenly toasted seeds
This should take approximately 4-5 minutes. Be sure to watch them closely.
You can do this while the wings are marinating, or any time before baking.
What is a good seasoning for chicken wings?
Oooh, you are in for a treat with this recipe! Our Asian-inspired sesame sauce is the best sweet and spicy seasoning for sticky wings. It's filled with flavor but not too hot. The garlic, soy sauce, and ginger flavors blend together so well to create these delicious Sesame Chicken Wings.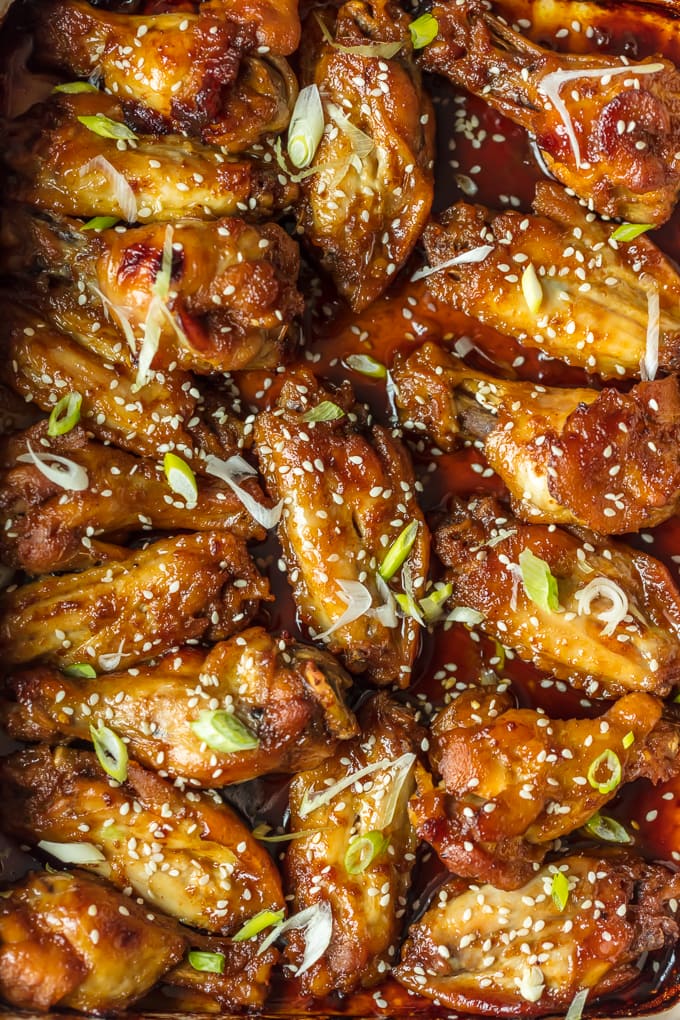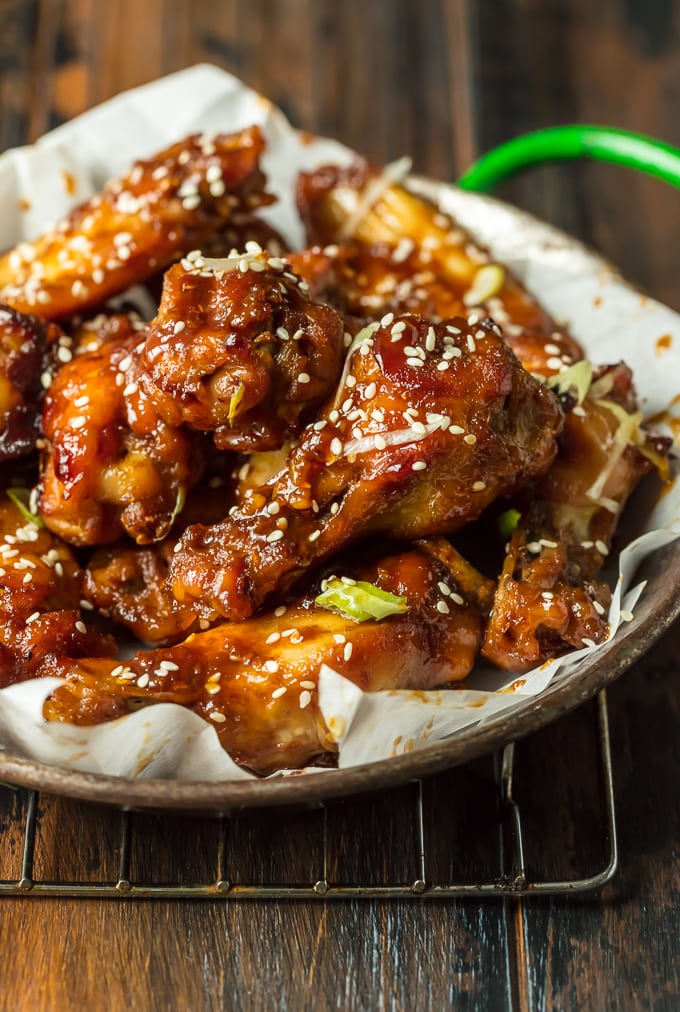 I plan to make this Sesame Sticky Wings recipe for the Super Bowl, and then again for each and every game Pat makes me watch against my will. Maybe not the healthiest diet idea, but baked wings are still better than fried!
I hope you love these sesame wings as much as we do! They're definitely a favorite appetizer here!
See recipe card below for details on how to make Sticky Wings. Enjoy!
And check out our Baked Chicken Guide for 25 easy chicken recipes!