Easter cooking will be easier than ever with this Sheet Pan Easter Dinner recipe. Make brown sugar ham, asparagus, scalloped potatoes, and deviled eggs for a family of four, all in one pan!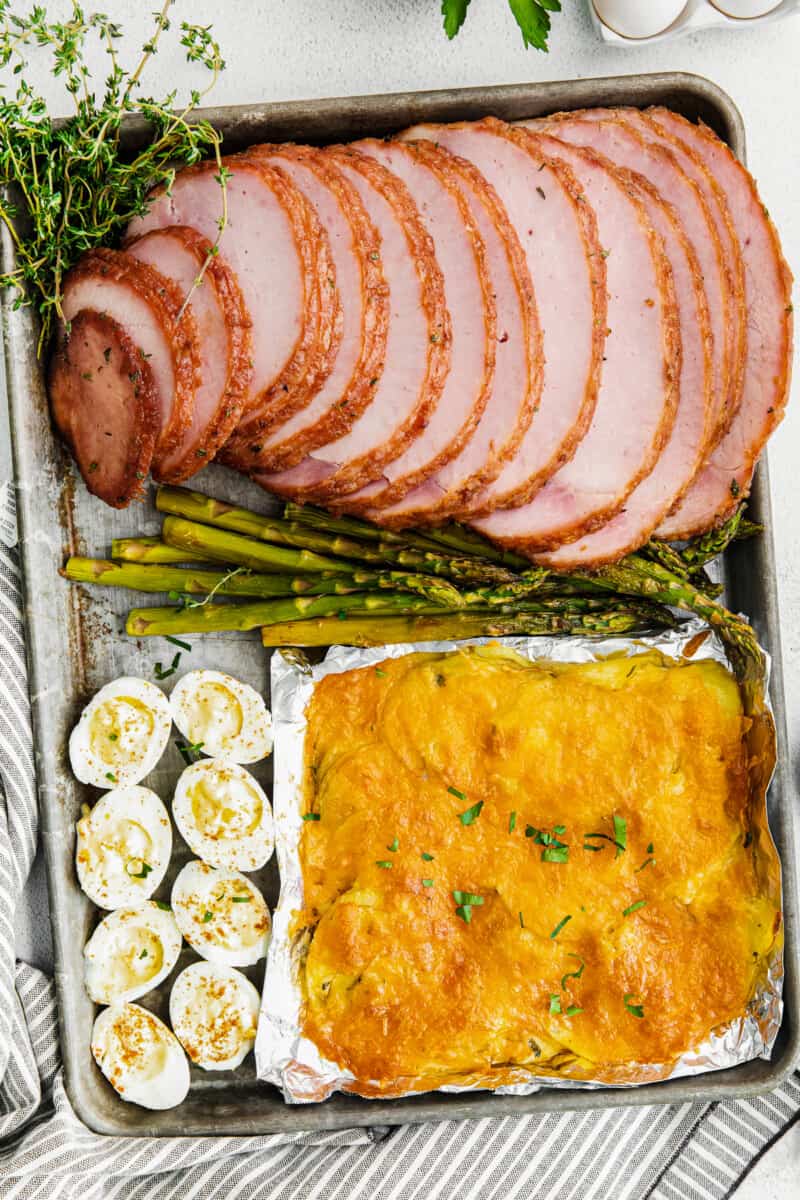 Sheet Pan Easter Dinner with Brown Sugar Ham, Scalloped Potatoes, Asparagus, and Deviled Eggs
Holiday cooking doesn't have to be stressful! Make a traditional Easter ham dinner this year in the easiest way possible, with this one pan recipe.
This sheet pan Easter dinner has all the delicious foods you'll want, including brown sugar ham, cheesy scalloped potatoes, fresh asparagus, and oven roasted deviled eggs.
It's the perfect amount of food for a family of two to four people, it's all made in one pan, and it will take less than 2 hours to have it ready on the table.
If you prefer lamb, try this Sheet Pan Easter Dinner with Lamb instead.
Why you'll love this One Pan Easter Dinner recipe:
EASTER HAM: This meal includes a delicious maple brown sugar ham, with all the sides you need.
ONE PAN: Make an entire Easter meal in one pan for easy cooking and easy clean-up!
PERFECT SIZE: This sheet pan meal serves four people perfectly, so you'll have enough food for the family, without making too much.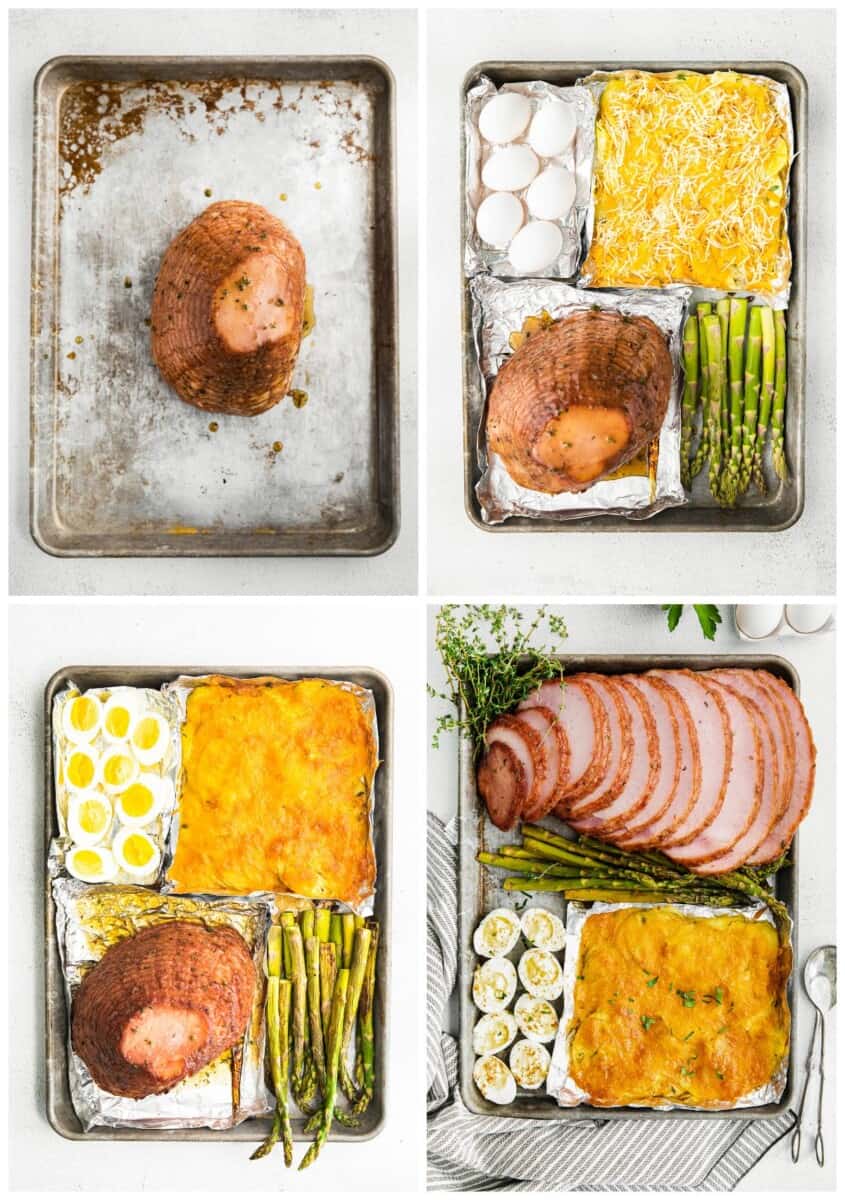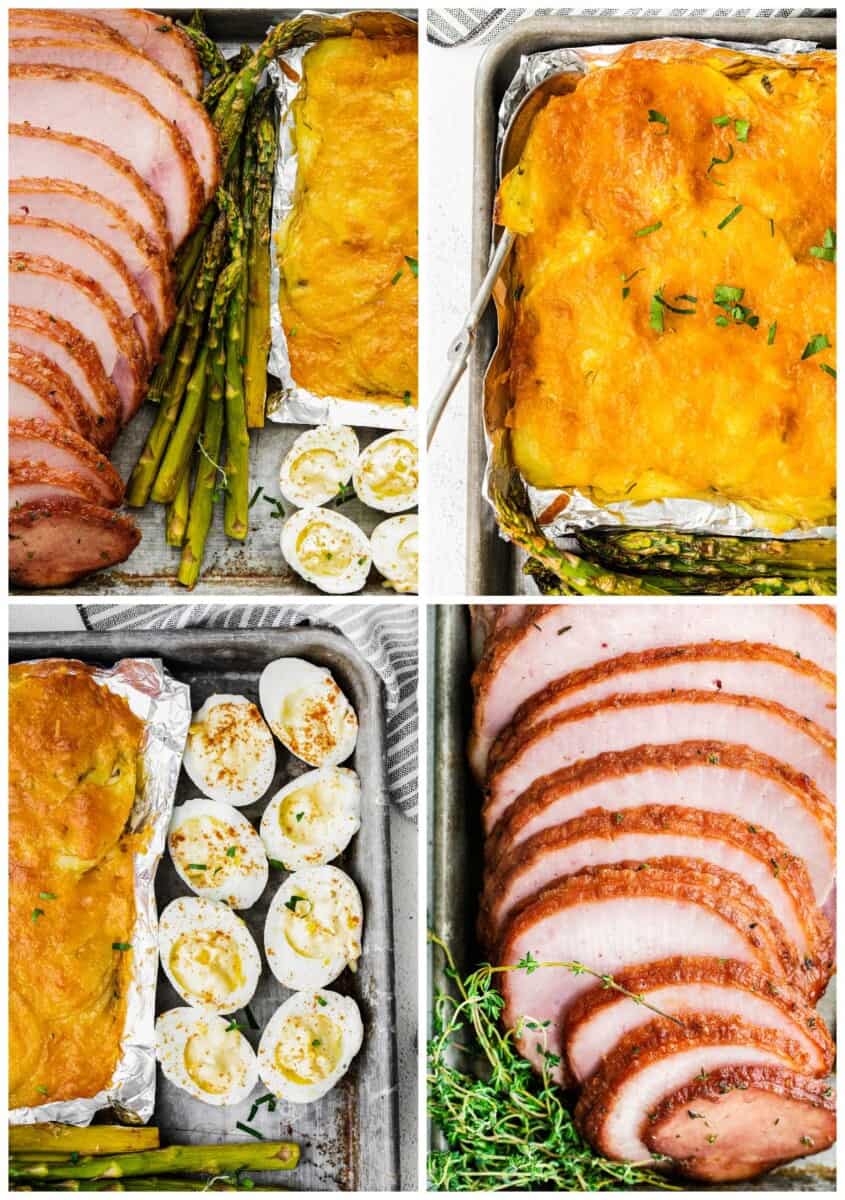 How to make Easter Dinner on One Pan!
You can jump to the recipe card for full ingredients & instructions!
Make the maple brown sugar marinade for the ham, cover the ham with foil, and par-bake it (about 1 hour before adding the other foods).
While the ham is cooking, combine ingredients to make the scalloped potatoes. Microwave them for 5 minutes until they are tender and set aside.
Prepare the asparagus (trim and toss with olive oil & salt), then set aside.
At the one hour mark, take the ham out of the oven and remove the foil. Then arrange the other foods (asparagus, potatoes, and whole uncooked eggs) in the pan. Bake for about 35 minutes.
When the ham reaches 140F, take everything out of the oven. Let the ham rest while preparing the eggs.
Place cooked eggs in a bowl of ice water until cool. Peel, make the yolk mixture, and place it back in the egg whites.
Serve everything together and enjoy!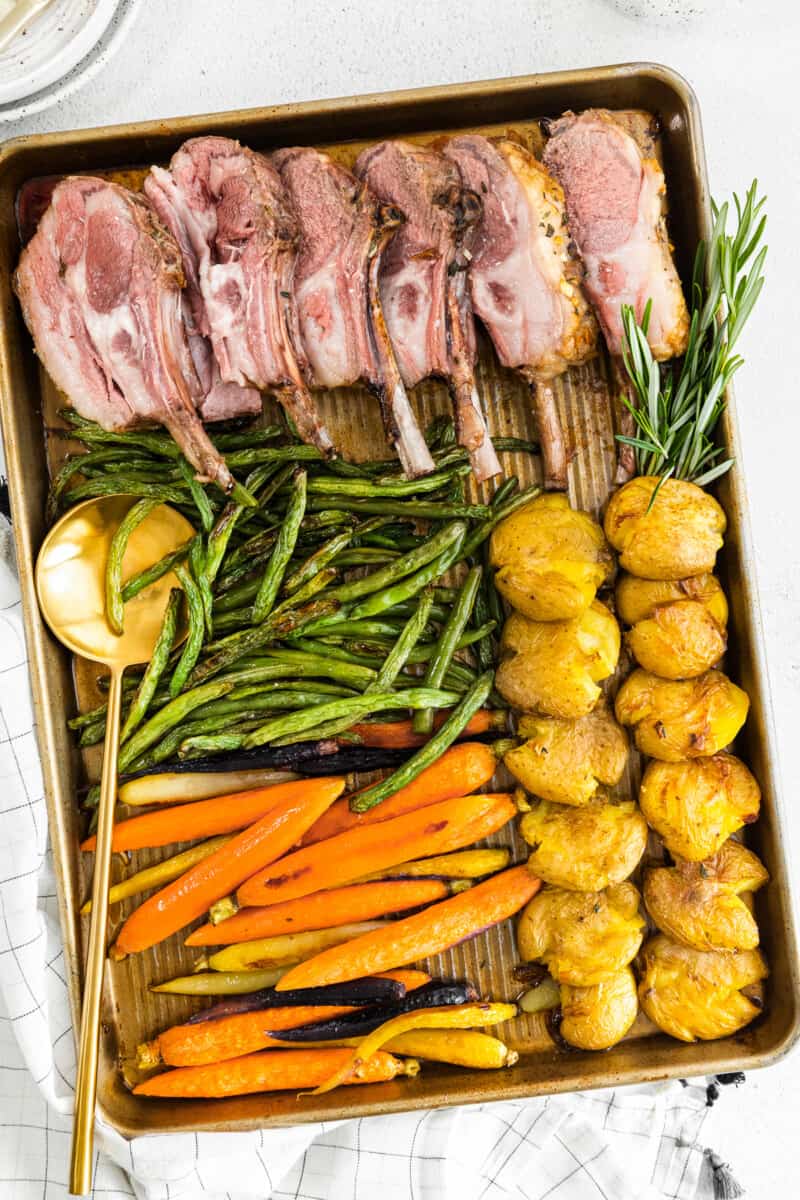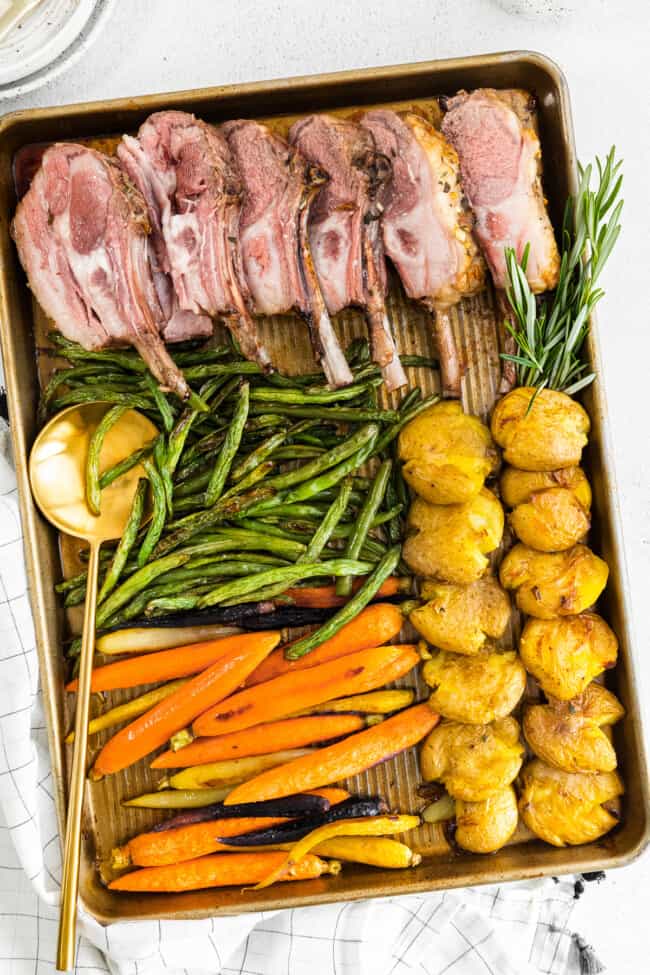 Check it out!
Sheet Pan Easter Dinner with Lamb
Be sure to also check out our One Pan Easter Dinner for 4 with easy Rack of Lamb! The possibilities are endless.
See the Recipe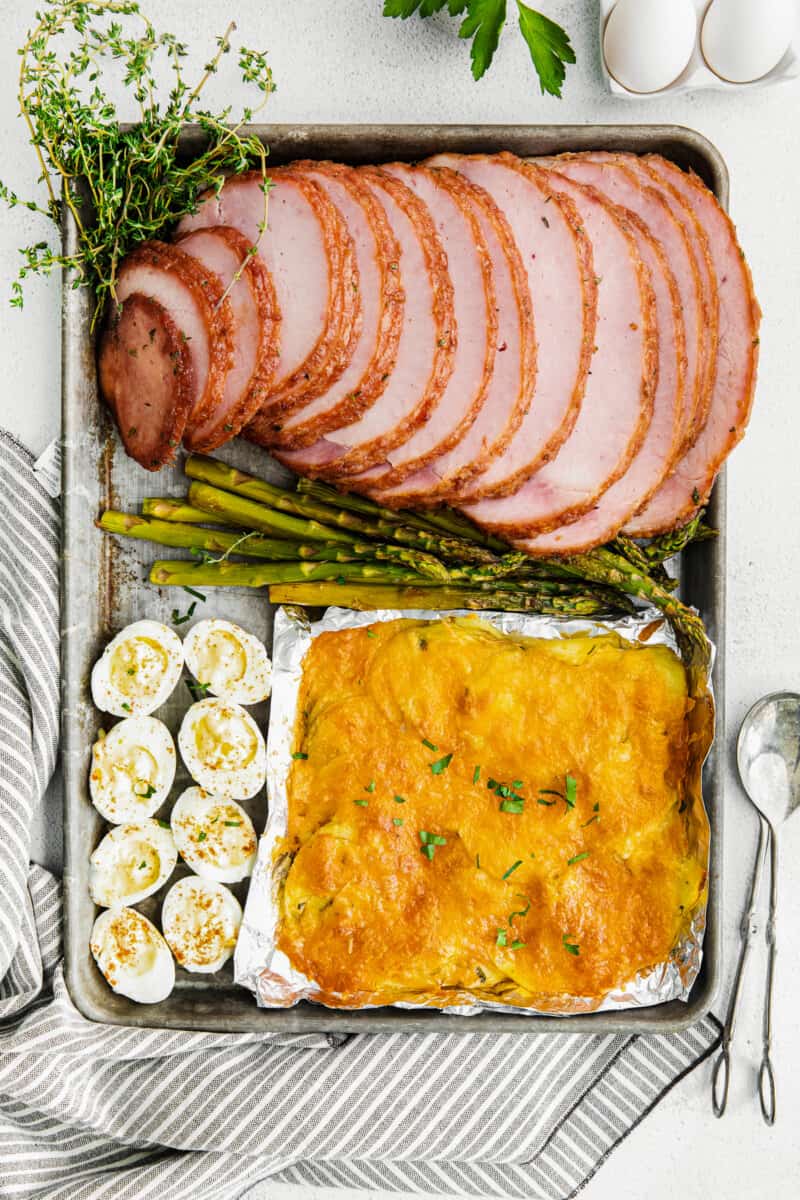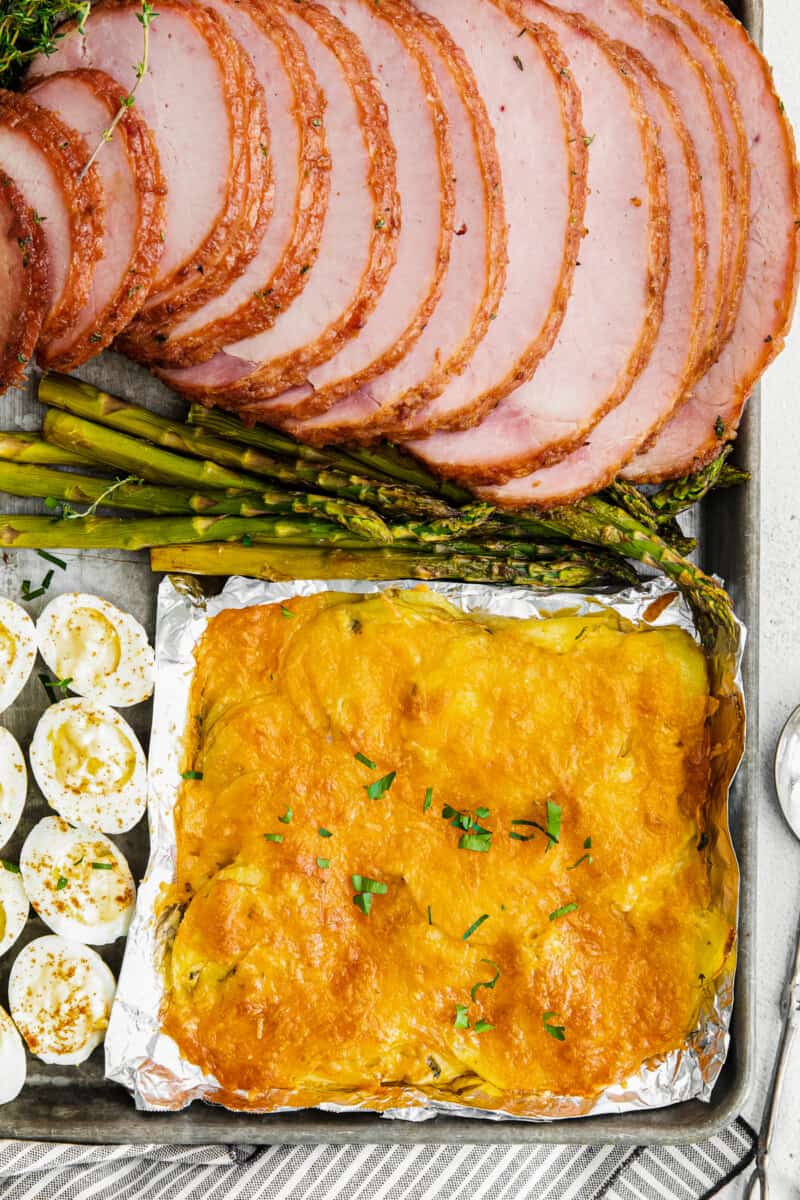 What should I serve with Easter ham?
The great thing about this sheet pan Easter dinner is that it's a full meal in one. This recipe has the ham AND the sides, so no extra cooking is necessary.
One thing you could add, however, is some bread. I love these homemade crescent rolls or make ahead yeast rolls.
How many people does this sheet pan dinner serve?
This Easter ham dinner is made to serve four people. Between the ham, eggs, potatoes, and asparagus, it's the perfect amount for any small family.
This also makes a great dinner for two people, with some leftovers for a second meal.
What kind of ham should I use?
Use a small spiral ham for this recipe. The ham should be pre-cooked and boneless. 5 pounds is a good amount for this dinner, but you can use a slightly larger ham if you prefer (just adjust cooking time and make sure it's fully heated through before serving).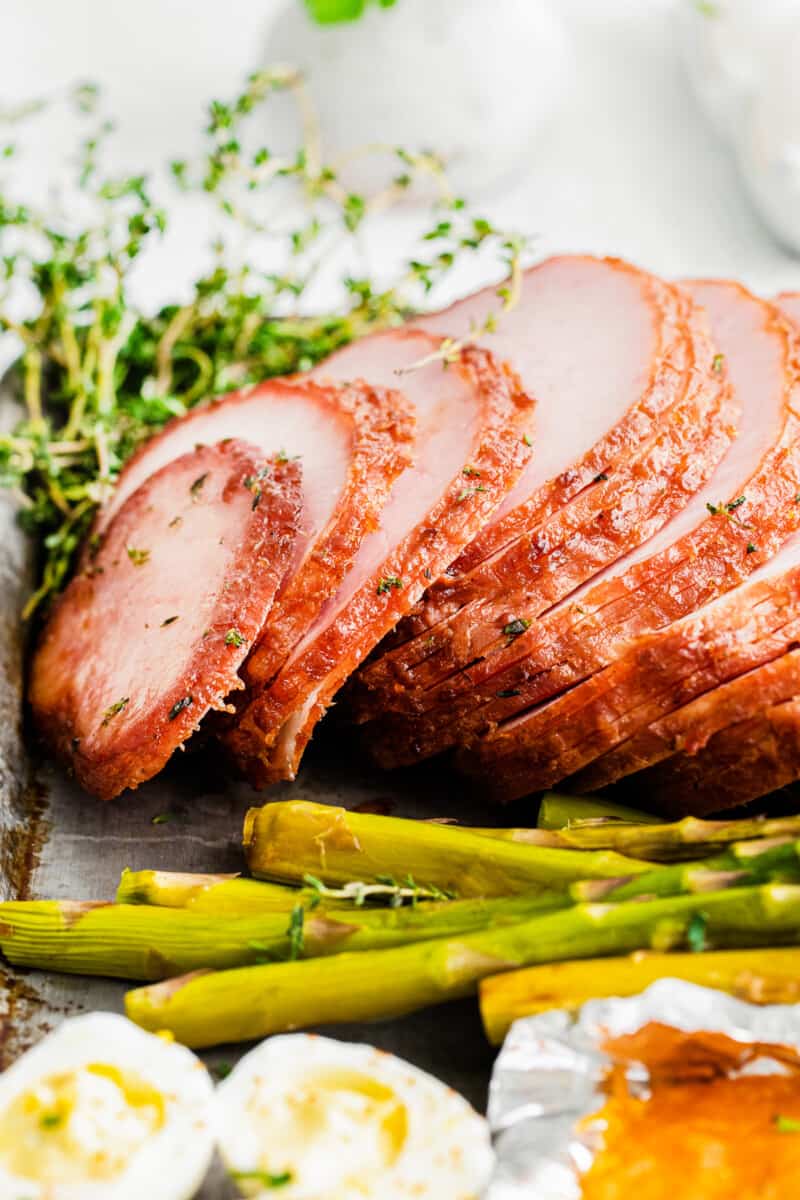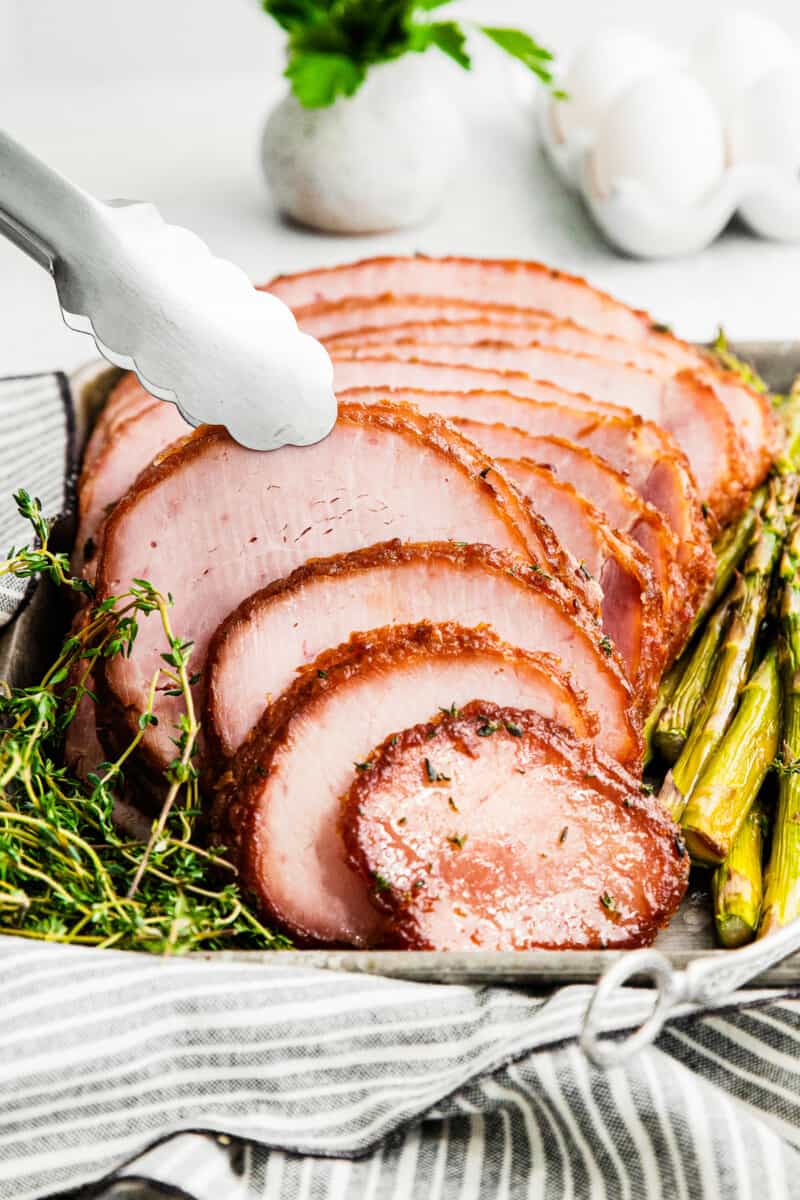 Tips!
The ham takes up to an hour and a half to heat through, so pop that in the oven to par-cook while you work on preparing the rest of the food.
The internal temperature of the ham should reach 140F before consuming. Use an instant read thermometer to check.
Use aluminum foil to create separate sections for each food on the sheet pan. Just take a sheet of foil and bend the edges upwards.
After cooking, wrap the ham in foil and let it rest before serving.
Have a bowl of ice water ready to cool the eggs before peeling. You can pop the bowl of eggs in the fridge for a couple of minutes to help speed up the process.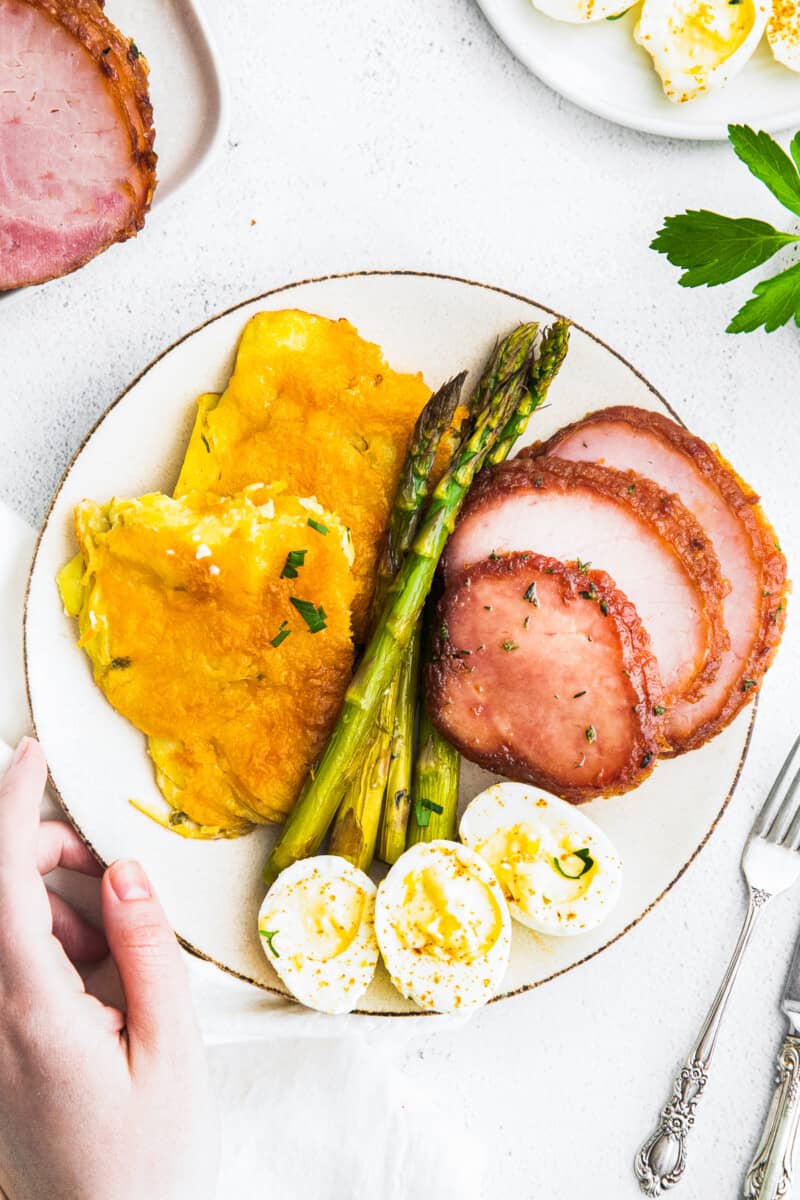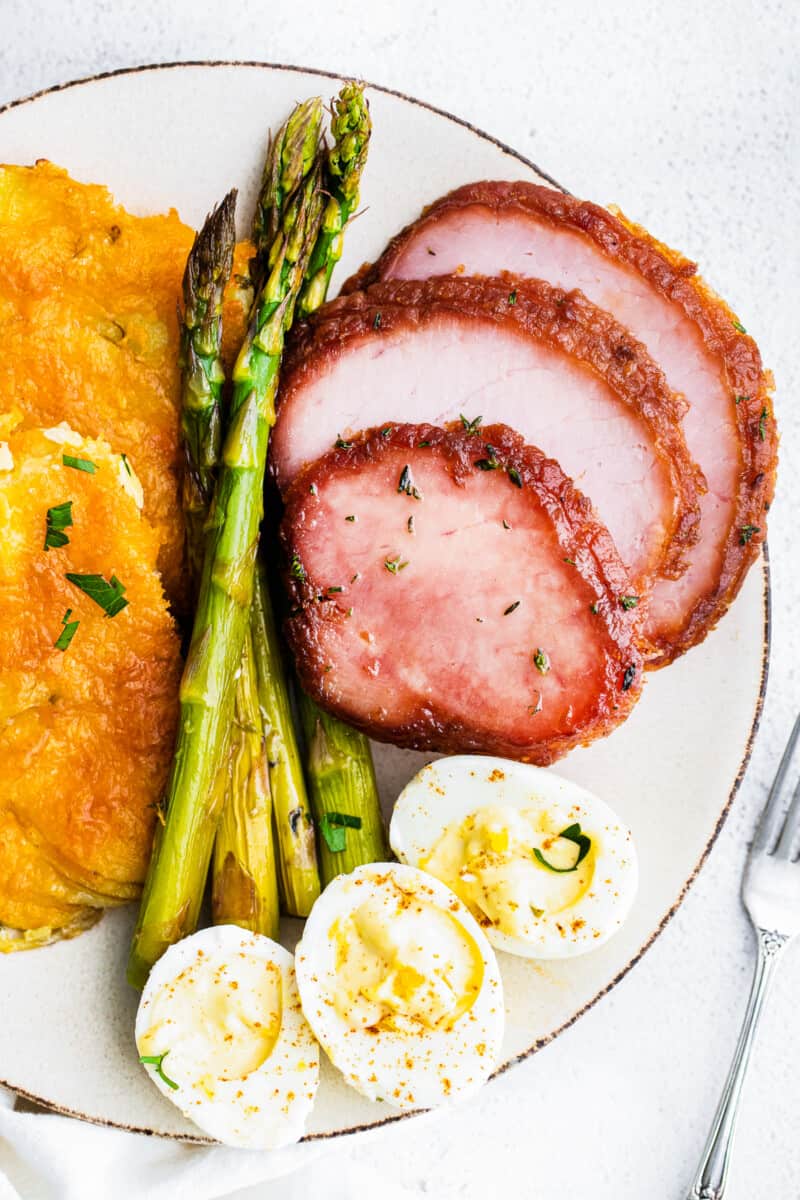 This sheet pan Easter ham dinner is just perfect for a small family and it's absolutely delicious. Don't forget to make a little Easter dessert for afterwards!
If you make this recipe be sure to upload a photo in the comment section below or leave a rating. Enjoy! You can also jump to recipe.