This Ham Salad is a flavor explosion! Diced ham in mayonnaise with sweet relish, mustard, and a host of other goodies. Great for an easy appetizer or sandwich filling.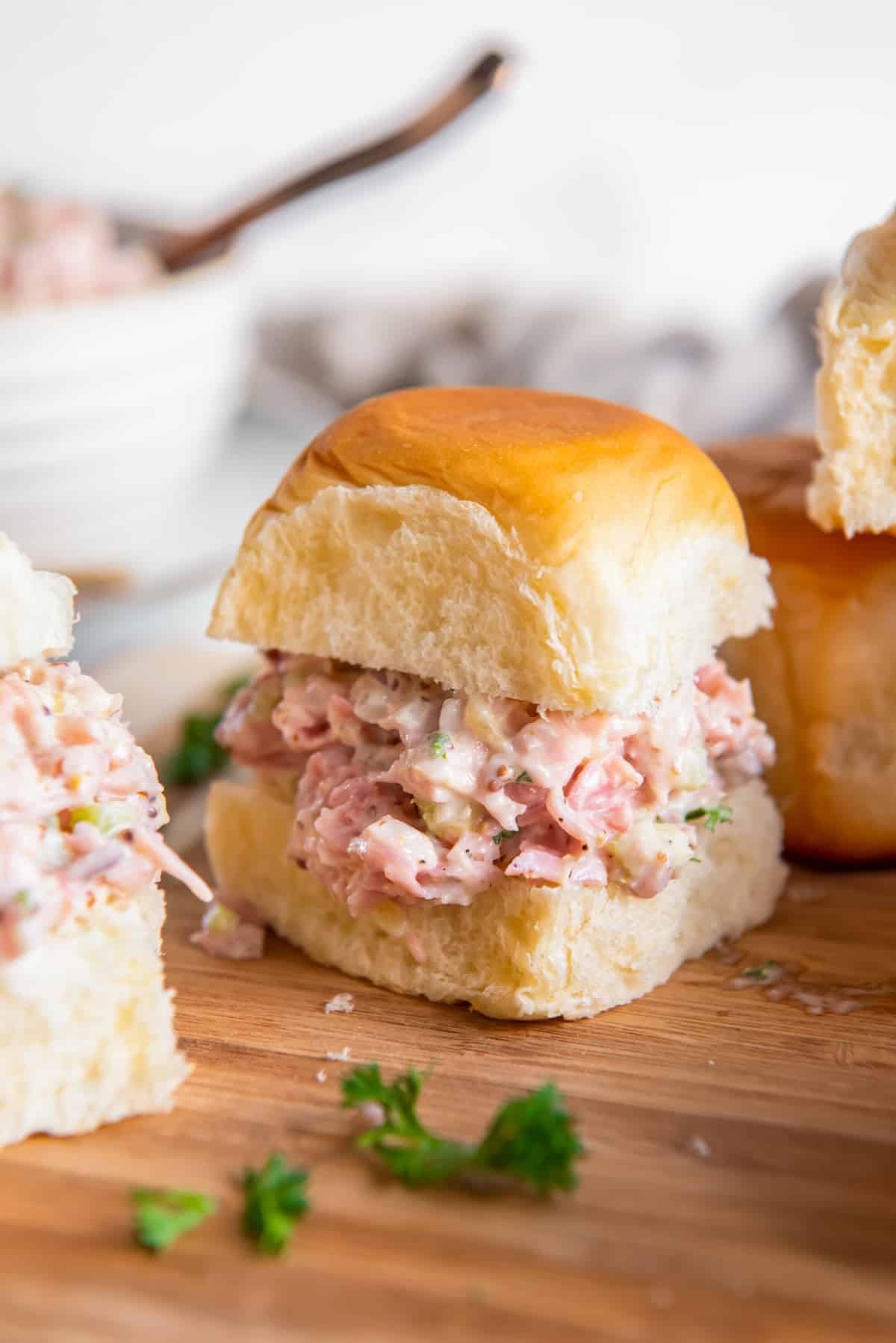 What's in this Ham Salad Recipe?
Let your leftover ham do more legwork with this super versatile and utterly delicious ham salad recipe!
Mayonnaise: Holds the filling together and makes it creamy!
Sweet Relish: Adds sweetness and crunch.
Dijon Mustard: Adds a bit of earthiness and bite.
Lemon Juice: Adds freshness and acidity.
Cooked Ham: Cube up some leftovers for this easy salad recipe! I love honey baked ham or brown sugar glazed ham!
Celery: Adds crunch and freshness.
Red Onion: Adds a bit of bite.
Parsley: Adds a pop of color and freshness.
Pro Tip: Swap out the red onion for diced yellow or sweet onion for a little less bite.
Variations on Ham Salad Spread
This spread is delicious as is, but you can take it up a notch by adding diced bell peppers or carrots for extra crunch or a few tablespoons of jarred pimentos or diced roasted red peppers for depth of flavor.
Add a little bit of pickle juice to turn it into more of a dip consistency, or toss it with some cooked rotini or macaroni to turn it into ham pasta salad.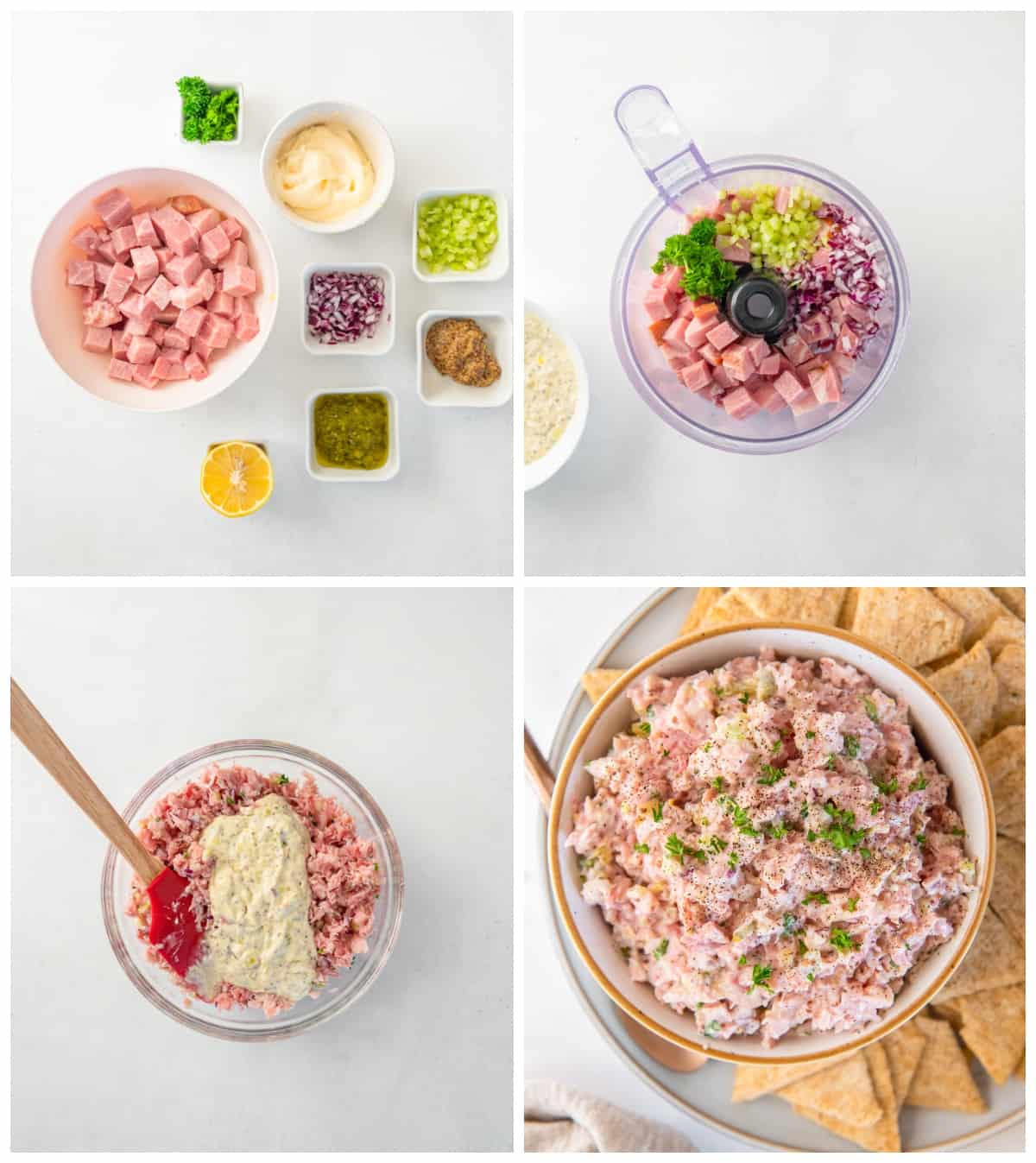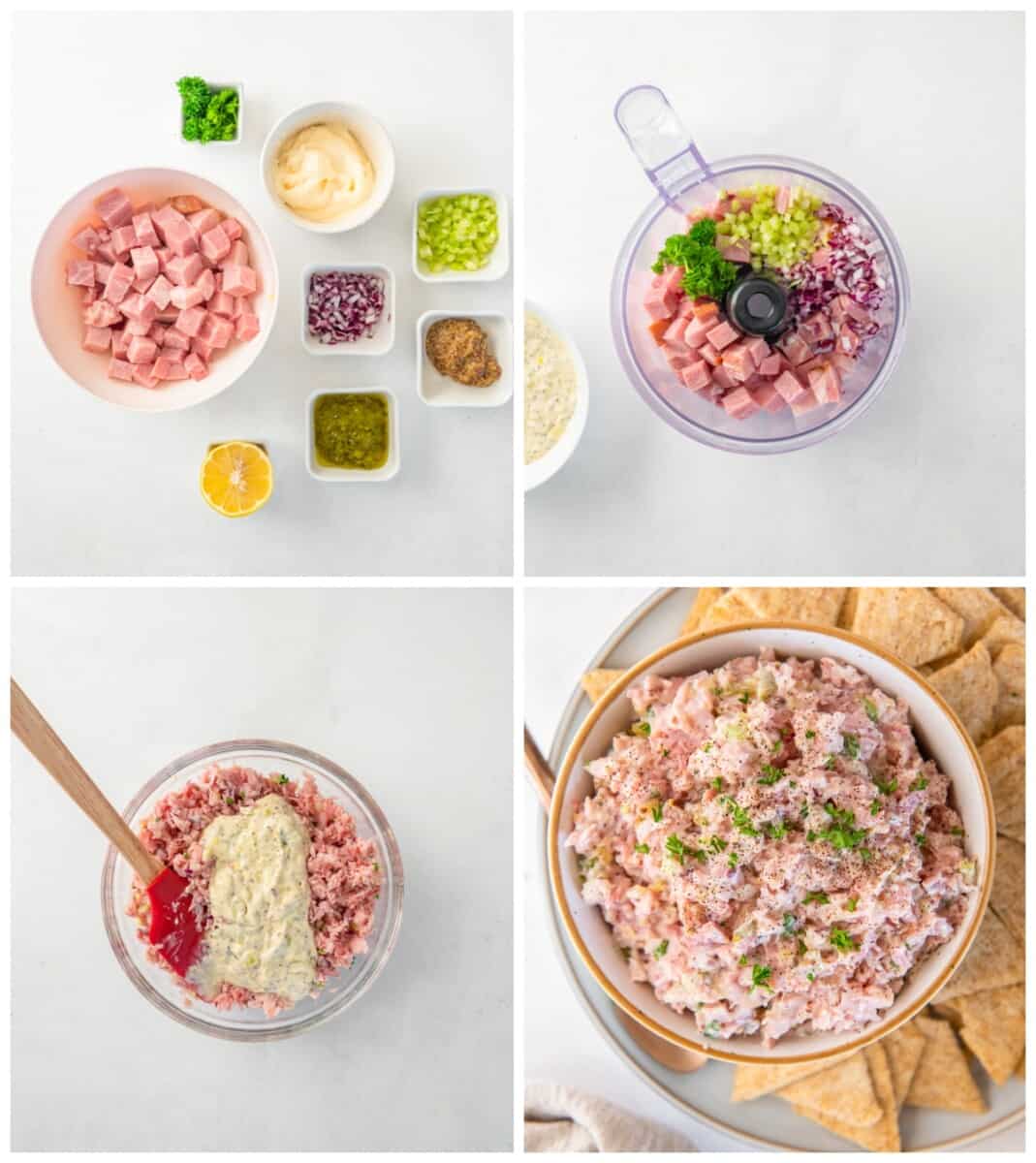 What kind of ham should I use?
This recipe is a great way to use up leftover cooked ham, so really any ham will work. I like to use leftover spiral-sliced honey baked ham for mine. I recommend buying a spiral-sliced ham because it's easier to cut and remove from the bone.
Can I use canned ham?
You can definitely use canned ham. While canned ham has a different texture than fresh, its shelf life and convenience can't be beat!
Do I need a food processor to it?
I really recommend using either a food processor or a high-speed blender to make this recipe. You can do it without one, but you'll be mincing for a long time!
Should I put eggs in ham salad?
This is totally up to preference. Many recipes call for hard-boiled eggs, but it's up to you whether or not you choose to include them.
Can I freeze ham salad?
An age-old question with an age-old answer! Ham salad is notorious for not freezing well, so I do not recommend that you freeze it.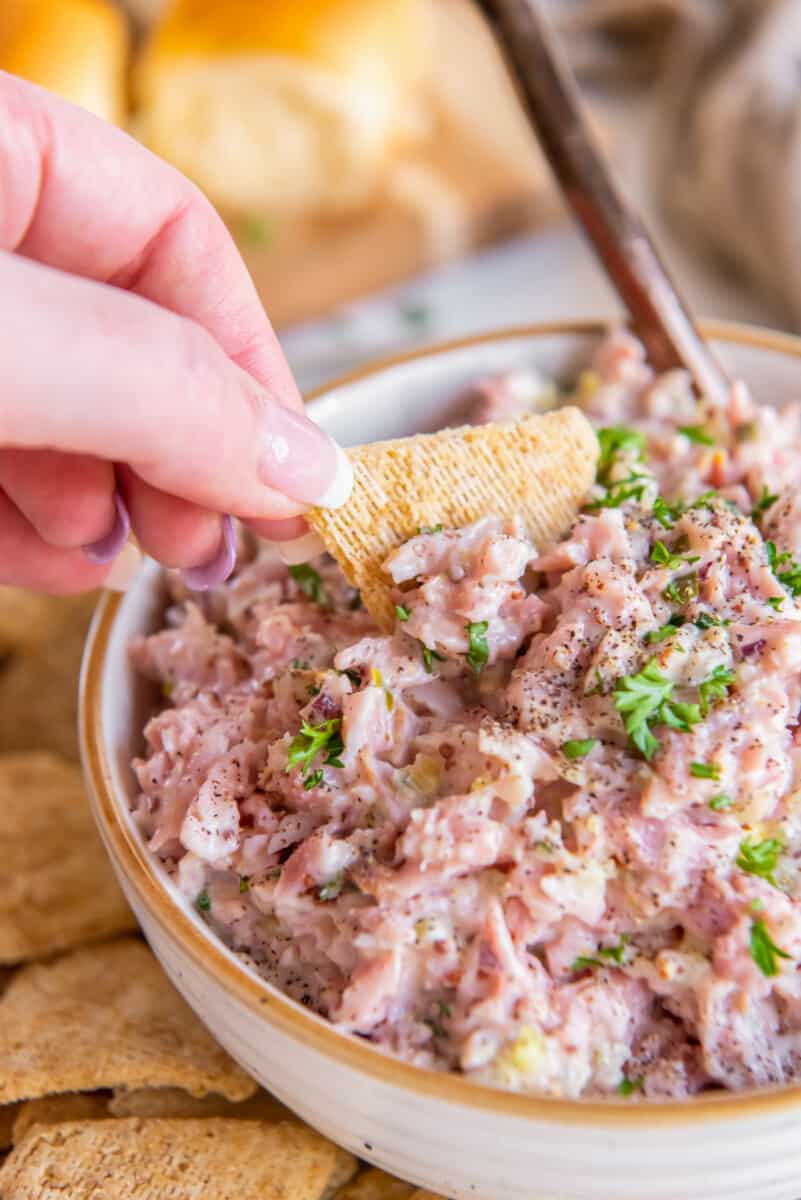 How to Store
Store leftover ham salad in an airtight container in the refrigerator for up to 4 days. I do not recommend freezing ham salad.
Serving Suggestions
This spread makes a great dip served with crackers, tortilla chips, wonton chips, or sweet potato chips!
Or serve it up on Hawaiian rolls or rye bread to make delicious ham salad sandwiches! Add a few slices of cheddar cheese and make a ham salad grilled cheese.
Make it a meal by serving it with Asian Cucumber Salad, Corn Pudding, Shoestring Fries, or Air Fryer Potato Wedges. Savory, creamy, and tangy – this is one addictive sandwich filling!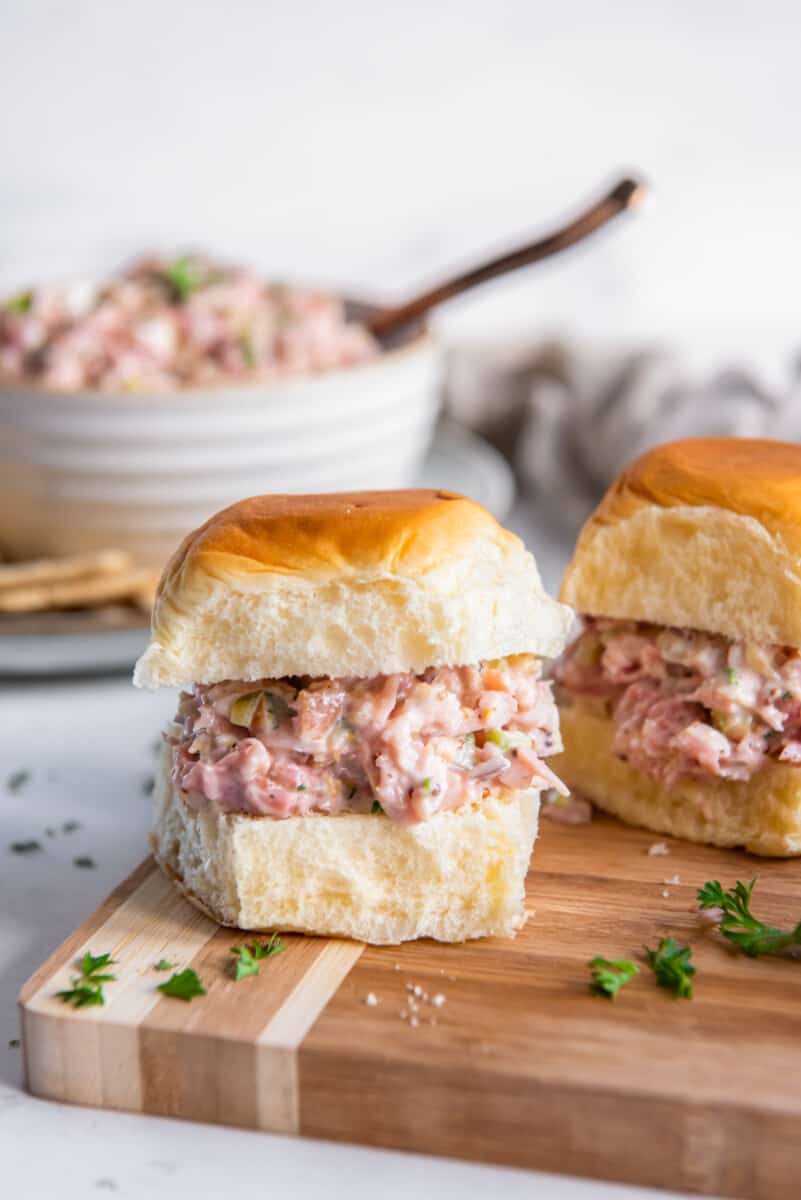 More Protein-Packed Salad Recipes We Love