This Crockpot potato soup recipe is so easy, creamy, and comforting! This healthy potato soup uses lighter ingredients without sacrificing taste. Prep, throw everything in the slow cooker, and go about your day. It'll be ready for dinner, loaded with flavor!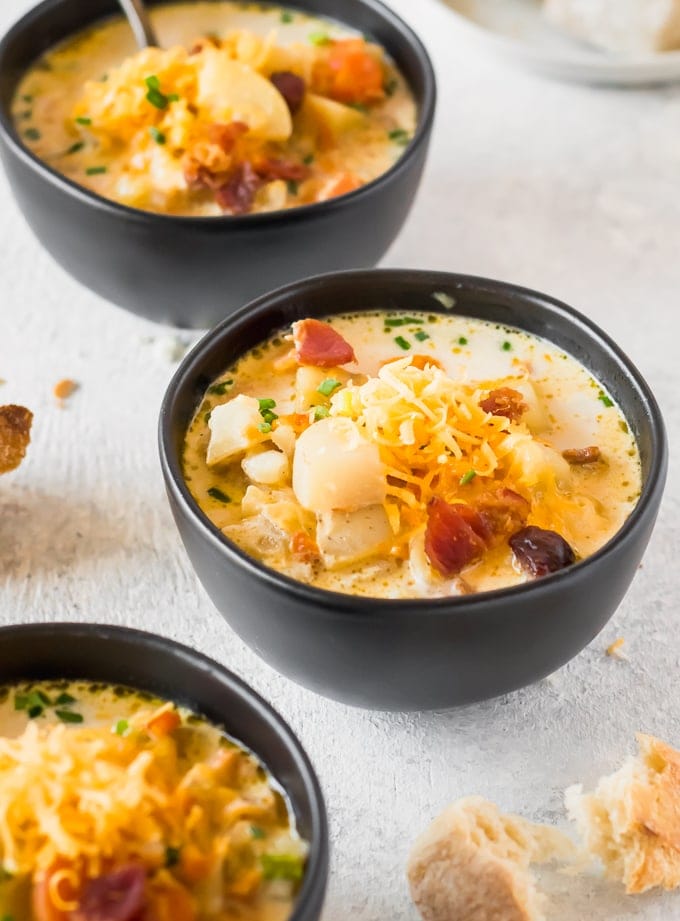 What's in this Healthy Potato Soup recipe?
This easy crockpot potato soup recipe uses lighter versions of typical ingredients to make it just a little bit healthier, while still being super creamy, cheesy, and delicious. It's such a comforting dinner!
Potatoes: Yukon gold potatoes are best for potato soup because they hold up best while creating a creamy texture. You could also use Russet potatoes.
Broth: Low-sodium chicken broth creates the soup base.
Carrots: Peeled and sliced carrots add some hearty texture and healthy nutrients.
Cheese: Cheddar tastes best in this soup. I recommend using a low-fat shredded cheese, and shredding your own will create the best texture for melting.
Garlic: This adds more savoriness.
Onion: Sweet yellow onion adds a great flavor.
Half and Half: Fat-free half and half adds a super creamy texture.
Parisienne Bonnes Herb: This seasoning blend is a mix of chives, French tarragon, basil, and dill. It's the perfect mix for potatoes!
You can use regular, full-fat, and sodium-filled versions of any of these ingredients if you prefer. I just like to use the lighter options for a healthier soup.
What else can I add to this slow cooker potato soup?
If you want to add more protein to this soup recipe, you can add meats like shredded chicken breast, cubed ham, or ground turkey. Any of these options should be fully cooked before adding them into the Crockpot, towards the end of the cook time.
You could also add in more veggies, like broccoli or cauliflower. To make a loaded potato soup, top off each bowl with bacon crumbles, more shredded cheese, green onions, and sour cream (or a plain greek yogurt for a lighter option).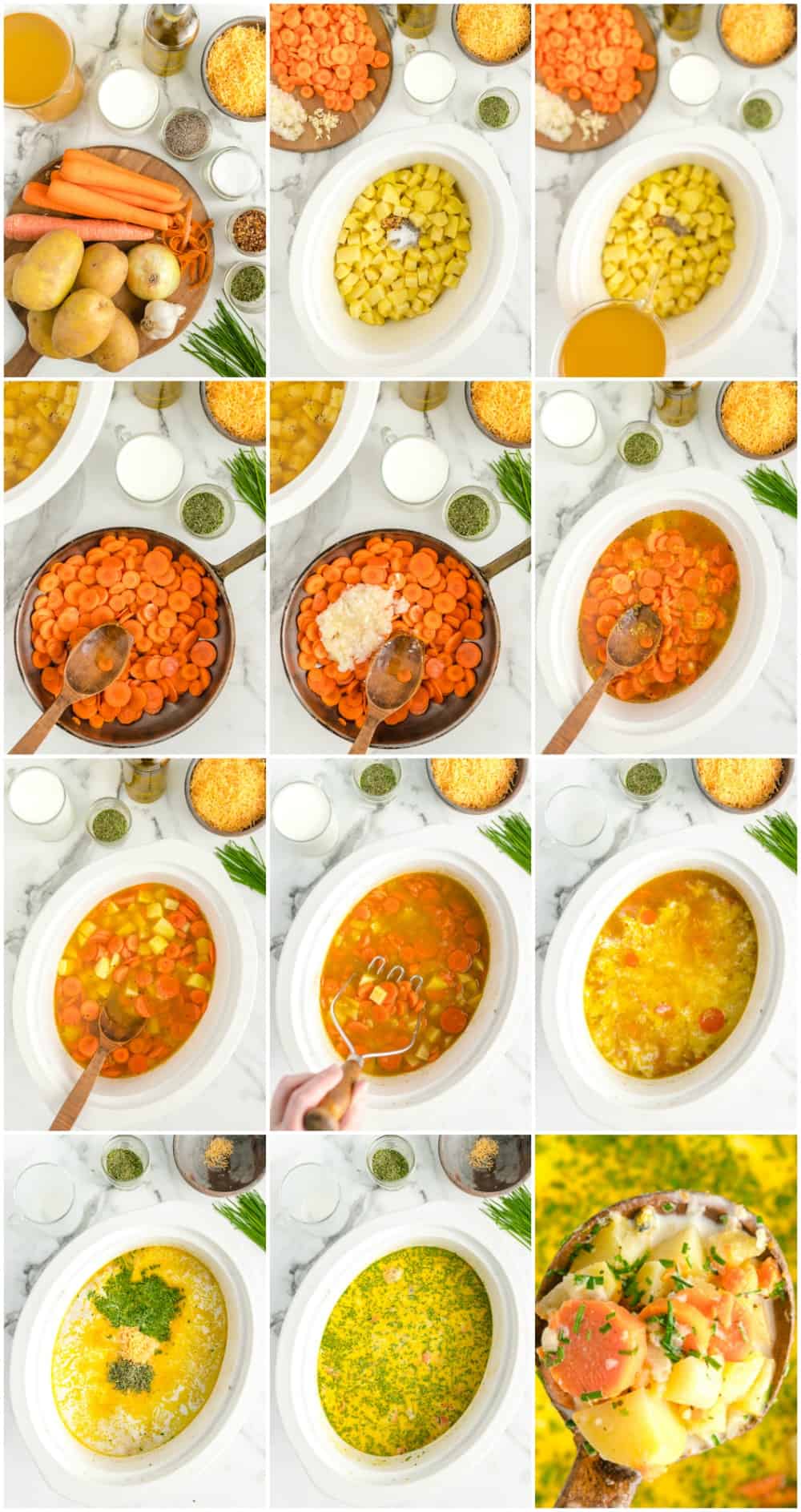 What potato is best for potato soup?
As mentioned above, I recommend Yukon Gold potatoes for soup, and Russet potatoes are my next option. However, you can really use any potato to make soup, some just won't hold up as well, especially if you're using the slow cooker.
Why is my potato soup gummy/gluey?
As the starches in potatoes break down, eventually the texture might become "gummy" or mushy. The best way to prevent this is to make sure you don't overcook them, but luckily that's harder to do in a slow cooker. Also, keeping the potatoes at 1/2 inch cubes helps–any smaller and they'll break down too fast.
Can you leave the skin on potatoes when making soup?
Using Russet or Yukon potatoes, you'll want to peel them first. The skins on these potatoes are tough, chewy, and not particularly flavorful. However, if you use a different type of potatoes (like red potatoes or fingerlings), leaving the skins on is fine.
How do you thicken potato soup?
If you want to thicken your soup, mix in a bit of flour or cornstarch at the end until you get your desired consistency.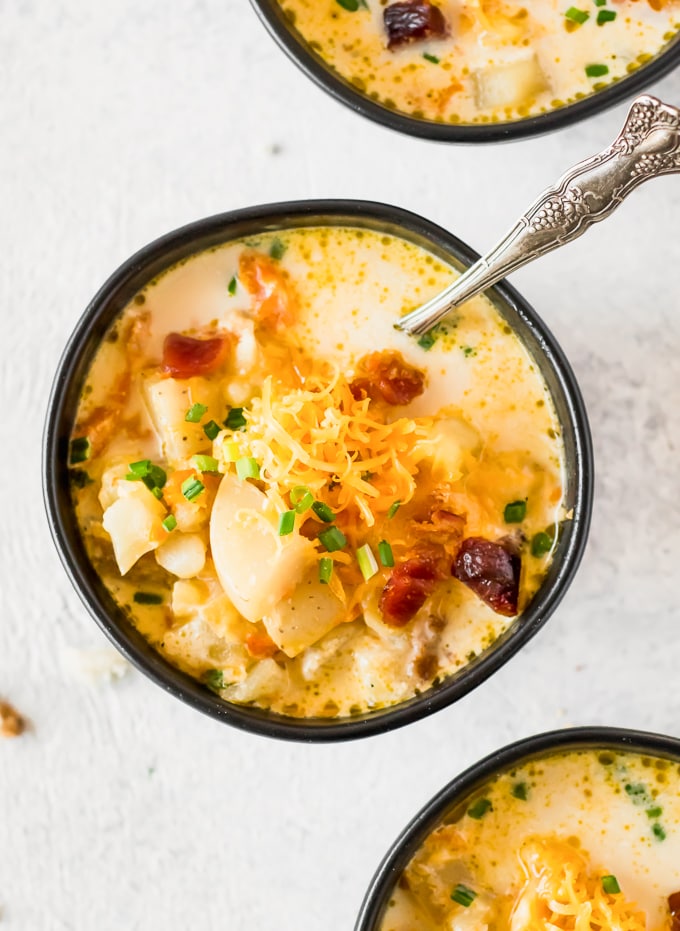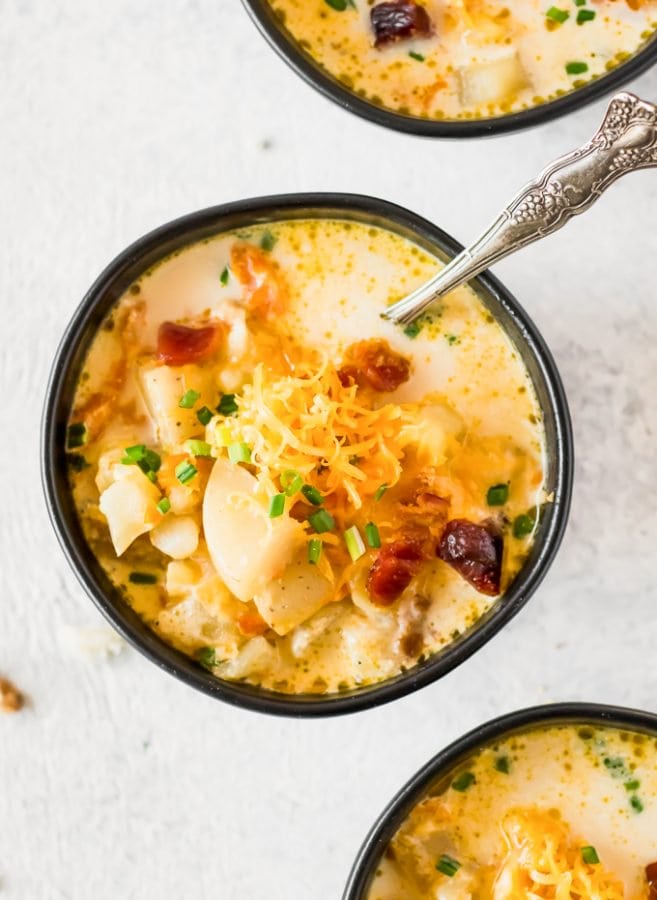 How to Store and Reheat Potato Soup
Store leftovers in an airtight container, and keep it in the refrigerator up to 5 days. To reheat, gently warm it on the stove, stirring regularly. You can stir in more half and half to refresh that creamy texture.
I don't recommend freezing this Crockpot soup since the potatoes will get grainy when frozen and reheated. But if you'd like to anyways, leave out the half and half, and mash up all of the potatoes.
What to Serve with Crockpot Potato Soup
A bowl of this slow cooker potato soup makes a full and cozy meal. I love to serve it with some bread, like cornbread muffins, beer bread, or dinner rolls. It also pairs well with salads and sandwiches, like a grilled cheese or chopped salad.
If you make this recipe be sure to upload a photo in the comment section below or leave a rating. Enjoy! You can also jump to recipe.
More Potato Soups We Love