Crockpot Potato Soup is a Healthy Potato Soup we simply love. This Recipe for Potato Soup makes things easy by using a slow cooker! Set it and forget it…until it's time to eat. Just because this is a healthy version doesn't mean it's any less flavorful than your favorite Potato Cheese Soup. Crockpot Loaded Potato Soup for the win!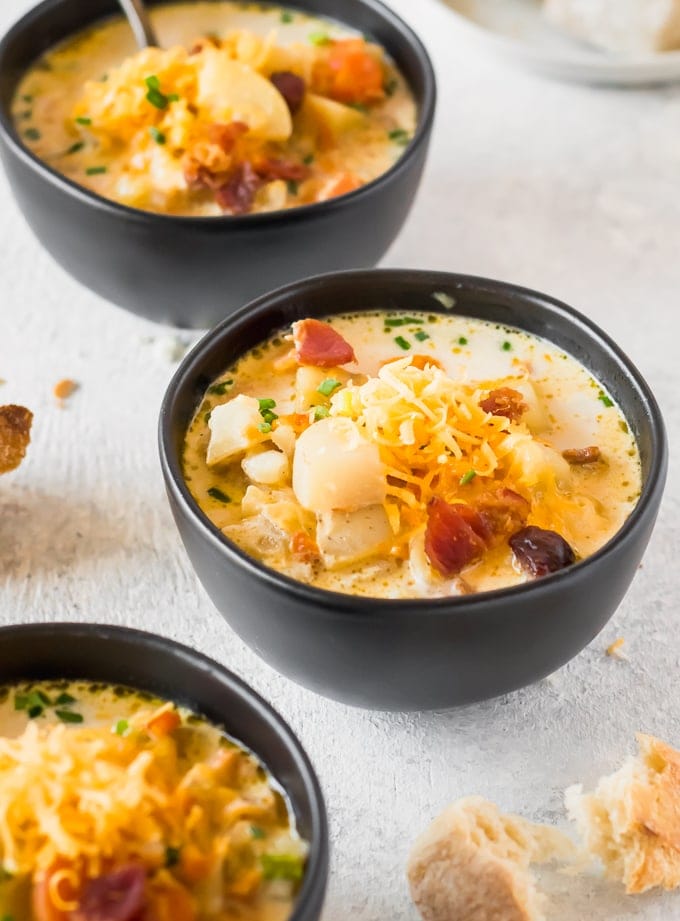 Healthy Crock Pot Potato Soup Recipe
My mom makes the best soup. Try her Creamy Chicken Soup and you'll know I'm right! That soup is amazing, and my all-time favorite…the only problem? It isn't healthy. I'm all for comfort food and I think good food should be splurged on, but when you're able to eat a bit healthier, that's never a bad thing. She came up with this Slow Cooker SKINNY Loaded Potato Soup…and I'm hooked.
I'll splurge on the chicken soup once a month and eat this every other day of the month. It's so good! But for an easy weeknight meal without the guilt…this new recipe for potato soup is my new go-to. A creamy cheesy soup you can feel good about? Is this real life?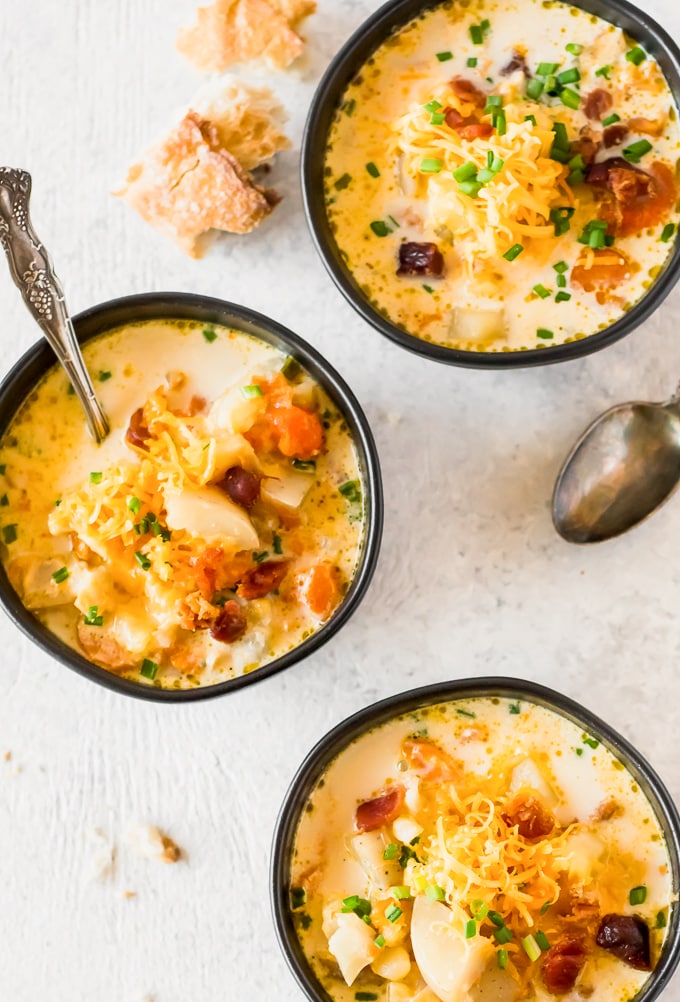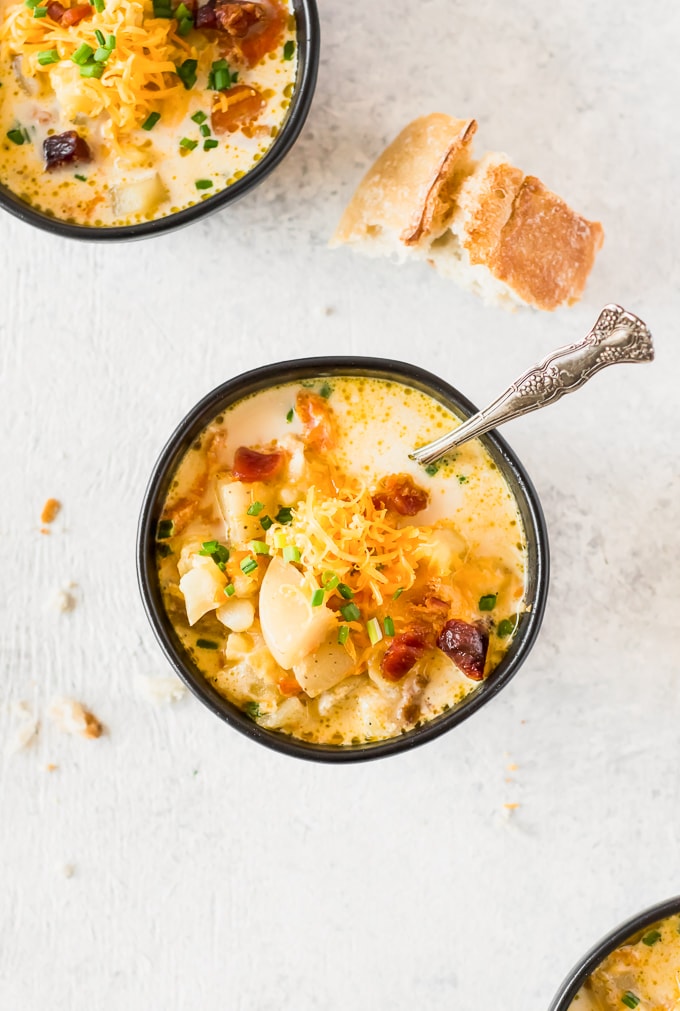 I get so many comments that people cannot believe this is a Healthy Potato Soup. Crockpot Potato Soup has never looked this good!
Making small changes in the healthy direction doesn't mean you have to sacrifice flavor. The men in our family all ate this up and couldn't even tell it was skinny. Since having Henry…eating healthier has been a struggle. It's just so much easier to get fast food than to make a home cooked meals post baby. FEAR NOT!
This Crockpot Loaded Potato Soup is quite simple and is made in a slow cooker. Hallelujah! Crockpots have been allowing us to set food and forget it for generations. It makes life so much better. Now that I've found this Healthy Loaded Potato Soup will I ever make any other comfort food again?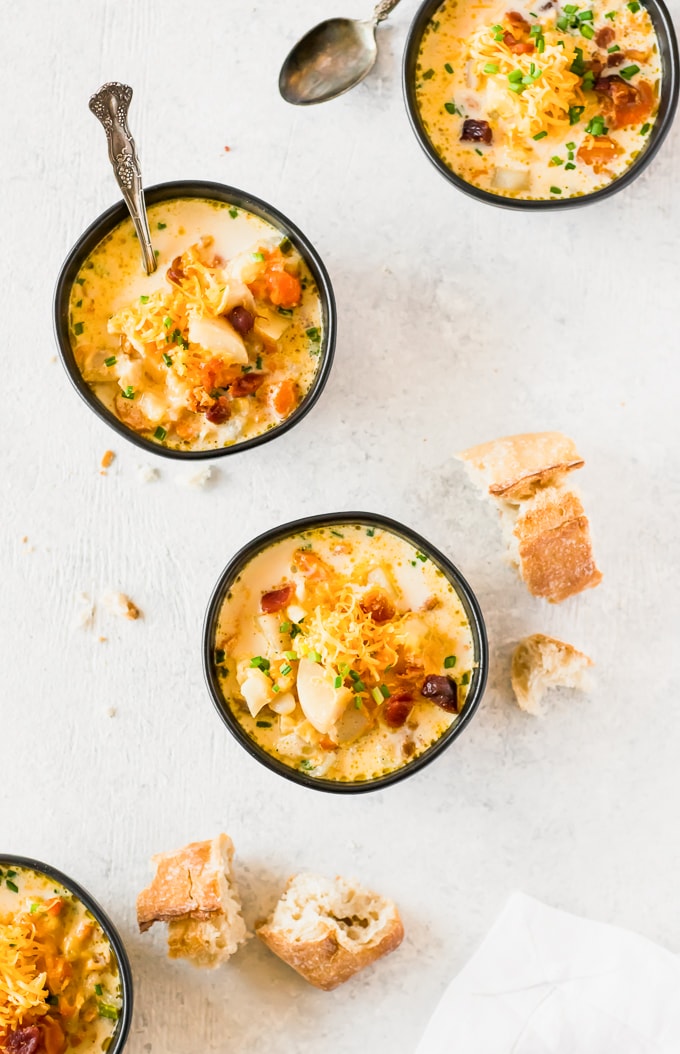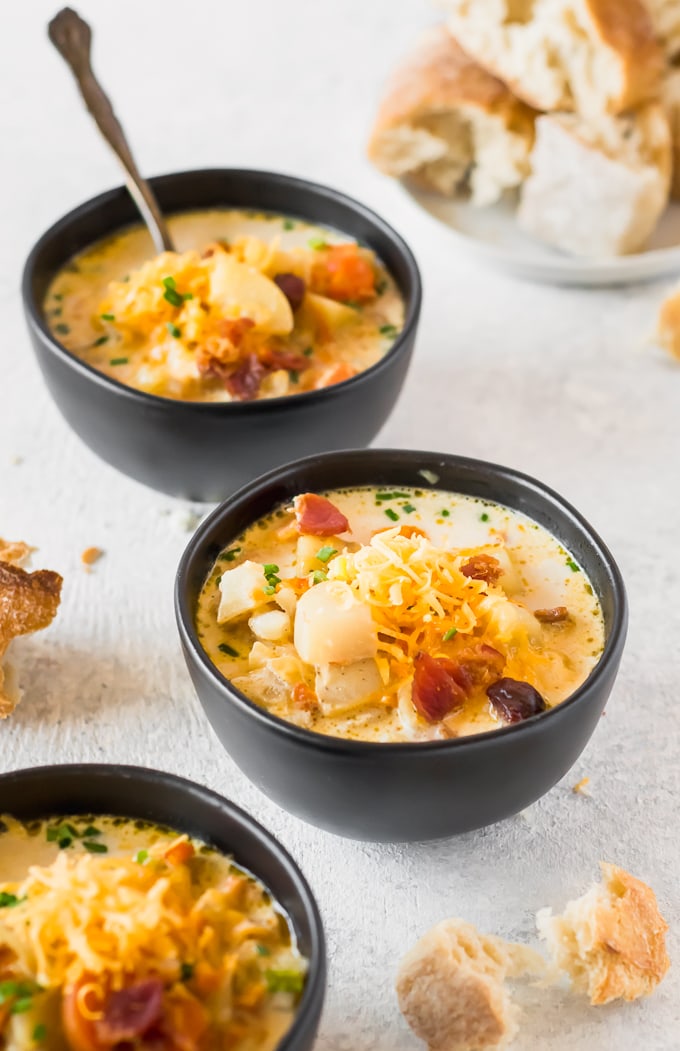 Tips for making this Crockpot Potato Soup healthy?
We have made lots of little tweaks to make this recipe for potato soup a little bit better for you. Low sodium chicken broth, turkey bacon, half and half instead of heavy cream. They aren't big changes but they make a huge difference to the calorie count. You won't miss the indulgence of the other versions at all. This recipe still feels like a calorie splurge even though it's not. Go ahead, have a double bowl!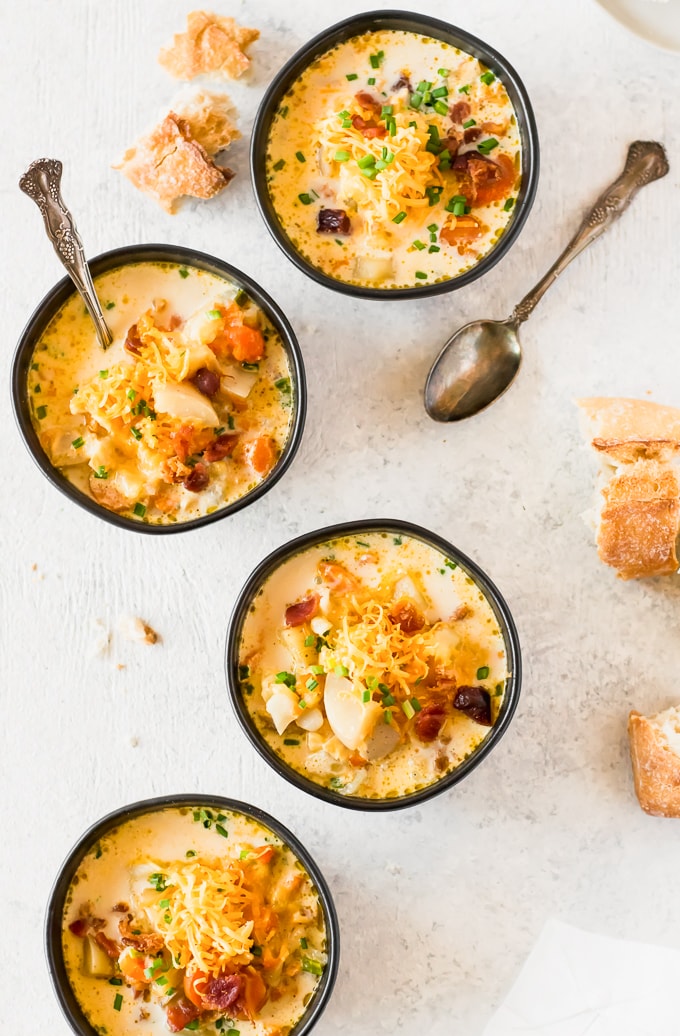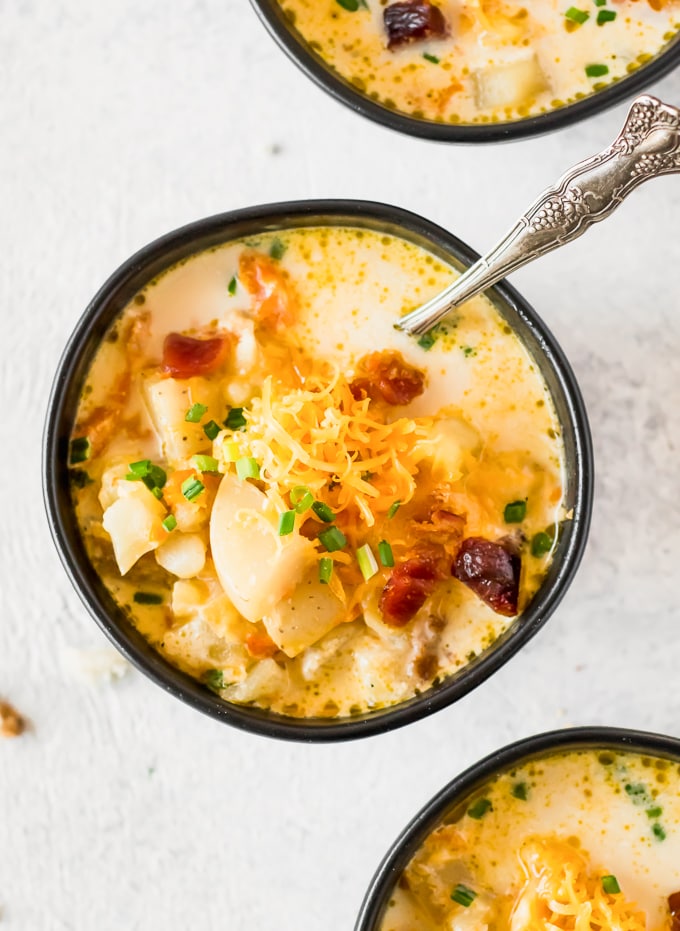 Favorite Slow Cooker Potato Soup
If you're looking for other great potato soup recipes be sure to check out our Hash Brown Potato Soup and Loaded Baked Potato Soup, or any of these Crockpot Soups. For some great bread pairings we recommend Icebox Dinner Rolls, Beer Bread Muffins, or good ole French Bread. You can't go wrong.
Are you looking for an amazing potato soup recipe but this one just isn't quite right? We've got you covered. Check out our Hash Brown Potato Cheese Soup or Loaded Baked Potato Soup.
Check out the recipe card below for full details on How to Make Crockpot Potato Soup. Enjoy!
AROUND THE WEB: Want more healthy soup recipes? Check out these faves: Healthy Chicken Tortilla Soup, Chicken Vegetable Soup, and Thai Chicken Noodle Soup.