Everyone's favorite comfort food just got even more delicious! This Air Fryer Grilled Cheese recipe is made with two types of cheese and is cooked to gooey, crispy perfection!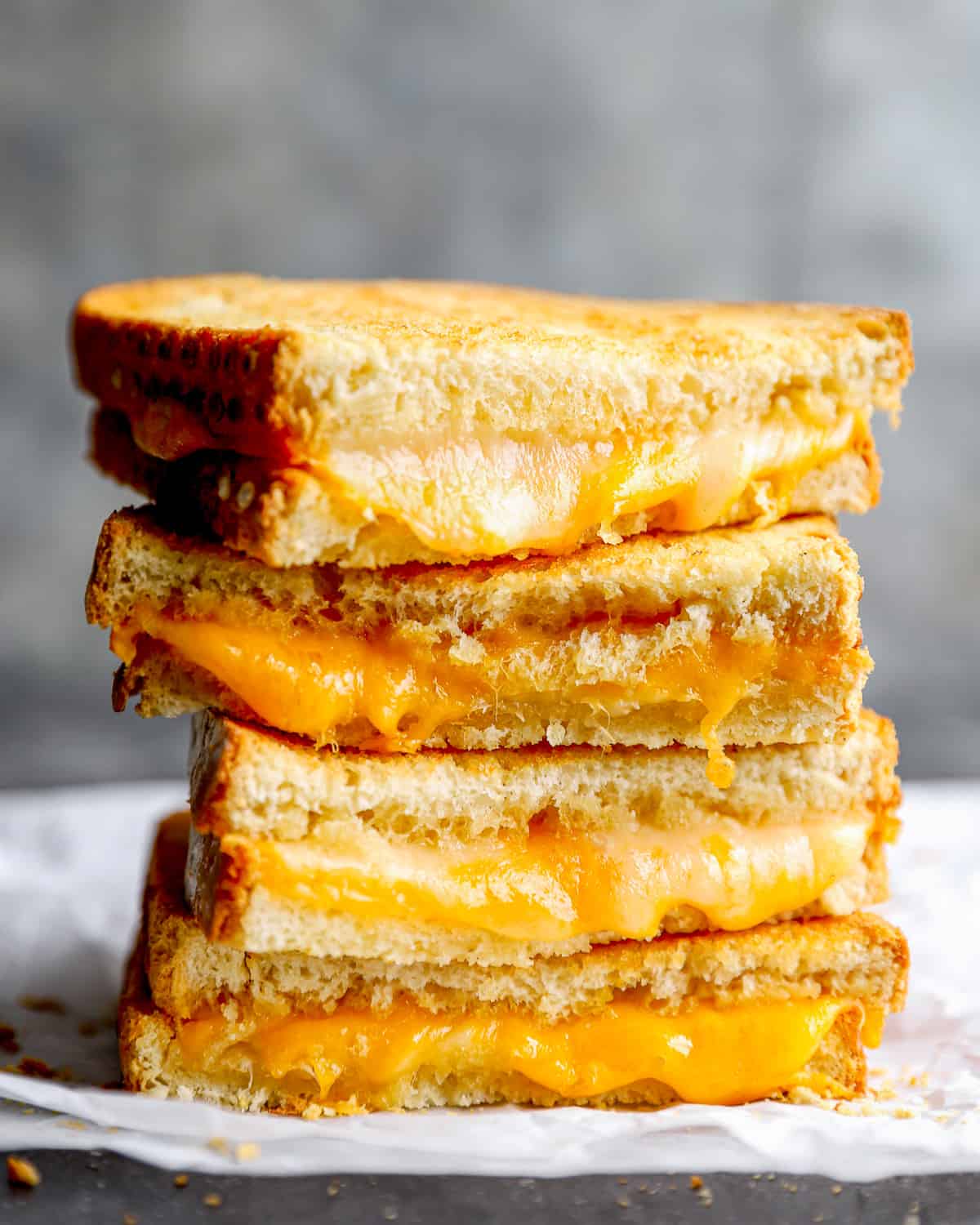 What's in an Air Fryer Grilled Cheese Sandwich?
Bread, cheese, and butter are all you need, and you are on your way to perfect comfort food. Make a classic grilled cheese even easier in the air fryer!
Unsalted Butter: Adds a rich flavor and helps the sandwiches brown up beautifully.
White Sandwich Bread: A classic, tried-and-true choice for grilled cheese.
Cheese: I used a combination of cheddar and Swiss, but you can use your favorites! American is the classic choice.
Pro Tip: Try swapping the butter for mayonnaise!
Variations on Grilled Cheese in the Air Fryer
Once you get the basics down, you can make this sandwich just about any way you like. Some classic choices to add are sliced tomatoes, air fryer bacon, caramelized onions, roasted red peppers, or basil. For a heartier sandwich, try adding pulled pork, grilled chicken, or barbacoa beef.
Try slathering the inside of the sandwich bread with garlic aioli, BBQ sauce, honey mustard, Buffalo sauce, or pesto to amp up the flavor even more!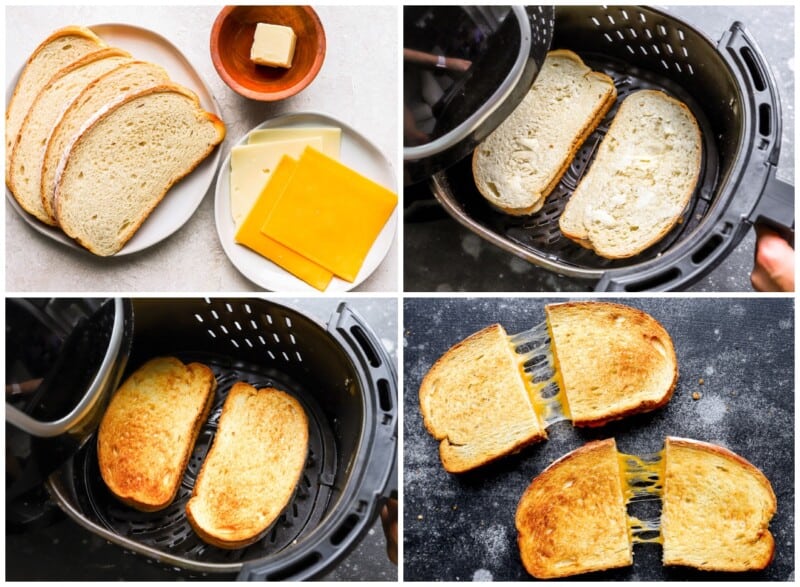 Can you make grilled cheese in an air fryer?
You sure can! And let me tell you, it might just be better than the original!
How healthy is grilled cheese?
This is not a health food! While cheese is a good source of protein and calcium, these sandwiches are high in carbs, saturated fat, sodium, and cholesterol. Enjoy them in moderation as part of a balanced diet.
What cheese tastes best on grilled cheese?
I make these with cheddar and Swiss cheese slices. I find that sliced cheese creates a super even filling, but you can use shredded if you prefer. You can make these with other cheeses too, as long as they are quite melty. Jack or mozzarella would work well.
What's the best bread to use?
For me, run-of-the-mill white sliced bread is perfect for the most comforting grilled cheese, but you can of course make these with whatever you have to hand. Whole wheat or sourdough both work great. I have a recipe for sandwich bread if you want to try your hand at something fully homemade!
Why doesn't my cheese melt in the air fryer?
If your cheese isn't melting, make sure it is sliced thin enough. Thick slices will not melt well in the air fryer, and pre-shredded cheese also takes much longer to melt.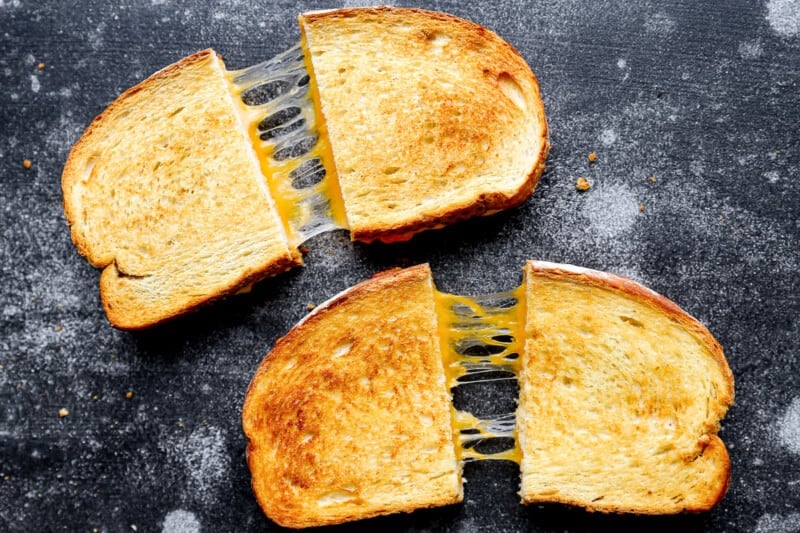 How to Store and Reheat
Store leftover air fryer grilled cheese in an airtight container in the refrigerator for up to 3 days. Reheat in a 350°F air fryer for 3-5 minutes.
How to Freeze
Place sandwiches in a single layer on a lined baking sheet and place in the freezer until solid, about 1-2 hours. Transfer to an airtight container or Ziplock bag with parchment or wax paper between sandwiches to store for up to 3 months. Air fry directly from frozen for 5-10 minutes.
Serving Suggestions
This recipe is almost perfect just by itself for a light lunch, or serve it up with some tomato soup, cabbage soup, buttered egg noodles, or a fresh Olive Garden salad. For something a bit more filling and carb-heavy, it's great to serve with some shoestring fries.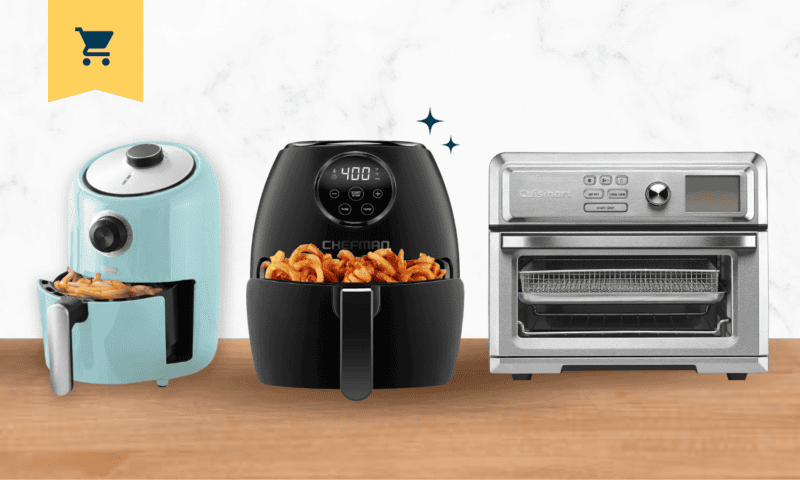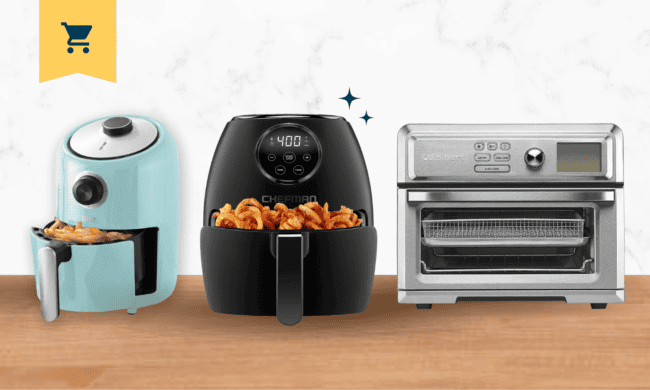 Best Small Air Fryers
We have reviewed our top 6 Small Air Fryers! Get reviews, pros, cons, and prices!
Top Small Air Fryers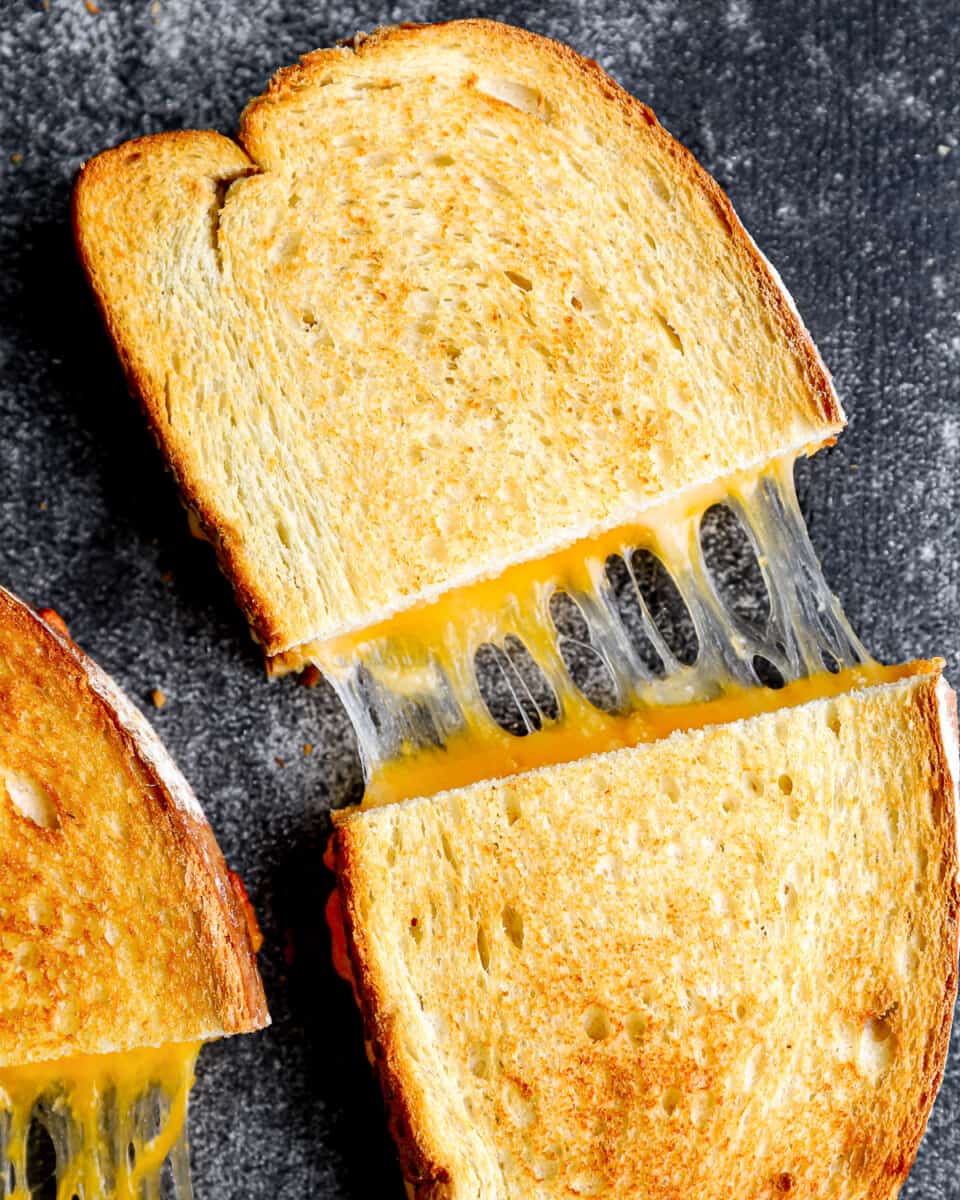 More Grilled Cheese Recipes We Love